There are a plethora of factors to consider when weighing up the 3D print online services and bureaus out there. Hence, you must select the one that complies with your needs. Here are a few criteria that may help you decide better along with a few popular recommendations.
Criteria for Choosing the Right 3D Print Online Service
Here are the things that matter when choosing the need to create an online 3d print design.
Time
You needed your part yesterday, and the closest thing to a time machine is an additively manufactured piece on the express train to tomorrow. Fortunately, some 3D printing service providers offer rushes on jobs should you not be too picky about the material it prints in.
Privacy
It's a natural assumption that most 3D printing services operate with the intent to foster trust with their users — who are uploading potentially sensitive models. Most of these are quick to declare that in uploading your file for manufacture, you are granting a non-exclusive license giving the company the provision to fabricate your model. However, there are occasions where you, as the user, need airtight confidentiality regarding the files you are uploading.
Material Choice
There is a surprisingly diverse array of materials available to 3D printing technologies, making even the most discerningly specific of jobs a possibility. From difficult gold parts created using 3D printed molds for investment wax casting to flame-retardant casings printed in impossible shapes — the limitations become less by the day.
Cost
The factors affecting the final cost of a 3D printed part are myriad. You have some little power to influence the cost of the parts you order, be it through using a 3D print service that is local to where you need the printed piece to be and being flexible with the materials you use.
Let's look at the recommendations and then at the other two criteria in the conclusion of the article.
3D Print online – The Fast, cheapest and easiest
Below are the few companies you can rely on when wanting to print your 3D design for real.
Sculpteo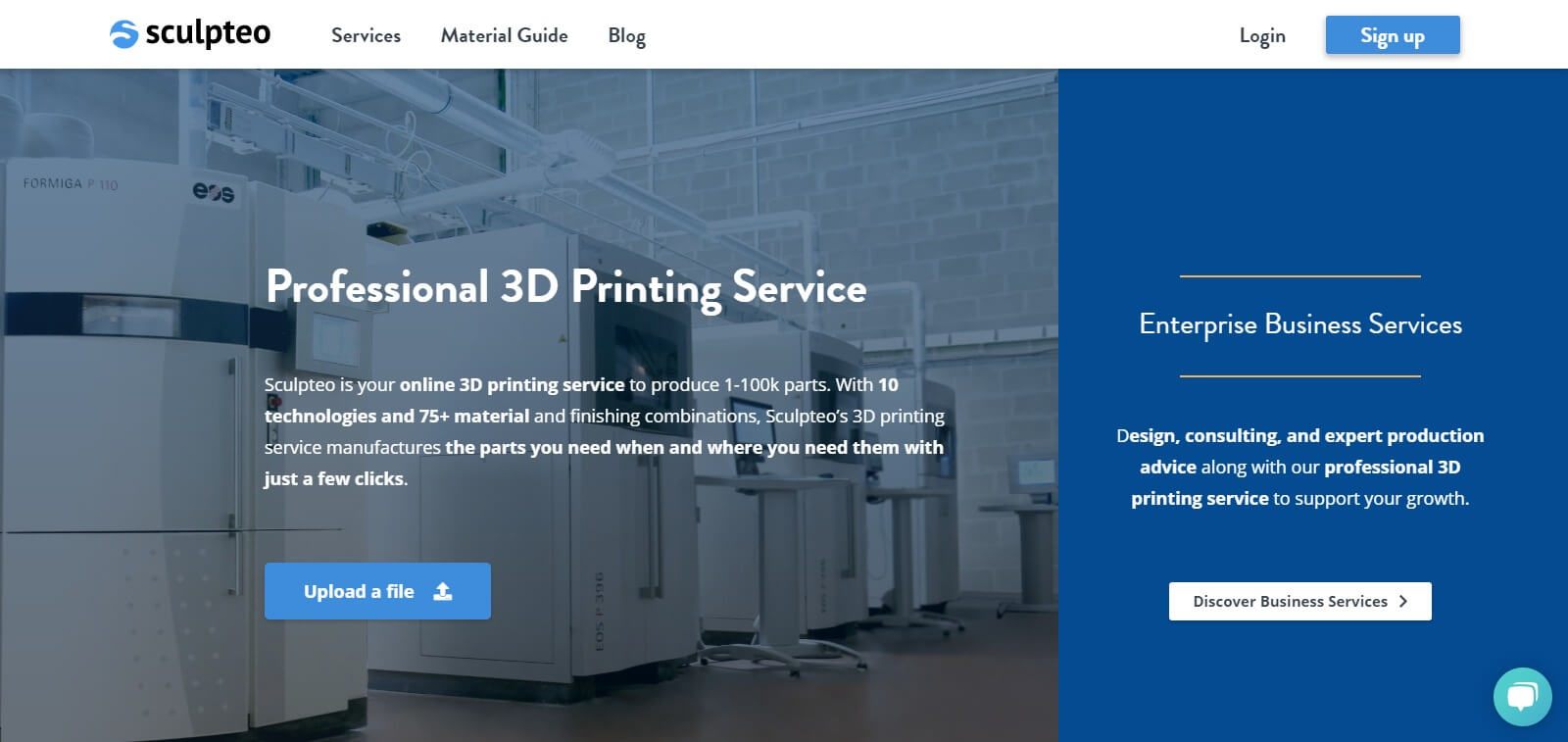 This 3D print online service offering company started in France in the year 2009. After gathering years of experience in additive manufacturing, the company currently has a manufacturing plant in San Francisco, USA.
Sculpteo also operates by its offices all over Europe. Apart from 3D print online, Sculpteo also offers services of laser engraving. It has its in-house software platform called Fabpilot where one can do subscription-based modeling.
They have an online quoting system that can analyze your design and come up with a price within some time depending on your design.
The choice of materials offered by this website is huge. PA 11, PA 12, and its varieties, resins, aluminum, steel, bronze, silver, brass, and many more materials are what one can choose from.
One of the reasons why working on this website is fast is because of the availability of correct information at the correct place. With the list of materials, one can view the information about the material.
This enables him/her to decide upon the material immediately because he can compare the same materials on a single screen.
Often you come across a website that does not have such an option and because of that you have all the information in front of you, but not on a single screen.
This is what takes time. Sculpteo lets its viewers read the technical limitations of the material. An interesting option on Sculpteo is that it lets you view the weak and hollow spots in the design.
Viewing this enables you to make relevant changes, check and analyze your design before printing it.
Another information that makes the processing faster is, as soon as you enter the choices of material and technology Sculpteo, it tells you the maximum size of your 3D product.
Voodoo Manufacturing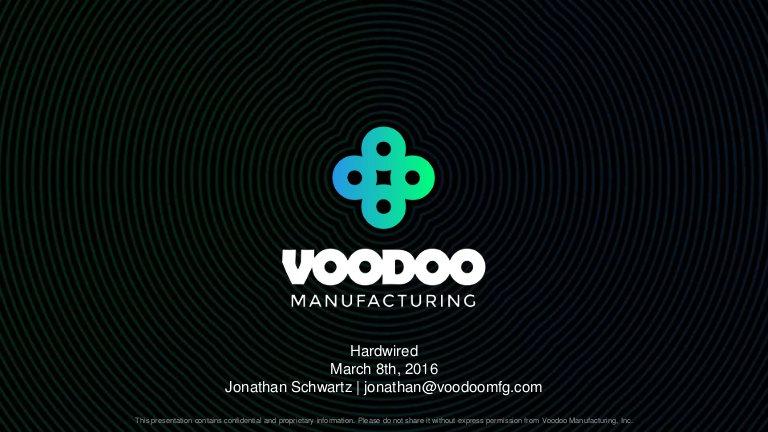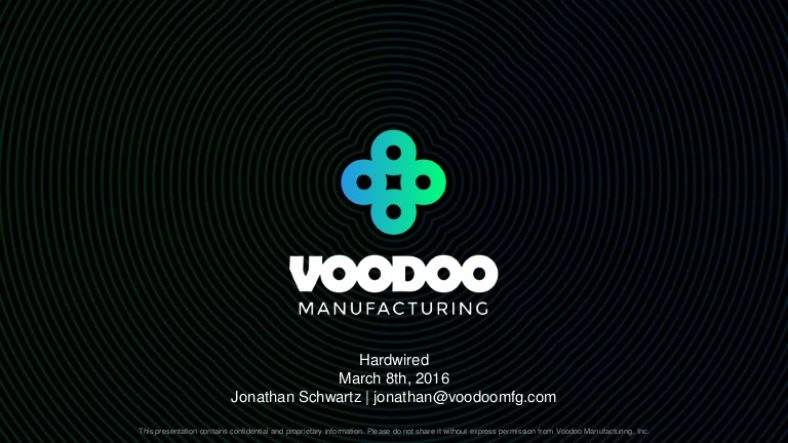 Based in Brooklyn, Voodoo manufacturing lets its user 3D print online, both, for individual prints as well as for large-scale production.
Till now their portfolio has included projects such as printing off collectibles for popular TV shows and gears for high-fashion shows. All the prints made on Voodoo are made using a huge fleet of Makerbot 3D printers.
Since February 2018, Voodoo has also started offering a large format printing service this is by using an array of Rais3D N2 Plus 3D printers.
The benefit of using these printers is that they offer print jobs of up to 60 cm tall. This company is based in the USA and offers 3D print online using FDM technology.
Because it uses FDM technology, Voodoo can offer cheaper 3D print online faster than its competitors. FDM is a technology that is the easiest one to operate with.
Whiteclouds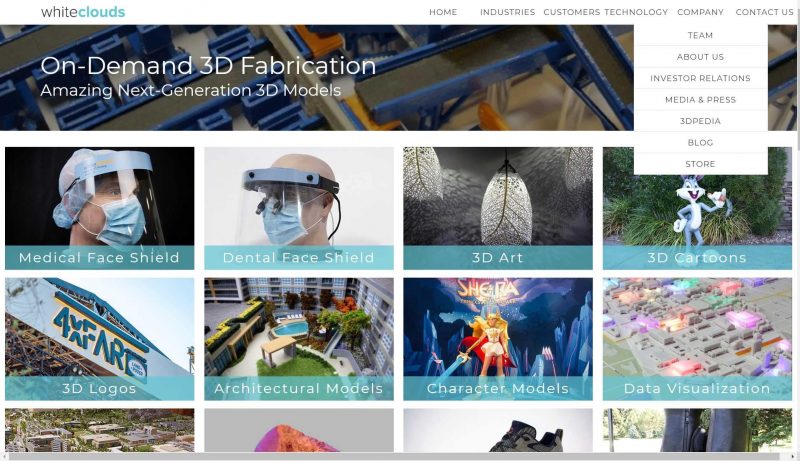 The company claims itself to be the largest 3D print services offering company online that offers full-color printing. White clouds is highly focused on B2B.
The company cooperates with retailers and brands to create personalized action figures, models, and topological and architectural structures. The high-quality prints that are produced by this portal is a result of Stratasys and 3D printers.
The company also has its setup 3Dpedia that has information on terms related to 3D printing. At Whiteclouds one can place orders for their 3D prints which then reaches out to you using its retail networks like Sandboxr.
3Dligent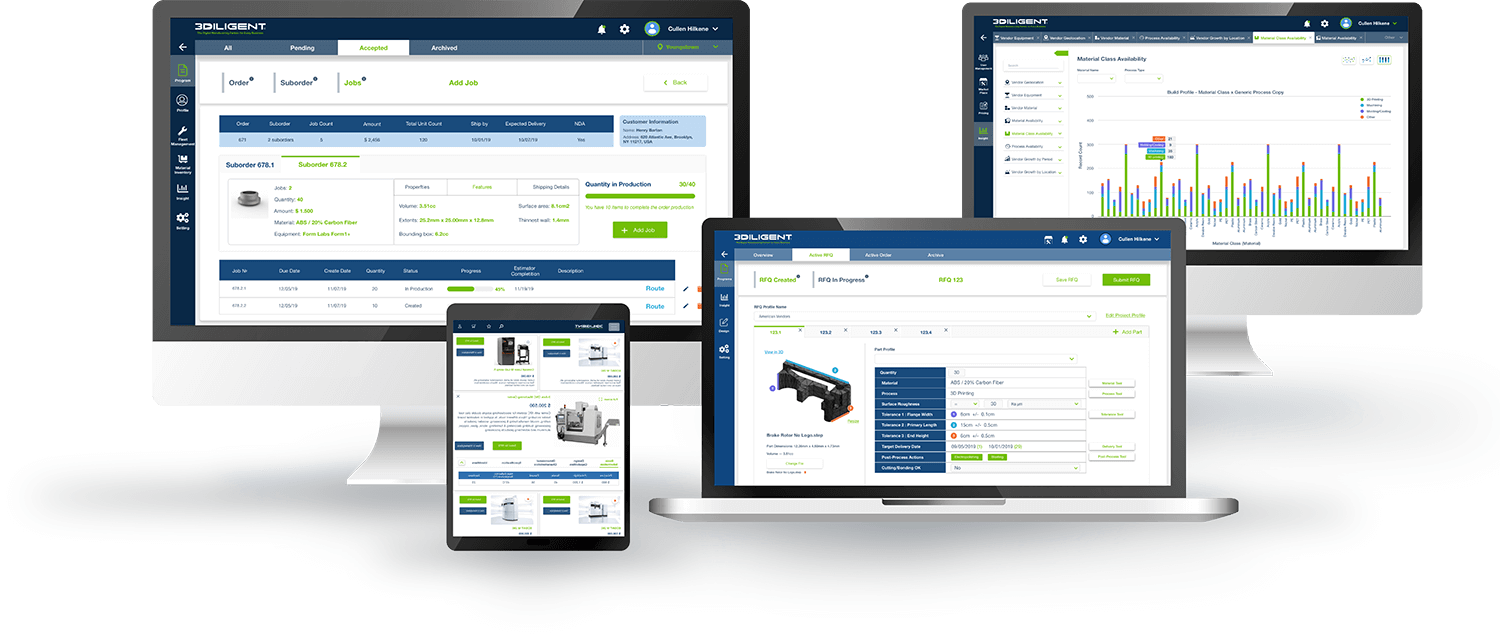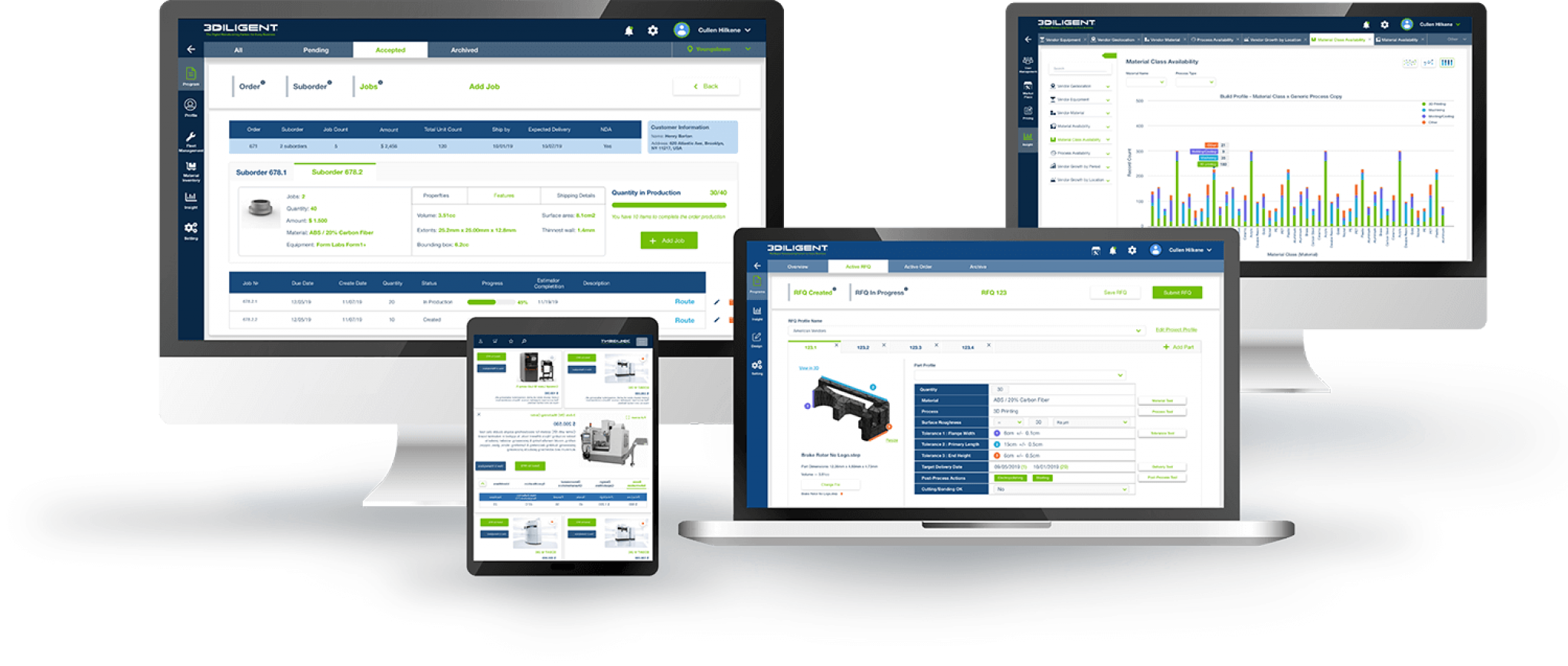 This is a professional business network that needs a sign up to post jobs and requirements 3Diligent then leverages its wide network of partners (spanning manufacturing techniques and technologies beyond 3D printing) to bid and complete the job.
When requesting a quote, you state your budget, select the material, the process, and other requirements of your project. If you are unsure which material or process is suitable for your design, the vendors can decide for you.
3Diligent also offers a knowledge center that provides concise information on printing methods and materials, as well as a series of videos that explain the order process.
Fathom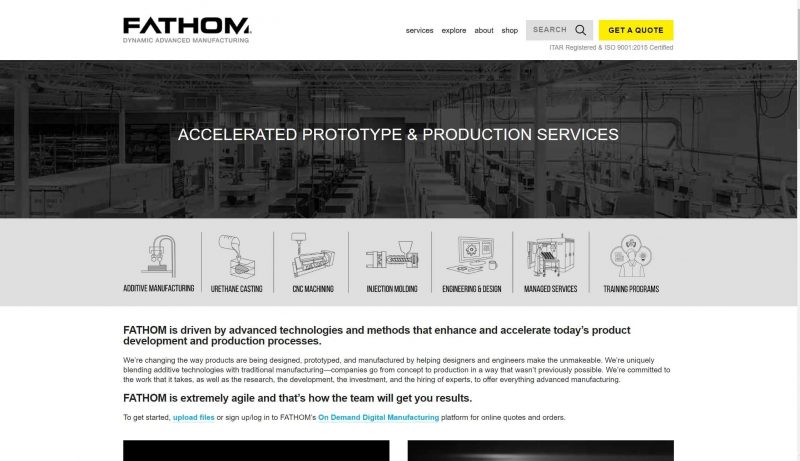 Oakland-based online 3D printing service Fathom offers a wide array of 3D printing technologies and services dedicated to rapid prototyping, product realization, and batch production.
Initially, a reseller of PolyJet machines (later Stratasys PolyJet), Fathom expanded to offer industrial-grade machines from other providers, scaling the service side accordingly.
Today Fathom leverages a number of fabrication tools, including 3D printing, alongside design and engineering services, training programs, and providing staff for running in-house operations.
Though it's possible to upload STEP, IGES and STL files to request a quote, Fathom's On-Demand Digital Manufacturing platform is the fully-featured aspect to the website, allowing for the upload of a wide number of file types and giving an easy overview of quotes and orders.
Facfox
Offering a wide variety of manufacturing services, FacFox is one of China's leading on-demand print services. The company tailors its services to several industries, including architecture, medical, retail, and design.
A simple online interface lets you quickly upload models, which will then be checked for printability (and automatically repaired if not) before payment.
Live tracking of the print's progress is a nice touch, and competitive international delivery often makes it a cost-effective alternative to some of the perhaps better-known services on this list. FacFox's 3D printing service can be accessed via Craftcloud.
SD3D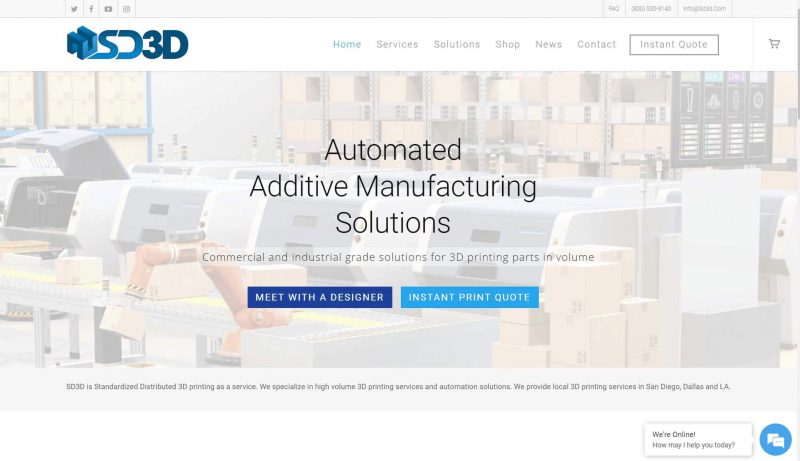 For those in need of 3D printed parts, pure and simple, online 3D printing service SD3D provides a convenient instant quoting tool.
Parts can be ordered in four levels of quality to meet the needs of every stage in the design process — from rough, low-resolution drafts to ultra-fine pieces with barely perceptible layer lines.
The prints can also be used for casting parts; this can come in handy when you want to produce prototypes on a small scale.
3D Print AU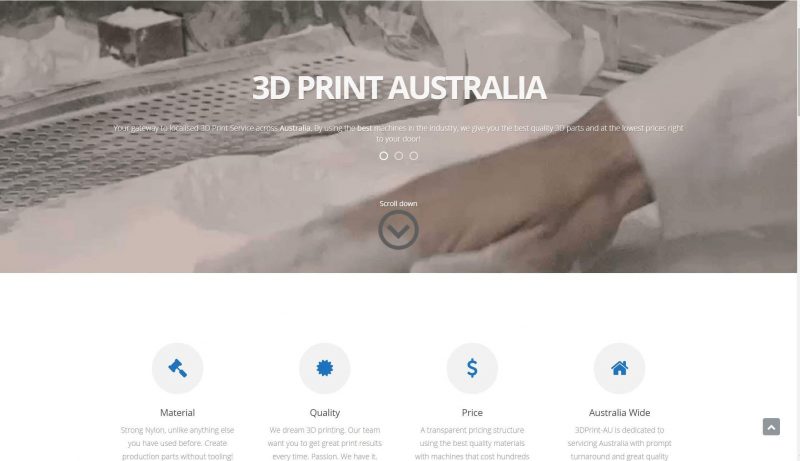 Australia-based online 3D printing service 3D Print-Au places its 3D printers at the disposal of customers in Australia and New Zealand.
Because of its pricing structure (charging for the bounding box rather than the material used), it claims it will beat the competition's quotes.
This 3D printing service also promises to provide superior quality as every uploaded model is inspected before sending it off to the 3D printer. Also, 3D Print-Au accepts low volume production orders.
JawsTec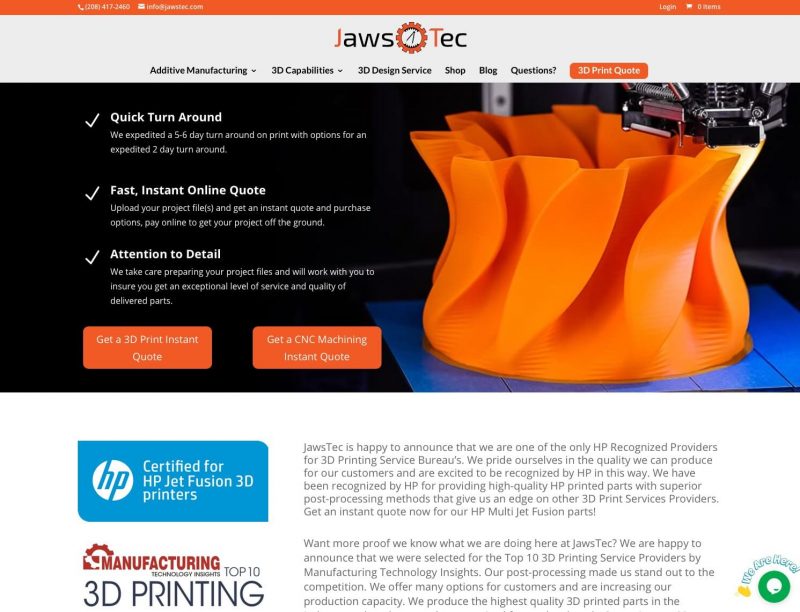 Specializing in the 3D printing of nylon, and CNC-machining of steel and aluminum, Jawstec offers a tightly focused and professional service.
HP certified using said company's Multi-Jet Fusion additive manufacturing system, Jawstec claims to offer superior post-processing of MJF parts.
Similarly, caring for quality is offered across this company's other wares. This caring is offered along with post-processing to order a differentiator between Jawstec and other services. The company's 3D printing service can be accessed via Craftcloud.
Beta Layout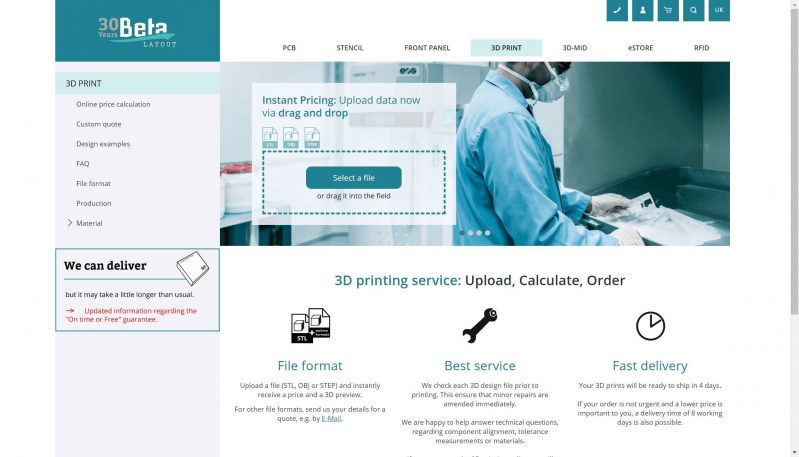 It's possible to generate a quote for SLS 3D prints online using Beta Layout's price calculator, but the company's specialty comes in complementary technologies for functional prototypes using PCBs and enclosures.
Perhaps most tantalizing of the company's offerings are 3D mechatronic integrated devices — printed objects with integrated circuitry. Based in Germany, with several offices around the world, some services of Beta Layout's have yet to make it to the US.
We Next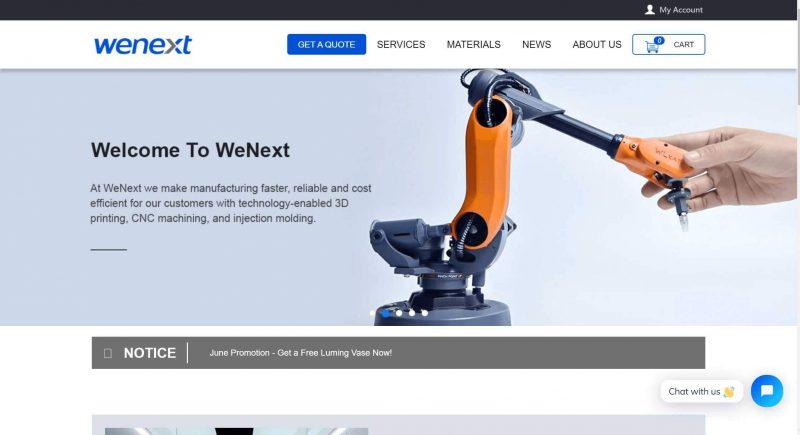 WeNext is a Shenzen, China, based company specialized in high-demanding resin and nylon prints. Founded in 2014, the company soon became the largest internet manufacturing service platform in the Asia-Pacific region with over 130.000 customers.
With their competitive international delivery – expedited within 24h – the company is now targeting the worldwide market.
It poses as a cost-effective alternative to some of the perhaps better-known services on this list. WeNext's printing service can be accessed via Craftcloud.
3D Print Ally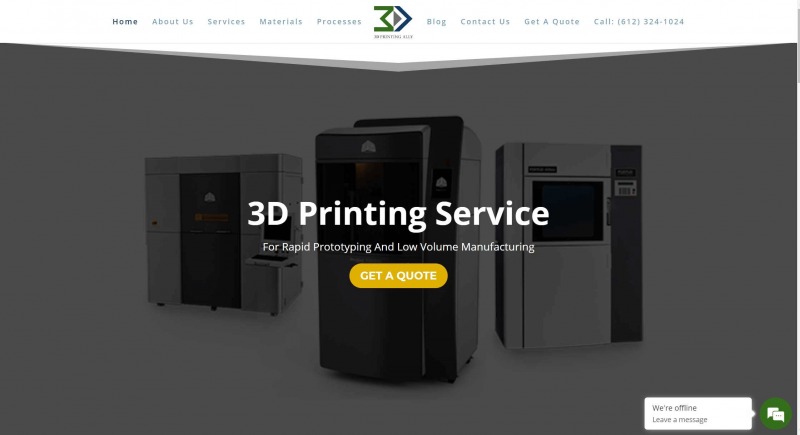 Hailing from Eden Prairie, 3D Printing Ally prides itself on operating at the place where additive manufacturing was born in the 1980s.
Its founder is an aerospace manufacturing professional, and as a result, the company has a firm grasp of the art.
Although with a wide variety of additive manufacturing machines spanning numerous technologies and materials at its disposal, 3D printing Ally is well placed to serve a number of different industries' requirements.
The 3D printing service website boasts a very convenient instant quoting system and useful information on the available printing technologies and materials.
HK3DPrint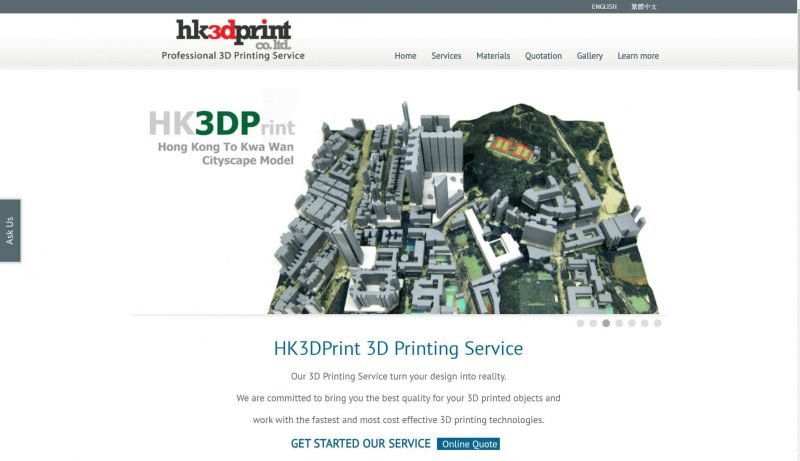 This is a Hong Kong-based online 3D printing service. HK3DPrint often produces prototyping architectural models and ships them worldwide. This 3D print online service also offers cost-effective, low volume production.
The website also sports a quick instant quote system and helpful documentation on 3D printing technology in general. Unique colors and finishing are available on request.
Look out for the regular price specials on materials. Especially relevant for customers in the Hong Kong area, HK3DPrint offers a next day service.
Trinckle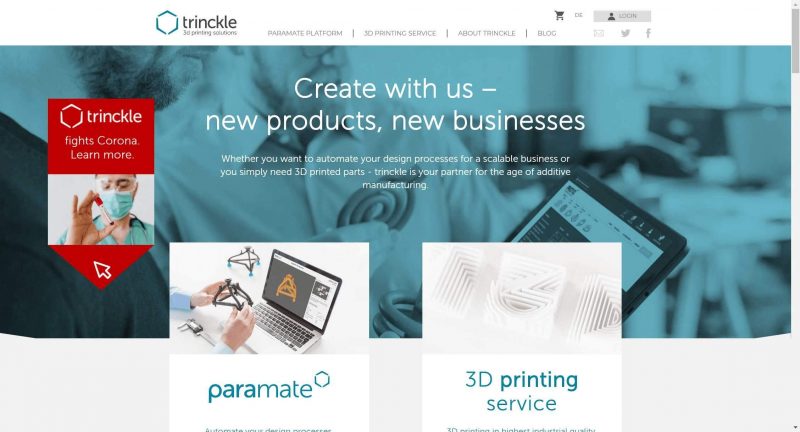 In addition to being a 3D printing service, Trinckle offers a marketplace to buy 3D printed goods, tools to check the structural integrity of your model (thereby saving time and money), plus detailed guides on the pros and cons of each material.
In recent years the company has developed a professional web-based automation system for the parametric design (and printing) of custom parts.
Dubbed Paramate, the platform gives infinite flexibility for businesses to offer customers a bespoke part service, and industrial clients the ability to design and produce on the fly.
AutotivMFG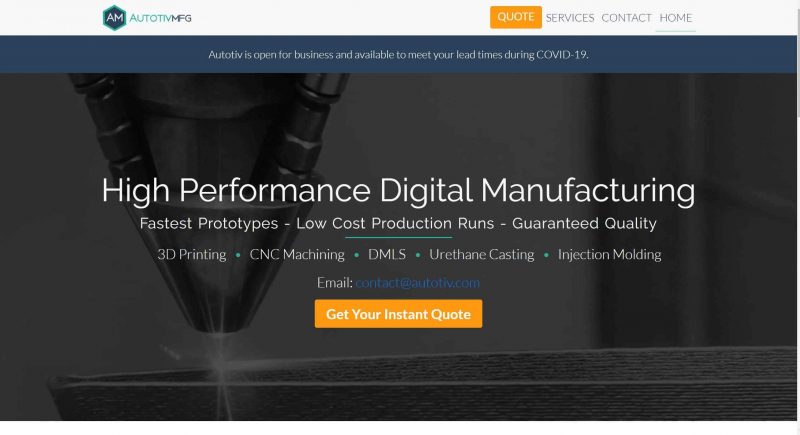 AutotivMFG has been the 3D printing source for more than 1,000 companies, also offering multiple services besides 3D printing. Such as additive manufacturing, injection molding, or urethane casting.
They utilize excess manufacturing capacity from qualified suppliers around the world as well as automated in-house manufacturing workflows, allowing them to make custom parts more efficiently.
With Autotiv's instant online quoting platform, you can choose from 5 different 3D printing technologies. Plastics, elastomers, and metals in SLA, FDM, SLS, DLS, and Polyjet are available.
They also provide file repair and preparation, materials consulting, and project management.
The Conclusion
The list will help you plan your next 3D print online service without any confusion. All these companies are reliable and offer varying perks to the customers. You just have to pick considering the constraints mentioned above.