What Is 3D Printing?
The creation of a 3D object from a CAD model or a digital 3D model is known as 3D printing or additive manufacturing. The term "3D printing" is the process in which material is deposited, joined, or solidified for producing a 3D object, with material added layer by layer.
What is FDM?
Fused Deposition Modeling (FDM), also known as Fused Filament Fabrication (FFF), is a material extrusion-based additive manufacturing method.
An object is created in FDM by layer-by-layer selectively depositing melted material in a pre-determined direction. The materials are thermoplastic polymers that come in the form of filaments.
FDM is the most commonly used 3D printing technology, with the largest installed base of 3D printers worldwide, and is often the first technology that people encounter.
In layman's terms, a standard FDM 3D printer squeezes plastic filament through a hot end, melts it, and then deposits it in layers on the print bed.
These layers are glued together as they build up throughout the print, finally forming the finished product. FDM methods can be used for a variety of materials, including metal or wood-infused thermoplastic.
FDM is widely regarded as the easiest method of 3D printing because it is both inexpensive and effective. FDM 3D printers have nearly supplanted more costly methods in the 3D printing industry.
Comparison Chart
| Name | Link | Nomination | Overall Rating |
| --- | --- | --- | --- |
| Creality Ender 5 | | Quickly-heating Print Bed | 8.8 |
| Original Prusa i3 MK3S | | Premium Pick | 9.7 |
| Monoprice Maker Select V2 | | Sturdy | 9.8 |
| Tronxy X5SA Pro | | Cost Effective | 9.5 |
| Bibo Dual Extruder | | Durable | 9.5 |
| Lulzbot Taz Workhorse | | Incredible Accuracy | 9.4 |
| QIDI Tech X-Pro | | Versatile & Stable | 9.6 |
| Snapmaker 2.0 | | Best Value | 8.8 |
| Ultimaker 3 | | Dual Print Cores | 8.2 |
| Raise3D Pro 2 | | Plug & Play 3D Printer | 9.6 |
| Tractus3D T3500 | | Massive Build Area | 8.7 |
| WASP DeltaWASP 3MT Industrial 4.0 | | Requires Minimum Space | 8.4 |
| Builder Extreme 2000 | | Reliable | 9.6 |
| Febtop Tech Optimus C1 | | Responsive Interface | 8.9 |
| Qidi Tech X-Max | | User-Friendly | 8.4 |
Best FDM 3D Printers
Creality Ender 5
Creality, a Chinese manufacturer, created a stunning concept that retains the quality of previous releases while adding some extra features to enhance the user experience. The Creality Ender 5 comes with a long list of features to ensure the results are outstanding.
This FDM printer updated a number of interesting features to offer the highest level of reliability for users. The printer is capable of printing for several hours without a hitch and can produce precise and complex designs with ease.
Uses:
The Ender 5 uses up and down movement instead of side-to-side movement, which is possible on almost any 3D printer in this price range.
The 3D printer heats up faster, thanks to the approved 24-volt power supply. As a result, consumers receive reliable results.
The magnetic bed is easy to put in and take out. As a result, consumers would find it easier to use.
When required, the build plate can be popped out and back in. This makes it simple for users to remove the model until it has finished competing.
The dual-shaft Y-axis is included with the Ender 5.
During a power outage, the 3D printer stops the printing process and resumes it once the power is restored.
The build area of the 3D printer is greater than that of its predecessor.
Original Prusa i3 MK3S
The original Prusa i3 MK3 is a modified version of the Prusa i3 MK2. It includes all of the tools you will need to assemble the parts delivered to you, labeled and arranged in a large box.
It comes with the same software as the Prusa i3 MK2 and is also compatible with Mac and Windows.
Uses:
You won't have to reassemble the extruder every time you need to change the nozzle.
Because the previous version had issues with certain filaments, they introduced a new filament sensor that is more compatible with specific filaments.
In this updated version, new print profiles are added to the slicer software.
Monoprice Maker Select V2
The Monoprice Maker Select V2 is an FDM and a low-cost 3D printer that falls somewhere between a DIY kit and a finished product.
It's a good choice if you want a good deal but doesn't want to deal with DIY kits and the time-consuming initial setup, which can take from four hours to an entire day. The printer's overall design is strong.
Uses:
The build area of the Monoprice Maker Select V2 is impressive, measuring 7.9" x 7.9" x 7" on a heated PEI print bed.
The maximum print speed is 100mm/s, with resolutions ranging from 100 to 400 microns.
The extruder nozzle works for both PLA and ABS and can heat up to 230oC. You can print with almost any filament with a simple nozzle upgrade.
Aside from build space, the Monoprice Maker Select V2's best feature is its robust all-steel frame.
If you ever have troubleshooting problems or need recommendations about what to upgrade next, a vibrant community will help.
Tronxy X5SA Pro
Tronxy, a Chinese company, has a large-format and low-cost aluminum FDM printer. The durable, lightweight structure ensures accurate printing results and a quick print speed.
It is more user-friendly and cost-effective, thanks to features like auto-leveling, power-off print resume, and filament run-out detection.
Hobbyists and students use it to print a wide range of templates, such as paintings, ornaments, practical equipment, and gadgets.
Uses:
To proceed to the next step, simply snap out the print bed and remove your 3D prints from the plate.
The X5SA Pro can detect filament run-out
Another important aspect of the 3D printer is the ability to restart printing after a power outage.
Users will finally get rid of the time-consuming manual bed leveling process with the help of auto-leveling sensors.
It has a 3.5-inch touchscreen on the front that allows you to manage the 3D printing settings easily.
You can print with a heated build plate on the 3D printer. As a result, users can make parts out of a variety of materials.
The printer is a massive leap forward with a titanium extruder, leaving all of its predecessors in the dust.
Bibo Dual Extruder
Bibo, the FDM 3D printing beast, is a user favorite. This FDM printer can print two materials at the same time, including ABS, TPU, and PLA.
This assembled machine may require minor adjustments before printing. The packaging includes two extruders with nozzle diameters of 0.4 mm and 1.75 mm.
Uses:
Unlike other printers, the dual extruders are stable and provide better 3D printing precision.
It allows you to continue tasks after a power outage. This means you won't have to restart printing
The company recommends friendly boosted software, such as Repetier-Host, Cura, and Simplify3D.
The front-facing touch display allows you to change the settings.
By connecting it to a smartphone or laptop, you can work on it from a distance.
Lulzbot Taz Workhorse
The LulzBot TAZ Workhorse is the most reliable and user-friendly desktop 3D printer on the market. This award-winning line of printers has been updated with a stronger design, motion system, hot end, and automatic calibration.
Uses:
The heated borosilicate glass build plate on this FDM 3D printer is PEI coated.
The LulzBot series is known for its ability to work with a variety of materials.
The 3D printer is capable of removing "Z wobble" print objects with the aid of a belt-driven Z-axis.
The LulzBot family offers automatic calibration.
LulzBot's X/Y/Z Backlash Compensation System is included with the TAZ Workhorse 3D printer.
Until starting a new print, the printer cleans the nozzle automatically.
A 3.5-inch graphical LCD screen on the 3D printer allows the user to monitor the print settings.
QIDI Tech X-Pro
With its enclosed printing chamber, this lightweight printer is a beginner's best friend. It's easy to use at home to make exclusive models. Anything that you need to hold the printer's parts together is in the packaging.
The printer can print at a rate of up to 10mm/sec, which is impressive for a computer in this price range.
It comes with everything you need to get started with FDM 3D printing, including an extruder, screw and package, a power cable, a USB with test models, and two forms of glue. It also includes tools and instructions for using 3D printers.
Uses:
Stands out due to its enclosed printing chamber, which also aids the unit in maintaining a constant temperature for cooling, and this means it will not only assist you but will also look out for you
Includes two extruders for feeding filament to the print head
If you are using the Qidi X-Pro, getting your finished model out of the system is not a challenge. It comes with a removable aluminum bed and magnetic plates that you can bend in and out easily
With a build size of 230 x 150 x 150 mm, the unit weighs less than 28 kg and can be conveniently stored in any corner of the house or on your work desk.
It has an above-average printing quality and is based on FDM technology (FDM is a process in which the filament is heated and mounted on the print bed).
If you are using the Qidi X-pro, Slicer Apps, Cura, and Simplify3D are the programs that you will need.
Snapmaker 2.0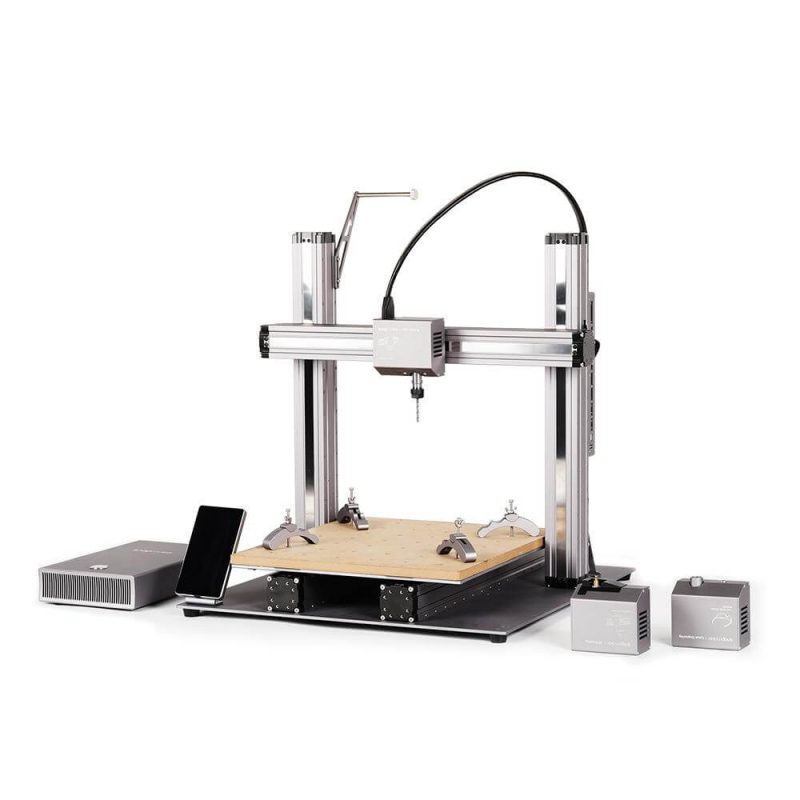 Snapmaker 2.0 FDM printer is a revolutionary magical device that can flawlessly carry out three processes: 3D Printing, CNC Carving, and Laser Engraving.
It comes with a cool tool kit and well-labeled parts for simple assembly. Snapmaker included a free PLA filament inside the box as a gift for you!
Uses:
By simply swapping out the extruder's nozzle, you can perform 3D printing, CNC carving, and Laser Engraving functions.
It has the largest build platform, measuring 4.9 x 4.9 x 4.9″, making it a great 3D printer for large prints.
The print layer resolution ranges from 50 to 300 microns. It can print your models and will no doubt impress you with its accuracy.
The printer has Wi-Fi, which makes working with it convenient. You can use it to send your 3D model to the machine after slicing it.
You can also use its USB port to transfer .stl and.obj files.
It is compatible with 1.75mm PLA and ABS filaments.
The heated build plate holds the model in place during the formation and allows you to easily remove it without damaging the print.
The Snapmaker software can take pictures of the material while laser engraving/cutting, making it easy to decide where to add the cut. Simply press the start button, and the laser will begin cutting your model. Remember to put on your laser safety goggles!
Ultimaker 3
Unlike its predecessor, this computer attempted to exceed all standards. Ultimaker released the Ultimaker 3 after a series of promising machines for 3D printing communities.
This is unquestionably a next-generation rig, with a dual extruder and a slew of other features to help users expand their imagination further.
The computer is extremely successful at solving a variety of problems and can easily complete even the most complex designs.
The Ultimaker 3 is the best FDM 3D printer in this price range, offering various color printing options.
Uses:
Dual extrusion is available on this 3D printer. This means that two colors can be printed at the same time. As a result, with this 3D printer, creating multicolor models is quick and simple.
Offers PVA material that is compatible with the unit, which means that the support structure can be printed with PVA, a water-soluble material.
A removable print core is included with the 3D printer. This makes content swapping easier and more convenient for consumers.
Offers Wi-Fi connectivity.
This FDM printer is complemented with Automatic Bed Leveling.
Raise3D Pro 2
Raise3D is an award-winning company that, while not breaking the general design trend in 3D printers, modernized their machines enough to attract your attention. The Pro2 is a professional-grade desktop 3D printer with a large print area.
Uses:
The dual-gear-powered extruder on the Raise3D Pro2 3D printer has been fully redesigned.
A V2 hot end is included with the 3D printer. The temperature of this nozzle head will exceed 300°C.
It's no wonder that the 3D printer has a magnetically swappable print bed system. The device enables makers to adjust the build plate as required without any issues.
This 3D printer can do a variety of things, from finer details to complex designs.
The HEPA filter is one of the most important features, as it ensures safety. The filter is capable of removing more than 90% of dust and contaminants from the system for your protection.
Tractus3D T3500
The Tractus3D T3500 is a large delta 3D printer manufactured in the Netherlands. The Tractus3D T3500 is one of the world's largest delta 3D printers, with a build area of 1000 x 2100 mm.
This 3D printer is appropriate for industrial applications as well as prototyping.
Uses:
The T3500 has a large build area that is ideal for 3D printing large objects.
The glass build plate can withstand a maximum temperature of 110°C.
Users can access 4GB of internal storage and control the 3D printing process via its 7-inch color touchscreen.
Closed chamber
The T3500 supports dual extrusion. The nozzles can reach temperatures of up to 300°C.
WASP DeltaWASP 3MT Industrial 4.0
With its large closed build area and unique versatility, the Delta WASP 3MT FDM 3D printer sets a new standard in the world of additive manufacturing.
This printer is designed for large-scale printing. Among other efficient components, the printer includes a powerful extruder that is compatible with both technical and recycled materials.
Uses:
A hot build plate that can sustain temperatures of up to 100°C allows you to print with a variety of materials.
The self-calibration system prints the first layer with extreme precision.
Along with it is the free zeta system, which allows the inertia of the hanging rubber bands to be downloaded. As a result, print speed and quality have improved.
Delta WASP 3MT has a maximum build volume of 1000 x 1000 x 1000 mm. It can print at a maximum speed of 200 millimeters per second.
You can print with a variety of materials including PLA, ABS, PETG, TPU, and Polypropylene.
Builder Extreme 2000
This printer can withstand a temperature of 60°C on its heating platform. It has two extruders for high layer resolution and printing with materials like the PLA, PET, and others that have a similar temperature range.
Uses:
The printer is being talked about all over the 3D printing market because of its massive build volume!
Builder 3D printers offer a user-friendly dual-feed extruder
The Extreme 2000 has an onboard camera that allows you to monitor the entire printing process remotely.
It has provided you, as a user of this printer, with multiple nozzles with diameters ranging from 0.4 to 0.8 to 1.2 mm.
The Extreme 2000 has been efficiently designed to provide space for all of its key features without sacrificing print volume.
Febtop Tech Optimus C1
The Febtop Tech Optimus C1 is an improved version of Febtop Tech's original Optimus advanced 3D printer for 50-micron layer printing.
It's an FDM 3D printer, laser engraver, and CNC milling machine. It comes pre-assembled with an integrated case body that keeps it stable and gives it a nice appearance.
By removing the modular tool heads from their arrangement, you can easily switch between functions.
Uses:
The Optimus C1 has a filament sensor that alerts you when the filament is about to run out, ensuring that you don't have any failed projects or problems in the middle of a project.
Air filtration device built-in to eliminate toxic pollution during the printing process.
This printer produces little noise at less than 40 decibels.
It's used for prototyping and small-scale production of items like table games, small figurines, and miniatures. The 0.4mm caliber ensures 0.1mm precision.
The Febtop Tech Optimus C1 has a user-friendly touchscreen that makes for the most relaxed contact with the printer.
The 1.75 mm filament used by the Optimus 3 in 1 3D printer allows you to print a wide range of materials with versatility.
Qidi Tech X-Max
Qidi Tech-X Plus is known for its high performance and ability to produce high-quality prints. It has all of the features you would like in an FDM 3D printer.
It purifies the air, prints silently, automatically levels the bed with a single button press and has a Wi-Fi link for easy use.
It includes a decent workspace for modeling, as well as two extruders that allow you to experiment with advanced and general materials one at a time.
Uses:
The 10.6 x 7.9 x 7.9-inch build volume of the Qidi Tech-X Max is impressive.
It sets up two extruders that you can use together or separately, for handling general materials, such as ABS and PLA, while the other is for dealing with specialized materials, such as carbon fiber and nylon.
The key feature of the Qidi Tech-X is its dual Z-axis, which allows you to print big, solid objects.
The print resolution ranges from 0.05 mm to 0.4 mm.
3.75 mm 3rd party filaments are assisted by Qidi Tech X-Max, which saves you a lot of money.
Filaments can be fed in two ways: general materials filaments are placed outside for printing, and advanced materials filaments are placed inside for printing because they require constant temperatures.
The 4.3-inch touchscreen has a user-friendly interface, and it guides you through the printing process, making it simple to get the desired object out of the printer proficiently.
It comes with a curved metal build plate that can be removed. The plate's front side is used to print general filaments, while the backside is used to print specialized materials.
Buying Guide
High Nozzle Temperature
The temperature of the hot end nozzle determines the types of 3D printing materials that a printer can print. The clone hot end can reach 260oC, while the E3Dv6 can reach 380oC. The nozzle temperature is the most significant factor in 3D printing.
Bulb sensors are included with the clone hot ends, which are a little more difficult to install and are sensitive to falling out of the mounting slot, causing temperature readings to fluctuate.
Bed Moving or Not?
A fixed bed is used in some Cartesian 3D Printers, while a moving bed is used in others. A moving bed is used in nearly 80% of Cartesian machines, while a fixed bed is found in the remaining 20%. These are simple to calibrate and take only a few minutes to set up.
People who are building a delta 3D printer from the ground up may find it difficult to use because it takes a lot of initial setup and calibration time. However, once it's set up, it's more of a plug-and-play system that just takes a few minutes.
Auto Bed Leveling
This feature alerts the machine that the bed might be slightly tilted, which must be corrected for a smooth first layer. It also prevents the nozzle from striking the build plate.
Since the frequency of calibration is higher on Cartesian 3D printers, auto bed leveling is necessary. The Delta Mechanism 3D Printing Machines, on the other hand, don't need regular calibration, so it is not a requirement, but it is nice to have.
Printing Speed
The maximum speed that the nozzle can reach when jumping from point A to point B is known as the movement speed. When the nozzle jumps from point A to point B without spilling a drop of the molten plastic material during retraction, this is usually accomplished.
The rate at which the nozzle moves when depositing material is referred to as printing speed. The raw material is to blame for the printing speed because it takes a short cooling period before the next layer is deposited. The quicker the component can be made, the faster it can be cooled.
Enclosed Chamber
An enclosed chamber is needed for printing materials, such as ULTEM 9085, ABS, PC, and others to avoid layer separation. The heat produced by the heated bed keeps the temperature inside the machine stable, and some machines have dedicated heaters to keep the printing environment warm.
Connectivity
Well, if you just plan to get one or two machines, this function isn't necessary, but if you plan on starting a farm, you'll see how useful it is. You will save time in looking for files in directories and you will be able to manage more computers with only a single PC.
Compatibility of Materials
Those devices, in accordance with their instructions, recommend the use of 3D printer filaments, which are often produced specifically for them at exorbitant prices. The end-user has no control over the printer settings or the materials that can be used in this situation.
This may sound fantastic to someone who is just getting started with 3D printing, but as you gain experience, you'll wish you could have tweaked the printer for faster speeds and the ability to print a wider range of materials.
Frequently Asked Questions (FAQs)
What Is Fused Deposition Modeling, And How Does It Work?
Fused deposition modeling, or FDM for short, is a method of building a part by layer-by-layer, selectively depositing melted material in a pre-determined direction.
The materials are thermoplastic polymers that come in the form of filaments. By heating and extruding thermoplastic filament, FDM Technology creates parts layer by layer from the bottom up.
The thermoplastic is heated to a semi-liquid state and deposited in ultra-fine beads along the extrusion direction by the 3D printer. The 3D printer deposits a removable material that acts as scaffolding where support or buffering is needed.
What Materials Are Suitable For FDM?
FDM materials offer flammability, translucence, toughness, as well as UV resistance, and FST ratings, making them ideal for challenging designers and engineers in industries, such as aerospace, automobile, medicine, and others.
Is It Possible To Print A Model With Multiple Colors?
FDM allows users to choose from a variety of colors for a single part. A user can add a pause between any layers of a build using Stratasys proprietary software.
When the computer is stopped, the operator will load a new color canister and continue building on top of the previous one. Only 3D printers that use Insight Software can do this, and only with different colors of the same content.
For My Fused Deposition Modeling (FDM) Method, What File Format Do I Need To Process A Part?
An STL file is needed for FDM.
Conclusion
To understand how FDM 3D printing works, think of it as icing a cake with a piping bag. Melted plastic filament, rather than icing, is forced through the nozzle and deposited in the desired object.
If a layer is complete, the extruder raises one layer (or the print bed lowers) and the process is repeated, much like icing several layers of a cake, to eventually create a three-dimensional item.
Scalability is one of the most appealing features of FDM 3D printing: it can be quickly scaled to any dimension. The cost-to-size ratio is one of the more apparent advantages of having an easily scalable architecture. Due to low component costs and easy designs, FDM printers are constantly becoming bigger and less expensive.
This guide will assist you in selecting the best FDM 3D printer, regardless of whether you are a beginner, intermediate, or expert in 3D printing. As a result, take a look at the different suggestions and choose the one that best suits your needs.