3D printing is getting closer to our needs as we advance to the future. We keep wasting time looking for items that may be out of stock or won't come for the desired size.
Why not 3D Print home décor items including a 3D printed bathroom to make use of the smart machine lying silently in the corner of your house.
You may be using the 3D printer for fun or for learning. But it could actually take you to the next stop sooner. All you need to do is be creative and think of all those ideas that could help renovate your bathroom without any external help.
If you have moved to a new house and think that the bathroom is undone, why not do it yourself. There are many ideas online. And, if you are good at 3D designing, make something unique for your specific needs.
The sky is the limit. You just have to wonder what more. And, you can keep innovating new designs to fill your bathroom with useful items. 
The idea is to keep your 3D printer engaged as much as possible. Doing so, you won't only learn more about the technology, but you would make a huge addition to the interiors of your bathroom.
You can 3D print items of other rooms too. But let just suffice this article to the bathroom space for now. There are plenty of things to 3D Print.
So, let us start with a few suggestions to give you a head away. As mentioned before, the sky could be your limit. So, use these ideas and think of more, if your creativity lets you. And, give your bathroom the ecstatic touch it is dying to experience. 
List of Some of the Useful 3D Printed Bathroom Items
No more thinking, but its time to act. Here are a few of the suggestions that would encourage only to try these but to make something newer as well.
Rubber Duck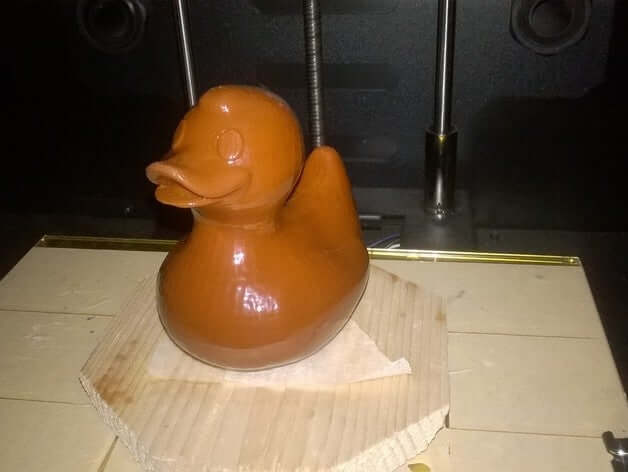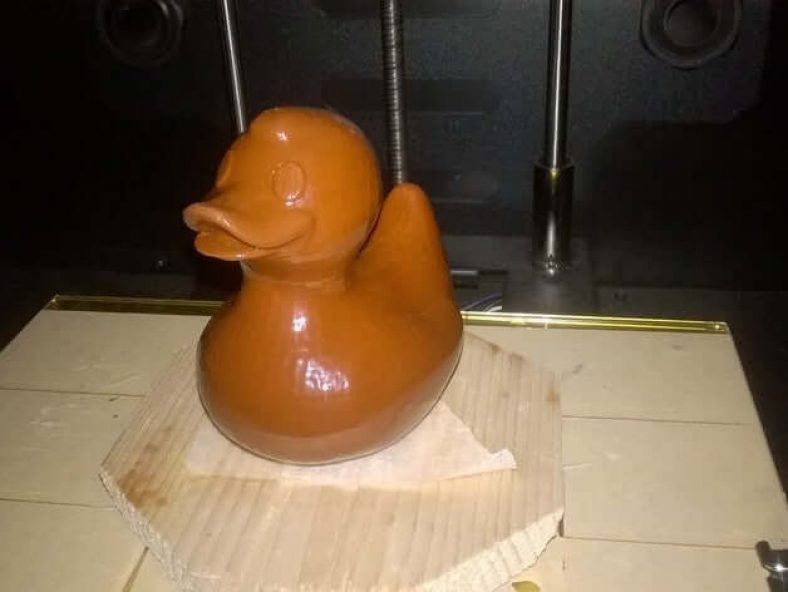 Model: Thingiverse
Let's just start with something non-essential, still found in almost every bathroom. With time, the rubber ducks have become a must-have for bathrooms, although without any use.
If you like to share your bath time with a cute rubber buddy, you know what to 3D print. If you have kids around, you can even try the whole family of rubber ducks.
You can give your bathroom a personal touch and create the 3D printed bathroom themes to enhance the look and feel as you please. 
3D printing provides flexibility to design one item in different ways. You can choose the one you like and complete your bathroom interior to make your bath time relaxing.
You can find a number of designs featured on online repositories. Either you can 3D print as it is or you can also make changes to the 3D files and come up with few changes. 
Many designs are even free to download. So, take your time and find out the one that makes you feel good. 
Mounted Soap Dish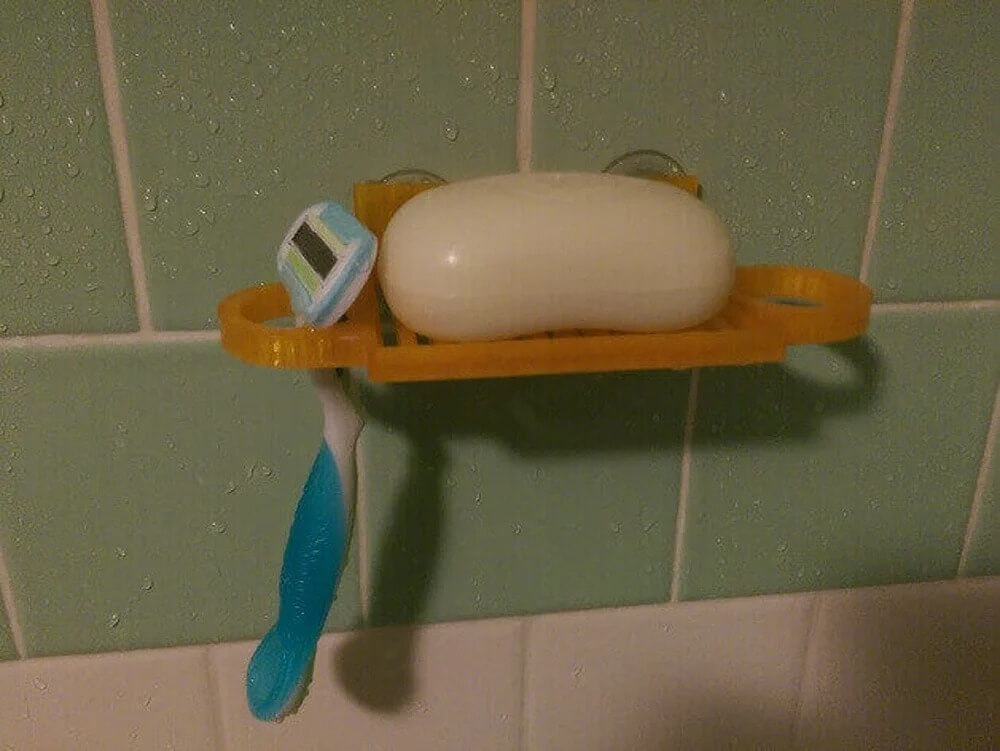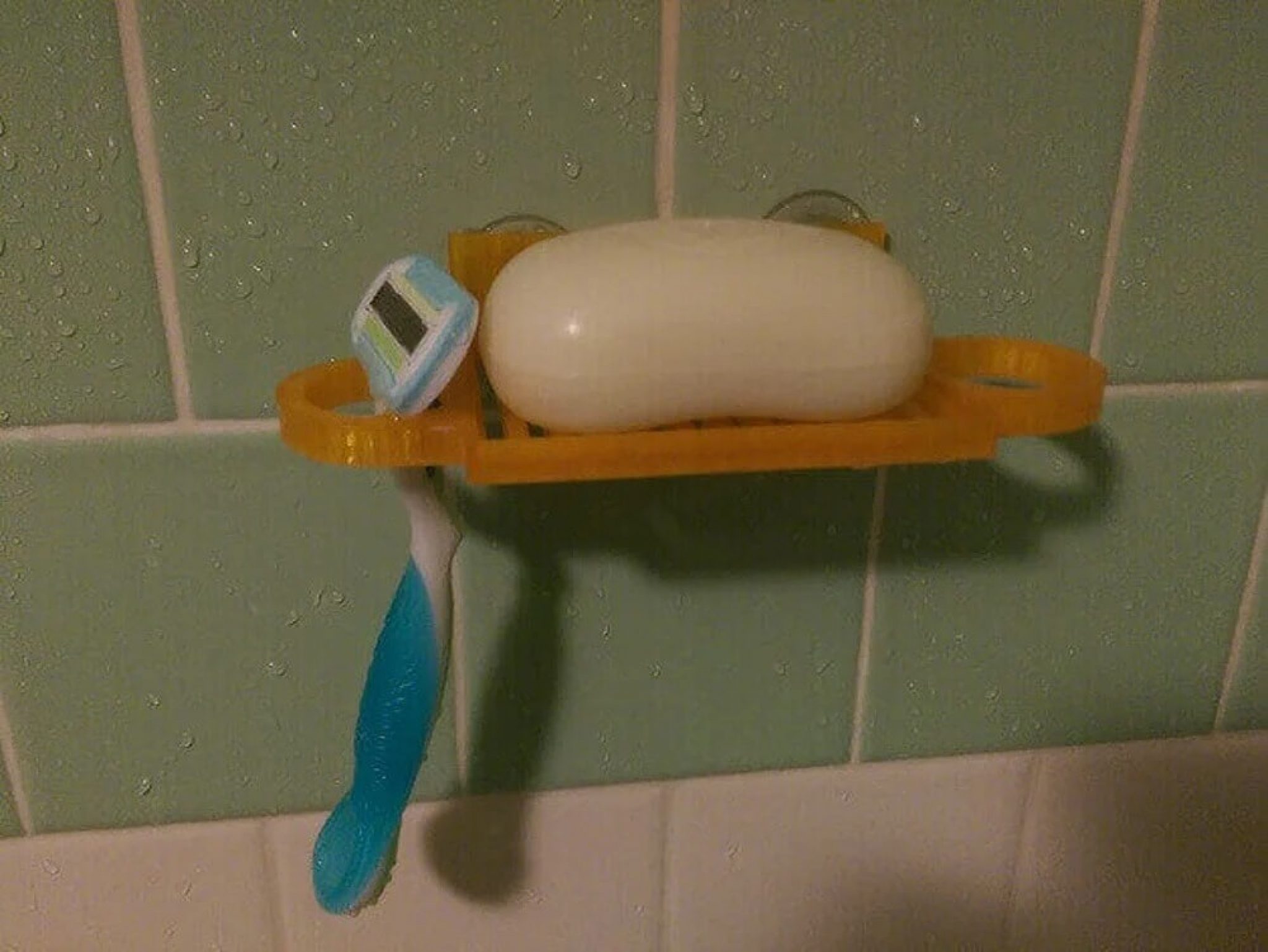 Model: Thingiverse
There are times when we often feel a lack of enough space in the bathroom to organize necessary items. So, why not find a solution to not only make space for these items but to also decorate the bathroom at the same time using creative hacks.
The mounted bathroom soap dish is not unusual. But when 3D printed to hold other few essentials such as a toothbrush or a razor, it would definitely do the right trick. Mounted soap dishes are very helpful in keeping your bathroom floors spacious.
You can design these in different colors and designs. With suction ends, you do not even need to make any drills in your bathroom. Keeping the walls damage-free. 
Towel Hook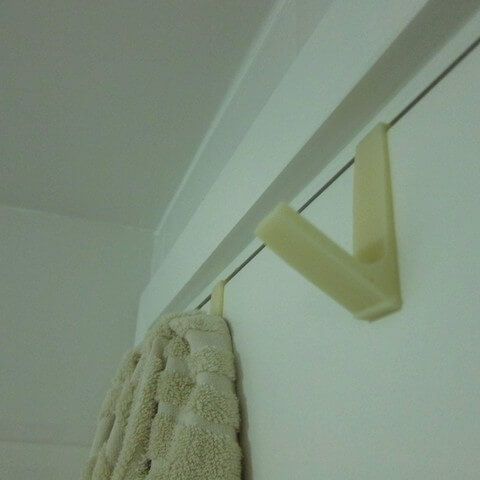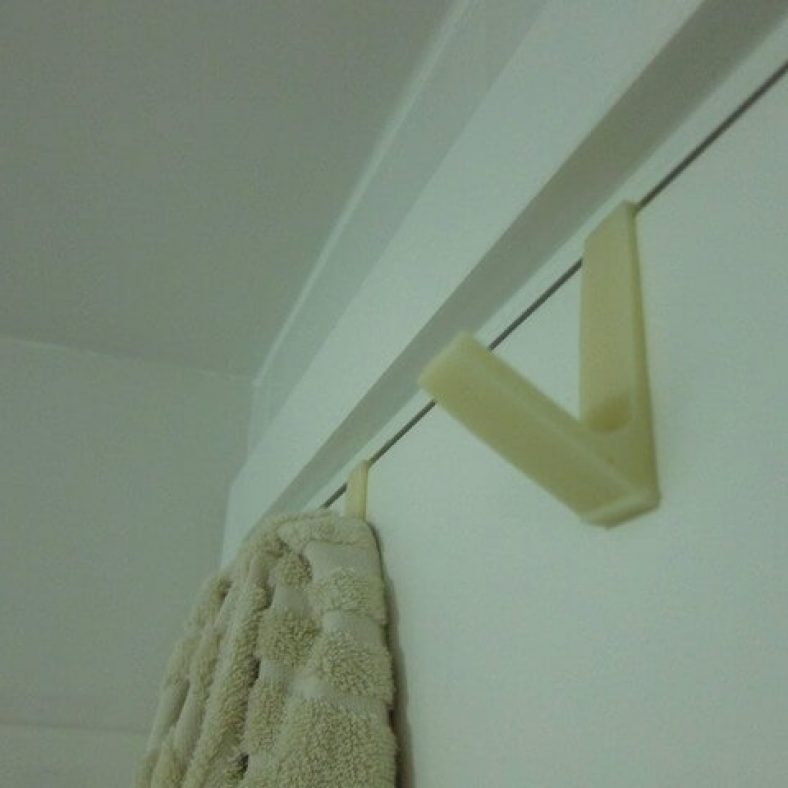 Model: Cults3D
3D printed bathroom stuff is really cool and the best example is this one simple towel hook. You may feel what is the need for this hook, but try using it and you would feel the difference.
Wanting a dry towel whenever you enter to take a bath is pretty common. However, there are occasions when we forget to put out towels to dry when rushing for work.
And, coming back home to a wet towel could ruin our plans of bathing and relaxing. What if, you get the hack to keep your towels dry all the time. 3D printing a hook to hold your towel inside the bathroom could make this happen.
Bath and hang the towel in the bathroom itself for drying. No more leaving it on the bed and spoiling tour mattress too. So, what are you waiting for? Add it to the list of items you would be 3D printing for your bathroom.
Soap Dish with Drainage Lettering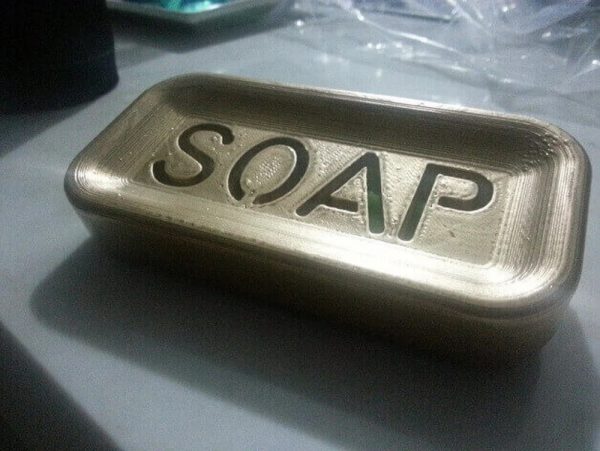 Model: Thingiverse
There are many designs for soap cases and dishes. However, the one that really fascinated a lot of viewers was the one with letters on it saying 'SOAP'.
The best part was that the letter was actually a drainage hole to sweep away excess water from the soap, keeping it dry. The design is very creative and attractive. Lying on the side of the sink, this would definitely increase the looks of your washbasin. 
Trust this, your bathroom needs a personal touch. Otherwise, you may not feel very comfortable while using your own toilet. So, why not 3D print all the possible stuff, giving more room to your preferences.
3D Printed Bathroom Air Fresher Case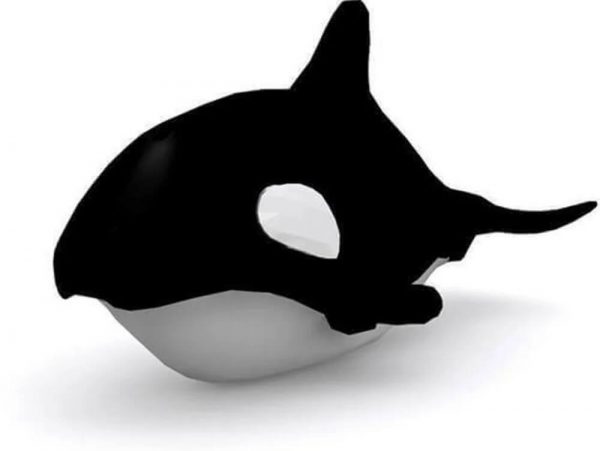 Model: Thingiverse
It is quite difficult sometimes to find a place to hang your air fresher and it looks odd when stacked at one corner. So, why not 3D print a case for storing your room fresher inside.
Choose the scent of your choice and put it inside the 3D printed air fresher case. How about a dolphin-shaped air fresher case with open space for eyes?
There are many other designs too. And, you can think of one yourself. If you are good at 3D designing, why not find a unique model to create a handy air fresher case. 
Remember, you can also make changes to the existing models. So, do not stress too much. Choose the design you like. If needed, make edits as per your preferences.
You would find it really exciting to 3D print such items at home. The best part is that you can decide about the size and design of the items with higher freedom. 
Hair Straightener Holder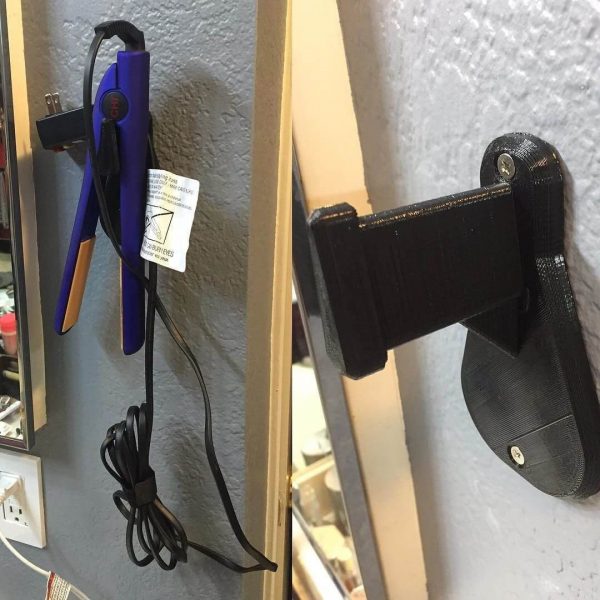 Model: Thingiverse
A bathroom is a place where you need to make room for the nuances of items. From soaps to toothbrush to bathing oils to hair straightener.
The problem becomes even worse when you need to hang your straighter after using it on your hair. You cannot just leave your hair straighter lying anywhere while it is still hot.
Also, letting them cool down near your sink may not be the best idea. You must keep your electric gadgets away from water. So, why not find a permanent solution for the same. A holder to stuck in between the hot ends of the device is all you need. 
You can find various designs on the internet. Whatever seems closest to your needs, you can use it and 3D print without any hassle. The 3D files available on the web contain almost every precise setting information. So, you can do that yourself.
Toilet Paper Holder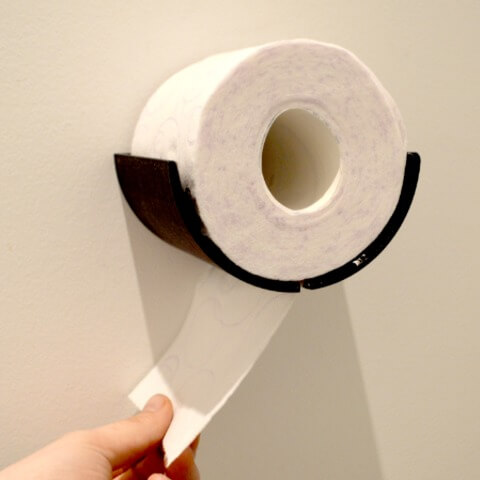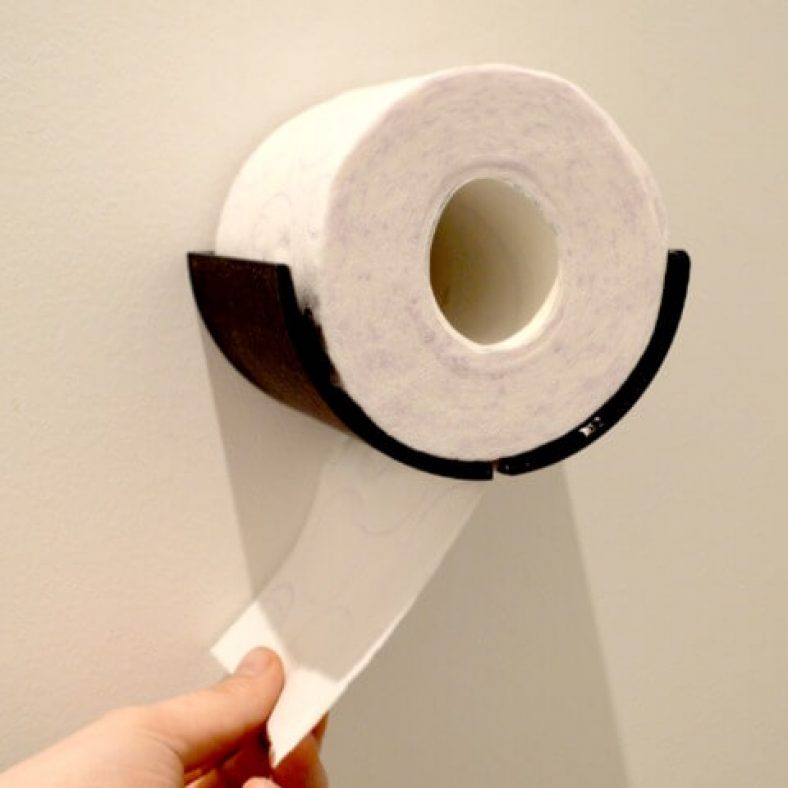 Model: Cults3D
Shopping for little items is actually the most tedious job. Finding a toilet paper holder that matches your bathroom décor may seem like a never-ending task.
However, not with 3D printed bathroom solutions. You can actually find a perfect design for your bathroom.
The suction ends would help keep your bathroom walls intact. Who needs to dig into the walls when you can create a holder for toilet paper out of thermoplastic?
Think about it and begin your search on the web to find the best design suiting your preferences. If you are great at 3D designing, you can create one for yourself. 
Wine Glass Holder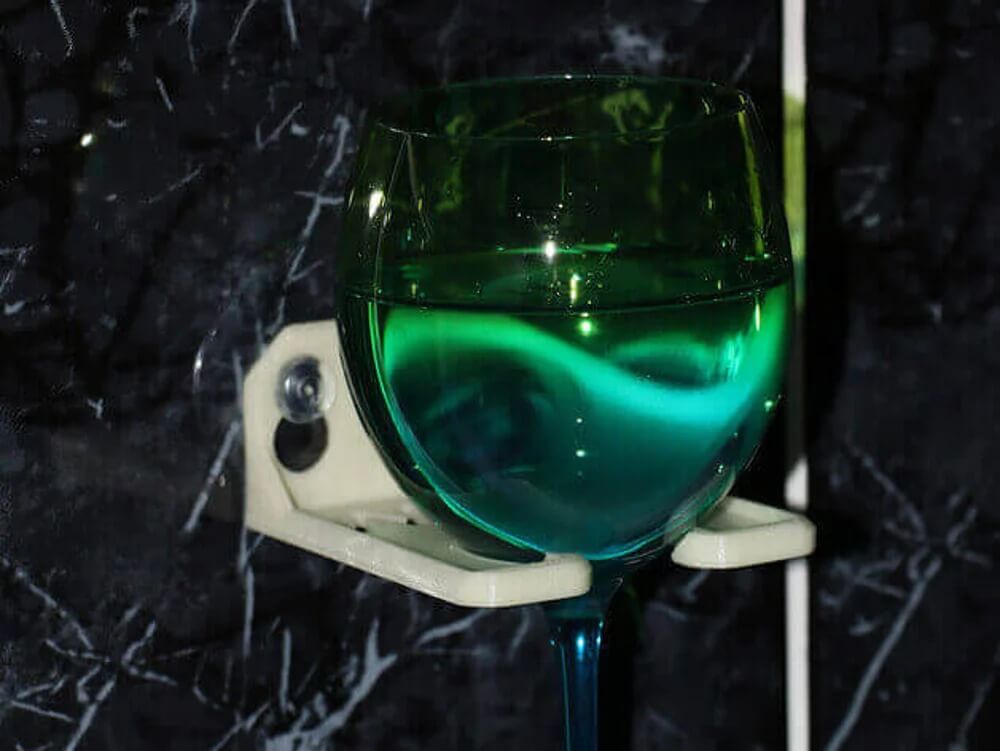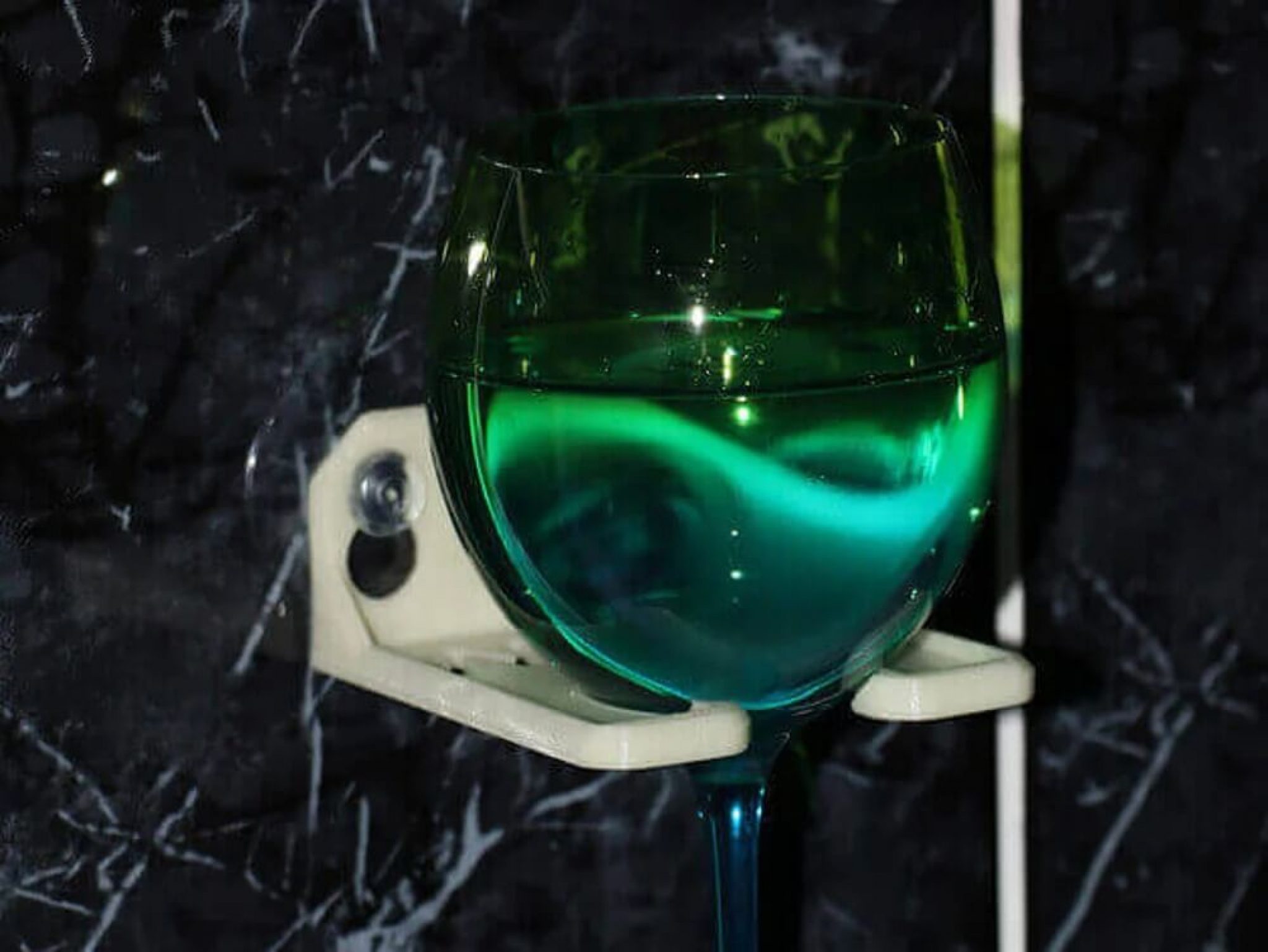 Model: Thingiverse
Do you like relaxing in your bathtub with your wine glass at your side? A lot of people love to keep the company of their favorite alcohol when soaked inside hot water.
If that the case with you, why not ensure that the wine glass fits the right place. Minimize the chances of accidents and breaking your glass only to ruin your hot bath, try to 3D print a wine glass holder.
You may not find one in the market as these designs are unusual. So, 3D print it yourself at home. However, like toilet paper or soap dishes, do not use the suction ends. 
Leave spaces for screws as these would be holding heavy glasses filled with your favorite liquor. The online repositories also have few designs you may like to 3D print. Or else, you know the other option too well.
Toothpaste Squeezer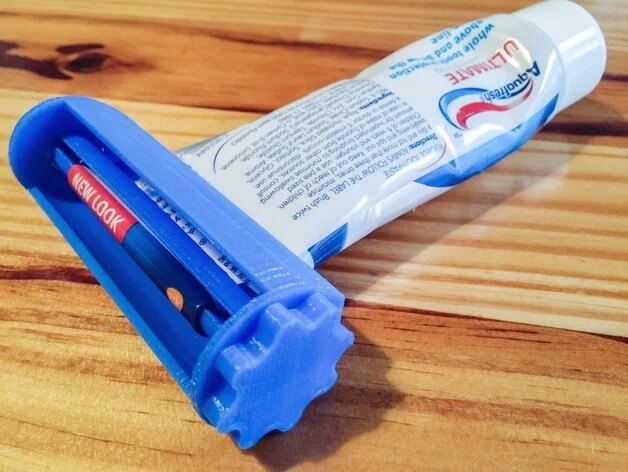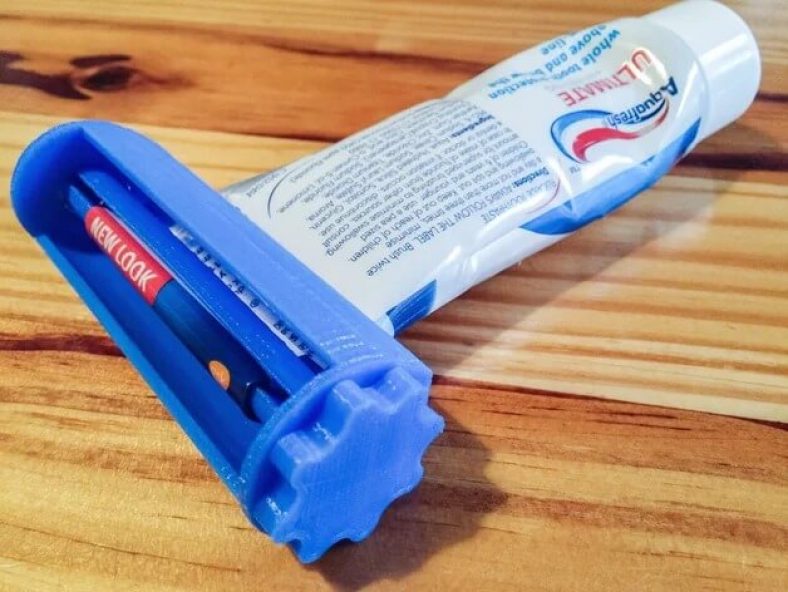 Model: Thingiverse
Do you have children at home? Why not make their teeth brushing time exciting? Often parents have a hard time when making their kids brush their teeth.
You can find a different solution instead of rushing behind them in the morning. 3D print the toothpaste squeezer and make their morning ritual a fun time.
How about a squeezer with eyes on the top? There could be any design you can think of. Do not forget, you have the power of a 3D printer. You can give wings to almost any image. 
Make use of the technology to bring smiles in your kids' life. And, easing your part as parents.
Curtain Hook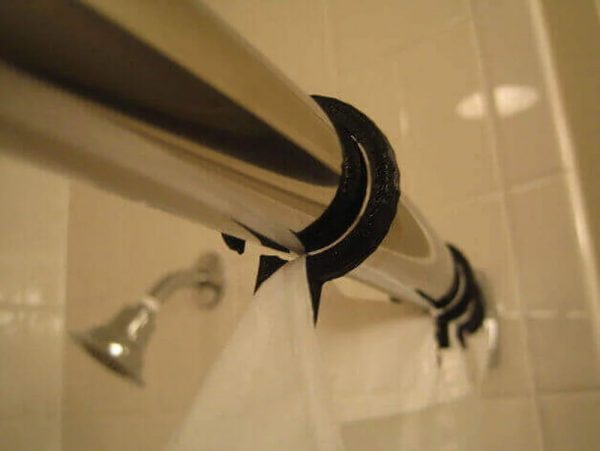 Model: Thingiverse
 The most essential items but often difficult to find. If you think that the hardware shop is miles away and going there for just a few hooks won't be that wise, why not 3D print these at home.
If you own a 3D printer, you can always choose to have a 3D printed bathroom shower hook. As many as you want. You can even add uniqueness to the designs by thinking of some creative models. 
Toothbrush Holder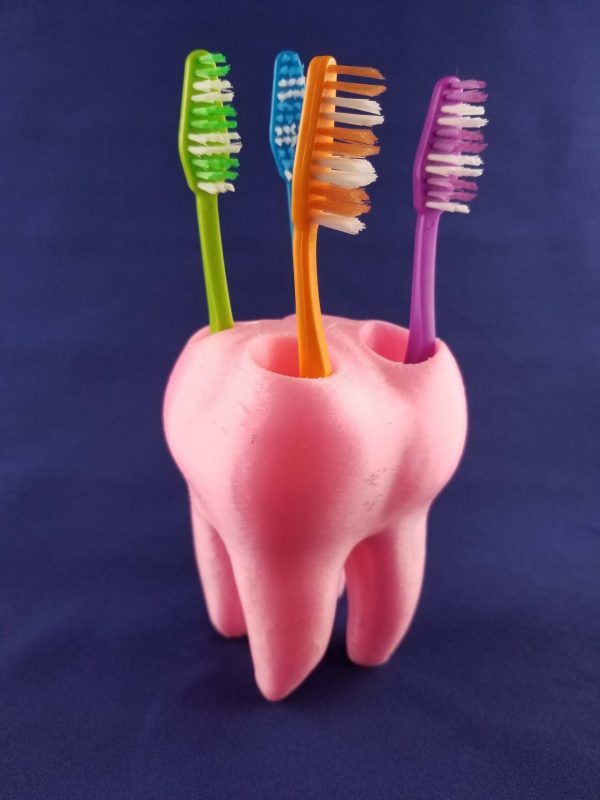 Model: Cgtrader
Take your experience to the next level. As well as for your kids. Create exciting designs for toothbrush holders. A cup with weird faces would make your children run for the bathroom in the morning.
You do not need to ask them to brush every time. These small changes with the help of the 3D printed bathroom décor could bring a huge difference in your life. It won't only help manage things more appropriately, but would also add excitement to your spaces. 
After all, the bathroom is the place at home where you spend my time. Why not turn that into a quality experience by using your creativity.
Shower Head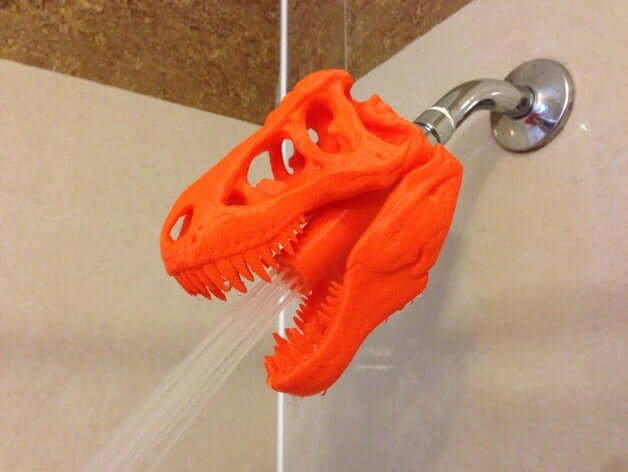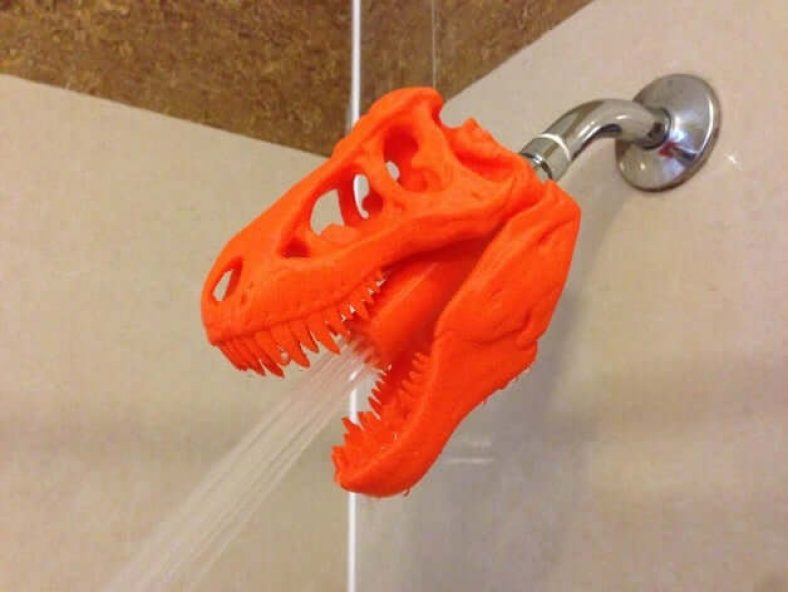 Model: Thingiverse
A lot of people like to 3D Print unusual things. If you are a fan of such creativity, you must like the showerhead 3D printed like a dragon's head skeleton.
It must sound exciting and it is actually. The design has been raging over the internet for long and since now, it has ceased to fascinate. 
Toothpick Holder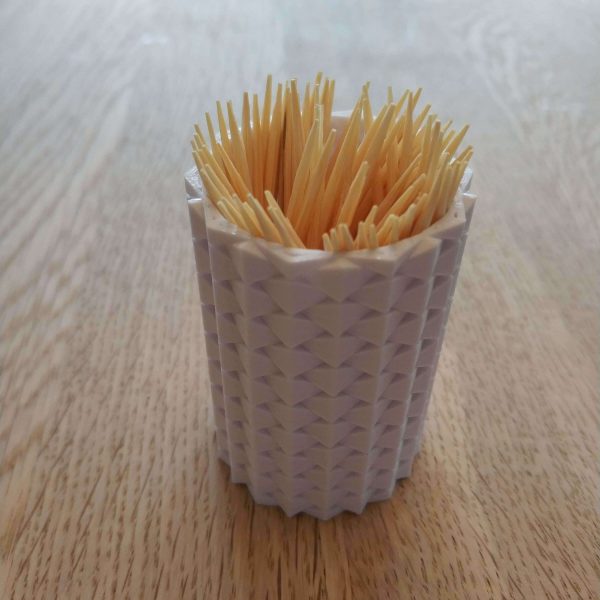 Model: Cults3D
Imagination could take you anywhere. But it is only possible to give that imagination the right direction when you own a 3D Printer. Think of a tooth holding toothpicks.
It would definitely feel awesome when placed in your bathroom. This can be easily 3D Printed without any hassle. And, one of the many designs that are making everyone go crazy. You can try this too.
The Conclusion
A 3D printed bathroom hacks may not sound exciting. But trust this, those who have actually tried bringing the designs to life know what it feels. It could help manage your bathroom space.
Plus, you can define the usability of each corner instead of stuffing things here and there on the bathroom floor. The idea isn't very difficult to accomplish as well.
With the right set of tools, you can 3D print almost every item listed above. The best part is that you have got plenty of designs for each item. And, you have got your creativity too. So, utilize the same and give an edge to the bathroom décor.