What Are CNC Spindle Motors?
The CNC spindle is the mill's heart. The CNC spindle rotates when the motor turns on, with the transmission corresponding to the highest possible RPM range of the motor, to ensure you can cut the material perfectly.
How Do Spindle Motors Work?
Electricity is commonly used to power machining spindles; however, compressed air can also be used. They come in a variety of sizes to suit a variety of requirements.
A spindle comprises various individual parts that connect to a shaft. Spindles are mounted on an axis that receives movement commands from the CNC controller.
Spindles are classified into three types.
Cartridge Spindles: There are cartridge spindles that are only the rotating assembly and do not include a motor or transmission. Then there are various types of self-contained spindles.
Self-Contained Spindles: Trim Routers, for example, are popular among DIY CNC enthusiasts, particularly CNC Routers. Self-contained spindles combine the rotating assembly and motor into a single unit.
Fabricated Spindles: Finally, there are fabricated spindles, which have parts like spindle bearings fitted to a (typically) cast iron housing. That's the kind of construction found in a Bridgeport milling machine or many Chinese import machines like the RF-45.
CNC Spindle Selection
The proper selection of a spindle for your DIY CNC project starts with creating a list of scenarios for how you intend to use the machine. In making the decision, it is critical to understand a number of decisions:
What materials are you planning to cut with the machine? The RPM requirements for hard metals differ significantly from those for soft materials such as wood and plastics.
What size cutters are you going to use?
Will you ever require an automatic tool changer? Many decisions will be made because of this.
While compiling this list of the top 10 CNC router spindles, we did a lot of research for you!
Comparison Chart
| Name | Link | Nomination | Rating |
| --- | --- | --- | --- |
| Mophorn 4KW Spindle Motor | | Quiet | 9.5 |
| HUANYANG VFD CNC | | Good speed | 9.6 |
| MYSWEETY 500W | | Cooled spindle | 9 |
| TOPCHANCES 400W CNC Spindle Motor | | Light weight | 9.8 |
| Genmitsu GS-775M | | Durable | 9.4 |
| Beauty Star DIY Mini CNC 300w | | reliable | 8.9 |
| Square Spindle Motor 2.2KW | | Air cooled | 8.9 |
| Blushless 400W Spindle Motor Kit | | Greater torque | 9 |
| CNC Spindle Kit 500W by SZCY LLC | | Engraving beast | 9.9 |
| Konmison Mini CNC Spindle | | powerful | 9.7 |
Best CNC Spindle Motors and Heads for CNC Routers
Mophorn 4KW Spindle Motor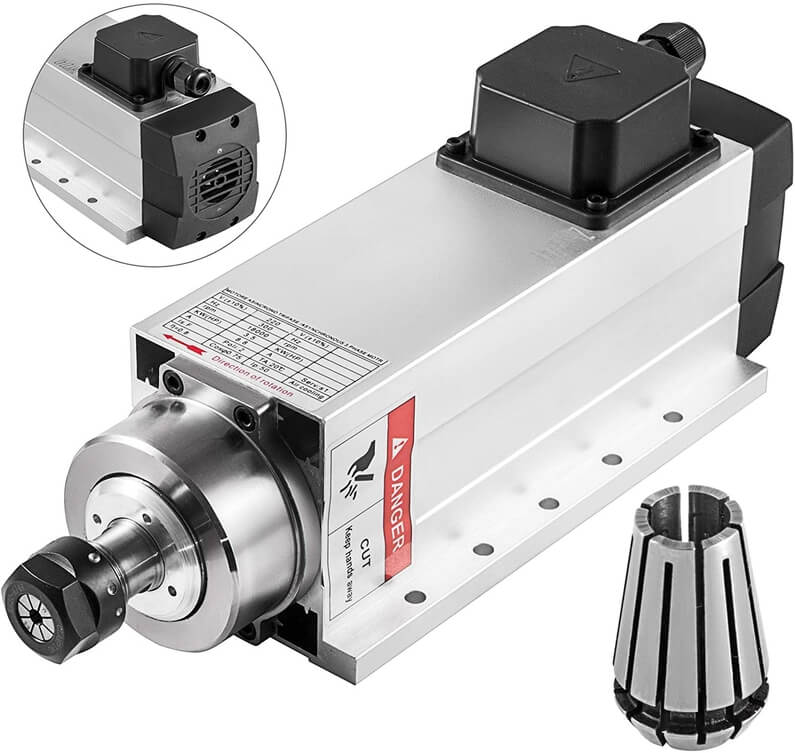 Mophorn is a well-known company in the world of spindle motors. Check out their 4KW spindle motor if you want to try a powerful and long-lasting device.
Uses:
The product's construction is made of materials that are extremely durable and long-lasting. Furthermore, the item's construction protects it from rust, dents, and scratches. As a result, the item's overall longevity is increased.
It requires standard voltage to function (220V).
Its Dynamic balance technology can effectively reduce noise during use. The CNC router spindle's efficiency and service life can be significantly improved. The nut is hardened with high precision using manganese steel, making it difficult to break the knife.
Because of its high speed, the item is suitable for heavy-duty tasks.
Guarantees to provide you with the best results for an extended period of time
Everyone will find it easy to use.
Due to its superior heat exhaust system, this one will not overheat. It will continue to provide you with the best results for an extended period.
PROS:
This quiet product can be used for both carving and engraving.
It includes both collets and collet wrenches.
CONS:
The product cannot be operated directly with an Arduino.
VFD CNC Spindle Motor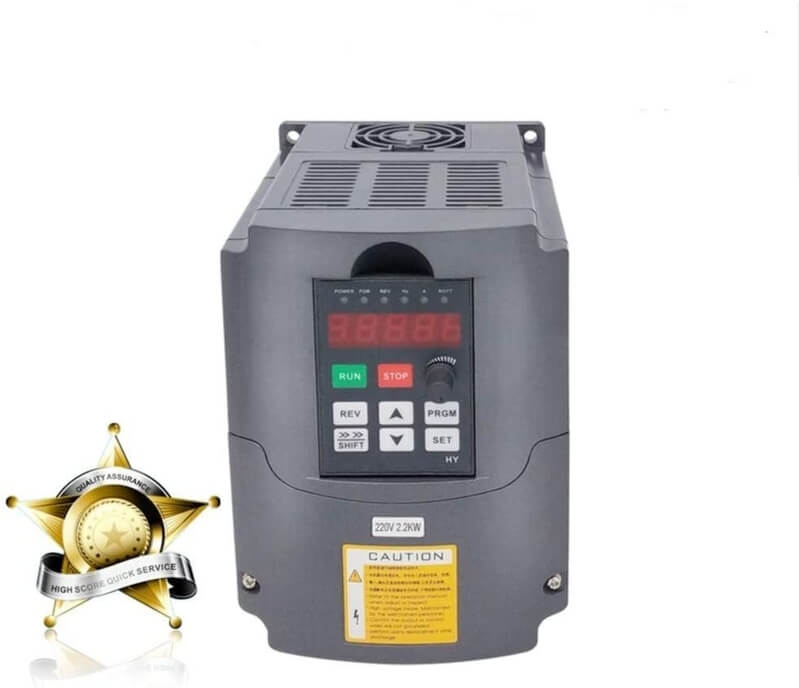 Few motor kits in the world offer all of the exceptional functionalities and benefits that VFD spindle motor kits do.
This spindle motor can be used for engraving machines or woodcarving, commercializing CNC and engraving machines, high-speed centrifugation, small-sized workshops or processing centers, and so on. One of the best CNC spindles for wood is the VFD Spindle motor.
Uses:
A 400-hertz spindle motor is included in this kit.
The cool thing about this item is that it can be operated at different speeds or frequencies.
It is simple to use the items.
This CNC spindle uses Sine waves for process control and is compatible with a Mach3 controller.
Can be used for both heavy-duty and light-duty tasks
Everything essential will be provided.
Has a powerful motor that allows the device to run at various speeds.
PROS:
Despite its frequent use, the bearings have a useful life of up to 6,000 hours.
It has automatic speed control with a (1 to 10) V input speed control range.
CONS:
The machine comes with a four-pin plug, but you will have to solder the fourth pin to ground it. The spindle side only has room for you to connect three pins.
This product does not come with a wrench. It is possible that you will have to buy it separately.
MYSWEETY 500W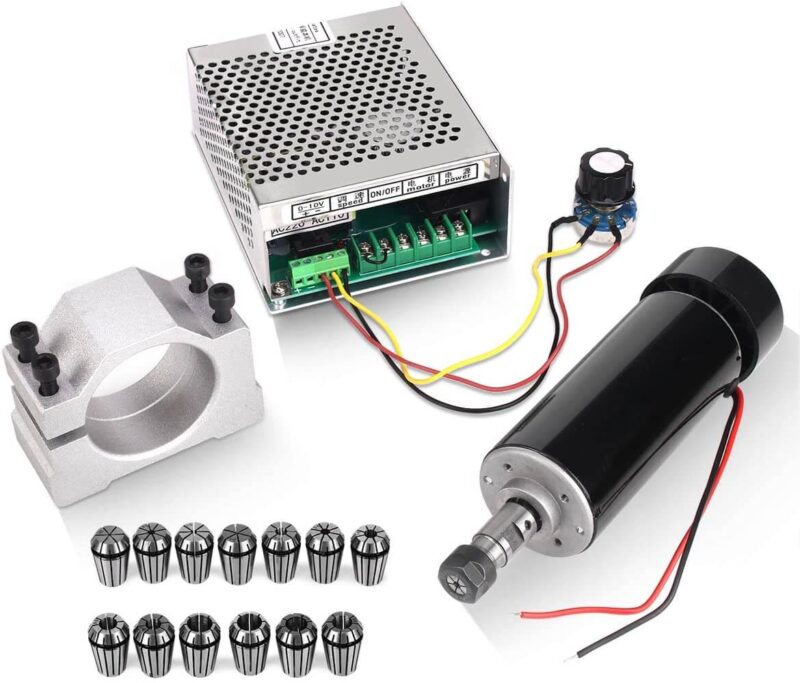 This CNC Milling and Spindle Motor Kit include almost everything you will need. The kit includes a 500W spindle motor, a 52mm mounting bracket, thirteen high-quality ER11 collects, and four screws.
You would not need to spend a dime on anything else if you had all of these. You will be able to complete any type of project with ease.
Uses:
MYSWEETY CNC Spindle Motor is made up of a VFD motor that requires 2.2 Kilowatt of power.
The operating voltage is 220V, and the speed ranges from zero to 24000 RPM.
AC inverters with a frequency range of 0-400 Hz are used.
This spindle motor can be used for lathe tasks and so on.
It has a runout value of less than 0.001 mm and is a high precision spindle.
PROS:
You can adjust the speed of the Variable Frequency Drive using the knob
Is appropriate for milling very strong materials
CONS:
The product can only be used with an inverter (AC) to control the spinning speed of the spindle.
TOPCHANCES 400W CNC Spindle Motor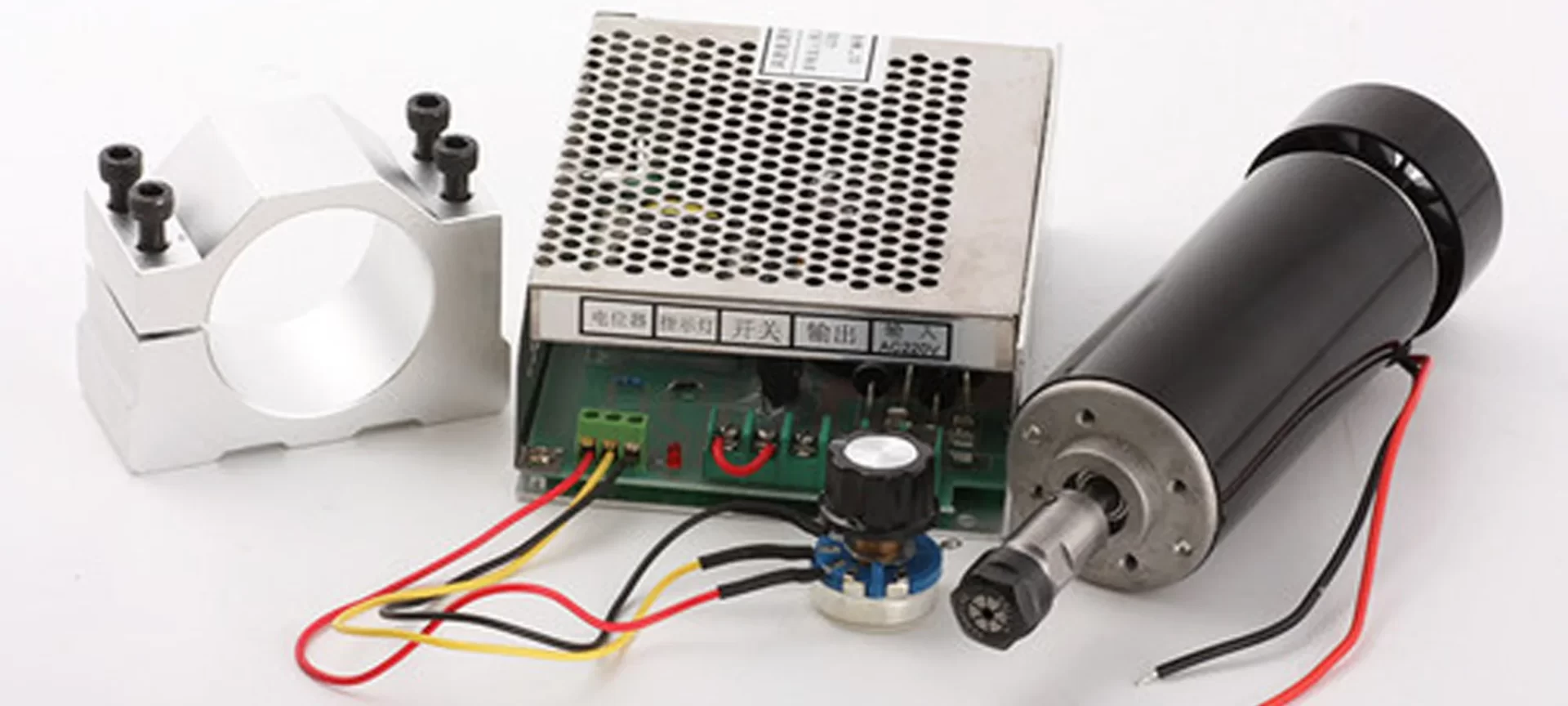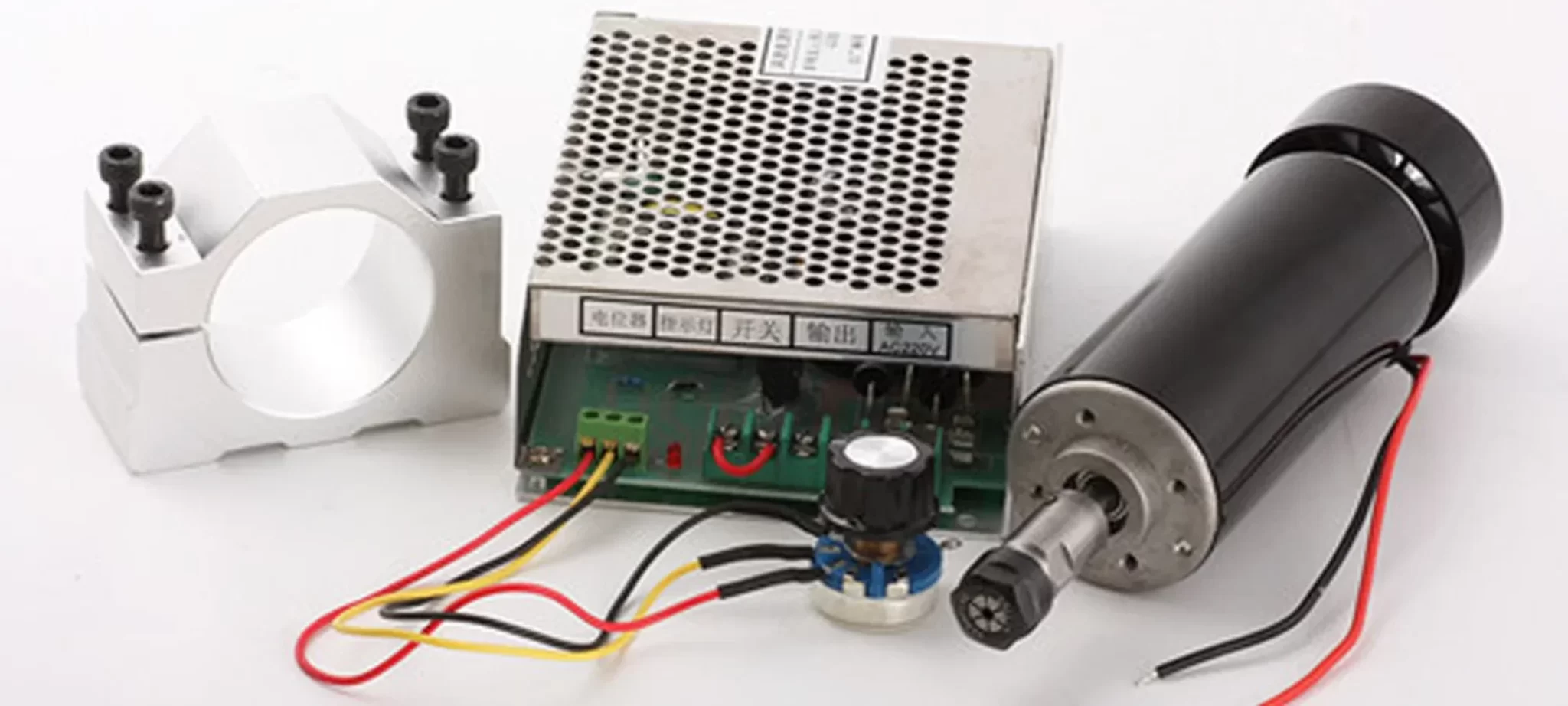 We have all heard that operating spindle motors can be difficult. However, with this item, we can assure you that it will not be a problem! At first glance, the product operates on a meager 12 to 65 DC voltage. As a result, you can operate the product in the most efficient and cost-effective manner.
Despite the fact that it does not have many demands, this energy-efficient motor packs a powerful punch. It can rotate at speeds ranging from 3000 to 12000 RPM after you supply the necessary voltage (generating torques of about 500Nm). As a result, the item is ideal for a wide range of delicate and complex tasks.
Uses:
It can withstand a maximum voltage of 65 volts. The control power ranges from (120 to 600) Watt for voltages ranging from (12 to 60) V.
The kit includes one PWM controller, which allows you to effectively regulate and operate the item. You will also receive a first-class mount.
Can achieve mind-bogglingly fast speeds
Installing it is a breeze because of its small size and weight.
PROS:
Affordable
Requires low voltage
CONS:
Hasn't received any negative remarks yet
Genmitsu GS-775M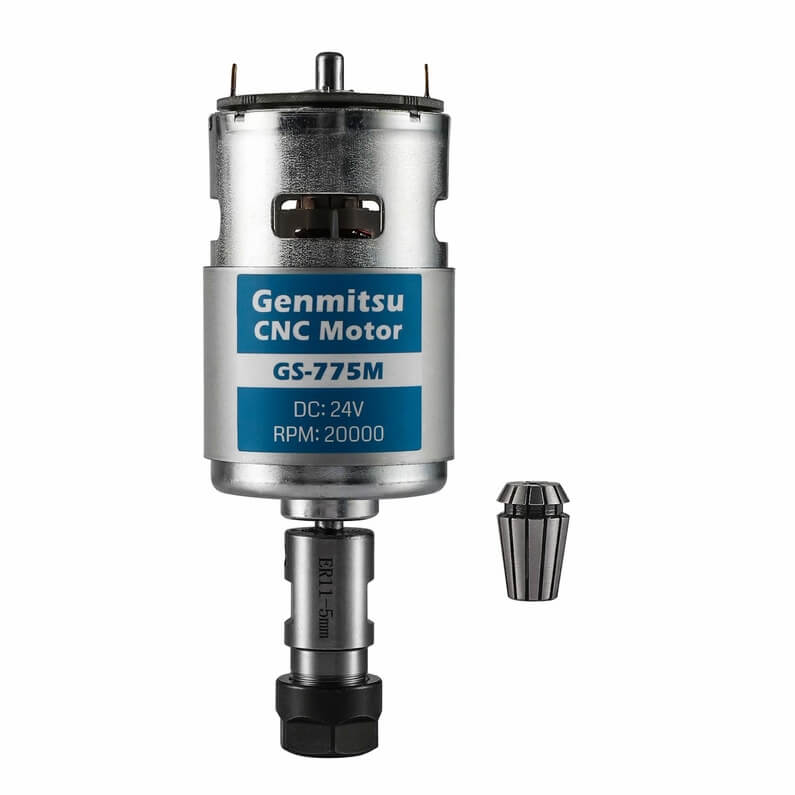 Do you need something that will guarantee a quick and highly reliable result? If you answered yes, we have just the thing for you! This powerful machine produces consistent and reliable results each time you use it.
Uses:
A minimum voltage of 24V is required for the DC (direct current) motor.
It can rotate at an overwhelming rate of 20000RPM. As a result, you can perform a wide range of high-level tasks with ease.
It includes pre-installed noise reduction technology, which reduces noise and allows you to work in peace.
With its durable & long-lasting ball bearings and a variety of other features, and this item will continue to provide you with the best performance, guaranteed.
The best part is that it is a highly adaptable motor. In short, you can enjoy all of the excellent characteristics in almost any type of project you are working on.
PROS:
Super quiet to use for any task
Reliable and durable
CONS:
Not received any negative remarks yet
Beauty Star DIY Mini CNC 300w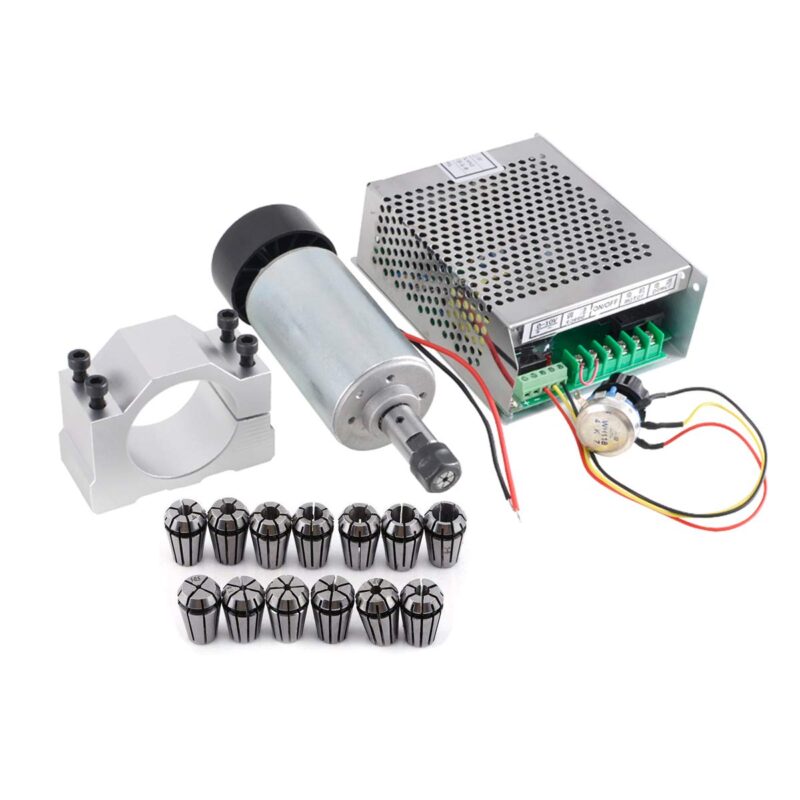 The mini-CNC 300w DC spindle motor is your best bet if you want a simple DC spindle that comes with everything you need to make it work well.
Uses:
The set of collets is convenient and a perfect fit on shafts and almost any tool from just over 1/4′′ on down, which is fantastic.
The 4-inch slitting saw runs smoothly. The spindle does not slow down when moving on the material, allowing you to run at the machine's rigidity limit smoothly.
PROS:
Excellent for lightweight construction
300 watts is ideal for small machines.
Speed controller that can be adjusted
Excellent dielectric strength
Measuring voltage with a voltage divider
The air-cooling ER collet is ideal for cutting, speed drilling, and other applications.
CONS:
Minimal torque
Not suitable for a larger project
Square Spindle Motor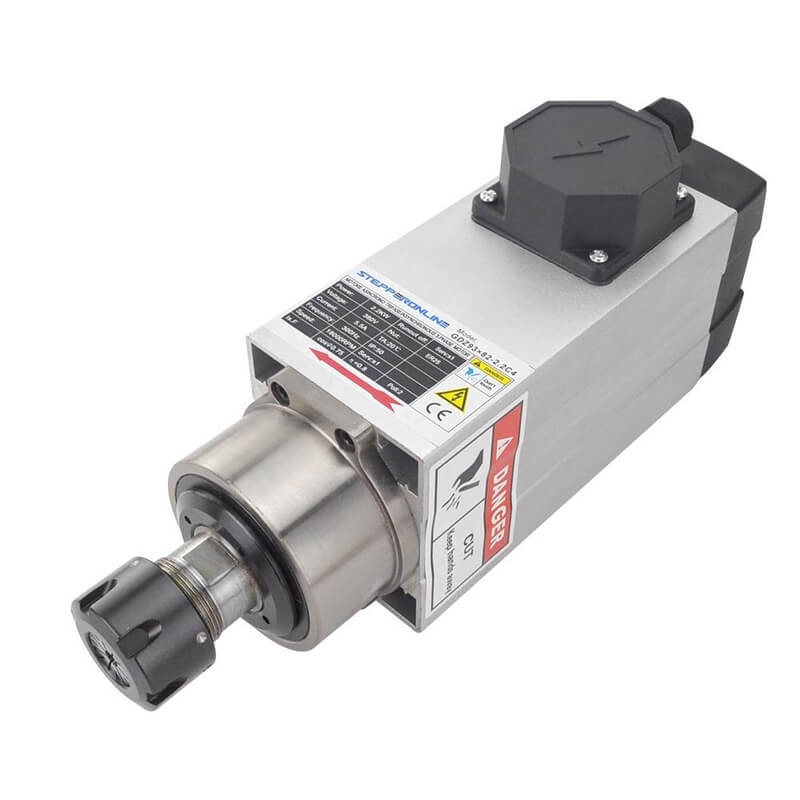 This is the squared design of the Spindle Motor 2.2KW kit. The square form is preferred by certain CNC enthusiasts and designers since it fixes firmly on your CNC router machine.
If you are going to buy this spindle, make sure you are familiar with your VFD settings and do not be swayed by the seller's insistence on this specific controller.
Uses:
The VFD inverter and three ER20 collets are included with the motor. Please use caution when installing this motor because it is highly powerful.
The external design is spectacular, as is the well-configured spindle motor kit.
It can cut aluminum up to 1/16′′ thick, mill correctly, and the motor is in excellent condition.
However, you should not surpass 18,000 RPM, as this will shorten the spindle's lifespan.
Above all, when used correctly, this spindle performs admirably; it becomes a bit heated after a few hours of usage, but it certainly outperforms a router.
This stainless-steel spindle motor frame has a length of 174mm and a width of 82mm, and a voltage current of 220VAC.
The spindle operates at a frequency of 0 to 300 Hz and has a maximum speed of 18000 RPM.
PROS:
It has a cooling system that uses air.
A run out of less than 0.005m is possible.
Grease is used to lubricate the bearings, which have a size of 27007(P4), 2x7002C. (P4).
It is 7.5kg in weight, making it ideal for mounting on compact tables.
CONS:
After a few hours of use, it will heat up.
Blushless Spindle Motor Kit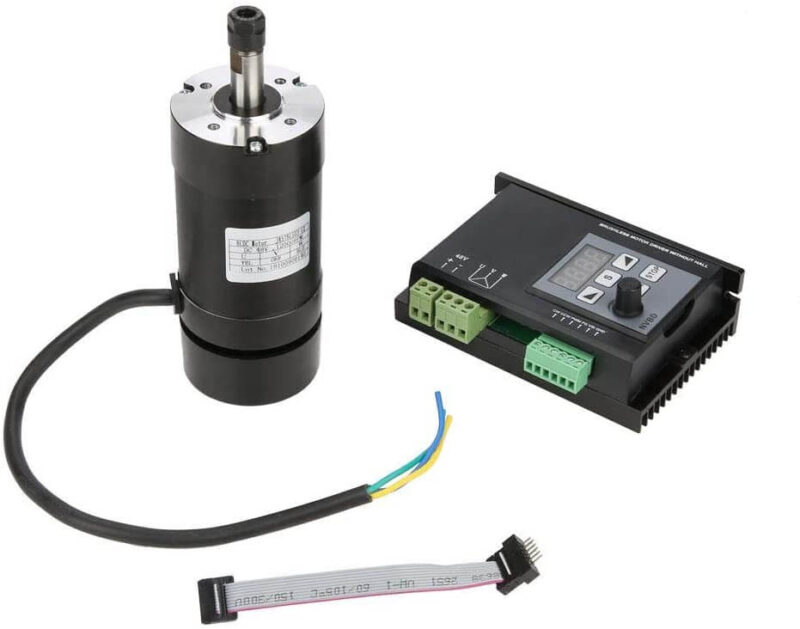 A machine comparable to the Nomad 883 can be used to run this spindle. For many people, running a hobby CNC router made of aluminum extrusion and belts is a better option than using a palm router.
Uses:
The air-cooled DC motor is designed to work with the MACH3 software to manage the spindle motor's speed.
The controller is in perfect working order, and the PCB is of good quality, with a large heatsink on the MOSFETs.
Even with a 36v power source, it is incredibly quiet when in operation and produces 9600RPM WOT.
The package, however, does not include documentation, but a URL is supplied for quick configuration.
The driver is built to push the spindle to its greatest level and fits flawlessly with DC motors
PROS:
Greater torque
The motor speed is simple to control.
CONS:
There is no documentation included in the package.
CNC Spindle Kit 500W by SZCY LLC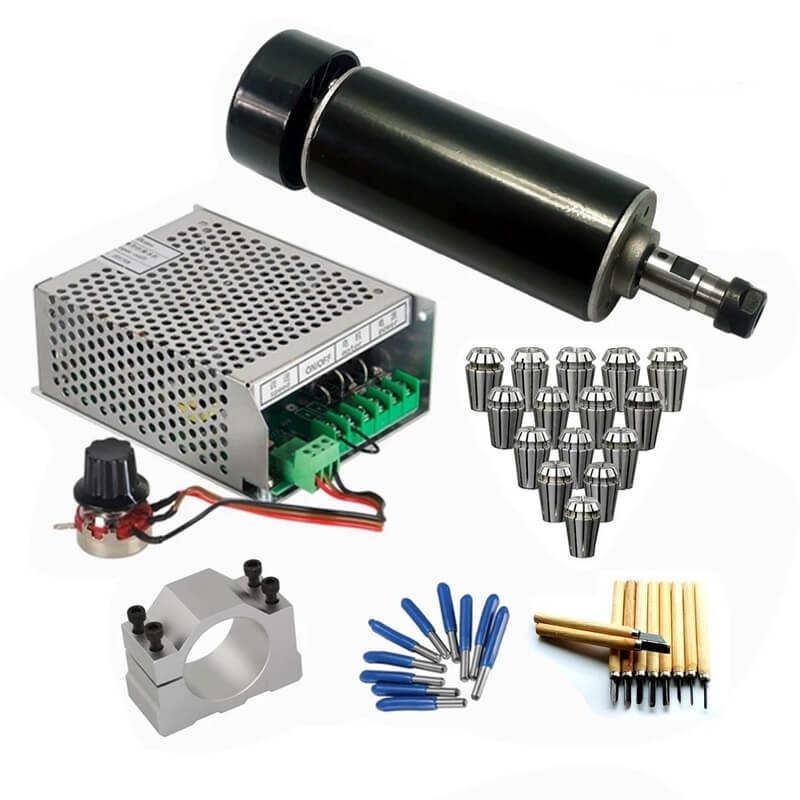 This air-cooling spindle system produces very little noise. This spindle is the finest choice since it has excellent flexibility and long service life.
The best thing about this 500W CNC air-cooled spindle is that it works well with a variety of motors that have potentiometer speed control. It is made with spring steel that has been developed to a high standard.
Uses:
With a dielectric strength of 400 V, the insulation resistance is larger than two megohms.
The CNC Spindle Kit 500W's operating voltage is roughly 100 VDC (Voltage Direct Current).
 The input alternative current is 110 V, and the power supply is 500 Watt.
Overall, it is a high-precision spindle device with an accuracy range of 0.01 to 0.03, ensuring a high level of customer satisfaction.
The torque is around 5000 Newton Meter and the speed ranges from zero to 12,000 revolutions per minute.
The chuck portion's length and diameter are 45 mm and 16 mm, respectively, and the dimensional parameter is 52mm (diameter). The spindle motor has a length of 200 mm.
PROS:
The engine is extremely powerful and ideal for milling aluminum
Among the other similar goods, this is the most cost-effective and functional.
Milling light to medium materials is possible.
It is simple to put together and performs admirably.
CONS:
The spindle motor and the coupler may have problems.
Mach3 may cause problems with spindle performance.
Konmison Mini CNC Spindle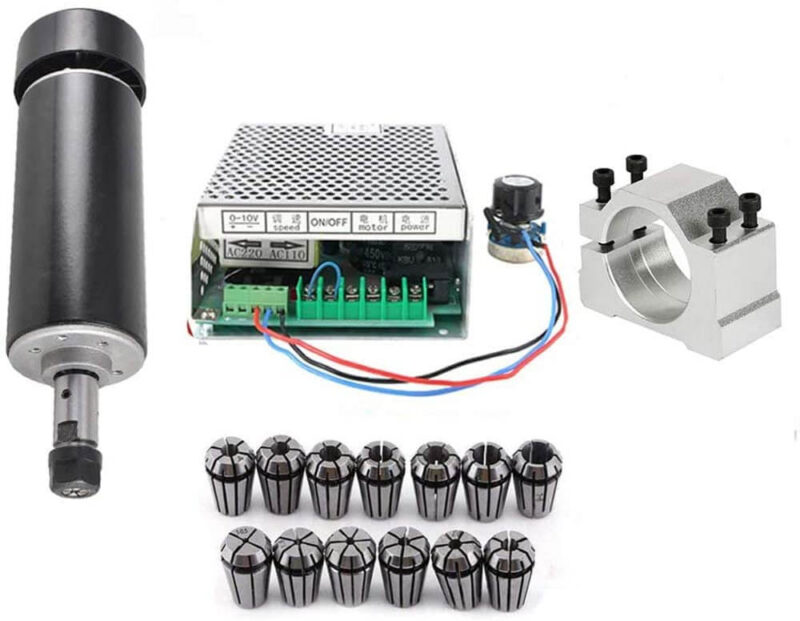 The Konmison Mini is a spindle featuring an air-cooling mechanism and a 110V AC power supply as well as a MACH3 analog input. The fact that this spindle has a torque value of roughly 5000Newton/Meter distinguishes it from others.
This kit's high-precision spindle has a minimum run-out time of around 0.01 to 0.03 seconds and a speed range of zero to 11000 RPM. Therefore, if you are looking for a spindle that will provide you 100 percent happy with your work, this is it.
Uses:
The spindle motor runs on a voltage of 100 VDC and requires a 500-Watt power source.
The spindle's diametric value is 52 mm.
This device can be used for milling, car hoisting, and other lathe-related operations.
The Konmison Mini is a 110 VAC air-cooled spindle with a MACH3 analog input.
The torque value is in the 5000 Newton/Meter range. It is a high-precision spindle with a run out of less than 0.01-0.03 with speeds ranging from idle to 11000 RPM.
It can also be used for conveyors and pumps, among other things.
PROS:
Ideal for jobs involving light materials (such as low-weight aluminum or wood)
A brushed DC motor powers it
CONS:
There are no threads on the mounting bracket. To keep the bracket in place, it must be bolted to a threaded housing. In addition, the bracket merely has clearance holes.
Carving operations with heavy-duty steel or high-density aluminum are not recommended.
It does not come with a cord or a plug. If you do not have one, you may have to buy one individually.
Buying Guide
You should have a clear notion of what you want from the goods before you start spending your money. We will build a clear picture for you so you can feel confident in your selection. There are a slew of factors to examine in order to assess whether the product you have chosen will fulfill the goal for which you purchased it.
Budget
A good CNC router spindle is available in almost any price range. First, decide on a budget and how much you will spend on the product. In the industry, there are machines that are low-ranged, mid-ranged, and high-ranged. As a result, you will have a plethora of options to choose from.
Durability
Because this equipment is utilized to perform heavy-duty jobs, durability is crucial. You would also like them to last a long time because they are not inexpensive. Make sure the spindle router is rust-resistant.
Voltage
Because voltage is directly proportional to current, if a certain item can put in more voltage than the overall current, the output will be higher. To cut wood and solid materials, an AC supply of more than 200 volts will suffice.
Speed
You will be able to do your tasks more efficiently if your motor works at a fast pace. You can, however, choose an item whose speed can be adjusted to meet your specific requirements.
Water Cooling Spindle 
In terms of power, there are two types of spindles. The first one is water-cooling. These typically have lower power, ranging from 1.5KW to 2.2KW. This is ideal for soft materials such as PVC and MDF. They are ideal for completing a variety of tasks.
Spindle with Air Cooling
This is a slightly different kind of spindle. It is recommended that you use this for larger tasks. This can be used to cut and engrave units, for example. You would need a lot of power, at least 3.5KW, to accomplish these feats.
Frequently Asked Questions
Is It Easy To Learn To Use A CNC Router Spindle?
The fundamental one is actually quite simple to grasp. Before dipping your toes in the water, you would have to observe how it works for a time. With practice and a keen eye, you will be able to pick up the basics in a few days.
What Is The Expected Lifespan Of A CNC Spindle?
The spindle's life is mostly determined by the operator's treatment of it and how the machine is operated. "The spindle life varies a lot. Under typical conditions, they can endure for 10-15 years. However, if someone crashes it on a frequent basis, it may only last a year or less," says the users.
What Exactly Is The Purpose Of A Spindle Motor?
In a hard disc drive, a spindle motor is a compact, high-precision, high-reliability electric motor that rotates the shaft, or spindle, on which the platters are placed (HDD).
What's The Best Way To Clean A CNC Spindle?
Coolant residue on tool holder and spindle surfaces can be cleaned with an oil-dissolving solution. Cleaning the spindle socket surface is best done with dust-free cloths or paper towels soaked in a little penetrating oil and manual wiping tools.
Are CNC Routers a Good Investment?
They are, without a question. They can carve curves with precision.
What is a CNC Router's Purpose?
Surface carving, cutting, and etching are all done with this equipment. This allows users to design jewelry and sculpture much more quickly and easily.
What Is The Maximum Depth Of A CNC Router Cut?
When this machine can create a cut twice or three times its diameter in-depth, the best results will be noticed.
What Type Of Motor Is a Spindle Motor?
A spindle motor, for those unfamiliar with the term, is a motor that is designed to revolve at high speeds and is most typically used in CNC milling machines. Spindle motors, like all motors, can and will fail, with many of the same failure modes as other motors.
Conclusion
Overall, whether you are just starting out with your small business or already have a well-established brand, CNC motors are arguably one of the best investments you can make in your company.
And, as you've probably noted, there are numerous factors to consider while selecting components for your design. What you intend to achieve with your construction will determine the spindle motor you use.
This guide to the best CNC spindle motors is intended to help you learn what to look for when selecting the proper material and which parameters are optimal for a given task. This tutorial will steer you in the right direction when it comes to choosing spindle motors.