Table of Contents
When it comes to making flexible and elastic parts for various applications, rubber is the ideal choice. But rubber is not 3D printable. Hence, it becomes necessary for us to look for alternative materials that are similar to rubber and can be 3D printed.
Elastomers and polymers are the two materials that fall into the category of flexible materials. By combining the advantages of thermoplastics and elastomers; we arrive at a junction named thermoplastic elastomers (TPEs). One of those TPEs is TPC, an abbreviation for Thermoplastic copolyester.
Chemically, Thermoplastic copolyester (TPC) is copolyester esters having alternating, either random-length sequences of either long-chain or short-chain glycols. But either way, they have hard and soft segments.
The former ones are typically short-chain ester units whereas the latter ones are usually aliphatic polyethers and polyester glycols.
As perceived by people in the field TPC, is an engineering-grade material. For the same reason, it is considered to be less as a hobbyist material to play with.
In this article, we are going to have a look at what all things should be kept in your mind before buying TPC filament.
We'd start with an overview about TPC and how it is made, thereby exploring its properties, followed by printer settings, and then some brand recommendations.
What is TPC Filament?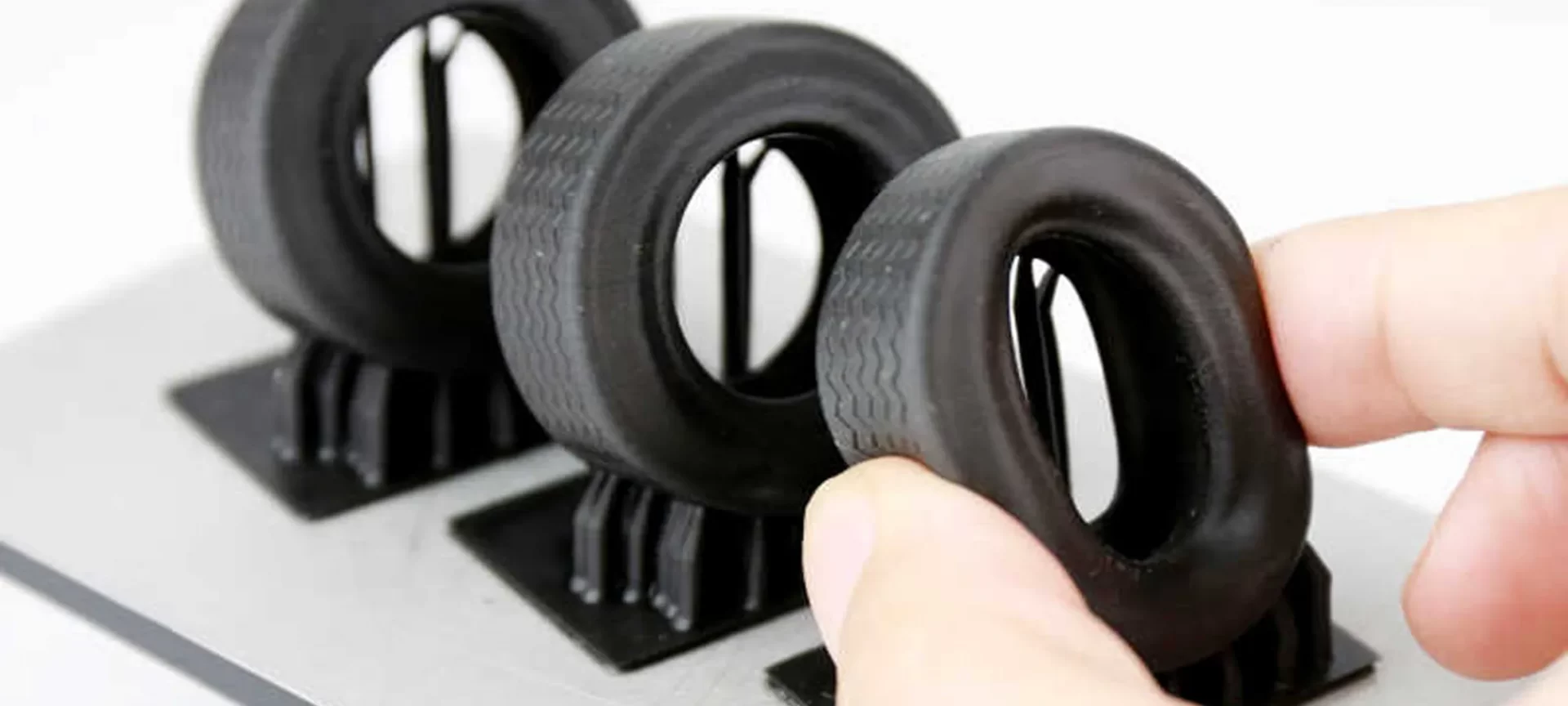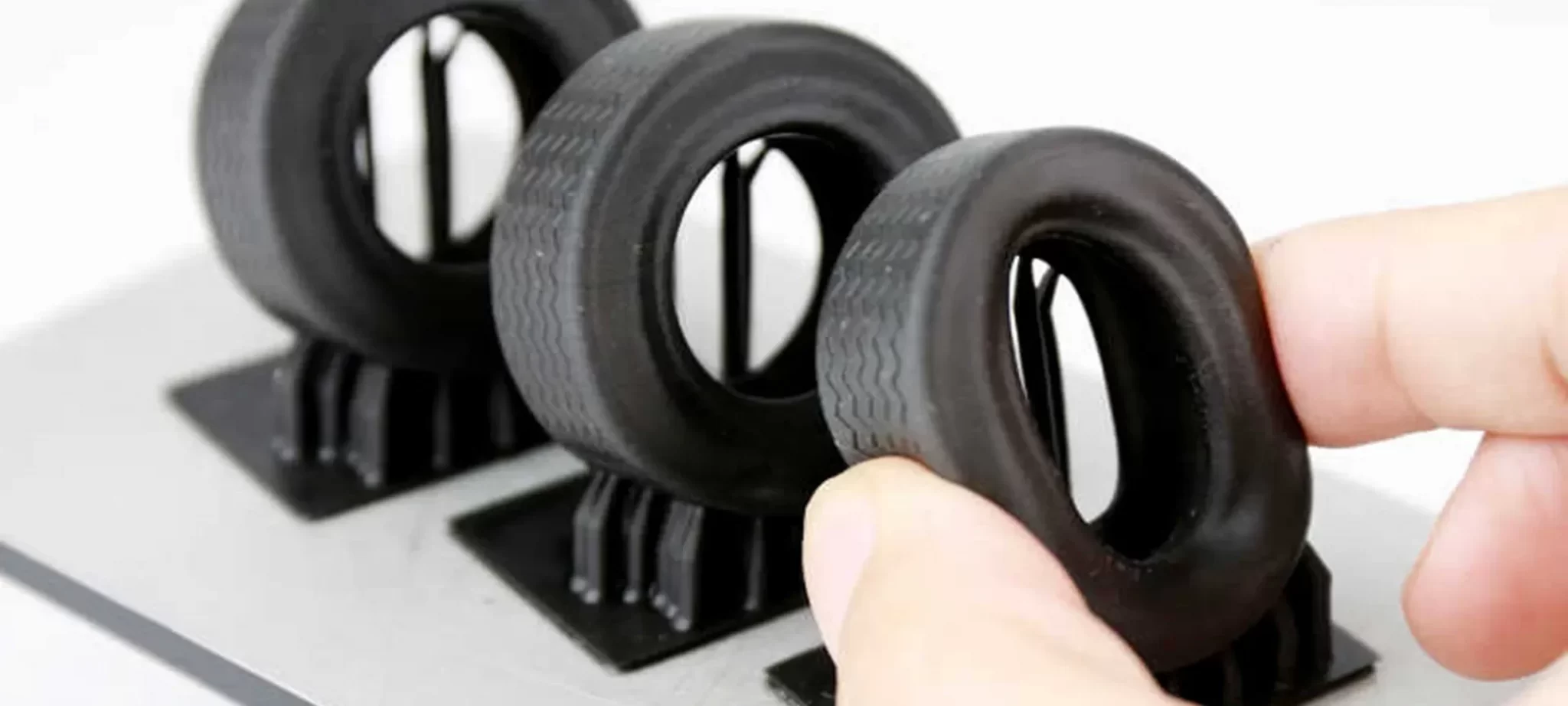 Thermoplastic Copolyester is that category of TPE which has slightly different properties to the rest of the TPE family. Another member of this family is TPU but it has slightly different properties.
Both TPC and TPU are copolymers i.e. made by enhancing the properties of a polymer by adding other monomers of the TPE family. As the name suggests, copolymers are made by a combination of more than one monomer.
TPC filament is a block copolymer. Meaning that the two monomers of which it is made are part of the same polymer but do not mix together, resulting in a material having 'soft' and 'hard' regions.
Because of this quality, TPC filament can be repeatedly heated and processed. This material has high-performing polymers that combine the properties of thermoplastics and rubbers.
It demonstrates high structural strength, elasticity, and impact resistance. TPC is a material that can be elongated significantly before it will finally deform and break.
This is because of its impact resistance and combination of tough and flexible properties, that it finds use for applications like solid tires.
TPC is a 3D printing material demonstrating high elasticity and performing well under harsh environments. Such qualities make it suitable for certain production environments.
It can be used to create functional prototypes for creating parts that will ultimately be injection molded or extruded.
Some of the most common applications of TPC filament are:
Bumpers, or other energy-absorbing components Hose and tube
AirDucts
Softer Housing and covers
Seals, gaskets
Shock absorbers, bedsprings, pads
Footwear
Safety equipment
Wearable devices
Medical devices
TPC has excellent mechanical performances even at low temperatures. It has good thermal performance, extraordinary chemical resistance, shows rubber-like behavior, is ductile and durable.
TPC filament's glass transition temperature ranges around -35 degrees Celsius. Its melting temperature is 158 degrees Celsius.
Printer Settings for TPC Filament
For 3D printing with this filament, the material should first be brought to ambient temperature conditions in a closed packaging. This is done to prevent every possible moisture condensing on the filament.
For preventing moisture pick up and contamination, the complete packaging should be kept closed and undamaged. Additionally, enclosed bags should be properly sealed before re-storage.
Due to the flexible nature of this filament, direct-drive extruders are recommended when you need the best quality print. This is because indirect drive extruders may be prone to clogging or inconsistent throughput.
Following are the extruder, bed temperature ranges, print speed, and heated chamber recommendations for getting a high-quality outcome with the filament.
The extruder temperature range while printing with TPC filament should be anywhere from 210 to 250 degrees Celsius. The heated bed temperature range should be managed between 30 to 60 degrees Celsius.
For printing complex geometries a print speed as low as 20 millimeters per second should be maintained, whereas for printing simple geometries you are allowed to go as high as 50 millimeters per second. Normally, the heated chamber is recommended.
How To Print Using TPC Filament?
Below mentioned brands are the most reliable ones in the market.
Flexible TPC by Sigma Aldrich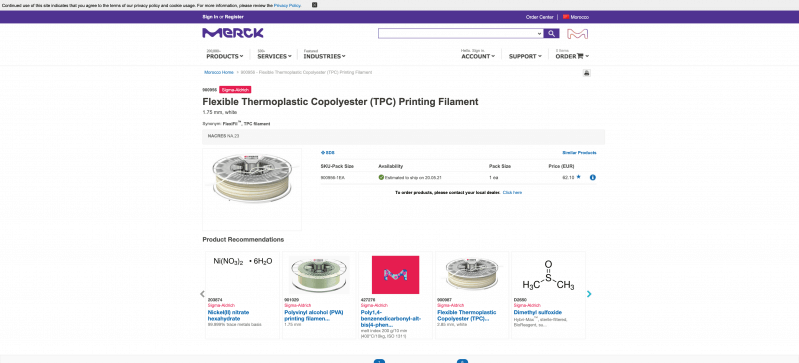 With a shore hardness of 45D, Flexible TPC by Sigma Aldrich allows you to print flexible objects. The specialty of this flexible filament is that it will not deform or break when stressed by bending.
The filament shows flexural memory that allows materials to return to their original shape after being bent, dented, or folded.
Additionally, this filament features many beneficial properties such as a) high-temperature resistance, b) good chemical resistance, c) high strength, and d) excellent UV resistance.
Because of its ester linkages, the filament is degradable by the hydrolysis method and is made partially from renewable carbon content.
Due to its ester linkages, TPC filaments are able to undergo hydrolytic degradation more readily than TPUs. This quality makes them more suitable for biomedical applications.
The printer diameters of this filament are around 1.75 mm with a tolerance of 0.05 mm. Flexible TPC possesses a 95 percent roundness. The melt flow rate of the filament is 39 cubic centimeters per minute.
The filament's melting temperature is around 180 degrees Celsius. It is recommended to print this filament within the temperature range of 220 to 260 degrees Celsius.
The filament has a specific gravity of 1.14 grams per cubic centimeter. It has a spool hub diameter of 52 millimeters.
FormFutura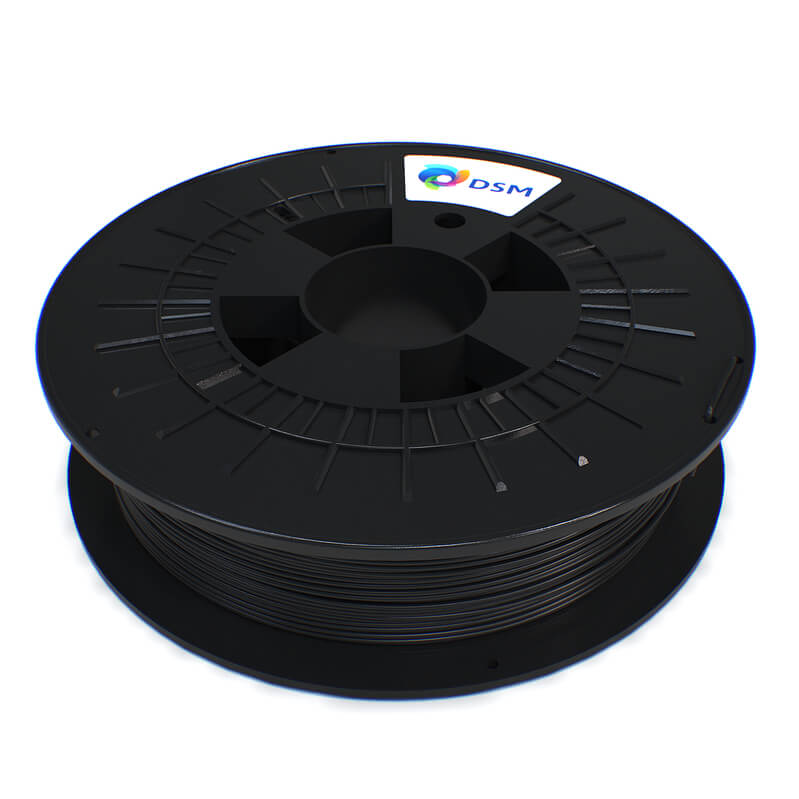 This brand is available in five colors:
Flexifil Black
Flexifil Blue
Flexifil Natural
Flexifil Red
Flexifil White
The weight of this brand's filament is 0.5 kilograms. Its diameter is 1.75 mm. The printer manufacturer recommends printing the filament at a minimum of 220 degrees Celsius and a maximum of 260 degrees Celsius.
A suitable print speed for this filament is 30 millimeters per second. The heated bed temperature should be around 110 degrees Celsius.
At Formfutura, the manufacturer claims to apply only supply top-notch materials and only accept the highest quality standards.
Thereby promising to only work with the best materials based on a simple logic that the material inputted in a 3D printer determines the outputted quality of the 3D print for a large part.
Not only TPC filament but all of them are modified and optimized for 3D printing. They are manufactured with the highest manufacturing standards and tolerances.
The company is known for providing the market with industry-leading filaments, all with an incredible level of consistency.
They have the widest product portfolio of high-end materials and strive to be trendsetters in the market when it comes to their product offering.
Polymaker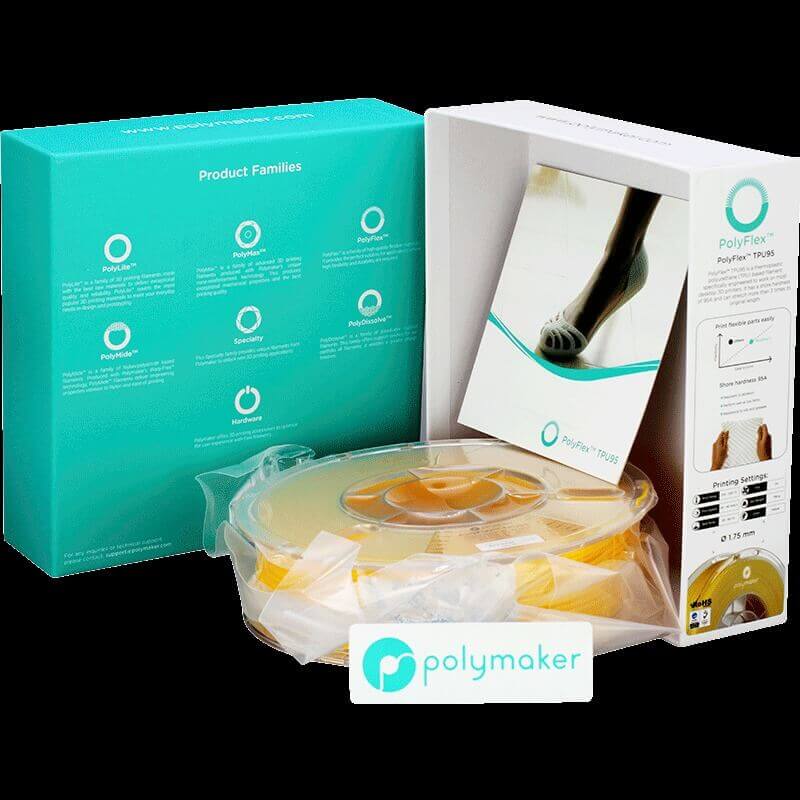 Available in sizes & diameters of 750 g; 1.75 mm, 2.85 mm respectively, this brand's TPC filament is obtainable in black, white, red, blue, yellow, and orange. The cost of the filament at the time of writing is $40.
While printing with this filament, it is recommended to keep the nozzle temperature around 210 degrees Celsius to 230 degrees Celsius.
The heated bed temperature range for suitably 3D printing with this brand is 25 degrees Celsius to 60 degrees Celsius. A special note to keep the print speed range from 20 to 40 millimeters per second.
The filament has a density ranging between 1.20-1.24 g/cm3 and a Shore hardness of 95A. It has an elastic modulus: 9.4 ± 0.3 MPa and Tensile strength: 29.0 ± 2.8 MPa. The filament will Elongate at break: 330.1 ± 14.9%
The printer filament manufacturer's mission is to "create the best in class when it comes to 3D printing materials."
It is to be remembered that Polymaker's PolyFlex TPC is one such filament that, despite its high price, has satisfied lots of buyers.
It is a material that offers good printability and strength and returns. So, if you try the filament and give it a try, expect to experience satisfying consistency, durability, and flexibility.
Sainsmart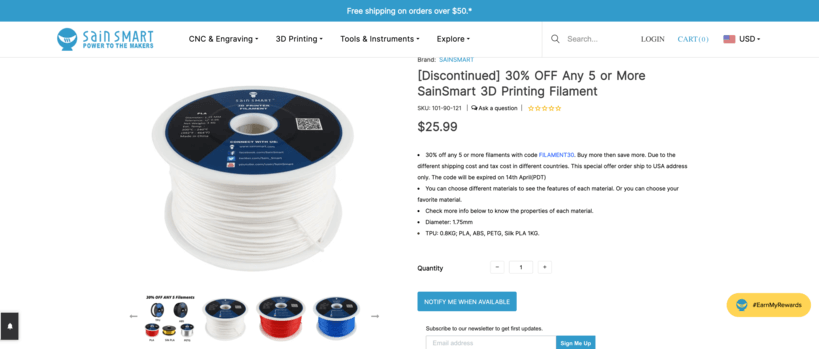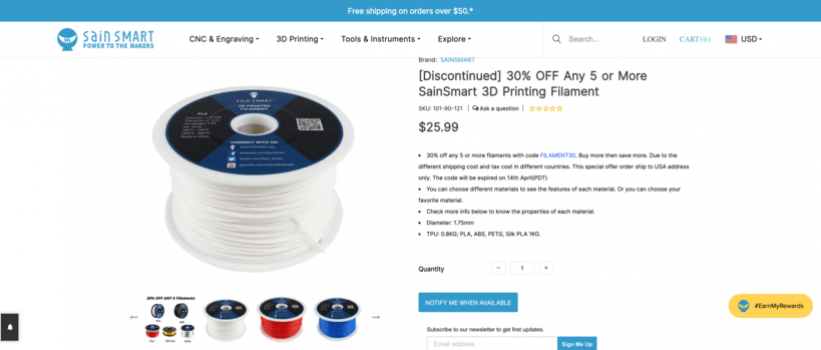 Accessible in sizes and diameters 0.25 kg, 0.8 kg, 1 kg; 1.75 mm respectively Sainsmart is a filament brand that's available in various colors such as Black, white, red, blue, yellow, orange, and 10 others. Buying this filament costs anywhere around $30-40.
For printing with this Sainsmart filament, you are recommended settings: to keep the nozzle temperature ranging between 195-230 degrees Celsius.
The bed temperature range should be anywhere between 40-60 degrees Celsius.
Whereas, the print speed should be anywhere in the range of 15-30 mm/s.
The 3D printer filament has a density of 1.3 g/cm3 and a shore hardness of 92A, 95A.
SainSmart is a company that claims to be built on the noble idea that tools and hardware should be made available to the everyday maker.
For approaching the same idea, SainSmart sells a variety of affordable 3D printers, CNC mills, accessories, and, of course, filament.
Something that might surprise you is the superb strength and printability of this material, its available hardnesses are 92A and 95A.
Matterhackers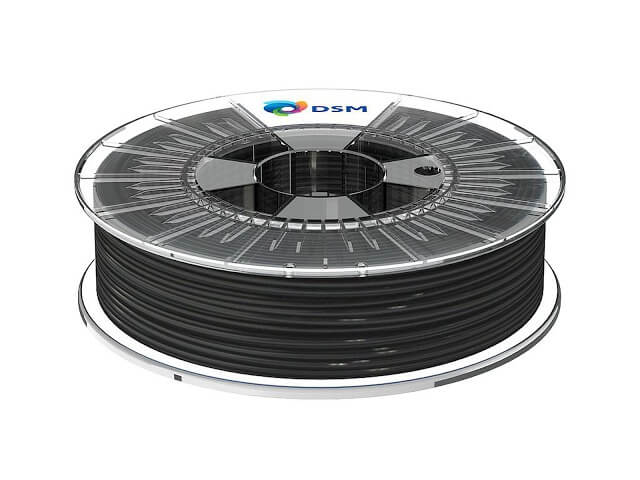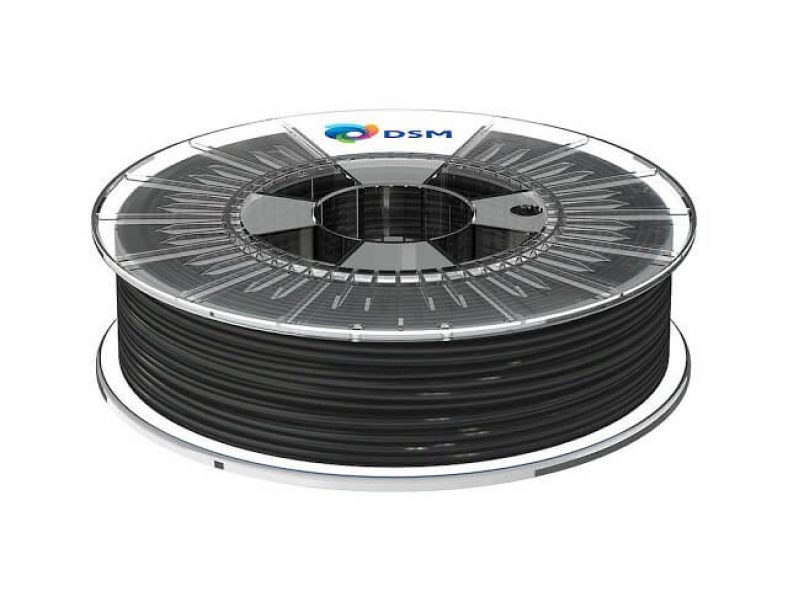 This filament is available in 1lb size and 1.75 mm and 2.85 mm diameters. It's available in Black, white, red, blue, clear, grey, and green. The filament is priced at $45.
For printing with this filament, it is recommended to keep the nozzle temperature in the range of 220-240 °C, while the bed temperature should be up to 40 °C and the print speed range should be around 15-30 mm/s.
Manufactured in the USA, MatterHackers' filaments are almost unparalleled in the number of different high-quality filaments available in a huge variety of colors.
Their Pro Series filaments are very well known for exemplary quality, and their TPC filament is no different, it has a shore hardness of 90A, and is definitely on the more flexible side of the spectrum.
If you want something even more bending, they also sell a Pro Series Flex TPE that's similarly impressive.
Ninjatek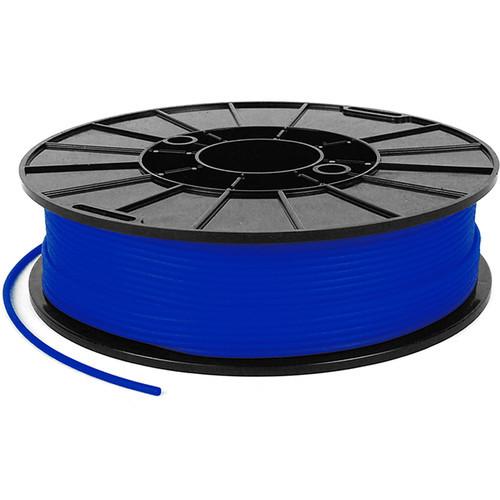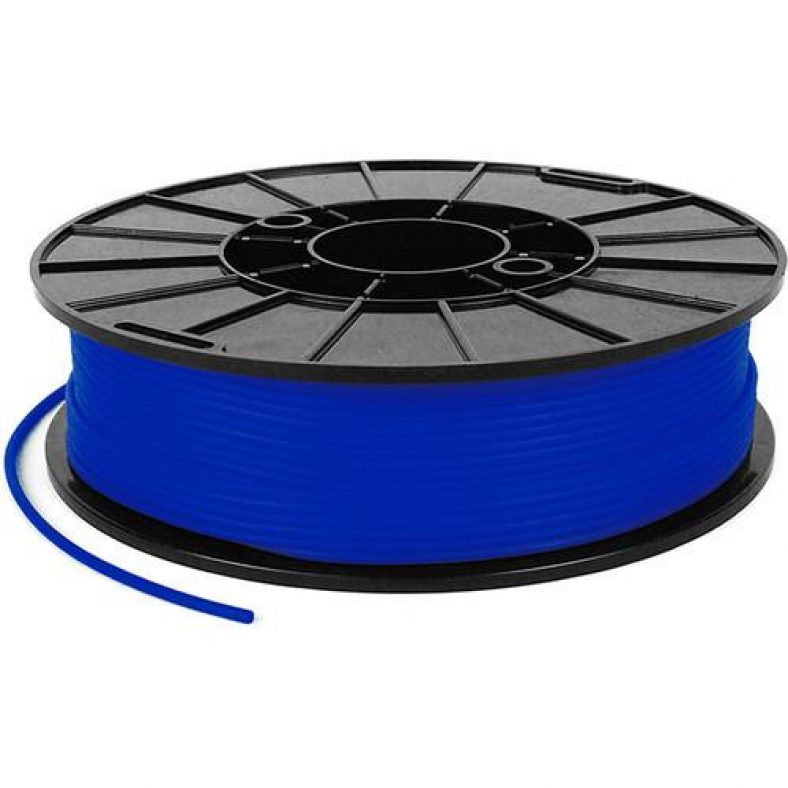 Available sizes and diameters in this brand are 0.5 kg, 1 kg: 1.75 mm, 3 mm respectively. The TPC filament is also obtainable in various colors such as midnight, snow, sapphire, fire, almond, and six others. It's priced in the range of $55-$85.
You are recommended to print with a nozzle temperature ranging between 230–240 °C and a bed temperature up to 40 °C.
The printer should have a minimum print speed of 30 millimeters per second and a maximum print speed of 45 millimeters per second.
The density of this filament is 1.22 g/cm3, its shore hardness is 95A and elastic modulus is 26.2 MPa. Whereas it has a Tensile strength of 39.0 MPa and elongation at break: 580%
TPC filament from NinjaTek is designed to be able to print at higher speeds while retaining excellent quality. The filament boasts the ability to run at an amazing 60 mm/s print speed, which is actually the standard speed for ABS.
It has a shore hardness of 95A, which is the quality that enables it to be printed at higher print speeds. With this material, you can turn ideas into flexible parts easily and most importantly, without worrying about complex settings or nauseatingly long print times.
The Conclusion
TPC filament is typically known in the market for having distinct characteristics, it is not very flexible at the same time, not very strength-giving. It has got the perfect balance which is hard to be seen either in TPC or TPU.
And this is the reason people are more favoring it over those two. Although the craze and demand of this filament in people is yet on a growing mode, experts predict exponential growth in the future.
So, while buying a filament brand you need to be extremely careful. Also, while printing with the filament you need to be strict and observe the temperature ranges mentioned above. Only then will be able to print successful rubber-like parts for which the filament is very well known.