XYZPrinting MfgPro230 xS
The printer is capable of producing parts and functional prototypes with commendable print speed, adequate build volume, and flexible layer thicknesses. Its high-power laser source is the key to good quality sintering and hence achieving a good layer resolution in the parts produced.
PROS
Shorter production times.
High-quality parts and functional prototypes.
Intuitive software that helps with the designing phase.
Removable build tray module of increasing productivity.
Multiple layer thicknesses available.
Decent print speed.
Considerable build volume.
CONS
The machine needs a skilled operator who is familiar with ins and outs of SLS 3D printing technology and a huge one-time investment.
Table of Contents
Printing using Selective Laser Sintering 3D printing technology, MfgPro23 xS is a professional 3D printer manufactured by XYZPrinting. Targeted mainly towards experts in the field of automobile and aerospace industries, the printer is full of user-friendly features.
A removable build tray not only enables users to remove their 3D printed parts but also replaces the tray for initiating the other 3D prints when post-processing the previous ones.
Assisting the users to control the machine with one touch is the 10.4-inch long intuitive color touch screen interface. So, controlling as well as monitoring basic functions on the printer can be done easily.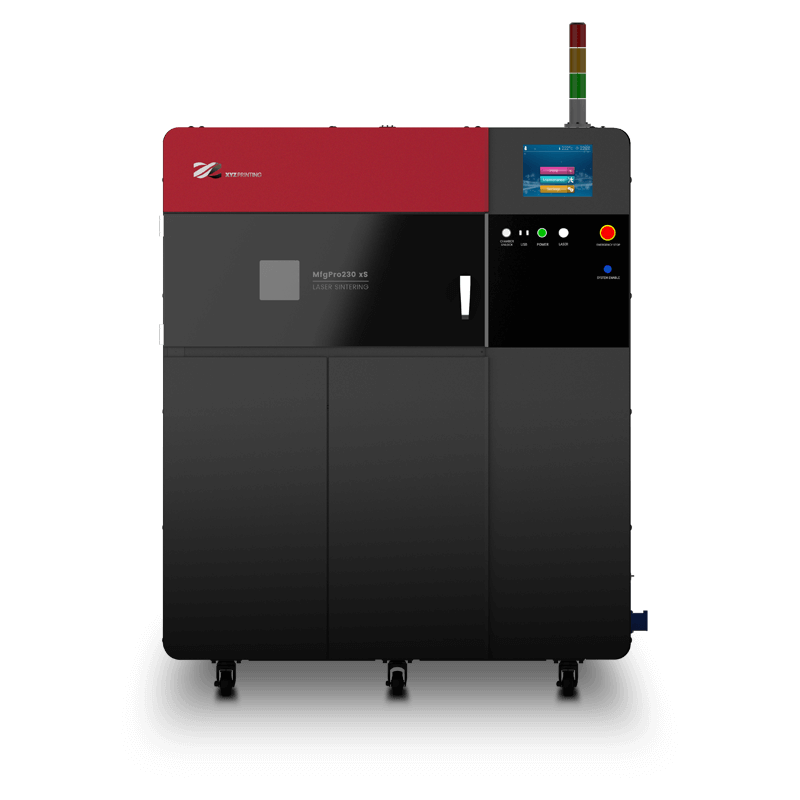 Moreover, the SLS Build and SLS Ware software take care of feeding the exact part geometry that operators are willing to exhibit. But, do the printer's features suit the price at which it is marketed in the field? Also, where does the printer stand compared to other 3D printers available in the same price range?
Features
The MfgPro230 xS gives users the ability to print with various plastic materials thereby allowing them to juggle up for creating a wide range of engineering parts.
Using the machine, the operators can build parts and functional prototypes of a maximum build volume – 230 mm * 230 mm * 230 mm. It is surprising how the printer can create objects with four-layer thickness i.e. 0.8 mm, 0.1 mm, 0.15 mm, and 0.2 mm with print speeds up to 20 millimeters per hour.
There are more such amazing features that the printer manifests. Some of those are mentioned and explained below.
Open material platform
The MfgPro230 xS offers its users to make an ideal choice for material from an open material platform. Meaning that operators do not need to limit their options to a particular set of materials produced by the company.
Instead, they can stretch up to materials produced by other companies as well. This gives a wider scope to manufacture parts and functional prototypes that can find application in various industries. Also, it makes the printer an ideal on-demand option for manufacturers or research institutions.
Reduces production lead time
The printer lets you reach up to 20 millimeters per hour, making it an ideal choice, especially for small business products and engineering design processes. It helps shorten the design verification process which generally occupies more time.
Moreover, it allows users to quickly realize the product concepts during the design and development phase. Such a scenario not only reduces the D&D cost but also accelerates the entire printing process. Once the pre-printing phase is completed in short durations, the other phases do not take much time.
Especially, nesting of SLS powder-based parts calls for maximum efficiency as well as throughput while maintaining the low print costs.
Removable build tray module
A removable build tray module present in the printer lets operators print using the printer more efficiently than otherwise. Users can easily clean off their prints by removing the printer's build tray and replace the new build tray directly into the printer for starting a new print in a straightforward manner.
Also, the removable print tray offers a cleaner solution especially for powder removal as well as a more efficient method for 3D printing.
A removable build tray module grants the user a sense of flexibility which is helpful in the past-printing phase. It permits the operator to immediately start with the next print, which is very aiding especially while mass customization or continuous 3D printing.
Intuitive software
To assist users with the design and development part of the product, XYZPrinting has made available two software suites:
SLS Build
SLS Ware
While the former sanctions a user to directly operate a model's sintering process on the printer, the latter grants the operator to remotely plan sintering projects on the printer as well as check the printing files. So, you can never face downtime while managing consistent 3D printing.
Excellent print quality
Based on SLS 3D printing technology, utilizing MfgPro230 xS one can produce 3D printed parts with touch and durable mechanical properties. The machine brings the capability to almost every prototyping user at a value that was never seen before.
Using the company offered Nylon Powder sPro12W, you can easily make parts such as smart parking sensors, aquarium filters, or chain pattern knitting. All these objects exhibit excellent part quality and superb surface finishes.
MfgPro230 xS is one of those rare 3D printers that provides users with the flexibility to print parts in four different layer thicknesses i.e. 0.08 mm, 0.1 mm, 0.15 mm, or 0.2 mm.
Considerable build volume
MfgPro230 xS is not like one of those typical SLS 3D printers that do not allow users to stretch up their build volumes beyond an extent. In fact, you hardly find an industrial SLS 3D printer offering 230 mm * 230 mm * 230 mm priced similarly, above or beyond the maximum build volume offered by the printer which is noteworthy.
Such a feature allows you to build large parts in one go without having to compromise with building objects in components and then assembling them. Although there is not much harm in building objects in components, at times when they are put into application, the parts turn out to be weaker than the ones that are built in an unassembled manner.
Specifications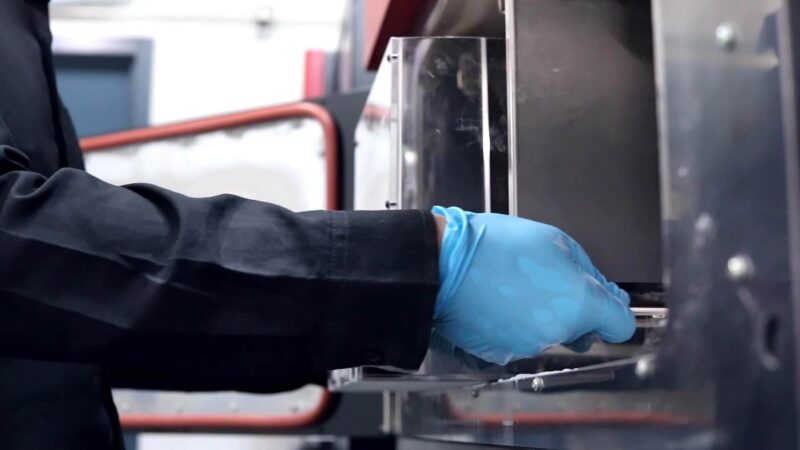 XYZPrinting MfgPro230 xS builds parts and functional prototypes using Selective Laser Sintering 3D printing technology. The machine offers a maximum build volume of 230 mm * 230 mm * 230 mm and varying layer thicknesses such as 0.08 mm, 0.1 mm, 0.15 mm, and 0.2 mm.
For achieving such a massive build volume at such layer thicknesses, the printer offers a build speed of up to 20 millimeters per hour.
The printer consumes a CO2 laser of 30 Watts for sintering parts. There is an N2 system put in place that allows users to control the gas flow inside. MfgPro230 xS requires a power supply of 220 Volts AC, 50/60 Hz, an operating temperature range of 16 to 25 degrees Celsius.
The operation humidity needs to be lesser than or equal to 70 percent RH without any condensation. Lastly, the floor requirements of the printer are 220 kilograms per square meter depending on the local building code.
Price
Readers interested in buying the printer need to ask for a quote from the printer manufacturer which can be done in two ways, either by filling a form or via email.
First Impression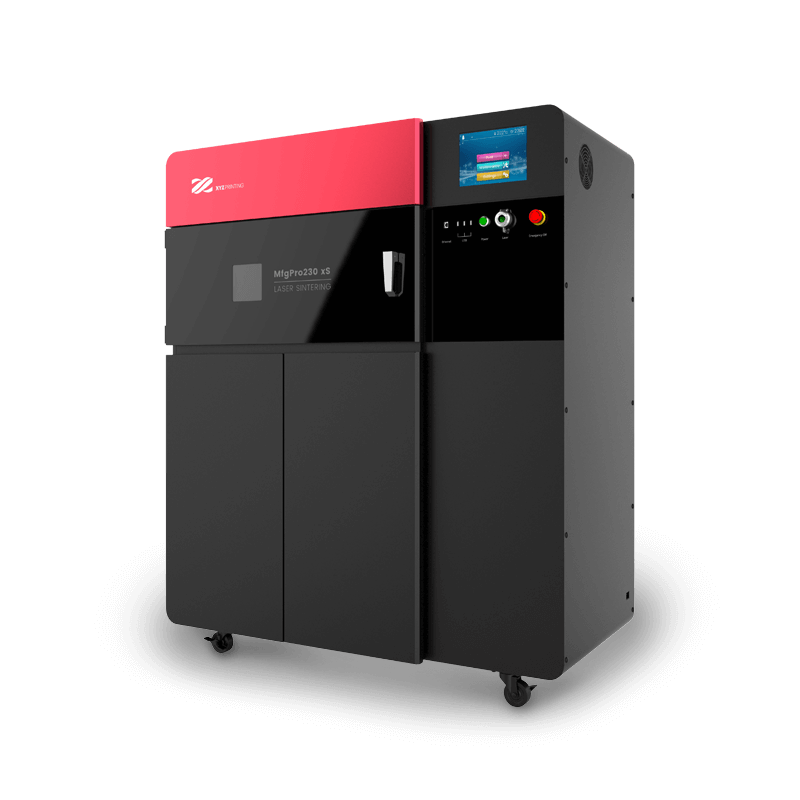 Typically, the printer looks like an industrial 3D printer. Giant and space-consuming with a lot of compartments that are meant for a specific use! MfgPro230 xS has product dimensions 1480 mm * 850 mm * 2040 mm and weighs 360 kilograms. So, you definitely need a dedicated workplace to fit the printer.
Viewing the printer from its front you see the red-colored section present at the top of the printer with the XYZPrinting logo just above the print chamber which is accessible by using the chamber handle. Besides the chamber, there is a huge touch screen interface that allows you to not only pause, play and stop prints but also make some minute print settings.
Sliding your eyes down, you see there are two compartments on the left which are presumably for the material loading and laser source.
Setup
Being an industrial 3D printer, MfgPro230 xS comes completely assembled with on-site assistance. It is a plug-and-play 3D printer so all you need to do is give the power supply and initiate the 3D printing process after feeding it with the sliced file.
Print Type/Cost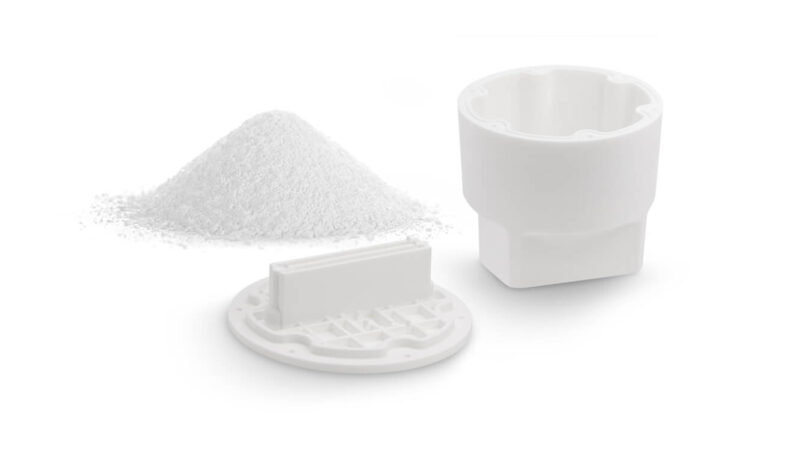 SLS 3D printing technology typically uses a laser source for fusing thermoplastic powder to build parts and functional prototypes. The process begins with filling the powder bin with a certain amount of polymer powder.
After which, the bin is placed into the machine for starting the heating stage. The heaters, before starting the printing process, are used to get the powder to a temperature just below its melting point.
The re-coater deposits a single layer of powder onto the build platform, wherein the CO2 laser comes into play and selectively induces fusion between particles to form solid parts at specific locations.
Normally, the cost of 3D printing a part or functional prototype with SLS 3D printing is higher compared to other 3D printing technologies. But it depends on the type of geometry, the material you are 3D printing with, the power of the laser source, the electricity it consumes, etc.
Print Quality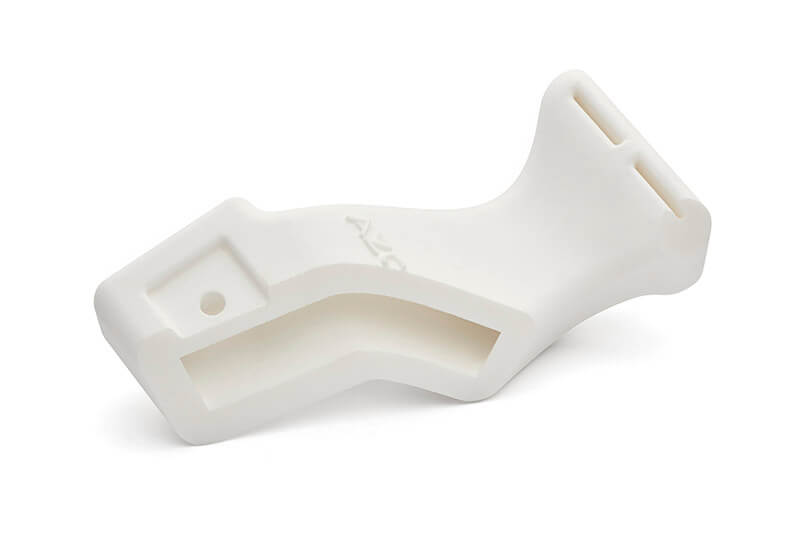 SLS 3D printers are well-known for producing parts with excellent surface finishes and MfgPro230 xS extends the 3D printing technology's reputation along with that note. At the time of writing this article, the company has proudly displayed three parts made from the printer:
Smart parking sensor of 110 mm * 110 mm * 110 mm.
Aquarium filter of 131 mm * 104 mm * 133 mm.
Chain pattern knitting of 410 mm * 230 mm * 1 mm.
All of them are made from Nylon powder – sPro12W. The machine does fine work of printing edges, curves, and intricate geometries with dimensional level accuracy.
Software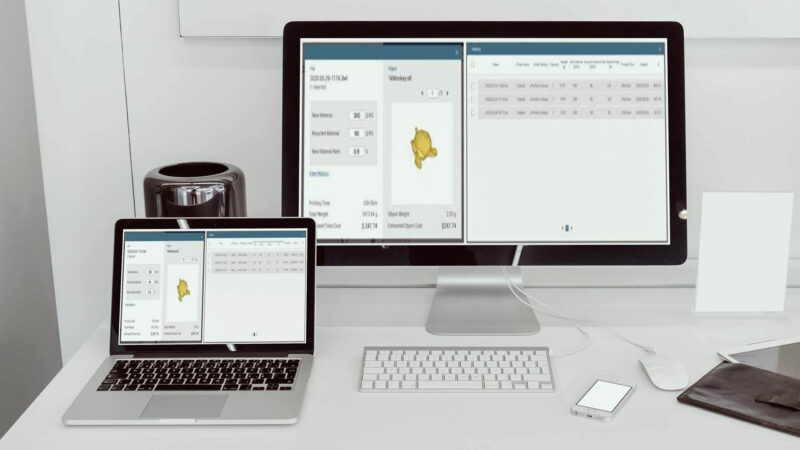 As mentioned above, the machine comes compatible with two applications:
SLS Build
SLS Ware
Both of them are compatible with Windows 10 and supports STL as well as 3MF file formats.
Customer Support
Users can access the video tutorials uploaded by the printer manufacturer, as well as download and document literature. Apart from this, the technical team of XYZPrinting can be reached out via email as well as call.
Parameters Influencing Buying Decision
The chief factors that are good to know about MfgPro230 xS before buying are mentioned below in brief.
3D Printer Cost: Although not out in open, as MfgPro230 xS is an industrial SLS 3D printer it must be on the higher end of the budget, typically costing more than an FDM or SLA 3D printer able to produce parts with the same build volume.
3D Print Speed: Average.
3D Print Quality: The printer manages to steal the show by producing excellent part quality. It also allows users to print parts in four different layer thicknesses.
3D Printer Capability: The machine is open to printing with different materials. It is capable of processing and producing various materials that convert into vividly ranging products.
3D Printer Practicality: Users can easily control various functions of the printer from its huge touch screen interface. The high-power laser source does good work of sintering parts with ease. Above all, intuitive software management manages the work fairly easily for professional users by understanding their design needs.
3D Printer User Expectations: MfgPro230 xS is a professional-grade 3D printer meant for small manufacturers and researchers in the field of 3D printing that relies on excellent layer finish produced by SLS 3D printing technology.
The Verdict
The printer is capable of producing parts and functional prototypes with commendable print speed, adequate build volume, and flexible layer thicknesses. Its high-power laser source is the key to good quality sintering and hence achieving a good layer resolution in the parts produced.
Above all, the software management that the printer manufacturer is able to provide is something that's very praiseworthy. Design being the core part of 3D printing, professional users would love to exhibit their core skills with ease on the printer.