Anet A8 Plus
Anet A8 Plus is dimensionally accurate, as well as extremely appealing in terms of aesthetics. The printer's upgraded performance from its predecessors is something that's typically worth noticing.
PROS
Huge printing size.
Upgraded operation and filament loading.
Efficient extruder structure.
High-performance delivering motherboard.
CONS
The open frame makes it difficult for the temperature to be uniform during the heating process.
Table of Contents
Based on extrusion 3D printing technology, Anet A8 Plus offers a maximum build volume of 300 mm * 300 mm * 350 mm. The machine brings the designs in your mind, to reality very quickly and easily. It supports automatic filament feeding and unloading that reduces the overall print time.
The printer features an upgraded motherboard with many functions such as over-current protection, short-circuit protection as well as overall support for safer printing operation. Also, the optimized Aluminum substrate heat bed comes with a glass panel and provides a flat printing surface that enables smooth printing as well as easy removal of 3D printed parts.
Moreover, A8 Plus features a patented extruder design for an optimized short-range feeding; smooth discharging as well as and improved consumable printing. Let's get to know more about the exciting components and functionalities that the printer possesses in-depth. Ready?
Features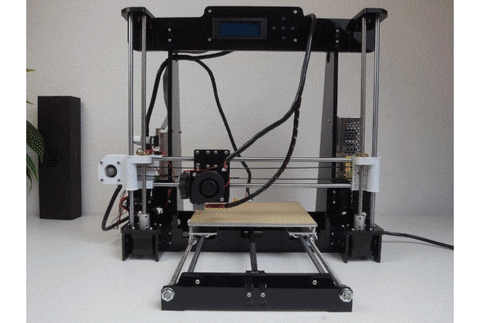 A8 Plus possesses an easy to assemble construction that suits even the inexperienced people who are looking to experiment in the field of 3D printing. The printer uses a direct extruder which helps even beginners achieve commendable print quality.
The machine's hot end is very light and is especially suitable when used with Bowden extruders. Also, A8 Plus manages to surprise everyone with its print quality.
It consumes very little installation space and that's what makes the printer well-suited for office as well as homework. More such exciting features of the machine are mentioned and explained below.
All metal frame
Anet A8 Plus' frame is made from standard Aluminum metal which is a benchmark of stability in the field of 3D printing. It is an upgrade from its predecessor – Anet A8's acrylic frame.
The newer material and design give it a sleeker look than its former version. Also, A8 Plus features a two Z-axis double-threaded rod running up in front of the frame that gives it perfect balance at both sides.
One of the chief concerns of beginner-level FDM 3D printers is vibration, which is eliminated to the point of being negligible in this printer.
Huge build volume
Apart from the Aluminum frame, the other most noticeable difference between its predecessor and the current version is build volume. A8 offered 220 mm * 220 mm * 240 mm, whereas using A8 Plus users can go up to a maximum of 300 mm * 300 mm * 350 mm.
This enables operators to build parts and functional prototypes of large build volumes in one go. Without having to compromise on cutting the geometry and then printing a single object in parts to finally assemble them to put into application.
Efficient motherboard
Anet has equipped A8 Plus with a better motherboard than its previous printers. It works with protection from over-current as well as short-circuiting. This comes especially after getting the feedback of A8 which was known to be hazardous to fire and seemed like putting oneself at risk while operating.
By changing the heart of the 3D printer i.e. its motherboard, Anet ensured that the machine is completely safe and good to go even for extreme workloads such as hours of 3D printing.
Heated glass bed
The heated bed of Anet A8 Plus is made using the Aluminum substrate. It includes a removable glass bed. Meaning that the printer's print bed can withstand high temperature for printing with a wide variety of 3D printing materials!
Also, users can flexibly remove a 3D printed part by taking it off the glass bed. The printer manufacturer states how it's easy to adjust the tightness of the X as well as Y-axis belts quickly.
One more thing that Anet has particularly focused on is keeping the mechanisms easily accessible as well as smooth. The tensioning mechanism associated with key components can be moved by tightening and loosening a wing nut or turning a screw.
Upgraded filament loading
A8 Plus has an added facet than its predecessor i.e. the printer does automatic loading and unloading of filament. So, users do not have to go through the hassle of loading the spool on its spool holder and check whether they have done it correctly or not.
In fact, because of automatic loading, the pre-printing process is expedited and the pre-heat procedure starts faster than it does in printers otherwise. As a result of which, the filaments can reach their glass transition within shorter times.
Comfortable extruder structure
The problem of filament clogging due to improper extruder structure is well taken care of by Anet. A8 Plus uses a patented extruder structure that allows for direct filament loading thereby improving the print effect, especially with TPU filament.
The structure is uninterrupted by any sort of wires which means the print head has complete freedom to move along the rails to achieve higher print speeds. Combined with this is the magnetic movable panel that breaks through the ergonomic design. Not only is it efficient, but also convenient to operate the knob-type button.
A8's Y-axis is designed with double polished rods and the Z-axis, with a double threaded rods structure. Both of them are coupled with positioning accessories and the EU standards 2040 Aluminum profile body for achieving a breakthrough movement stability that is rarely seen in printers available in the same price range.
Specifications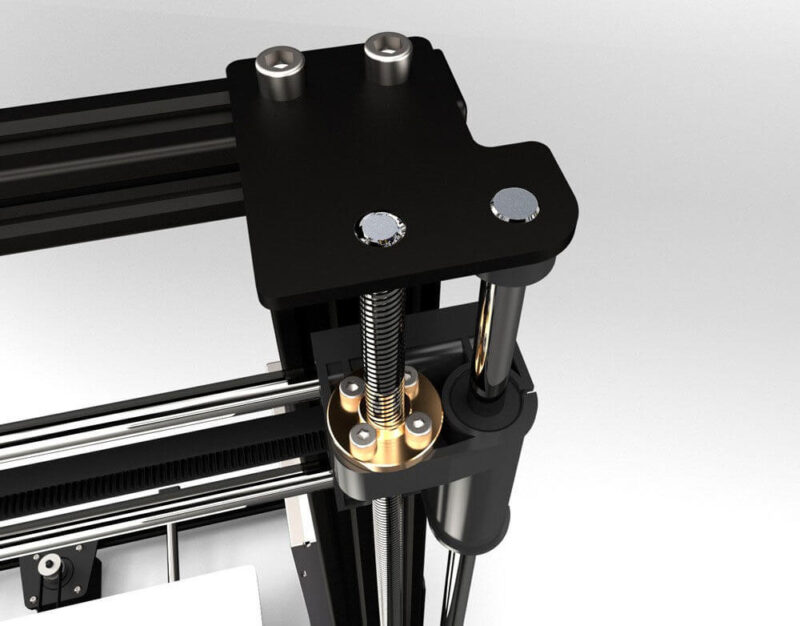 Credit: techadvisor.com
Anet A8 Plus is based on Fused Deposition Modeling 3D printing technology which is fairly simple and easy to grasp. The printer is delivered to you as a kit or in partially assembled form; therefore it does not take much time to set it up.
A standard Cartesian XZ head mechanical arrangement is based on a typical gantry with two support pillars joined by a print head over which the spool holder suits.
The machine offers a maximum build volume of 300 mm * 300 mm * 300 mm that allows users to build parts lesser in build volume than the mentioned one in a single go. A direct drive feeder type with a single nozzle of 0.4 mm size takes care of the heating and the deposition process.
The printer's hot end is able to withstand 250 degrees Celsius temperature whereas its heated bed can go up to 100 degrees Celsius.
With such efficiency, A8 Plus allows users to print with filaments like ABS, HIPS, PETG, and PLA of standard 1.75 mm diameter. A heated bed with a removable glass build plate assists operators in 3D printed part removal and the printing procedure. The printer's Aluminum made frame ensures stability during the 3D printing process. Users can connect with the machine using a micro SD card for file transfer.
Print speed of A8 Plus ranges anywhere between 40 to 120 millimeters per second. Moreover, the printer's printing precision is around 0.1 mm. Parts printed using the machine exhibit a layer thickness of 0.1 to 0.3 mm. An LCD screen makes the overall interaction of the user more engaging.
Price
Anet A8 Plus is available for $219.

First Impression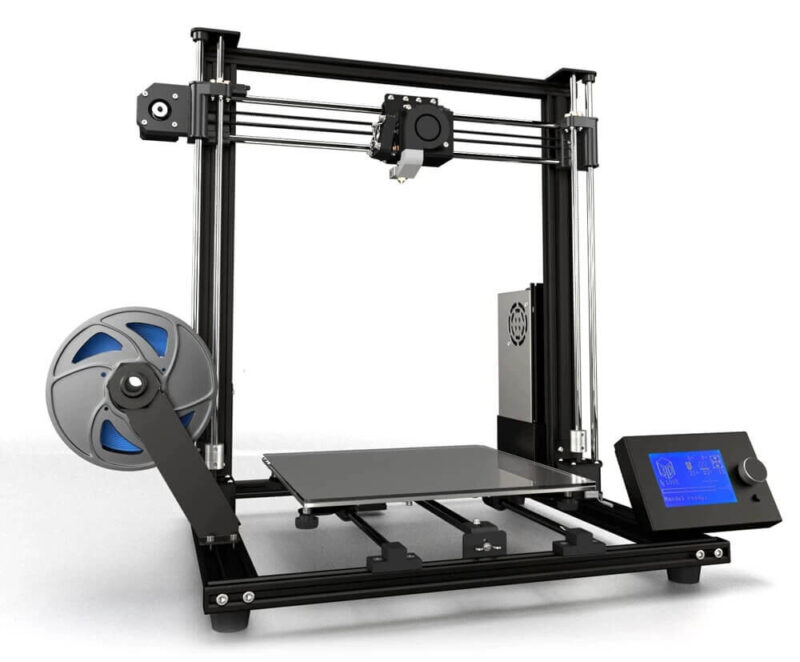 All the components of the printer come neatly as well as safely packed in a box. Joining all of them, you get to see a typical open-frame desktop FDM 3D printer that has a gantry supported by the base on which the print bed sits.
On the sides of the gantry are two support pillars that are connected. Both the pillars have rails attached to them which makes it possible for the print head of the printer to move up and down. The LCD screen is present on the right, whereas the filament spool holder is on the left.
Setup
A8 Plus is not a plug-and-play 3D printer and is received in components. To assist you in setting up the printer, the printer manufacturer supplies a user manual that makes you familiar with the parts as well as lists the step to join them.
The process of setup is easy and does not consume much of your time. Moreover, it's a great learning lesson for those who are completely new to 3D printing. Users are exposed to the mechanism and the elements that perform them while setting up the printer.
Print Type/Cost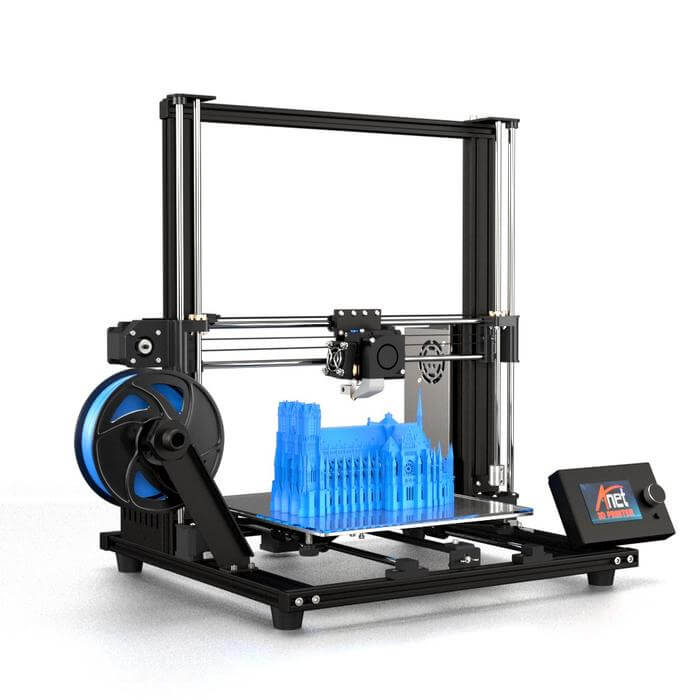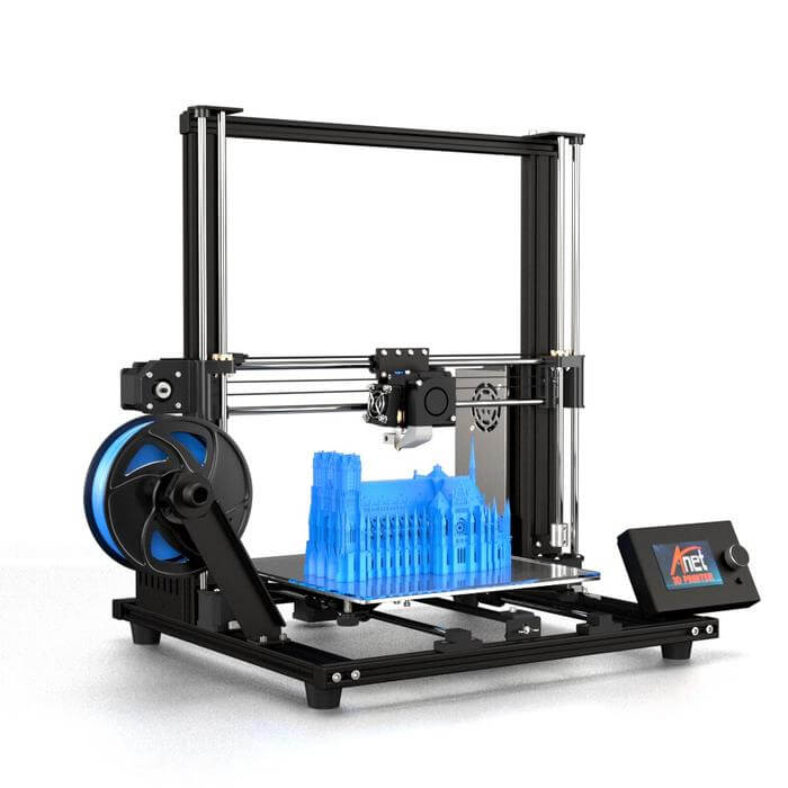 In FDM 3D printing technology an extrusion nozzle typically moves over the build platform for depositing a layer of the part according to the part geometry.
The entire process involves using the thermoplastic material that has been melted down after reaching glass transition. It is then forced out of the nozzle layer by layer. Once the object has been created, the materials that are used as support structures can be removed and the part can be given for post-processing if needed.
Generally, the cost of 3D printing a part or functional prototype via FDM 3D printing technology is lower compared to SLA or SLS 3D printing technology because of no use of extra sintering or fusing source. However, it is not sure. It depends on many factors such as the part geometry, type of filament used for making the parts, support structures, etc.
Print Quality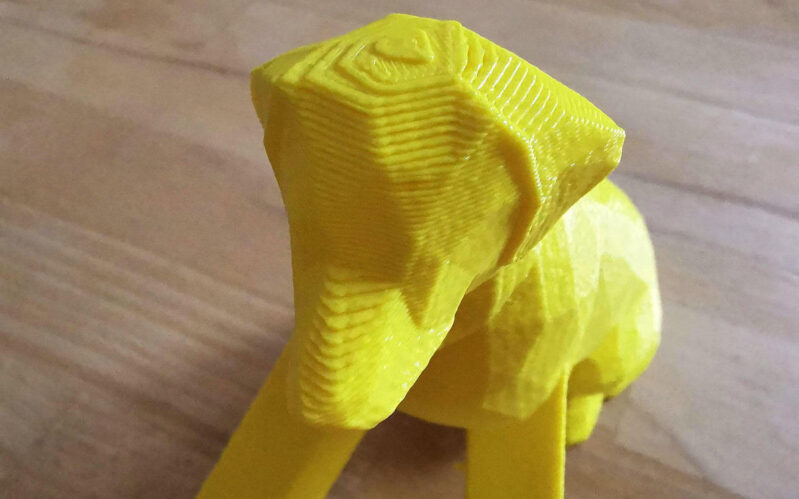 Credit: techadvisor.com
The print quality delivered by A8 Plus is remarkable because there are not many 3D printers in the same price range that can produce anywhere near to the layer resolution this machine promises. And for this, the printer manufacturer's idea to upgrade the existing hardware is to be appreciated.
Even while printing parts and functional prototypes with support structures the printer does not create much of a hassle for its users and delivers dimensionally accurate geometries.
Software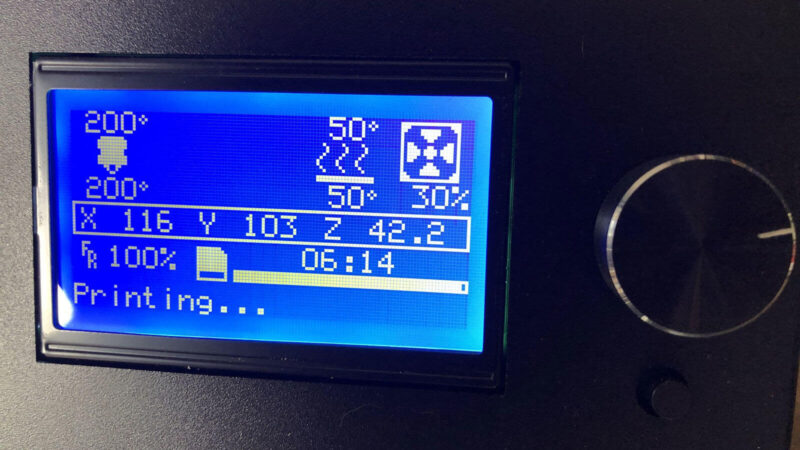 Credit: techadvisor.com
The printer manufacturer recommends a Cura slicer for slicing the 3D modeled files into G-codes. It operates completely well with Windows and Mac Os and accepts file types such as G-code, JPG, OBJ, and STL.
Customer Support
Anet answers troubleshooting questions of users in its FAQs section. Also, it offers to download firmware and slicer. Moreover, the video tutorials are extremely handy to exactly depict what needs to be done when. Apart from this, the technical team of the company can be reached out via email as well as on-call.
Parameters Influencing Buying Decision
The most important factors concerning A8 Plus' buying decision are mentioned below in brief.
3D Printer Cost: There are hardly any desktop FDM 3D printers available under $250 that offer a maximum build volume of 300 mm * 300 mm * 350 mm and decent print quality.
3D Print Speed: A8 Plus offers extraordinary print speeds that enable users to build parts in a lesser number of hours compared to its competitors.
3D Print Quality: Although being a typical desktop FDM 3D printer in the affordable range, A8 Plus manages to deliver commendable print quality.
3D Printer Capability: Beginner-level users can learn how to set up an FDM 3D printer and other basics by buying Anet A8 Plus. Also, the printer can build normal household stuff easily with minimum effort and a varied range of materials.
3D Printer Practicality: When in operation, the machine does not make much noise. It is also in particular almost free of vibration even while creating parts with large build volumes.
3D Printer User Expectations: A8 Plus is an extremely lucrative offer for the novice in the field of 3D printing. They can experiment making household and office stuff, learning 3D printing using the simplest 3D printing technology i.e. FDM, and then start manufacturing parts with large build volume.
The Verdict
Overall, Anet A8 Plus is dimensionally accurate, as well as extremely appealing in terms of aesthetics. The printer's upgraded performance from its predecessors is something that's typically worth noticing.
A larger build volume, an upgraded structure with an improved mechanism makes up for a praiseworthy 3D printed part. There are hardly many 3D printers that can compete with Anet A8 Plus in terms of size, quality, speed as well as capability.