Smartphones! One gadget that has led to the extinction of many others. Radios, torches, stop clocks, table clocks, calendars and many more are struggling to find their feet.
With the growth of 3D printing, there has been an attempt to modify the design of a clock by bringing in interesting ideas to it.
So that, if not for time's sake, for home décor's sake one can use it. Here in our list, we feature eight most unique designs of 3D Printed Clocks by designers worldwide.
Clocks that can be hanged, clocks that can be used on a table, and clocks that can manage on the support of their own all feature in.
Recommendations for Top 8 3D Printed Clocks
Time is precious so we won't waste it and directly jump to number one of the lists.
Structure Clock by Be3D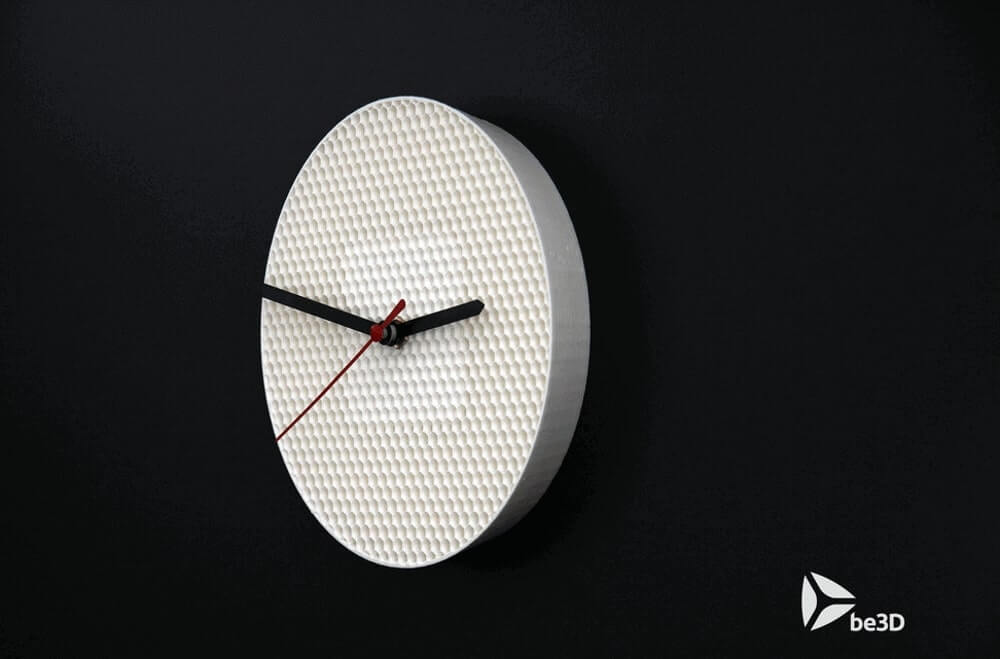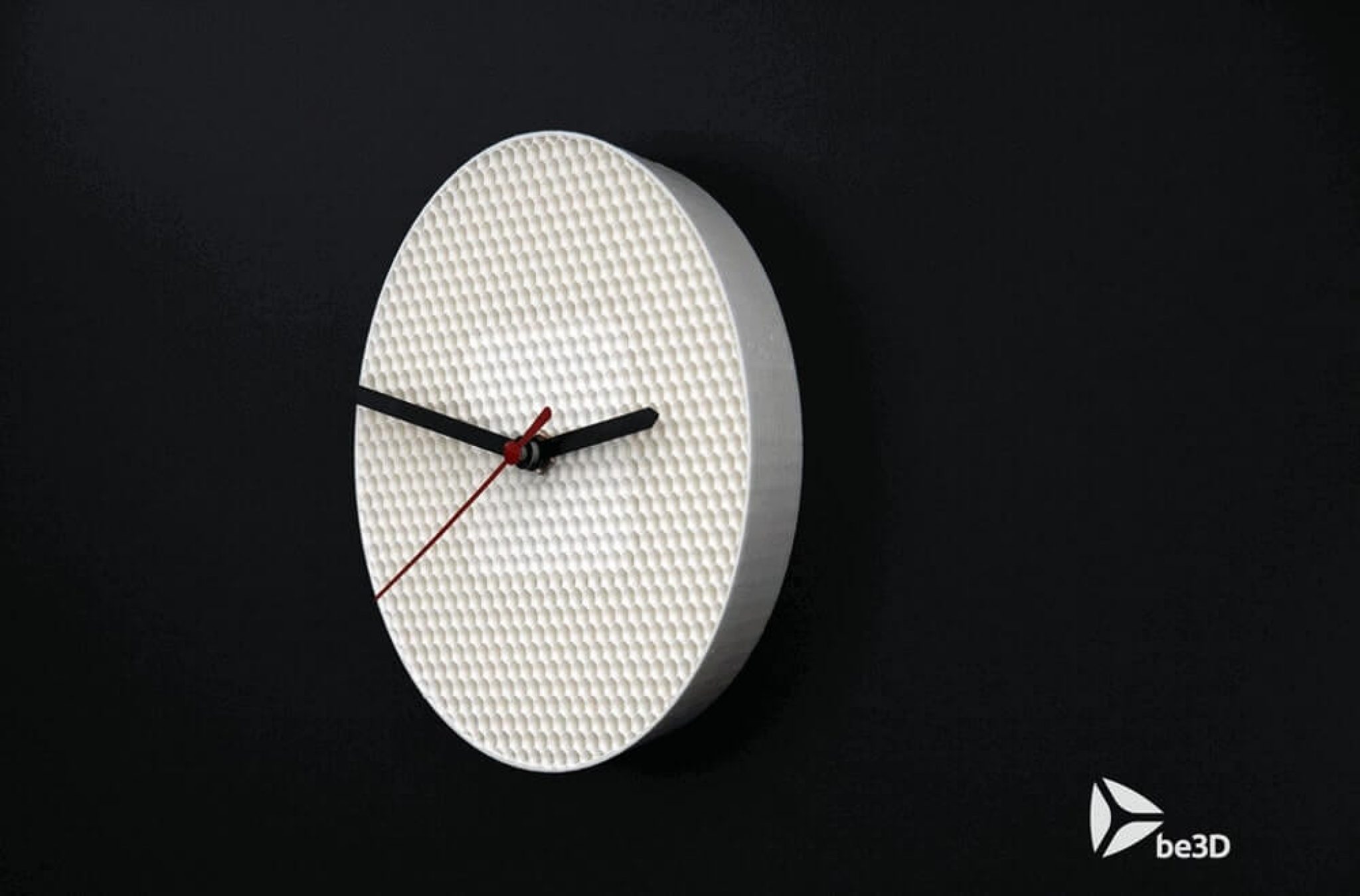 Martin Zampach, while his work at Be3Dprinters from 2014 to 2016 created this eye-catching clock structure. This clock can be hung over the wall and also be used as a table clock.
As you can notice in the picture that the shape of the design on the clock is hexagonal, you may wonder if you can use some other shape than a hexagon.
Well, let us tell you that you can customize the shape according to your wish. It could be honeycomb, it could be a triangle, square, whatever you wish to have.
Martin Zampach currently works as the creative director and co-founder of Prototypum. Zampach has studied glass art at Secondary Art School in Luhacove, Czech Republic.
Before starting his experiments to innovate in 3D printing he graduated from Tomas Bota University in Zlin. Zampach gained a degree in Industrial Design from this university.
The variants that are available in this clock's design and the fact that it can be used as a table clock as well as it can be hungover, depicts the creative mindset of its creator.
Bike/Bicycle Wheel Clock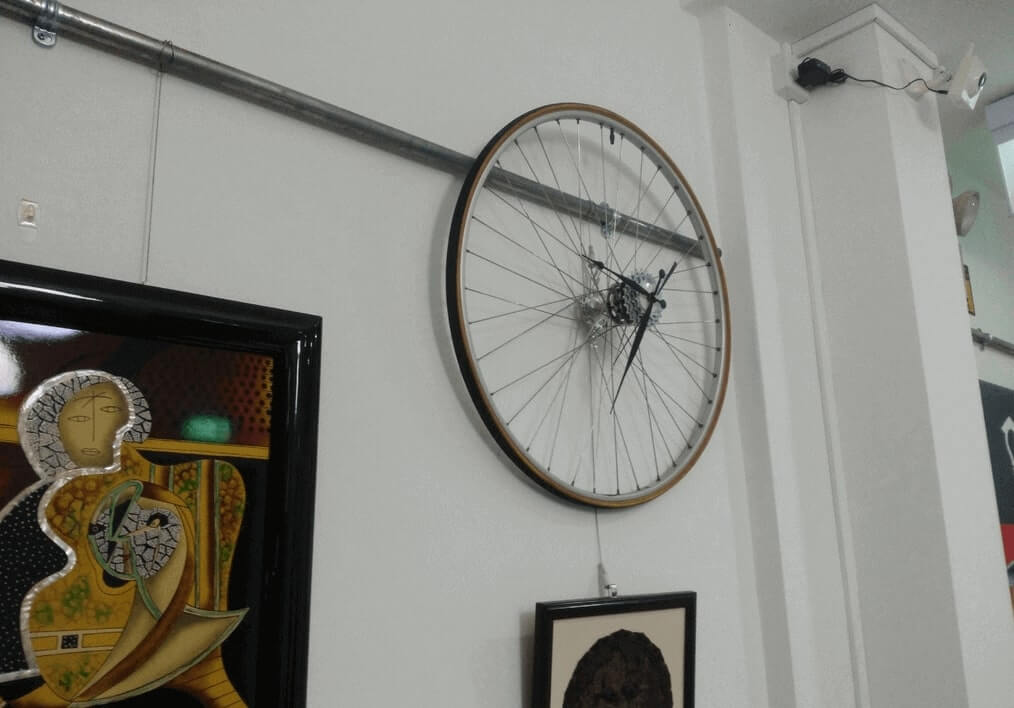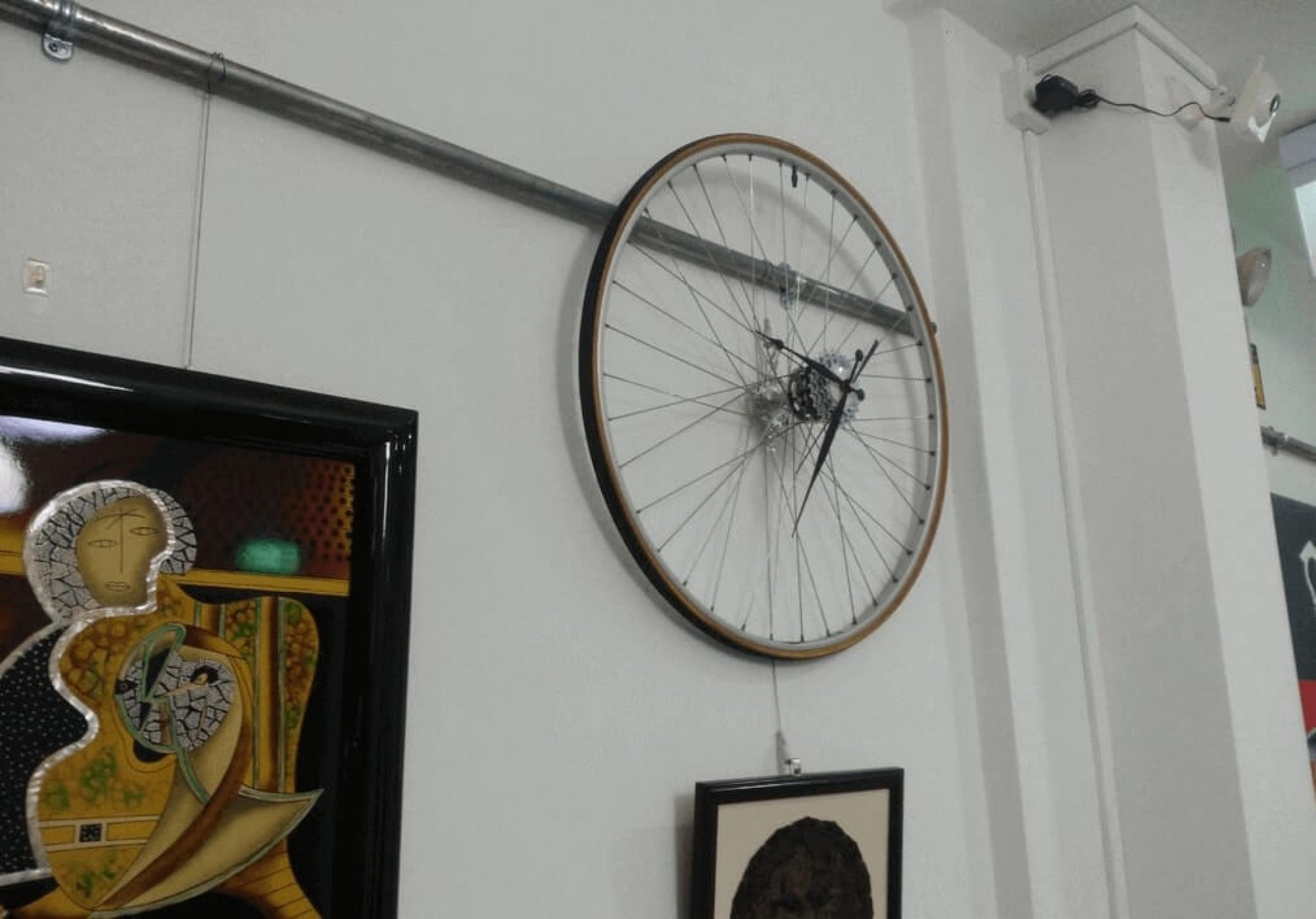 Who says that the bicycle/bike wheels are a use and throw away thing? They can be used to give a clock, a circular shape.
When putting up on a wall, the mind behind the whole idea will be applauded for sure, as it brings out the perfect combination i.e. application of the latest technology with common sense.
Pixelthis is on Etsy since 2007. The text on its display pic on Etsy says," stuff made from the stuff." The operator of this account operates it from Virginia, United States.
Specializing in making clocks from recycling junk, Pixelthis has had 6,868 sales to date. One can get to see clock made from used movie reels, computer motherboards, hard drives, gears, and even computer screens.
This clock as you can see in the picture provided above needs printing of hardware around the bicycle wheel.
Also, apart from screws and nuts, you need a high torque clock mechanism to keep the clock ticking. You can get that from shops like Kclockit. You can also buy this clock from Thingiverse.
Ekaggrat's Holo Clock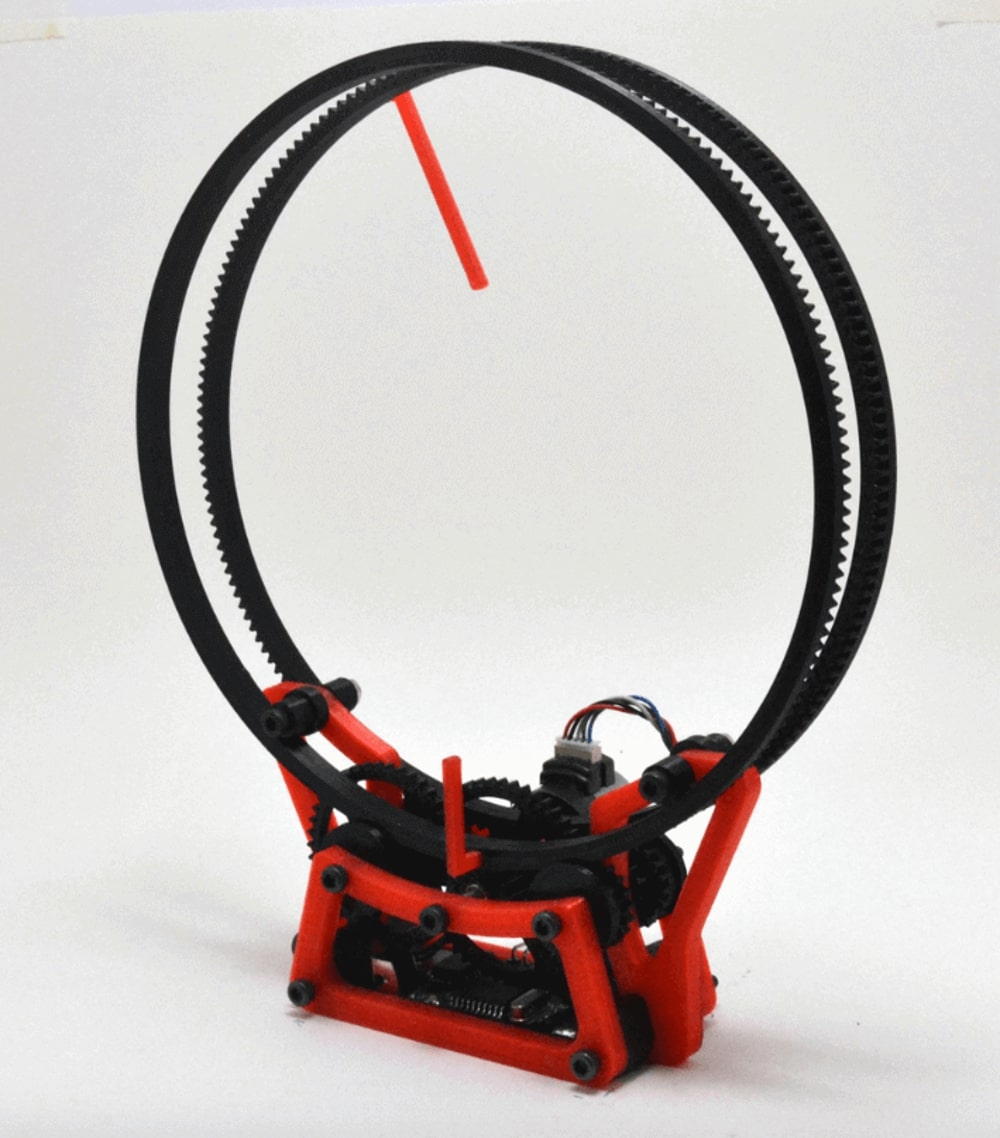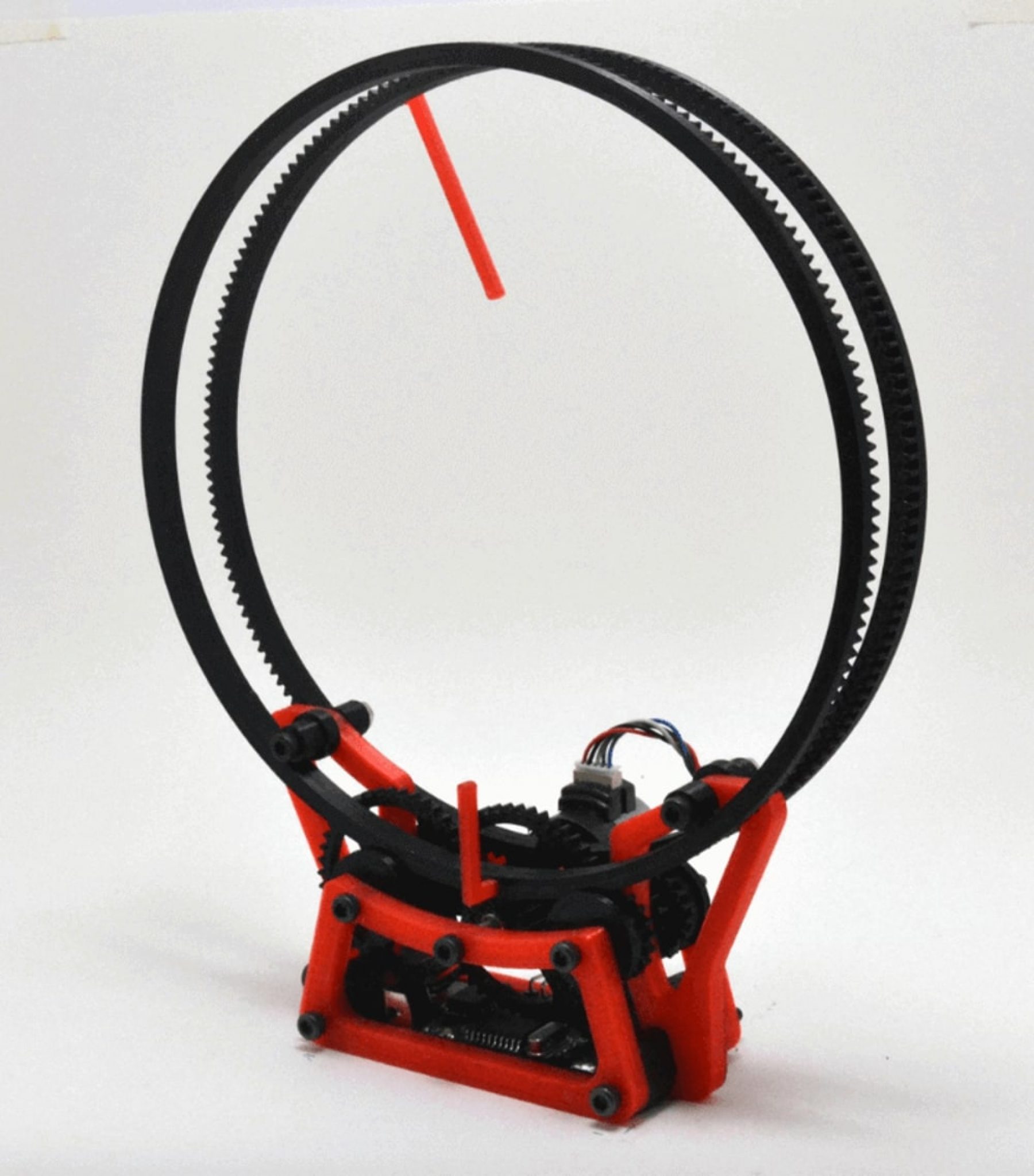 As you can guess by seeing the picture above, this clock works by a gear mechanism. Ekaggrat, the designer of this clock works from Beijing and India. The designer has 46 designs as per Thingiverse's count.
As per the information mentioned on Thingiverse, Ekaggrat uses a Custome Core XY 3D printer to generate prints. Coming to the clock's technical part, a single geared stepper motor which is alleged of $10 was used by the designer to keep the clock ticking.
The specifications of this motor are 12 volts that operate a 3mm shaft with a gear ratio of 1:30. The coding inside circuits (attiny 2313 and I293dd) of this motor is said to be done by Arduino Ide language.
Notice the differently placed hour and minute hands that aren't connected with each other in the center of the circle? Wondering how that happens?
Here it is: the single motor moves a gear train which moves the minute ring and hour ring by which one can know what time is it currently. Ekaggrat has supposed to use GitHub software for this design.
Tourbillion Watch by The Goofy
Christoph Laimer aka The Goofy has designed the watch that can be seen in the picture below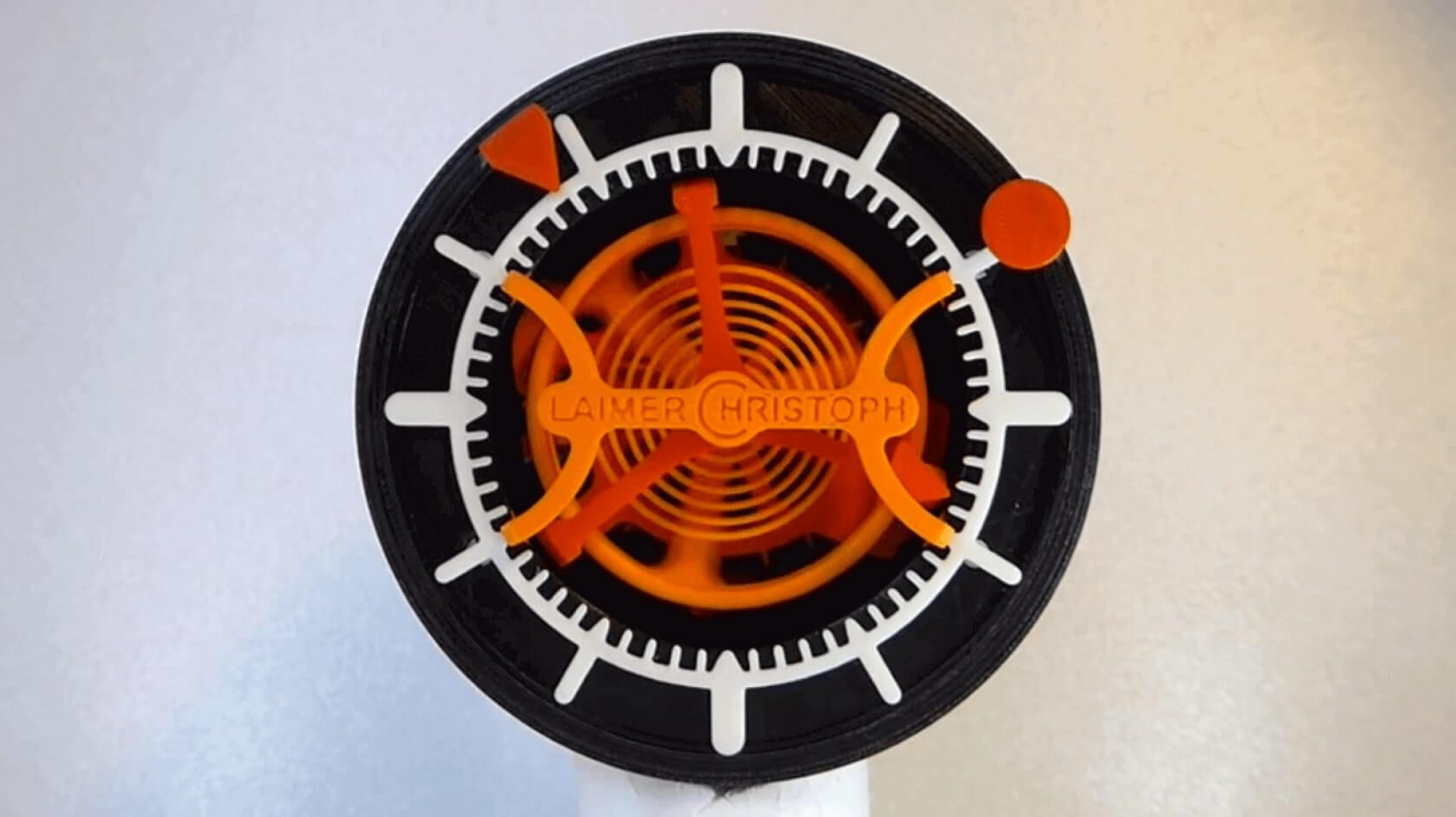 Born in Zurich, Switzerland the maker holds a master's in Electrical Engineering degree. While working as a software engineer for a company, Laimer's started designing 3D printed items as a hobby.
On his bio at Thingiverse, Laimer mentions designing mechanical machines and watches as his immediate focus after resigning from the job where he worked as a software engineer.
The inspiration and reference for this tourbillion watch are supposed to be taken from a tourbillion watch design made by Nicholas Manousos, the New York-based watchmaker and horologist.
Laimer has tried to bring tourbillion watches a certain sort of perfection. Getting into the technical aspects of the watch, the watch contains a Swiss lever escapement.
The mainspring inside the barrel of this watch keeps it running approximately for 30 minutes. All parts of this clock are 3D printed except for some screws and pins.
Laimer has printed the clock using AutoDesk Fusion 360 on an Ultimaker 2 3D printer. And one can get this watch on Thingiverse.
Word Clock Designed by Dr. Hatch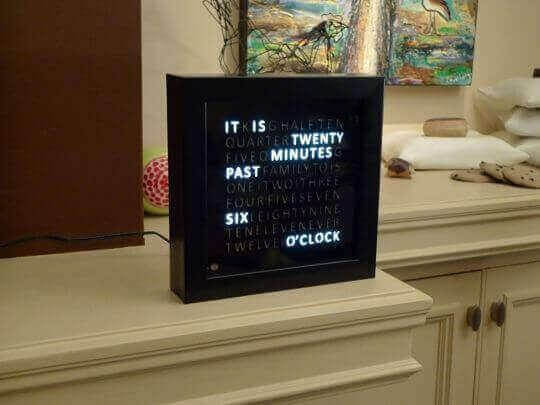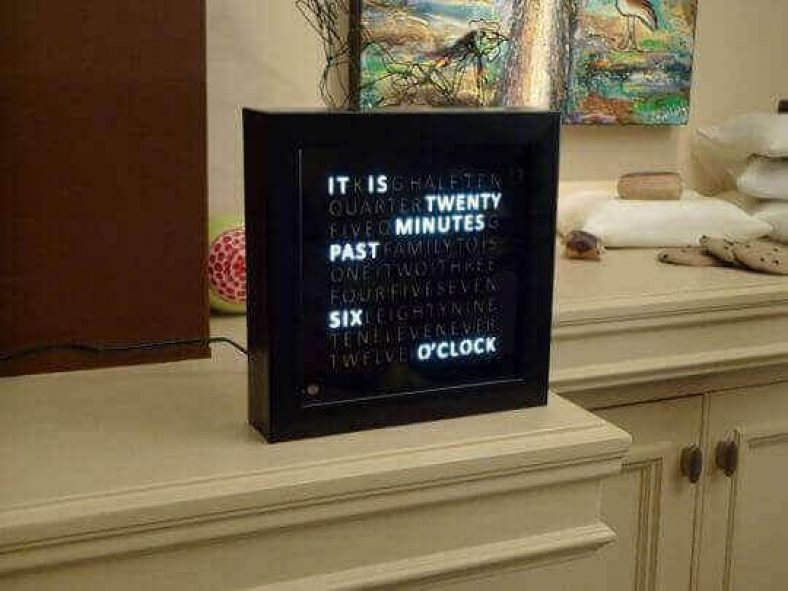 As suggested in the title and as shown in the picture, the clock shows time in a word-ly fashion. Dr. Hatch calls him/herself a Chess Playing Robot.
He/she is a person who has gained training in hardware and is currently a software amateur. Dr. Hatch operates from San Francisco, United States, and is on Instructables since 2012.
If you deal with software, knowing that Dr. Hatch is an amateur and has generated such a product, might amaze you.
So let me tell you something that Dr. Hatch feels about his project, he writes," the most time-consuming part of making a Word Clock is building the "light wells" that separates the light for each word and creating a diffuser that spreads light evenly but does not dim it excessively."
The idea here as mentioned on Dr hatch's instructable profile was that one could use a two-headed 3D printer to print walls of light wells and simultaneously use the second head to print light diffuser. After doing this the software part of the work takes over. One can get this clock from Instructables.
Twitter Clock by Gonzalo Rodriguez Nolasco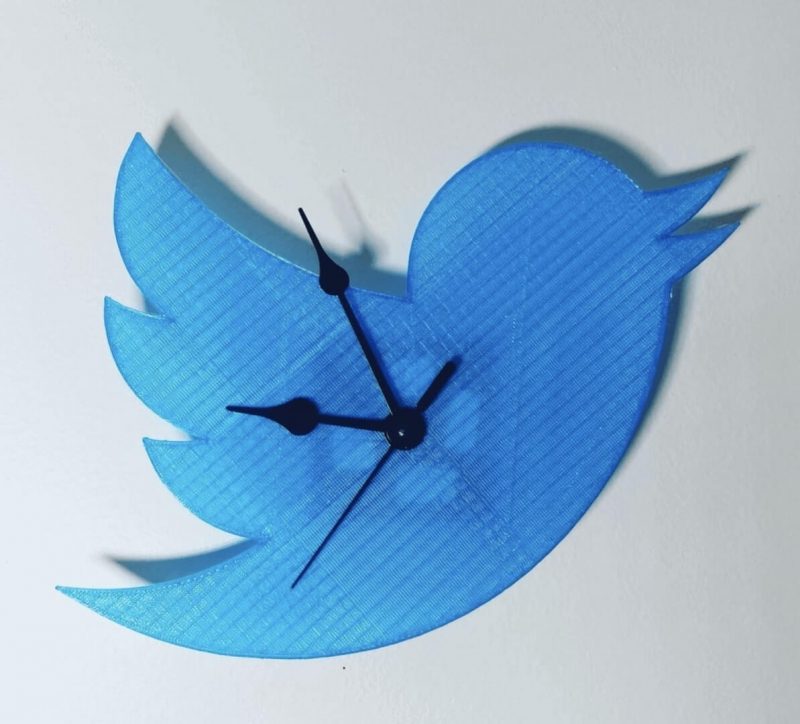 Gonzalo Rodriguez Nalsco has made six more objects apart from the Twitter clock as per his account on MyMiniFactory. Apparently, Mr. Gonzalo knows the craze of Millenials for fetching logos of social networking websites very correctly.
By designing a 3D printed clock that has the shape of Twitter Mr. Gonzalo has made sure that even if the sales of his clock would be less, the popularity would be more.
Suggestions are that if you are printing this clock, do print it without the support and also get a 10 percent infill with blue transparent filament. Doing this would enable you to get a nice see-through effect.
Mini-clock version 1 and 2
Both of these clocks are designed by Chang Won Joo. Mr. Chang has, apart from clocks, 3D printed clips, a compass box, and some other items that amount to be 15 in number.
Even anyone who doesn't know much about 3D printing can print this watch. Since the difference in their looks tells us that in version 2 the designer has tried to sophisticate version 1 by giving it contrasting colors and a square covering, we can assume that the clocks would not have undergone major changes in the 3D printed clock's printing process. Hard to understand what I am saying? Here you go…
Picture of 3D printed clock's version 1: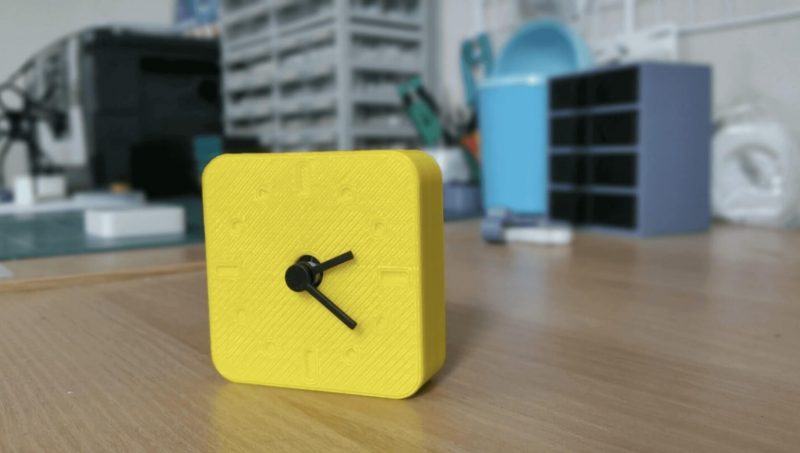 Picture of 3D printed clock's version 2: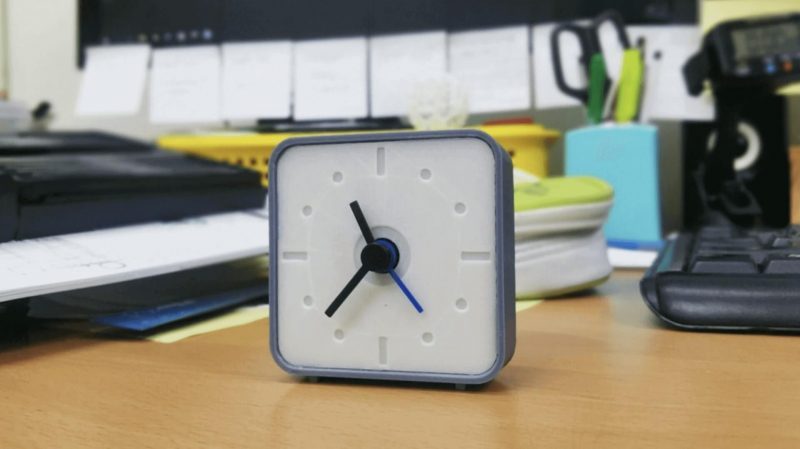 There is something about this 3D printed clock's squared measurement that makes it just an ideal table clock.
Now that you would have been able to understand the point related to the sophisticated nature of version 2, you'd be able to understand that the making of version two has been done in two parts.
This is done to make sure the clock has got a two-toned color. One can choose the contrast he/she likes and get the same in version 2 from MyMiniFactory.
Jigsaw Clock By Cel Robox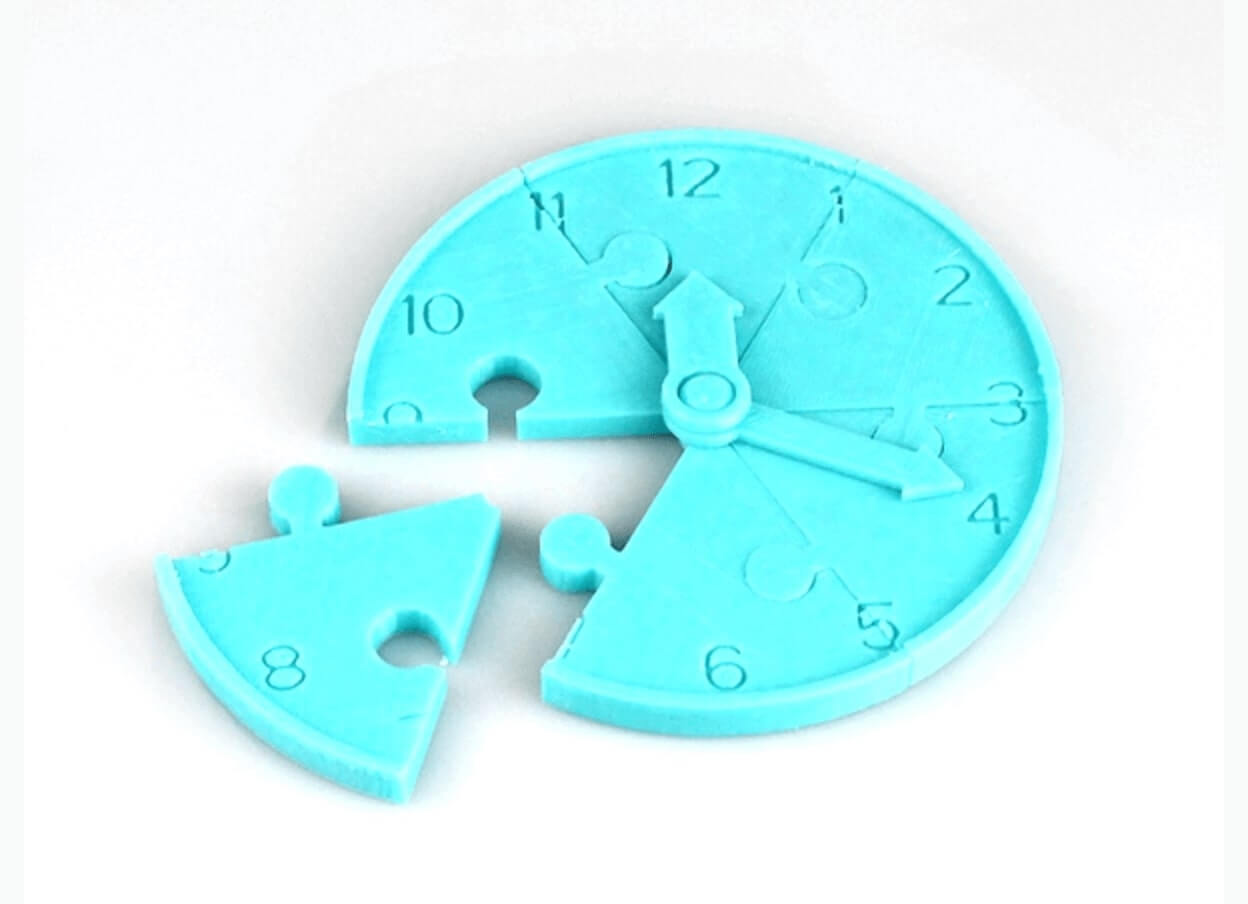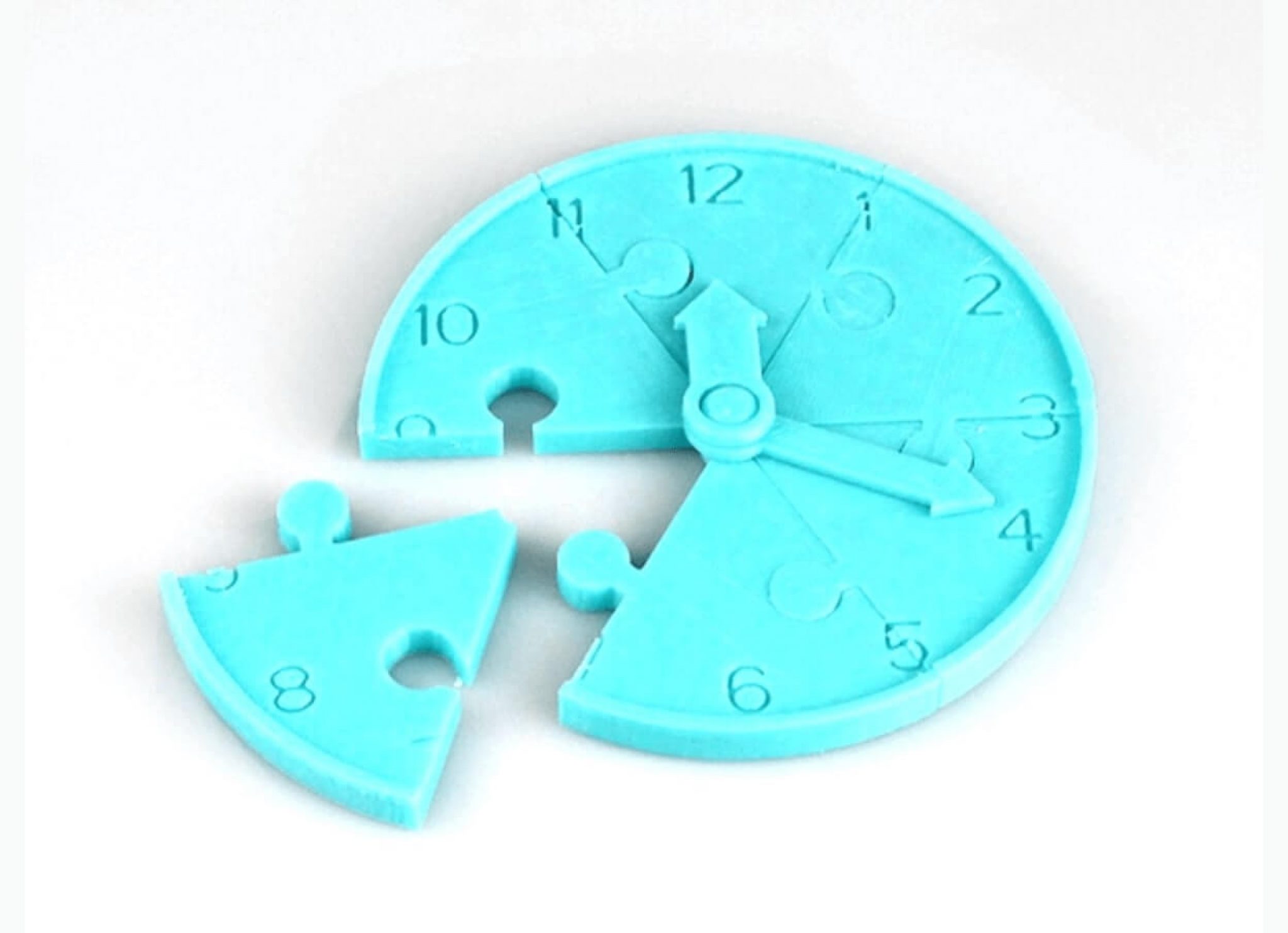 Cel Robox is a compact, award-winning desktop 3D printer. Based in the UK, the company has made these printers especially for small businesses that have ideas related to parts and prototypes and want to manufacture them easily at an affordable cost.
Automaker, the software that is made by this company is claimed to be a very user-friendly software that can be used even by the most non-technical person.
Looking by the picture of the 3D clock that's given above you can tell about how creative the company works actually.
This is perhaps the most creative design of clocks mentioned in our list. Whether to call it a puzzle or a clock is a confusion that one can easily drive into! But this jig-saw puzzle/clock is an 8 pieced material.
Now as we all know, for whom are puzzles meant the most for? Kids and Kid-liked minds all over the world. That's correct. That's what the company has primarily targeted. And arguably who isn't a kid? Because relatively everyone is a kid.
On their Myminifactory page profile, Cel Robox has 19 different items apart from this clock. The list of items include toys for kids, cover for the phone, a showpiece, etc.
Before concluding the article we would like to tell you about two companies who have made the most of 3D printing by implementing it in the clocks they manufacture.
Two Companies That Have Made the Most Of 3D Printing In Their Watches
Alb Watches and Holthinrichs Ornament are the names of those two companies. Let's read about them one by one.
ALB Watches
Is a French brand of company Toulouse. The main focus of the company is making 3D printed watches with attractive dials and complex structures that can be lucrative for eyes to see and minds to wonder.
Their contribution to the world is because of the combination of craftsmanship and the implementation of modern technologies.
ALB watches are automatic watches, which means that a mainspring is powering the movement thanks to its energy. They are all using the ETA 2671 movement to work and their functioning time is about 38 hours.
What are the 3D printed parts on these watches? The black rings that can be seen on the top and the bottom of the watch, are printed with polyamide.
Moreover, these parts are created with our online 3D printing service. These watches are quite luxurious, with 25 rubies on each model. All of them have elegant 3D designs, elaborated by the two passionate founders of the brand.
Holthinrichs watches is a company that's founded by Michiel Holthinrichs, originally an architect.  On its website the brand from Delft, in the Netherlands, claims to be the pioneer in 3D printed watches.
The watch named Ornament 1 is a 3D printed watch whose case, crown, and buckle are 3D printed in stainless steel 316L. These watches have a classic design but are made with modern technologies.
Even if these watches are looking very traditional, if you look closely at the design, you will see some complex shapes. 3D printing is a great help to design this kind of detail.
The products of this brand are a mix of engineering and craftsmanship. It also shows how metal 3D printing helps to create these kinds of projects. Indeed, this 3D printing technology is really useful for jewelry creations.
The Conclusion
In a nutshell, 3D printed clock is something that's innovative, new, and fresh with experimental ideas that can be damn good for home décor.
So, if you are looking to re-structure your home why don't you check out some of the options that are given above? And even if you are not looking to restructure, you can keep a check of this in mind, a clock is anyways a good thing to have, yeah?