Artec3D Artec Eva
If you are looking for a 3D scanner that provides simple operation, fast speed, and high precision, you must take a look at the Artec Eva 3D scanner.
PROS
When coupled with powerful software, the scanner utilizes the advanced tools to create precise models
Artec Eva can scan complex surfaces such as hair
No calibration needed
High resolution 3D models
Lightweight and safe to eyes
CONS
One must coordinate the hands to scan and eyes to check the output on the laptop simultaneously. This is a bit tiring and demands high effort.
The scanner isn't fit for smaller objects.
Table of Contents
One of the most popular handheld 3D scanners, the Artec Eva has been around since 2012. It's a professional device capable of capturing minute details with ease. Coupled with its consistently evolving Artec Studio software, the scanner manages to outperform most of its competitors
Considering it's the flagship model, Artec Eva is fuelled with full-color scanning and easily suits the need for a medium as well as large objects. That too, offering a high-resolution scanning result.
With a reasonable price tag, this handheld device comes packed with plenty of perks for its users. You can easily attain great accuracy and use this scanner for many applications. Either it's the medical niche or the automotive industry, this compact device easily finds its place within a variety of sectors.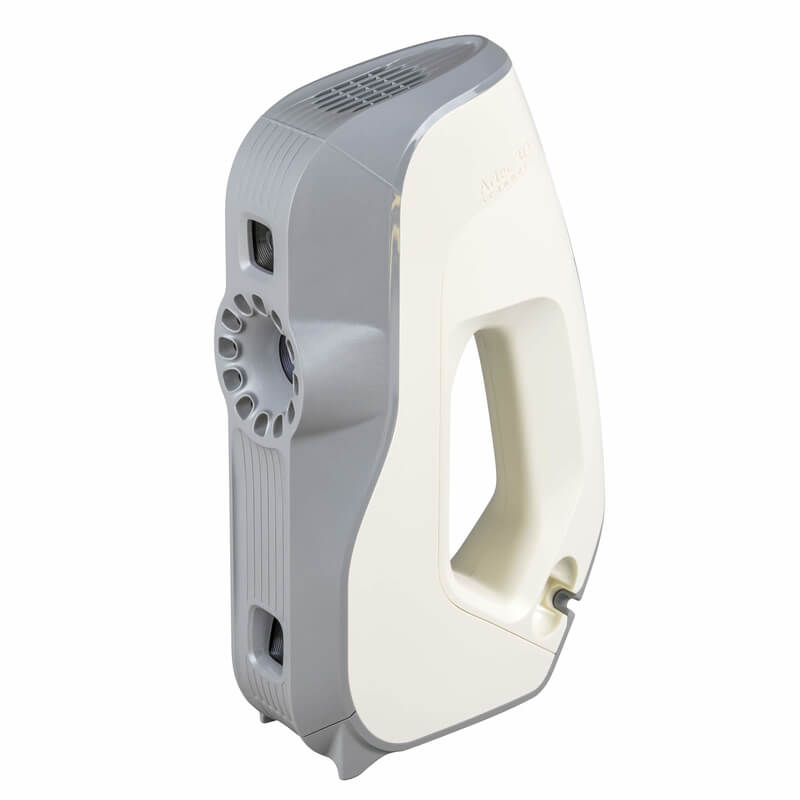 While there are certain issues related to the handling of the device, it certainly isn't a huge problem when compared to the results it offers. Therefore, here is a detailed review of Artec EVA, offering you clear insight into what the product has to offer.
Features
If you are a professional, you must check out the Artec Eva 3D scanner before you plan to buy any other device. It's accurate and easy to use. And, comes for a very fair price.
Safer to Use
With its revolutionary white structured light technology, Eva makes it completely safe for users to operate the device. You can even scan people and living beings without worrying about any harmful radiation or probable damage.
Easy to Bundle as well as Integrate
In order to capture larger objects, users can easily bundle several scanners together and sync them together for optimal results.
Not just that, it is also possible to integrate several scanners as one customized solution with the help of the manufacturer's Artec Scanning SDK.
Moreover, you can also utilize this feature to create an automated scanning system.
No Need for Calibration
Unlike many other 3D scanners, Artec Eva does not need any preparation. On the contrary, you only need to plug in the device and start scanning the object. As simple as handling a video camera.
Compatible with Tablets and Batteries
What's fascinating is that the scanner can run without wires. If you are ready to pay extra for the batteries, you can mount the 3D scanner to a tablet while using the Artec battery pack to complete the job in places where the electricity is not available.
The device offers a working time of 6 hours with battery backup. Hence, it is operational even in remote places.
Unmatched and Powerful 3D Scanning
Eva is a very brilliant machine. Not only it reads the objects' geometry but also the color. That is why, the device processes two different sets of data, using which, users can track as well as perform post-processing without any hassle.
It has options to scan 3D objects with targets. In addition, the device can capture featureless objects with the help of color differentiation. Being fast and able to capture textured data, Eva is the strongest competition for the latest scanner designs as well.
Specifications
| | |
| --- | --- |
| | |
| Technology | structured light technology |
| Price | $ 19800 |
| 3D accuracy | Up to 0.1 mm |
| 3D resolution | Up to 0.2 mm |
| Object size | Starting from 10 cm |
| Full-color scanning | Yes |
| 3D reconstruction rate | 16 FPS |
Being a handheld device, the Artec Eva is compact and easy to carry. It's only 262 x 158 x 63 mm in size and weighs just 0.9 kgs. It has a processing capacity of 40 mln triangles / 1 GB RAM. When talking about the accuracy, the device provides a resolution of up to 0.2 mm along with a point accuracy of 0.1 mm.
With 3D accuracy over a distance ranging up to 0.03% over 100 cm, it is one of the most precise scanners available around. Using the structured light technology, Eva certainly is faster in speed and safer to use. One can scan objects with a minimum size of 10 cm.
In addition, its data acquisition speed can reach a maximum of 2 million points per second. You must keep a working distance between 0.4 m to 1 m to attain expected results. It comes with 12 GB memory and is very efficient.
Price
The Artec Eva costs $19,800.
First Impression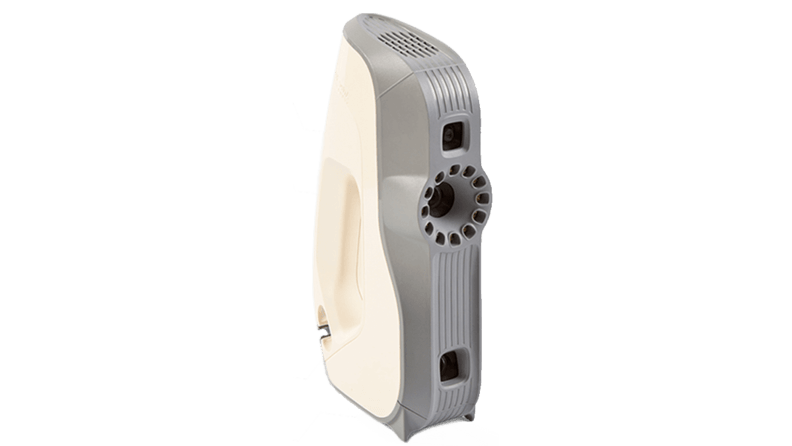 When it comes to the looks of the scanner, you may not find it the most stunning device available currently in the marketplace.
From outdated color schemes matching the primitive computers from early 2000 to the usual size and shape. There is not much to flaunt about the way it looks. However, do not let the first impression deceive you. It's highly accurate in its job.
You will find two buttons on this machine. One is for starting and pausing the scan function while another is for stopping the overall process. To indicate the various modes such as idle, preview, or recording, the device carries an LED indicator.
Overall, it's sturdy and compact.
Setup
As mentioned, Artec Eva is very simple to operate. Especially, its no calibration feature makes this device a really efficient machine. All you need to do is point and shoot. As simple as it sounds. You do not need to calibrate and use the machine directly by plugging it in.
Scanning Type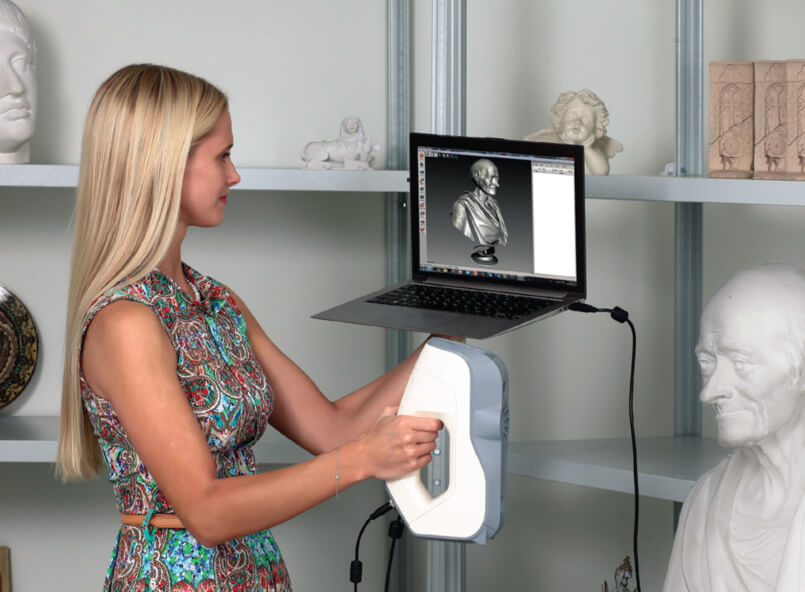 Credit: imakr
Artec Eva is based on structured light technology that instead of using a laser, makes use of a flashbulb that is safe to scan people as well. The scanner is even safe for the eyes.
Scan Quality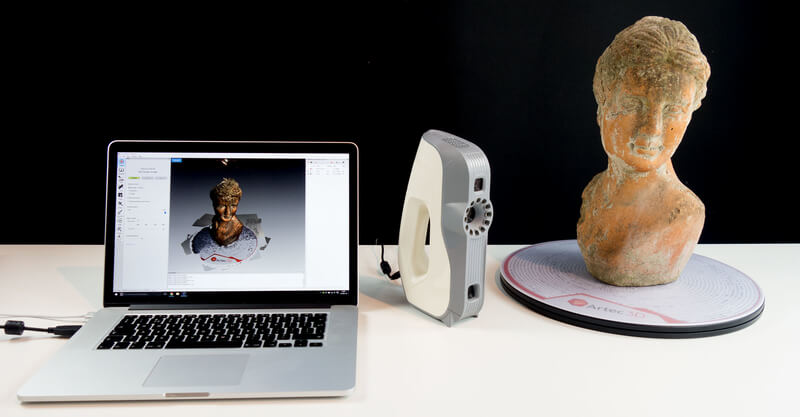 Credit: 3dscanexpert
With all the great features and its advanced software that is consistently evolving with time, the device performs at its best. Offering a high 3D resolution of 0.2 mm, and texture resolution of 1.3 Mpx, Artec Eva can replicate the 3D objects in no time.
Software
The new Artec Studio 15 is smarter and simpler to operate. This data processing software comes packed with many advanced tools. It won't be an exaggeration to call this one of the most comprehensive 3D data processing applications available around.
It has the smart Autopilot mode that enables seamless workflow for not only experienced but new users as well.
The mode is helpful in guiding users automatically through different steps of post-processing. By applying the optimal algorithms, the software allows the hardware to scan data for building perfect 3D models.
For those striving for doing most of the job themselves, can tune to the Manual mode. Hence, users can acquire complete control over the application's advanced tools.
Whatever mode you choose, either automated or manual, Artec Studio will offer high-quality 3D files readily available for exporting to 3D printing, CAD, etc.
Customer Service
The company's offices are available in different parts of the world. And, it is quick to connect with customer support for any of these locations. You can either write a mail to the support or call their direct line.
In addition, you can also refer to the various online videos and guides available to assist users.
The Parameter Influencing Buying Decision
There are many factors one must consider before choosing a professional 3D scanner which comes at a hefty cost. Hence, you must look at these variables to find out if the Artec Eva is fit for your unique needs.
3D Scanner Cost: This professional 3D scanner is affordable when compared to its counterparts.
3D Scanner Quality: One can expect to create exceptional scans using Artec Eva. With its 0.2 mm resolution, and capability to capture textured geometry, the device outperforms most of its competitors.
3D Scanner Speed: What else do you need when you can capture and process the scan data simultaneously at a rate of 18 million points per second? Known for its high speed, Eva is a very impressive machine that leaves no stone unturned to create accurate models in the fastest possible time.
3D Scanner Capability: The device can process objects starting with 10 cm in size. And, it can also scan larger objects with its ability to bundle together to create customized solutions.
3D Scanner Practicality: Best for a plethora of professional applications. Almost every industry can reap benefits from this scanner. Either it's automotive, aerospace, or medicine, Artec Eva can suit the diversifying needs of a huge array of domains.
3D Scanner User Expectations: From price to performance, the 3D scanner offers impressive deals to its users.
The Verdict
If you are looking for a 3D scanner that provides simple operation, fast speed, and high precision, you must take a look at the Artec Eva 3D scanner. Its great performance makes this device suitable for a number of applications.
From the automotive industry to medicine, rapid prototyping to heritage preservation, this 3D scanner can make tasks hassle-free. Not to forget, it is also easy to carry along and compatible with batteries for using it at places where electricity source isn't available.