Featuring thousands of CAD and BIM files, 3DFindIT.com has become popular in a very short period. Founded in 2019, the website caters to millions of designers, manufacturers, and other users from across the globe. A part of the CADENAS ecosystem, this website serves as a pioneer for various development within the 3D printing niche.
It is easy to look through its vast library of 3D files, thanks to its intelligent search function. You can simply enter your query in the search box to begin. What's fascinating is that the company keeps on updating its catalog to bring more variants of 3D models for users.
All the downloads on the website are free of cost. However, you must register to avail this benefit. The question is – how useful is the website and can you trust 3DFindIT.com when making downloads?
To answer those questions, let's check the comprehensive 3DFindIT.com review.
3DFindIT.com – A Little Background
A free search engine for manufacturing and architectural 3D models, 3DFindIT.com is the latest innovation by CADENAS. Catching eyes in 2010 with its 3D glasses, CADENAS has been around for more than a decade.
Partnering with various giants from the 3D printing industry, CADENAS has made huge developments with 3DFindIT.com in just three years of its existence.
For instance, CADENAS and Kubotek3D are coming together to enhance the efficiency of KeyCreator using its digital catalogs of purchased components.
The digital partnership between AUSSCHREIBEN.DE and CADENAS is another example that proves how CADENAS is working hard to make 3DFindIT a huge success.
And the results are pretty obvious. 3Dfindit, at the time of writing, has over 5,000 manufacturer catalogs and 121 CAD formats. It flaunts over 24 Million potential users worldwide.
Recently, the platform upgraded to redesign its interface and features for a better user experience. It now includes a wider range of functions to better support the design and planning process with 3D models.
The platform's redesign also brought various new download formats for the users such as SOLIDWORKS, ALLPLAN, ArchiCAD, Autodesk Revit, Autodesk Inventor, and many others.
Precisely, 3DFindIT.com is among the biggest 3D platforms around for engineers, planners, designers and architects sharing free CAD & BIM data downloads.
3DFindIT.com – Features
Undoubtedly, 3DFindIT is a feature-rich platform that allows users to find the designs that best fit their needs.
So, here are some of the interesting functions that make this platform irresistible.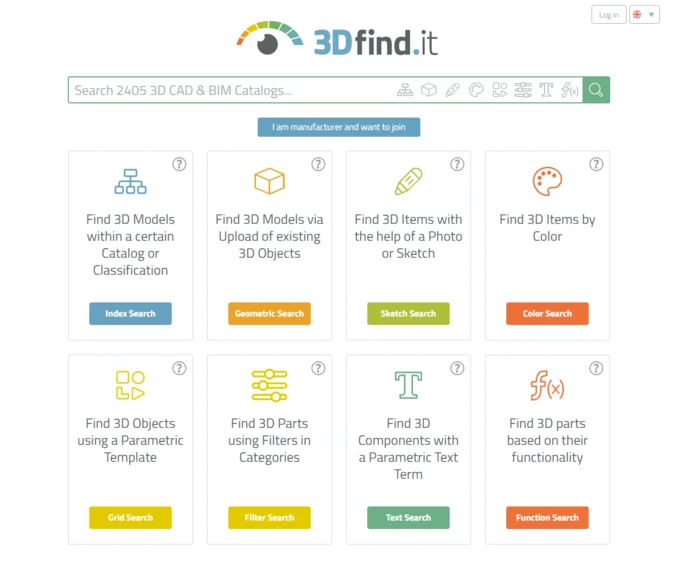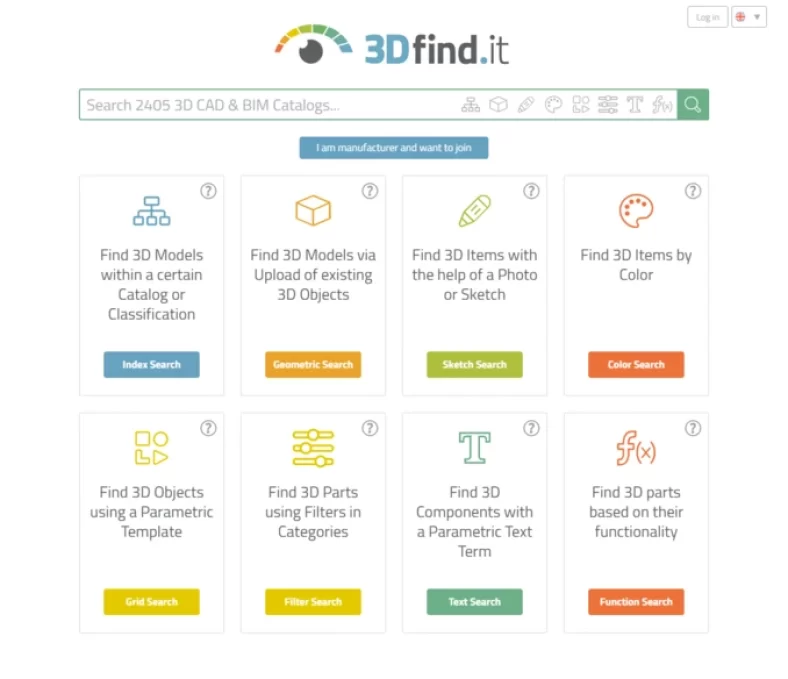 Flexible Search Options
3DFindIT.com differs from other platforms where a 3D model search ends with irrelevant results. Instead, it provides users with ways to narrow down their search for finding the best matches instantly.
Here are some ways to search on 3DFindIT.com
Filter Search
This feature is very similar to those of large online retailers such as Amazon.
You can utilize the various filters available to narrow your search results to precisely fit your need. Select or deselect the filters as per your choice and let the search function do the rest.
All it takes is a few clicks to reach down to the relevant 3D model results.
3D Grid Search
Another way to make the most of the search function is to use the 3D Grid Search. This allows users to choose a basic shape of the required component, to begin with.
Once the results are available for access, you can further narrow down the options step by step. You can keep adjusting the parameters directly from the 3D preview section until you get the model corresponding to your need.
2D Sketch Search
Users get to use the 2D sketch search to find their relevant models on 3DFindIT.com. But this is not it.
In case, the search returns too many choices making it hectic to find your desired model, it is also possible to combine the 2D search with a subsequent color search.
This makes it much easier and faster to look for the best matches.
3D Shape Search
If you have something similar to what you need, you can also upload an existing geometry. This way you can search for the available manufacturer catalogs that carry relevant geometry and parts.
One of the most precise search criteria you can utilize on this platform.
Text Search
The platform also allows users to search using Parametric text terms. Thus, making it simpler for everyone to locate the desired 3D CAD, CAE and BIM files.
Comprehensive 3D Preview Function
3DFindIT.com is a very impressive platform with tons of amazing features. And one such feature is its 3D preview tool. It comes packed with numerous possibilities for the users.
Do not mistake it for just the preview function. However, it allows users to make changes to the 3D models. Whether it's the dimensions, creating sections for better evaluation or determining additional values to measure the function, all of these are possible in the viewer itself.
Part Compare
When we work with multiple models, minor differences can hide away in plain sight. And, even the slightest difference from the needed model can cause huge problems for architecture and manufacturing industries.
Thankfully, 3DFindIT.com offers users the tool to compare parts. Users get to upload at most 4 different 3D models to compare those with one another. This allows users to find the 3D model that is the best fit for their business needs.
Suggestions for Similar Parts
3DFindIT.com covers a lot of great tools to make its platform easy to navigate and useful. To further the experience of the users, the website offers users suggestions for similar parts from the selected search results.
Once you open the selected 3D model after the search, you get to see the similar or related models on the right of the screen. This helps users in choosing the most apt 3D model for their projects.
Create Directory
Depending on the project's need; users can create their own directory from the catalog available on the website. Hence, it becomes hassle-free to manage the 3D files, without any confusion.
Available in Multiple Languages
3DFindIT.com is available for users in different languages. Hence, you can access the website in your own preferred language.
Who Can Use 3DFindIT.com?
Created as a common community for designers and businesses, 3DFindIT.com serves a large base audience.


Manufacturers
The visual 3D search engine offered by 3Dfindit.com is an indispensable platform for manufacturing companies wanting to expand their sales channels. Manufacturers can offer their verified resources to millions of users worldwide.
Catering to engineers and architects, the platform opens new avenues for manufacturing companies.
If you are into engineering, electronics, toolmaking, plant engineering, industrial automation, and architecture, you can take huge advantage of this platform.
By adding your designs to the platform, manufacturers can generate leads and grow their audience base.
Engineers and Architects
It is often a struggle to find the right 3D model when searching on common platforms such as Google and Bing. The results are far from perfect and take hours for users to filter through the unwanted 3D files.
To take away the pain of going through irrelevant designs, 3DFindIT.com offers engineers and architects a visual search tool to narrow their search results.
The high-quality 3D models are available for download without any fuss or confusion.
Businesses
Serving corporate clients, 3DFindIT.com offers businesses the Enterprise solution. It caters to CAD, PLM or ERP environments, allowing users to manage standard, purchased and proprietary parts in one place.
Thus, helping businesses to reduce their administrative activities and ease the workload of the engineering department. At the same time, offering a great platform for creating free resources to lead the development of innovative products.
The solution can easily integrate into the business process and systems, making it a completely hassle-free experience. Plus, users get to utilize the premium search functions, designed to further expedite the search process.
Is 3DFindIT.com Safe?
Yes, 3DFindIT.com is a safe platform and there are many reasons to back that claim.
Backed by a Renowned Brand
Although relatively new from its many competitors, 3DFindIT.com isn't a completely unknown platform. It is created by the renowned CADENAS, a business operational for decades and very active in the 3D printing industry.
Secure and Safe
The website has a genuine SSL certificate to ensure that the downloads from the platform are safe and secure for the users. Hence, you can use the website without worrying about viruses and online theft.
Hosts Knowledge Base for Users
Users who have doubts can access the knowledge base consisting of answers to frequent questions. Hence, it's easy to get started with 3DFindIT.com without much hassle.
3DFindIT.com Cost
Apparently, all the downloads from the website are free. You do not need to pay any fee for the downloads that you make from 3DFindIT.com. The platform offers thousands of free 3D models consistently increasing its catalog with fresh ones.
Users can easily search for their designed part design and download it from the website in a matter of minutes.
However, one must sign up on 3DFindIT.com to make the downloads.
3DFindIT.com Future Developments
It is pretty obvious by now this visual search engine for 3D CAD files has several wonderful features for its users. And it has constantly been making various advancements with its platform to suit the changing needs of the users.
One such development you can expect to be introduced sooner is the ability of the platform to integrate directly into the user interface.
In other words, users would soon be able to use this platform within their existing systems, without needing to make any considerate changes.
The website will integrate directly with numerous CAD systems. For instance, PTC Creo Parametric, Autodesk AutoCAD, Siemens NX, Onshape, Autodesk Inventor, Siemens Solid Edge and more. Thus, enabling CAD users to locate the desired 3D CAD & BIM models from different manufacturers directly in the CAD systems.
The website will also feature current news related to 3D printing and the manufacturing industry along with blogs. Hence, preparing to offer users more reasons to be a part of its platform.
Pros and Cons of 3DFindIT.com
3DFindIT.com has many benefits and perks for its users. And it is trying to enhance its platforms to fit in the ever-changing world of 3D manufacturing.
So, let's check out the various pros and cons that the platform offers:
PROS:
Offers a very user-friendly navigation
The search function is very comprehensive offering users precise ways to narrow down the search results.
According to the DNSFilter test, the website is safe for the users
It has a valid SSL certificate
Hosts an extensive database of 3D models and supports various download formats
Backed by the popular CADENAS
CONS:
Still relatively new. Hence, the catalog isn't as vast as the older competitors
Contain 3D models related to specific niches. Thus, caters to a particular audience segment
The Conclusion
3D manufacturing is becoming the new normal. Businesses worldwide depend on this technology for various goals. And the success of 3D manufacturing depends largely on its 3D models.
Although there are plenty of websites offering 3D files, very few offer the standards required for business needs. And one of the few platforms is 3DFindIT.com. The website covers around 5000 catalogs flaunting millions of downloads in just two years.
It helps businesses manage their own catalogs offering an enterprise environment. The website is safe and free from phishing activities. Which further instills the faith of users in the platform.
Overall, 3DFindIT.com has got plenty of features that users would love to explore. From precise search choices to a user-friendly interface, it packs the right ingredients to help users thrive in their manufacturing goals.
So, if you are an engineer looking to get more leads by sharing your 3D designs or a firm wanting to download the standard CAD models, 3DFindIT.com is the best platform to pick.