Makermade Maslow CNC
Users who are looking to deal with a considerable amount of volume, without spending much, can really put this Maslow CNC on their list.
PROS
Opensource
Compatible with more than one software
Able to process multiple materials
Available at an affordable price
Can be customized
Has a simple design
CONS
Not capable of dealing with hard materials
Table of Contents
Simple in design, yet permitting large cuts, Maslow CNC is an automated router. The machine is capable of cutting over two meters long, one-meter-tall objects.
Equipped with a versatile tool, the unit requires a unique setup to get going. It is typically used for milling as well as routing across large sheets of wood in garages.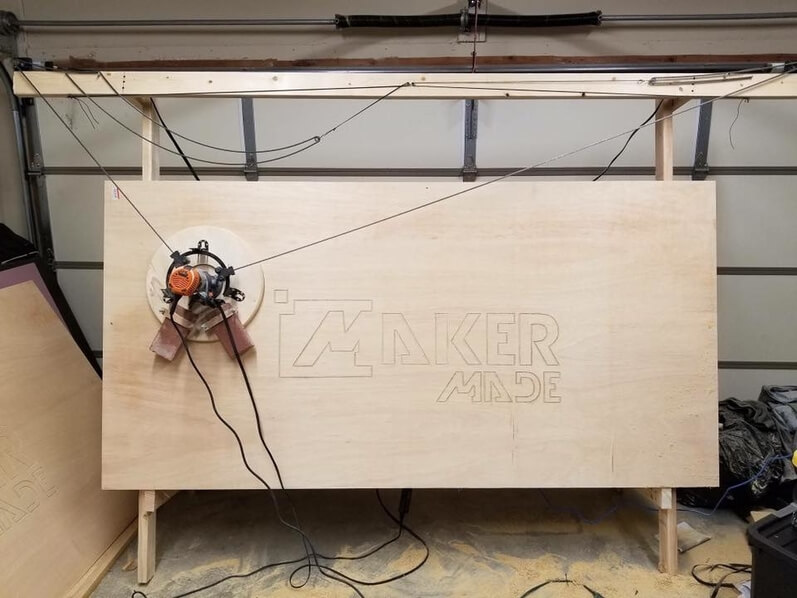 Significantly, the kit eliminates all your need to manually adjust cut depth during the project build and is packed with many more similar amazing features. But are these features sufficient for your particular application? Or, is the machine worth its value? Let's look at the Makermade Maslow CNC in-depth review to find out!
Features
Overall, Maslow does require some assembly as well as technical knowledge for its setup as well as for its operation. The best part about this machine is its flexibility to tune in with the applications of all kinds of projects.
More such features of this machine are mentioned and explained below. So, let's jump in and find out all the amazing things Maslow can accomplish.
Simple design
Technically, Maslow's CNC has a very simple design, backed up with chains and tension cords present on pulleys serving as the motion system.
It drags a sled-mounted router held strongly with two bricks as ballast. This makes it an eccentric machine in the list of others which are all gantry style taking up more space than the pieces that they can actually cut.
The machine is tilted 90 degrees, thereby allowing the user to place the machine up against the wall and free up a large amount of space.
Maslow CNC comes with tensioners and straps suspended in the air, taking minimal effort for the stepper motors to drag the cutter across the wide surface area.
Also, depending on the Maslow CNC kit that you buy, the device specifically comes with the essential parts to make the sled and the motion system. Provided, if the user sources a router and a frame.
The machine is shipped in a small box dramatically cutting down on the shipping expenses compared to other gantry-style machines.
Opensource
The Maslow CNC did originate as a community-driven open-source project founded by Bar Smith, propagated by Hannah Teagle and Tom Beckett.
The machine's business model was collaborative with a Community Garden that encouraged users to team up with one another for bulk sourcing.
Additionally, it even made the parts essential for Maslow's CNCs and other shared project plans that generally show off what they were working upon in the past.
The major turn point came in the year 2018 when the entire team focused and turned its production fully to the community. And to date, it has been a success.
Any user who wishes to be a part of this community can access the information available online to set up his/her own Maslow CNC. This point sets the machine apart from others.
High performing spindle
As opposed to other entry-level CNCs that try tackling smaller, hand-held-sized parts, Maslow aims at larger projects that are primarily made out of wood.
Users can commonly find furniture makers working with this compact machine to cut their 2D pieces that can later be assembled into a three-dimensional chair, table, and other furnishings.
Note that the machine hints at a Ridgid R22002 cutter. But the overall package of the system is relatively versatile allowing the user to modify their spindle's RPM, torque, as well as broad cutting capabilities with minimal effort.
The machine doesn't rip through an automated cycle as the production CNC does. But it should be able to manufacture accurate parts with consistent repeatability.
In case you are using a spindle of your choice, you'd be free to outfit a huge range of end mill sizes for numerous machining or finishing operations.
Capable of undergoing upgrades
Users of this machine can design it in the way they wish to. This is something that makes Maslow's CNC outshine other CNC machines. It allows owners to customize the machine in the way they wish to.
So, if you wish to have some other working area apart from 4 inches * 8 inches in shape, you can use longer cables to enlarge it.
As the depth of the machine is one meter, the large workspace fits into any slim and long space wherein a gantry-style three-axis mill would generally not.
Can be controlled with various kinds of software
The Maslow CNC can be operated with numerous G-codes processing CAM software. Although officially, there is just one software named Ground Control – written in Python language, specifically for Maslow CNC, there are many others that allow you to do mostly the same.
However, Ground Control gives you a sort of hold over the movements of the Maslow CNC, apart from the calibration tools, setting Zero, and running G-code.
Specifications
Price

$350 – $500

Cutting Area

4 in * 8 in

Maximum Cutting Speed

40 in/min

Bit Size

1/8-inch to ½-inch

Accuracy

up to 3 mm variance across 32 square feet

Software

Gcode Sender: Makerverse
File Format: Gcode

Materials

Hardwoods, Plywood, MDF, Laminate,
Hard Plastics, Soft Plastics, sheet aluminum
Maslow CNC is available in the kit format. Its frame is made from Wood material and features a cutting area of 4 inches * 8 inches. The machine's hardware can be controlled with an Arduino Mega Controller along with a CNC motor shield.
Note that the spindle isn't included with the kit. The maximum cutting speed that the machine is capable of going up to is 40 inches per minute.
It is compatible with materials such as Hardwoods, Plywood, MDF, Laminate, Hard Plastics (acrylic, nylon, uPVC, hard PVC), Soft Plastics (polycarbonate, polyethylene, soft PVC), thin sheet aluminum.
The router is compatible with any sort of drill, milling, or specialty bit with sizes ranging from 1/8-inch to ½-inch depending on your router. The machine is able to deliver an accuracy of up to 3 mm variance across 32 square feet.
Price
The Maslow CNC kit costs around $350. Note that the kit doesn't include everything you need to get it up and running. You'll have to buy bricks, plywood as well as 2*4s with a fixed base router to get started. Also, Maslow sells a Z-axis kit for an additional $60, summing up with the cost to about $500.
First Impression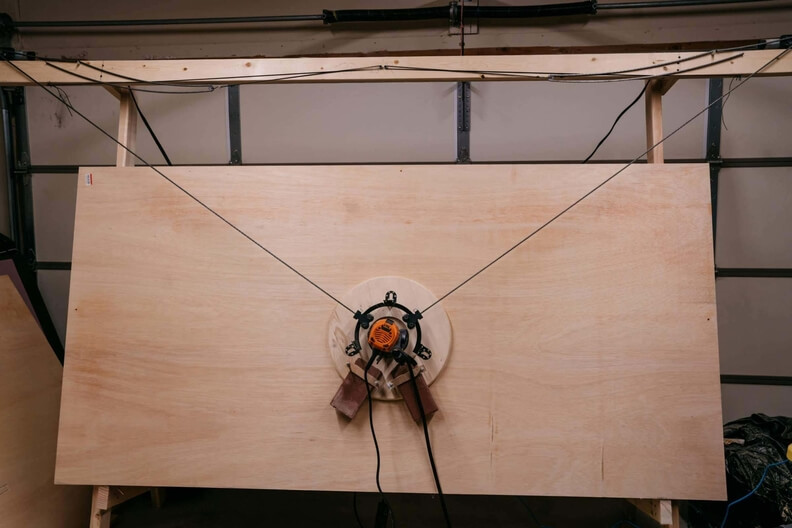 The machine is packed alongside:
Electronic Control Board
X, Y, Z-Axis motors
Chainring mount hardware
11 ft drive chains
Chain tension bungee cord
Metal brick straps
USB drive
Tools for kit assembly
One year warranty
Setup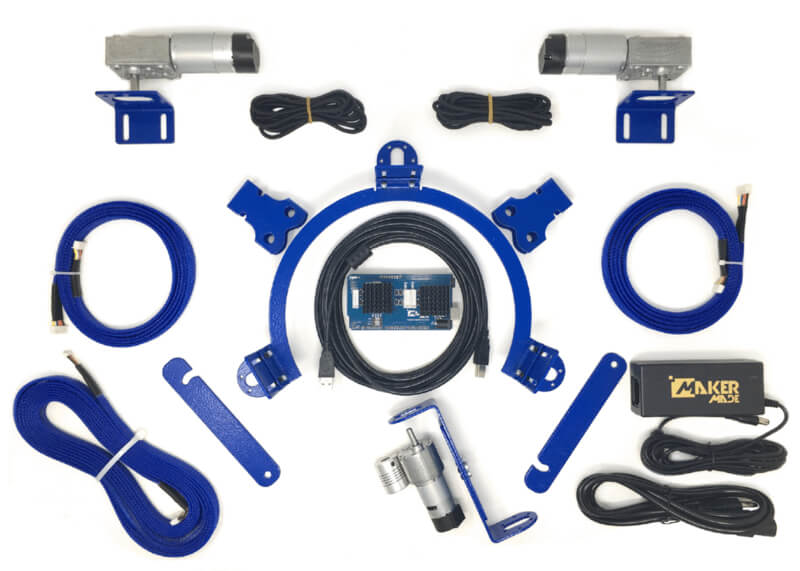 Credit: makermade
Setting the machine up does take some time. But all the resources that you need are available online as it is an open-source machine. A live assembly guide with all the videos and a detailed resource page as well as free project files are available online too.
CNC Machining Quality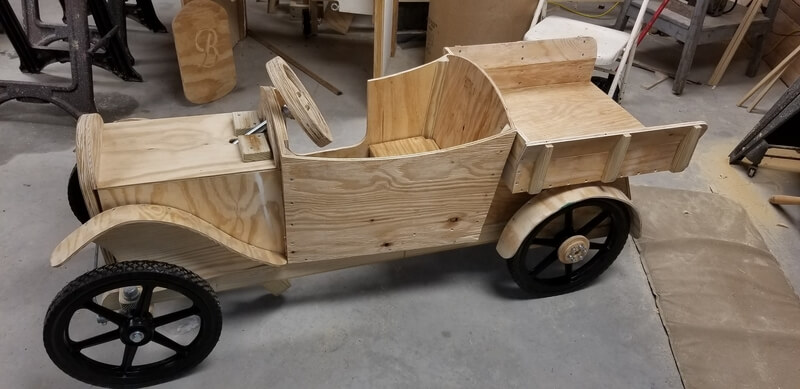 Credit: maslowcnc
The machine is able to deliver accurate cuts that make it extremely assistive in numerous applications.
Software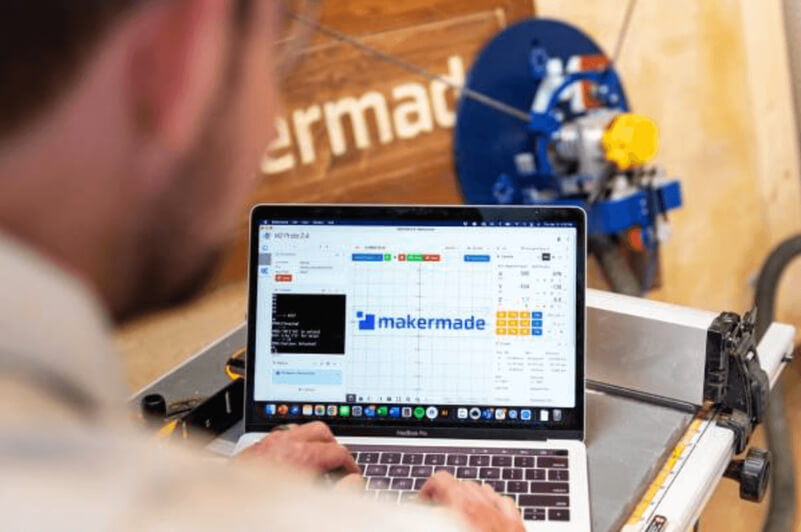 Credit: makermade
The company recommends Makerverse as a Gcode sensor that delivers files in Gcode format. Otherwise, Ground Control software is recommended which runs fine with Windows, OS X, as well as Linux operating system.
Customer Support
A dedicated US-based support team is present to support you. They host live weekly Q and A sessions to assist you throughout your setup and projects.
Parameters Influencing Buying Decision
Here is a quick bite from the detailed review to help you make the right decision when buying Makermade Maslow CNC router.
CNC machine cost: Maslow CNC is available at a reasonable cost. Considering the features that it offers; the machine is a high-performance delivering low-budget machine.
CNC machine quality: Although being an entry-level machine, Maslow CNC is able to deliver detailed cuts that are not easily available with machines in the same price range.
CNC machine capability: The machine is capable of processing multiple materials ranging anywhere from Hardwoods, Plywood, MDF, Laminate, Hard Plastics (acrylic, nylon, uPVC, hard PVC), Soft Plastics (polycarbonate, polyethylene, soft PVC), to thin sheet aluminum.
CNC machine practicality: Because Maslow CNC can process these many materials, it is applicable in making parts and functional prototypes of numerous areas such as garages, wood shops, and maker spaces all across the world.
CNC machine user expectations: Although primarily meant for beginners, the machine suits all kinds of users that are not willing to spend much and yet achieve a good quality outcome.
The Verdict
Maslow CNC is a rare machine that is capable of processing multiple materials. Its specialty lies in being open source and hence accessible by all.
The entire material that one needs to operate the machine is available online for free. So, once you pay the one-time cost of the kit, you hardly need anything else. Also, it's a great opportunity for newbies to learn the art of CNC machining.
Users who are looking to deal with a considerable amount of volume, without spending much, can really put this Maslow CNC on their list.