JFT CNC 3040
If you are looking to cut costs when buying a large CNC router, this could be your best option.
PROS
Easy to assemble
Seamless operation
Powerful spindle offering 24,000 rpm
Amazing precision
Larger work space relative to CNC 3018 routers
Easily upgradable to a more powerful version
Comes in three different versions already
With proper upgrades, it can even cut through aluminium
CONS
A bit expensive that the smaller counterparts
Table of Contents
When talking about the professional-grade CNC routers that come in compact sizes, it's obvious to mention JFT CNC 3040. Apart from being portable, the machine provides high-quality cutting while staying highly affordable.
If you compare the design with CNC 3018 machines, you would find a lot of similar features. However, the JFT CNC 3040 is significantly larger as well as more powerful with a few amazing upgrades.
Not just that, the cutting power isn't limited to hardwoods as it's the case with most of the desktop CNC machines. On the contrary, this machine can throw aluminum as well. If you are creative enough, try some upgrades yourself and the router will become capable of working with a few grades of steel too.
That all being said, with JFT 3040's compact size along with its diverse cutting abilities, it is certain that you will be able to accomplish an array of different projects with ease.
But before you make any decision, here is our detailed JFT CNC 3040 review to provide you with a better understanding of the various capabilities of the machine.
Features
By the looks of it, the JFT CNC 3040 may seem like any other desktop CNC machine. However, there are many commendable features that offer this design a more robust and reliable stature. You can do wonderful things with this machine, taking advantage of all it has to offer.
Spindle Flexible for Upgradation
As you must know, the JFT CNC 3040 comes with a larger frame, the design allows users to exchange the spindle holder with a larger option.
This, in turn, enables the machine to perform even better. With larger and stronger spindles, one can even work with harder materials as well as softer materials with similar ease.
Separate Control Box
In most desktop CNC machines, the router design exhibits connected power supplies. However, this is not the case with the JFT CNC 3040. This machine separates the power supply and control board into two different units.
Hence, it enables reliable emergency shut-off along with simple adjustments for settings as well as code uploading.
Bigger Space for Work
As already explained, the CNC router boasts a larger build area when compared to the smaller space available with CNC 3018. Therefore, those needing to work with bigger pieces of material can easily choose this affordable machine for accomplishing larger projects.
Vertical Table Slots
In the case of those smaller CNC routers, the design includes horizontal work holding slots. But with the JFT 3040 CNC router, there are vertical table slots. Hence, the table slots are capable of running along the long end of your CNC 3040 machine. This means, allowing users to hold their work wherever needed.
Easy to Customize
As you know that the design allows users to add upgrades. However, what's fascinating is that these changes in the design won't take too much of your effort.
It's more of swapping out and adjusting the upgraded component. For instance, when changing the spindle holder, all you need to do is swap the larger one with the existing holder.
In addition, if you are looking for better upgrades, you can also consider adding a vacuum boot for dust collection along with a drip lubrication system.
These two upgrades would further enhance the reliability of the machine by avoiding any damage from burning up as well as help avoid the machine getting stuck in between the jobs.
Specifications
| | |
| --- | --- |
| | |
| Footprint (1500W + 4 Axis design) | 660 × 540 × 470 mm |
| Workspace(1500W + 4 Axis design) | 570 × 360 × 20mm |
| Carving Speed | 7500 mm/min |
| Repeat Positioning Accuracy | 0.02 mm |
| X, Y, Z-axis Mouvement | 300 x 400 x 90mm |
| Spindle Speed | up to 24,000 rpm |
| feeding speed | up to 8000 mm/min |
The JFT CNC 3040 comes in different versions: the 800W+ 3 Axis, the 800W + 4 Axis, the 1500W +3 Axis, and the 1500W + 4 Axis designs.
Talking about the 1500W + 4 Axis design, the machine offers a footprint of 660 × 540 × 470 mm while offering a workspace of 570 × 360 × 20mm. The movement of the X, Y, Z-axis is limited to 300 x 400 x 90mm.
In addition, the design is robust and made of a metal frame to offer the highest level of accuracy. It includes a two-phase stepping motor of 57/3A. Using the water-cooled spindle, the router offers great performance. The spindle speed can reach up to 24,000 rpm.
Moreover, the max feeding speed can go up to 8000 mm/min along with the carving speed capable of reaching 7500 mm/min. This is not it. The repeat positioning accuracy is also very impressive and stays at 0.02 mm.
All this comes for a fair price and manageable weight. Yes, the machine weighs just 48 kgs.
Price
To know the price of the JFT CNC 3040 router, you must contact the seller. Alternatively, you can also get the machine from online stores such as Amazon or AliExpress.
First Impression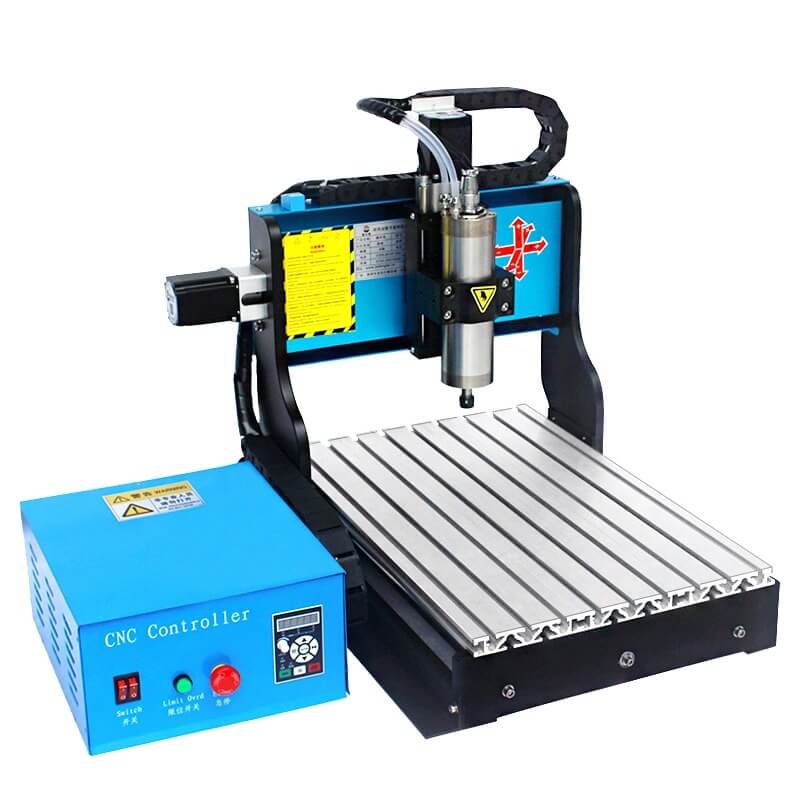 The order for the CNC 3040 reaches your place in a completely safe box. Every component inside the box comes with a separate label to ensure easy installation. Here is what you will find in your package containing the JFT CNC 3040 machine.
Engraving machine
Control box
Water pump for cooling spindle
Spindle
Parallel cable
Power cable
Toolbox and tools
Axis motor
Apart from these parts, the company also includes CD software for Mach3 in the English version. And, not to forget, the package also contains the manual for installing the device without any bluffs.
Setup
Unlike various other DIY kits, the setup of JFT CNC 3040 is pretty simple. Most of the components are already attached. And, the ones that aren't, you can simply connect those following the detailed instruction that comes along with the machine.
Plus, you get the necessary tool kit to complete the setup of the CNC router without needing to look around. In short, the entire installation won't take long. If you are good at following steps illustrated with images and details, you will be able to start working in a matter of time.
CNC Machining Quality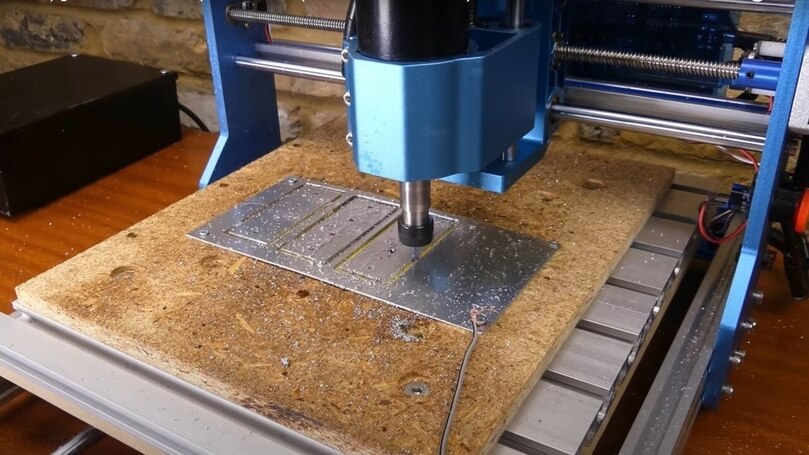 Credit: all3dp
With a metal frame and larger space for engraving and carving, the machine brings with itself a great quality deal for the users. It is difficult to ignore its 24,000-rpm spindle speed along with the 0.2 mm precision.
Overall, the JFT CNC 3040 has done a great job in figuring out the right combination of components and features to create such a powerful machine, requiring little to no effort from individuals for completing the related jobs.
Software
There is a bunch of different software that is compatible with this wonderful machine. Such as Mach3, TYPE3, ArtCAM, and various other CAD or CAM applications. In short, you have a flexible choice to work with the software you are comfortable experimenting with.
For firmware, the machine uses GRBL v1.1 or GRBLControl.
Customer Support
The company offers different warranty plans depending on which store you choose to buy this product. Overall, you get a proper manual and guides to work through the installation process. In addition, the machine enjoys a great community of makers helping each other to deal with usual and not so usual hiccups when working with this router.
Parameters Influencing Buying Decision
If you have already decided to take this wonderful machine home, here is a quick recap of the detailed review for helping you make the right decision.
CNC machine cost: Affordable for makers and enthusiasts and very fair pricing for professionals.
CNC machine quality: Depending on all the powerful components it boasts, JFT CNC 3040 is really impressive in terms of its performance. Its spindle 24,000 rpm, the carving speed of 8000 mm/min, and many more perks make this a really capable machine.
CNC machine capability: It can work with hard as well as soft materials along with the most common ones. In addition, it offers great precision suitable for professional-grade applications.
CNC machine practicality: Best suited for small shops and professionals. However, makers and enthusiasts can also look for this option, when wanting a little more from their machine's performance.
CNC machine user expectations: Undoubtedly, this is a very capable machine, offering everything a user may need.
The Verdict
If you are looking to cut costs when buying a large CNC router, this could be your best option.
Although a little expensive than the smaller counterparts, it still is budget-friendly. In addition, it comes with an option to upgrade. Plus, it is important to note its capability to work with hard materials as well. Overall, it is a decent buy for those seeking high-end results.