Shining3D EinScan Pro 2X Plus
Pro 2X Plus is an impressive machine that does all that it promises. Its software is a real gem as it eases the user's work by pre-empting.
PROS
It has an intuitive functioning and is user-friendly.
Pro 2X Plus delivers high performance, both, in terms of quality as well as in speed.
The scanner is available at an affordable price.
Has an active community of users that shares knowledge.
Offers fixed as well as handheld scans.
Extremely good price to quality ratio.
CONS
There are very few editing options available within the software.
Its texture quality is a bit problematic.
Running the software does consume a lot of power.
Table of Contents
Manufactured by Shining3D, Pro 2X Plus is an upgrade to its predecessor Pro 2X. Perhaps, the two main points of difference between these two scanners are the area that they can scan and the stand-off distance. The former is a little more convenient for scanning larger objects and also has more stand-off distance.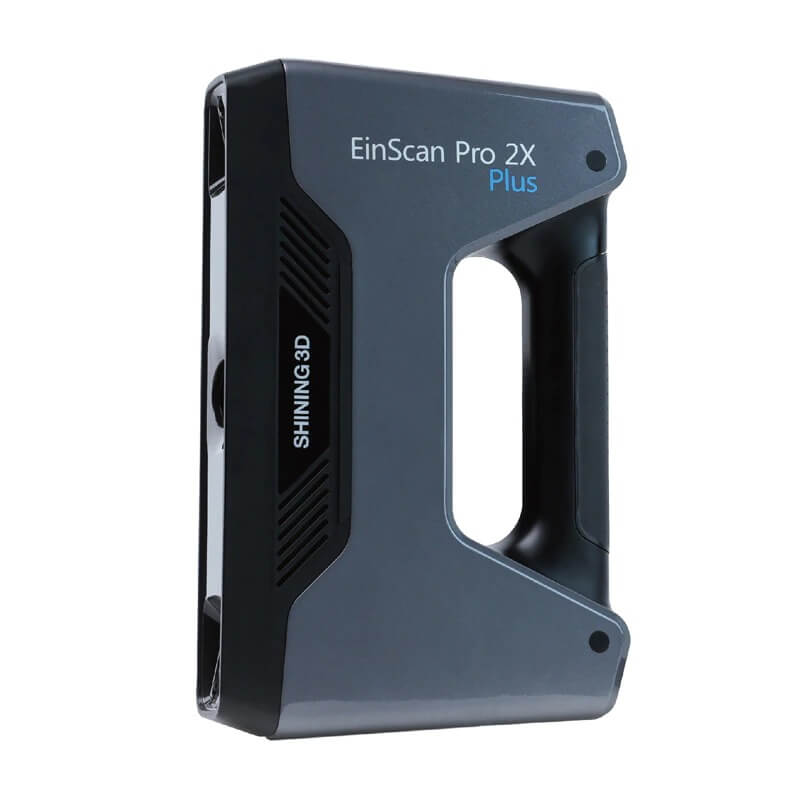 The scanner is primarily designed for professionals use in areas such as healthcare, education, design art, VR, and engineering. So, let's dive deep into it to know what makes it versatile enough to be used in such varied areas.
Features
Pro 2X Plus offers a faster scanning speed than Pro 2X, for Handheld HD as well as Fixed scan modes. Its portability, flexible design, and scan modes give users enough to easily grasp and produce great scan results in minimal time. Below mentioned and explained are few interesting features of the scanner.
Portable
Like other scanners by Shining3D, this one too is light in weight and compact in size. The machine weighs just over one kilogram which allows you to take it just about anywhere for scanning purposes. Users can enjoy a plug-and-play installation which makes working with the scanner almost hassle-free.
Detailed capturing
Pro 2X Plus captures extremely fine details. The scan accuracy provided by the machine while scanning an object under Fixed scan mode is 0.04 mm. Whereas, while running it on Handheld Rapid scan or HD, the minimum point distance is up to 0.02 mm.
All in all, this leads to the generation of high-resolution 3D data. Moreover, users can opt for purchasing the HD Prime Pack for increasing speed as well as accuracy even more.
Versatile scan and align modes
The machine can be run on three different scan modes:
Handheld Rapid Scan
Handheld HD Scan
Fixed Scan with or without a turntable
These modes allow users to scan small to medium-sized objects starting from 30 mm * 30 mm * 30 mm to three to four meters. Also, Pro 2X Plus supports a vivid range of alignment modes such as feature alignment, markers alignment, turntable coded targets alignment, and manual alignment.
Modular design
Pro 2X Plus's modular design allows users to buy the tools they need without worrying about paying more for features that you aren't going to use. Also, the scanner can be purchased with various optional packages that can be added for enhancing anyone's 3D scanning experience.
Typically, the color pack makes it possible to capture full-color textures with the object's geometry.
For users who wish to use a turntable and tripod for automation, they can do so by using an Industrial pack. Apart from this, there is also an HD Prime Pack that can be used for accelerating the scan speed by 30 percent and not losing on capturing details. Just like its predecessor, Pro 2X Plus too can be modified depending on the user's needs.
Specifications
| | |
| --- | --- |
| | |
| Technology | Structured Light Technology |
| Price | 6,899 $ |
| Single Scan Range | 208*136 mm—312*204 mm |
| Depth of Field | ±100 mm |
| Working Distance | 510 mm |
| Light Source | LED |
| Output Formats | OBJ; STL; ASC; PLY; P3 ; 3MF |
As mentioned above, EinScan Pro 2X Plus can be run on three scan modes:
Handheld HD Scan: delivers a scan accuracy of up to 0.05 mm, a scan speed of 20 fps, 1,100,000 points per second, and a point distance range of 0.2 to 3 mm.
Handheld Rapid Scan: able to deliver a scan accuracy of up to 0.01 mm, a scan speed of 30 fps, 1,500,000 points per second, and a point distance range of 0.25 to 3 mm.
Fixed Scan with or without turntable: capable of delivering a scan accuracy of up to 0.04 mm in a single shot, a scan speed of scanning a single scan in less than 0.5 seconds, and a point distance of 0.24 mm.
Pro 2X Plus' single scan ranges from 208 mm * 136 mm to 312 mm * 204 mm. Its working distance is 510 mm. To scan an object, the machine utilizes an LED light source.
Price
To know the exact price of all the packages in which Pro 2X Plus is available, you'll have to request a quote from the manufacturer.
First Impression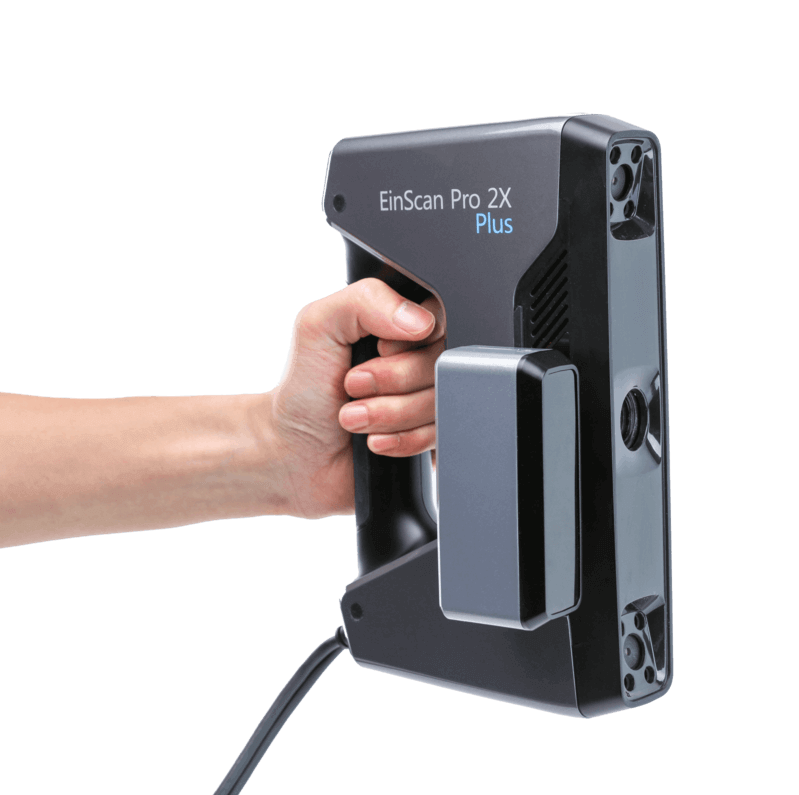 The scanner is received in a cardboard box. Very well packaged and protected. Alongside the scanner, its accessories are contained in a single, robust plastic hard case. Typical accessories that come along the scanner are:
A USB cable for connecting the scanner with the computer.
Two power cables.
A calibration turntable.
An automatic turntable.
A tripod.
A color sensor.
The machine appears to be robust and ergonomic. It has a clean finish that reinforces its sturdy as well as industrial look. The start button is appropriately placed with the two smaller ones.
Setup
Setting up the scanner's hardware is a piece of cake. There is one main USB 3.0 cable that connects the machine to the computer.
A power cable plugs into the cable from the power outlet, therefore leading to only one cable plug into the scanner. Once that is done, you can mount the color pack by doing a simple process.
All you'd be required to do is plug in the small module that's present on the scanner's side and lock it. Lastly, plug the turntable into the USB port on the laptop and connect it to a power outlet with an adaptor particularly to avoid any confusion.
Overall, users need two USB ports for connecting the scanner's USB cable and the turntable's USB. An extra USB port to plug in a mouse is highly recommended for interacting with 3D content.
To start scanning, experts advise you to undergo a short calibration setup. But don't worry, the process is very intuitive and a stepwise video is displayed via the software. So, you do not have to undergo any video tutorials on YouTube or anywhere else.
The first step is to 3D scan the calibration plate at various distances and angles. After which, a calibrating message is displayed on the software screen while it's busy doing all the calculations.
Finally, the result is provided in terms of pixels. Then, it calibrates the white balance instantaneously, requiring you to turn the calibration plate over.
The last step is a calculation of accuracy, there onwards you can choose a 3D scanning mode from the menu.
Scan Type
EinScan Pro 2X Plus scans using structured light technology wherein a lot depends on the calibration as well as the markers. Also, reflective surfaces are the enemy of this technology as they cannot easily be sprayed down to scan easily.
However, the technology does have its own set of benefits when compared to laser-driven scanning technology. The former offers a lot more flexibility than the latter.
Scan Quality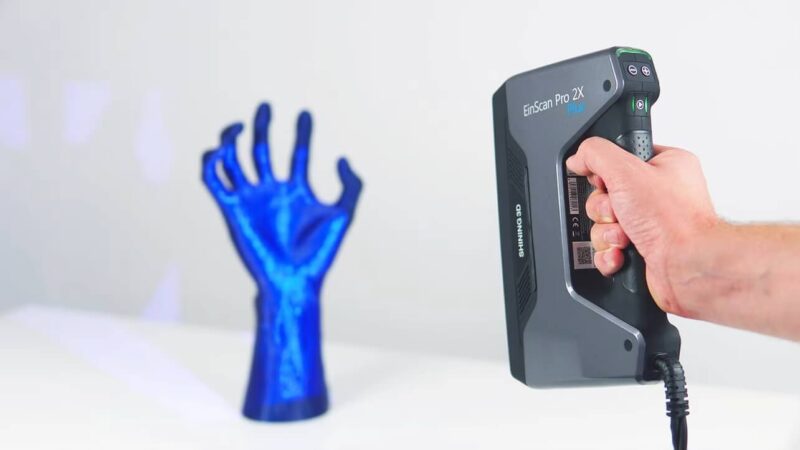 Credit: all3dp
Pro 2X Plus is not only able to provide users with top-quality detailed scans, but also the flexibility of altering scans according to projects. This is because the scanner is available in different packages, each one of those allowing operators to scan in three different modes. Overall, scan results of scanning objects such as dinosaur toys, shoes, saxophone mouthpieces are commendable.
Software
Shining 3D has developed ExScan Pro – a 3D scanning software with an intuitive user interface and workflow. It gives output files in STL, OBJ, PLY, ASC, 3MF, and P3 file formats.
The program's Operation Mode allows users to increase their speed of scanning during the operation and set the resolution later on. Overall, the software's intended to simplify the user's 3D scanning process is a success.
Customer Support
Shining3D offers amazing support by providing FAQs, documentation, manuals, and downloads accessible from their website. Apart from this, users can reach out to the technical team for any query via phone or call.
Parameters Influencing Buying Decision
A summary of the main points to consider while buying the scanner is mentioned below in brief.
3D Scanner Cost: Although on the higher end of the bar, Pro 2X Plus is affordable for professionals who are looking for flexibility packed with quality.
3D Scanner Speed: Pro 2X Plus offers striking scanning speed in all three modes of operation.
3D Scan Quality: The scanner's accuracy enables users to scan objects of varying geometry without missing out on details.
3D Scanner Capability: Pro 2X Plus is a versatile scanner because its capability of printing in three different modes offers sheer convenience.
3D Scanner Practicality: The scanner finds its application in various fields such as Reverse Engineering, Generative Design, and Simulation.
3D Scanner User Expectations: Professionals in the field of 3D scanning can utilize Pro 2X Plus to enhance their creative skills for producing extremely sophisticated real-life outcomes.
The Verdict
In a nutshell, Pro 2X Plus is an impressive machine that does all that it promises. Its software is a real gem as it eases the user's work by pre-empting.
All in all, complicated geometries can be scanned in a qualitative as well as quantitative manner using this machine in the optimized timeframe.