MakerBot Replicator+
As MakerBot tries hard to provide you with one stop solution, you get more to learn from this option. If you are a beginner and looking forward to turn 3D printing into profession down the line, MakerBot Replicator Plus is the answer. All in all, this is a good option for professional use and a great learning machine. So, go ahead and buy MakerBot Replicator Plus, if you do not want to restrict yourself to print for fun.
PROS
Sleek and can be used inside your house as well
It is easy to setup with the help of instructions available on the mobile app
WiFi connectivity available
Remote monitoring is possible on mobile phones and tablets
Nice print speed
Larger build volume in comparison to its predecessor
CONS
Print Quality isn't justified when put across the price tag the printer owns
USB port has connection issues
Non heated build plate causes warping
Third Party filament usage limitation
Open Design and risky to use around kids and beginners
MakerBot Replicator plus has been launched with better features and improvements in terms of design, speed etc in comparison to the older options. This time, the company, MakerBot has tried to lure the professional audience for general purpose 3D printing and has succeeded in doing so. The 3D printer is quieter and has many other advanced features which makes it one of the strongest opponents among the similar range 3D printers.
Features of MakerBot Replicator Plus
Let us check out the features of MakerBot Replicator Plus that makes this 3D printer a real gem. It does have few limitations tough and falls on the pricey side. But, the awesomeness of this 3D printer is beyond those limitations making easy for one to ignore them. All in all, this 3D printer is very favorite among those who are 3D printing with certain goal.
back to menu ↑
Specifications
The MakerBot Replicator Plus comes in complete black color and looks great with its sturdy body. The company has come up with large size than its predecessor which measures 16.2 x 17.4 x 20.8 inches. The size is bigger enough to be considered being kept on its own designated table or top. The weight is also considerate with 35 pounds and 6 ounces.
The 3D printer provides its users with 6.5 x 11.6 x 7.6 inches of build volume. The design comes with open frame. It is open from top, front and sides giving a perfect view to those always looking at the progress of the printing process. However, a little challenging to work around kids and children in the house.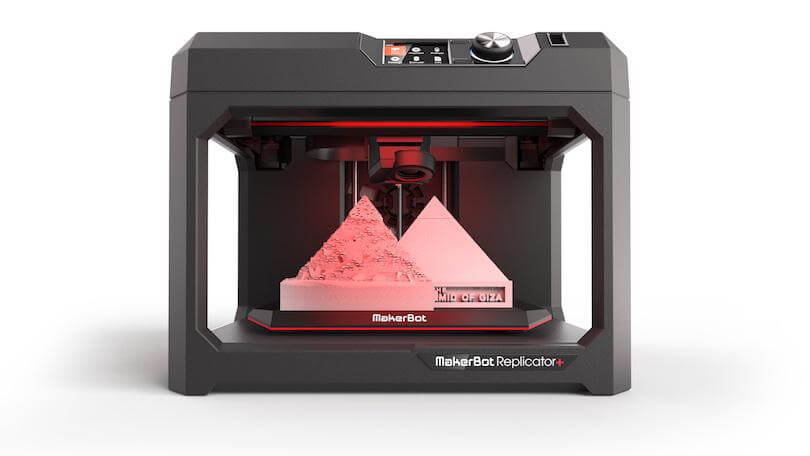 MakerBot boasts about many upgrades that is included as a part of this 6th generation release by the company. And, justifies most of them too. A decent choice for those looking to teach 3D printing or wanting to start a small 3D printing business. With 25% of extra build volume and being 30% faster than its prior release, the MakerBot Replicator Plus surely has been embraced by many professional 3D printing experts.
| Specifications | |
| --- | --- |
| Build Volume | 29.5 L X 19.5 W X 16.5 H CM [11.6 X 7.6 X 6.5 IN] |
| Nozzle Diameter | 0.4 MM [0.015 IN] |
| Print File Type | .MAKERBOT |
| Product Dimensions | 52.8 L X 44.1 W X 41.0 H CM [20.8 X 17.4 X 16.2 IN] |
| Product Weight | 18.3 KG [40.4 LBS] |
View full specifications here.
back to menu ↑
Price
MakerBot has tried to bring every great feature under the table but not the price. MakerBot Replicator Plus falls on the pricey side. The amount of $2499 isn't an easy catch for most of the individuals, especially if someone is starting to use the 3D printers.
Although the company has intended to target professionals and the educational sector, the price still is on the higher end. There are many professional range 3D Printers available with comparable features for lesser price.
The price has restricted its accessibility to most of the individual users. But, as the community of 3D printing experts is surging, the number of those able to pay such a price have increased too. So, MakerBot will have no issues in selling its item, given that the features are worthy enough for that price. Let us dig further to see what all the 3D printer has in store.
back to menu ↑
First Impressions
The first impression of the MakerBot Replicator Plus is of a similar 3D printer like its predecessor with some extra build space. It is because it has the same metal body with plastic container. As most of the older versions, the machine is sleek and sturdy. The open sides make the machine an easy fit for every lab. An open view makes MakerBot Replicator Plus best for learning centres.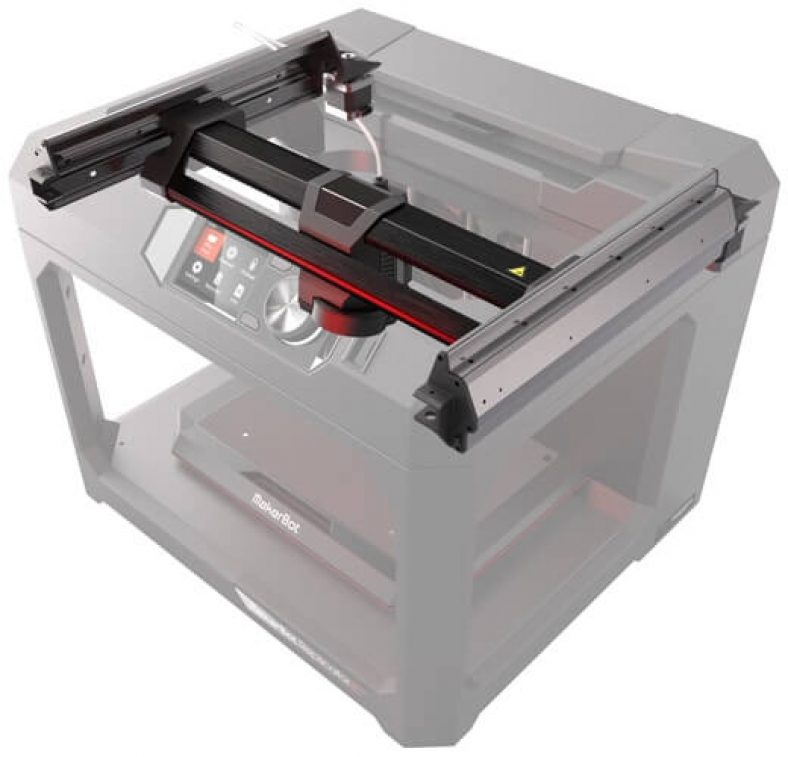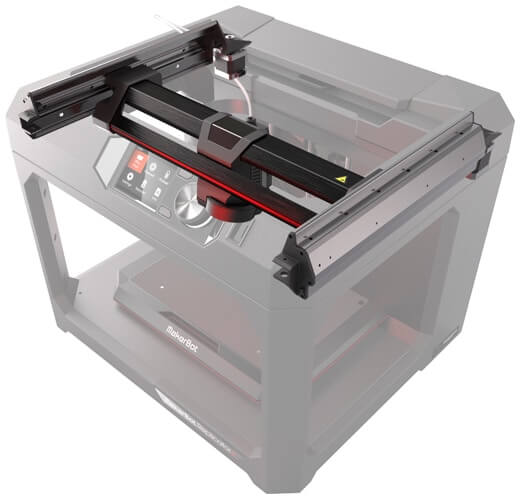 However, as you start setting up this machine and start 3D printing, you would realize that there has been a lot of changes to the features and limitations to the older version.
Size is the first thing that comes to the attention. After you start plugging the machine in, you would realize it is nothing like the fifth generation version. There is the difference of night and day. However, I would still stress on the price though. A much better quality was expected with that expensive price tag. MakerBot Replicator Plus is a decent choice but could have been even better.
back to menu ↑
Setup
The setup is easy but the instructions could have been better illustrated. The setup requires you to connect to the WIFI connection and download a cell phone app. There is no mention of which OS version is compatible for the installation of the cell phone app. It does not work with the older version.
If your phone's OS is not updated to the recent version, this may come to you as a surprise. However, this isn't a huge problem and can be fixed. But the instructions still are confusing at some point. The setup can be done through USB plug provided at the back of the 3D printer. This isn't mentioned out and loud. One can also use ethernet cable to do the necessary setups.
You are also required to create an account with MakerBot before starting the setup. This gets you some extra feature of being able to view and print remotely.
Apart from that, the cell phone app is pretty easy to follow and even starters would find it helpful while setting up the 3D printer for printing amazing STL files.
back to menu ↑
Printing Type/Cost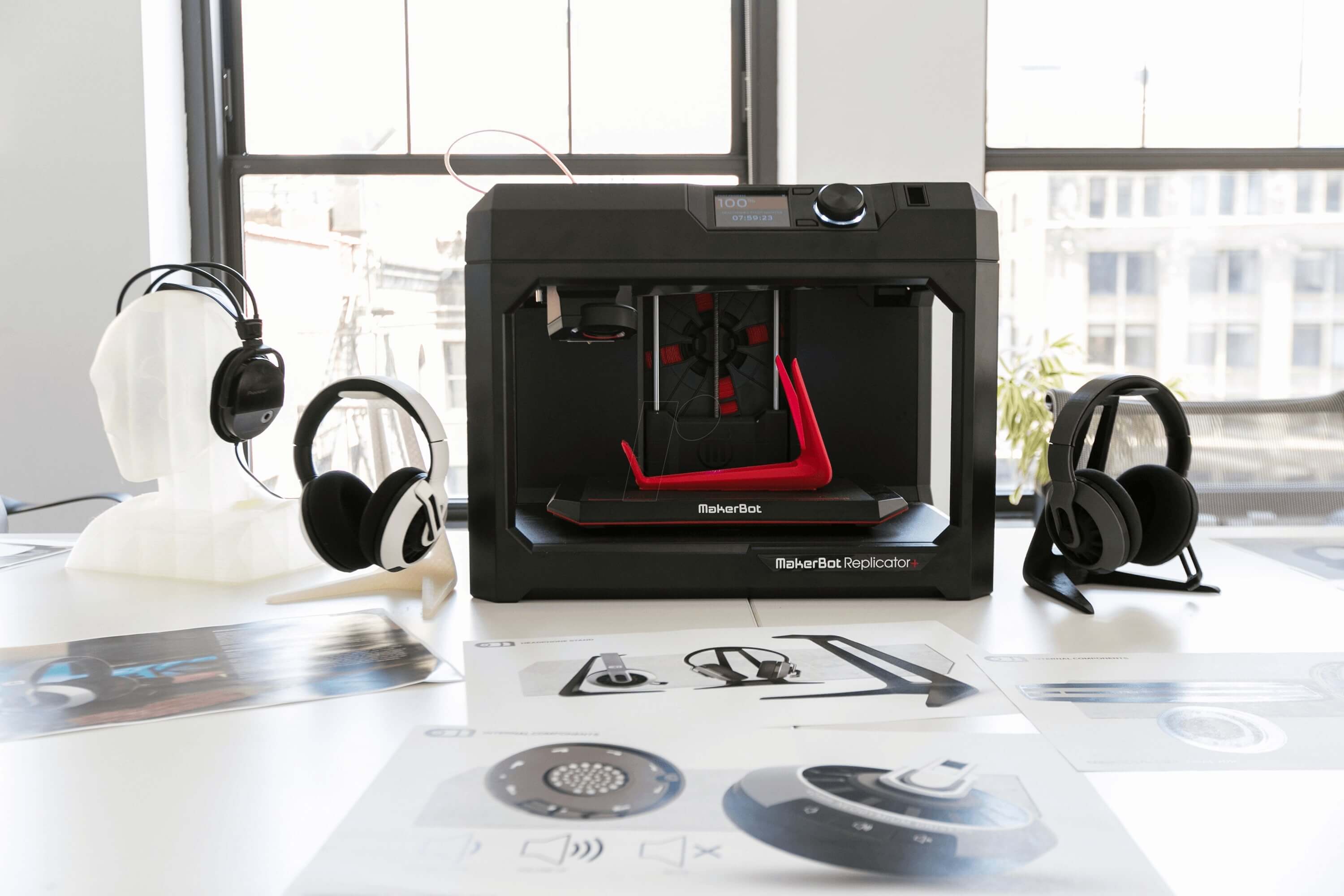 This 3D printer is based on FDM process. The filament is heated and extruded to be deposited on the build plate layer by layer. Once each layer cools down and sets up, another layer of molten material is deposited on the previous layer. This way, the final part is printed.
Controls and User Interface: The control is placed just right to ensure its at the eye level and in front of the 3D printer body. With clear interface, one can choose between different setting parameters. The display can be navigated with the help of one push button wheel and two more buttons. One can also preview the print before 3D printing. This is a great feature as you can use this machine without a desktop computer through the USB port. And, preview the designs on the screen before printing them.
Storage of Filament: MakerBot has brought a great change to the filament storage. Unlike many other options available in the market where the filament storage is placed externally, MakerBot's filament storage is hidden at the back of the machine. It does allow you to monitor the filament left for use. Loading of the filament is also easy and simple. MakerBot hasn't mentioned it explicitly, but you are forced to use MakerBot's filament over the third party filament. They have put a warning message for the usage of third party filament which says that the warranty can be cancelled when using third party filament. The filament offered by MakerBot is also pricey like their machine. A 0.9kg reel of PLA will cost you somewhere between $48 and $65. You get around 30 different shades and finishes.
Printing Process: Although printing with this 3D printer is effortless, you may have to struggle a bit for removing the parts from the build plate later. Before the parts are printed, you must adjust the layer height. Later, the print file is generated and sent to the printer to print. After the print has started, you can turn off your computer or can monitor the printing process by letting it turned on.
Printing Speed: The company has said it out and loud that this version has been designed to provide 30% faster speed than the older one. And, this printer very much proves that right. It takes lesser time when printing in low quality and a bit larger time duration to print in high quality. But these speeds are faster and gets you decent quality prints in few hours.
Extruder: MakerBot offers a smart extruder available for extra cost which is designed for using 1.75mm diameter of PLA. It can detect when the filament is about to end and pauses the print right there. It also notifies the user to refill the filament to start the 3D printing again.
back to menu ↑
Print Quality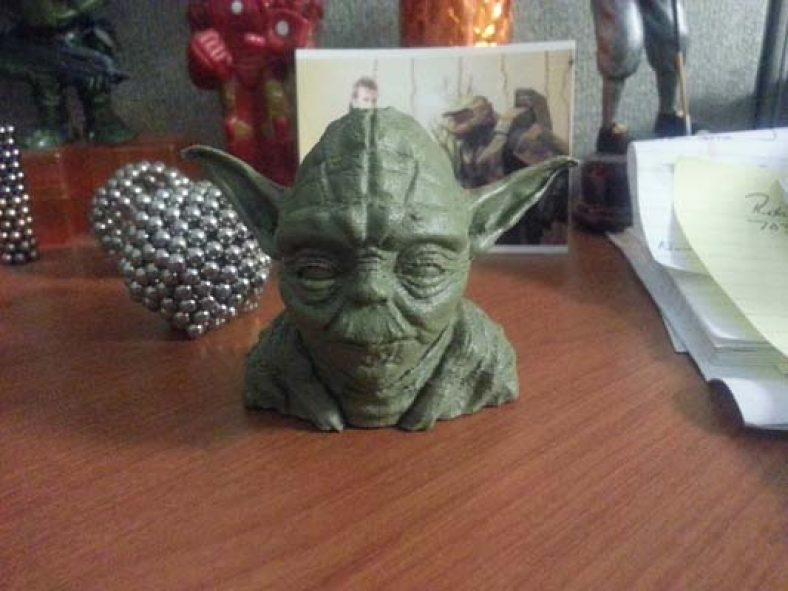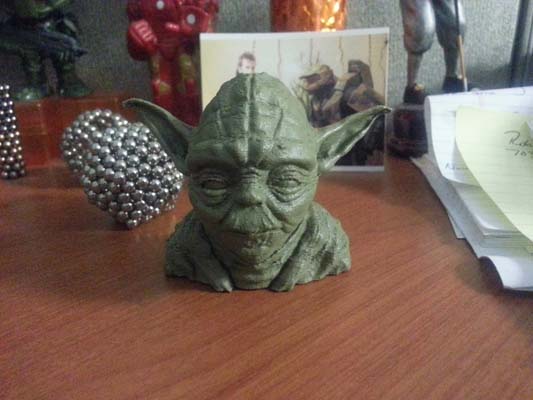 The print quality offered by MakerBot is decent and better than most of the professional 3D printers. However, with a price tag of $2499, one expects better results. The company could have worked some more on the print quality.
The printer produces fine details and decent print quality. However, there are few problems that such as the tendency of this 3D printer to leave whiskers. Although these are removable but these do leave marks later.
One can print smooth and beautiful curves. The printer is able to create fine detail curves when set on fine detail settings. However, with fast prints, you may find the prints creating some messes with the models.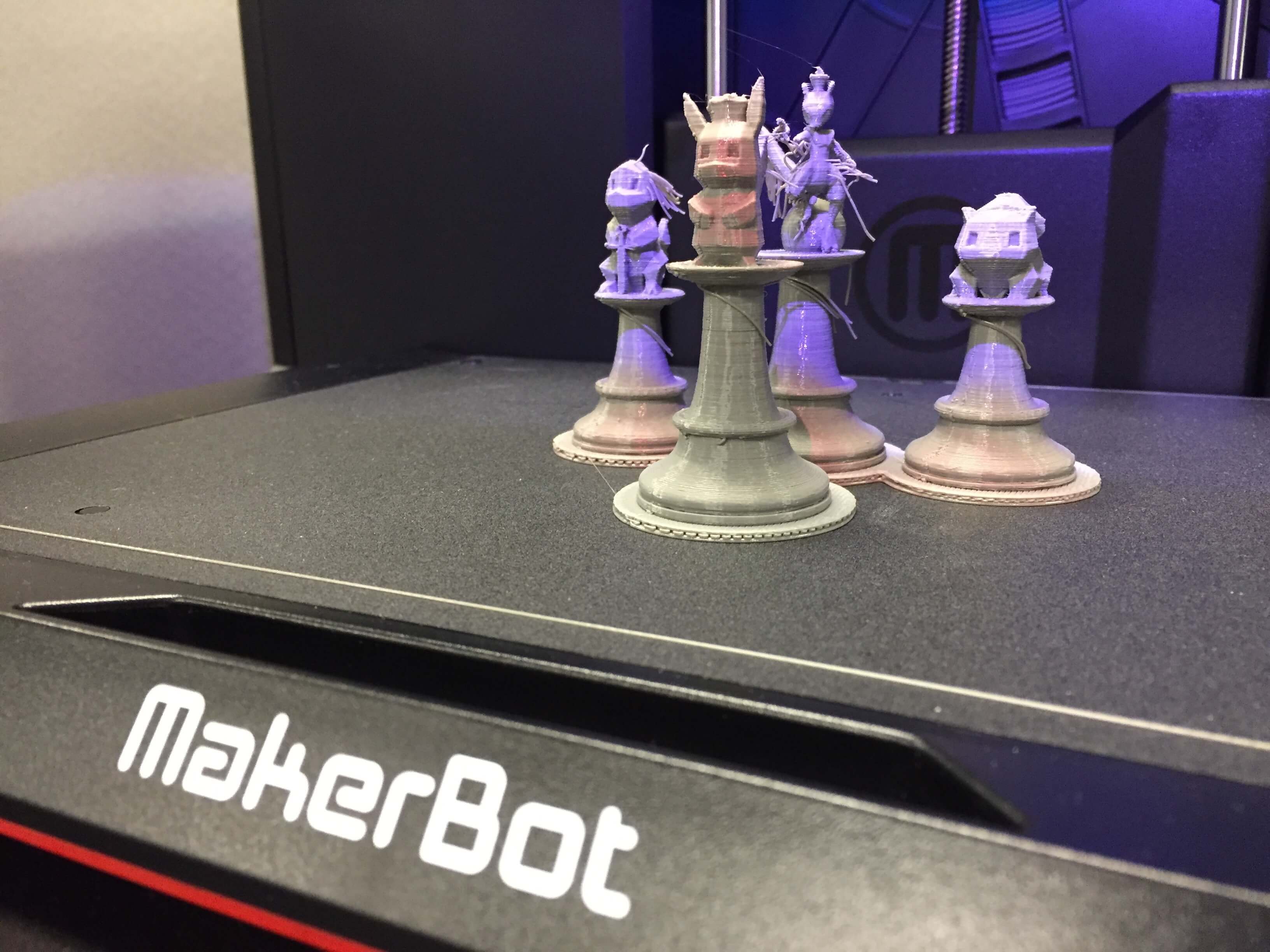 The geometric prints are also great is not spectacular. The MakerBot Replicator Plus can create angled edges with fine details. As well as the straight lines were printed with quite a perfection. The printer excels at producing sculptures and geometric shapes. However, do not expect too sharp ends, but manageable enough to be considered among good prints. Whiskers could again be of some problem.
You can also carry on 3D printing for assembled gears. When 3D printing sets of gears, the post processing job, however, increases.
The biggest flaw that makes this printer's quality questionable is the non heated build plate. Heated plates produce better results even with the flexible filaments.
back to menu ↑
Software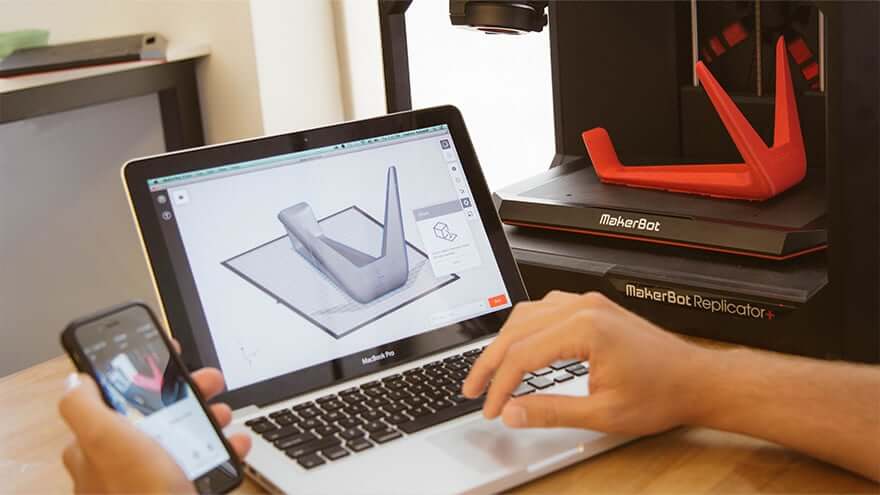 The MakerBot Print app compatible with this machine can be considered close to flawless. With easy and powerful commands, you can initiate the print process in matter of time. Just open the print file and send the command for printing. You can even export files to USB or other drives. The app can be used with a mobile phone or tablet. So, you can send print command over a wi-fi connection or even remotely.
back to menu ↑
Customer Service
The company offers good customer service support. Your queries will be welcomed and your problems will be tried to sorted at the earliest.
back to menu ↑
Rating MakerBot Replicator Plus against its Features Dominating Buyers
There are various parameters a user looks at before purchasing a 3D printer. Based on those parameters, here are some points that you may want to consider before taking the final decision.
3D Printer cost: The 3D printer is costly. As the professional range printers start from a lower range, there are many options available for less price. The price also looks higher when compared with the quality the printer provides. Moreover, FDM printers are available for as less as $200. However, these won't get you the features MakerBot Replicator Plus is loaded with.
3D Print quality: You must expect a decent quality print with negligible to few flaws.
3D Print speed: The print speed is great. However, there are some problems creating finer details with high speed settings.
3D Printer capability: This 3D printer capabilities are huge. You can use this printer for complex geometrical shapes to the usual model. However, you are restricted to using PLA.
3D Printer Practicality: This printer isn't for high end 3D printing. It is designed for professional who use 3D printers for general purpose printing and especially for educational setups for training purposes.
3D Printer User expectations: With such a price, a user may expect spectacular designs. However, if you are ready to compromise on print quality a little bit, you can get loaded features with MakerBot Replicator Plus for this price range.