Manufacturing practices are going on in this world for quite some time now. And because they are going on for quite some time now, they are broken down into tasks.
Manufacturing of every part of the whole is done with perfection. So, that resulting whole that is the sum of these parts is also close enough to be called perfect. This article is about 3D printing tools for providing websites.
3D Printing technology that has emerged out of the urge for perfection is known for its completely different view of seeing parts and functional prototypes.
For years, people have been trying to achieve perfection by subtractive manufacturing technologies, and they could manage no more than eight or eight-five percent.
It must have been the need of that hour to deconstruct the complete view of the subtractive manufacturing process and starting to look at the manufacturing world from an additive point of view.
A view that agrees with the longtime philosophical statement," the whole is always greater than the sum of all its parts."
Since the technology is not as old as other technologies, it is necessary to list down various variables that build up the complete cost of manufacturing one part or one functional prototype using 3D printing. And that's exactly where these 3D printing tools providing websites play a part.
They ask from you the variables that are involved in your task and based on that they give you a rough estimate that you can tell your customer or the end client. But that is just if you are a manufacturer in the business.
In case you are the end client yourself, you can calculate the cost for yourself and see if a manufacturer is charging you hugely more than the rough estimation given by these websites.
Top 4 3D Printing Cost Calculators in  2023
These websites are titled the top four because they appeared on our Google Search in that way.
Omni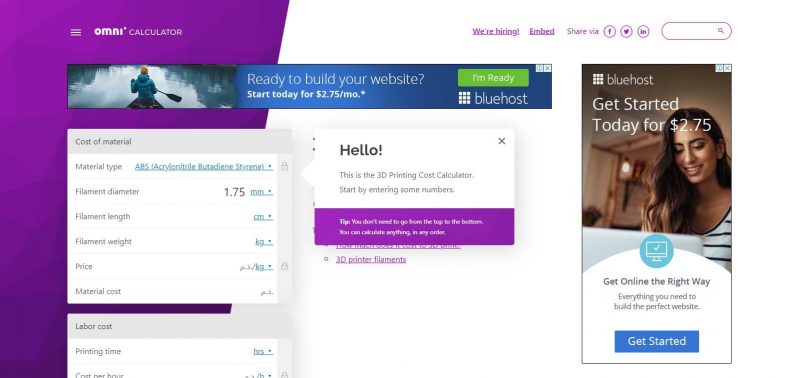 Here is what the text that will be the center of your screen of Omni's homepage reads out," Your Life in 1359 free calculators." Yes! The writer of this 3D printing tools provider website is lame enough to calculate life as a sum of our dealings with the fields in which Omni offers calculation.
There is a lot you get to read about Omni by clicking on the " read more about us" option present on the paragraph that you would get after scrolling down a little on the homepage of the website, with the facial photographs of the entire team.
Being on the website of 3D Printing Cost Calculator Omni
The first phenomenon that strikes your eyes when the homepage of the website Omni opens is the constantly changing pictures of 3DEO advertisements, which become stagnant after a few seconds of stay on the website.
Another advertisement is on the right side of the screen of the device from which you are opening the website. It is about Creality's CR-6 SE Kickstarter 3D Printer!
It is only after noticing these two advertisements that our eyes fell on the four and a half hearts given by Bogna Haponuik to Omni's 3D printing cost calculator.
The website makers of Omni have given the calculator on its homepage explicitly. The Cost of material, the starting point of the calculator, is divided into Material type, Filament diameter, Filament length, and weight, price, and material cost.
The Labor Cost follows the Cost of material that comprises of printing time, cost per hour, and labor cost. The calculator ends with the Final price that consists of markup and final price.
Concluding remarks about Omni
Surely, the idea to provide users with a calculator that provides them with an insight into the businesses running in the outside world is a very nuanced idea.
The makers of Omni have taken the advantage that the Internet offers them in asking for variables and getting them; they put these variables into the already existing mathematical formula that is coded simply in the algorithm on their website.
However, their business model and how they are thinking of progressing as a business is hard to guess. Would there be more and more formulas coded in terms of algorithm, that's it? Or would there be the addition of other services also is a question mark!
ic3d printers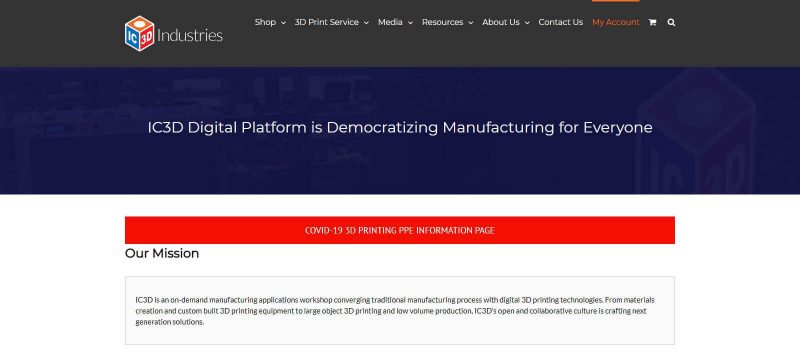 Terming itself as a platform that democratizes manufacturing for everyone in the very centrally located text, ic3D printers is much more than a 3D printing tools service provider.
It offers products as well as 3D printing services to anyone who pays them. There are seven tabs on the homepage of this website.
You can shop for filaments, ask for a 3D printing service as well as read about the company and its resources in general. "Expand human potential by making manufacturing accessible to all through 3D printing technologies," is the company's future.
The idea to put Mochi Cao (a dog) as their Culture Compliance Officer is very novel.
Being on the website of the 3D printing price calculator ic3dprinters
Unlike Omni, ic3d is not only providing you 3D printing tools like a 3D printing price calculator. It is also into offering different types of 3D printing filaments, and 3D printing services of consulting as well as tooling. T
here is a specific webpage on ic3d's website dedicated to 3D printer job cost calculator. When you land on this webpage, a paragraph just beneath the title of the webpage declares to you the intention ic3d has behind developing this 3D printing calculator.
In the paragraph just next to it, the webpage makers also give you a trick to figure out how their calculator works.
To make this calculator work, you need to input some of the empty categories based on which the printing cost calculation happens. The first input is related to the density of your filament.
Following the density of the filament is the size of your filament. Density needs to be entered in grams per cubic centimeter, whereas size in millimeters. The third category is the cost of the filament.
Then you have the length of the filament in mm, job time in minutes, cost per hour, and mark-up in percentage. After filling all these categories you can click on Calculate and get the quote which you can then provide to the end client.
Concluding remarks about ic3d
You can seek 3D printing consulting from them, get yourselves trained to operate whatever 3D printer you are operating.
Apart from this, they term themselves as the first 3D printer company to manufacture its own line of 3D printing filament exclusively for 3D printing.
Mochi Cao seems to be the pet dog of Michale Cao, the Chief Extrusion Officer. The idea to give Kimberly Gibson, the post of Chief Mischief Officer is just as novel as putting Mochi Cao in the seat of Culture Compliance Officer.
3D Addict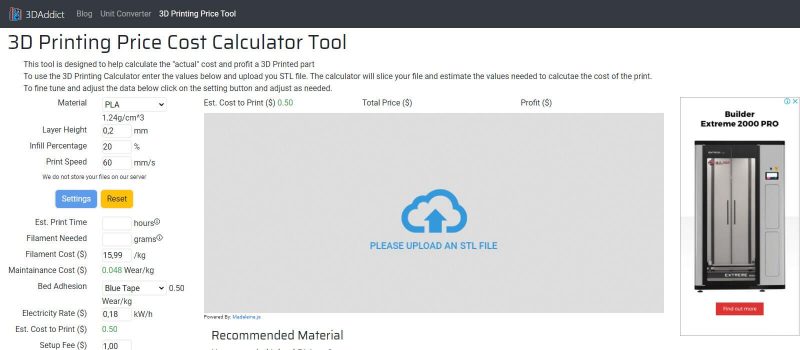 An exciting phenomenon happens when you click on the Blog tab of this website. You get to a webpage that has a review of the Prusa Mini 3D printer.
Whether this is a bug or not is for these 3D printing tools providing company to know. It's as if a new website opens up, on the homepage of which you find products related to 3D printing being offered.
Apart from Blog, there is a Unit Converter tab that converts quantities from one SI unit to the other.
Being on the website of the 3D printing calculator website 3D Addict
There are only three tabs that you get to see when you land on the 3D Addict website. Those are Blog, Unit Converter, 3D Printing Price Tool.
If you enter by searching from Google with keywords "3D printing cost calculator," you will directly land on the webpage where you will, if you click on the third tab of this website.
On the right-hand side, you will spot a rectangle asking you to," Please upload an STL File."
This text should indicate to you that 3D Addict is not only offering you 3D printing tools, but also a service to 3D print your part or functional prototype by studying its 3D design file.
Left is where you have the variables that this website asks you for cost calculation. Starting with material's density, layer height in mm, infill percentage, and print speed in millimeter per second.
There is estimated print time in hours, filament needed in grams, filament cost per kilograms, maintenance cost in wear per kilograms, bed adhesion material, electricity rate in kilowatts per hour, setup fee, packaging, shipping, mark-up percentage, and finally, the final price.
Concluding remarks about 3DAddict
There are lots of Amazon advertisements placed just below the huge rectangle that asks for your STL files. There is a section titled "Upcoming Features," under which a paragraph titled," How the 3D Pring Price Tool Works," trying to explain one of the many 3D printing tools.
There is a long list of factors that the makers of this website considers as important ones when calculating the cost of a 3D print.
Even if you do not wish to get the price of your 3D part or functional prototype, you can visit it for reading how the business of that works in general and what all makes one charge what they charge.
3DPrinthq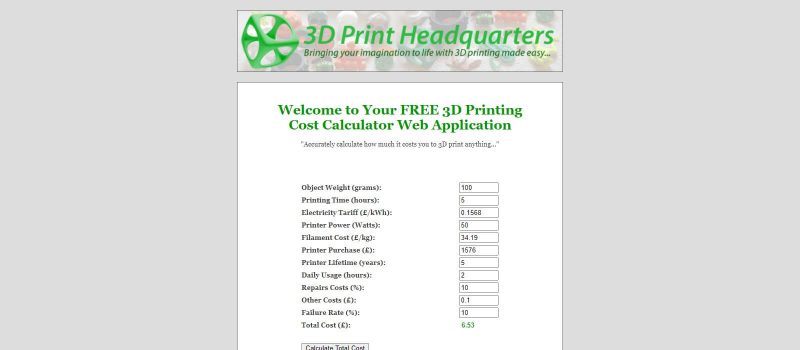 Fun Fact: The homepage is the only page of this 3D printing tool providing a website. Another fun fact: unlike other websites, the information provided on it is too straightforward.
Apart from the information that you mainly want the website to provide, it provides information asking for contributions to the maker's efforts.
Being on the 3D Printing Tools providing website 3dprinthq
The tagline that is written right after the title," 3D Print Headquarters," strikes you after the logo of this company that looks like an open cube with connected vertices.
3dprintinghq is probably going to be the most straightforward website you've ever come across till now. Right in the center of the screen; as soon as you land on the website; there is the cost calculator.
There is no other webpage or tab on the website to navigate you, ask for login ids or any other details.
All the website asks for are inputs regarding object weight in grams, printing time in hours, electricity tariff in pound per kilowatt, printer power in watts.
Followed by filament cost in pounds per kilogram, printer purchase in pounds, printer lifetime in years, daily usage in hours, repair costs in percentage, other costs in the pound, failure rate in percentage, and lastly, the total cost in pounds.
Concluding remarks about 3Dprintinghq
There is a YouTube video that is seventeen minutes and twenty-five-second-long, which is the "before-concluding" section of the website.
And a note that says how this 3D printing cost calculator was built keeping in mind the pound currency of the UK.
However, the website is built to work with any currency. The suggestions for improving this calculator are very well appreciated and you can freely contact the maker of this website for the same. This website is running ever since the year 2012.
The Conclusion
The articles that otherwise term some calculators as the best ones and others as not make us wonder, on what basis do they do so!
Keeping that in mind; that, there cannot be any basis for naming few websites as the best ones, we have kept our explanation of four 3D printing tools provider precisely based on the judgments that we made after visiting their website, and our conveyance to you is also closely based on that.
We want you to read our article and the description and then decide which ones best for you. Because adjectives like best are very subjective adjectives and use of them in a certain manner is what we would not like to do and define your decisions.
Hope our explanation of four 3D printing tools providing website was useful to you to land to a website that helped you in your journey of providing quotes to someone or understanding the different ways of 3D printing cost calculation yourself.