Table of Contents
There is every sort of 3D Pens available in the market. Since it is a growing industry, every company is trying to attach itself to it. But not every pen that is sold in the market is worth buying.
In this buying guide, we will present to you the best professional 3D pens depending on whether you are a novice, a median, or an adroit in this field. Let's get started with the list.
Best 3D Pens for Novice
By novice, we mean those who have just heard about 3D Pens and 3D printing technology. They have not yet come across any aspect of the process of how it happens and out of curiosity, they are looking to buy this pen. The below list is for you if you are one such person.
CreoPop 3D Pen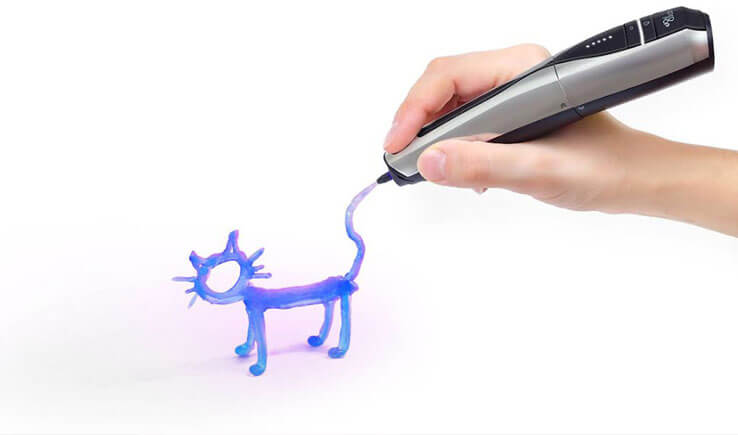 This is the first professional 3D printing pen that comes with cool ink and unlike other pens in the market, does not have any hot parts.
You don't need to worry about the melting plastics or unpleasant smell. In fact, when you actually start using this pen, you immediately notice the difference between how difficult bringing your creativity into reality without it was and with it is!
The hardware of this pen and its ink has been made purposely in a child-friendly manner. Let's take a look at its technical specifications to get an idea of what makes this pen one of the best professional 3D Pen for a novice in 3D printing.
Technical Specifications
This pen works by curing the photopolymers by exposing them to LED Light. The technology on which pen works provides an option of working with more range of colors.
In contrast to conventional pens that use thermoplastics technology, CreoPop 3D uses light-sensitive ink to create 3D objects.
The external dimensions of this pen are 51 mm * 46 mm * 165 mm. CreoPop does not require a cord to work. The pen works with a battery, so whenever you need to start the pen all you got to do is charge the pen using a mini USB.
Pros and Cons
PROS:
Because the pen does not require heating and cooling process, it is safe for kids to use it.
CreoPop 3D lets you develop parts that are able to transfer electricity.
This pen uses aromatic ink to create objects of the same fragrance that they possess for real. For example, you can create a flower and give it the same scent that it possesses in real.
CreoPop 3D produces durable products.
Is available at an affordable price.
CONS:
CreoPop 3D does not have the option of refilling inks from any company that manufactures it. You will have to use a CreoPop ink to refill.
Overall, the pen requires a lot of patience and practice to create good 3D objects.
Overall, CreoPop 3D is Easy to use. A pen with which you will be able to express the creativity that you possess. It lets to experiment with various kinds of inks and its aromatic fragrance. As a novice in this industry, CreoPop 3D can be a pen that will make you wonder about this technology and bring your curiosity to another level.
Dikale 07A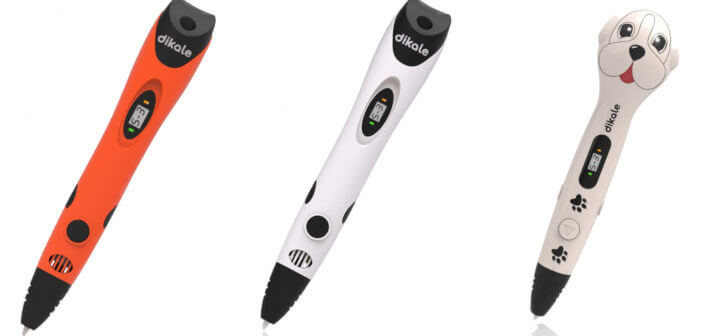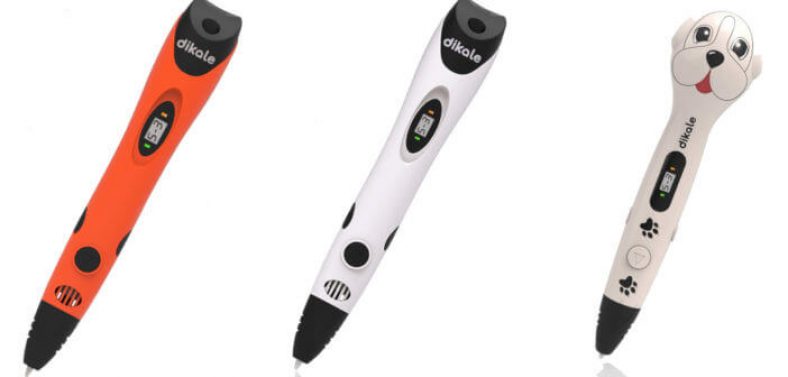 This is an entry-level professional 3D printing pen that features a thin, light plastic body. Dikale 07A fits well in the hands and rests over your thumb.
Although seeing the first look of the pen which is thick, the company has come with iterations of the pen that have been lighter, thinner, and shorter.
Dikale uses a mini USB to the USB power cord that is best because they are replaceable and can be used with other electronics as well.
Let's look at the technical specifications to find out what makes Dikale 07A one of the two most preferred pens for the novice.
Technical Specifications
The pen weighs 454 gms and is 20.3 * 11.7 * 8.6 cm in dimensions. You can either use ABS or PLA plastic with this 3D pen. To operate this pen you have to choose the filament mode first, then set the speed accordingly.
Dikale 07A comes with three-speed settings. The point to note here is the faster the speed is, the hotter the pen becomes.
Although there is one downside to these functions i.e. each of these functions is controlled by an individual button. You have one for filament selection, the other for speed selection then comes extrusion, and lastly, it's unloading of the filament.
To remember all this takes a lot of time. So, while using this pen in the beginning, it will take you a lot of time to come up with the first satisfactory print.
Pros and Cons
PROS:
Dikale has excellent customer service. Whether it's a pen or apart, the company always walks you through technical support. Their executives are patient, fast enough to understand what you say and friendly.
Alongside this pen, you get helpful accessories to start your printing process. Stencils, there are finger protectors, as well as different colored filaments and also a small PVC drawing board for sketching.
CONS:
The extrusion of this pen is unpredictable. Meaning that there are issues with the pen's speed. Sometimes it releases more filament, the other times it's less.
Dikale 07A is prone to jams and clogging.
The interior hardware of this pen is not reliable and you say that by touching or feeling it.
Overall Dikale 07A has Good Design, lightweight, and a considerable amount of value. The user experience of this pen, to date, is also satisfactory. So, for newbies in the industry who are looking to learn this technology or willing to get it for kids, Dikale is one choice.
Best Professional 3D Pen for Intermediate Level Users
By medians here, we are trying to imply those persons who are known to the concept of 3D printing and printers. They might have experienced it too, but have not experienced the concept of 3D Pens. If you are such a person the below-mentioned list is for you.
Tecboss 3D Pro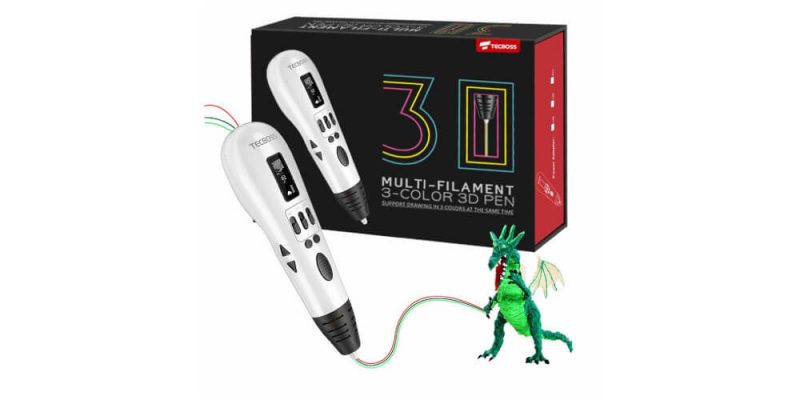 On touching this pen and using it for the first time, the first impression that it's created by its look gets better. The first impression is that the pen is sturdy.
But the bettered impression is, it's not just sturdy, but also light in weight. The pen weighs under 2 oz. Operating Tecboss, takes time as it does with every pen in getting used to them.
But, Tecboss is a little intuitive and you have just enough buttons to control this pen.
Technical Specifications
You have a button to control the extrusion speed, which is on the right side of this pen. There are eight kinds of different speeds at which you can choose to print, which is great!
On the left, you have buttons to extrude or unload the filament. And two buttons of each side to control temperature and filament.
There is an OLED screen in Tecboss that lets you monitor the printing process. One can print with this pen using PLA or ABS material.
Tecboss can be plugged into any USB outlet, it comes with a cord that's 3m long. Some users also prefer to use Tecboss with a power bank.
Pros and Cons
PROS:
This pen has enough control settings inside it to let you guide through the process of satisfactory 3D printing.
The pen comes with an excellent selection of accessories like two colors of filament, finger protectors, a scraper tool, and stencils.
The pen can run for one hour straight in just one break.
Tecboss is known to give good customer service to their clients.
CONS:
The pen comes with a power cord that's very short in length.
Overall Tecboss is A user-friendly pen that is one of the most popular pens in the market today. It has a comfortable design that can fit into anybody's hands.
It comes with a 12-month warranty and just the number of accessories that you need to start with your 3D printing.
Tecboss 3D Pen is a strong choice for all those who know the basics of 3D printing and are looking to have a device that can really help them to get to the expert level of printing.
Colido 3D Pen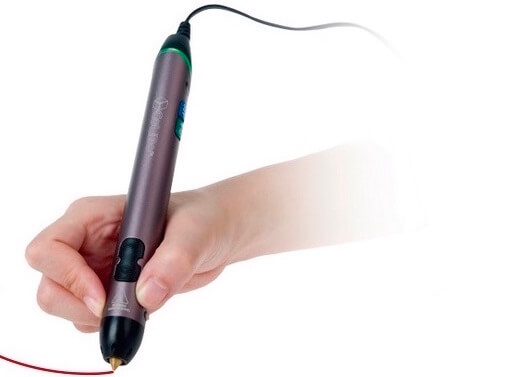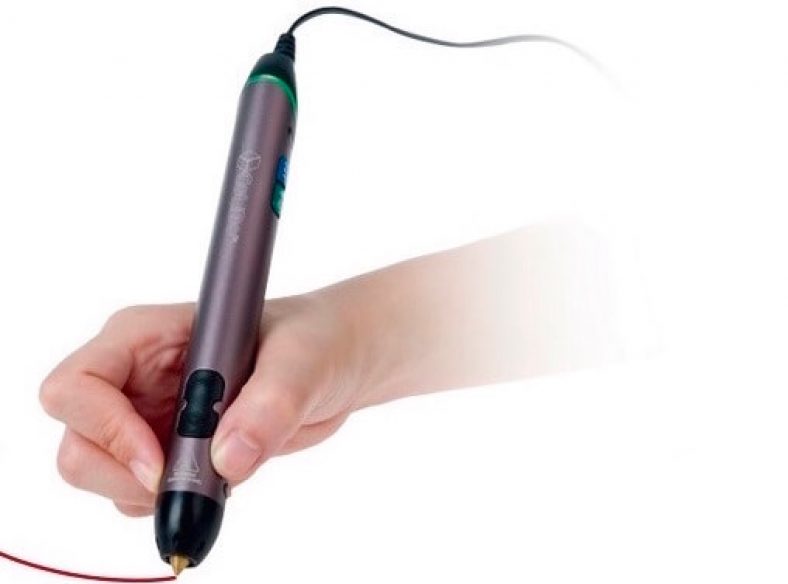 Colido 3D is a small pen, it's easy to take this pen along with you. It operates like a mini-computer that offers fast and slow settings and above that, an automatic sleep mode that occurs after the pen is not in use for five minutes.
There are a lot more technical specifications of this pen that would amaze you. Let's go through the technical specifications of this pen to find out.
Technical Specifications
The pen is based on FDM technology. It has a single print head and a nozzle diameter of 0.4 mm. One can print using two materials, they are, ABS and PLA.
The filament diameter that can be used in this pen is 1.75 mm. Users can choose from a lot of high-quality filaments that have options is color as well as texture.
The pen comes with four buttons, which are for filament insertion, selection, speed adjustment, and auto-retract nozzle.
An amazing thing about Colido is that the print-head of this pen squeezes out filament smoothly, maintaining the temperature in a stable manner. This can prevent issues like filament being cut off prematurely.
The pen is kid-friendly, unlike other 3D pens attention to safety and temperature of this pen is given a lot more. Whenever the print temperature slides higher than 250 degrees Celsius, the pen gets turned off automatically.
Pros and Cons
PROS:
The Pen is easy to use, not many buttons.
To make sure no user goes through the problem of heating on their hand, it comes with automatic turning off after 5 minutes of remaining idle.
It's cheap in price compared to competitors.
CONS:
There are not enough speed levels on this pen.
Overall Colido 3D is Easy to use pens for medians in the industry who have some knowledge about additive manufacturing as well as 3D printing in general.
Best Professional 3D Pens for Experts
If you are completely known to the concept of 3D printing, have used a 3D printer and a pen too beforehand, you are adroit. The pen suggestion mentioned below is for you.
Myriwell 3D Pen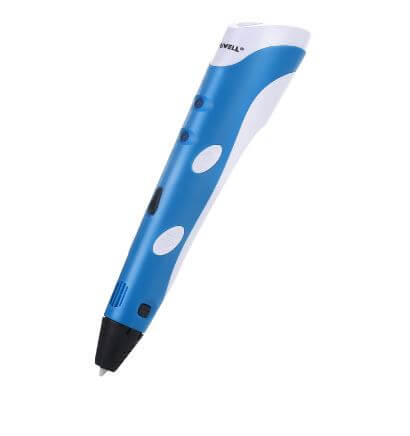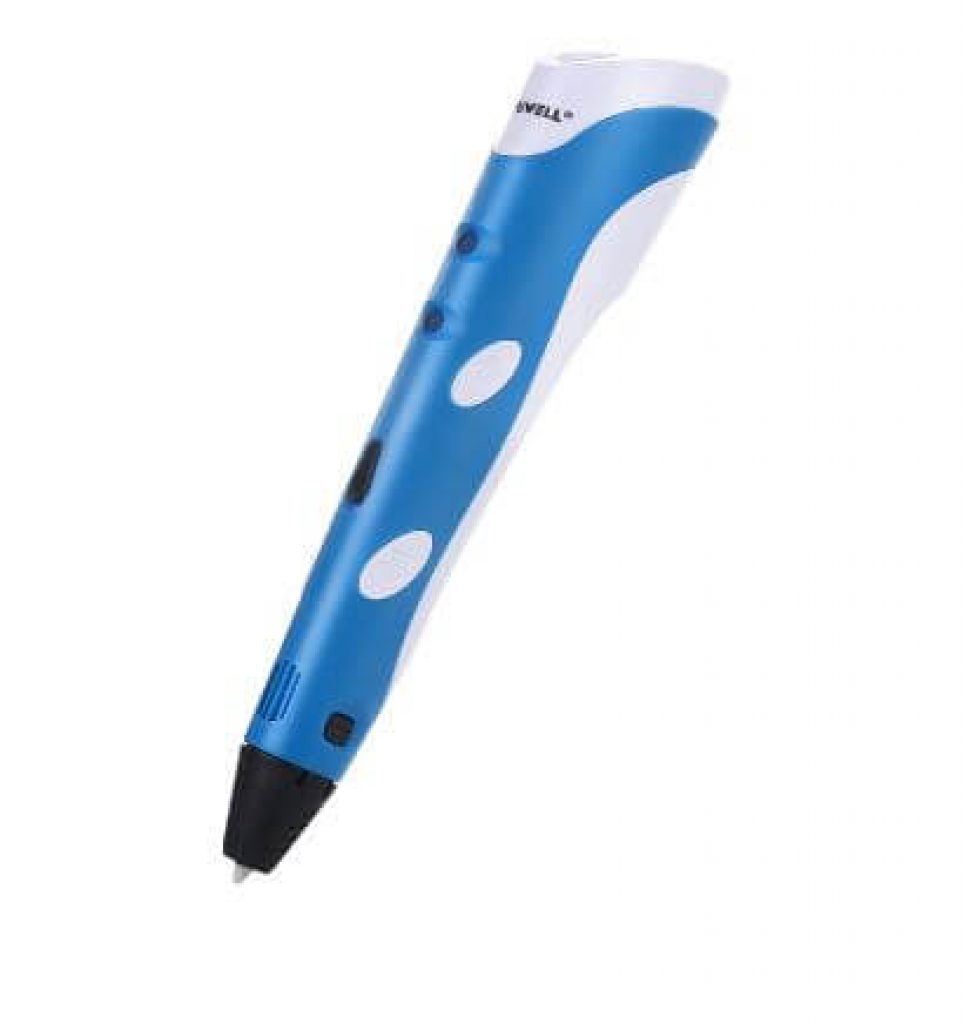 Myriwell 3D Printing pen comes with an adapter and free filament. For freehand creations of 3D objects, this pen is a complete package that comes with a 0.4mm nozzle and 1.75mm ABS/PLA material.
Technical Specifications
Myriwell is great for adroitness in the field of additive manufacturing and so is kept compatible with both ABS and PLA and known to paint in many colors.
User can change the filament of this pen can be easily by pressing a button. There are LED indicators on this pen to show the temperature of this 3D pen.
An advanced LCD screen on this pen shows a clear display of the speed at which you are currently using the pen. Myriwell is fun for all ages and is a very advanced gift to help develop imagination and improve spatial thinking ability.
Pros and Cons
PROS:
The pen has a silent radiator that doesn't let any noise to be produced.
Myriwell 3D Pen has a non-slip design that let's user to get a complete hold of the pen.
You can paint in many colors using this pen.
Overall, the pen is durable, lightweight, and portable.
CONS:
Cooling of the pen is an issue and for this reason, it needs to make sure that kids learn to use it strictly.
Overall Myriwell 3D is a 3D pen priced at $69 and amongst the pens available in the market at the same range, this pen has more amazing features and design. Experts would love to develop their thinking using this pen.
The Conclusion
Although 3D pens are nowhere closer to best professional 3D printers, they do have their own charm. You just need to find the right one.
By comparing the technical specifications of the pens mentioned in this article you'd be able to draw a line between best professional 3D Pens available in the market currently. And what separates them for other 3D pens. Best of luck with your purchase.