Table of Contents
Introduction
ZBrush is an industry-standard and award-winning 2D and 3D modeling software that contains brushes for digital sculpting and painting. Ofer Alon and Jack Rimokh founded it. It allows artists to sculpt characters that are of high definition. Its features enable one to use brushes to texture, paint, and shape models in a real-time environment.
ZBrush is simply an art tool created for artists by artists. It has everything you need to bring your ideas to reality, and your imagination can only limit you. Zbrush contains an arsenal of tools to help artists create illustrations and models at a speed that makes them stand out in today's fast industry.
ZBrush provides artists with a tool that allows them to produce specific amounts of detail in your models that were not attainable virtually. This capability makes ZBrush the only software that can display millions of polygons on-screen at the same time. without worrying about buying expensive graphics CAD
There are 2D and 3D sketching tools to help one sketch quickly, and there are both Dynamesh and Polypaintaing capabilities. ZBrush is much used in the gaming, movie, marketing, and other industries where high-level animation and 3D effects are required.
Nevertheless, ZBrush isn't a cup of tea for everyone. In this article, you will get to know its best alternatives. In summary, this article will cover the following:
The reasons why one might need ZBrush alternatives.
Criteria we used in getting the best ZBrush alternatives.
List of the best ZBrush alternatives
Why you might need ZBrush Alternatives
If you need a much easier to use the program than ZBrush
When you don't like its Graphical user interface and its navigation
When you can't afford ZBrush pricing
When ZBrush doesn't fit your style
Criteria used for getting the Best Alternatives
We considered the following when looking for the best Zbrush alternatives:
Presence of digital Sculpting tools and other features above
Animation features
Drawing and sketching features
Texturing capabilities
Masking tools
Preparing designs for printability.
Pricing
Having looked at the criteria we've used in getting the alternatives of SelfCAD, we would like now to see the Zbrush alternatives based on the above criteria.
List of the Best ZBrush Alternatives
SelfCAD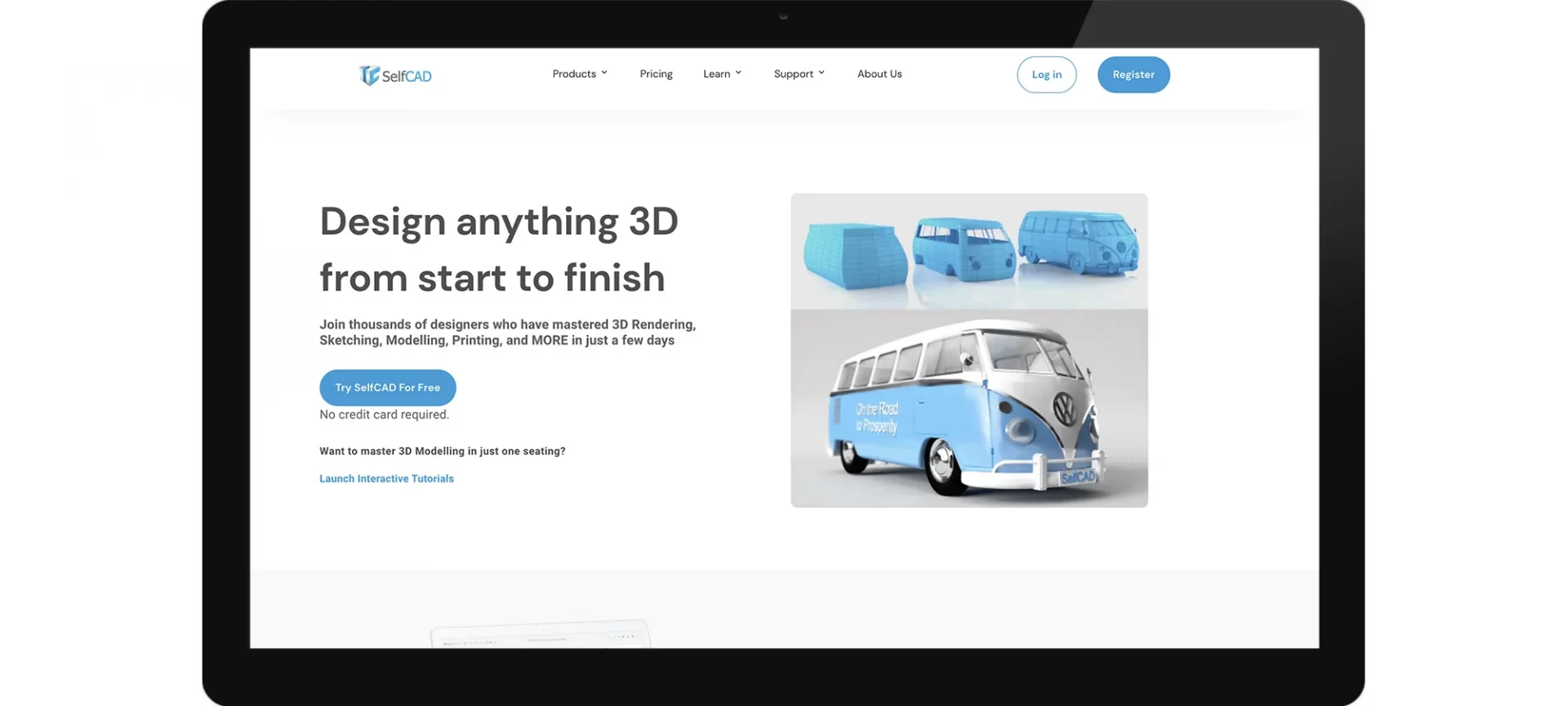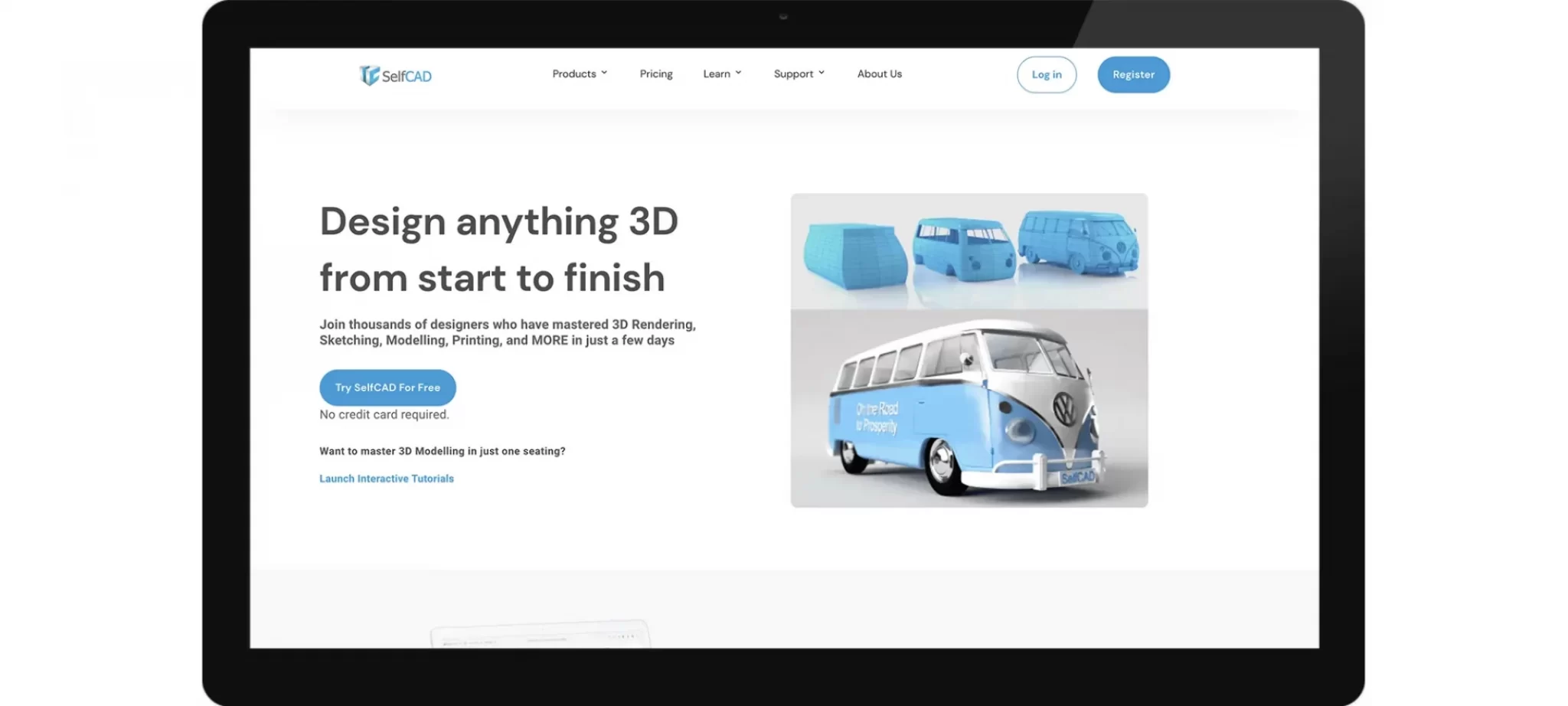 SelfCAD is another interesting software that is a great alternative to ZBrush. It is an online 3D modeling software which is one of the best 3D sculpting software for 2020. It was founded in 2016 by Aaron Breuer and it's now being used by thousands of hobbyists, artists, and students all over the globe. SelfCAD is well known for its most intuitive UI/UX and the diverse artistic and technical toolset that are industry-standard despite its simplicity.
SelfCAD is the only fully-featured and professional web-based CAD software that is very easy to use and affordable. If you're still a beginner or want something that is much easier to use than ZBrush, you should consider this program. It has the following key features:
Digital Sculpting tools:  SelfCAD has powerful digital sculpting brushes that are very to use. Even if you don't have any prior experience in digital sculpting, you can get started quite easily. SelfCAD has greatly reduced the number of sculpting brushes so that only what is commonly used is included. This makes SelfCAD a user-friendly sculpting program when compared to other programs that have hundreds of sculpting tools that confuse the beginners in 3D modeling.
In addition to that, each sculpting tool of SelfCAD can be customized easily. For example, there is an option to change the size, intensity, remesh,  and tolerance of the brushes. Sculpting tools brushes available in SelfCAD include standard brush, Flatten brush, inflate, smooth, crease, move, drag, pinch, twist, and masking brush.
The animation features: You can also animate your designs in SelfCAD. Though it's not as perfect as animation in other programs listed on this article. SelfCAD is a fantastic program for those who want to make quick animations.
Drawing Features: SelfCAD has both freehand drawing and sketching tools that are exceptional. Whatever you can imagine, you can bring it to life easily and you can turn any drawing or sketch into a 3D model at a click of a button.
Texturing Capabilities: There are varieties of textures that you can add to your designs. If you don't find the one appropriate for you you can import your own.
Masking Tools: It has a masking brush that is used to change the texturing process and create complex materials.
Preparing designs for printability: SelfCAD has a magic fix tool that fixes the geometry of the model and ensures that it is printable. There is also an in-built FDM slicer for generating the G-Code that you will send to your 3D printer.
Pricing: $14.99/M or $139.99/Y, and there is a 10-day free trial.
Where to get it: SelfCAD.
Blender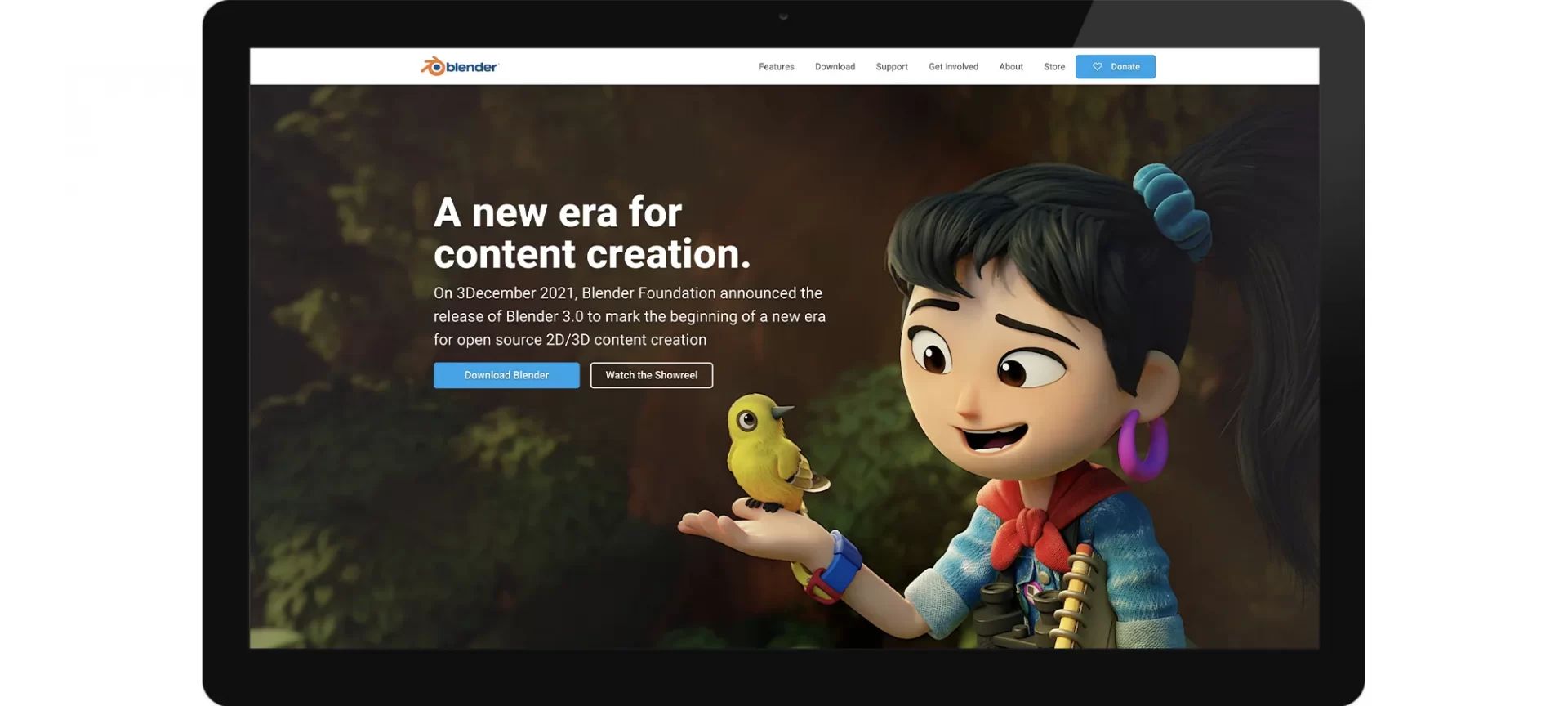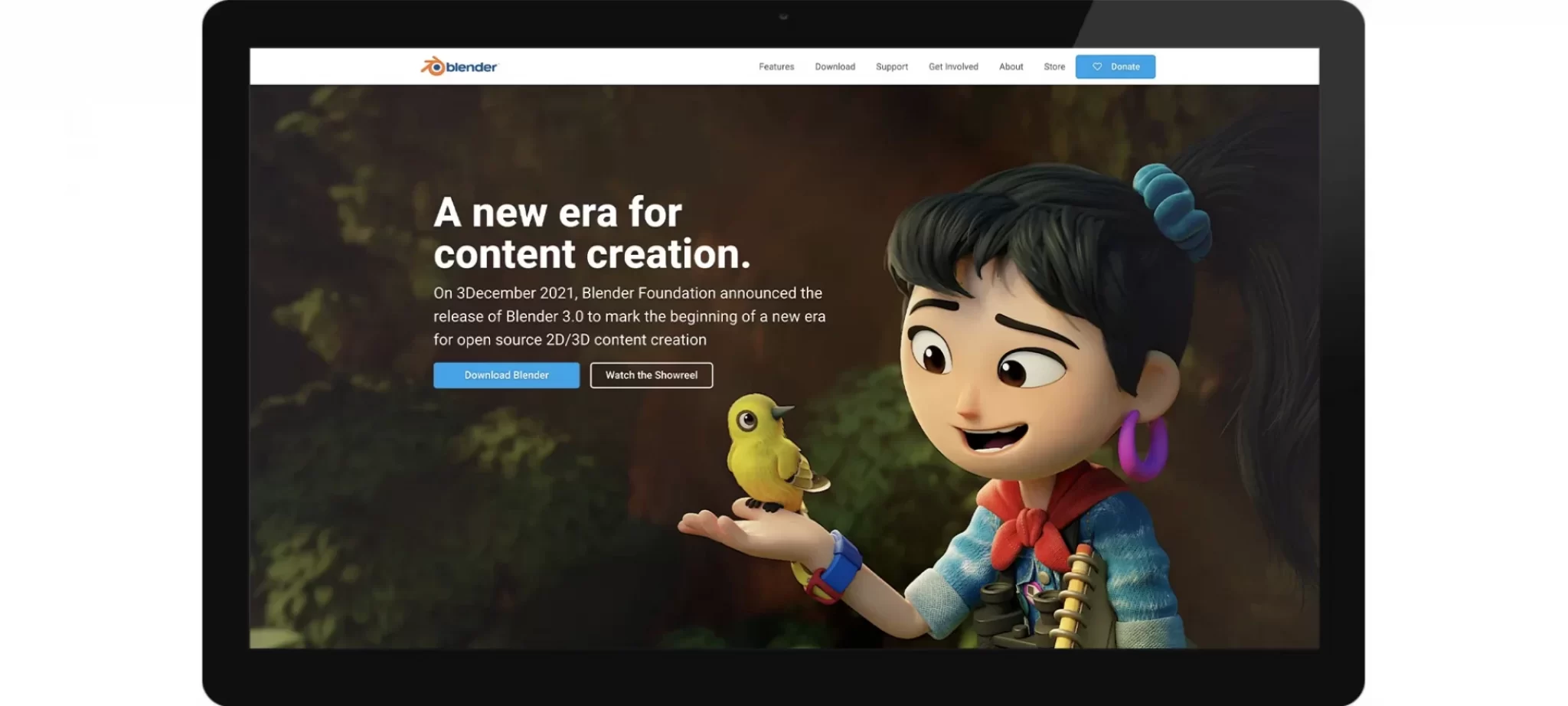 Blender is a free 3D modeling and animation software founded in May 2002. It's an open-source program that was originally created by Ton Roosendaal, a Dutch software developer. Blender is now a public project being used by thousands of people all over the globe by professionals and hobbyists, individual artists and studios, game artists, scientists, animators, and even students.
Digital Sculpting Tools: It has powerful in-built sculpting tools that have been improving since when they were introduced in 2017. The sculpting tools are almost similar to those of ZBrush and useful in creating professional models.
Some of the sculpting tools of Blender include:
Crease used for creating sharp transitions accentuating hard surfaces.
Draw for pulling and pushing surfaces and vertices
Smooth as the name suggests is used for smoothing the models.
Inflate brush makes the model more rounded.
Blob: This tool is used to push meshes inward or outside to form a spherical shape.
Animation Features:  Blender is a powerful animation and rigging software. The animation is the process of making an object change shape or move over time. In Blender, an object can be animated in three main ways, namely:
Deforming: Animating control points and their vertices
Inherited animation: Moving an object in regards to the movement of another one.
Moving the whole object: Changing the size, position, and orientation in time.
There are great animation tutorials that you can follow to help you master the animation fundamentals in Blender quickly.
Rigging is the addition of controls in 3D objects for the purpose of animation. Blender has various rigging features like:
Constraints: that add functionality and control motions that make sense to the rig.
Object modifies: There are multiple modifiers for mesh deformations.
Shape keys: used for controlling target shapes like facial expressions.
Armatures: Makes it easier to have flexible joints in characters. This is mostly used in skeletal animation.
Drawing tools: Blender has drawing capabilities. There are free-hand drawing tools, draw brush, etc. There are other tools to help you in the drawing process like the Erase tool for erasing surfaces and stabilize stroke that makes sure smooth lines are drawn.
Masking tools: It has masking features that artists can use to create complex materials with just a few nodes by changing the process of texturing. You can also speed up the workflow by painting roughness, normal, metallic, and color all at once. Mask tools make it easier to understand node setup
Preparing designs for printability: Blender is optimized for 3D printing. You can design and export your models for 3D printing. You can export your model in .STL format, but make sure that Scene units are selected when exporting to ensure that your scaling is retained.
Pricing: Free
Where to get it from:  Blender.
Autodesk Mudbox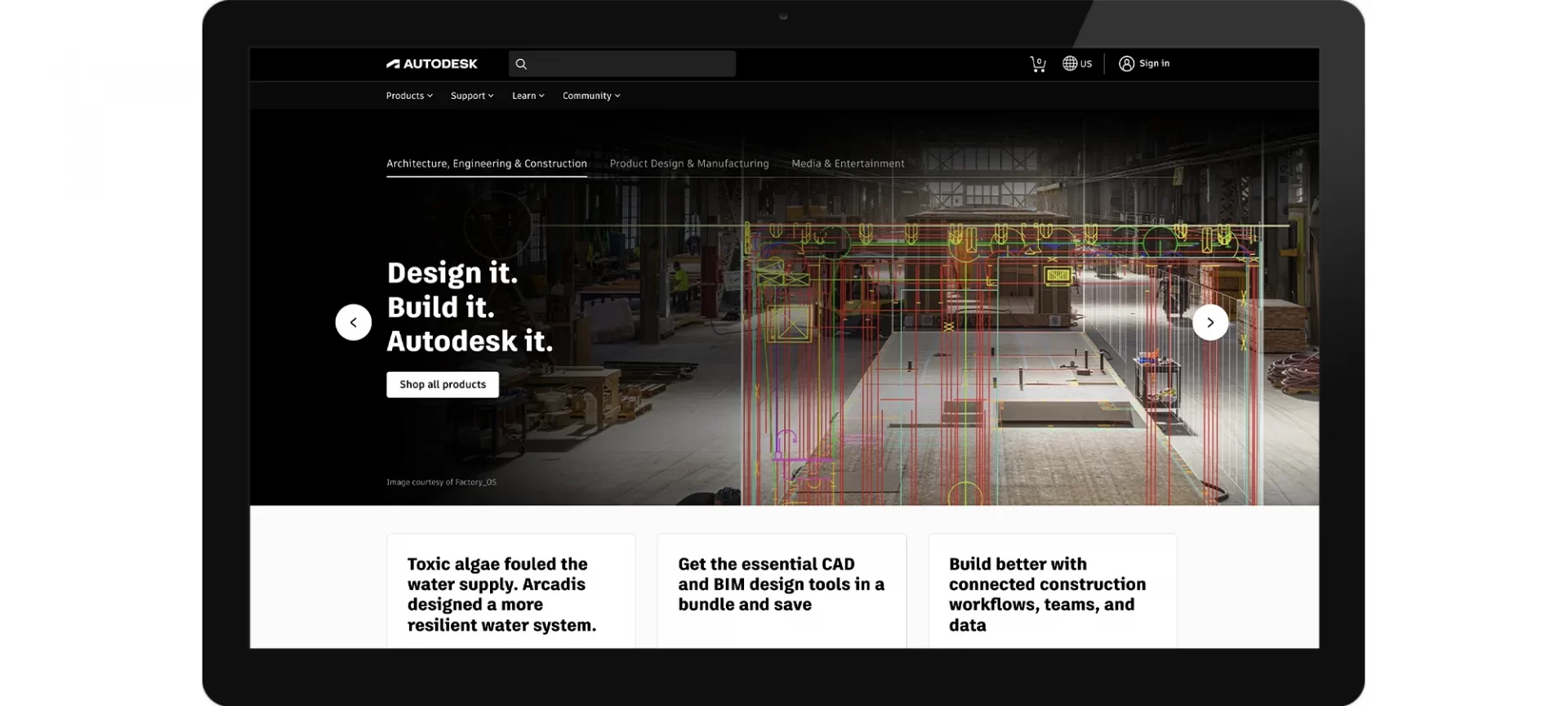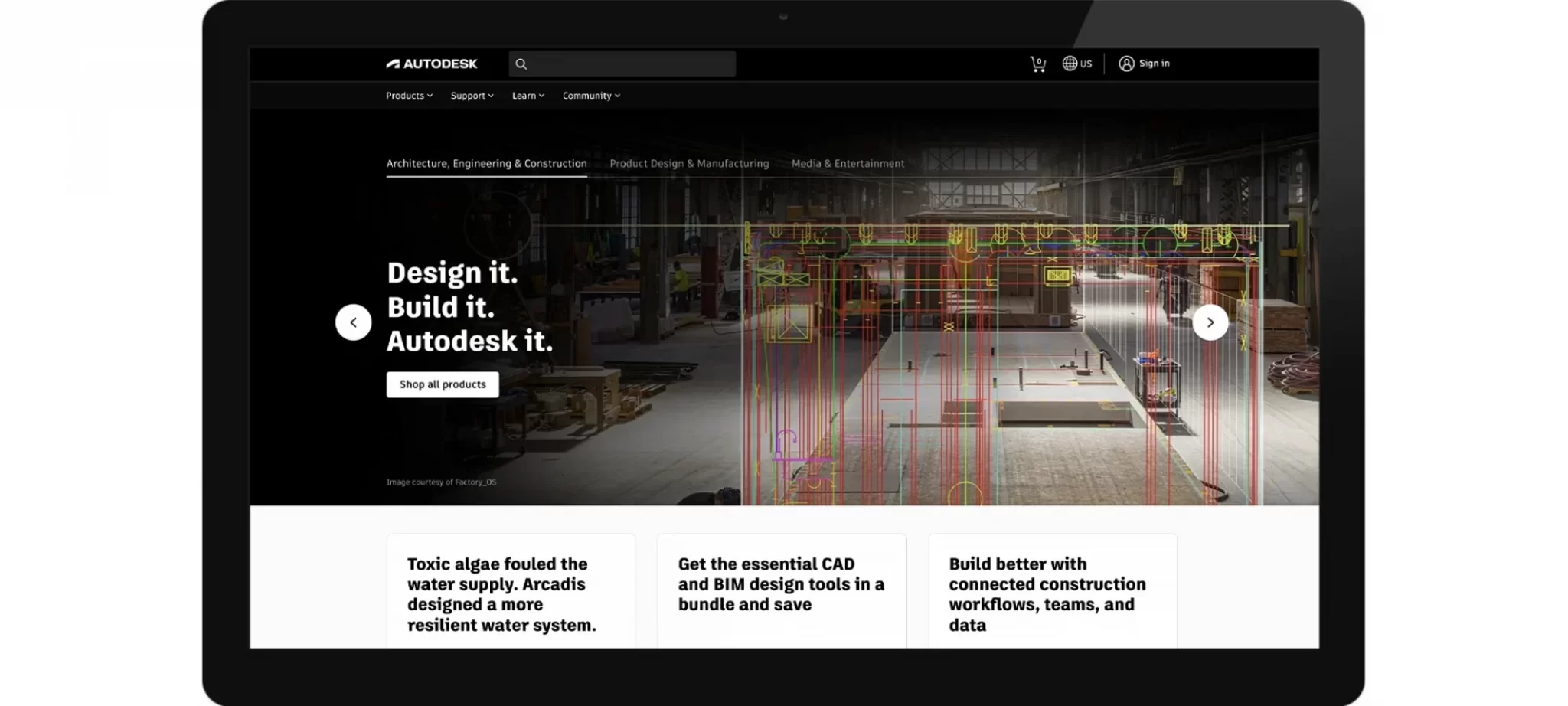 Autodesk Mudbox is a digital sculpting and painting software used for creating highly detailed textures and 3D geometry. It was launched in 2005 by Skymatter then Autodesk acquired it fully in 2007.
Sculpting tools: It's a cheaper sculpting software and this makes it a great program for everyone who can't afford other expensive programs like ZBrush. The Workflow of Mudbox is similar to that of traditional sculpting with clay that entails adding extra polygons. But the difference is, the sculpting tools of Mudbox makes it easier for one to add details that are much harder to achieve.
Mudbox has a powerful intuitive set of digital sculpting tools for creating highly-detailed characters and environments based on real sculpting techniques.
Animation features: Animation tools are present. You can create sequences perfectly, more so when combined with 3DMax.
Drawing Tools: Mudbox can create highly detailed characters with sketching and drawing tools. It's user-friendly, and you can imagine, sketch them and finally design them.
Masking tools: It allows you to work on sculpted parts. You can paint opacity values on the parts that have been sculpted while still maintaining the areas you don't want to be painted.
Preparing designs for printability: Models that can be printed are saved in increments. This is important as one is able to correct errors without necessarily recreating the whole object. It also allows exporting your models.OBJ format.
Pricing: $85 for 1 year, $10 for 1 month, or $230 for 3 years.
Where to get it from: Autodesk.
Sculptris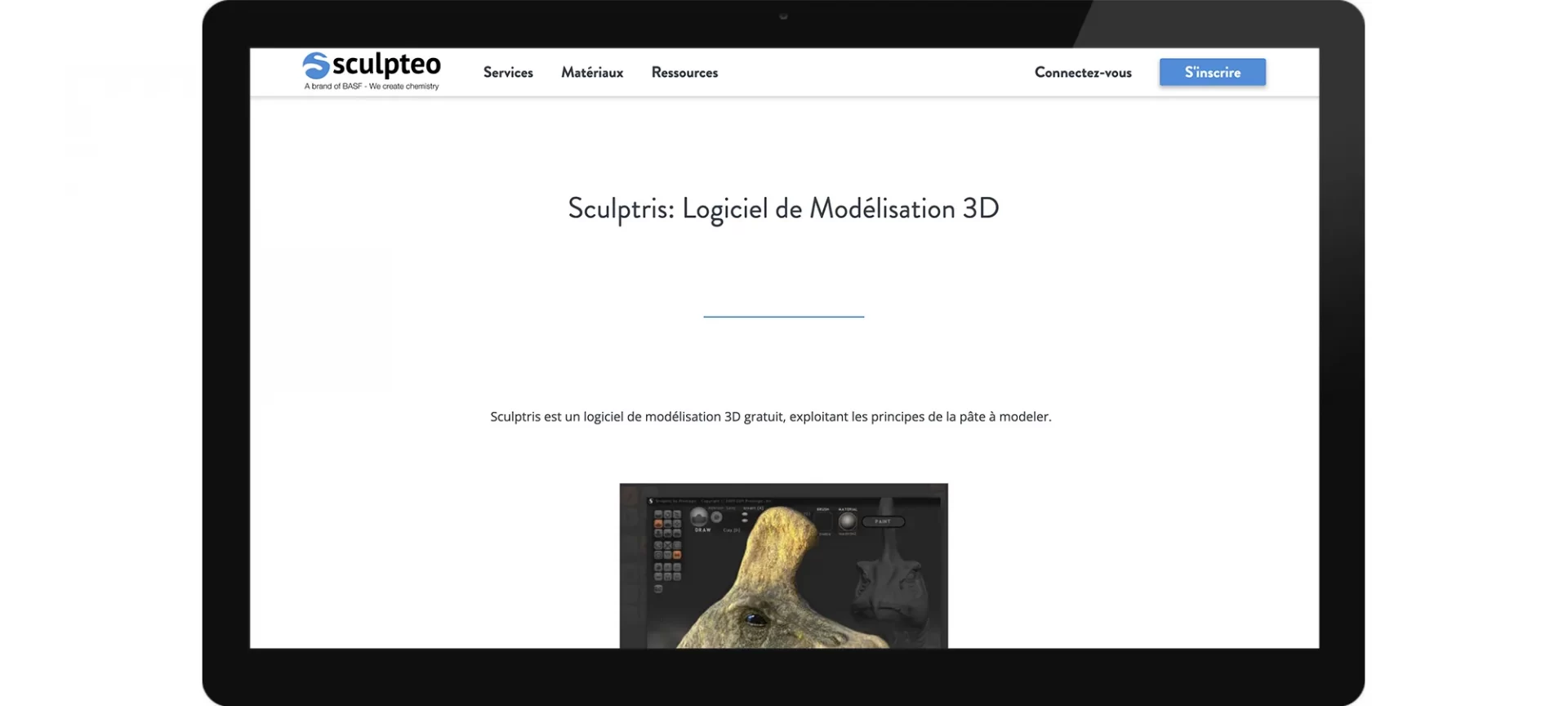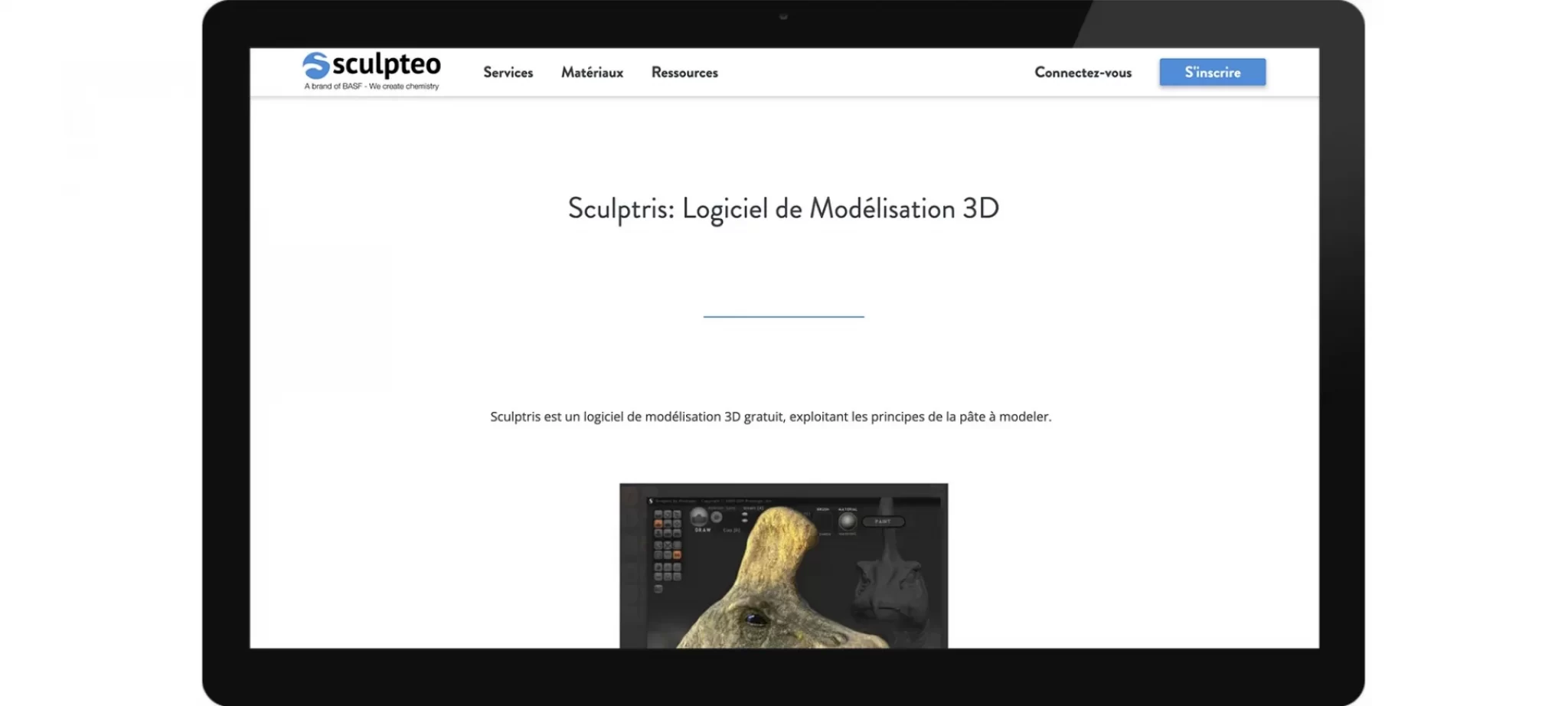 Sculptris is a free 3D modeling software created by Thomas Petterson though currently owned by Pixologic company. It's considered a free version of ZBrush with fewer features. Its array of tools and simple interface makes 3D modeling and sculpting easy.
Though it doesn't have a lot of tools, it can sculpt almost any type of model perfectly and get your job done. It offers a good number of templates that users can use to create 3D models from, this makes the design process faster.
There is a GoZ feature that makes it easier to integrate with ZBrush and other programs and mark systems useful for controlling parts of your model when working on it and there are a variety of materials that you can use for simulation.
Digital Sculpting tools: Has sculpting brushes like crease, grab, flatten, smooth, pinch, and many others useful in digital sculpting. You can also optimize your brushes in order to optimize a localized area.
The animation features: Though you can't animate your designs, you can prepare them for animation. You can do this by retopologizing and rigging the model. Once you've prepared the model for animation, you can export it in. OBJ to Blender or ZBrush for animation.
Drawing features: There is the basic drawing tool that either curve out or adds volume in a model. Drawing brush used for painting layers upon layers and smooth rounded edges.
Texturing features: Sculptris is a very powerful texturing software. There are many amazing texture libraries where you can download and add them to your designs. The texture patterns are also professional.
Masking Tools: Sculptris supports masking. You can draw the mask, edit, even clear the mask easily.
Preparing designs for printability: After modeling your design, you can export them in.OBJ format for 3D printing. Check the article on preparing sculptris models for 3D printing to learn how to model printable objects and export them.
Pricing: Free.
Where to get it: Pixologic website.
Maya 2018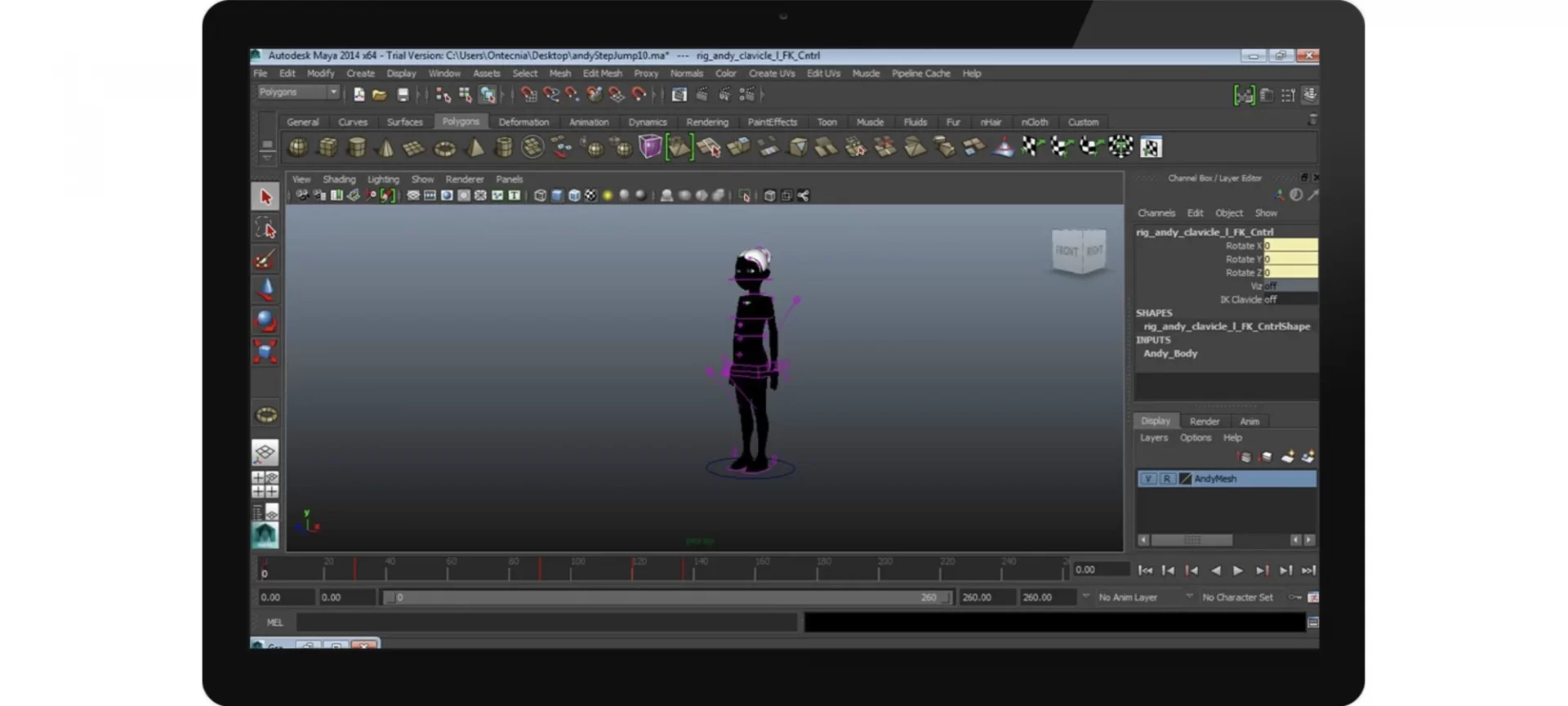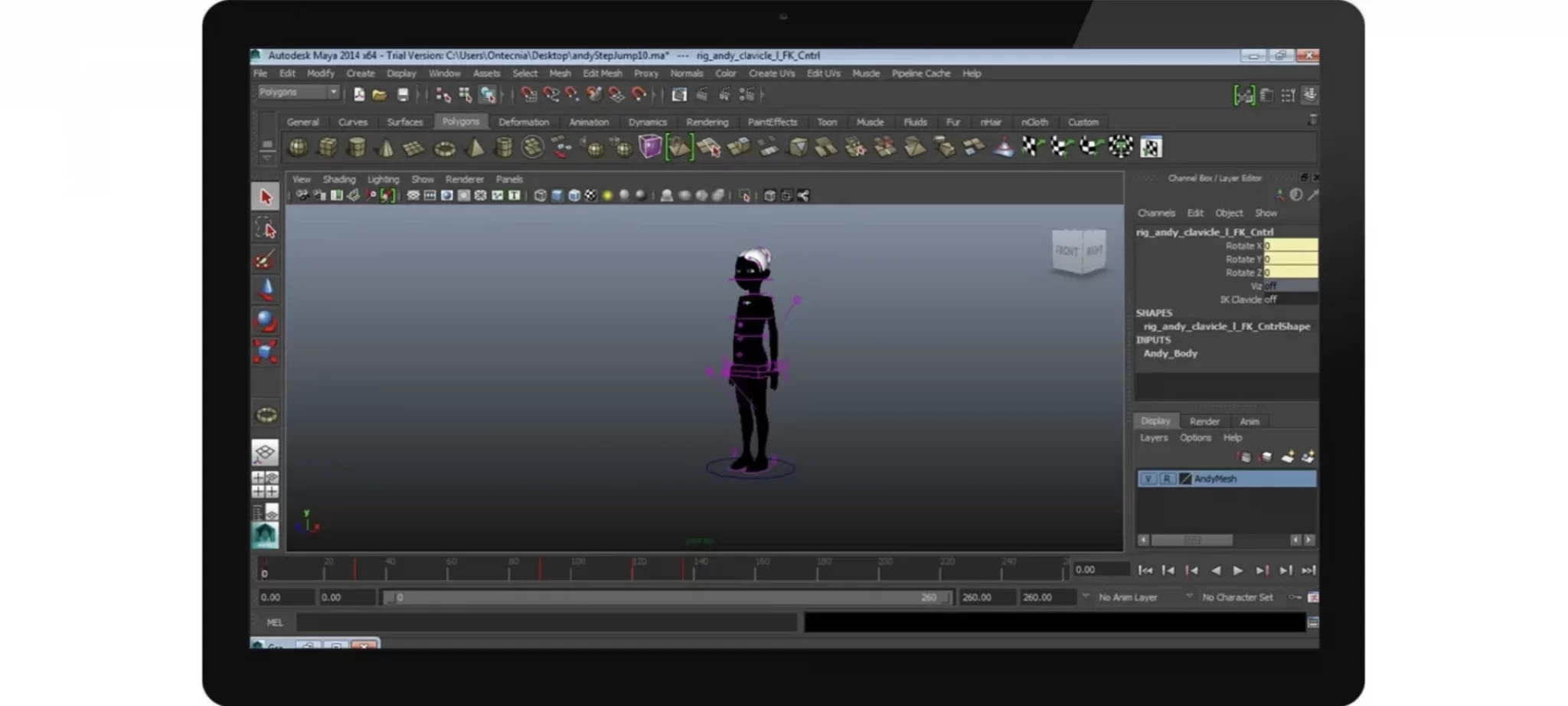 Maya is a 3D modeling and animation software provided by Autodesk. Maya 1.0 was launched in 1998 and Autodesk company acquired it in 2005. It's similar to 3ds Max in its capabilities but it's a bit complex. Maya is mostly used in the film industry, and video game development, and many other industries. Some of its key features related to ZBrush include:
Digital Sculpting tools: Maya has many sculpting tools for shaping and sculpting models intuitively. You can sculpt virtual objects like real 3D objects and the difference is, polygons are used to construct virtual objects instead of clay.
To get more out of Maya, it's recommended to use a graphics tablet, though a three-button mouse works well too.
Animation features: Maya is an industry-standard animation program. There are general animation tools available for keyframe, scripted, and procedural animation. The cached playback feature makes it easier to review animations as you work on them.
There is an animation bookmark for marking, organizing, and navigating events in time. Animators also have access to motion library plugins for use in their work.
Drawing Features: There is a Quad draw tool useful for modeling in an organic and natural manner while preserving the reference surface shape.
Texturing features: In Maya,  supports texturing. See the video tutorial on Youtube to learn how to
Masking Tools: Use mask tools to create bald spots and hairlines. It's also useful in controlling attributes by assigning textures to them.
Preparing designs for printability: Maya has the capacity to ensure that the models being designed for 3D printing are "water-tight". This is done by the use of offset surface features used in creating inner surfaces in your model. Learn more about how this feature is used in the article: Print your Autodesk Maya 3D model.
You can also export your designs in .STL, .OBJ or .vrml formats.
Pricing: $205/M and $1650/Yr
Where to get it from: Autodesk
Cinema 4D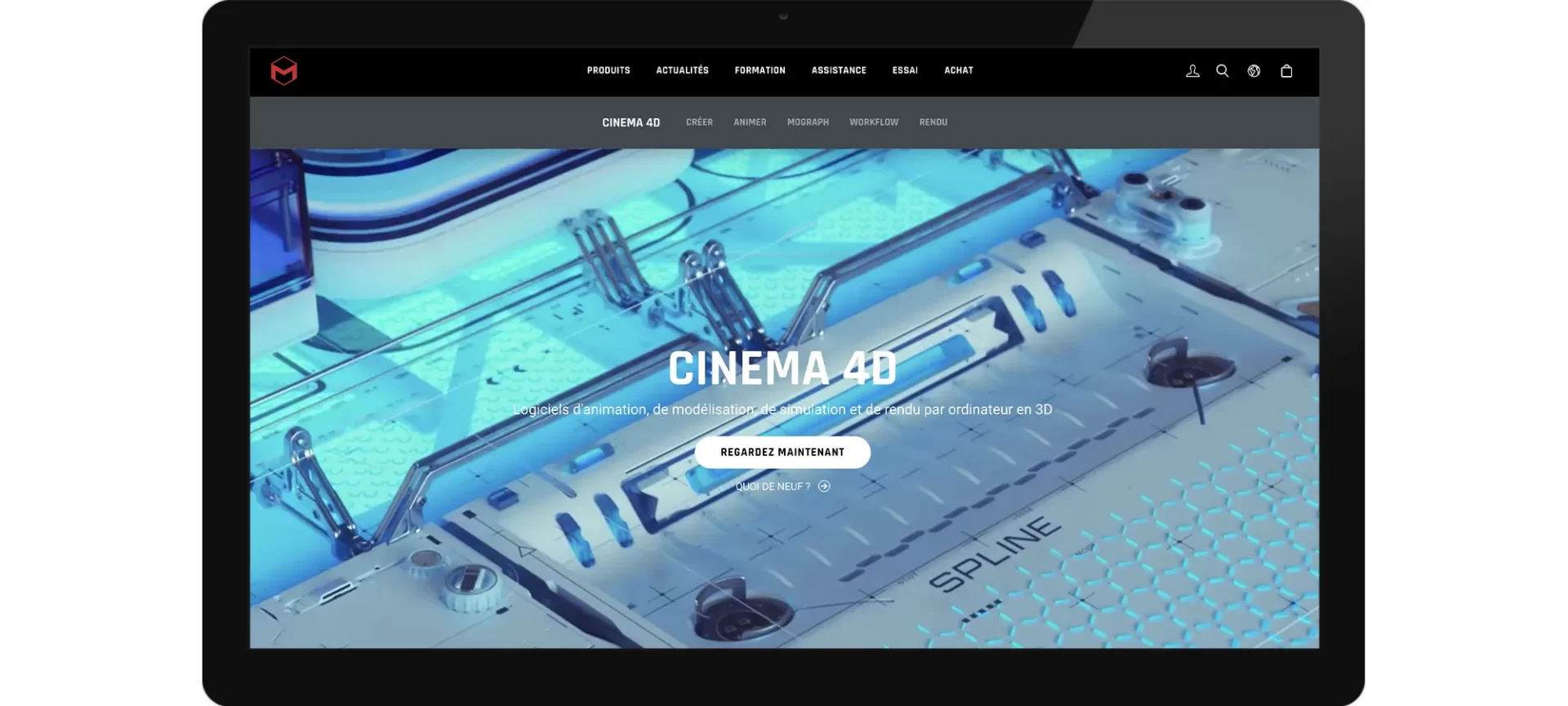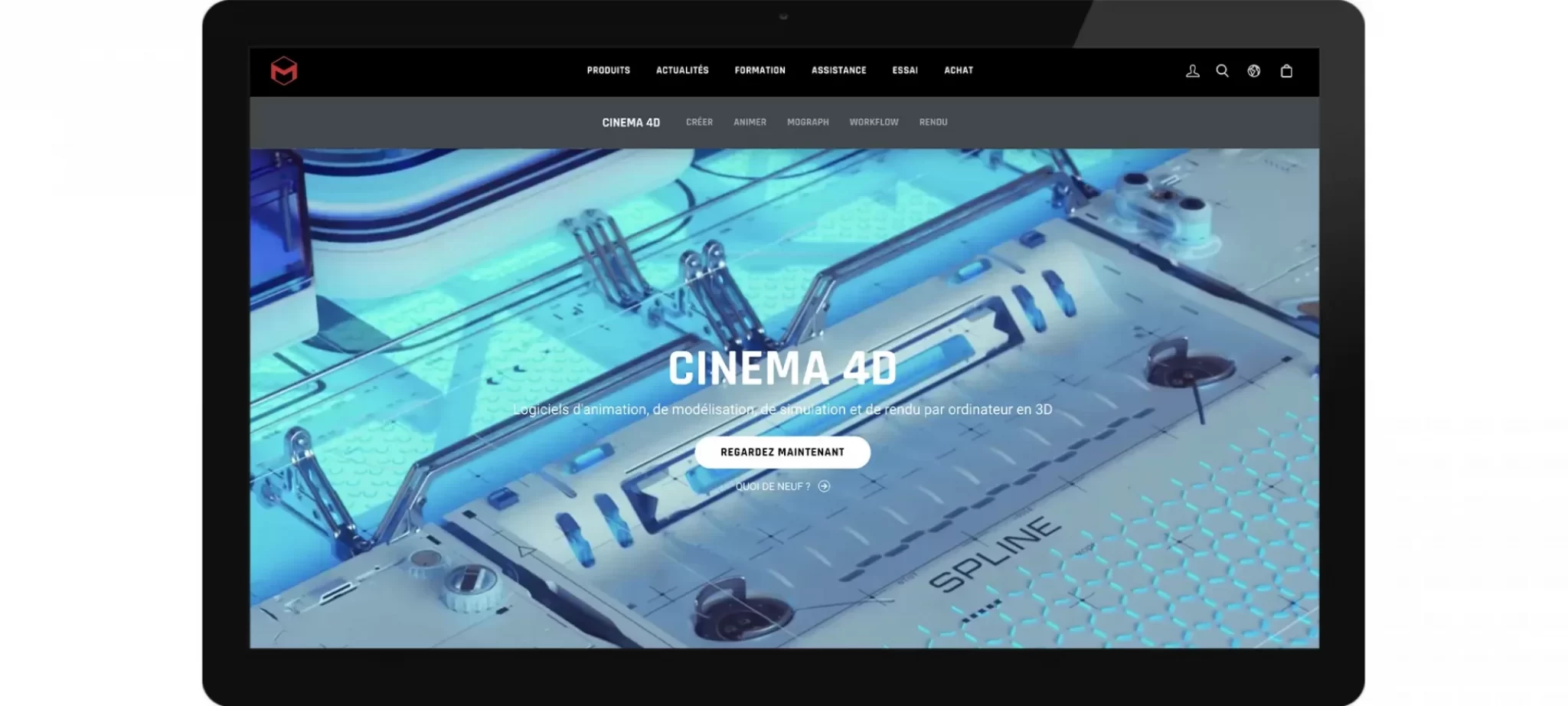 Cinema 4D is a powerful 3D program designed by Maxon, a German company in 1990. Beginners and professionals in 3D modeling can use its many tools to create stunning designs for fast-paced production.
It has a user-friendly interface and powerful toolset that make it easier to create entire 3D models and animations from start to finish. There are also many Cinema 4D tutorials that you can follow to get started quite easily.
Digital Sculpting tools: There are great sculpting tools that are useful in shaping organic designs. You can also incorporate the sculpting tools in other workflows, that is, from baking attributes to creating blending tools and many other things. See this crash course to learn more about sculpting in Cinema 4D.
Animation features: It's scene handling is flexible that makes it easier to handle animation variations. There are range markers helpful in defining animations. Timeline preferences on Cinema 4D make it easier to master animation workflow. In addition to that, you can easily transition from model creation to animation through the use of sculpting to the PoseMorph tool.
The sculpting toolset of Cinema 4D has almost everything needed in tasks requiring 3D sculptings like non-descriptive tasks, wax, and symmetry. Cinema 4D also has an option to project a mesh that has been sculpted onto another.
Drawing features: Cinema 4D has a pen tool useful in sketching, drawing, and smoothing. You can also use it to create and combine paths.
Texturing features: Cinema 4D supports texturing. In addition to using its in-built textures, you can also import your own.
Masking Tools: There are flexible masking features in Cinema 4D. You do both simple and complex masking.
Preparing designs for printability: You can 3D design and export models meant for 3D printing in Cinema 4D.
Pricing: $59.99/M, or $719.88/Yr billed annually. When Redshift is added, the price increases to $81.99/M or $983.88/Yr. It's also $94.99/M or $116.99/Yr billed on a monthly basis.
Where to get it: Maxon website.
Modo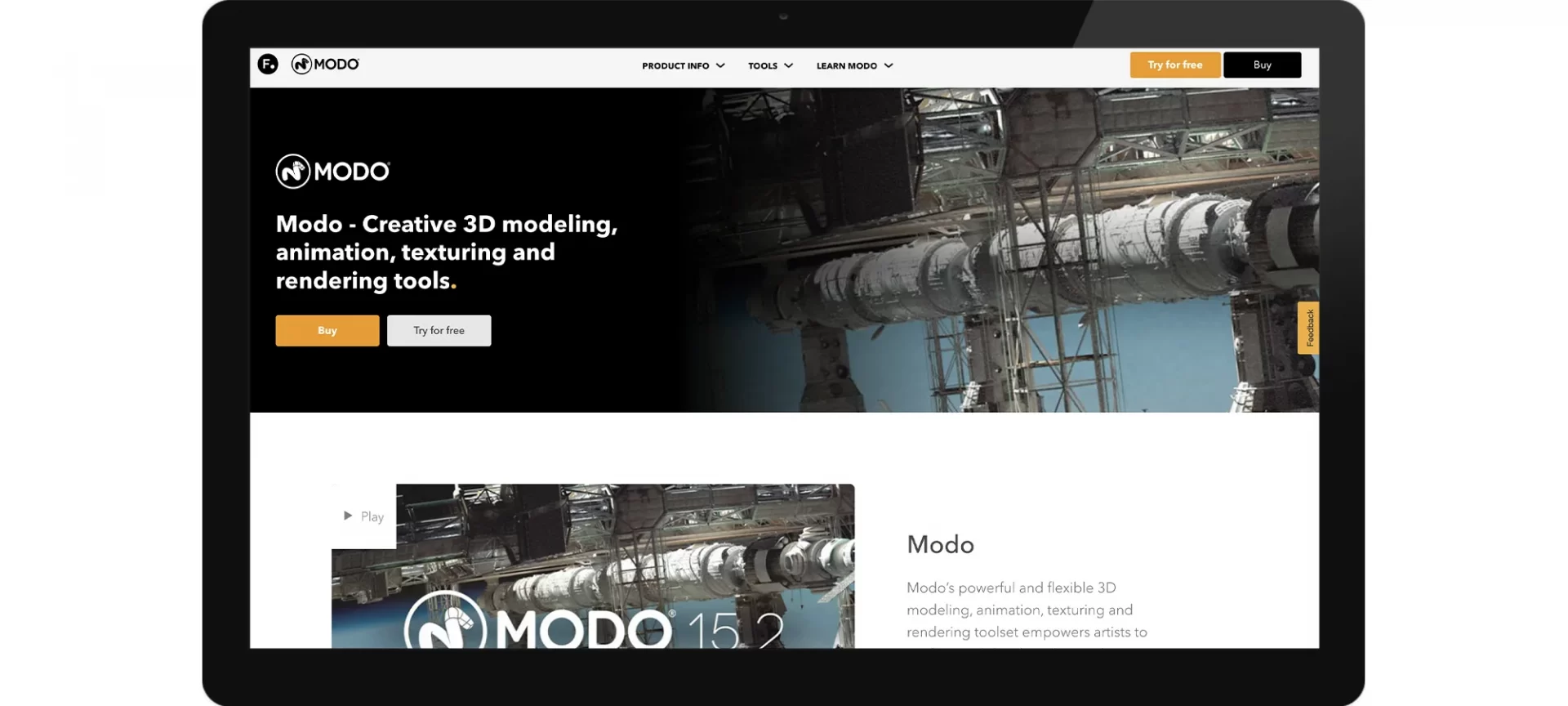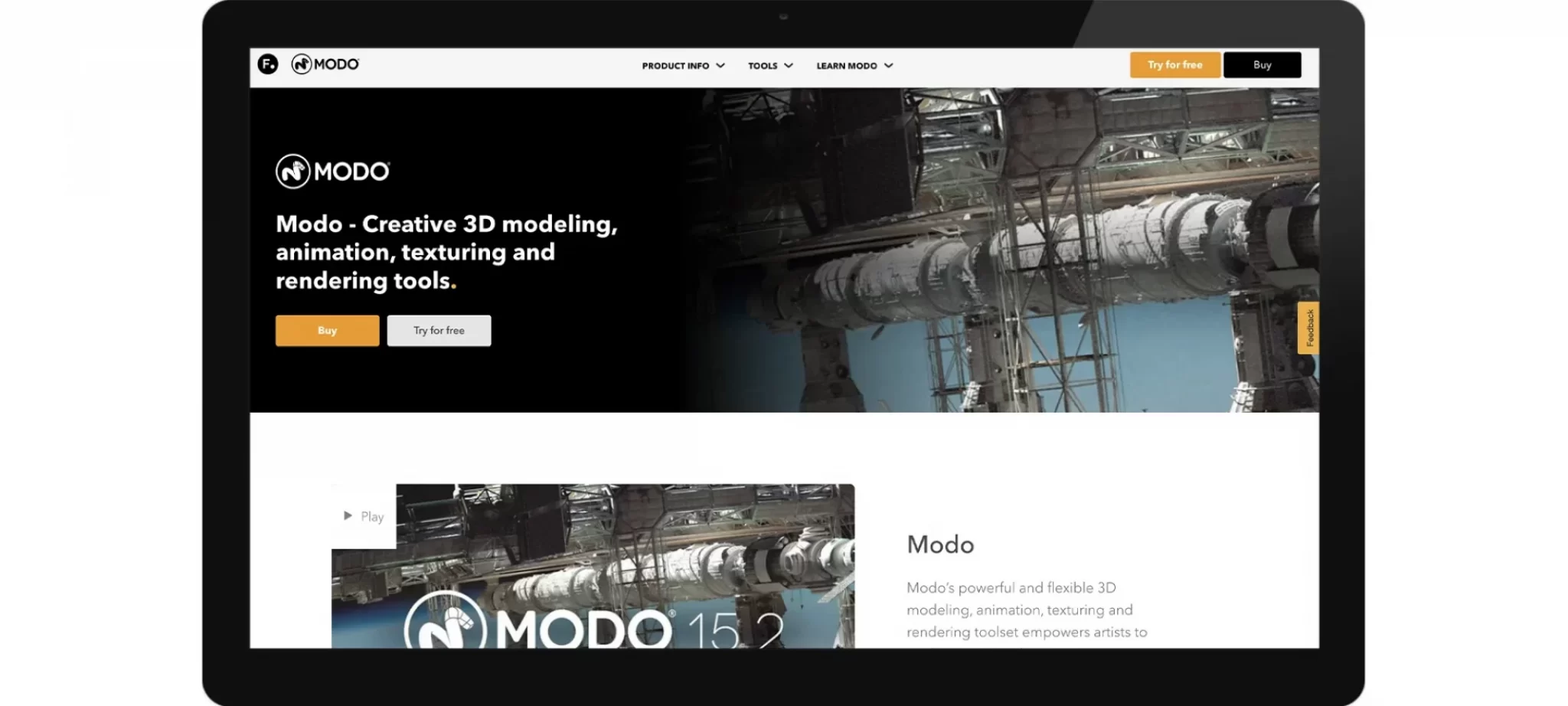 Modo is a flexible and powerful 3D modeling, texturing, and animation software used for creating still and animated models. It was founded by the Foundry Visionmongers in 2004. Modo has artist-friendly tools that make it easier to create real-time experiences, engaging films, video content, and product designs.
It has direct modeling tools, a Boolean toolset that is unmatched, and procedural modeling tools that are very flexible. Modo's toggling hotkeys, navigation and modeling interface, make the working experience really smooth. It contains the following features similar to ZBrush.
Digital Sculpting tools: 
The animation features: Modo has fun and intuitive animation tools. The animation process isn't much though, that is, starting from mesh selection modes like Edges, polygons, and vertices to creating keyframe and actual animation.
Drawing Features: It's sculpting tools are great though they aren't as powerful as those of ZBrush and Cinema 4D. Modo's sculpting tools can be used in hard surfaces as well as organic modeling.
Masking Tools: There is a masking tool and brushes useful in limiting sculpting to specific areas of the model. When using the masking tool, the area masked turns to bright red.  These areas can't be sculpted unless the mask is erased.
Preparing designs for printability: Modo supports export in.STL format.
Pricing: $62/M, or $629/Yr, or a permanent license of $1, 888 for individuals and professionals. There is also a 30-day free trial available.
Where to get it from: Foundry.
Those 7 are true alternatives of ZBrush. Though there are other programs that can fit they don't have all the features that ZBrush has (they miss several tools) like 3Dcoat, Sculptura, and SculptGL.