3D printing is quite a recent technology that has proven itself to be extremely innovative and useful. Gone are the days when you relied on two-dimensional paper printing. 3D printing is the future, and the future is now. 3D printing allows you to turn your craziest ideas into reality.
A 3D printer helps make inventions easier. These printers are an ideal solution for product development. These printers come with many uses. With a 3D printer, you are able to create a real-life, physical object from a digital model.
Whether it's a toy or a spare part for your gadget, a 3D printer lets your imagination run wild while you create new items.  These powerful machines can get your job done with extreme precision, accuracy, and speed.
Initially, 3D printers were known to be huge, expensive machines reserved for factories and corporations. However, these machines are now more accessible than ever.
With the best 3D home printers, you will find this latest technology within your grasp. You can now easily get an affordable 3D home printer for personal use.
Uses of Home 3D Printer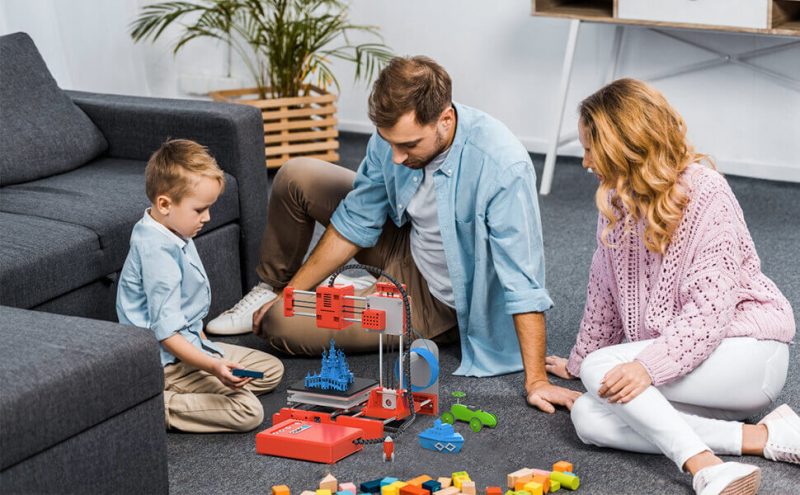 A home 3D printer offers multiple uses. These machines are ideal for in-house manufacturing and high precision prototyping. Having a 3D printer at your disposal can save you money and time while allowing you to use it for different purposes. You can use a home 3D printer in the following ways:
Home Decor
Decorating your home can be an expensive and time-consuming process. You will often find yourself visiting various home décor stores to select your desired items. There can be times where you won't find anything that suits your needs.
However, having a 3D printer at home can change that. With a 3D home printer, the process of decorating your home can get easier and simpler.
You can design items. Whether it's doorknobs, curtain rings, photo frames, table lamps, or much more, you can make your own style of objects using a home 3D printer.
Spare Parts for Maintenance
Finding spare parts for your machines is not an easy task, especially when the design of certain parts gets outdated. In situations like these, a home 3D printer can prove useful. Using a home 3D printer, you can design spare parts in little time.
You can even use the printer to repair broken items, such as kitchen items or jewelry. The great thing about 3D printers is that you have the creative control so you get to customize designs.
Gifts and Toys
There are many occasions in a year where you have to give gifts to your family and loved ones. However, it can be difficult to get something personalized for them.
For this purpose, you can design and make gifts using a home 3D printer. You can modify designs to your own preference. A 3D printer will allow you to make anything from kitchenware to toys, and so on.
3D Printer for Hobbyists
3D printing can be technical but it's also a fun process. You can make 3D printing a hobby in order to kill your time. Even when you don't have financial goals, a 3D printer can be utilized to print fascinating objects.
You can experiment and let your imagination run wild while creating different models or objects. And with a home 3D printer, you can experience this joy and creative zone within the comfort of your home.
Comparison Chart
| Name | Link | Nomination | Overall Rating |
| --- | --- | --- | --- |
| Monoprice Voxel | | Editor's Choice | 9.8 |
| Lulzbot Mini 2 | | Premium Pick | 9.5 |
| FlashForge Adventurer 3 | | Best Usage | 9.2 |
| SUNLU S8 | | Strong and Sturdy | 9.4 |
| Formlabs Form 3 | | Most Reliable | 9.7 |
| Ultimaker 3 | | Runner-up | 9.2 |
| XYZPrinting Da Vinci Nano | | Best Budget | 9.1 |
| Toybox 3D Printer | | Most Practical | 9.2 |
| SainSmart x Creality Ender 3 | | Strong and Durable | 9.4 |
| Polaroid PlaySmart | | Small and Portable | 9.3 |
List Of 10 Best Home 3D Printers
Monoprice Voxel
As a company, Monoprice is best known for its electronic products and they offer the best 3D home printers, as well. The Monoprice Voxel is an entry-level home 3D printer that is beginner-friendly.
If you are just starting out with 3D printing, this particular home 3D printer is ideal for you. The 3D printer is extremely easy to set up as it comes fully assembled with sample 3D models and filaments. You can begin printing as soon as you take it out of the box.
This unique printer has a built-in 2.8" color IPS touch screen. The touch screen allows you to easily navigate between printer functions while the menu system is simple and easy to use.
With a user-friendly screen, you can easily select different models that are already built-in and stored inside the machine. The machine also comes with a single-tap assisted bed leveling system that is easy for anyone to use.
Monoprice Voxel also features a quick nozzle change system. Unlike other home 3D printers, the Voxel allows you to change the nozzle in seconds.
While many other 3D printers require tools for this process, the Voxel allows you to do this without the need for any kind of tool.
The home 3D printer also has a filament sensor that allows you to load the filaments easily. The sensor recognizes once you are on a low filament level and puts a halt to the printing process until you reload the filament.
The home 3D printer comes with a removable and flexible plate. although the plates withstand temperatures up to 60°c.
Along with this feature, the printer has an auto-leveling feature, which allows you to easily adjust the nozzle and bed distance using the IPS touch screen.
Lulzbot Mini 2
Committed to high-quality production, Lulzbot is known to make the best home 3D printers. Lulzbot's Mini 2 3D printer is 24" x 18" x 13" in dimensions.
This black steel-framed home 3D printer weighs only 26.5 pounds, making it easy to transport and handle. The Lulzbot Mini 2 is easy to set up, as you only need to unpack it and remove the foam rubbers that it comes with.
Lulzbot Mini 2 can print high-quality models at high speed, making it a significant time-saver. Mini 2 has a belt-driven Z-axis that allows for accurate, high-speed alignment. The printer ensures that print quality is not compromised with its high-speed printing.
Mini 2 can also perform standalone 3D printing as it is fully independent. The printer can easily be connected to your internet and perform functions in your absence.
Lulzbot Mini 2 comes with a modular print bed system, which replaces the typically heated build plate. With this system, you can easily switch from a standard PEI bed to a raw glass surface.
The system allows you to split up the heater from the print surface that makes the plate easy to remove.
If you ever disconnect from power, Mini 2 has a custom circuit board that acts as a brake. This brake prevents the Z-axis from failing.
The 3D home printer also has a more constrained filament path that is more compatible with different filaments.
FlashForge Adventurer 3
The FlashForge Adventurer 3 is a fully loaded 3D printer. The printer has a build volume of approximately 150 x 150 x 150 mm, and a layer resolution of 0.1-0.4mm.
This 3D printer is compatible with different filament materials, including PLA, ABS, Pearl, and so on. Its print bed can reach a maximum temperature of 100°C while its nozzle can go up to 230oC
The FlashForge Adventurer 3 has a number of interesting features, including the full-color touch screen that allows for easy operation.
The printer also comes with a detachable, removable, and flexible heated build plate, filament detector, and much more.
SUNLU S8
The SUNLU S8 is one of the best home 3D printers and is relatively inexpensive. SUNLU S8 comes with a complete printing kit that includes PLA filament, SD card, needle, nozzle, tool kits, and more.
This printer has a compact and comprehensive design. With a basic frame design, this printer can fit any desk and is easy to handle and transport.
The printer has a printing size of 310 x 310 x 400 mm. The printer allows you to work with a variety of filaments to produce unique models and designs.
The S8 3D printer has filament detection sensors, which pause the function if you run out of filament or if your filament breaks.
The printer also has a resume printing function, which allows you to start printing where you left it off.
With a unique design, this printer is one of a kind.
Formlabs Form 3
Formlabs makes use of high-end SLA technology to produce excellent home 3D printers. Its Form 3 model comes with many great features and is based on Low Force Stereolithography.
The home 3D printer allows you to print with great detail at high speed. The 3D printer has an optical system that has a 40% smaller laser point, which allows for great precision while the dense laser spot allows you to produce accurate prints.
The Formlabs Form 3 allows for repeatable prints as well as remote printing. If you want to print a model in your absence, the Form 3 printer will do so.
Using an internet connection, the printer will start printing as soon as you have the files ready. This home 3D printer provides perpendicular printing so that your models have defined edges.
Form 3 printer is easy to maintain and is ideal to use at home. The model has a small footprint, with dimensions of 40.5L x 37.5D x 53 cm. The build platform can accommodate multiple items at a time.
The model's print time depends on the amount of resin used. However, quicker print time can be achieved when you do not mix the resin between layers. The model has a resin tank that can be cleaned up easily after use.
Ultimaker 3
Ultimaker has made many advancements by introducing its latest model. Ultimaker 3 comes with a white plastic design with dimensions of 13.5 x 15 x 15.5 inches.
This model offers innovative FDM printing with flexible support, making it a contender for the best home 3D printer.
Ultimaker 3 comes with two swappable print cores. With these cores, you can print from two reels of filaments at a time. This means that your model can include two different colors or materials.
The Ultimaker 3's print bed is a glass sheet with a heating element. You can remove the glass sheet easily while printing larger models.
Ultimaker can support a wide range of printing materials, including PLA, ABS, CPE, nylon, and so on. It can work with high-temperature materials easily as the print bed can reach up to 212o F.
XYZPrinting Da Vinci Nano
XYZ has made a name for itself in the 3D printing industry. Da Vinci Nano is considered to be one of the best home 3D printers. This entry-level 3D printer is an affordable option that has a lot to offer with its advanced features and high-quality printing.
Da Vinci Nano is an ideal home printer that is safe to use due to its enclosed chambers. The printer comes with an auto-filament feeder that does not require you to monitor the material settings constantly.
The smart printer technology can recognize the material being fed to the printer and therefore, modifies the settings accordingly.
Da Vinci Nano is based on FDM technology. With auto-calibration, Da Vinci Nano takes care of all the tasks themselves. The printer has an automated design that is ideal for beginners.
The printer comes fully assembled and has the easiest operation. The printer also has a removable print bed that you can take out once the printing process is complete.
Toybox 3D Printer
Toybox 3D printer offers a convenient way of producing toys for children. The printer comes with built-in toy designs, which makes it easier to select and print.
New toys are added to the catalog so that you have new and innovative designs. The 3D printer even offers you the option of creating your own toy design with the product's creator space feature.
Toybox 3D printer comes with simple controls. The printer features an LCD touchscreen with a user interface. The screen shows you the status of the printer along with other basic settings that you can easily control.
The printer can be connected to a Wi-Fi device to establish printer control from other devices.
Toybox has made 3D printing a simple and easy job.
SainSmart Ender-3 3D Printer
The Ender-3 is one of the best home 3D printers made by Sainsmart. This entry-level home 3D printer is ideal for beginners. The printer has a compact design that makes it easy to handle and transport.
Despite being compact, the home 3D printer offers a build volume that is 6x greater than other home printers.
The Ender-3 is highly precise in its function. It comes with a CNC machine's Y-axis that accounts for precise positioning while printing.
The printer is also noiseless while it works as it has a V-slot POM wheel. This wheel allows the nozzle to glide smoothly without making any noise.
Ender-3 rarely clogs while printing due to its patented extruder design. The printer also has a heated bed that can reach its design temperature in a limited time.
Polaroid PlaySmart
With a sleek and stylish design, the Polaroid PlaySmart 3D printer is an appealing addition to any house. This home 3D printer is easy to set up and operate.
PlaySmart is truly one of the best 3D printers as it comes with some unique features.
Polaroid PlaySmart features a small camera above its print area, which allows it to monitor prints as well as produce time-lapse videos.
The 3D home printer stores its filament on a separate holder outside the box. With a visible filament holder, you can keep track of the quantity of your filament while using it.
PlaySmart also comes with an easy-to-read LCD controller. This smart touch technology is extremely responsive and allows you to operate the printer easily.
The 3D printer can be connected to the PlaySmart app, which allows you to control the printer at the ease of your phone or laptop.
The printer comes with a modeling program that also includes .stl and.OBJ formats. These formats allow you to adjust your models according to your likings.
The PlaySmart printer has fast printing technology that produces smooth prints in a limited time. The 3D home printer uses different printing materials including but not limited to PLA, P-wood, and PETG.
Buyer's Guide
To make an informed decision on buying the best home 3D printers, we compared the products on multiple criteria. You should look for the following criteria before buying a 3D printer for your house:
Print Resuming Function: Power supply can often be unreliable, which is why you need a printer that has print resume features. These features can ensure that your model production isn't disrupted if there is any kind of interruption. This feature allows you to resume work from where you left off, instead of starting a fresh model.
3D Printing Quality: In order to end up with a high-quality model, your printing quality needs to be exceptional. This is one of the critical features that you need to check while selecting a 3D printer for your home.
User Interface: Since 3D home printers are ideal for beginners, a high-quality interface can result in an extraordinary experience. This feature helps you save time that you might have spent navigating through the settings. A touchscreen user interface can make navigation much easier.
Heated Bed: A heated bed can ensure that the foundation layers for your model are well-formed. This feature ensures that an ideal temperature is established that can result in a solid model
Printing Speed: A high-speed 3D printer allows you to work on different projects in little time. An ideal 3D printer does not compromise on printing quality while maintaining high printing speed.
Frequently Asked Questions (FAQs)
What Type Of Materials Can You Print With It?
3D printing can be done with a wide variety of materials. Some 3D printers will support resins, while others can support filaments including PLA, ABS, CPE, nylon, and so on.
What Objects Can You 3D Print?
3D printing is becoming popular and is now becoming a part of our everyday use. Various materials can easily be printed with a 3D printer, including spare parts, kitchen items, appliances, toys, décor items, welding fixtures, brake lever, metal bracket, motor housing, vase, jewelry, water bottles, and so on.
Is There A Limitation To What Shapes You Can 3D Print?
3D printing allows you to build any shape that you desire, depending on the scale. Some 3D printer models come with built-in model designs that you can use for printing.
With 3D printing, you can customize and design models. You can let all your creativity out with this. 
Conclusion
There are different types of home 3D printers and each of them has unique features, which makes them different.
From the printers reviewed above, XYZ Da Vinci Nano is the most cost-effective 3D home printer that is ideal for use at home. It helps to print small prototypes and bring the ideas to life.
Although Polaroid PlaySmart is one of its kind and provides unique features, the device is not an affordable option.
The Monoprice Voxel proves to be the jack-of-all-trades. It has multi-function capabilities and is made up of advanced engineered technology.
The device might be beginner-friendly but it has all the features that an advanced home 3D printer could have.
All these home 3D printers have unique selling points and this article provides the ultimate buyer's guide for those looking for the best home 3D printers.