MakerGear M3-ID 3D Printer
If you are looking for a professional 3D printer that meets most of your requirements, MakerGear M3-ID could be your best. And, it becomes crucial to find out why.
PROS
Easy to setup
True leveling
Independent dual extruder
Great print quality
Higher reliability
Professional print results
The heated and removable print bed
High nozzle temperature of up to 300 degrees Celsius
Mimeo Mode
CONS
Expensive for home users and makers
Product
Specification
Videos

Although the printer comes with dual extruders, it uses the independent dual extrusion system for 3D printing. Makergear M3-ID is all that one wants ...
| | |
| --- | --- |
| Model | M3 Dual (M3-ID) |
| Manufacturer | MakerGear |
| Price Range | $ 3299 |
| Release date | 2017 |
| Country | Sweden |
| Availability | Available |
| Classification | Desktop |
| Technology | Extrusion (FFF- FDM…) |
| Material | ABS, Carbon fiber and composites, Other plastics, PLA |
| Filament diameter | 1.75 mm 0.07 in |
| OS compatibility | Linux, Mac OS, Microsoft Windows |
| Generic material | Yes |
| Max. build size | 203 × 254 × 203 mm 7.99 × 10 × 7.99 in |
| Max. build volume | 10.47 L |
| Max. print speed | 450 mm 17.72 in /s |
| Min. layer thickness | 0.02 mm 0.001 in |
| Dimensions | 533 × 610 × 420 mm 20.98 × 24.02 × 16.54 in |
| Weight | 12 kg 26.46 lb |
| Nozzle diameter(s) | 0.35 mm 0.01 in |
| Power input | 100 – 120 V (4 A)/220 – 240 V (2 A) | 47 – 63 Hz100 |
| Heated print bed | Yes |
| Heated build chamber | No |
| Automatic calibration | Yes |
| Closed frame | Yes |
| Dual extruder | Yes |
| Independent Dual Extruder | Yes |
| Full color | No |
| LCD screen | No |
| Touchscreen | Yes |
| On-board camera | No |
| Mobile app | No |
| 3D scanners | No |
| CNC mill | No |
| Electronics 3D printing | No |
| Laser engraving | No |
| Conveyor belt | No |
| Air filter | No |
| Pellet extruder | No |
| USB | Yes |
| Wifi | Yes |
| Bluetooth | No |
| SD card | Yes |
| Ethernet | Yes |

Table of Contents
Surfaced in 2017, the MakerGear M3-ID brought the most innovative experience for 3D printing users. The company released two of the variants, one with a single extruder and another with a double extruder.
M3-ID is the later one with better results and higher functionality. Although these both 3D printers made sure to leave many competitors behind, M3-ID did make the most unique appearance.
Its powerful features backed by the independent dual extruder system made every professional fall in love with the machine.
To find out more, let's progress to the complete MakerGear M3-ID review that aims at assessing different perks and limitations of this 3D printer.
When the company designed its M3-ID variant, it already did a great job. However, after the testing period, it did release its revision 1 with slight changes to the features which included an improved bed leveling system and few other upgradations.
This further increased the popularity of the machine. The company introduced some of the most fascinating changes to the existing design which made many competitors take notes of the same.
If you are looking for a professional 3D printer that meets most of your requirements, this could be your best. And, it becomes crucial to find out why.
Hence, read the complete article to know what the printer entails and what you may have to compromise with when choosing this machine for your applications.
Features
Many 3D printers often fail to perform as they claim. However, this one is not those machines that make fancy promises and cannot stand up to the expectations of their users.
Making itself separate from that league, M3-ID fills in for a complete package. You get almost every benefit that you are willing to achieve when spending on an expensive 3D printer.
Sitting in the mid-range, the 3D printer is offering great features. Here is a list of some of the major features that make this printer a delightful experience to work with.
Open Frame: The 3D printer is compact and can easily accommodate limited space. Best for small offices and homes. The filament spool holder placed at the sides of the printer does not interfere with the build space. Hence, providing users with complete space for creation.
Sturdy Body: The all-metal frame makes this printer really reliable and sturdy. With higher speed, you do not have to worry about vibrations. The machine will print smoothly letting the users create precise and accurate designs.
Independent Dual Extruder: Although dual extrusion can also be found on budget 3D printers, the result varies greatly. Instead of forcing different filaments through one path and extruding through a single nozzle at once, this 3D printer makes use of two independent print nozzles. This means that one can print using both the print head simultaneously.
Using such an extrusion system helps in eliminating the problems of contamination from different filaments with oozing. Plus, it provides for cleaner breaks between the change of the materials.
Not just that, the Mimeo mode lets users divide the print bed into two different workspaces. And, the users can print two similar parts by making the extruders work at once for reducing the work time.
Print in Multiple Filaments and Colours: This is so obvious with dual extruders, isn't it? And, this 3D printer is no different. You can print two different materials at the same time as well as with two different color options. Hence, providing users with high flexibilities to turn their imagination into something amazing.
Support for Soluble Material: Those who work with designs needing support do understand the hectic post-processing steps that may take away the shine and smoothness of the surface of the parts. This is really frustrating. However, with soluble supports, one can skip the post-processing methods and easily separate the support by submerging the parts inside the liquid. This results in a smoother finish.
True Leveling: Also known as assisted leveling, the 3D printer lets users calibrate the machine with better precision and accuracy. As claimed by the manufacturer, the true leveling system is much more accurate than auto-leveling. And, it is easy to accomplish as well. One does not need to go through the manual calibration hassle. However, at the same time, it isn't as easy as auto-leveling. But that does not matter as long as the results are so mesmerizing.
WIFI Enabled: When working with a 3D printer that needs a constant connection with a computer, it becomes difficult to utilize the two devices separately when printing is on. Hence, a standalone design is much more appreciated by 3D printing users. This 3D brings with itself the WIFI enabled connection which lets one control the printing remotely using a smartphone as well.
Heated Print Bed: The 3D printer embodies a heated print bed. Hence, offering a stronger first layer adhesion. It further helps in minimizing the chances of warping. Letting users print without worrying about printing related issues. The glass bed with PEI coating also does contribute to the better first layer adhesion. And, it is easier to take off the parts out of the bed after printing completes.
Removable Build Plate: Unlike most of the open frame 3D printer that does not provide a removable build plate, this printer does include the same in its design. This is to ensure that the users do not have trouble when removing the printed parts out of the build surface.
Specifications
MakerGear M3-ID is a compact 3D printer with a total volume of 533 x 610 x 533mm. This includes the movement of the filament spools at the sides of the printer too. The printer weighs 13.5 kgs and is very handy to shift from one place to another.
The package occupies 535 x 535 x 635mm of volume and weighs around 19 kgs. This is manageable too. The print volume differs for both the extruders.
For one print head, the volume is 203 x 228 x 203mm. And, for the other one, the build space is 180 x 228 x 203mm. In case, you wish to print in Mimeo mode, you will have the same build space for both the print heads, i.e. 100 x 228 x 203mm.
It comes with a nozzle size of 0.35mm. However, it allows for swappable print heads. This provides users the freedom to achieve varying results in terms of resolution.
MakerGear M3-ID offers a nozzle temperature of 300 degrees Celsius which is capable of printing with almost all the materials available for FDM 3D printers.
The extruder travel speed is 450 mm/sec which is again commendable. The print bed can reach a temperature of about 130 degrees Celsius. This further helps in working with distinct choices of material with different properties.
Price
The 3D printer costs $3299. This price includes the shipping charges as well. Considering the cost of the printer, it is pretty clear that the machine is not for fun use.
But it is for those who are wanting to expand their creativity to fulfill the professional needs. Hobbyists and enthusiasts can also opt for the MakerGear M3-ID if they are willing to pay more than usual.
First Impressions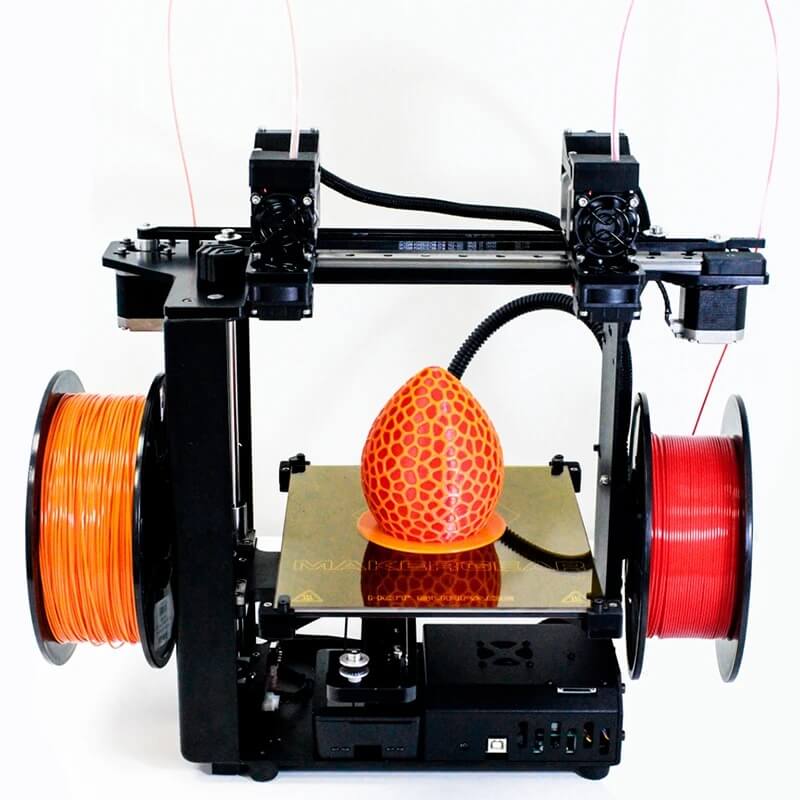 Right after you receive the package, you would be able to gaze at the standard of the company. The box is well secured with every possible trick applied to keep the printer safe inside.
The use of proper packaging helps keep the machine snuggled inside, away from any mishaps.
The box isn't too heavy and easy to handle. After you unbox, you would find the 3D printer sitting assembled inside the package. Along with the printer, there are few other accessories as well.
You also receive a software license for Simplify3D 4.0. with few more accessories. There is a power cable, toolset as well as two 1 kgs of sample PLA.
Inside the box, you also get the manual with lots of instructions for setting up your 3D printer for the first time.
Setup
As you know the setup of assembled 3D printers isn't a hectic job, this one surely is a breeze to start for the first time. You get all the components attached to the printer.
You just have to snap the extruders inside and the print bed to start with the leveling process. And, do not forget to load the filament before you go ahead with the assisted bed leveling.
The best part is that the manual is very elaborative. And, it feels like following simple steps without much of a hassle. You need to go through the touch probe measurement followed by the assisted leveling.
Later, it's the 9-point mesh measurements. This helps in achieving the necessary adjustments to avoid any inconsistencies with the print bed.
After you have completed the setup, you can go straight to printing your first sample.
Print Quality
MakerGear M3-ID is designed for professional use and it surely justifies its worth by offering high-quality prints. You can achieve varying layer heights ranging between 20 to 350 microns. Also, you can create complex designs and fine details seamlessly.
Software
Octoprint makes it super easy to print using MakerGear M3-ID. With preloaded filament profiles, one can go ahead with one-touch file preparation.
It offers design-to-print integration. Hence, letting users print with ease. The entire setup is very useful for beginners. And, if you are an expert, you can give rest to your skills for some time and let this smart 3D printer do the job.
Customer Service
When you receive the 3D printer, you get the manual to set up the machine. However, your questions may not limit to those few instructions. For the same reasons, the company offers guides and instructions on their website along with many FAQs.
You can even contact the company for any problems related to the 3D printer. They offer 12 months of limited warranty. And, replacing failed components do not take much time. With a highly responsive team, you can get your job done in a matter of time.
Parameters Influencing Buying Decision
Yes, there are certain facts that you must uncover before buying the selected 3D printer. In this case, the MakerGear M3-ID review helps you take an informed decision based on the following parameters that matter the most.
3D Printer cost: The printer falls in the mid-range, making it a difficult buy for makers looking for a cheap option. It is for professional use though.
3D Print quality: You can trust this 3D printer to offer high-quality print results. With layer height ranging from 20 to 350 microns, you can definitely create impressive parts. Plus, with varying finish and speed.
3D Print speed: Print speed is amazing too. With Mimeo mode, you can accomplish tasks 50 percent faster by printing two similar parts at once.
3D Printer capability: This amazing professional 3D printer lets you create complex designs without any hassle. You can create finer details as well as increase the layer height to surge the print speed.
3D Printer Practicality: Made for professional users, the 3D printer can accomplish various applications. For instance, you can create prototypes as well as end products using this machine.
3D Printer User expectations: It is clearly one of the best professional 3D printers at this range. Hence, satisfying the expectations of its users at par.
The Verdict
MakerGear M3-ID review clarifies the doubts of users and brings the most charismatic features of the machine at the forefront.
The 3D printer has the latest technology with pre-loaded material profiles to help beginners start their first few prints with confidence. A worth option for those looking for unmatched print quality.