FlashForge Finder Lite
FlashForge Finder Lite 3D printer is for beginners and home users. You cannot plan to use the device for specialized applications. However, it does provide enough room for creativity and experience gathering.
PROS
Easy to setup
Assembled and compact
Removable Bed
Assisted bed leveling
Affordable
CONS
No automated calibration
Only prints with PLA
Not suitable for professionals or serious users
Product
Specification
Videos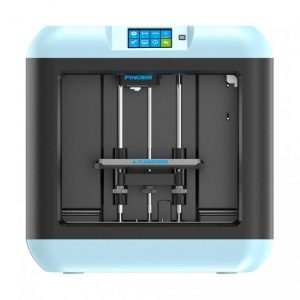 Searching for a 3D printer that takes up not more than minutes to setup? The Flashforge Finder Lite is what you are looking for. Your efforts for bed ...
| | |
| --- | --- |
| Model | Finder Lite |
| Manufacturer | FlashForge |
| Price Range | $ 279 |
| Release date | 2019 |
| Country | China |
| Availability | Available |
| Classification | Desktop |
| Technology | Extrusion (FFF- FDM…) |
| Material | PLA |
| Filament diameter | 1.75 mm 0.07 in |
| OS compatibility | Mac OS, Microsoft Windows |
| Generic material | Yes |
| XY accuracy | 0.1 mm 0.004 in |
| Max. build size | 140 × 140 × 140 mm 5.51 × 5.51 × 5.51 in |
| Max. build volume | 2.74 L |
| Max. print speed | 120 mm 4.72 in /s |
| Min. layer thickness | 0.1 |
| Dimensions | 420 × 420 × 420 mm 16.54 × 16.54 × 16.54 in |
| Nozzle diameter(s) | 0.4 mm 0.02 in |
| Heated print bed | No |
| Heated build chamber | No |
| Automatic calibration | No |
| Closed frame | Yes |
| Dual extruder | No |
| Independent Dual Extruder | No |
| Full color | No |
| LCD screen | No |
| Touchscreen | Yes |
| On-board camera | No |
| Mobile app | No |
| 3D scanners | No |
| CNC mill | No |
| Electronics 3D printing | No |
| Laser engraving | No |
| Conveyor belt | No |
| Air filter | No |
| Pellet extruder | No |
| USB | No |
| Wifi | No |
| Bluetooth | No |
| SD card | Yes |
| Ethernet | No |

Table of Contents
FlashForge Finger series isn't too new. It's been there for almost over half a decade now. However, to keep up with the latest updates and technological advancements, the company often comes with upgrades and new feature addition.
Finder Lite is just another progress towards a more enhanced future. The FlashForge Finder Lite review would deal with the various aspects of the 3D printer, positive as well as negative, to help users make an informed decision.
After the retirement of FlashForge Finder, this one seems to be the closest clone of it. Definitely with more feature sets and added functionalities.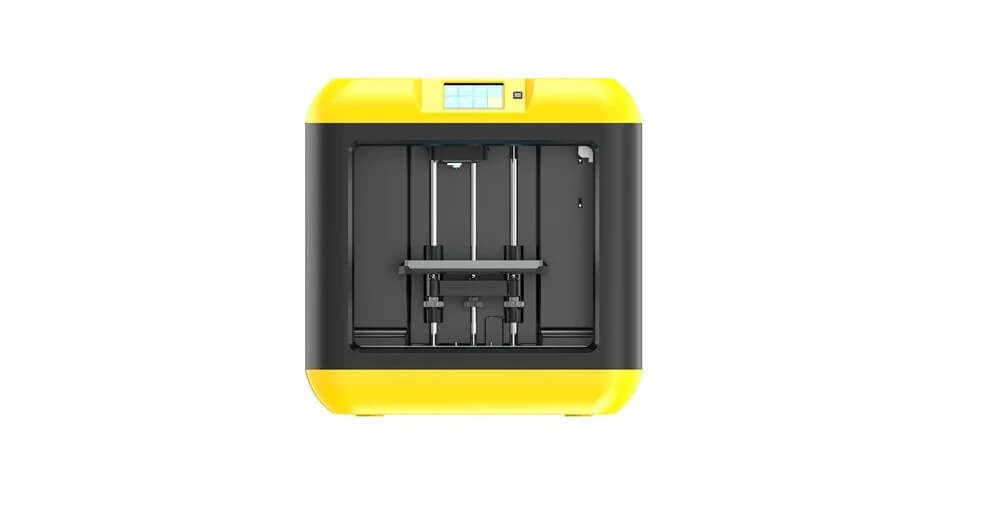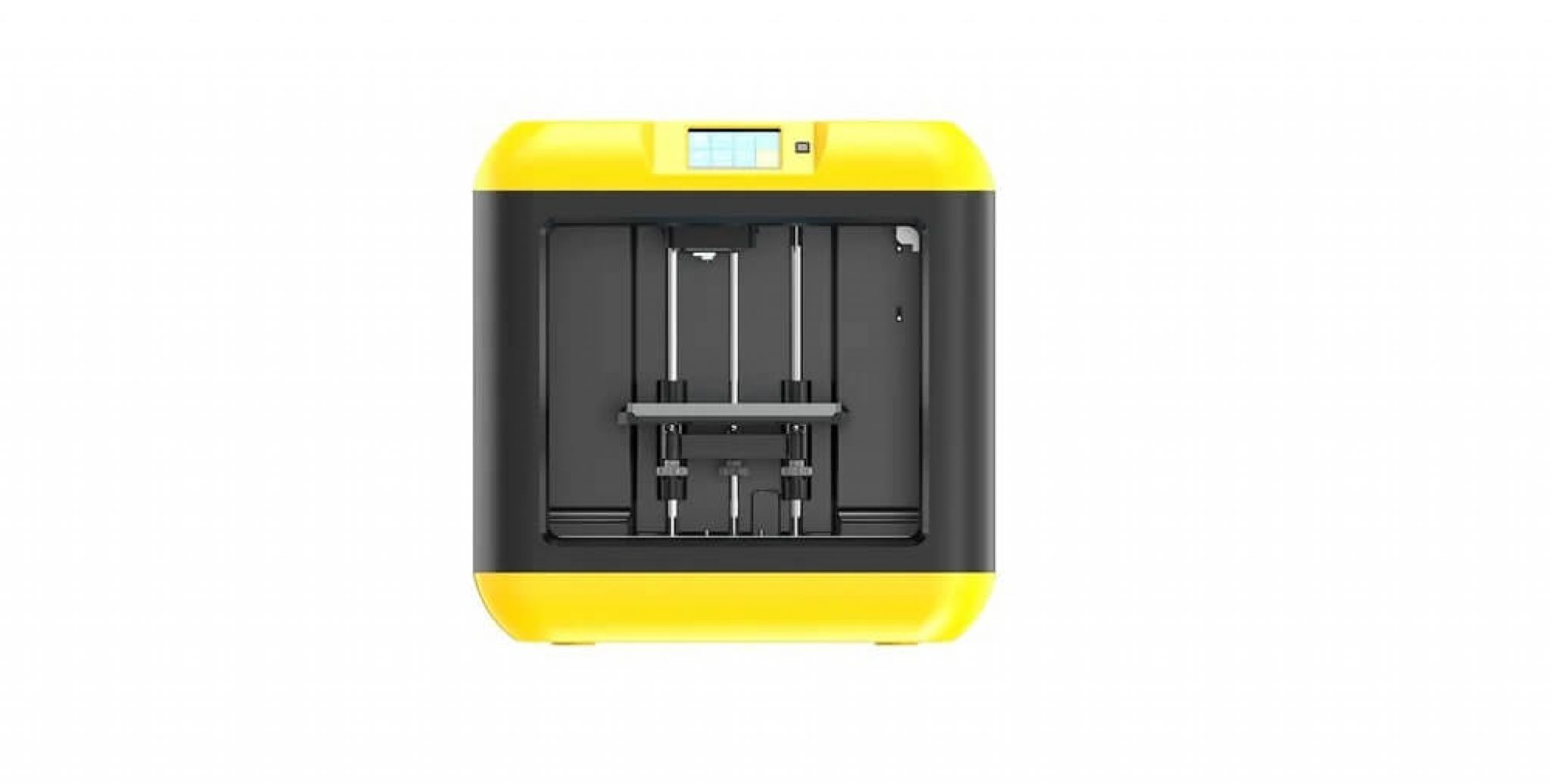 Finder Lite claims to be offering similar ease of use for its users with more room for creation and advanced tools. You may find a lot of specification of the Finder and Finder lite similar such as the build space, there is a huge difference that set these apart.
Created for beginners, the 3D printer simply put accessibility and hassle-free operation at its forefront. It does call it cheap, however, some may find the price tag a little more worth for some extra loaded features.
We would discuss all that in detail. So, keep in sync while we take you through the ins and outs of this compact and attractive FlashForge Finder Lite.
And, not to forget, it does bring with itself a variety of color choices for users. If you think that matters, you would certainly love to explore through the options.
Features
FlashForge has always advertised its printers to be the best choices for beginners. The selling point does make sense looking at the consideration given to the set of features available with Finder Lite.
Assembled: Unlike DIY Kits, this 3D printer comes fully assembled. You just need to put inside the print bed and the filament spool to complete the look of the machine.
Compact: With a compact stature, the 3D Printer looks really attractive and snuggly. You can keep it anywhere you want. Also, it is easier to shift the places of this small machine. You don't need anyone to give you a hand with that. Just pick it up and place where you want to use it, either your living room, study room, or even bedroom.
Safe: When considering the requirements for beginners, this feature tends to be one of the most important ones. 3D printers are equipped with electrical parts, heated electronics, and a lot of other components that can cause accidents. However, with Finder Lite, you do not need to worry about those problems. With most of the sides framed and electrical parts built inside the printer's body, you get to enjoy the safest 3D printing experience.
Touchscreen Interface: Giving the 3D printer, the most aesthetic touchscreen interface, the company has provided Finder Lite, out of the box appearance. The touchscreen has almost every necessary setting you need to start printing. Hence, offering users with a complete set of tools right on the printer itself.
Noise Less: Being covered from most of the sides would give you a hint of this feature anyway. Yes, the 3D Printer does not make noises. A little bit of hum is there. But that won't disturb you or anyone close to the 3D printer.
Removable Print Bed: Do you know how messy it could get when trying to remove the parts from the print bed after the work is over? It could even break. Isn't that a complete irony? We do need a build plate that helps stick the first layer strongly. However, in turn, we make things complicated when wanting to pull off the part from the bed after it's printed. But with a removable build plate, this problem isn't too scary. You can take out the bed and can easily scrap the part from over it using the right tool.
Assisted Bed Leveling: Instead of manual bed leveling, the company has introduced its unique assisted bed leveling feature that it claims to be easier to follow. However, there are few reviews that suggest that the feature only makes the process difficult for beginners and is very confusing. If you ignore just a few bunches of such feedback, others do have appreciated the company's thoughtfulness. It does not take much to calibrate the machine with the help of assisted leveling and it does make a difference.
PLA Compatible: Are you a professional looking for flexible options with material choice? No, right. Because looking for Finder Lite means you are mostly a beginner and an enthusiast or a home user. If that is so, printing with PLA would at most suffice your needs. Moreover, you do not have to worry about changing the settings, once incorporated. Because you anyway won't be working with other filaments. So, calibration values would remain the same.
No Harmful Fume Emission: Once again the benefit of working with PLA. PLA is made of biodegradable material and does not emit harmful fumes like ABS. Hence, it is safer to work with this machine, especially for beginners.
Color Options Available: This time, the company has come up with even more options in terms of color. How about a shining Yellow? You do have other choices as well. Just browse through the different colors and choose the one that matches the interior of your house. Isn't that fascinating? For some, it is.
Specifications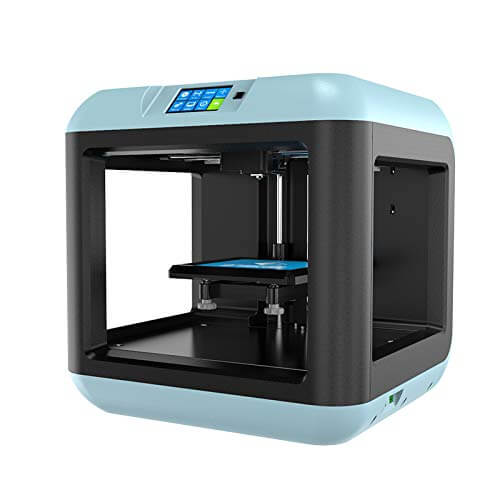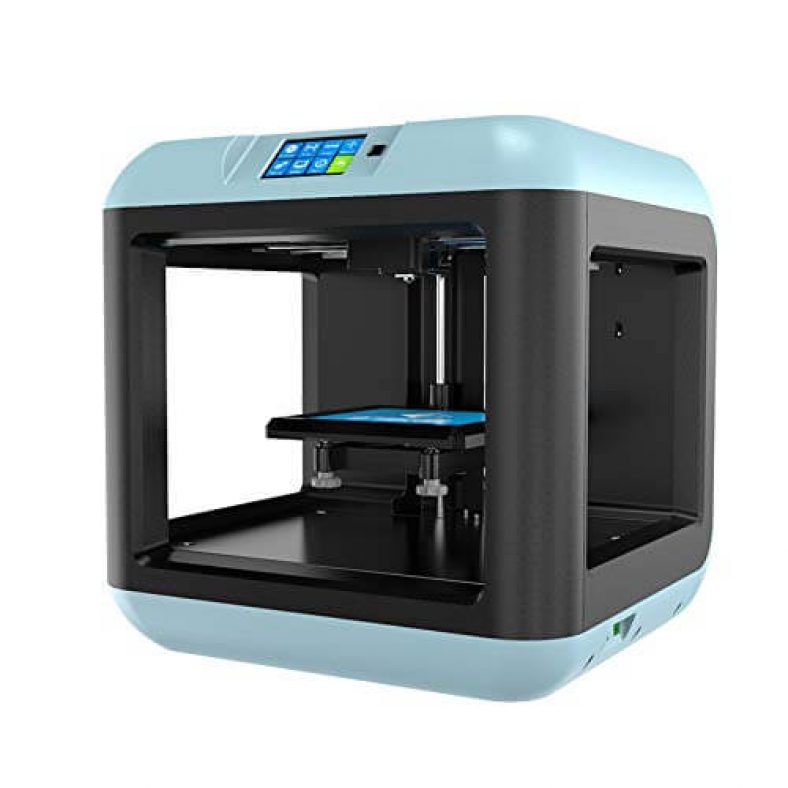 FlashForge Finger Lite has a footprint of 420 x 420 x 420 mm. It weighs 16 kgs and is very lightweight. Looking at the space the printer covers, you must have estimated the smaller chamber it must embody for producing parts.
And, that's something a lot of users do not prefer. But for beginners, that does not make a lot of difference.
You get to enjoy a build volume of 140 x 140 x 140 mm. Layer resolution is also commendable at this price tag. You can print between a layer height of 100 to 500 microns.
The extruder can reach a maximum temperature of 240 degrees Celsius which is sufficient for printing with PLA. Plus, it supports third-party filaments.
For connectivity, the company has included a USB slot only. There is no WIFI connectivity that is available with Finder 2.0 with just an extra $30 difference.
The printer does not have a heated bed. Pretty obvious, isn't it? Because it only prints PLA, why we bother about such inclusions. It comes in a plastic frame and to support a small footprint, the frame material is just enough.
It has a glass print bed with a PEI sheet on top of that to enhance the first layer adhesion. Overall, the Finder Lite offers decent specifications for beginners to start with 3D printing.
Price
The 3D printer sells for around $280. Hence, making itself affordable and budget-friendly. Focused on gaining the attention of beginners and naïve users, FlashForge Finder Lite comes with a budget-friendly price tag.
First Impressions
Placed inside cardboard which is compact and small, the 3D printer does bring with itself an eye-catching impression. Build-in fascinating colors, you can find the attractive body right after peeping inside the box.
Along with the 3D printer, the box has various other accessories too. There is a 50 gms of PLA filament spool, power cable, SD card, and SD card holder, Unclogging pin, power cable, USB cable, screwdriver, filament guide tube, PTFE tube, Glue, and grease.
Hence, you can start printing right after receiving the printer instead of starting shopping for filament or other tools needed to set up the printer for the first time.
Setup
As expected, the setup isn't something you should worry about. It is easy to work as per the manual to complete the setup. To start with, the complete machine is assembled.
You do not need to connect the components together as it is with the DIY kits that take up hours of effort.
Later, the calibration isn't automatic. However, you get the assisted bed leveling which makes the task easier and convenient for even the novice and first-time users.
Printing Type/Cost
The printer is based on the FDM 3D printing technology. Using the technology, the filament is heated beyond the melting point to extrude one layer of the part, at a time.
After the layer sets, the build plate moves down. This process continues until the complete part is printed. Depending on the design of the parts, the post-processing requirements fall in place.
While calculating the cost of printing, one must consider various factors. For instance, the filament amount, the complexity of the design, the layer height, etc. And, also not so obvious factors such as electricity bills.
Hence, the cost of printing will differ with parts.
Print Quality
Constructed for beginners, the company has made efforts to bring the most desirable print quality under the hood. However, comparing it with the professional printers won't be justified at all.
Finder Lite offers decent print quality with the capability to print fine details. It can work along with finer precision and prepare accurate designs.
With PLA, one can create smoother prints every time. Hence, making it look a lot beginner-friendly.
Software
The slicing software that the company offers is FlashPrint. It accepts STL as well as OBJ file formats. And, it is compatible with MAC, Windows, as well as Linux. The software supports multiple languages.
When considering the user interface, one will find it easier to browse through and find the setting options. Limited tools when compared to the advanced slicing apps. However, quite enough to provide beginners with a starting line.
Customer Service
Talking about customer service support, you can make use of the contact form on the official website of FlashForge. Or else, you can also call them or chat with them through the website itself.
Plus, they also have a lot of FAQs and instructions for setting the printer. Moreover, they do host video tutorials for the users. The team is also very responsive. You would be answered promptly for all your queries.
Parameters Influencing Buying Decision
It is always better to recap all the points before you proceed with your decision. Hence, look for the important parameters that may help decide for the best.
3D Printer cost: The cost is affordable. Priced at around $280, the 3D printer is certainly cheap and budget-friendly. And, a very equipped machine for beginners with an intention to learn and experience 3D printing without investing an arm for the same.
3D Print quality: Print quality is decent. You cannot expect it to work like expensive 3D printers. But the results are satisfactory. And, with the right settings, you can certainly hit the bull's eye.
3D Print speed: With this printer, you get decent speed. Because the print volume is very limited, you anyway won't require much time to complete the entire print covering the whole build space.
3D Printer capability: It does provide ease of working with decent precision and accuracy. You can print complex designs and finer details.
3D Printer Practicality: As advertised, the printer is for beginners and home users. You cannot plan to use the device for specialized applications. However, it does provide enough room for creativity and experience gathering.
3D Printer User expectations: With few more feature additions and bigger build space, it may have incorporated a greater number of followers to its list.
The Verdict
Reading the FlashForge Finder Lite review, you must have got a gist of what the printer entails. In short, it is designed for beginners and it works best in their interest.
However, for high-end applications, you may be looking at the wrong choice. It would help make your 3D printing journey easier, but you may need to upgrade later with surging expectations.