Table of Contents
Blender CAD is a free and open-source 3D graphic suite. With rich features, the software flaunts an intuitive design and is used extensively for educational as well as commercial purposes.
In this Blender Review, we would find out the various features that make this application so popular among users.
The review would talk about the basic design and working of this CAD software. So, stay tuned to find out more about this interesting app.
The software is built with the joint efforts of the visual effect experts, animators, students, game artists, and other experts from all around the world.
Because of its advanced options, users find the software highly competitive and worth spending for.
The app has a higher number of extensive features than most of its competitors. Ranking among the top 50 graphic applications along with the top 50 video editing software products in the market, Blender sure is an amazing choice.
So, let jump to the fundamental fact of why is blender different from the others. Those who use the Blender app do know the perks of it. Why not we also learn and see what all we can accomplish using this wonderful application?
Blender Review – Overview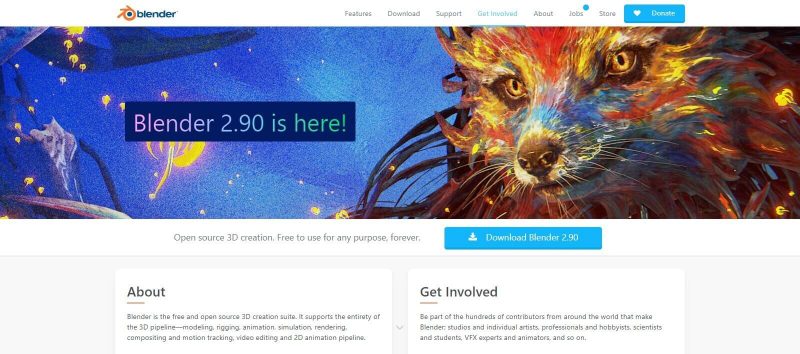 Blender, without a pinch of doubt, is one of the best apps for designing and animation. It allows for a wide range of tools and interfaces for completing all tasks conveniently and efficiently.
The app is very much useful for assisting organizations of all sizes in terms of modeling, VFX, simulation and video editing, rendering, and whatnot.
The built-in path – Tracer engine in the blender allows users to get ultra-realistic -rendering.
In addition, the comprehensive modeling tool helps transform create, edit, the models quickly.
You can also enjoy its rigging and animation tool which enable designing short film or advertisement quickly.
There are various other competitors such as 3D Studio Max, Cinema 4D, key shot, Houdini, Adobe Animate, Maya, etc.
But if compared with these options, blender's tools offer many exciting choices which are quite impressive.
That is why the app is considered the vanguard of innovation over the traditional animation market.
Another most important feature which makes the software a bit more attractive is that it's free.
The Blender CAD is highly rated by the users and the quality is measured on the parameters like features, ease of use, customer support, and value for money.
What's Interesting About Blender?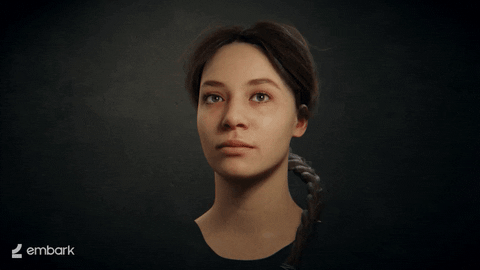 Among the various interesting features of Blender, it offers a path ray- trace production engine called cycles. It is basically a set of codes that controls the usage of material and lightning.
The cycle is a path tracer that provides more realistic lights to the scene by tracing the path of light as pixels in the image.
It has a feature known as GPU rendering in which the cycle provides the ability to do rendering with a graphic card rather than the CPU.
This ultimately speeds up the rendering process allowing modern GPU to perform plenty number of crunching.
Moreover, Blender CAD helps in creating 3D games. It provides a game engine to the users that allow users to create 3D games.
With the help of Blender CAD, the users can code their own game and port model to the third-party game engine.
Blender offers scripting capabilities and extensions to increase its functionality.
It provides the users an option for them is to enhance their functionality like python script (an object-oriented programming language).
Blender also has a feature that can help in creating a short film and feature-length film.
It offers features such as inverse kinematic, character pose editor as well as a feature for independent movements.
You won't like to miss understanding its VFX features too.
The software includes a built-in compositor which allows the users to access a library of nodes as they create camera effects, color grading, and vignettes. With this, they will also be able to concentrate on multilayer OpenEXR files.
Detailed Blender CAD Features
Why not we stress a little bit more on the features with this Blender review?
The best and most recognized features of Blender include Rendering, High-End Production Path Tracer, GPU Rendering, Game Creation, Fast Rigging, Visual Effects, Camera and Object Motion Tracking, Animation Toolset, Masking, Compositing, Phyton Scripts, Video Editing, Simulation, Modelling, Customizable UI, Integrate with Pipeline Tools.
Modeling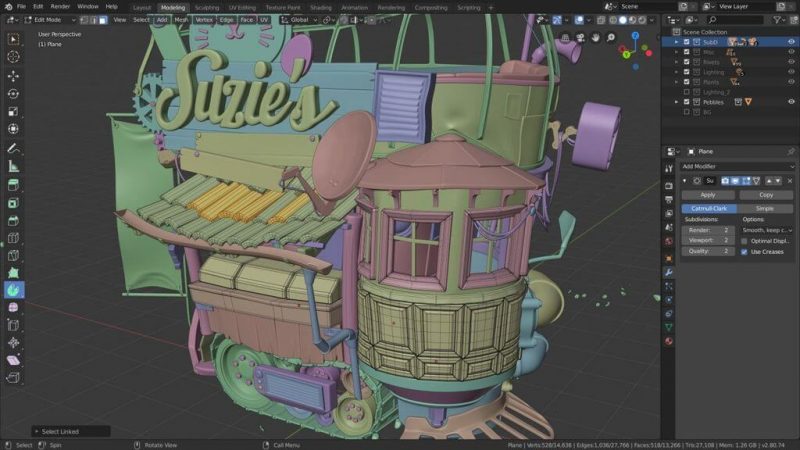 Blender offers support for a variety of geometric primitives, which includes polygons meshes, fast subdivision surface modeling, Bezier curves, ecospheres, metaballs, text, and other n-gon modeling systems called B- mesh.
It also provides modifications for non-destructive effects and offers digital sculpting. This includes dynamic topology, map making, etc.
A blender is a perfect software that can offer artistic sculpting and true solid modeling flawlessly.
Simulation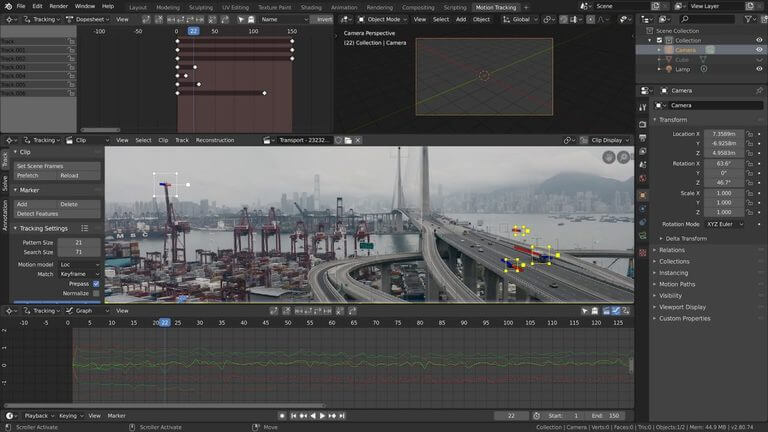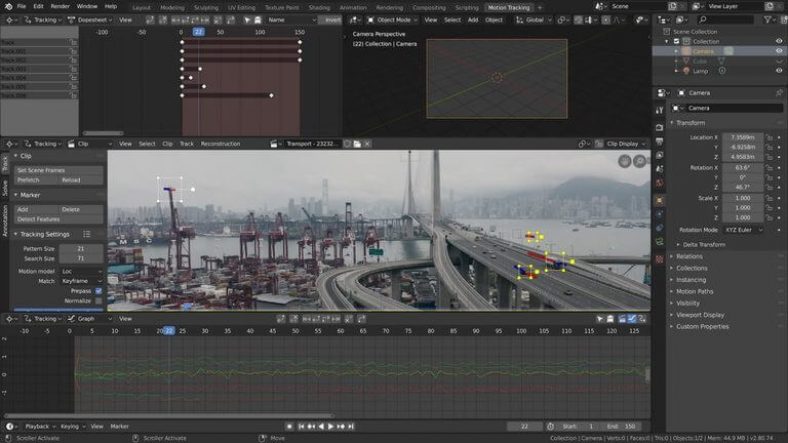 Blender can be used to simulate rain, dust, fluid, etc. With the help of fluid simulation, it is easier to provide a computer graphic technique that is used for generating a realistic creation of fluid such as water.
Apart from that, the tool also highlights the qualitative visual behavior and uses lattice Boltzmann Methods.
Animation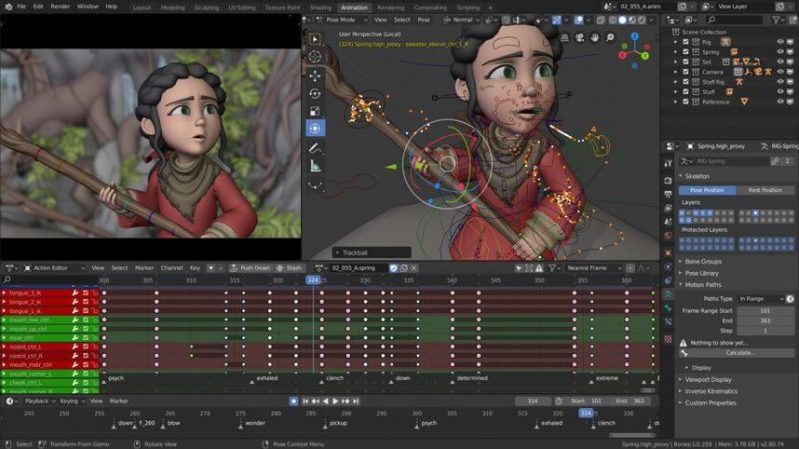 The animation tools may help make things look more realistic. Users can create joints, bend them, and move things around. One can create various kinds of motions.
The app is stuffed with keyframe animation tools like inverse kinematics, armature (Skeletal) lattice-based deformation, shape animation, nonlinear animation for the independence movements, constraints.
In addition, the app also provides a blender pencil tool. Using the help of this tool we can have 2D animation with a full 3D pipeline.
Rendering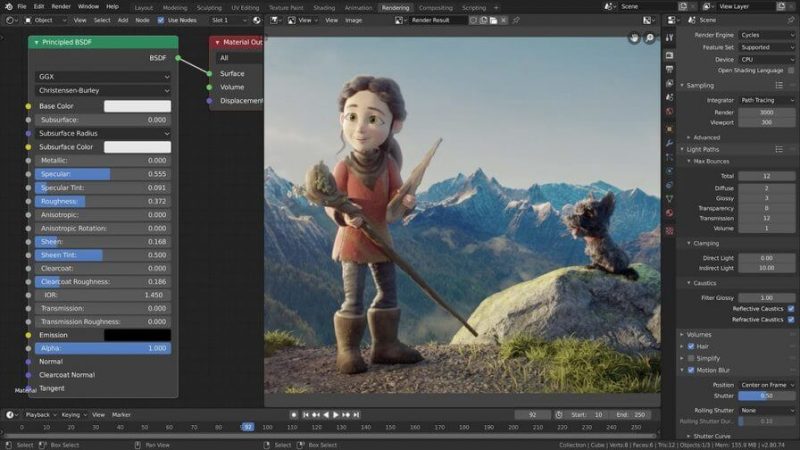 It has realistic rendering built right into it. With a highly imposing rendering engine including GPU & CPU rendering, Blender offers great flexibility to users in terms of flying with their creativity.
Using Blender, we can have an internal render engine with scanline rendering, indirect lighting, and ambient occlusion that can be exported in a wide variety of formats.
Plus, texture shading allows non based texture as well as texture painting, vertex painting, and texture painting. It also has tools for game creation.
This CAD software also offers some serious video editing program interface tools which are really impressive.
If you really need software that can give you equivalent and flawless results, you must choose the professional video editor Blender.
Plugins/Addon and script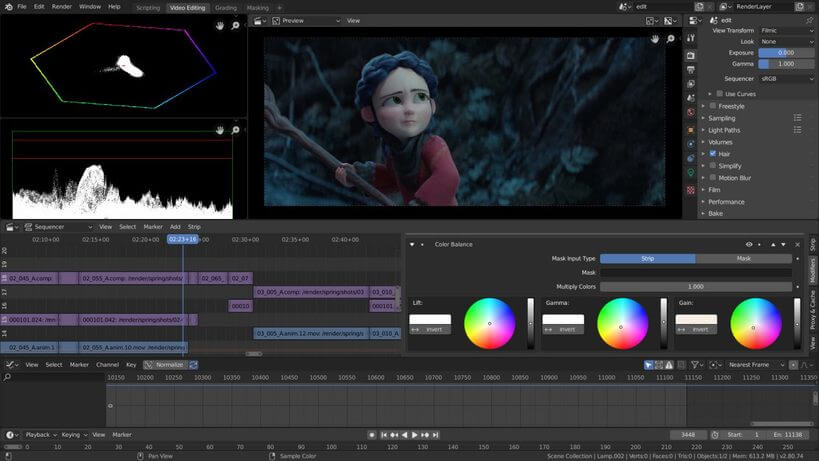 It supports python scripting for making custom tools, prototyping, game logic, importing/exporting from other formats, and task automation.
Hence, allowing the integration with a number of external render engines through plugins as well as addons.
Blender CAD Software Extension
As blender is an open-source Suite, it opens the opportunity for enthusiastic developers to add better features to the tool.
Hence, there have been many extensions that were released as additional tools, thanks to the contribution of experts. Among the various releases, the app has a set of tools for 3D Printing that's, and the extensions are called the 3D printing toolbox.
If we talk about compatibility, Blender CAD software works with all of the main file formats for images, videos, and 3D files.
It's got native support in the 3D world for 3DS, COLLADA Film Box, Autodesk DXF, LightWave, DirectX, Wavefront OBJ. Of course, they have standard STL, which is important.
How Much Does Blender Cost?
Now, after looking at the features and other benefits of Blender, the first thing that strikes the mind is: how much Blender costs?
Blender is freeware. It can be used for commercial and educational purposes and is free of charge. The software provider, blender foundation is a not for profit corporation.
It offers enterprise subscription and pricing services for the artist and the small team who wants to make use of open production platforms for example blender cloud.  The blender cloud renewal type is manual and automatic.
Manual Renewal
To renew manually for one month, the app charges $17/month. If the user wants to renew for 3 months, they must pay $37. Y
ou can manually renew it after every three months. And, if you wish to get a subscription for a year, you must pay $127/yr.
Automatic Renewal
The subscription charges differ for auto-renewal. Choosing this option, the monthly subscription becomes $11.50/month instead of $17 for manual renewal.
Subscription Benefits
Here are some of the benefits that you can avail yourself of when subscribing to the Blender CAD app.
Animation as well as shot breakdowns
You get weekly as well as daily session recordings
Film assets and full sets (blend files)
Shot walkthroughs
Shaders, and textures
Training: hundreds of hours of video training (basic to advanced)
Textures: large CC-0 texture and HDRI library, directly accessible from Blender
Characters: fully rigged-ready to animate assets
Blender CAD User Interface
For first-time users, the user interface of a blender may be a little difficult.
Every part of the interface is broken down into panels. Every panel has a drop-down menu on the left side of the toolbar, which shows a current editor type of panel.
Further, every panel can be scaled horizontally or vertically by identifying the dividing line between one panel and another and clicking and dragging the panel in one direction or another.
If in case the user wants to add more panels to work, the user can simply go to the top right and bottom left corner of each panel to find a series of lines forming a triangle at the corner.
Moreover, if the user wants to split a workspace, then for that they need to click and drag that top right triangle to the left, into the workspace.
Another panel opens as you drag. Again, if the user wants to close a panel, they need to click and drag the adjacent top right triangle, and then pull it towards the panel.
After getting used to the interface and readjusting to your workspace according to your liking, one can save the custom workspace layout for later design considerations.
Blender Customer Support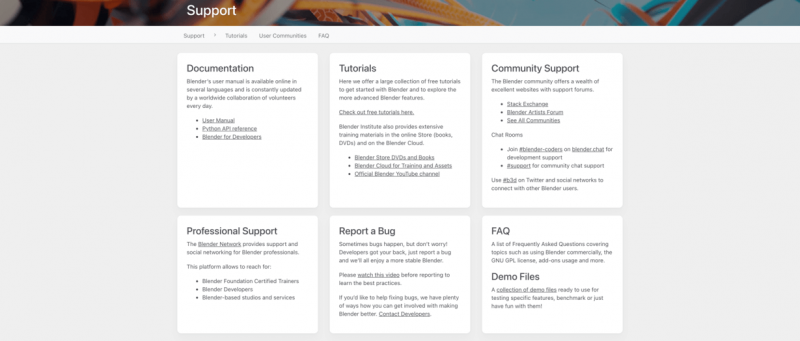 Blender offers great support to its customers. Through documentation, it provides instant assistance to those in need of help.
The Bender user manual is available online in several different languages. Plus, it is regularly updated by the worldwide collaboration of volunteers every day.
Other than this, it provides free tutorials to its users to help the users know about the advanced features of the blender.
The user can check the free tutorials of blender like Blender store DVD and books, Blender cloud for training and assets, official blender YouTube channel, and much more.
It also offers community support through stack exchange, blender Artist forum, See all communities.
Besides all these, it has a chat room like the blender-coder or blender-chat for development support. Hence, people can connect together and help each other through their expertise and knowledge.
Pros and Cons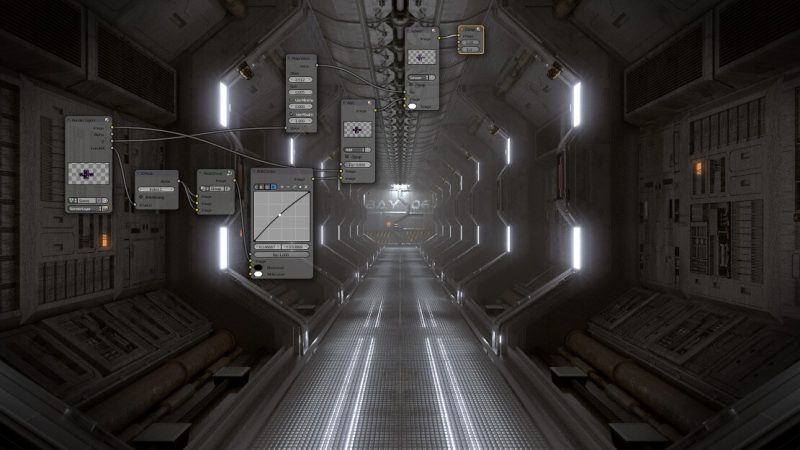 PROS:
The first and the foremost factor that may attract the user is its free- software- for- all philosophy methods.
Blender also has the capability of creating some incredible work. Like a short film
You can also do a lot of things in Blender in addition to 3D modeling, texturing, and rendering. There are features like UV unwrapping, raster graphics editing, and sculpting.
Blender is also great for animation and has quality rigging, skinning, fluid simulation, smoke simulation, particle simulation, etc.
Another benefit of Blender is that it offers a path–tracer engine, its rendering process, and its scripting.
Its online support is exemplary.
Video editing and composition are pretty smooth and flawless.
It has another most important feature and that is the skin modifier that helps the users use edges to draw shapes and geometries.
The wide-ranging preprogrammed keyboard acts as a huge time saver for all the users.
And, the best of all features, is the blender addons. The software is flexible to an impressive degree. From the date of it's released till now, the users have created mini tools that mimic the functionality of other paid software. And, users can easily locate and install through the user preferences window. There is even a lot to look forward to.
CONS:
Blender could be a bit difficult for those who haven't worked with CAD software before and using Blender as their first tool. It has a large number of incredible features. So, it requires a bit of learning before getting used to this tool.
Blender has ostensibly cluttered menus.
There are few stumbling blocks to be aware of such as the selection system and extrusion tool.
The Conclusion
We will conclude our Blender review deeming that becoming proficient using any CAD software is not that easy and blender CAD software is not an exception to it.
As, the software provides an interface that is jam-packed with all its features, so it takes time for the first-timers to gain knowledge of it.
But the features of Blender CAD are quite impressive and it is the best you will find anywhere else.