3D Systems ProX 800 3D Printer
This printer is for professionals and industrialists in the field, it can offer unmatched quality of parts and functional prototypes for important industries.
PROS
Easy changing of materials.
Single source solution.
Ease of use because of integration.
Good quality parts and functional prototypes
Integrated management system.
Large scale application of parts and functional prototypes.
CONS
Cost of this printer is something not everyone can afford. So, one needs to see a long-term future in the 3D printing industry before buying this printer.
Product
Specification
Videos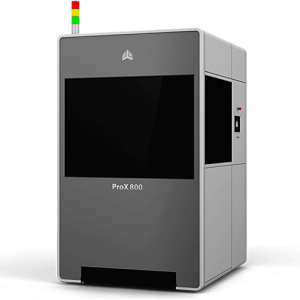 Pro X 800 is able to provide you a single point of contact for expert application support and regular use of SLA 3D printing technology. Using the ...
| | |
| --- | --- |
| Model | ProX 800 |
| Manufacturer | 3D Systems |
| Release date | 2014 |
| Price Range | > $ 250000 |
| Availability | Available |
| Classification | Industrial |
| Technology | Resin (SLA- DLP…) |
| Material | ABS, Liquid resin |
| OS compatibility | Microsoft Windows |
| XY accuracy | 0.001 mm 0 in |
| Max. build size | 650 x 750 x 550 mm 25.6 x 29.5 x 21.65 in |
| Max. build volume | 268 L |
| Min. layer thickness | 0.09 mm 0.004 in |
| Dimensions | 1370 x 1600 x 2260 mm 50 x 63 x 89 in |
| Weight | 1951 kg 4301.22 lb, 907 kg 2000 Ib |
| Power input | 200 – 240 VAC 50/60 Hz | single-phase | 50 amps |
| Heated print bed | No |
| Heated build chamber | No |
| Automatic calibration | No |
| Closed frame | Yes |
| Dual extruder | No |
| Independent Dual Extruder | No |
| Full color | No |
| LCD screen | Yes |
| Touchscreen | Yes |
| On-board camera | No |
| Mobile app | No |
| 3D scanners | No |
| CNC mill | Yes |
| Electronics 3D printing | No |
| Laser engraving | No |
| Conveyor belt | No |
| Air filter | No |
| Pellet extruder | No |
| USB | No |
| Wifi | No |
| Bluetooth | No |
| SD card | No |
| Ethernet | Yes |

Table of Contents
ProX 800 3D printer by 3D Systems is an industrial-grade machine that allows for high-quality printing. Apart from this particular machine, the manufacturer also has released ProX 500, following the lines of SLA 3D printers.
But ProX 500 does not have the huge build volume offering as ProX 800 does. However, in both the 3D printers the 3D printing technique uses a PolyRay printhead for photo polymerizing liquid resin.
They are compatible with materials such as plastics ranging from ABS to polycarbonate. So, parts and functional prototypes manufactured with these machines range from being tough to being clear.
When talking about ProX 800, it does have a lot of perks for businesses looking to try 3D printing as their manufacturing solution.
Equipped with the newest print head technology, the printer system can manufacture real parts ten times faster than the speed of other 3D printers.
Also, the 3D printing materials used in manufacturing parts and functional prototypes using ProX 800 are made from proven high-performance engineering materials.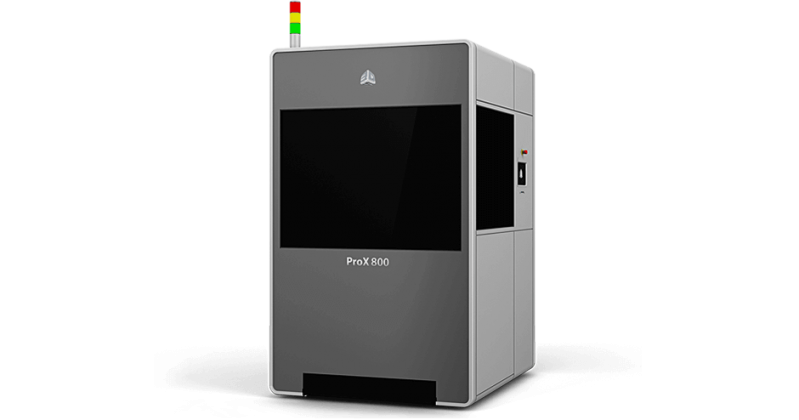 The machine is versatile and flexible that can be used for making precision parts with dimensional accuracy.
Offering a single point of contact for developing objects for high-grade applications, the 3D printer allows for smoother and simple operation.
It carries many advanced features to ensure that the users are satisfied with its overall performance.
However, there are a few things to consider before you make the final call for selecting the machine.
And, to help you with that, here is a complete ProX 800 3D printer review.
Features
The most outstanding feature of this printer is its high throughput. In the 3D printing market, there is always this tacit debate between FDM 3D printer users and SLA 3D printer users.
The former boast about their huge build volume, whereas the latter flaunts their unmatched quality.
By offering high throughput, ProX 800's team is trying to put an end to this debate.
Before ProX 800, the build volume of parts and functional prototypes offered by a printer based on SLA 3D printing technology was limited.
By scaling up that limitation, the makers of these 3D printers have gifted the industry an audacity to step forward in getting unmatched layer resolution without compromising the print volume.
That is why it is obvious to incorporate the application of this 3D printer to a number of domains.
Including but not limited to Aerospace and Defense, Automotive, Consumer products, Jewelry as well as, Teaching and training industries.
Apart from high throughput, ProX 800 has a lot more to offer.
Below mentioned features are the ones that you must take into account before making your 3D printer buying decision in a similar price range.
So, here is a comparison of these features with other 3D printers in the list to help you make the right decision.
Large Scale manufacturing of SLA parts and functional prototypes
Generally, SLA parts and functional prototypes are not known for their hugeness. They are known mostly for the quality of their surface finished.
ProX 800 is one of those rare printers that are able to deliver part accuracy and surface quality in large parts or functional prototypes side by side.
With its huge build space, compared to other SLA 3D Printers, ProX 800 does make an impression right from the first meeting itself.
High Throughput
The application of parts and functional prototypes vary depending on the industry they are meant for.
ProX 800 is such a printer that is compatible with a huge list of materials.
Hence, is able to manufacture parts and functional prototypes that find application in many industries. Be it plastics or composites, the printer is compatible with all.
The best part about ProX 800 is that it can provide the same level of accuracy with one as with the other material.
It has the broadest range of additive manufacturing materials. That says a lot about why this 3D Printer is so irresistible.
Quick and easy material changeover
When you are doing batch production or mass production, you might not necessarily be printing with the same material.
In such scenarios, this printer lets you quickly change your printing material so you can resume printing very fast.
The post-production time is very less and hence it decreases the overall printing time which is an accumulation of individual printing time during batch or mass production. Thanks to the efficient design that ProX 800 has.
Operating ergonomics are user-friendly
The user experience is one segment that most of the printers in this field do not focus on.
However, unlike others, ProX 800 focuses on keeping the overall operating ergonomics user-friendly.
The software or the touch screen interface has a very understandable language and if you do not understand something, the explanation is always at your disposal.
So, you do not have to be some trained person in 3D printing to operate the complete printer or the software.
You can learn to use them on your own i.e., by watching tutorials or reading about the different parts of the printer online.
Specifications
As mentioned earlier in this article, the printer uses SLA 3D printing technology.
It has a maximum build envelope of 650 mm * 750 mm * 550 mm. and, it operates with the highest level of precision and accuracy with exchangeable material delivery modules.
Apart from that, ProX 800 utilizes two laser spot sizes per layer wherein there is no compromise with the speed or the feature detail.
The printer is also available with rigid, stable nano-composite material. You can easily change the material after the printing procedure ends.
Overall, it does offer very friendly specs and highly advanced ones to allow users to make the best use of technology.
Plus, it is very well designed to ensure that the parts are created keeping the user experience at a high priority.
Price
You will have to ask the company for a quote for this industrial giant piece of machine.
The estimated price of this 3D printer is greater than $250,00 according to other websites.
First Impression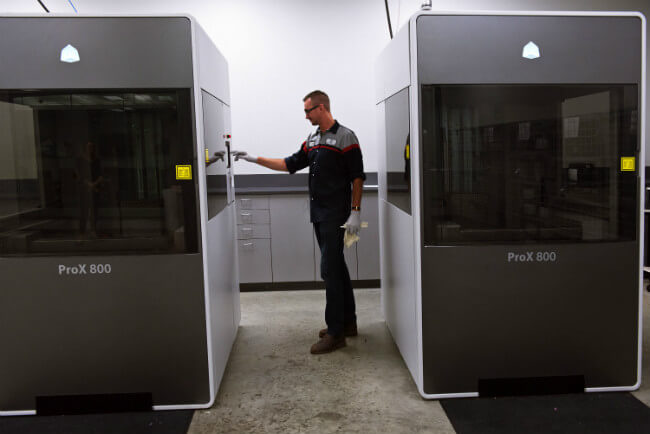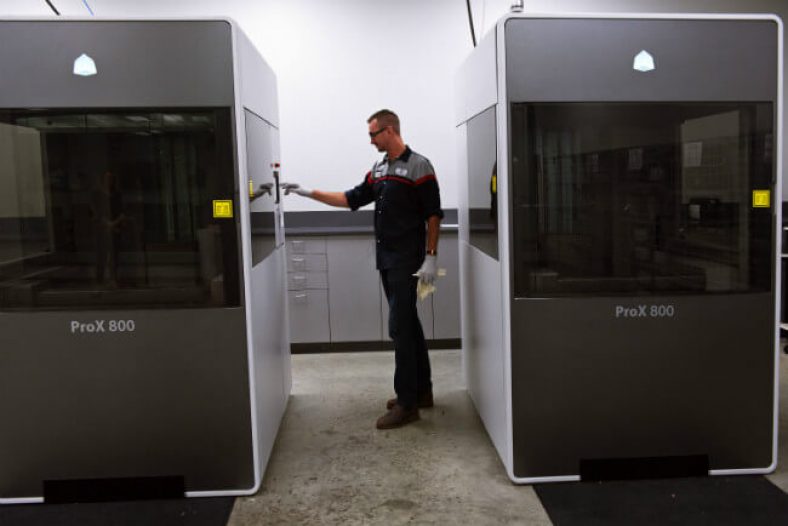 Credit: companyweek.com
The front view of this printer looks like an LED placed on the stand.
Because of the black grey contrast as well as the transparent and opaque body contrast, ProX 800 successfully manages to look like so. The rearview of this printer is also similar.
There is a transparent part on the left and on the right, you have some controls.
Most of all, the printer is huge, offering great build space to users. And, the shipping is done with excess care too.
Understanding the size and space it would require, you may like to make some room in advance for the machine. Shifting it too often won't be a chore you would like to put up with.
Setup
This is an industrial 3D printer that should come assembled as most of the 3D printers do.
The software is completely linked with the printer and there are many ways to connect with the printer.
But before starting the printing process, it will be good if you read a little bit about how different parts of the printer operate and how to control them.
You can either read the information provided on the website or you can contact the manufacturer itself.
Moreover, you can also go through the manual that comes along with the machine.
And, if you still have doubts, you can schedule the onsite assistance after speaking with customer care.
Printing Type/Cost
SLA 3D printing technology is known for producing parts and functional prototypes of higher surface finish and layer resolution range.
ProX 800 is based on SLA 3D printing technology wherein printing happens layer after layer.
The curing or solidifying of parts happens with the help of a laser source.
Something that this printer does eccentric to other 3D printers which are based on SLA 3D printing technology and are of industrial-grade is.
It uses two laser diodes that focus on the material's head, leading to producing even more accurate parts and functional prototypes.
The printing cost of SLA 3D printers is higher than FDM and other few variants. It is because it offers higher resolution and utilizes a high-powered laser source.
However, to get a closer picture of how much it would cost to print, you can consider a lot of variables.
From printing material cost to the design of the model, a lot of things come into play. And, the cost will vary for printing different designs.
Print Quality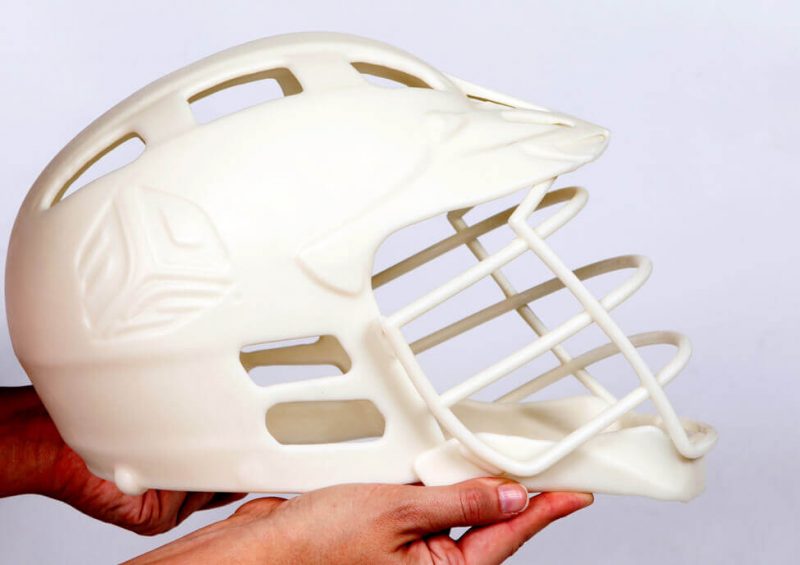 Credit: treatstock.com
We all know how SLA 3D Printers can accomplish their tasks with high print quality results. And, this one is no different.
On the contrary, you can consider it a little better than a lot of SLA 3D Printers falling at a similar range.
So, the parts or functional prototypes are going to be of high quality and especially having mentioned the eccentricity that this printer has i.e., it utilizes more than one laser diode for producing a more concentrated outcome.
You can expect it to offer finer details with high precision, a smoother surface finish, and a lot of perks to talk about.
Software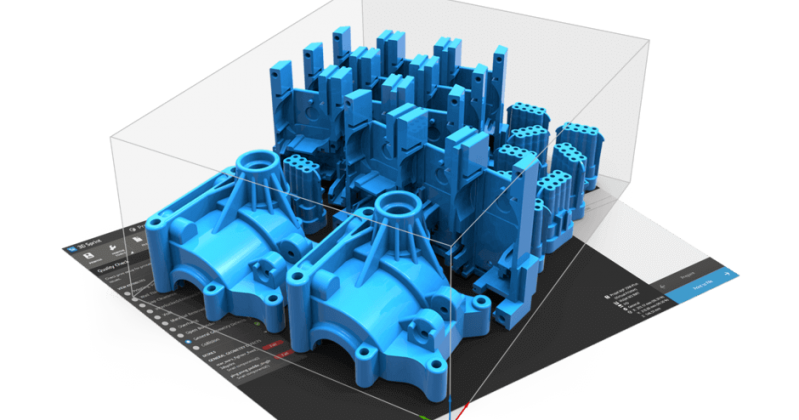 Credit: 3dsystems.com
The printer utilizes 3D Sprint software that is helpful in preparing and optimizing CAD data and then managing the additive manufacturing process on your 3D printer.
It has all the tools that you need for 3D printing parts or functional prototypes with better parts without high priced software.
The printer also comes with a new level of management solution named 3D Connect which provides a secured cloud-based connection for the printer that enables better service for improving uptime and delivering assurance for your system.
3D Systems is known in the market for 3D printing for providing an integrated software management system.
Customer Support
A commendable support team that is always ready to reach a few steps further for ensuring an amazing user experience.
There is a lot of things to praise about this 3D Printer and their support team definitely on that list.
You can get in touch with the technical team of the printer manufacturer via phone, email as well as Skype.
What's interesting is that the problems are resolved at the earliest. From technical issues to maintenance, to part purchase, you can connect with the team for any issue.
And, you will be treated with all the help you need.
Parameters Influencing Buying Decision
Time to have a quick recap of the important factors that we have been talking about in this article.
3D Printer Cost: You must get a quote from the company to know the current price of the machine. However, you can expect that to be expensive, given the printer is a large format and industrial-grade printer.
3D Print Quality: The Company claims high-quality surface finish as well as layer resolution. And, it does succeed in offering that.
3D Print Speed: More than most of its competitors because of easy changeovers.
3D Printer Capability: The printer can print with a large array of materials.
3D Printer Practicality: Healthcare, automation, aerospace defense as well many other industries can utilize the printer for printing high-quality parts.
3D Printer User Expectations: Users needing high-quality mass production in a short span of time will be satisfied with this printer.
The Verdict
This 3D printer is for professionals and industrialists and we can sense that looking at the body and configuration of the printer.
It can offer unmatched quality of parts and functional prototypes for important industries.
In fact, healthcare is the core segment in which not only this printer but also other printers made by the manufacturer function very efficiently.
Hence, if you are from the healthcare niche or from various other industries too, you certainly can take a look at this printer, before making the final choice. It is worth your attention.