3D Systems ProX DMP 300 3D Printer
3D Systems ProX DMP 300 is an industrial 3D printer that comes completely assembled. It is based on Direct Metal Printing technology for printing of metal parts and functional prototypes
PROS
Big build volume
High accuracy of parts and functional prototypes
Cleaner and safer printing environments
Integrated solution for manufacturing parts and functional prototypes
Builds objects that can be used in various industries
Conformal Cooling
Large tool inserts
CONS
By mentioning the features of this printer in a little more detail would have done tons of good in explaining the printer, rather than just plainly stating the claims
The printer is very expensive and is hardly affordable for someone who runs a small business
The overall printing cost per part on this printer, when compared with other printers in the same price range but built on a different technology is higher
Product
Specification
Videos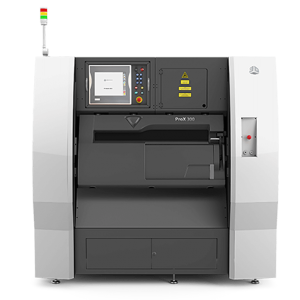 Offering a maximum build envelope capacity of 250 mm * 250 mm * 330 mm, DMP 300 specializes in printing very dense and non-porous parts. The surface ...
| | |
| --- | --- |
| Model | ProX DMP 300 |
| Manufacturer | 3D Systems |
| Country | United States |
| Release date | 2016 |
| Price Range | $ 680,000 |
| Availability | Available |
| Classification | Industrial |
| Technology | Powder (SLS- SLM…) |
| Material | Ceramic, Metal |
| OS compatibility | Microsoft Windows |
| Max. build size | 250 x 250 x 330 mm 9.84 x 9.84 x 12.99 in |
| Max. build volume | 20.625 L |
| Min. layer thickness | 0.05 mm 0.001 in |
| Heated print bed | No |
| Heated build chamber | No |
| Automatic calibration | Yes |
| Closed frame | Yes |
| Dual extruder | No |
| Independent Dual Extruder | No |
| Full color | No |
| LCD screen | Yes |
| Touchscreen | Yes |
| On-board camera | No |
| Mobile app | No |
| 3D scanners | No |
| CNC mill | No |
| Electronics 3D printing | No |
| Laser engraving | No |
| Conveyor belt | No |
| Air filter | No |
| Pellet extruder | No |
| USB | No |
| Wifi | No |
| Bluetooth | No |
| SD card | No |
| Ethernet | Yes |

Table of Contents
The ProX line printers were started after 3D Systems acquired French Direct Metal Laser Sintering System manufacturer Phenix.
There are a few releases from the same line of printers by the company. Ensuring to adjust to varying needs of the industries, these printers come in different sizes.
Among all the variants, ProX 300 3D Printer is primarily meant for manufacturing larger sized, and fully dense metal as well as ceramic parts and functional prototypes.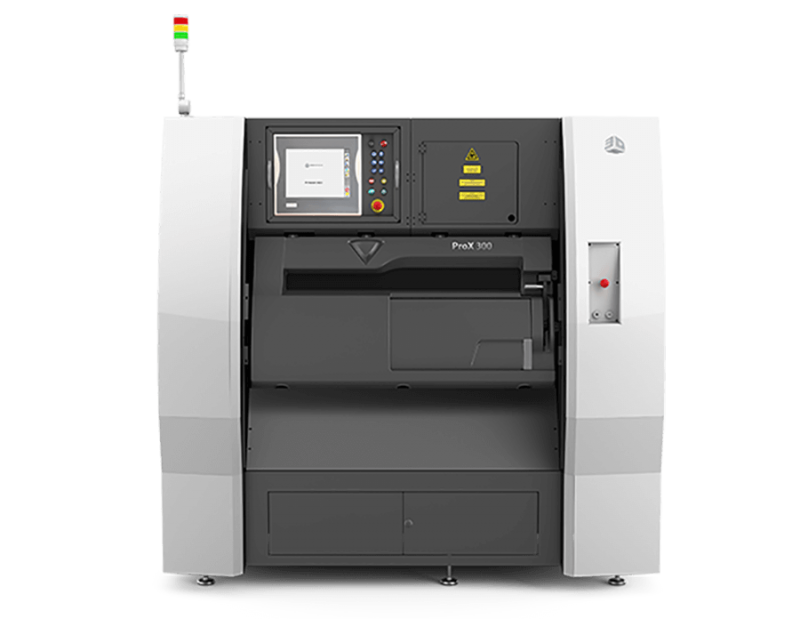 Its automatic material loader and material recycler have the ability to handle 3D printing materials such as stainless steel, tool steel, precious metals, alumina, superalloys as well as non-ferrous alloys.
What sets this printer apart from others in a similar category and price range is the use of lasers as opposed to electron beams.
This eccentricity allows for details as fine as 20 microns on the Z-axis, and 100 microns on the X and the Y-axis.
On the other hand, users also benefit from using lasers as it decreases the post-processing process involved in printing parts and functional prototypes using electron beams.
However, there'd be a need for support structures as well as anchors while printing objects using ProX DMP 300, as in the case with all powder bed fusion machines.
To mention the efficiency of ProX DMP 300 specifically in the automotive sector, it was notable how the printer could print a prototype pulley of Mitsubishi Evo in three days.
The problem of complexity in design which required a great deal of time and energy on a lathe or mill was solved by 3D printing the pulley on ProX DMP 300.
It was remarkable how the two-year-long problem of Turbo car auto shop English Racing was solved using this printer in just three days and five hours.
So, let's find more about this 3D Printer in this ProX DMP 300 review.
Features
ProX DMP 300 is based on Direct Metal Printing 3D printing technology. This 3D printing technique is also called laser sintering that uses a laser source and sintered powder material for printing a part or functional prototype.
This printer is able to deliver high-performance, and high-quality metal 3D printed part manufacturing systems by offering a reduced amount of water while production.
Alongside, it also offers a greater speed for production, shorting setting up times, and very dense metal parts.
The printer is also known for its ability for producing very intricate assemblies in a single part.
Proprietary powder deposition system
The company claims that because of this powder deposition system they can print parts and functional supports without utilizing any support structures.
In fact, the claim is even bigger where the company states that it is able to print parts and functional prototypes with a 20-degree angle without any support.
Ultimately, leading down to a printer offering less post-processing. Hence, the overall print time would be less than other printers that print with support structures.
So, when you are in a batch production this would cut your efforts and lengthy processing required otherwise with other alternatives.
Software integrated with printers provides a complete solution
You may find almost every company in their industrial-grade 3D printers to offer this integrated type solution.
However, the manufacturer claims that the expertise of their application engineers is unmatched.
And, they are able to bring all this together to lead to helping customers realize the time, cost, and functionality in metal production.
The automotive industry's parts and functional prototypes seem to be the main aim of this printer with so much attention given to the perks that the printer would bring to the industry.
But you certainly can make use of this printer for a lot of other niches for the best results.
When you have software integrated to any printer, there is always a plus side than open-sourced software i.e. the software is customized with the 3D printer. So is the case with this printer too.
Specifications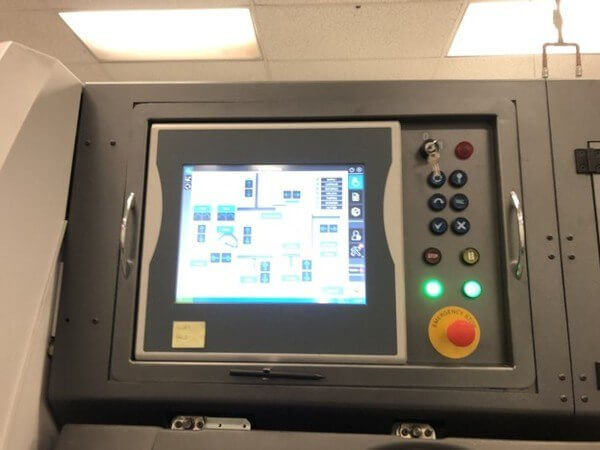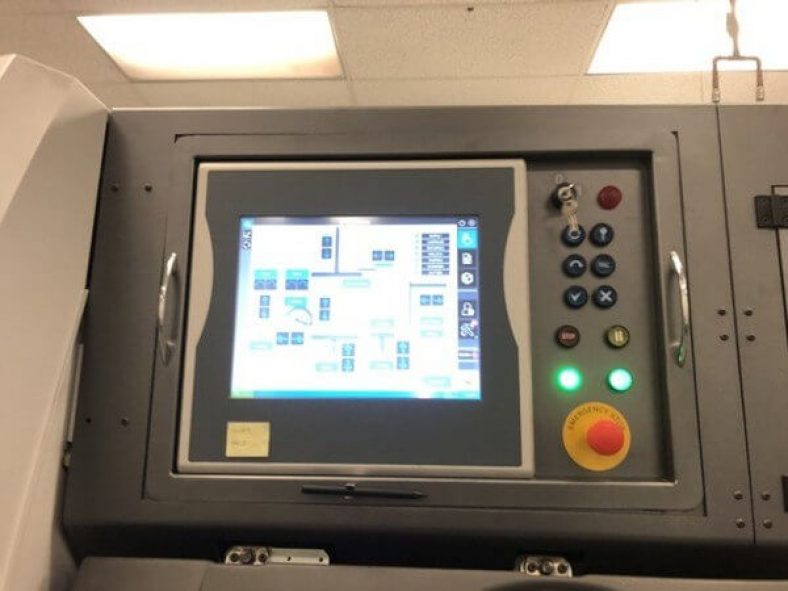 Credit: libertymachinery.com
The printer uses Direct Metal Printing technology for printing parts and functional prototypes.
Its maximum build envelope capacity is 250 mm * 250 mm * 330 mm. Plus, it can build very dense as well as non-porous parts and functional prototypes.
Typically, the accuracy of this printer is 50 micrometers in small parts and 0.2 percent above or below in large parts.
There is the repeatability of 20 micrometers approximately on every part that is printed by the printer.
Apart from the technical specifications, there is a list of attributes that are interesting to know about ProX DMP 300.
The list starts with simplified assemblies or a reduced number of parts.
It is followed by reduced weight or lightweight design which is a very effective solution to the on-going problem in automobile industries.
Companies are constantly encountering this problem to increase the speed of the vehicle. Using this printer, that problem can be solved to some extent.
Then there is enhanced fluid flow and large tool inserts possible with the printer.
The enhanced fluid flow makes it possible for the printer to complete layering quickly which in turn results in speeding up the overall print speed of the printer.
The other attribute is conformal cooling which has something to do with the post-processing after a part or functional prototype is made.
There is also topology optimization and mass customization which has to do with the surface finish of the parts and functional prototypes that are manufactured with the printer.
Price
You will have to request a quote from the manufacturer to know the price of this printer.
However, trusted websites in the 3D printing market claim the price of this printer is around $680,000.
First Impression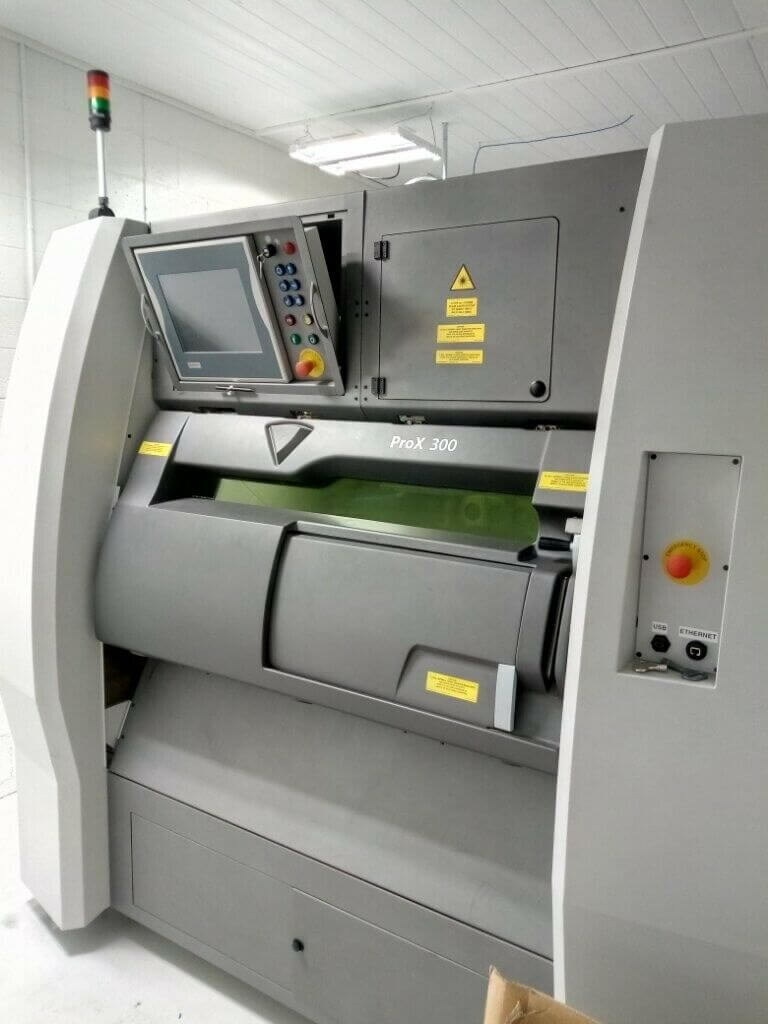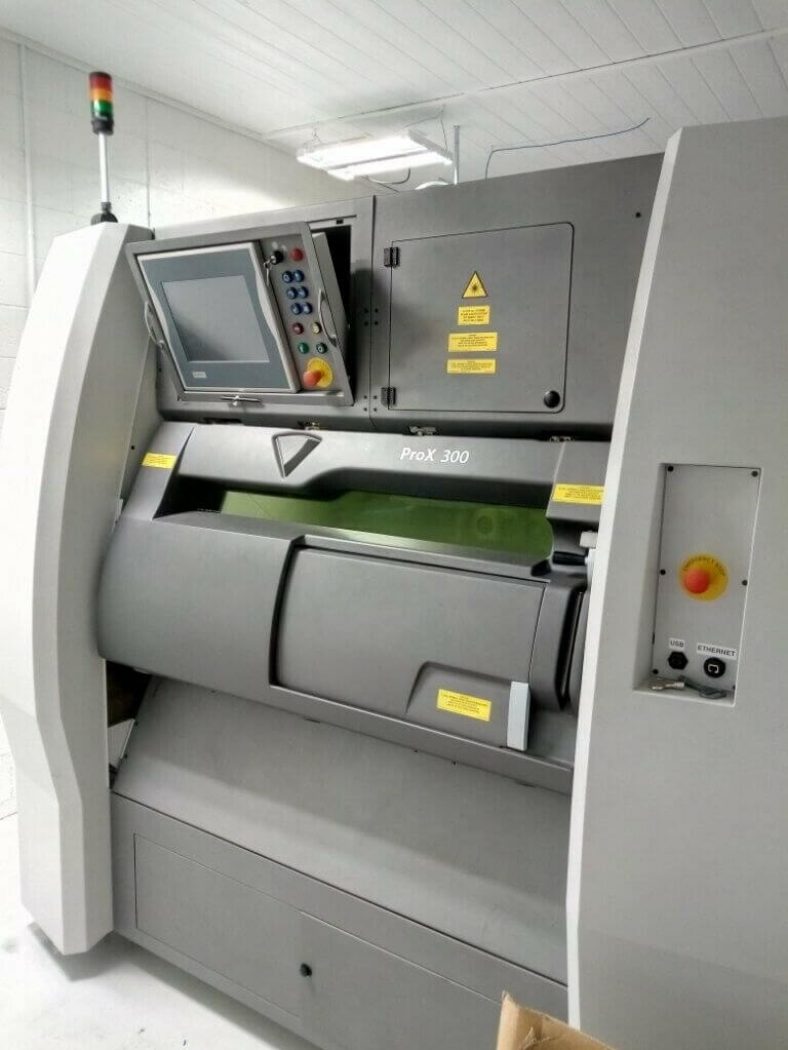 Credit: ebayimg.com
If you have a 2D printer with you, see it carefully and you will be able to relate that to this printer's look. This printer looks like a scaled-up version of the same.
Starting from the bottom of this printer there are two doors, left and right which look like a compartment to store something. Going a little above, you will find a rectangular inclined compartment.
A little more above and you will be able to see a complicated compartment, above which to the left you have the touch screen interface and some buttons beside it to control and operate the printer.
Setup
Being an industrial 3D printer, the ProX 300 should come completely assembled.
There is a design guide of the printer that is designed by 3D Systems which you should download to know in detail about the printing process, basic principles, design constraints as well as guidelines.
In addition to this, you have resources that you can also download. These would help you in the operation of this printer.
Apart from this, you can always contact the manufacturer for any doubts regarding the operation of this printer or interaction before starting the regular printing.
The printing material available online is enough to let you know complete information about various parts of the printer and its operation.
It is a plug and plays 3D printer that comes completely assembled when shipped. So, you have got almost everything that you need to start working with your first 3D model.
Printing Type/Cost
As mentioned above the printer is based on Direct Metal Printing technology for printing metal parts and functional prototypes.
This method is also known by the name Direct Metal laser Sintering process.
Wherein a high powered concentrated laser is used for curing or solidifying parts or a functional prototype.
As one by one, the layer is imprinted, the print bed moves up and the other layer is printed and hence solidified.
The printing cost of printers based on this technology is a little bit more expensive than printers based on other technologies because of the quality of parts that are printed.
Although, a printing cost is a mathematical number that varies on a number of factors, there are a few that play a major role in deciding the cost of the models printed.
For instance, the chosen material, infill, 3D model design, etc. Please note that the cost of printing isn't definitive.
Print Quality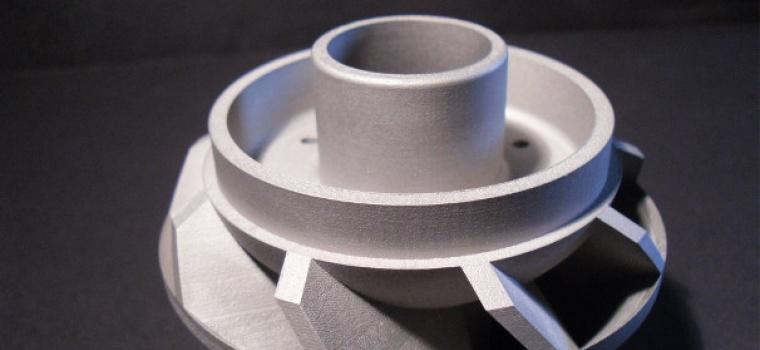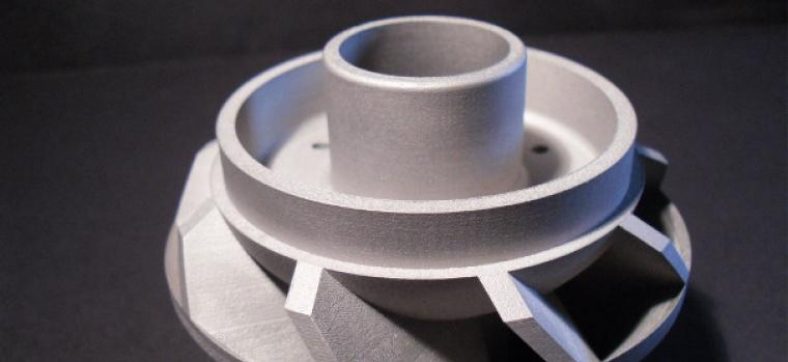 Credit: 3dsystems.com
Talking about the print quality, it is no brainer to understand the worth of this 3D printer looking at the resolution, speed, and other benefits it offers.
Apart from that, its involvement in creating functional prototypes for industries such as automotive, healthcare, and others make the claim evident too.
This 3D printer is designed for higher perfection related to the surface finish, layer resolution, finer details, and whatnot.
Industries such as healthcare and dental can certainly count on this printer for creating complex parts without much effort.
Even engineering domains can utilize the machine wherein making use of the ability of ProX DMP 300 to produce intricate objects in minimal time, with higher efficiency.
So, you can picture the print quality of objects manufactured using this printer. It is able to produce complex objects with dimensional accuracy in minimal times.
Software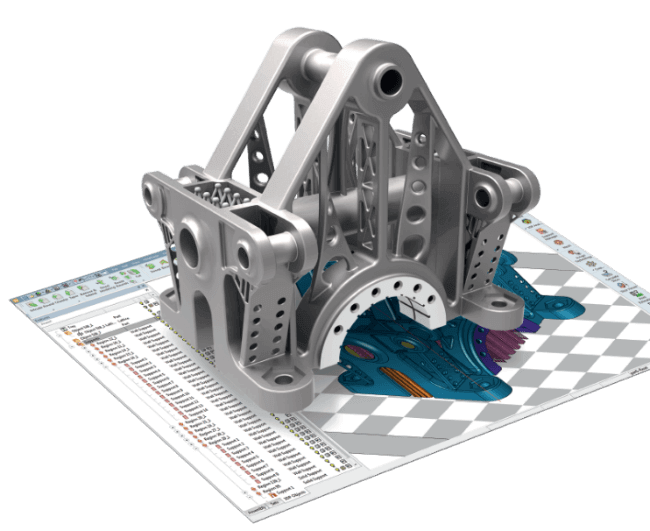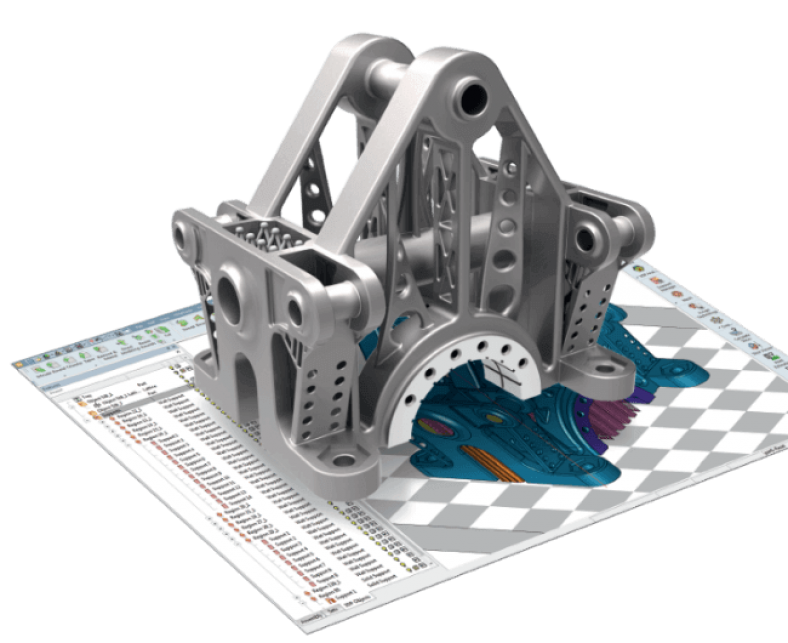 Credit: plmgroup.eu
3D Xpert is the name of the software on which all the printers manufactured by 3D Systems operate.
It is integrated software that is useful for preparing, optimizing as well as manufacturing 3D CAD models.
It supports every step of additive manufacturing workflow starting from design to post-processing.
Apart from this, there is 3D Connect which is a service provider that offers a secure cloud-based connection to 3D Systems service teams for enabling them a better production assurance for your system. Transferring files of specific formats would be no problem via this software.
Customer Service
The technical team of 3D Systems is enthusiastic enough to entertain all your doubts regarding ProX DMP 300 via phone, email, or Skype.
They are also patient and avid listeners and always ensure that their customers never return with any sort of skeptical mindset.
Parameters Influencing Buying Decision
Let's have a quick recap of the important factors that we have been talking about in this article.
3D Printer Cost: Needed to be requested, from the company.
3D Print Quality: A real impression maker you can say. Very precise, offering the highest resolution for a great finish.
3D Print Speed: Industry standard.
3D Printer Capability: Different metals can be 3D printed using this printer. It can create intricate parts without any hassle.
3D Printer Practicality: Best for automotive intricate gears with dimensional accuracy needed. The application also extends to the healthcare, dental, and engineering industries.
3D Printer User Expectations: With a little concern of price, the rest is all amazing about this 3D printer.
The Verdict
It is an industrial metal 3D printer manufactured by one of the oldest 3D printer manufacturers. However, it does come with its own share of work and effort.
For best results with prototypes and end parts, printed with this machine, one may have to subscribe for additional costs in the post-processing process such as anodizing, heat treatment, and polishing.
But that is worth it, after having looked at the amount of precision ProX DMP 300 can bring to the table with its manufactured part or functional prototype's surface finishes. And, a lot more.
A decent amount of credit should also be given to cleaner and safer environments in which the printer claims to operate.
ProX DMP 300's manufacturer operates with a sealed powder loader and recycler that can prevent material contamination as well as increase the operator safety.
In short, it is a reliable industrial 3D printer you can count on.