There are two printers and an important accessory of these printers from the manufacturer, Carbon 3D. Here is the list:
M2.
L1.
Smart Part Washer.
So in this article, we are going to share these 3D Printer's Prices and details.
But before starting with this article, we will share a bit about the manufacturer along with the company's trademark technology, Carbon DLS technology.
Headquartered in Redwood City, CA, Carbon is a 3D printing technology company that has customers in seventeen countries and is continuing to expand globally.
The complete team of Carbon comprises experts in different faculties that are essential to make 3D printing technology happen efficiently and in a more innovative manner.
Stating about the company's DLS technology, this process is a breakthrough technology that employs:
Digital light projection.
Oxygen-permeable optics.
Programmable liquid resins for producing parts.
And functional prototypes with:
Exceptional mechanical properties.
Resolution.
Surface finish.
The Carbon DLS process allows two groups of people primarily, i.e. engineers and designers not only for iterating faster, but also for delivering projects with lesser risk, and radically reimagine their products.
This one they can do by introducing consolidated parts, impossible geometries, and programmable lattices into their considerations.
More about Carbon 3D's DLS Technology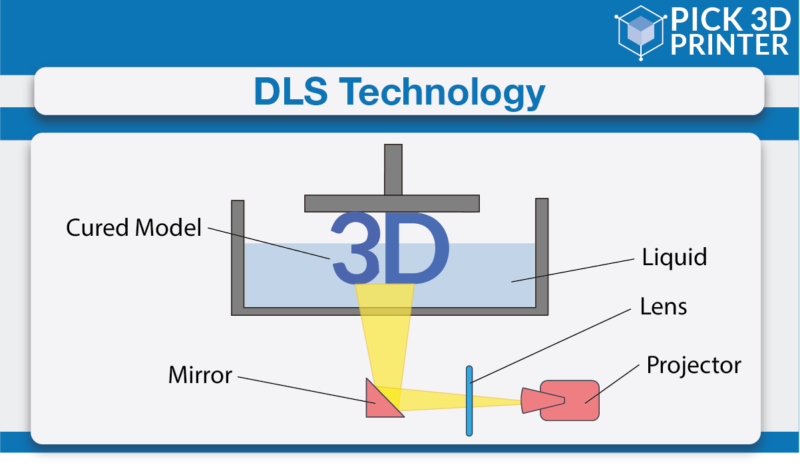 The DLS 3D printing technology stands for Digital Light Synthesis process.
This 3D printing technology is guided by Carbon 3D's groundbreaking Continuous Liquid Interface Production, or its abbreviated form in which it is colloquially known, CLIP.
In combination with oxygen-permeable optics, CLIP uses digital light projection and was described in a groundbreaking article in the journal Science.
Being traditionally inspired by the limitations of a resin-based 3D printing process that produces weak, brittle parts, Carbon overcomes these limitations by embedding a second heat-activated programmable chemistry in our materials.
As a result of this high-resolution parts and functional prototypes are produced with engineering-grade mechanical properties.
CLIP is a photochemical process used for solidifying liquid plastic resin into solid parts and functional prototypes by using ultraviolet light.
It works by directing the ultraviolet light through an oxygen-permeable window into a reservoir of a UV-curable resin.
As the process accelerates the sequence of these UV images is projected, the part solidifies and the build platform rises.
Five main parts of this entire process are:
Build platform
Resin
Oxygen permeable window
Dead zone
Light engine
For those who are wondering what is the dead zone and what is its use, the heart of the CLIP process is the "dead zone."
In looks, the dead zone in the printer is a thin, liquid interface of uncured resin between the window and the printing part or functional prototype.
During the 3D printing, process light passes through this zone, curing the resin above it and forming a solid part without curing the part onto the window.
Resin flows beneath the curing part as we reach the end of the printing process, by maintaining the "continuous liquid interface" that powers CLIP and avoids the slow and forceful peeling process that is inherent in many other resin-based printers as well.
After having read this much about the printing process on which printers of this company are based, we will now state in front of you the printers and other details about them, one by one.
Carbon 3D Printer Price
Below mentioned is a description of all the 3D printers manufactured by Carbon company.
Carbon M2
This 3D printer is ideal for functional prototyping and all production levels. The printer is particularly known for its speed, accuracy, and effective build platform.
This 3D printer is a part of a manufacturing cell dubbed the SpeedCell. What this does is, adds a necessary piece of post-processing gear to the 3D printer called, the Smart Part Washer.
Additionally, it keeps in touch with the company's cloud-enabled management software for a scalable manufacturing system.
The SpeedCell system which we are sharing currently is available in two formats, Design and Production.
But of course, if it plans to serve you more than the former one, it adds extra M2 printers to cost-effectively scale throughput without adding additional washers.
Technical Specifications
As mentioned about this Carbon 3D Printer price runs on the DLS 3D printing technology. It has a build volume of 189 mm * 118 mm * 326 mm and has a layer resolution of 75 micrometers.
The name of materials that it supports 3D printing with include, MPU 100, EPU 40, EPU 41, SIL 30, RPU 70, FPU 50, CE 221, EPX 82, UMA 90, DENCTA Denture (Base, Teeth, Try-in), Dreve FotoDent, Whip Mix Surgical Guide, DPR 10.
You can connect with this 3D printer using USB as well as Ethernet. The software that you need for modeling your 3D design file is Carbons's proprietary software and the printer's size is 540 mm* 654 mm * 1734 mm.
Pricing and other details
The M2 is available as a subscription service with a minimum 3-year term plan so be prepared as it is not like any other 3D printer in the market that you can buy and do whatever you wish to and dump any time you wish to.
In fact, this 3D printer is priced at $50,000 per year.
And as mentioned at the start of the explanation of this 3D printer, if you wish to add in the Smart Part Washer you would have to pay $10,000 per year with which the mandatory accessory pack that asks you to pay a one-time purchase of $12,500 will follow.
The complete full Speed Cell system costs you $192,500.
Although arguably, this price is something that is hugely high for a 3D printer that does not even allow you to build a part or functional prototype with impressive build volume, you should take into consideration that Carbon offers a different business model than most other companies.
L1 3D printer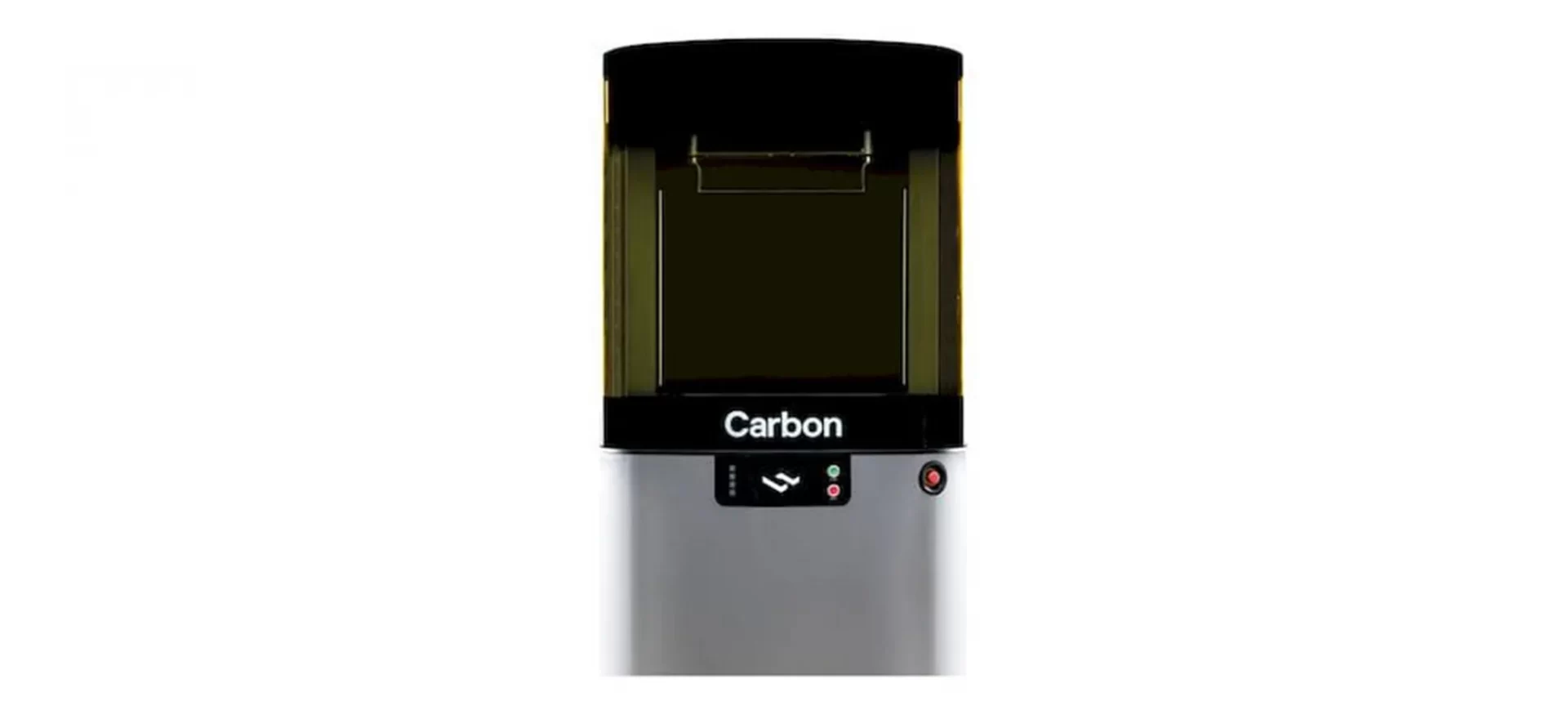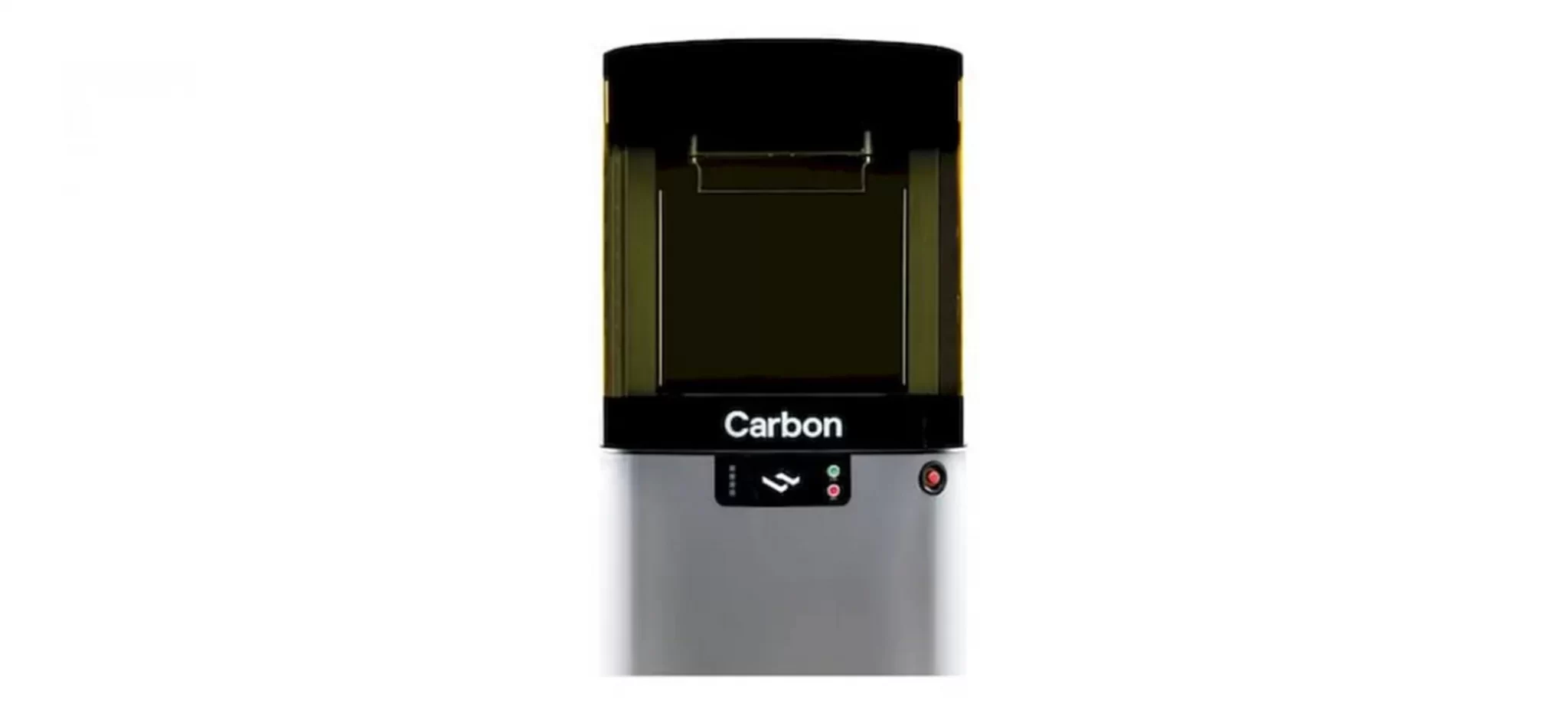 Claimed as the most advanced printer in the industry, the L1 is a sophisticated tool for designers, engineers as well as manufacturers that have a need for producing at high volumes consistently.
Using this 3D printer, companies such as Adidas Futurecraft, 4D midsoles, and Riddell Diamond helmets have benefitted.
Features
There are three key features of this 3D printer which are explained in detail as follows:
Produce Bigger Parts or more Small parts: This carbon 3D printer machine price offers a build area of 1000 square centimeters which will enable you to produce larger parts or functional prototypes in single prints, or let you produce many small parts or functional prototypes for high throughput production.
Accelerate time to market: This 3D printer lets you manufacture functional prototypes quickly and then gives you the flexibility to move to high-volume production on the same printer. So, if you are buying it, you are definitely ready for witnessing impressive print speeds.
Producing Million of parts or functional prototypes: Claims are about the printer that is making history in digital manufacturing, by scaling production for millions of parts and functional prototypes to Adidas, Specialized, and Riddell which are the biggest names in the industry.
The best part about all these features is that you can read about what customers have got to say about all these features hence they are 100 percent genuine and first hand.
Technical Specifications: The XY and Z resolution of this printer is 160 and 100 micrometers respectively.
All the parts and functional prototypes manufactured by this printer would look layer less with your naked eye and will be isotropic in nature.
An accuracy of 300 microns in every part and a functional prototype is guaranteed to you.
The build volume offered by this printer is 400 mm * 250 mm * 460 mm. Carbon L1 is priced somewhere between $50000 and $100000.
For getting the correct price of this 3D printer you would have to contact the printer manufacturer and ask to get a quote for this printer.
After having stated information about these two 3D printers that the company offers, let's have a look at the accessory, mentioned above.
In fact, we have talked about this accessory while mentioning the price of the first printer.
Smart Washer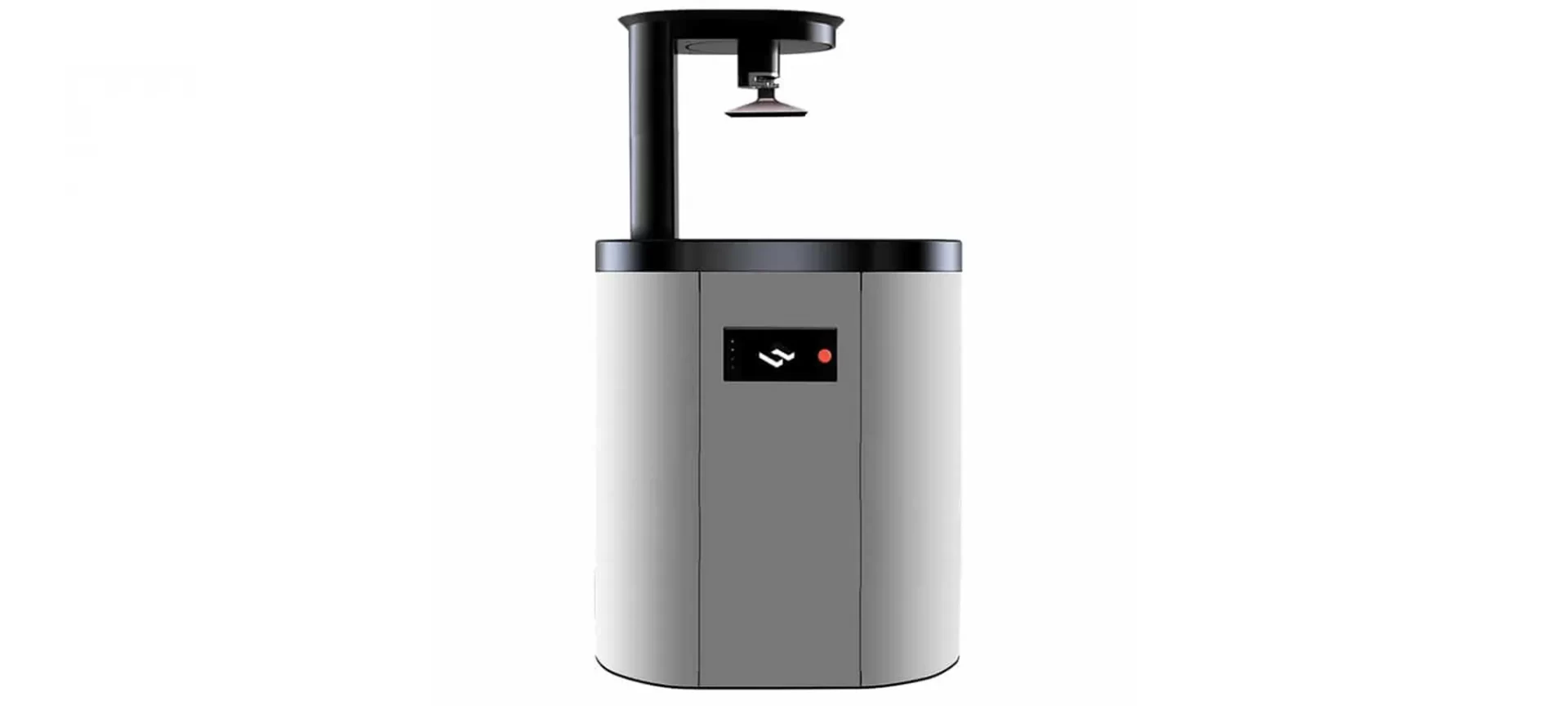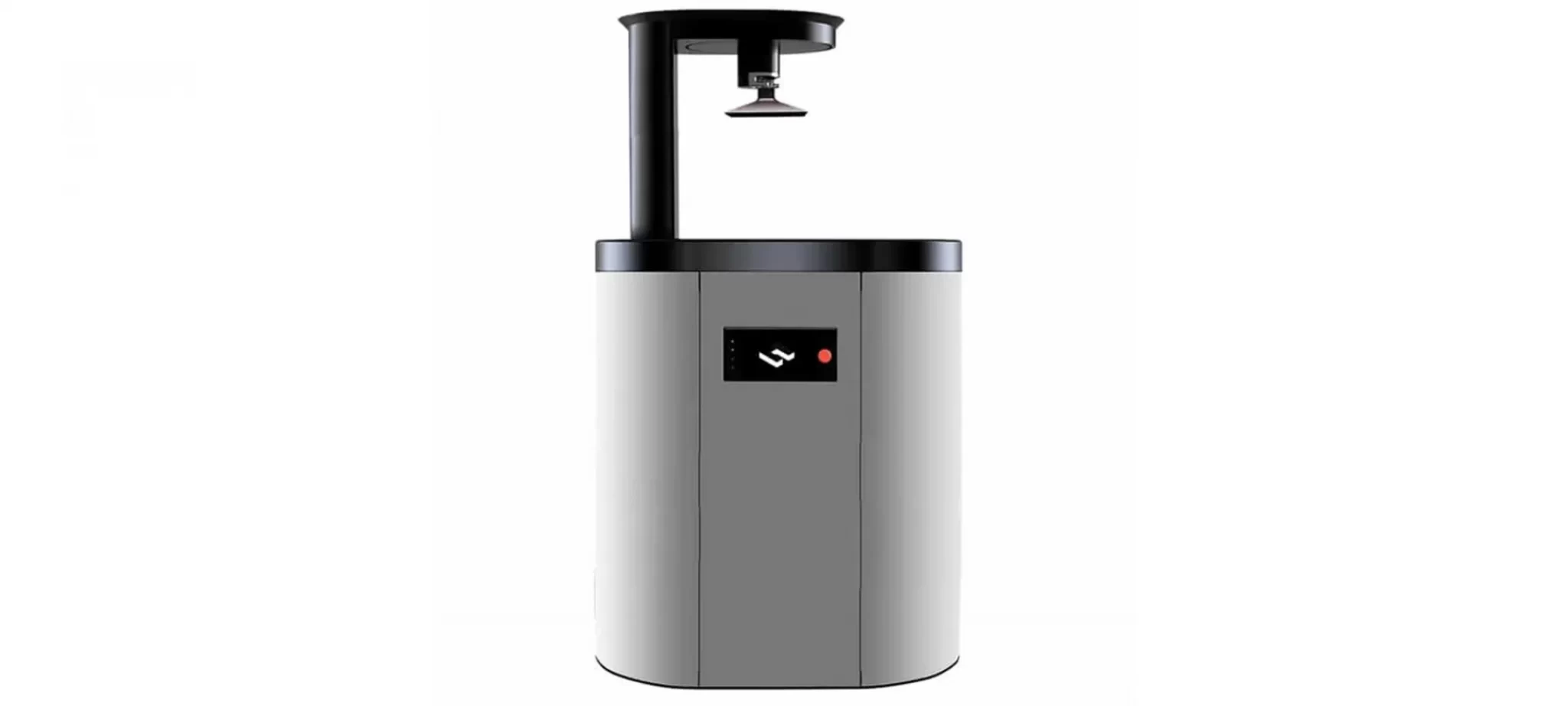 This, the company recommends for improving the quality of parts and functional prototypes as well as reducing labor in the 3D printing process.
Below mentioned are the features of this accessory which you can refer to and decide whether this machine suits you and how to use this for all the tasks in 3D printing technology.
Features
There are three features of this carbon 3D printer machine price accessory mentioned below.
So, read it and analyze whether the functions that you are looking to perform can be performed by it or not!
Maximize Part Quality
This machine works on its own was protocols that are optimized as per the part or functional prototype that one is manufacturing.
Assurance that every part or functional prototype is consistently cleaned with a strict measure of keeping human labor as low as possible is given to you.
So that at the end of the day or print job when you sit to calculate the per-part cost, you see lower digit numbers compared to other printers that offer the similar build volume or quality of a part or functional prototype, for the nearby same price.
Smart and Connected
This feature has to do with the connectivity of the printer and the ease of exchanging 3D design files.
As everyone reading this article might know that the 3D printing technology's accurate results are the majority and primarily dependent on the 3D design file.
Keeping the vitality of this topic in mind, the printer manufacturer has kept its transfer and saving easy.
Everything that needs to be understood is understood well-enough by the software that comes with this machine so that the user feels the user-friendliness as well as the necessary intuitiveness that he or she gets with any other human.
There are part-specific protocols that this machine follows which makes it even more interesting to see the machine function differently when you have a lower infill versus a higher one.
Also, the machine gets regular updates which makes the mechanism keep on growing.
Manufacturing at scale
What's the use of a machine that is able to function, but with confined limits? Understanding this question completely, the manufacturers of this machine have ensured that there is no limit to this machine when it comes to repeated washing of parts and functional prototypes.
Manufacturing at any scale that you wish to, is achievable so if you are a manufacturer and are being skeptical about how this machine will function you will be printing in bulk, rest your skepticism because the machine manufacturer has taken you too into account while designing this machine.
The price of this machine is already mentioned above so scroll a little up to see the price of this one.
The Conclusion
Carbon 3D printers are known in the market for giving their customers a sense of contentment.
Though they are just two 3D printers in the 3D printing market, by keeping their machines at a higher price, you feel the company wants people to believe in the quality of the parts and functional prototypes of their 3D printer print.
And differentiate between a printer you buy from them versus the quality of print that you get when you print with a printer that costs equal.
With such an experienced team on board, Carbon 3D printer price might be the highest you get to see in the entire 3D printing market but still, you will want to trust them because of their detailing and their contentment with just two 3D printers and their own 3D printing technology innovation combined with offering an accessory and software of their own.