Table of Contents
Design software plays a crucial role in creating advanced parts and functional prototypes. They create the design file that is to be fed to a 3D printer for turning thoughts into reality. When you are out there and deciding on CAD software, there are many choices at your disposal.
Fusion 360 and Inventor are two of the most popular design software among professionals in the field of design. Although both of them are the products of the same company i.e., Autodesk, they serve two different purposes which can be easily learned by doing Fusion 360 vs Inventor comparison.
Fusion 360 is a more recently designed software. It came into being in the year 2013. The specialty of the application is that it stores all the files exclusively over the cloud that are in sync with the user's account. It also features parametric, freeform, and direct modeling tools that help users to carry out various types of design functions. The software has a sleeker, more advanced look and can be easily mastered.
Inventor has been out in the design market for more than 20 years. It too, like Fusion 360 has various kinds of modeling tools that help create the first draft of simulations and also stress tests. It is not only reliable but also consistent. The application is used by professional companies worldwide for designing engineering and mechanical parts or functional prototypes.
After getting an overview of both the software, let's start with a comparison between the two software on various important parameters.
Fusion 360 vs Inventor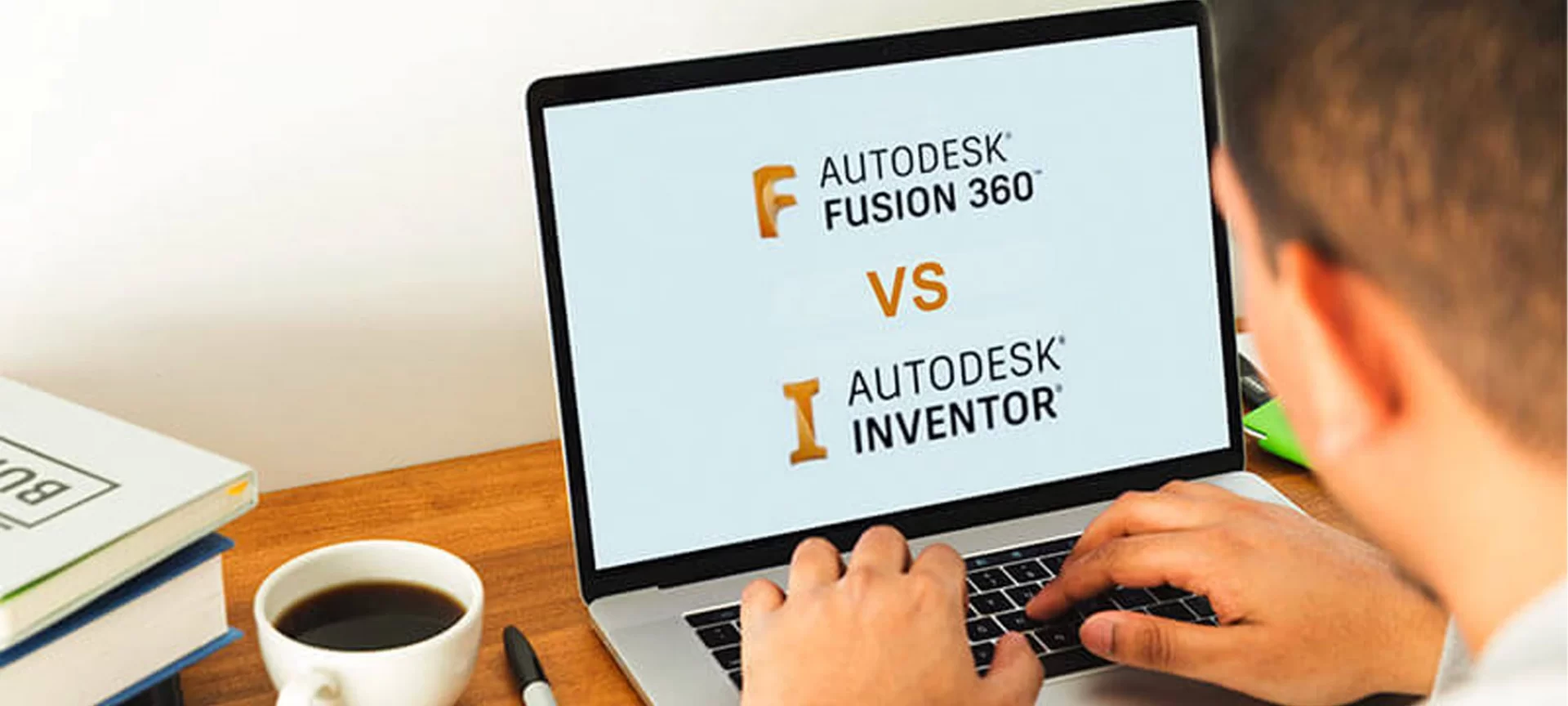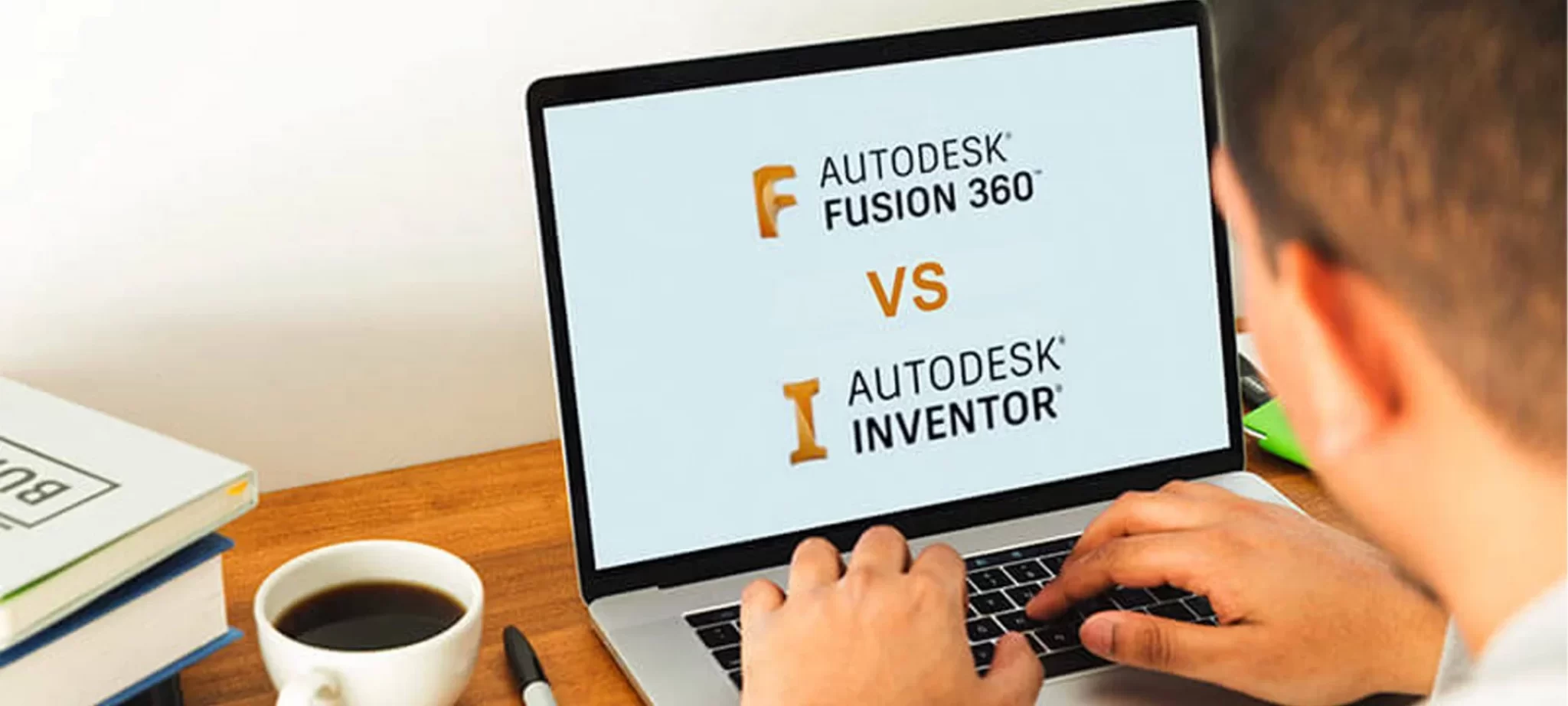 While making a decision of choosing one among these two-3D modeling software, it is necessary to know the 3D printing job that you have at your disposal. Only after reviewing this software on a variety of different factors, can you make the right decision of going either with Fusion 360 or Inventor.
Cost
On a direct comparison, Fusion 360 vs Inventor, the former costs less than the latter. The annual subscription of Inventor is $1935, whereas the annual cost of Fusion 360's ultimate subscription is $1535 and the normal annual subscription is $310.
Both of these software packages can be bought on a subscription basis, with monthly and yearly prices. Because one-time investment can be a hefty one, Autodesk offers a free 30-day trial for both software Fusion 360 as well as Inventor.
And as you might have noticed there are two prices at which Fusion 360 is available, one for the Fusion 360 Ultimate and the other one for plain old Fusion 360, so what's the difference between the two?
The Ultimate version is a host to some very cool features that can be used while doing advanced simulation, manufacturing, and generative design. And unless you're working in the professional design industry, you probably won't ever need these for doing simple designing. So, if you are a student or educator, you are already covered in the simple subscription.
Autodesk also offers a free 3-year educational license for both the applications Fusion 360 as well as Inventor. Most readers will qualify for Fusion 360's 'startup' license, which lets you use the platform annually for non-commercial purposes or for all startups earning less than $100,000.
Learning Curve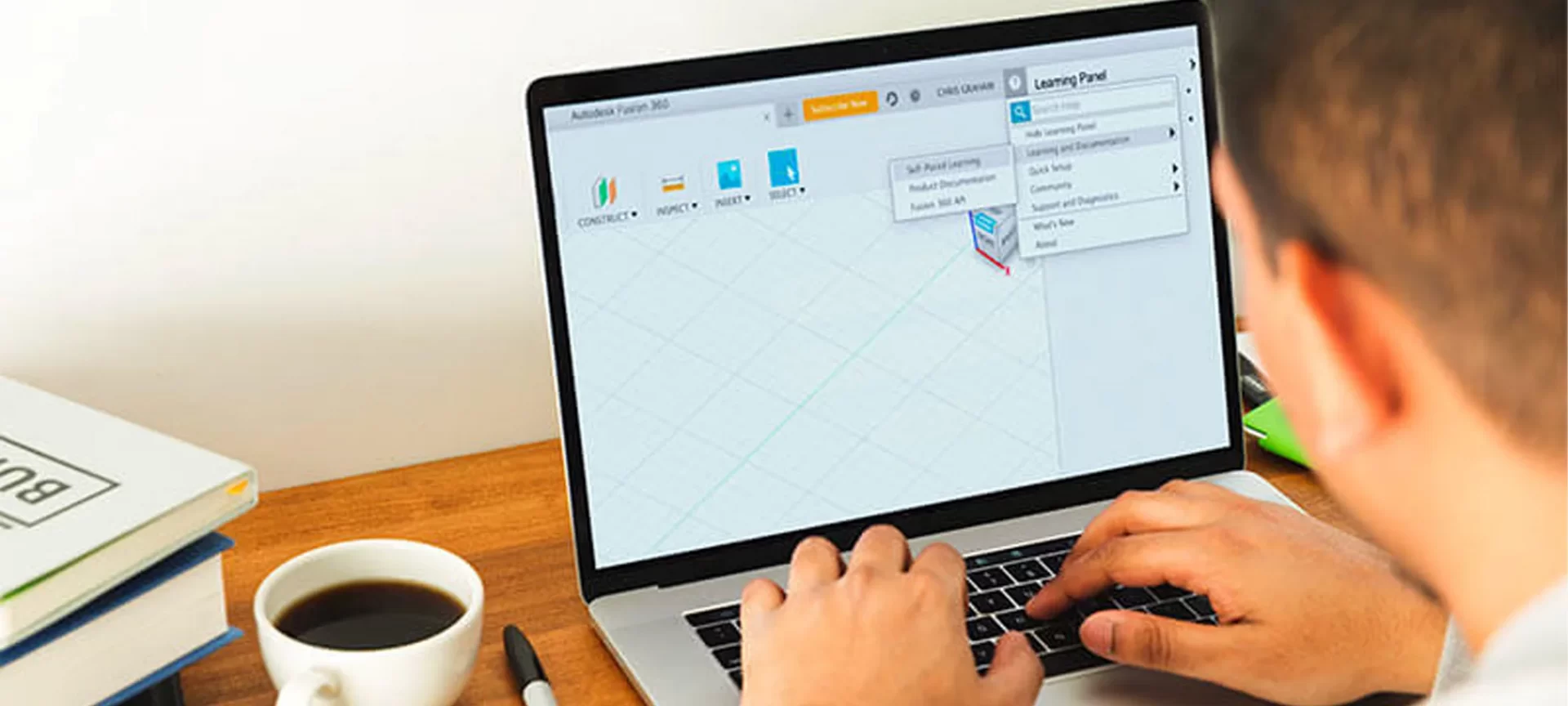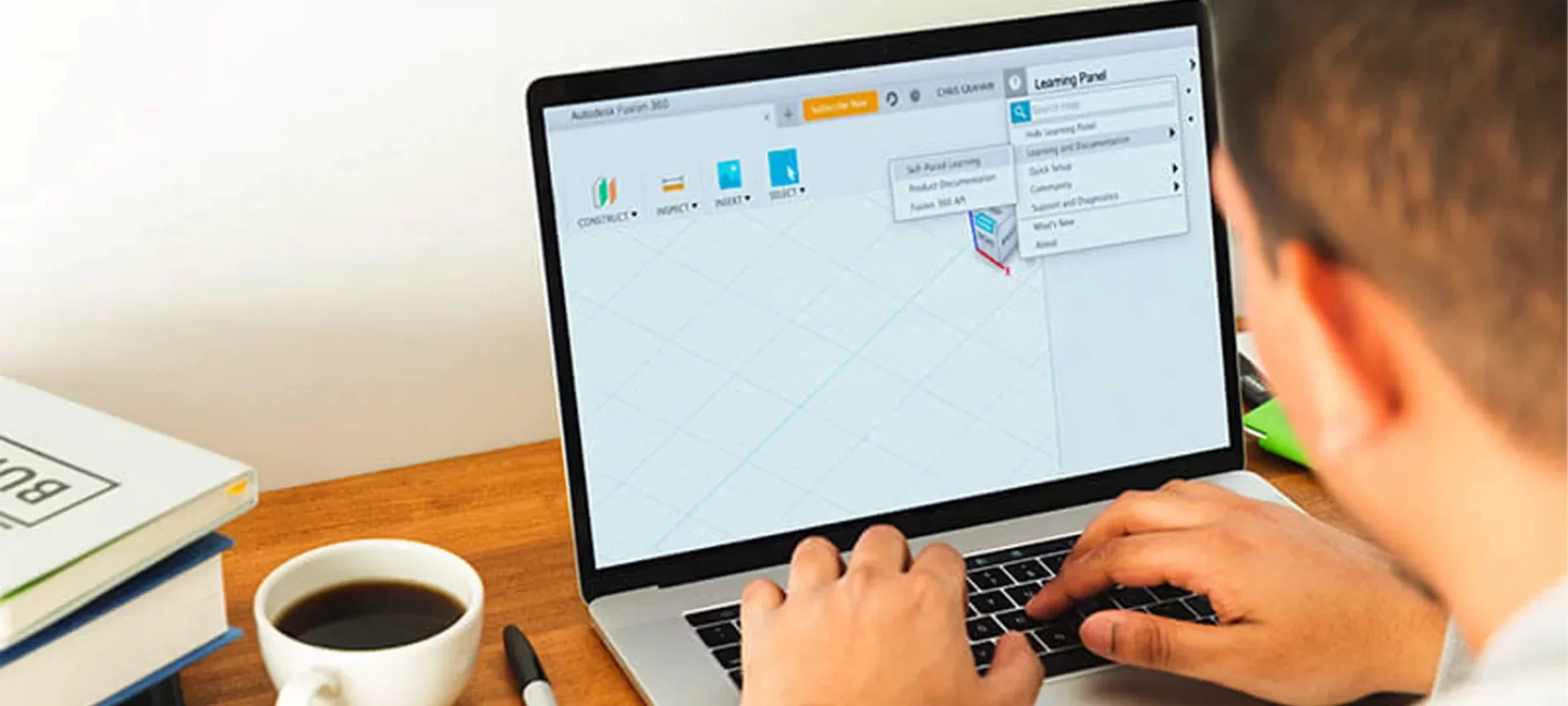 It is very tempting to say that Fusion 360 has a more natural learning curve, but on a closer inspection, we realize that is not the case. No matter how simple these programs appear to you at the start, users will always have to put some extra effort into learning the ropes, or they'd never be proficient.
It's better not to fall into the trap of assuming that a smoother learning curve is desirable because that does not allow you to learn functions that are needed for advanced designing.
So, if you are going to be serious about designing products using CAD software, don't let a steep learning curve frighten you at all. In fact, in a long term, it's the opposite. The more profound knowledge you possess about various tools, the easier it'd be while designing complex geometries.
Also, advanced settings enable in-depth designing. At the same time, no matter how complex the program's capabilities are, you'll always have to master the essential core skills and then specialize in the peripheral skills which might work in your favor to support purposes.
Note that, it doesn't matter how well the software is designed for user-friendliness; you as a user will need to put in the effort and time for learning the skills you need. And only that will be helpful in really designing something innovative that the world has never witnessed before.
Overall, in terms of the learning curve, Fusion 360 vs Inventor, the former is easier to master than the latter. But at the same time, the latter has some innovative tools to offer that the former does not. So, the final call needs to be taken seeing the need of the hour.
System Requirements
For exclusive Mac users, Fusion 360 is probably your best choice while doing Fusion 360 vs Inventor. Because the latter runs only on Windows operating systems, while the former runs on both Windows and Mac OS. Also, with Fusion 360, it's easy to switch between different computers, because all you have to do is log into your Autodesk account and make the switch.
Note that, users can also run Inventor on the Mac computer — provided that it needs to be on a Windows partition. Memory-wise, Inventor soaks up more RAM. The software recommends 20GB and requires a minimum of 8GB.
Fusion 360, on the other hand, recommends only 4GB disk storage. This is because Inventor is built for special 3D printing projects with hundreds or even thousands of parts, for example, designing a part as huge as the car. As you can imagine, designing such a part will always need a beefier computer.
Fusion 360 software is based on the cloud. It gets connected with your Autodesk account, manages all files, models, and projects which are stored and saved online. Therefore, you can easily share a model or even a complete folder with others, much like you can do with your Google Drive. Also, you can work on files that are stored on your desktop or laptop on the go.
Whereas with Inventor, there are definitely some options to export projects, but lesser in the amount than Fusion 360. Also, they can be accessed in a less automatic way. All the files are stored on your hard disk, the advantage of which is that you don't have to rely on an internet connection for the transfer. The only difficulty while dealing with Fusion 360 is that you'll have to wait while syncing models to your cloud account.
Whereas, on the other hand, Fusion 360 specializes in designing objects of smaller build volume such as everyday parts present around you.
Materials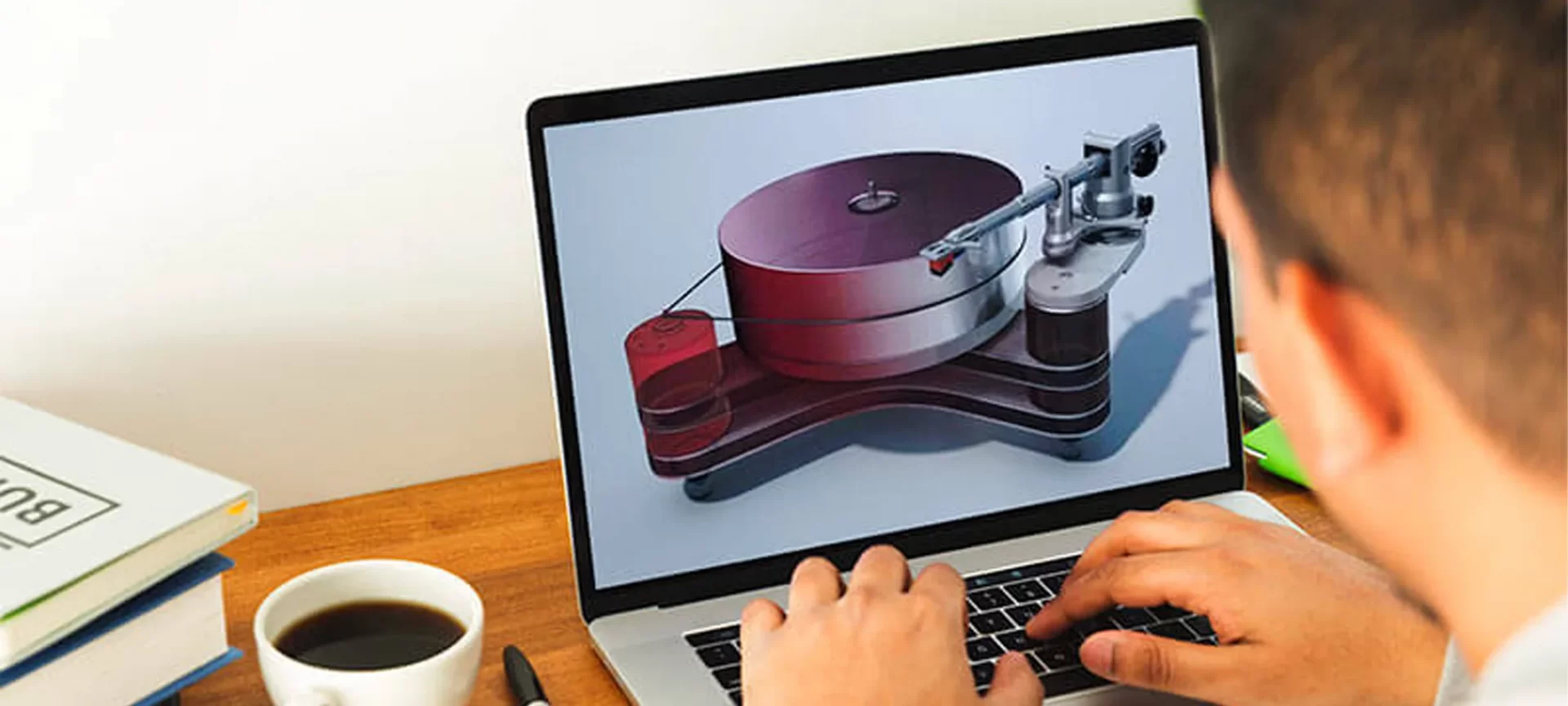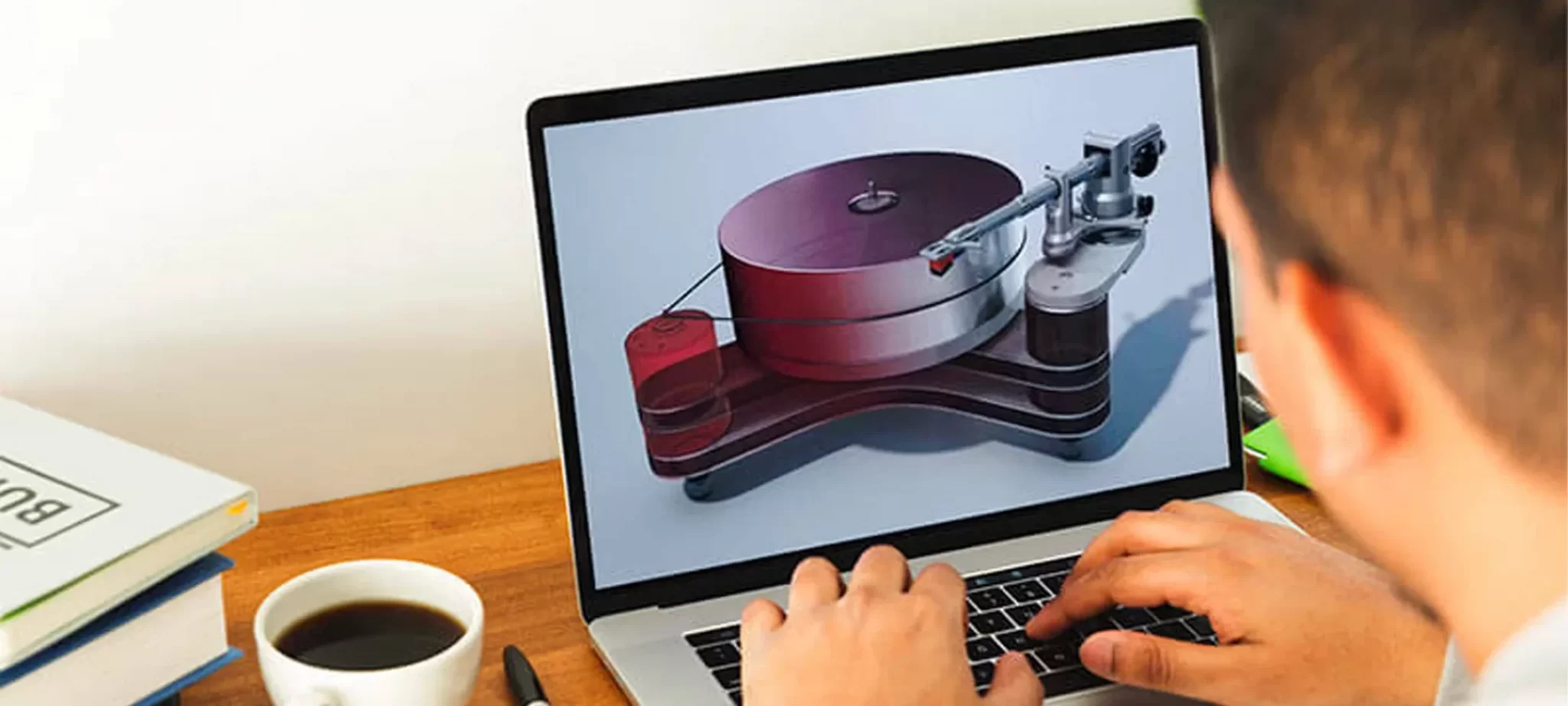 Applying specific materials to your models is very important while developing products according to industry standards. So, design software should give you the freedom to try out various options available at your disposal. Only then you do check out to see which one is more adaptable than the other for making parts and functional prototypes.
Functions available in this software let you check a specific design with a specific material. The more you can analyze, the more you can get an idea of how the resulting product will look after being made. In fact, without a perfect set of standard materials and parts, users cannot utilize the ability of these applications.
Fusion 360, as well as Inventor, lets you analyze your design with lots of materials, thereby enabling you to get a perfect idea of what the part will look like in the future. So, with respect to materials availability, there is a tie between Fusion 360 and Inventor.
Ease of use
In general, Fusion 360 offers a gentler learning curve for beginners compared to Inventor which has a few crucial aspects that make it much easier for professionals to work with more complex models compared to Fusion 360.
We define the ease of use using four different criteria. So, in the following, we compare Fusion 360 vs Inventor based on their scalability, manufacturing-centered features, simulation, and workflow.
Scalability
Inventor is a software that organizes all your measurements and parts into neat lists, thereby making it easy to deploy specific changes even when you have hundreds of parts to design. Whereas, in Fusion 360, designing large models can be a nightmare to work with, especially those in which one simple change can create chaos among other parts.
Manufacturing-centered features
Many features of Inventor are geared to the industrial world, while Fusion 360 targets more casual hobbyists like students and educators. A typical example of this scenario is discovered while creating a screw-in Fusion 360 that has just a few standard types to choose from, thereby making it perfect for newbies.
On the other hand, if the same were to be designed using Inventor, there'll be a whole host of customization options which would be very confusing for users if they are not professional designers.
Simulation
Although both, Fusion 360 as well as Inventor, offer environments for testing out your model against stressors, Inventor is the one that has a more detailed offering for covering a larger range of tests.
Workflow
For those who know how to use designing software in general or are focused on learning one, Inventor is a better option as it gets things built fast. Autodesk on the other hand does its best to automate as many actions as possible. So, users don't have to click around for specifying what they want, thereby saving time along the way.
Tools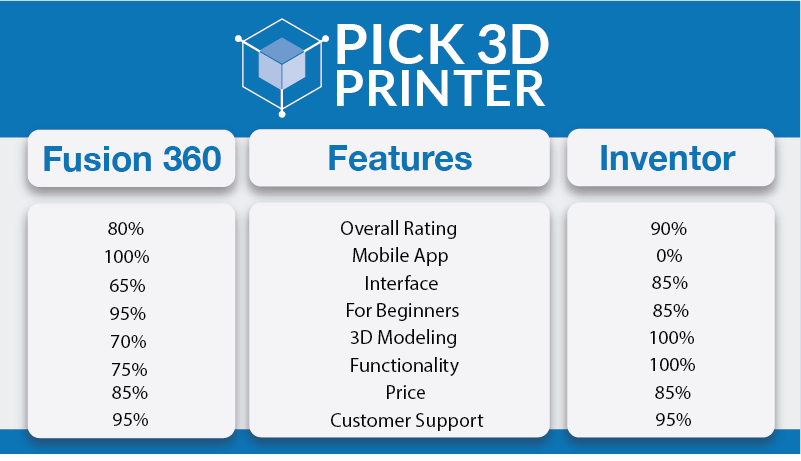 While comparing Fusion 360 vs Inventor, both of these software gives you a highly advanced experience. You can perform stress tests, simulations, or get the necessary documentation as efficiently on Fusion 360, as on Inventor. In case you're planning to 3D print your models, both of these allow you to prepare the sliced files in a format that's compatible.
However, the tools of Autodesk Fusion 360 allow are inclined to offering precise 3D modeling, rapid prototyping, generative design, and manufacturing. Operators can also determine usability before the production for catching as many potential failures as possible.
Moreover, they can test different alternatives for your design which enables and finding new, innovative solutions. Lastly, operators have an access to premade 3D models for mechanical parts such as gears or screws.
Coming to Autodesk Inventor, the application provides you with high-performance and engineering tools that permit you to produce accurate mechanical parts. Also, users can gather documentation and perform simulations as well as tests for preparing models for production.
Some of these powerful tools allow users to enable rapid assembly configurations or design hard-to-make sheet metal and frames. Above all, you can also choose from the options available for already standard components from a library.
The Conclusion
In many ways, Fusion 360 and Inventor are very relatable. So, most of the models that can be created using the former can also be made using the latter. And it's upon the user's print job to choose one among these two.
Clearly, Fusion 360 can be a choice in case you are a beginner in the field of 3D modeling software and a first-time designer of parts or functional prototypes. Not only is this option cheaper, but also lighter and sleeker.
Whereas, Inventor is a 3D modeling software that is more inclined towards professionals in the field of designing. It has been in the industry for more time than Fusion 360 has. Also, it is well-backed with all the tools needed for designing a pure manufacturing product.
Overall, after doing Fusion 360 vs Inventor, there is not a single one that appears to be a winner in all the aspects. If one outshines the other in some criteria, the other does the same in many other parameters. You can take your call depending upon the requirement your print job poses.