Table of Contents
Atomic Diffusion Additive Manufacturing, abbreviated as ADAM is a recent layer-wise process patented by Markforged. The technique is specially used for metals and is based on material extrusion.
ADAM can be categorized under an indirect additive manufacturing process. In this method a filament of metal powder encased in a plastic binder is utilized after the fabrication of a green part, it is removed by the post-treatments of washing and sintering.
The sole aim of this methodology is to provide a preliminary characterization using Markforged Metal X – the unique system currently available in the market particularly printing materials at density 17-4 PH at varying layer thicknesses and sample size.
The dimensional accuracy of the Atomic Diffusion Additive Manufacturing process is evaluated using the ISO IT grades.
Due to the deposition strategy used in the process, the final density of the part results in being strongly dependent on the two factors mentioned above i.e. 1) layer thickness and 2) the size of the sample.
The former is low compared to the material processed by powder bed additive manufacturing processes.
Stating about the roughness, it is stronger depending upon the layer thickness, but higher than that of other metal additive manufacturing processes.
The reason for that is the use of raw material is used in the filament form. The accuracy of the process achieves the IT13 grade which is comparable to that of traditional processes.
So, let's give it a closer look and understand the machine on which this process can take place, how are the density and surface evaluated, applications of the parts produced via it, and a lot more.
What is Atomic Diffusion Additive Manufacturing?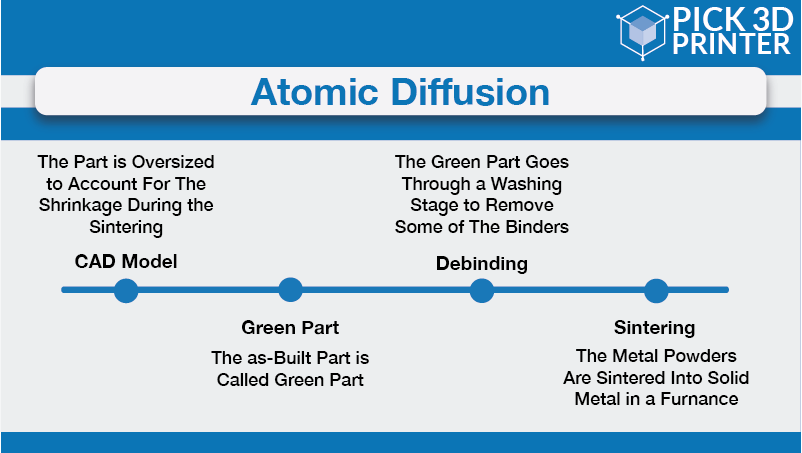 Two American companies namely Desktop Metal Inc. and Markforged Inc. recently launched two novel 3D printers based on the combination of the Fused Deposition Modelling.
The process is generally employed for polymers and Metal Injection Moulding (MIM). It is a much older process used for obtaining a close full density metal part with high complexity.
The process that Desktop Metal patented is called Bound Metal Deposition (BMD), while the one that Markforged Inc. patented is called Atomic Diffusion Additive Manufacturing (ADAM).
The similarity between these two is the wire used. This wire is made of metal powders enclosed in a thermoplastic polymer. It works as a binder for metallic particles.
The mixture of metal powder particles and polymer is stored in a cartridge on the top of the machine. When the 3D printing process is on, the mixture is fed into a unit in which the thermoplastic is not only softened but also easily extruded.
The process developed by Desktop Metal uses an ultrasonic vibrator for providing the energy that is necessary to bond the extruded material. But the one patented by Markforged Inc. system uses a simply heated extruder.
The softened material is then accumulated and pushed by a plunger through a nozzle or generally an extruder, after which it is deposited layer by layer on the build plate.
Like it is in the MIM process, the so-called "green part", is washed for removing the binder, under the process called debinding or washing operation. And then the part is sintered in a furnace allowing the densification of the material, generally called the sintering operation.
The binder used in the Markforged Inc. system is completely thermally debound in the washing system before the sintering phase. Whereas the binder used by the Desktop Metal system is initially debound by a solvent and later on treated thermally.
Because of the presence of the binder and the sintering phase, the green part is required to be scaled up and oversized, otherwise it won't account for the shrinkage during post-processing.
About Markforged Metal X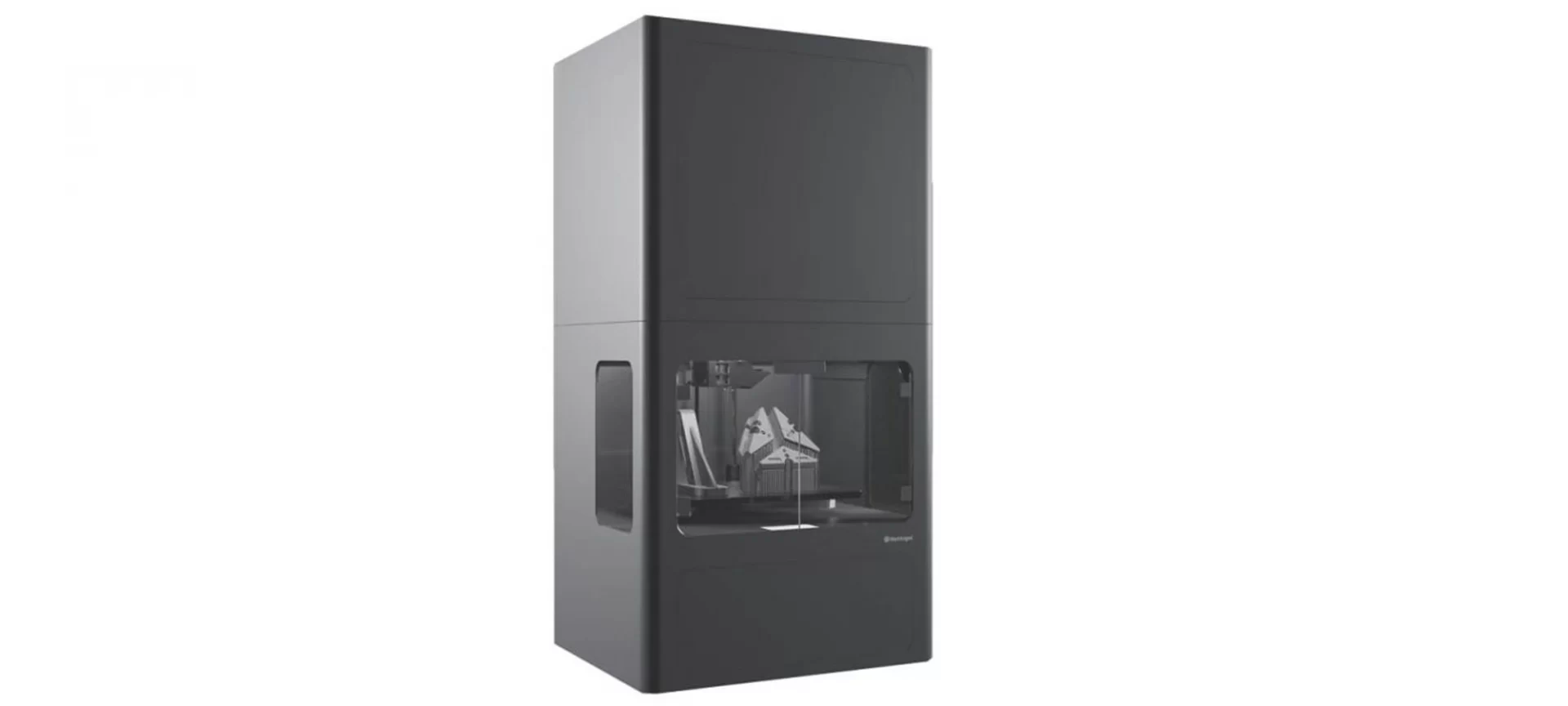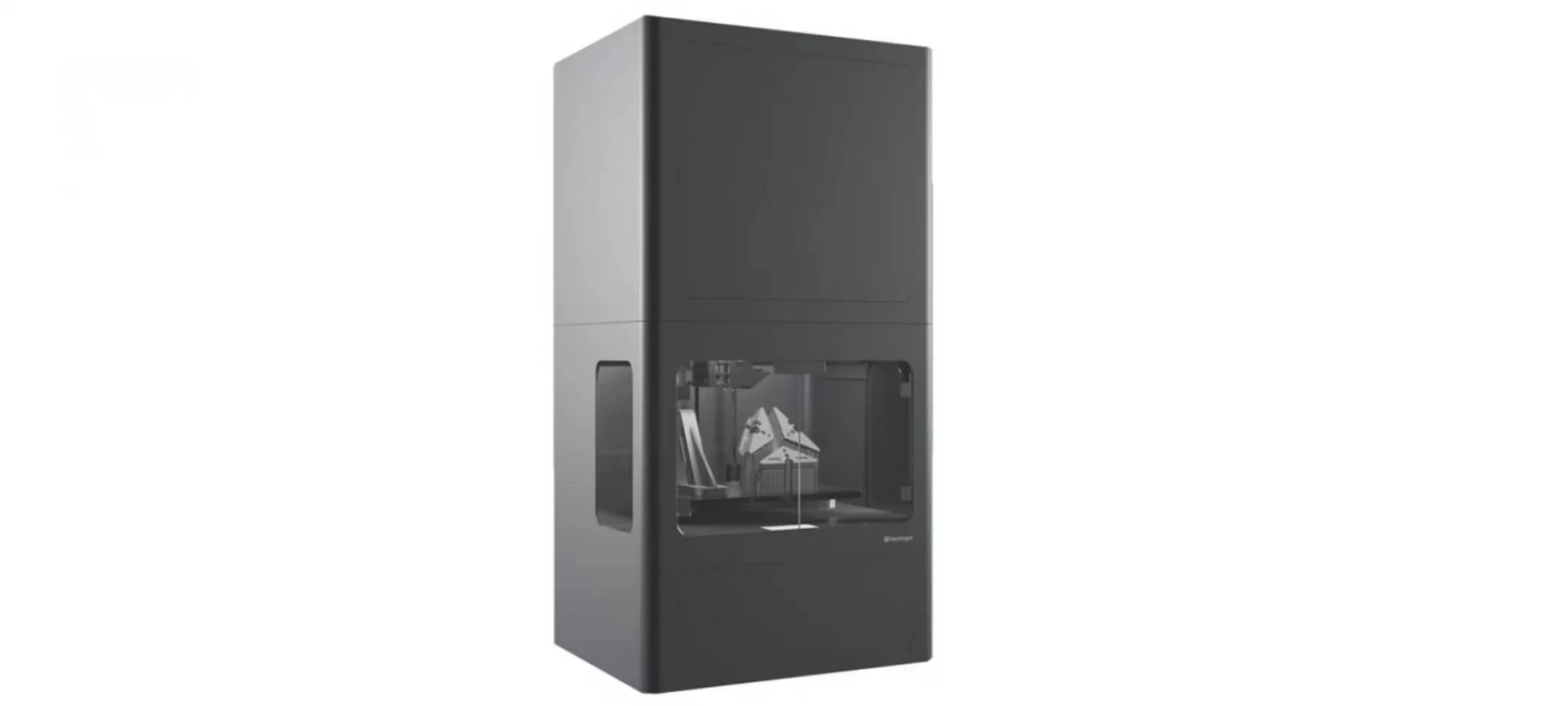 Being the most accessible way to fabricate complex metal parts, the Markforged Metal X offers you the widest variety of advanced metals. It is the most intuitive, simple-to-use 3D printer available to date.
BY allowing you to print with a wide range of materials starting from stainless steel to copper, Metal X lets you operate the machine with minimal training on a closed workflow.
The 3D printing system is designed to be safe to use and accessible for all fabricators. Also, it costs 5-10 times less normal DMLS metal 3D printing systems and requires:
No dedicated operator.
No powder management system.
Minimal PPE.
Having stated so, the Metal X is purpose-built for great part quality and offers a seamless user experience.
For this, the company has combined: a) best-in-class software, b) materials research, and c) an advanced motion system, a combination of which delivers industrial-grade parts reliably.
The Markforged Sinter-2 and Sinter-1 are highly optimized tube furnaces utilized for sintering 3D printed metal parts. They are known to provide best-in-class sintering reliability and run times. Both of them are equipped with advanced safety features.
The former is a little more advanced than the latter which features a larger working volume, more precise temperature control, and a mechanical door interlock. Both of them typically have run times between 26 and 31 hours.
However, the latter can process small parts in express mode, where it can sinter up to 250g of parts in just 17 hours. Isn't that amazing?
By printing metal powder bound in a plastic matrix, Metal X becomes the first machine to eliminate the safety risks associated with traditional metal 3D printers.
This essentially means that there is no loose powder, no lasers, and none of the traditional safety precautions. If you want to use it in a shop environment with minimal facility upgrades, you can.
The printer features;
A precision-machined gantry
A heated chamber and print bed.
Advanced extrusion hardware.
Metal X is equipped to reliably print you durable parts and is intentionally designed with wear components and consumables that include print sheets, nozzles, and brushes, all of which are accessible and trivial to swap.
Wash-1 is a solvent-based debinding system primarily using Opteon SF-79 which is a high-performance fluid designed to offer superior cleaning power, higher efficiency, and safety in an environmentally sustainable way.
It operates with simple ventilation and is equipped with an extremely simple user experience. The Wash-1 is tested and verified as a shop-safe system.
Product
Specification
Videos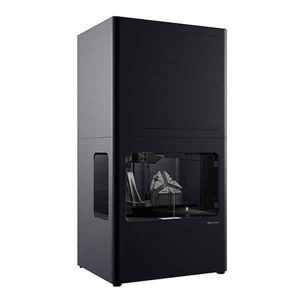 The printer is the most accessible way for fabricating complex metal parts with the widest available range of advanced metals. Starting from ...
| | |
| --- | --- |
| Model | Metal X |
| Manufacturer | MarkForged |
| Price Range | $ 99500 |
| Release date | 2017 |
| Country | United States |
| Availability | Available |
| Classification | Professional |
| Technology | Extrusion (FFF- FDM…) |
| Material | Metal |
| OS compatibility | Linux, Mac OS, Microsoft Windows |
| Max. build size | 300 × 220 × 180 mm 11.81 × 8.66 × 7.09 in |
| Max. build volume | 11.88 L |
| Min. layer thickness | 0.05 mm 0.002 in |
| Dimensions | 575 × 467 × 1120 mm 22.64 × 18.39 × 44.09 in |
| Weight | 75 kg 165.35 lb |
| Power input | 2400W @ 110-220 V 50-60 Hz AC |
| Heated print bed | No |
| Heated build chamber | No |
| Automatic calibration | No |
| Closed frame | Yes |
| Dual extruder | Yes |
| Independent Dual Extruder | No |
| Full color | No |
| LCD screen | No |
| Touchscreen | No |
| On-board camera | No |
| Mobile app | No |
| 3D scanners | Yes |
| CNC mill | No |
| Electronics 3D printing | No |
| Laser engraving | No |
| Conveyor belt | No |
| Air filter | No |
| Pellet extruder | No |
| USB | No |
| Wifi | No |
| Bluetooth | No |
| SD card | No |
| Ethernet | No |

Specifications of Metal X: The Machine Based on Atomic Diffusion Additive Manufacturing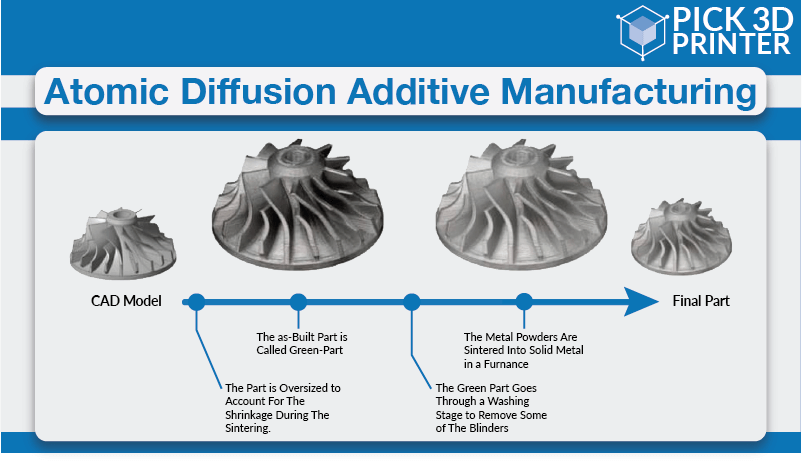 The building volume of Metal X is 300 mm * 220 mm * 180 mm, but the maximum part size that can be built is 250 mm * 183 mm * 150 mm.
At the start of the 3D printing process, a vacuum-sealed sheet is meant to be placed on the top of the build platform for facilitating the adhesion of the part during the construction and its detachment at the end of the process.
Normally the building platform and leveling system are designed for carrying a maximum load of 10 kilograms. And generally, the chamber and the building platform are heated during the process.
As mentioned above, WASH-1 is used as a debinding system. The washing vat of which is 356 mm * 254 mm * 203 mm and the washing fluid used for this process is Opteon Sion.
Markforged Sinter-1, used for the sintering phase can achieve a temperature up to 1300 °C and can work in an inert atmosphere using Argon and Nitrogen.
The Sinter-1 has a cylindrical volume with a diameter of 141 mm and a length of 305 mm. The Markforged Metal X machine is based on the Atomic Diffusion Additive Manufacturing process and has an in-situ inspection system.
It is based on a laser scanning sensor that monitors the dimensions of the part that are building during the process. There is an inclusion of a secondary extruder for depositing a layer of the ceramic material on the interface between the supports and the parts during the construction.
The ceramic layer used for this is easily detachable and can be removed for removing the support structures at the end of the 3D printing phase. This is how the 3D nesting of parts takes place. The powder used in the form of the filament does not require any specification.
Markforged proposes stainless steel (H13 tool steel and 17-4 PH), Inconel (625), Ti-6Al-4V, A-2, and D-2 for tooling, and aluminum alloys (6061 and 7075) for making metal 3D parts and functional prototypes. However, only H13 tool steel and 17-4 PH have been able be industrialized and are ready for production.
What Are The Applications of Parts Made from ADAM?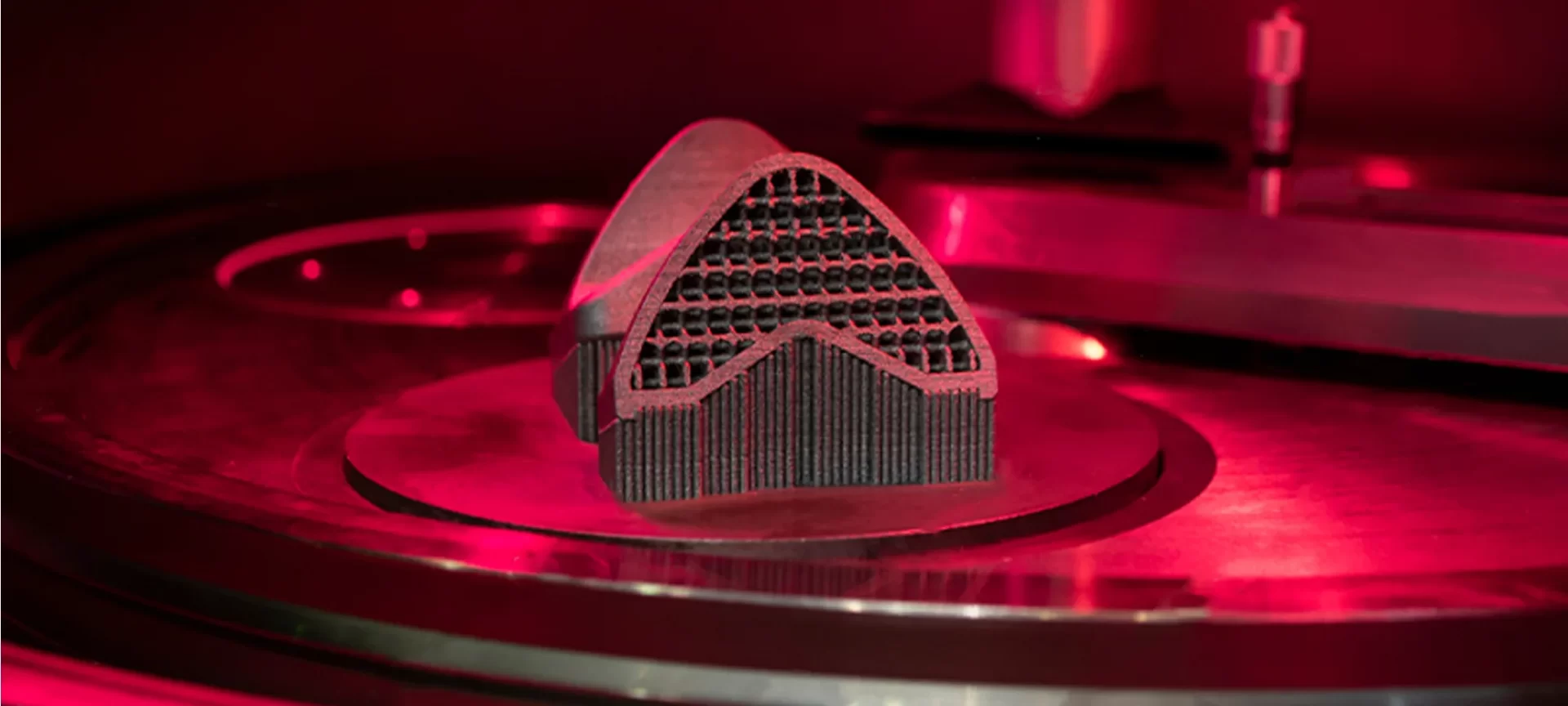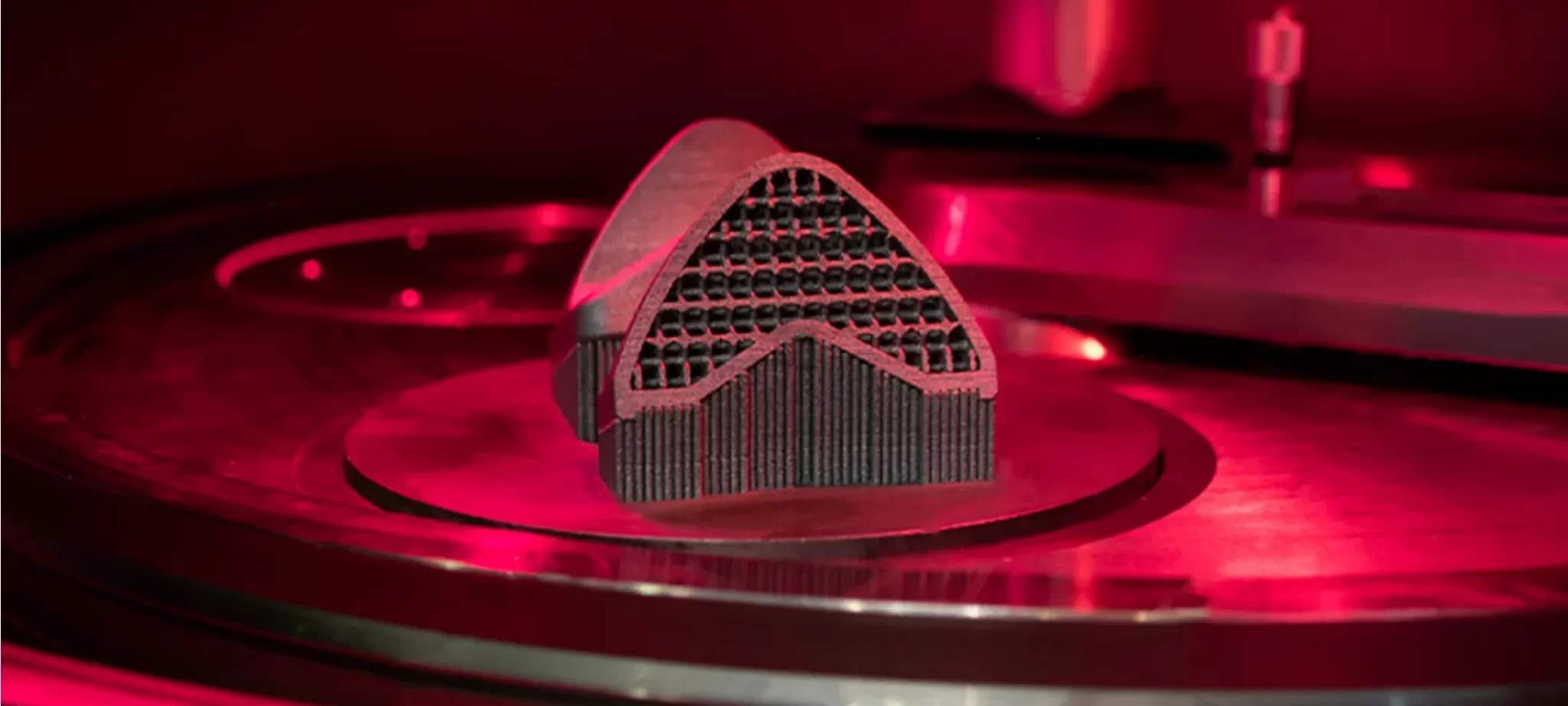 Atomic Diffusion Additive manufacturing manufactures parts and functional prototypes that find application in various industries. The best part about parts made from the Metal X is that they are manufactured without human input.
All that a human does is washing the parts and sticking them in a furnace. All the other aspects of the production process are automated, so you can go from CAD to part in a fraction of the time versus traditional tooling processes.
One of the standout benefits of ADAM is that you can print closed parts with complex internal geometries. For example, it allows you to print a hexagon infill, for reducing material use and significantly reducing weight without compromising integrity.
Continuing on the same line it replaces the mold-making process entirely. As you may or may not be aware, metal injection molding is an extremely time-intensive process and much of that time is spent creating the mold.
With the Metal X, you don't need a mold at all and can fabricate parts or functional prototypes like no other. Or, if you do, you can 3D print a mold out of metal in around a day and a half. So, the time which is in weeks reduces to the point of being negligible.
Eiger
Markforged has spent the last 4 years building out a comprehensive cloud-based fleet management solution called Eiger.
There are thousands of Markforged printers, everyday busy churning out parts all over the world. All of them running with full telemetry, error monitoring, feedback, and analytics! It is easy to visualize them as a distributed print farm.
At Markforged itself they run over 100 printers in parallel. Half of them are dedicated to producing parts for developing our new printers, a 30 run long-term cycle testing, and 20 are used in operations to manufacture sample parts, so, overall it all comes to about 6500 parts per month.
The Conclusion
Be developing Atomic Diffusion Additive Manufacturing, Markforged has given 3D printing a new way to ponder upon. According to the CEO of Markforged, Humans have been pouring metal into molds for five thousand years and it is only now that we have managed to find a better way to do so.
According to him, in the next 2 years, Markforged will achieve the technological leap to true digital metal manufacturing. As we can currently see that the digital age is transforming every other industry known to man starting from music, photography, writing, telecom, email, to the internet.
But manufacturing is largely still the same as it was in the 50s, and by propagating Atomic Diffusion Additive Manufacturing we can take mechanical engineering to enter the digital age.
It is worth noting how; today's metal 3D printers are the mainframe computers of manufacturing. They all ten to have three qualities i.e., they are large, slow, and expensive costing anywhere around $500k -1M.
Similarly, mainframes were once in history disrupted by cloud data centers. And so is going to happen with large-format metal printers, they too will be replaced by smaller, low-cost machines working in parallel – print-farms.
And that is when Markforged's Atomic Diffusion Additive Manufacturing (ADAM) process for printing metal will unlock a new era of metal parts production.
Hopefully, 3D metal print farms will shorten development time, closing the gap between prototyping and production and solve the most significant problems facing manufacturing today.
Although Atomic Diffusion Additive Manufacturing has made its mark, it's yet to be as major as FDM, SLA, or even powder bed fusion 3D printing technologies. The road is unexplored and is up for a lot of experimentation and development.