SprintRay MoonRay S
Overall, MoonRay S is capable of printing fantastic quality parts with fast print speeds. Thanks to its projector, compatibility with multiple resin and highly durable resin tank.
PROS
Compatible with multiple materials for your 3D printing project.
Has an ultra-durable resin tank.
High production rate.
Top quality lenses ensure dimensionally accurate parts.
Dependable, high resolution producing projector.
CONS
The build volume offered by MoonRay S falls shorter than most basic desktop level FDM or SLA 3D printers.
Although offering small build volumes, the printer is on a higher end of the budget.
Product
Specification
Videos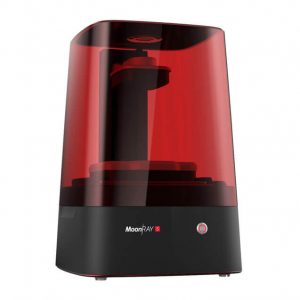 A professional DLP 3D printer that allows users to create large parts while not compromising with precise detail. It makes use of the ultra-durable ...
| | |
| --- | --- |
| Model | MoonRay S |
| Manufacturer | SprintRay |
| Price Range | $ 4430 |
| Country | United States |
| Availability | Available |
| Classification | Professional |
| Technology | Resin (SLA- DLP…) |
| Material | Liquid resin |
| OS compatibility | Mac OS, Microsoft Windows |
| Generic material | Yes |
| XY accuracy | 0.1 mm 0.004 in |
| Max. build size | 130 × 80 × 200 mm 5.12 × 3.15 × 7.87 in |
| Max. build volume | 2.08 L |
| Min. layer thickness | 0.02 mm 0.001 in |
| Dimensions | 380 × 380 × 500 mm 14.96 × 14.96 × 19.69 in |
| Weight | 16 kg 35.27 lb |
| Heated print bed | No |
| Heated build chamber | No |
| Automatic calibration | No |
| Closed frame | Yes |
| Dual extruder | No |
| Independent Dual Extruder | No |
| Full color | No |
| LCD screen | No |
| Touchscreen | No |
| On-board camera | No |
| Mobile app | No |
| 3D scanners | No |
| CNC mill | No |
| Electronics 3D printing | No |
| Laser engraving | No |
| Conveyor belt | No |
| Air filter | No |
| Pellet extruder | No |
| USB | No |
| Wifi | Yes |
| Bluetooth | No |
| SD card | No |
| Ethernet | Yes |

Table of Contents
Based on DLP technology, MoonRay S by SprintRay is a wireless, desktop 3D printer. It can print high-quality parts like SLA 3D printers at a faster print speed.
The printer's resin tank permits a build volume of 127 mm * 81 mm * 200 mm. Moreover, a Wi-fi-enabled system helps users seamlessly migrate and integrate source files from design to final print.
MoonRay S's forefront hosts a RayOne UV DLP 3D projector, the development of which eliminates the distortion issues of conventional DLP and laser SLA 3D printing systems.
A tidily tuned light source from the projector does the work of curing the resin. The printer manufacturer offers standard resins in orange, white, and clear color with functional resins known to deliver augmented capabilities.
A castable resin lets users make and cast jewelry with fine detailing. Whereas, modeling gray resin is a superb choice for engineers and artists because of its ability to give opaque finishes and a neutral tone!
Holding everything together, the RayWare software client permits you to set up, prepare and slice models and STL files for 3D printing.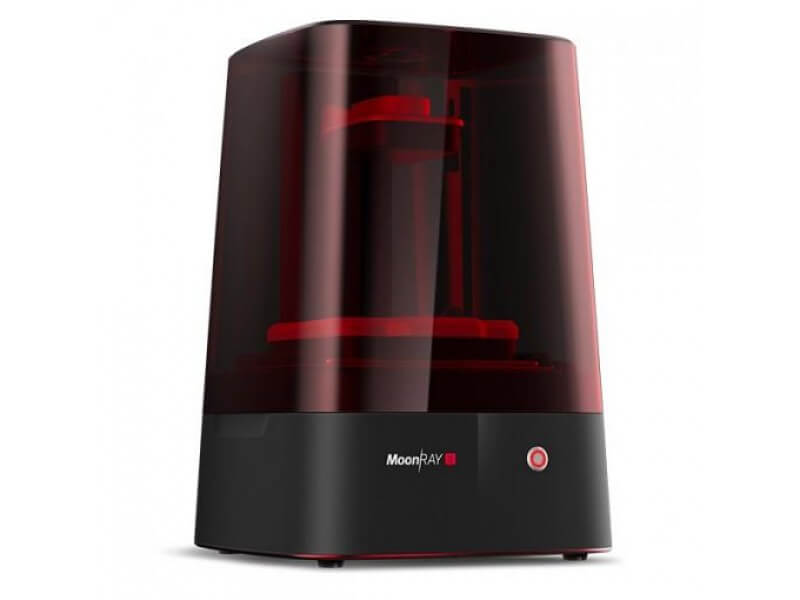 With all of that being stated, the two big questions still remain answered. Whether MoonRay S is a reliable 3D printer? And how valuable is the 3D printer with respect to the price at which it is available in the market? Let's try and seek answers to these questions by going through the in-depth review of the MoonRay S 3D printer.
Features
SprintRay has put in place an ultra-durable resin tank because replacing it after every few prints is not needed. Not only does this maximize your uptime, but also leaves you with minimal maintenance.
MoonRay S is packed with such amazing features that make it stand out on the list of similarly priced 3D printers.
Reliable Projector
A custom-built UV DLP projector, RayOne is present at the core of MoonRay S. It is well calibrated and long-lasting.
While functioning, RayOne manages to consistently hit the correct light wavelength, thereby providing improved resin-curing and dimensional stability. This leads to exceptional detailing in all parts printed with MoonRay S.
The printed parts possess a dimensional accuracy of 50 microns. All of this, at one inch per hour printing speed with 100-micron Z-resolution.
Smoothly Flowing User Experience
MoonRay S blends the high-resolution capabilities of SLA 3D printing with DLP technology. A result of this is highly detailed and precise prints using fast print speeds which sums up for a flawless user experience. Also, the printer is extremely easy to set up.
All of these characteristics make it an ideal desktop DLP 3D printer for businesses, educators, and other individuals who prefer to create SLA print quality, however, in less time.
Capable of Creating Detailed Creations
Exceptional accuracy is an outcome of a DLP printer's precisely functioning projector and high-performance delivering materials.
MoonRay S has both of these and that's why SprintRay guarantees of coming up with an excellent surface finish in every print. The distortion issues of conventional DLP and laser SLA 3D printing are well taken care of by RayOne.
Its constant light intensity across the build platform confirms accuracy in printed parts, regardless of their size and shape. Additionally, MoonRay resins have been created specifically to interact with RayOne for printing error-free parts with detailing.
Increases Your Production Rate
MoonRay S is like an SLA 3D printer without its major setback – slow print speed. It is fast at creating dimensionally accurate small and large parts consistently.
Printing numerous models consumes a similar amount of time as does printing one model. This quality makes the printer a time-efficient 3D printing option. SprintRay claims it to be ten times faster than laser SLA 3D printers.
Extremely Durable Resin Tank
The general trend with resin tanks of DLP 3D printers is: use it for some prints and then change it. In fact, some DLP 3D printers come along with more than one resin tank so that its users do not have to immediately go out in search of another one.
But MoonRay S' resin tank is manufactured differently. It lasts longer. Therefore, you would no longer need to spend much on its maintenance or change it on a regular basis.
Instead, you can focus on creating and printing. According to the claims, the printer's resin tank lasts up to 25 times longer than its competitors.
On inquiring about the other printers, you'll get to know how their tanks need to change after every two liters. MoonRay S' resin tank is capable of lasting 50 liters before replacement.
Compatible With Multiple Filaments
Standard, as well as functional varieties of UV sensitive photopolymer resins, are compatible with MoonRay S. The former comes in a variety of colors such as orange, white and clear.
Formulated to stay true to their original dimensions, these resins can preserve every minute detail. Note that, functional resins extend the capabilities of MoonRay S.
Its castable resin permits printing cast jewelry with fine detailing. Whereas, modeling gray resin is the perfect choice for engineers and artists, thanks to its opaque finish and neutral tone.
Specifications
MoonRay S has a build area of 13 cm * 8 cm * 20 cm. The printer offers three different layer thickness options. Users can print with 20, 50, 100 microns resolution. Hence, the machine allows a considerable build volume with varying print qualities according to the need.
The minimum feature size offered by MoonRay S is 100 microns. Its print speed is one inch per hour at 100 microns Z height.
Users can connect with multiple options on the printer:
Wireless LAN or Ad-Hoc Wi-fi b/g/n and
Wired connectivity LAN via Ethernet.
MoonRay S's dimensions are 38 cm * 38 cm * 50 cm and it weighs 14 kilograms. So, you can easily keep it in a compact space and it is transportable.
RayOne the projector has 100 microns XY resolution, 1280 * 800 pixels. It has a Glass+ polycarbonate lens construction. The complete mechanism of this part is managed using Texas instruments DLP chip.
A 405 nanometer's wavelength blue-violet light interacts with the resin to cure it into solid parts. It has an expected lifetime of 50,000 hours and a machined Aluminum structure.
Price
SprintRay MoonRay S is available at a market price of $4430. Also, add ons like SprintRay Die and model resin – gray, and MoonRay S castable resin are obtainable at $149 and $249 respectively. Adding them to your order would increase the overall budget.
First Impression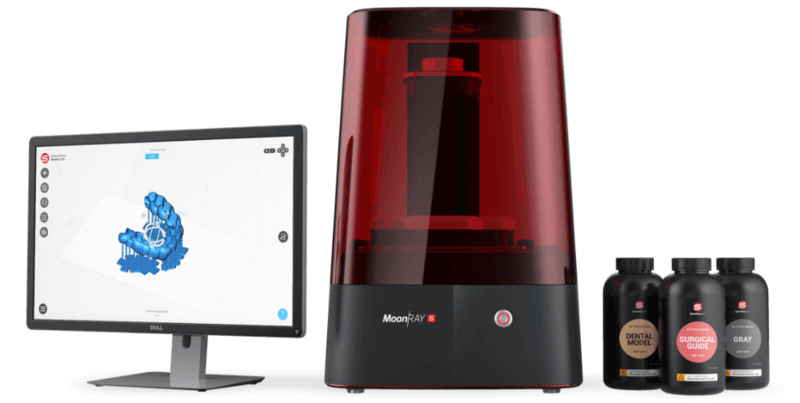 Credit: sprintray.com
The top view of MoonRay S has an inclined look, which means the bottom has more area which keeps on decreasing while coming to the top.
You can open the print chamber by holding it from the sides. There are slots to fit your hand. The body does not have any touch screen interface, but it hosts a button with which users can turn the printer on/off.
Moreover, the print chamber is transparent allowing operators to see the 3D printing process happen with their eyes. In addition, the printer reaches users neatly packed inside a box.
Thanks to the efforts the manufacturer puts in ensuring that the printer's delivery is safe.
Setup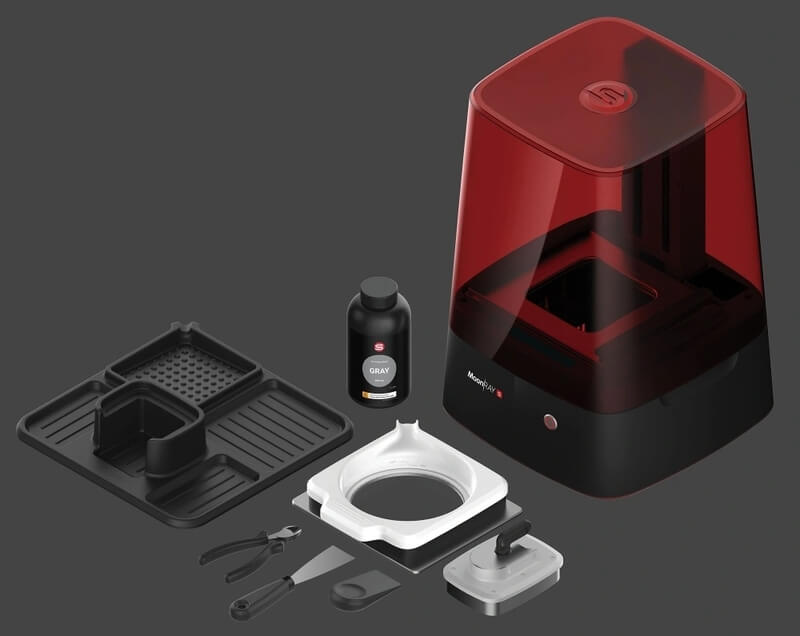 Credit: sprintray.com
Well, MoonRay S. However, the box in which you receive it contains the following.
A MoonRay S 3D Printer
The RayWare Software
An Access Resin Tank
A Spare Resin Drum
A Build Platform
1 Liter of Standard Resin
A Finishing Kit
A Power Supply and
An Ethernet Cable
Putting all of that into relevant places will take about ten minutes. Another ten is what you'd need for uploading files over it. So, approximately in twenty minutes, users will be able to start 3D printing with MoonRay S.
Print Type/Cost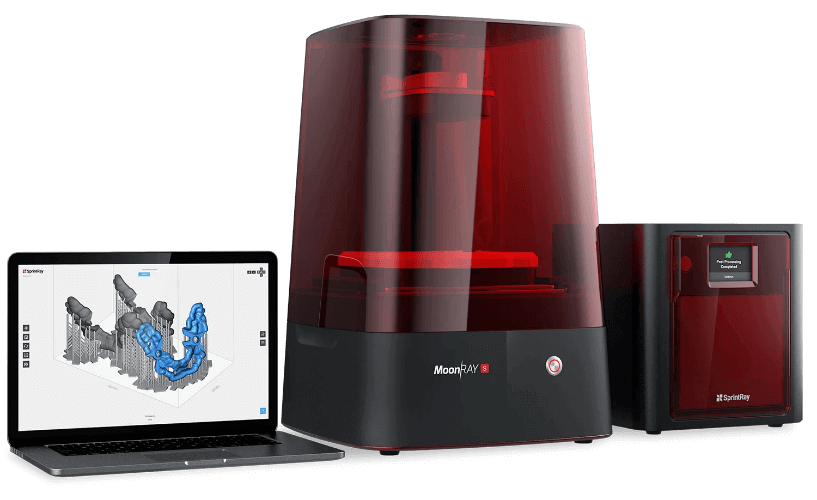 Credit: liqcreate.com
DLP 3D printers are known to be faster than SLA 3D printers and yet deliver high-quality prints. Otherwise, both of these printers work similarly.
There is a light source present inside the lower compartments of SLA as well as DLP printers. However, in DLP 3D printers, there is a projector present in between the light source and resin vat.
The cost of printing a single part using DLP 3D printers is higher than that of FDM 3D printers because it uses a dedicated light source. However, it depends on various factors.
For example, part geometry, the resin used cost of that resin, support structures, and more. So, it keeps on varying if any of these factors change.
Print Quality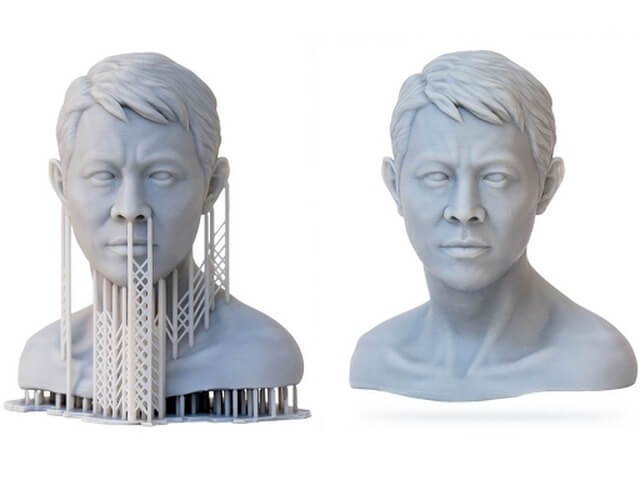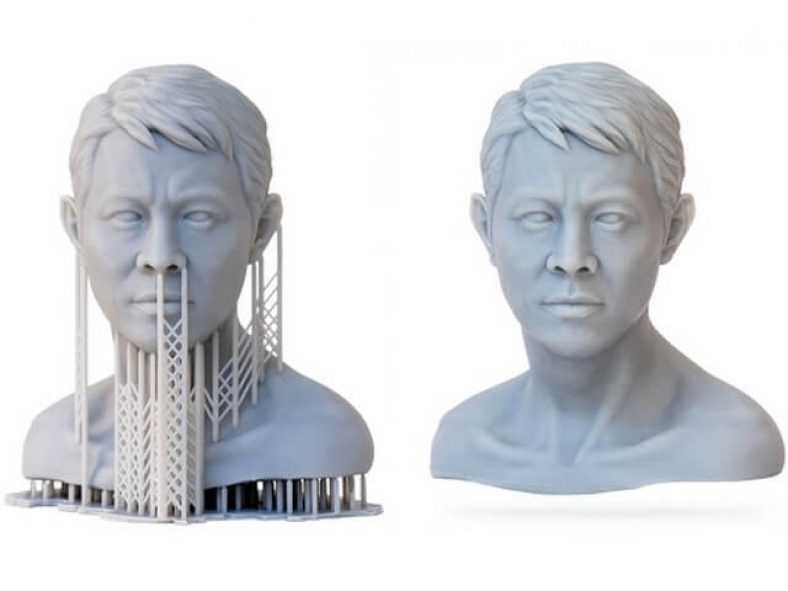 Credit: googleusercontent.com
Generally, DLP-printed parts do not need post-processing. They are ready to be put into the application once completely cooled down. MoonRay S continues the reputation maintained by DLP 3D printers.
It is capable of producing excellent quality parts of three types of layer thicknesses i.e. 20 microns, 50 microns, and 100 microns. The minimum feature size offered by the printer is 100 microns.
Whether you are printing with multi-color offering standard resins, or capabilities extending functional resins, MoonRay S delivers pinpoint precision. Cast jewelry with fine detailing and engineering parts with dimensional accuracy can be printed on it.
Software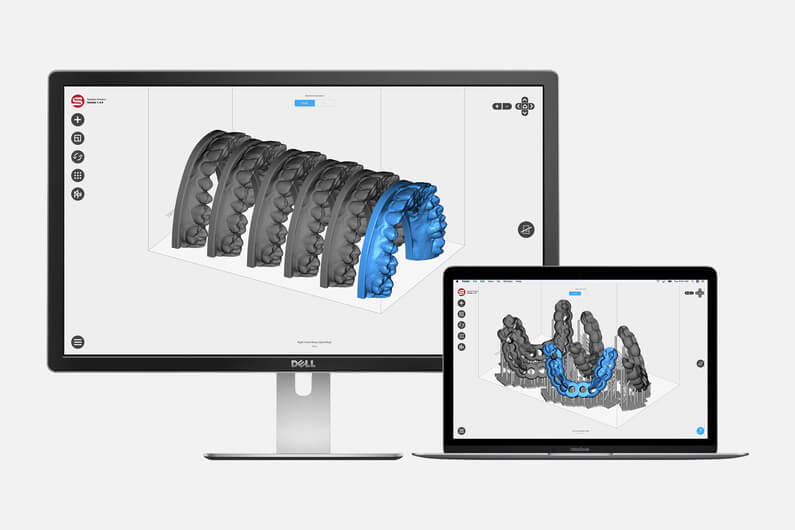 Credit: sprintray.com
RayWare does an extraordinary job of keeping things straightforward. The application automatically generates support, easing the job of the users. Hence, it's very beginner-friendly.
In addition, it's 30 percent more efficient than other comparable SLA software. It has an intuitive interface and it's very neatly designed.
Moreover, Its anti-aliasing feature will stop the surface of the part from appearing pixel-full.
Customer Support
The technical team of SprintRay works Monday to Friday 7 am to 5 pm IST. You can get in touch with them by requesting assistance.
However, there are many materials related to MoonRay S available online for its calibration, networking, maintenance, FAQs, etc.
Parameters Influencing Buying Decision
A summary of the printer's chief factors is mentioned below.
3D Printer Cost: MoonRay S demands a one-time high investment. It is not suitable for home users. However, enthusiasts interested in achieving high-quality prints can.
3D Print Speed: The printer offers commendable speed for printing. However, if you have worked with FDM machines before, it might seem a little slower. But according to its competition, the printer manages to offer impressive speed.
3D Print Quality: Extraordinary prints with excellent surface finishes are possible with MoonRay S.
3D Printer Capability: The printer is capable of printing with various resins.
3D Printer Practicality: Certainly, the printer offers high-quality prints along with support for multiple resins. Therefore, it is best suited for industries demanding accurate prints or functional prototypes. Users can create parts for jewelry, aerospace, medical and other niches with ease.
3D Printer User Expectations: Definitely those expecting a budget-friendly desktop 3D printer would be disappointed. However, the printer isn't for home users anyway. On the contrary, it works great for small-scale industries. And, as said before, hobbyists looking for additional perks and ready to invest a little more for their gig will also find this printer satisfactory.
The Verdict
Overall, MoonRay S is capable of printing fantastic quality parts with fast print speeds. Thanks to its projector, compatibility with multiple resins, and highly durable resin tank. The build volume falls short a little, but that's the case with almost every DLP desktop 3D printer.
So, in case you are interested in printing precise parts at an affordable price when compared to industrial printers, you can certainly choose MoonRay S.