Table of Contents
The complete success of any 3D printing project depends on a design file that needs to be made in 3D modeling software. And when it comes to choosing the right software that can offer complete design freedom there are many choices available in the market. But, very few among them can actually offer the optimum level of user-friendliness with advanced design settings.
Two of the most popular 3D modeling software are Solidworks and Fusion 360. So, which one to choose from two? Well, we can only tell after doing a Fusion 360 vs Solidworks comparison.
Both of them are considered to be leaders in 3D modeling. They help users to get from visualization to simulation, from prototyping to production. However, there are many criteria on which they can be analyzed upon.
And only after analyzing their usability, reliability, installation, support, cloud integration, and many other factors, one can tell which one of these is better suited for their 3D printing job. So, without wasting any more time let's get straight to the comparison.
Fusion 360 vs Solidworks
Each and every 3D printing project has its own challenges that can be solved by Solidworks sometimes and the other times by Fusion 360.
So, though both of these have some of the other outstanding features, you cannot use them interchangeably as for some problems, Solidworks can provide a solution, whereas Fusion 360 has a way out for the others. Only after going through the comparison on various factors can one tell which one is more suited for which projects.
The functionality of the user interface
The user interface provided by Fusion 360's makers is straightforward. It has drawn inspiration from Google's Sketchup especially for its layout.
A great point about this interface is its flexibility to change from time to time while switching its use from a large monitor to a smaller one. It will condense tools and menus while you use it on a smaller screen so everything doesn't look squashed.
Note that, it is still easy to find everything that you need on a smaller device. The software offers two modes of operation, light, and dark. Better customization with the user interface is possible but then you'd have to increase your time spent on its drafting models.
Solidworks doesn't have an eye-catching UI from an aesthetic point of view. With that been stated, it is fairly easy to use. Over the years, the company has made some big improvements to it overcome the looks it had in the past. Although it might still seem a little clunky and outdated, the application's user interface has everything laid out in a nice way and straightforward way.
Because of which beginners have no difficulty in finding the correct tools. The best thing with Solidworks is that users can customize their shortcuts so you can modify the software to your needs and speed up your productivity.
Overall, in terms of functionality of the user interface Fusion 360 vs Solidworks, it's better to prefer the former when you need an aesthetically pleasing user interface over a simple interface of the latter.
Dependability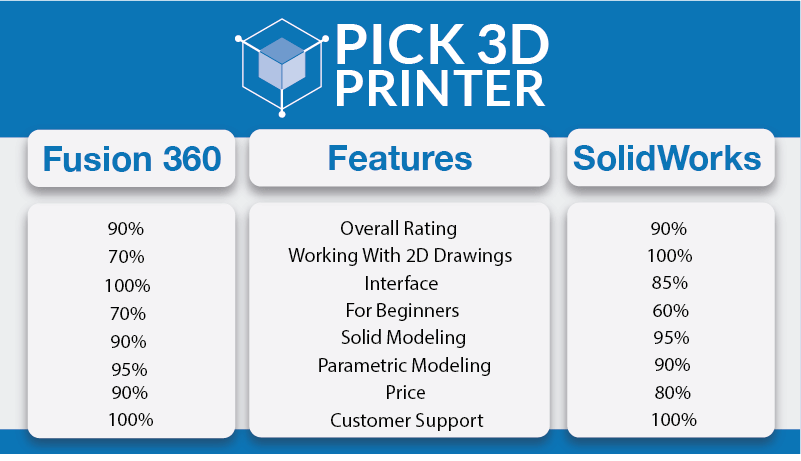 Fusion 360 is very eccentric than most other CAD software you'd come across as it works exclusively via cloud technology.
This is a great advantage for processing power because it isn't clogging up your machine unnecessarily. It means that users won't need to have such a high-tech computer for running Fusion 360 as they would need with many other CAD programs.
Moreover, it also means operators can easily access their files from wherever they are without carrying any storage devices around. One challenge is to find an internet connection for it to work, but thanks to digitization that is no more a problem.
Unlike Fusion 360's working based completely on the cloud, Solidworks is based on local and network files like most other CAD software. Meaning that it does require more processing power and more storage to work properly on the application.
So, be prepared with a higher spec machine for running Solidworks seamlessly at your end. The advantage of these features is that you don't have to rely on an internet connection for the application to work and can still access everything even if your internet is down.
Beginners and all those not working in a professional environment will need to move files between a laptop and a workstation. Doing so can raise its own issues. However, overall Solidworks is a reliable CAD platform that will work without the internet too.
In terms of dependability choosing from Fusion 360 vs Solidworks, it's a question of choosing a solution provider that offers cloud storage vs the one that does not. So, if you are pretty sure of doing your printing job from an environment where there is a flawless Internet connection the former can be favored over the latter.
Installing the software
Users can install Fusion 360 without any complications. Although the application uses cloud technology, it demands installing some local files on your computer. For doing so, you simply go to your Autodesk account, thereby hit download and follow the instructions mentioned there. Hardly there are other design applications that allow such an easy installation.
Even for updates, users will need to be connected to the internet. There are regular updates by Fusion 360 for improving its functionality and keeping the security up to date.
Similar to Fusion 360, Solidworks can also be easily installed. It is up for working within a matter of minutes. Although the application does require more disk space because everything is going to be installed locally on the device you plan to operate it with, it doesn't require much hassle.
If you've previously ever installed a program on a Windows computer, you shouldn't face any issues with getting Solidworks up and working. Also, they have a fairly comprehensive support section in case you need help.
So, with respect to the installation, Fusion 360 vs Solidworks, it is tough to say that one can be more preferred than the other. It's fair to say that it depends on the type of condition you have at your end to choose one of them more than the other.
Tuning with 3D printing software
A very intriguing feature about this CAD software is that it works with pretty much any 3D printer.
After finishing drafting your 3D models you can straightforwardly export them either as an STL or an OBJ file that will be read easily by most 3D printing software that comes with 3D printers. You won't face any problems using Fusion 360 and then exporting the files to use for 3D printing the desired model.
Solidworks can deal with STL files, in other words, the software can easily provide a file for 3D printing. The preparation of Solidworks models for 3D printing can be done seamlessly and the files will work with most 3D printers available in the market currently as it offers a pretty standard file format. Also, Solidworks supports some 35 different file formats.
So, as regards tuning with 3D printing software Fusion 360 vs Solidworks, any of them can be used interchangeably. Both the applications provide files in plenty of file formats that are suited to most of the 3D printers available in the market.
Assistance
Fusion 360 has a great support team that is always ready to help and can be contacted no matter how big or small the design issue is. As mentioned above, the application works on cloud technology, meaning that you can get updates and fixes seamlessly.
And while receiving this, if anything does go wrong you can contact their support team via email or phone. Moreover, Autodesk has a range of training materials available to you for expanding your knowledge.
Solidworks too, like Fusion 360, has a good support system and the team is extremely helpful anytime you contact them. Apart from this, they do have a lot of online materials where users can get documentation on a wide range of different technical issues. So, in case you do not wish to get telephonic help, the literature help is always at your disposal.
Moreover, the other way to contact someone about the software is through the forum, email support, and a search function that helps you find local support in your area.
Overall, with reference to assistance, Fusion 360 vs Solidworks, the latter offers more options of reaching out compared to the former.
Modeling tools
Fusion 360 offers a really complete range of 3D modeling tools, that make your complete journey and assisting in creating solid models. Overall, the software developed by Autodesk is really flexible and straightforward in use. With a great push/pull tool it allows users to create great organic geometry and surfaces. Also, it provides nice sculpt features to begin mesh modeling very easily.
SolidWorks, on the other hand, is also offering functional tools. But there is no sculpt-mode, also some processes appear to be a little time-consuming and full of hassle. An example of such a process is "creating geometries."
Noteworthy is Fusion 360's wide range of preset construction geometry offerings. This feature makes it really simple to create all the basic shapes.
Among the advantages that SolidWorks offers and Fusion 360 doesn't is that the former is software with advanced simulation and analysis features. It allows users to evaluate linear as well as non-linear responses, composite materials, or dynamics. The latter does have simulation tools, but they are quite basic and easy to use.
So, in terms of modeling tools, it depends on the type of 3D printing job that you have on hand. Doing Fusion 360 vs Solidworks tells you how Solidworks is more preferred when you have to do advanced settings, whereas Fusion 360 works fine for a print job that's easier going.
Part Assembly and Accessibility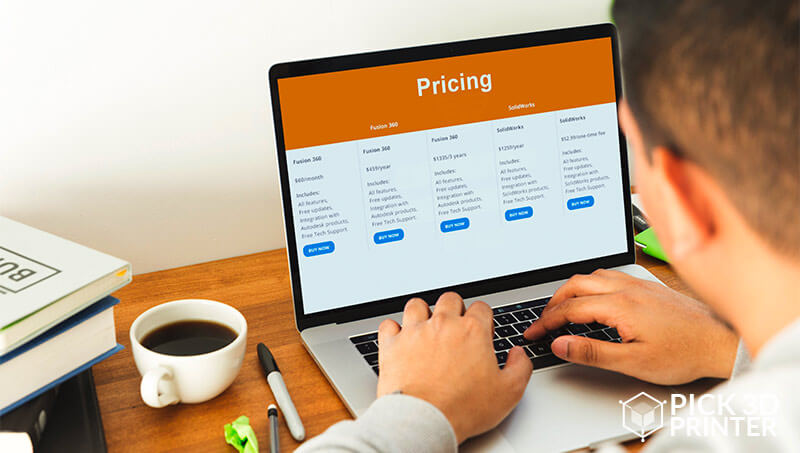 Among the two, Solidworks is more of an assembly-driven software. Users need to reference multiple files while building an assembly. Doing so allows creating large assemblies which can be a typical requirement of your 3D printing job. It requires building parts individually in separate files rather than one. Whereas, while working with Fusion 360, different components are built and assembled in the same file and not individual ones. Although it is a more intuitive process, it can create some challenges while working on larger assemblies.
Coming to accessibility! It is always a deciding factor when it comes to CAD modeling software. Fusion 360 provides a free license for teachers and students which Solidworks do not. Having stated so, we advise you to go on their respective website and look out for the pricing options yourself.
Both of these softwares, Solidworks and Fusion 360 have their advantages, and it will depend on your project and the type of CAD editing tools that you need for deciding which one to choose from.
In a nutshell, Fusion 360 vs Solidworks in terms of Part assembly and accessibility, Fusion 360 should be favored if you like working in a single file and are a student. Whereas, Solidworks works fine if you deal with working with multiple files at the same time and can afford to pay for the detailing the software has to offer.
The Conclusion
Solidworks has been in the 3D modeling industry even before Fusion 360 has. However, because of its cloud-based approach, Fusion 360 offers sheer comfort to its users via which they can manage their design from almost anywhere. At the same time, the number of in-depth designing tools offered by Solidworks is more than that of Fusion 360.
So, it depends on your 3D printing project and the part geometry's complexity to choose one from Fusion 360 vs Solidworks. After analyzing both of them on various parameters, you can get a clear idea of which one to choose among the two.
Focus more on the benefits that each one has to offer and then relate it with the task that you have on hand. Doing so would ultimately land you upon the decision of the best 3D modeling software for you.