EnvisionTEC 3Dent
This printer will allow you to create dental models at a faster speed as well as with higher accuracy when compared with traditional methods.
PROS
Easy to operate
Sleek design
Plug and play
High precision
Comes with one year warranty
Twice as fast as traditional methods
Parts look and feel like traditional gypsum models
CONS
Very expensive
Smaller build space
Product
Specification
Videos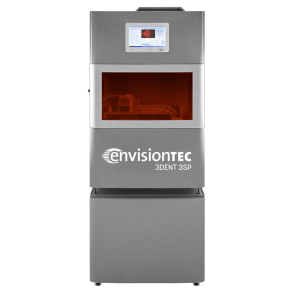 With a build volume of 267 × 175 × 76 mm, EnvisionTEC 3Dent is one of the most spacious 3D printers available around. Using its revolutionary 3SP ...
| | |
| --- | --- |
| Model | 3Dent |
| Manufacturer | EnvisionTEC |
| Price Range | $ 50000 – $ 100000 |
| Availability | Available |
| Classification | Industrial |
| Technology | Resin (SLA- DLP…) |
| Material | Liquid resin |
| OS compatibility | Microsoft Windows |
| XY accuracy | 0.025 mm 0.001 in |
| Max. build size | 266 × 175 × 76 mm 10.47 × 6.89 × 2.99 in |
| Max. build volume | 3.54 L |
| Min. layer thickness | 0.05 mm 0.002 in |
| Dimensions | 740 × 760 × 1170 mm 29.13 × 29.92 × 46.06 in |
| Weight | 90 kg 198.42 lb |
| Power input | 4A @ 200-240 VAC | 50 Hz or 8A @ 100-127 VAC | 50-60Hz |
| Heated print bed | No |
| Heated build chamber | No |
| Automatic calibration | No |
| Closed frame | Yes |
| Dual extruder | No |
| Independent Dual Extruder | No |
| Full color | No |
| LCD screen | Yes |
| Touchscreen | Yes |
| On-board camera | No |
| Mobile app | No |
| 3D scanners | No |
| CNC mill | No |
| Electronics 3D printing | No |
| Laser engraving | No |
| Conveyor belt | No |
| Air filter | No |
| Pellet extruder | No |
| USB | No |
| Wifi | No |
| Bluetooth | No |
| SD card | No |
| Ethernet | Yes |

Table of Contents
Based on DLP 3D printing technology, EnvisionTEC 3Dent 3D printer offers high-quality parts with the finest precision. Designed by the German manufacturer, EnvisionTEC, the printer sits among some of the most attractive choices for the dental industry.
The printer makes use of 3SP technology. Hence, it takes care of scanning, spinning, and selective photocuring technology to speed up the printing process of highly accurate dental models.
Apart from offering simple operation, 3Dent provides a faster printing speed of up to 10mm/hour in case you are looking for full build envelope printing. Hence, making the overall process two times faster than most of its competitors.
To further ease the user experience, the machine has a full-color touch screen. Therefore, letting users complete the printer's operation seamlessly.
With so many benefits for the dental niche, the super-fast 3Dent also ensures high-volume production for dental models.
Best in its class, the printer surely is a great choice for beginners as well as experts. The easy workflow along with the complete ecosystem the company offers make 3Dent a desirable choice.
Read our in-depth review to find out the various perks the printer offers as well as the limitations it comes along with.
Features
EnvisionTEC is a very reliable company. And, it ensures that its products meet the expectations of the growing demand and needs.
Therefore, it brings some of the unique and advanced features with 3Dent for enhancing the overall customer experience manifold.
Plug and Play Design
With time, users are looking forward to simple designs that easily integrate with their existing skills. And, to ensure that the printer does not seek too much effort from the users, the company has made it simple to operate.
The plug-and-play design provides an easy setup. Hence, making sure that the users can start printing the dental models right away.
Enclosed Frame
Keeping the hot components away from the reach of the users, the manufacturer guarantees safety while printing. The enclosed frame also helps in maintaining the consistency of print results.
Built-in Touch Screen
The printer can work as a standalone device without needing a constant connection to the computer or laptop. It features a built-in touch screen that lets users complete the print settings without hassle.
Designed to keep the interface as simple as possible, the touch screen is to operate. Moving on, the intuitive touch screen features advanced controls for ensuring the best print results.
Reliable System
Ensuring that the printer comes along with minimal moving parts as well as consumable components, 3Dent guarantees the highest level of reliability. With strong technology and robust design, the printer manages to excel at every front.
Sleek Design
Although capable of producing high-volume dental parts, the printer still is compact and best for office space. With a footprint of 740 × 760 × 1170 mm, it easily accommodates offices of any size. Hence, making it simpler for professionals with smaller space to switch to 3D printing from traditional methods.
Less Wastage and Environmentally Friendly
It's fascinating to note that the printer operates with minimal material. Hence, limiting the wastage that often occurs with the overuse of materials and support structures. In turn, with less material utilization, not only the operating cost reduces but the system becomes highly environmentally friendly.
Remote Notification
In order to provide an efficient solution, the printer comes with a remote notification feature. This means that the users get notifications whenever the printer completes the job at hand.
In case users aren't around, the notifications will alert them whenever the printer stops printing. Offering easy access to printing status.
Isotropic Part Production
Using the DLP technology, the printer is capable of producing parts with high accuracy and a smoother finish. The parts are completely isotropic and exhibit no visible layers.
In short, the dental models are highly precise and enable technicians to come up with exact matches for specific patient's needs.
Fast Speed Printing
EnvisionTEC is a very popular company establishing its name for fast working printers. And, 3Dent is no different.
Making sure that the users are able to complete printing in less time than the traditional methods as well as many other competitors in the market, provides an efficient solution. It works twice as fast as many other 3D printers working on the same technology.
Specifications
Starting with its sleek appearance when compared to other industrial 3D printers, it exhibits a footprint of 740 × 760 × 1170 mm.
In turn, it weighs around 90 kgs which is not too much, given its usage for mass production. Because of its sturdy design, the printer is very precise and remains consistent with its print results.
When it comes to print space, 3Dent offers 266 x 175 x 76 mm of maximum build to create parts. Hence, letting dental labs manage multiple parts in a single run.
The machine is very precise as well. Offering a resolution of 50 µm within the XY axis and a layer resolution ranging between 50 – 100 µm across Z axes, EnvisionTEC 3Dent does an impressive task.
Not just that, the company offers its proprietary resin specially designed for dental application. As well as rapid production runs, creating scannable dental models in the fastest possible time.
The material, E-Denstone, offers parts that look and feel similar to the gypsum models created using traditional methods.
Overall, the printer offers an ecosystem with material, machine, software to provide users with complete solutions, enabling printing of dental parts at a faster rate.
Price
As you may expect, the 3D printer is expensive. And, EnvisionTEC 3Dent costs around $75,000. Apart from the one-time high investment, the company ensures that the users do not have to spend too much on the printed models by reducing the amount of material required and waste produced.
First Impressions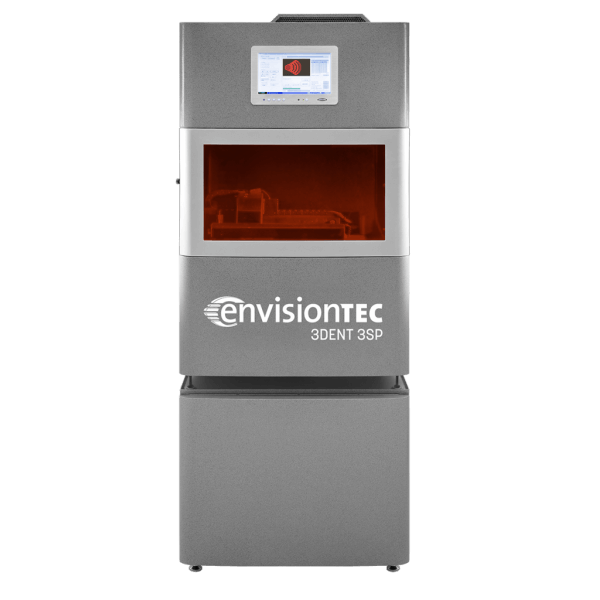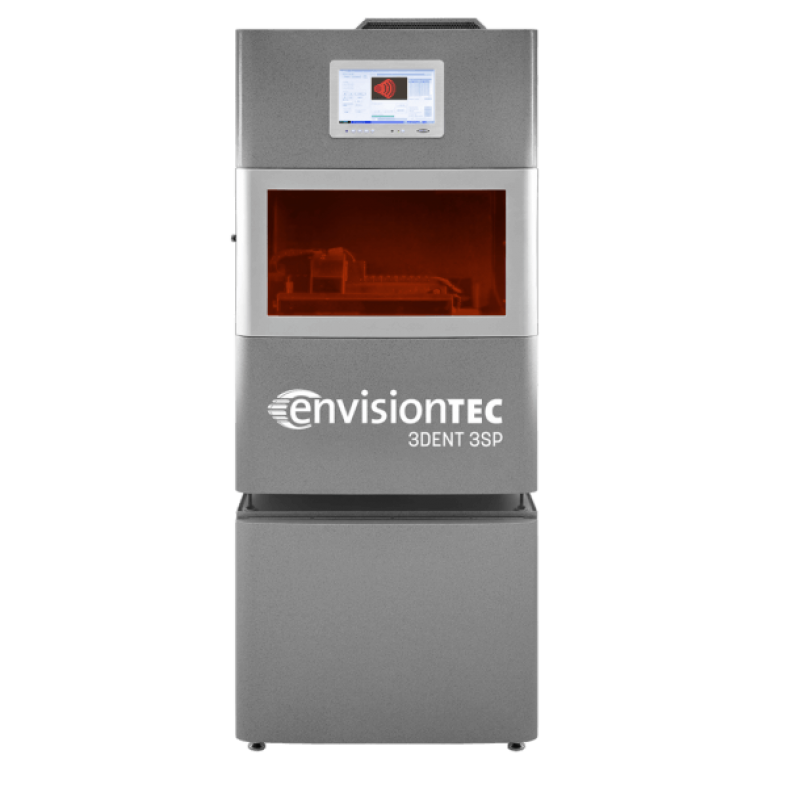 A very attractive design encompassing advanced features makes 3Dent a really efficient solution. The printer comes snuggled inside a box to ensure damage-free delivery. After unboxing, you can easily remove the extra packaging material to get the printer out of the box.
It comes along with all the necessary tools to start printing right away. The wider touch screen and a see-through window allow users to keep eye on the printing progress without fail. The complete design is very impressive, from compactness to efficiency.
You certainly will fall in love with how it looks right away. The metallic construction and sturdy components together complete the reliable design of the machine. In short, a 3D printer is worth spending.
Setup
Usually, it takes time to set up an industrial 3D printer. Along with on-site technician to training modules, users may have to go through a bit of hassle before learning to operate professional 3D printers.
However, this is not the case with EnvisionTEC 3Dent. Being a plug-and-play printer, it does not require too much effort for setup. On the contrary, users can easily prepare the resin tank and other components seamlessly.
Moreover, the detailed manual for setting the 3D printer shipped with the package is well-drafted. Users can easily follow the instructions and complete the setup in some time. And, as discussed, its 3SP technology helps finish the job at a faster rate enabling scanning, spinning, and photocuring all by itself.
Printing Type/Cost
The printer works on DLP 3D printing technology. Using the light source, the printer cures the photosensitive resin for creating layers, one by one. The process is very precise and enables fast production of parts as compared to the SLA 3D printing process.
In order to calculate the printing cost for each part, you must consider a variety of factors. For instance, the design of the models, layer thickness, material cost, and more. In addition, you must include the additional cost such as electricity, labor cost, etc.
Just remember, the printer optimizes the design to ensure minimum material usage. Alongside, it also limits the waste produced after printing. Therefore, significantly reducing the production cost.
Print Quality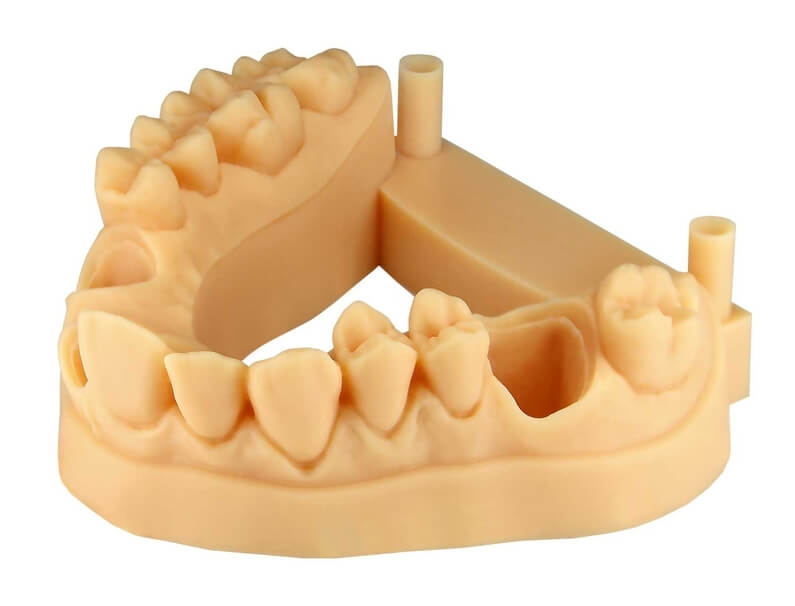 Credit: envisiontec.com
As mentioned, the printer is designed for dental applications. And, with no error, these machines must perform miraculously to offer precise parts. Thankfully, 3Dent has enough features to print high-resolution parts.
In short, users can attain a layer resolution ranging between 50 and 100 µm. Hence, offering a neat and smoother finish being able to print fine details with ease.
Software
3Dent works in tandem with 3Shape® software. The application's ease of integration with the printer is noteworthy. Plus, the software is really simple to use.
With step by step procedure to complete the file, the application does a cleaner job.
It takes care of closing holes as well as hollowing. All you have to do is load the software, and start the 3Dent® 3D printer. Can it be any easier than this?
Customer Service
EnvisionTEC takes care of its customers with the highest priority. Its website has all the manuals and PDFs concerning the setup and operation of the 3D printer. In addition, you can call the support team or email them to share queries.
The printer comes with a one-year warranty and an extended warranty for an additional $8900.
Parameters Influencing Buying Decision
There are a lot of 3D printers offering solutions for dental applications. However, not every other printer can match your expectations. With varying needs and budget constraints, one may have to compromise with one or the other feature of the 3D printer.
Therefore, it is imperative to assess the machines based on crucial factors. And to do so, check the quick analysis for 3Dent based on parameters that often influence buying decisions.
3D Printer cost: Well, the 3D printer is not cheap at all. On the other hand, it costs around $75,000. On top of that, the additional extended guarantee would add $8,900 to the total bill. And, do not forget that the 1 kg material will cost you $285. To sum this up, you can expect a huge initial investment with considerate recurring expense, given the price of the resin.
3D Print quality: Unprecedented. With 50 to 100 µm layer resolution achievable, users can create really impressive parts with the isotropic finish.
3D Print speed: Using the optimized design and support structures, the printer considerably reduces the material cost and waste produced. Hence, completing the job twice as fast as traditional methods. Using its 3SP technology, the work is completed in a very short time compared to various other DLP 3D printers.
3D Printer capability: One cannot go wrong when opting for 3Dent based on its capabilities. Either you wish to create surgical guides, crowns, and bridges, or other orthodontal models, this machine would help you create it in less time and with minimal wastage of material.
3D Printer Practicality: Designed for dental application, the printer suits best for dental clinics, labs, and professionals. Providing high-quality dental parts, users can easily switch from traditional to digital dental production in no time. Definitely, if the budget allows them to do so.
3D Printer User expectations: Apart from the printer's cost, everything seems to awe users. In terms of quality of parts, seamless operation, automated workflow, and more, the printer has it all. The price of the machine is, however, a little on the higher side comparing the other competitors in the market.
The Verdict
Whenever buying a 3D printer, one must take care of various aspects before finalizing the choice. And, in the case of EnvisionTEC 3Dent, you must take the same precaution. Although the printer is very capable of offering high-quality parts, it is expensive.
Depending on your specific needs and budget constraints, you must look for the right reasons to opt for this printer. However, it is sure that the printer will allow you to create dental models at a faster speed as well as with higher accuracy when compared with traditional methods.