V1 Engineering Lowrider2 CNC
Lowrider 2 CNC router does not fail to impress. From precision to ease, it offers everything that a user will love to explore.
PROS
Affordable machine
Virtually, one can use the machine with no Y axis limitations as long as your table length supports the same
The CNC router is open for upgrades
Works with intuitive firmware to offer amazing precision
Offers great learning experience to the users
Sturdy and reliable design
CONS
Difficult to construct
Cannot work with metals or hard materials
Table of Contents
Lowrider2 CNC machine is designed by V1 Engineering to help those who wish to create their own machine without investing too much in the ones available in the market.
Usually, CNC machines are expensive which a lot of makers aren't able to afford. So, this design is for everyone who is willing to spend some time making their own CNC machine from scratch.
This router was prototyped and eventually made available for others to build. Apart from its attractive price part, the Lowrider 2 is also open for customization. Hence, you can expand its abilities even further if you are creative enough to think of better upgrades.
Those seeking a plug-and-play machine may find the entire setup way more than tedious. However, for makers and DIY artists, this project can become a new obsession, given the various things one can accomplish using this machine.
The best part is that the entire design guidelines are available for free. Anyone with an interest to commit to a hectic setup routine can turn the machine into a reality.
If that is something you are looking for, do not forget to read our detailed review before you jump heads down working with complex designs and hardware connections.
Features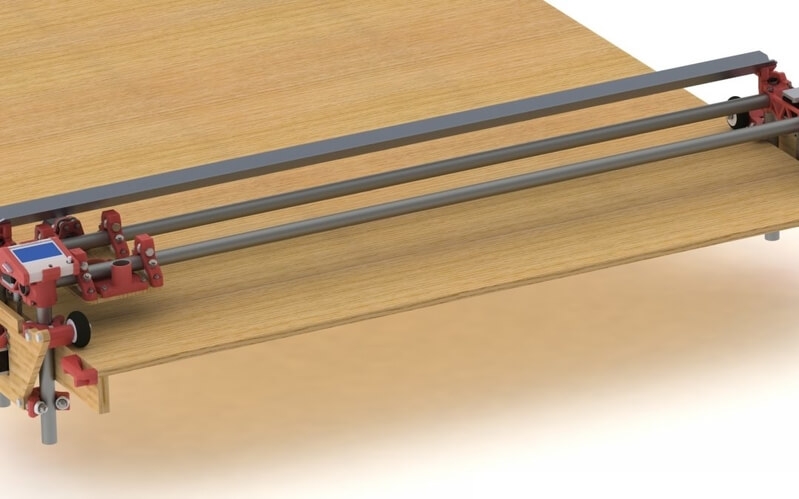 Credit: v1engineering
There are many amazing features that this machine hosts. From larger format design to high precision, Lowrider2 is equipped with a lot of perks for its users.
So, without further ado, let's explore some of the fascinating features that help Lowrider2 bag such popularity among makers.
Construct at Home
Unlike DIY Kits or assembled machines, this particular CNC router does not come as one package. You will require to 3D print or order some 3D printed parts and buy some hardware or the Ryan Kit separately to be able to construct Lowrider2.
It does sound difficult, but the designer and engineer, Ryan from V1 engineering offer detailed instructions to make this wonderful machine, all by yourself.
Work with Any Length
Unlike most of the CNC routers available in the market, this one does not come with the Y-axis limitation. This means that you can engrave woods of any length.
As long as your desk supports the size, there is no restriction to the length of the material you expose to the machine. This is definitely a plus for those who are willing to pay way more for a large format CNC router.
X-Axis Supports 4 Inches
Unlike the length, the CNC router works with a 4 inches width material restriction. Therefore, you must ensure that the parts you wish to engrave or cut, stay within that limit.
Specifications
V1 Engineering Lowride2 is a very capable CNC router mostly suitable for cutting and engraving a few types of materials. Being a DIY assembly, the design comes with a flexible Y-axis length selection.
You can increase your table length to have a bigger area for work. On the other hand, the width, corresponding to the X direction on the rails should be no larger than 4 inches.
Moreover, the designer recommends using 3 to 4″ of the maximum height along the Z direction for wood. The table's ideal thickness must be 4 inches.
Price
As you may expect, this complete setup from scratch would require some investment. Those who have built it before have been able to do it by spending around $600. However, depending on the source of your hardware and other required components, the prices may vary.
However, it still is a very affordable CNC router, given the length of the material it supports.
First Impression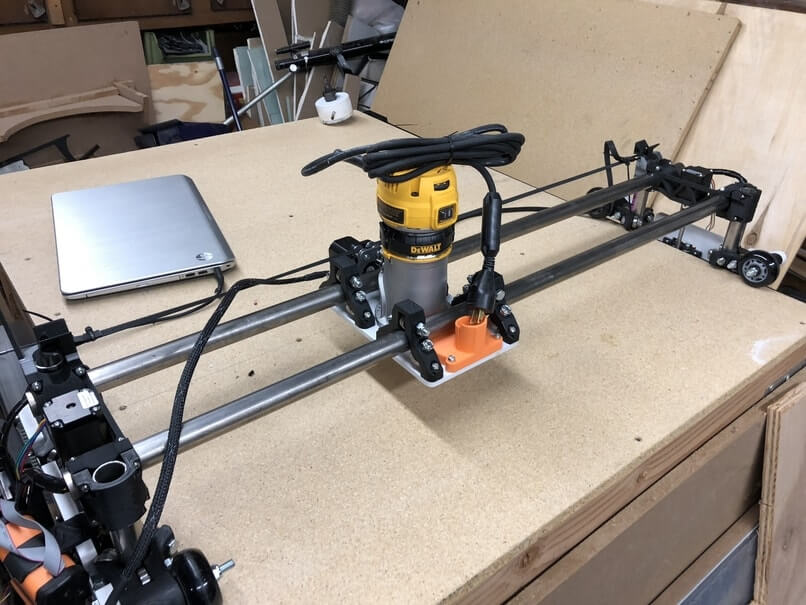 Credit: v1engineering
It is quite a charm to look at something you have just created. You can experience the same feeling when working with this CNC router installation.
The design is minimalistic, limiting the looks too decent and operational tools. It does not have any fancy additions that only add up to the unnecessary investment.
Designed to fit the budget of almost everyone wanting a big format CNC router, the designer has given most of the attention to its performance rather than the looks.
Setup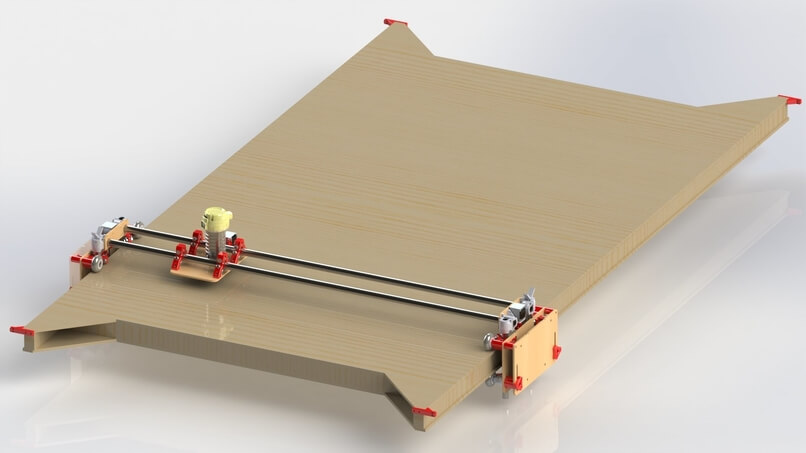 Credit: v1engineering
This is where you may find the task a little daunting. With too much work, the entire setup can take days or even months, depending on how much time you invest every day. Before you start working on the design, make sure you have the essential components ready at any time.
The LowRider2 3D printer files. You can get the same from Thingiverse.
The LowRidere CNC Bundle kit from the company, V1 Engineering
You must also purchase the Rambo smart controller screen from V1 Engineering
To prepare the smart controller screen, you will again require some 3D Printed parts. This again is available on Thingiverse.
1 inch of Stainless-Steel Round TUBE.
A trim router, the LowRider2 uses Dewalt 611.
Wooden material and parts to complete the construction of the table – you can find the exact measurement for each of the components on the V1 Engineering website.
Apart from this, do not forget to keep lots and lots of screws and bolts along with some miscellaneous hardware. Depending on the upgrades you wish to add, these requirements may change.
To assemble the parts and design the table, you can refer to the instructions available on the V1 Engineering website. The manual is very thorough and includes a lot of pictures to guide you through the entire step precisely.
CNC Machining Quality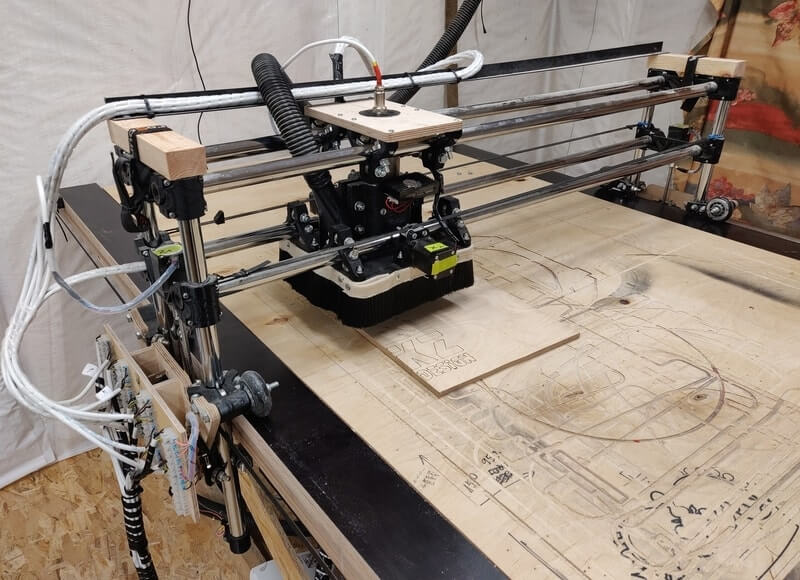 Credit: v1engineering
The quality is decent. You can easily engrave woods and cut parts to create amazing things with this machine. It can certainly be a great addition to your workshop, being able to automate most of your tasks.
Software
When it comes to the software, the standard MPCNC firmware will suffice for all your needs. The software can take care of any board on the LowRider2.
That being said, you do not require the Dual Endstop firmware. This is because all of the three axes come with hard stops that are helpful in alignment.
If that is something you still want to include in your design, you can add the dual end stop firmware for Y or Z alignment.
Customer Support
Apart from offering all their knowledge for free, the company ensures that the customers get a prompt resolution to their queries.
In case of any confusion during the installation of the machine, you can connect with the support team right away. You can either fill the contact form or talk to people on their forum page.
In both cases, you will have enough answers to suit your needs. Plus, you can even learn from those who have already tried and were successful in building Lowrider2 when using the forum.
Parameters Influencing Buying Decision
Every user's needs differ from one another. That is why, when planning to buy a CNC router, especially when investing time and money to build one for yourself, it becomes very important to assess the machine against important parameters.
Therefore, here is a quick bite from the detailed review to offer you a brief understanding of what the machine offers to its users.
CNC machine cost: This is the most selling part for the machine. One can build this large-format machine by spending not more than $600. That sounds interesting, isn't it? With all the required 3D files available for free and cheap priced kit, you can accomplish the task by spending a very reasonable amount.
CNC machine quality: In terms of machine quality, you get a rigid and robust design, offering precise results, over and over again.
CNC machine capability: It can work with wood to offer great engraving and cutting results. Also, one can design this DIY CNC router with a flexible Y-axis length, suiting one's need.
CNC machine practicality: Great for those working from home or small shops and who wish to get a large format CNC router without investing tons of money.
CNC machine user expectations: Apart from the complex assembly and construction, the machine fits right against the expectations of the users.
The Verdict
Undoubtedly, the V1 Engineering Lowrider2 is a great value for the money you invest. Other than the daunting assembly and design construction, the CNC router does not fail to impress at all. From precision to ease, it offers everything that a user will love to explore.