MakerGear M3-SE
The machine is designed for serious users with high-end features and the latest functionalities, from prototypes to end products, you can use this printer for various applications.
PROS
High reliability
Amazing print quality
Great speed
Multiple material support
Metal frame for the sturdy body and better precision
Heated build plate
Advanced cooling of parts
True leveling
12 months warranty
CONS
Expensive for home users
Connectivity sometimes is not very smooth
Product
Specification
Videos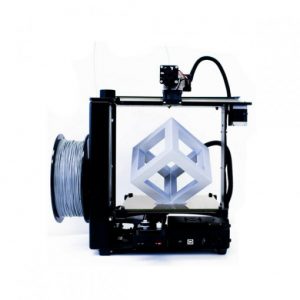 Coming with a standard brass nozzle of diameter 0.35 mm, M3-SE also offers you another nozzle option made up of stainless steel. Both these nozzles ...
| | |
| --- | --- |
| Model | M3 (M3-SE) |
| Manufacturer | MakerGear |
| Price Range | $ 2550 |
| Release date | 2018 |
| Country | United States |
| Availability | Available |
| Classification | Desktop |
| Technology | Extrusion (FFF- FDM…) |
| Material | ABS, Carbon fiber and composites, Other plastics, PLA |
| Filament diameter | 1.75 mm 0.07 in |
| OS compatibility | Linux, Mac OS, Microsoft Windows |
| Generic material | Yes |
| Max. build size | 203 × 254 × 203 mm 7.99 × 10 × 7.99 in |
| Max. build volume | 10.47 L |
| Max. print speed | 450 mm 17.72 in /s |
| Min. layer thickness | 0.02 mm 0.001 in |
| Dimensions | 533 × 610 × 420 mm 20.98 × 24.02 × 16.54 in |
| Weight | 12 kg 26.46 lb |
| Nozzle diameter(s) | 0.35 mm 0.01 in |
| Power input | 100 – 120 V (4 A)/220 – 240 V (2 A) | 47 – 63 Hz100 |
| Heated print bed | Yes |
| Heated build chamber | No |
| Automatic calibration | Yes |
| Closed frame | No |
| Dual extruder | No |
| Independent Dual Extruder | No |
| Full color | No |
| LCD screen | No |
| Touchscreen | Yes |
| On-board camera | No |
| Mobile app | No |
| 3D scanners | No |
| CNC mill | No |
| Electronics 3D printing | No |
| Laser engraving | No |
| Conveyor belt | No |
| Air filter | No |
| Pellet extruder | No |
| USB | Yes |
| Wifi | Yes |
| Bluetooth | No |
| SD card | Yes |
| Ethernet | Yes |

Table of Contents
MakerGear, the US-based manufacturer of professional 3D printers do makes their own statement every time they introduce a new machine.
The company has made huge progress in these many years by exploring the various sides of the technology in the most subtle way.
Either it's the first 3D printer they came up with or the latest releases, you will find each one of these falling ways behind their time. So, let's check the MakerGear M3-SE review to find out if this 3D printer is up to the expectations of the users.
Majorly popular for manufacturing 3D printers that are equipped with the latest features and perform way more than their counterparts, the company has come a long way.
MakerGear's M3-SE is a single extruder 3D printer that comes in one more variant, M3-ID which has a dual extruder. However, let's concentrate on the prior one.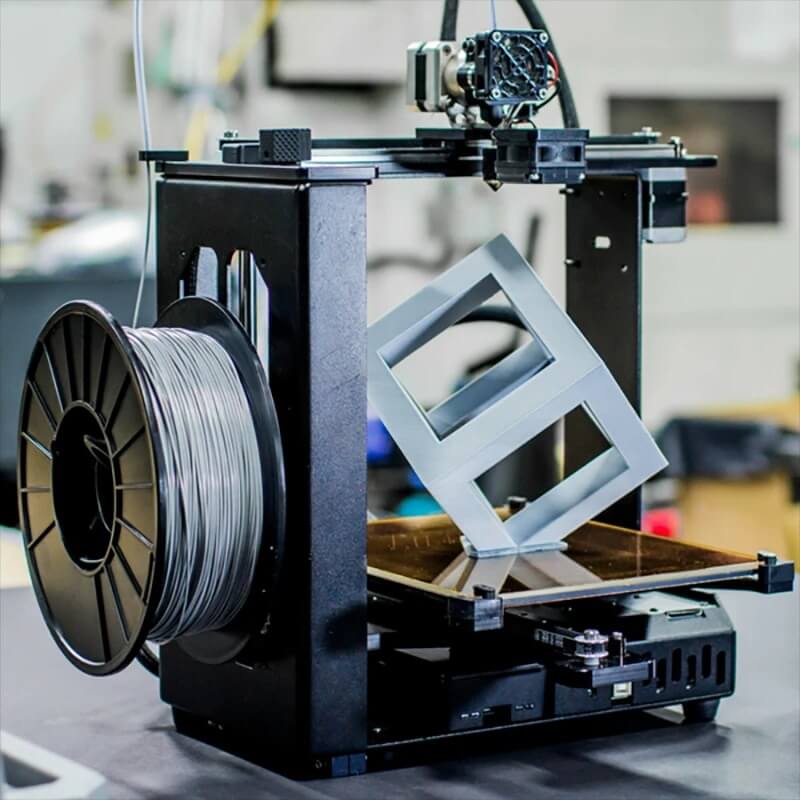 M3-SE embodies various tools and functionalities that help the machine to serve its user base with high commitment.
The company claims that this printer is an updated series of MakerGear M2 3D printer. It brings better results and high reliability for those working with it. Hence, it does make a great addition to the existing ecosystem of the MakerGear offerings.
With a compact footprint, the 3D printer is very much suitable for small offices as well as for home-usage. It looks attractive in black stature and an open frame.
Moreover, it does create huge perks for those who are looking for a capable 3D printer for serious applications without getting a huge industrial 3D printer.
Without waiting much, let's get to the MakerGear M3-SE review and find out more about the machine, including its limitations.
Features
When it comes to features, the company has ensured to trade off its limitations with competitive and unmatched functionalities.
The 3D Printer is a single extruder machine, however, it is highly powerful. It lets you print with a variety of materials and offers huge stability while operating.
Open Frame: Yes, the 3D printer showcases an open frame. However, that is what makes it best for printing with PLA material. On the other hand, it does seem a bit tricky to print with flexible materials, which is clearly handled using other powerful features. You just have to find that sweet spot and the astonishingly authoritative extruder will do the part. This brings us to the next feature.
Interchangeable V4 Hotends: The metal nozzle is worthy of all your attention. When shipping, the company attaches the 0.35 mm standard brass nozzle. However, it also offers different diameters for the brass nozzle ranging from 0.25 to 0.75 mm. Alongside this, it provides stainless steel nozzles with a varying diameter of 0.35 mm to 0.5 mm. Moreover, the best part is that the nozzles can reach a maximum temperature of 300°C. This won't take more than 2 minutes to heat up.
WIFI Connectivity: This lets you connect your 3D printer to any smart device, either laptop or mobile phones. And, you can upload 3D designs without needing to connect the printer with a device through a wired connection.
Detachable Touchscreen: You won't find this feature anywhere else, a detachable touchscreen. This makes the printer a completely wireless system. This is also a fun quotient to the machine. You can connect the printer with a smartphone and use the detachable touchscreen which offers WIFI capability to go one step beyond the wireless connection.
Ture Leveling: The company claims that the assisted bed leveling or the True leveling makes the calibration process even more precise than the usual auto-leveling system. It provides higher reliability and in turn helps users achieve better accuracy than any other desktop printer within a similar range.
Heated Build Plate: You cannot go wrong with a heated bed setup. It does provide more room for printing with a variety of materials. Also, it minimizes the chances of warping and shrinking. The bed heats from one corner to another by realizing consistent bed temperature. You can heat the print bed for a maximum of 120 degrees Celsius when used with an open frame. If you make use of an enclosed frame, you can even reach a temperature of 130 degrees Celsius.
Enhanced Cooling: Using their highly enhanced cooling system, the MakerGear has introduced an amazing cooling mechanism that flawlessly minimizes friction caused due to air and better the airflow for providing high accuracy to the 3D prints.
Sturdy Composure: The all-metal structure adds to the precision and reliability of the machine. The welded frame made of steel provides huge stability when printing at a higher speed. By avoiding vibration, the design provides a very sturdy frame. You can bet on this 3D printer in terms of sturdiness anytime when compared with other traditional frames.
Multiple Material Support: With a larger array of material support, the 3D printer makes its name among the best professional 3D printers available today. You are not limited to print with only PLA or ABS. Rather, you can stretch your limits farther and introduce your 3D printer to other filaments as well. For instance, Nylon, PETG, Wood, Composites, TPU, and others.
Compatible with Third-Party Filament: The M3-SE provides users with an option to choose their filament as per their preferences. You can choose materials from other manufacturers as well.
Specifications
MakerGear M3-SE has a footprint of 533 mm x 610 mm x 533 mm and offers a build volume of 203 x 254 x 203 mm. This is pretty enough for most of the tasks.
And, users can always connect the different printed parts together to create a larger object that the build volume.
So, as far as size is concerned, the 3D printer provides decent space. It has a borosilicate glass bead that is coated with polyimide film and can reach a temperature of 120 degrees Celsius.
As stated before, the 3D printer has a true leveling system and not compete for the auto-leveling mechanism. It features Direct extruder. The extruder can reach a temperature of 300 degrees Celsius. And, it comes with swappable metal hot ends.
The printer is also very precise in terms of print results. You can achieve a layer height ranging between 20 to 350 microns. The print head speed can start from 80 mm/sec and go up to 450 mm/sec.
The operating sound is a bit noisy and lower than 65 dBA. The machine, however, is lightweight and weighs around 12 kgs.
Price
M3-SE costs $2,650.00 and this includes shipping. The 3D printer isn't cheap and is not for homemakers. Enthusiasts and hobbyists, if willing to pay extra bucks, could get this professional 3D printer for progressing to a new clarity with 3D printing.
To be precise, the machine is for professional use and for small companies.
First Impressions
This is an assembled 3D printer with no hacks required for connecting the different components together. It is easy to set up the machine without needing to make efforts for assembling it beforehand.
The company also includes various accessories inside the package along with the 3D printer. MakerGear ensures that the 3D printer is safely packed inside to resist the rough handling during shipping.
When you unbox the printer, you find all the items clearly snuggled inside with foam packing. This further enhances the security of the different parts inside.
You receive the printer with V4 hot end, power cable, power cord compatible with your country's outlet, sample filament spool, tool kit, build plate.
You also receive the sample prints to start printing right after the package arrives. And, to make the task easier, the company also includes a user manual which helps you complete the setup seamlessly.
Setup
As the company states, the setup of M3-SE won't take much time. Because the printer is already assembled, all you need to do is connect a few components such as the glass plate and the extruder.
Later, just load the filament. You do need to calibrate the bed using the printer's assisted leveling system.
The process is not as touch as manual leveling, however, it does need some attention to details. The touchscreen would guide you through the entire process of setup.
Hence, it won't be very difficult. And, on top of that, the manuals provided by the company are enough to sail you through.
Printing Type/Cost
MakerGear M3-SE is an FDM 3D Printer. In this setup, the printer works by heating the extruder to the desired temperature. The temperature depends on the melting point of the filament you are working with.
This filament when turns flexible is deposited on the print bed. Every time, the printer spreads just one layer and let it cool.
After the layer cools down, the print bed slips down a little bit. This provides space for depositing the next layer. This entire process continues until the part is printed completely.
When considering the print cost, you must calculate different factors. For instance, the filament cost, the amount of filament used, the complexity of the part, infill percentage, and various other details.
Hence, the cost would differ for different models even when you use the same filament to print these parts.
Print Quality
This is a professional 3D printer. Hence, the machine is capable of producing really fine details without any hassle. You can work around the layer height and achieve varying results. The printer offers a layer height range between 20 to 350 microns.
Software
The MakerGear M3-SE comes with the latest version of OctoPrint. However, you are not stuck with one software. Instead, the printer is compatible with a wide array of free as well as commercial apps.
Talking about Octoprint, the slicing software provides pre-loaded filament profiles, making it easier for beginners to understand the different settings related to the varying materials.
Customer Service
If you are planning to buy from MakerGear, you can rest assured of the help that the company offers. The team is highly responsive. Moreover, they offer all the related guides and instructions to assist the user through the setup process and other problems.
When buying M3-SE, you receive 12 months limited warranty on the parts. And, the replacement is easy.
Parameters Influencing Buying Decision
Before you plan to buy a 3D printer, you must look for the right reasons for choosing the one you like. Let's check the recap from the MakerGear M3-SE review to take an informed decision.
3D Printer cost: This is not a budget printer and costs over $2500. And, the price does make sense with all the amazing features and awesome print quality that the machine comes coupled with.
3D Print quality: You cannot go wrong with this one. The print quality is commendable. With professional results, you get to enjoy varying results with a wider range of selection of layer height.
3D Print speed: This is again a perk for the users. The printer offers amazing print speed.
3D Printer capability: Made for professional use, the printer can create complex designs with ease. Users can also prepare finer details without any hassle.
3D Printer Practicality: MakerGear M3-SE is for office use and for professionals. Enthusiasts with a higher budget can also utilize the printer for shaping their creations with high-quality results.
3D Printer User expectations: It does fit the user expectation.
The Verdict
This is not a 3D printer for those who are looking to create some fun items. The machine is designed for serious users with high-end features and the latest functionalities.
The sturdier frame and reliable ecosystem create a huge benefit for the users who tag along with M3-SE. Isn't that the same impression we get through the MakerGear M3-SE review? Yes, we do.
The 3D printer is for productive use. From prototypes to end products, you can use this printer for various applications.