Not everyone can afford to buy a 3D printer and start creating objects out of it. It requires patience and an urge to learn. Plus, it requires time for anyone to get started with 3D printing.
The good news is that, even if you do not wish to purchase a machine to build 3D models, you can still get those customized lamps and other items of your choice.
And, without making much effort. You can just order 3D printed parts from service centers and can own anything you wish.
Moreover, apart from the end consumers, these 3D printing service centers are also open for large scale companies which order in bulk.
Hence, if you are a manufacturing unit and want to try 3D printing for your products, you just have to place an order. Buying 3D printed parts is an easy alternative for assessing the benefits of 3D printing over traditional manufacturing.
There are many other reasons why a company decides to go with service centers instead of buying 3D printers. It could be the inconsistent need, lack of budget and much more. However, let us focus on the companies that accept orders for 3D printed parts online.
So, where to buy 3D printer parts? The question isn't that simple. With so many companies providing 3D printed parts, it becomes a challenge to find the best pick to order 3D printed parts.
Hence, we have curated a list of a few of the best 3D printing service centers that are amazing offering a plethora of choices for users.
Order 3D Printed Parts from Best Companies
Users often have the complaint of getting their orders delivered after months. Because most of these companies are often not situated in the same country, the delivery is stretched to months.
But you can always depend on those players who are old and have made a huge reputation in terms of timely delivery as well as the best results.
To provide you with the list of best options to order 3D printed parts, we have come up with the popular names from the niche.
3D Systems on Demand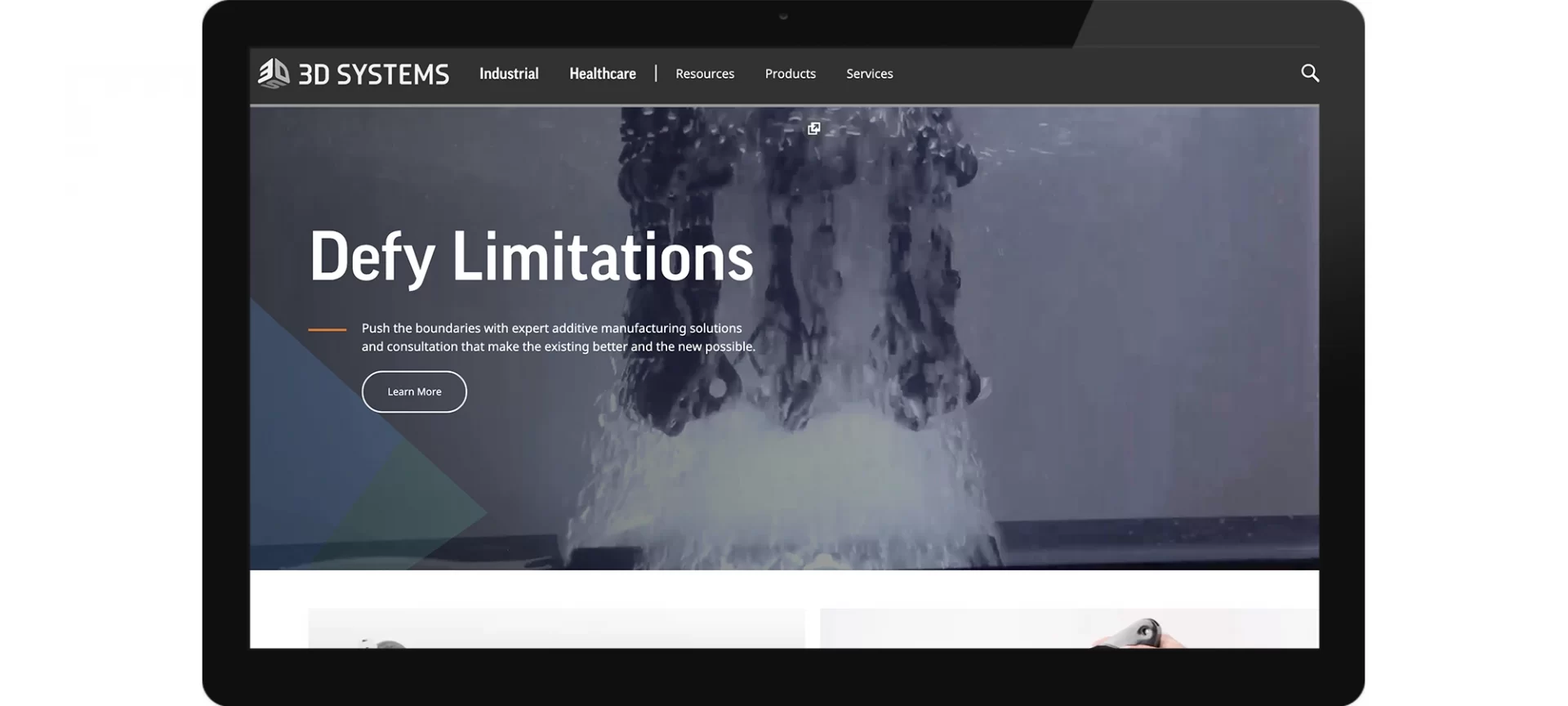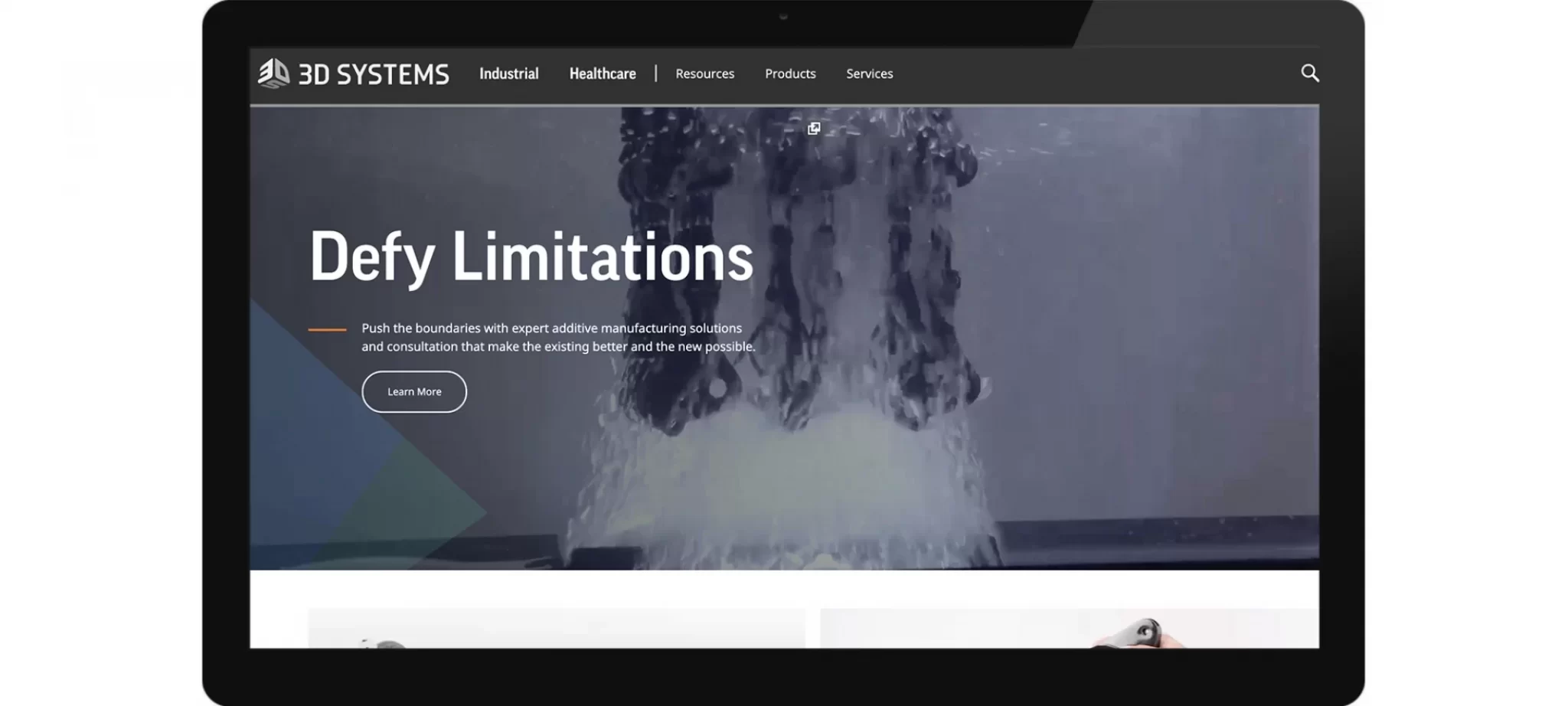 Who would know better than those who have been the contributors to the 3D Printing industry? And, 3D Systems on Demand is one of those oldest companies.
The company has designed many successful industrial 3D Printers and is constantly engaged in bettering the user experience through their innovative ideas. It is among the leading manufacturers of 3D printers used in large scale industries.
Apart from designing 3D printers, the company is also engaged in subtractive manufacturing, rapid prototyping, and 3D printer services.
Not to forget, this company is a very well-known name among the manufacturers often needing 3D printed parts. It has a huge list of clientele who can back for its reputation at any time.
You can get your functional prototype 3D printed in 24 hours. It also offers a huge array of material choices as well as 3D printing process alternatives. You can even seek help through their technical documentation. Plus, they support different formats of 3D files.
Treatstock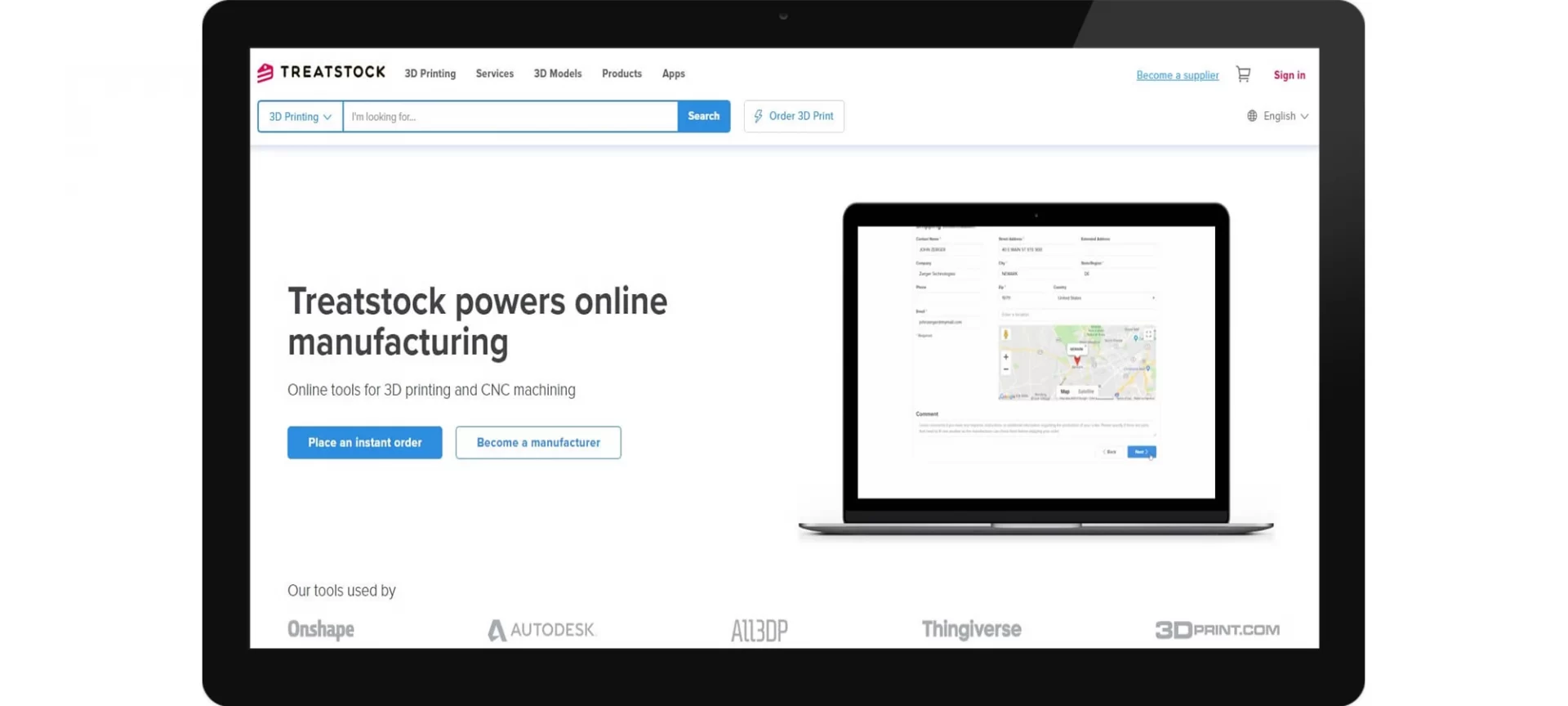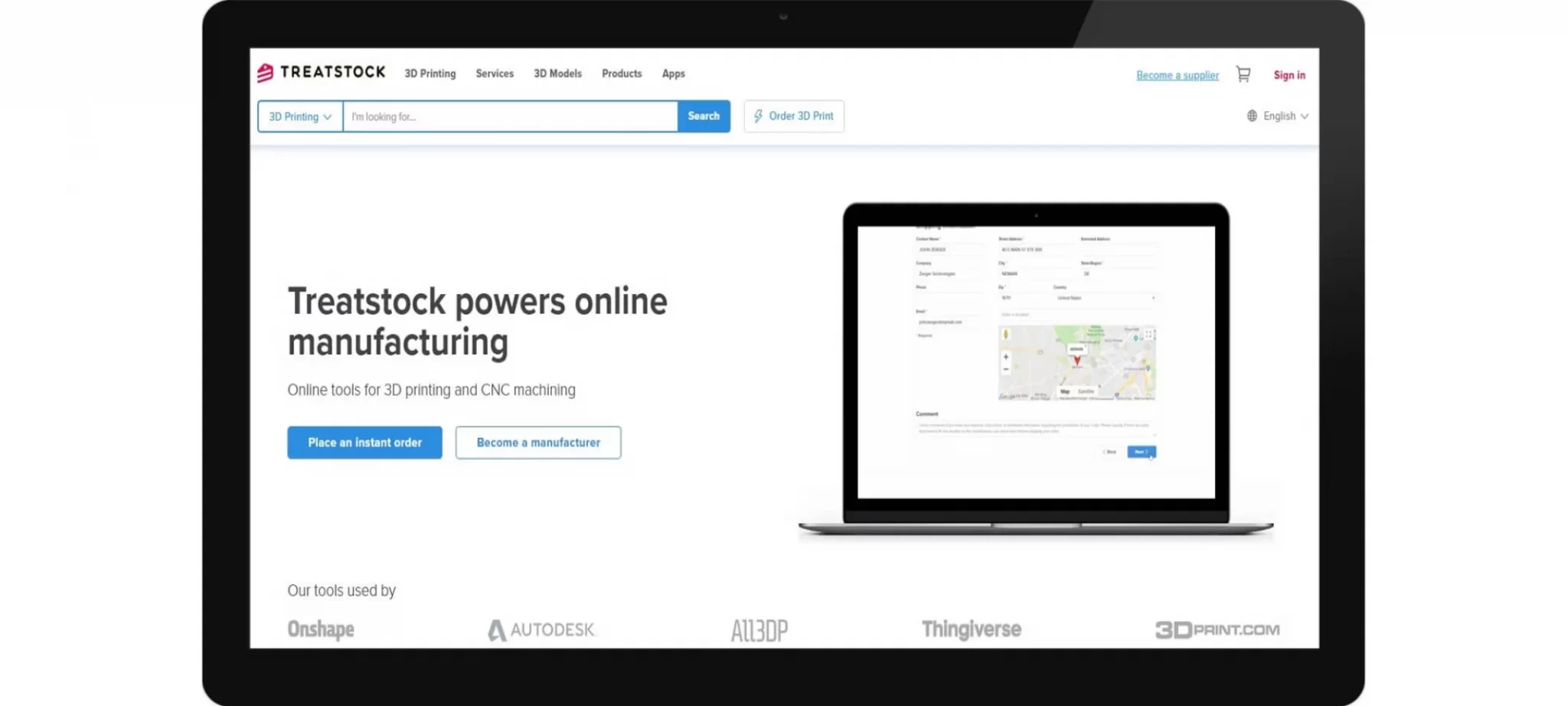 Treatstock is a web-based 3D printing service that offers a lot of benefits to the users. It bundles together the different 3D printing services around the globe to provide its services a huge list of countries and regions.
Not just that. It provides its users with an instant quote system. In short, the well-designed interface lets you find out the basic criteria for assessing your budget before you order 3D printers parts from this website.
You can calculate based on the international shipping charges, opted technology, application of the products and much more. These perks help you decide if you wish to continue with 3D printing or not.
To add icing to the cake, the website offers a platform for those wanting to flaunt their 3D models. Artists and experts can start their storefronts by uploading their designs. While customers can purchase and order 3D printed parts from the specific designers.
For increasing its reach, the website has come up with different apps such as software for creating braille labels. This is helpful for those with visual impairment.
A complete solution for many needs, Treatstock offers nuances of printing options including different material choices as well as acceptable formats.
Shapeways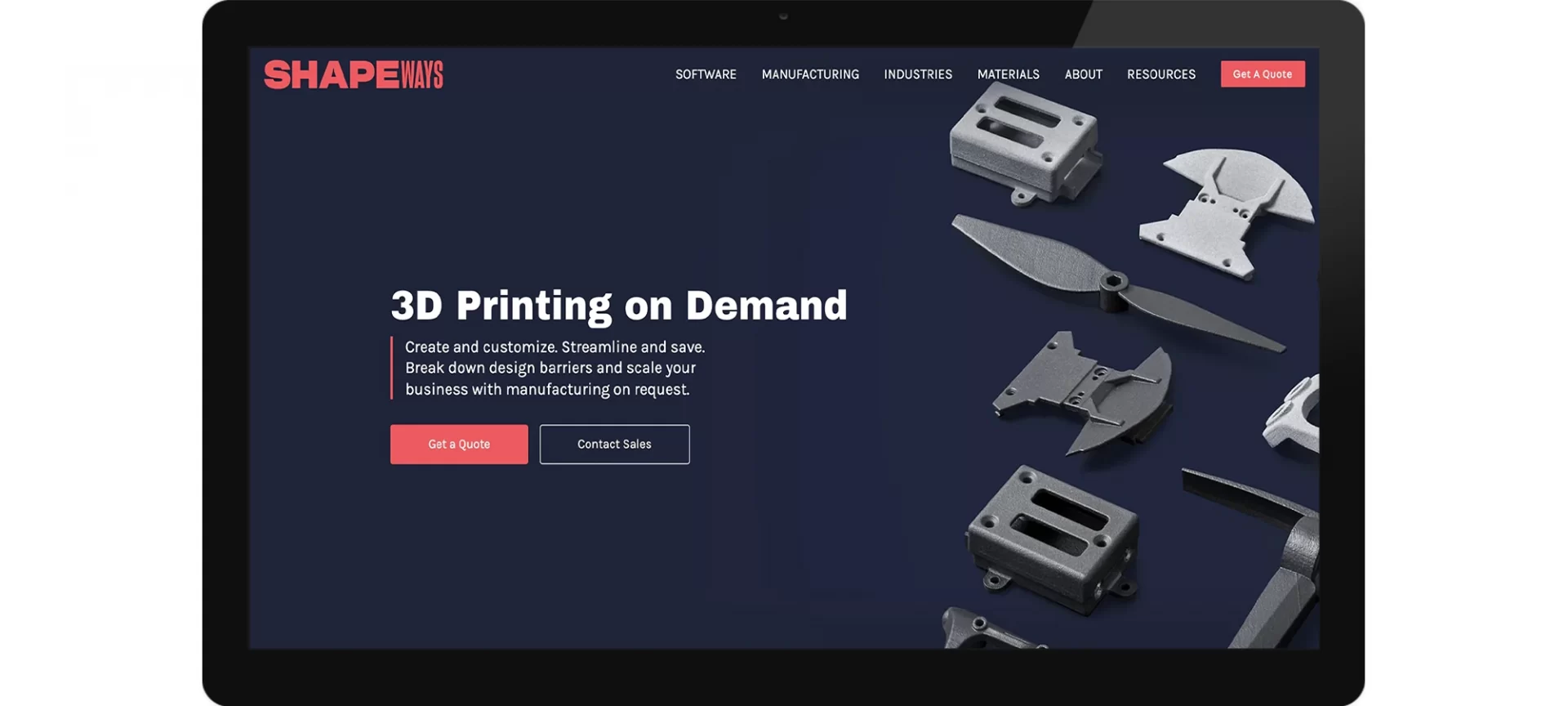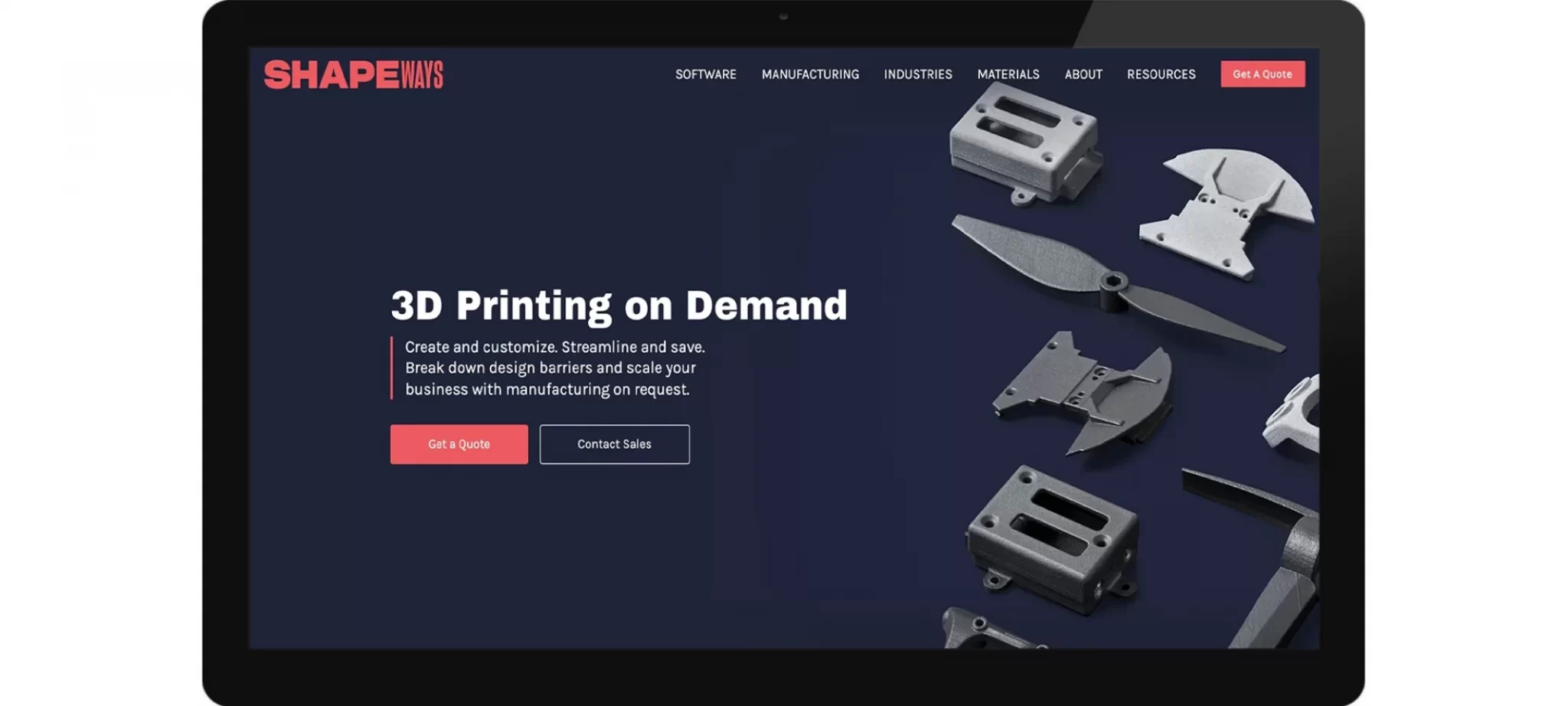 Shapeways is known for its unique ways of helping consumers through its 3D printing services. The company is very popular and reliable.
It offers users with the most updated selection of 3D designs. And, the credit goes to its designers who have created their storefronts on the website featuring unique and amazing 3D designs.
The company is known for its great ease of use around the world. In short, the company offers two types of 3D printing services.
One is for the consumers who can select the featured designs, customize them and order 3D printed parts from Shapeways.
The other kind of service is for 3D designers. If you believe in your art and want to make some penny online, you can create your storefront on Shapeways.
Not to mention, the company is also popular among industries wanting rapid prototyping services as well as for mass production.
One can get items and products printed through Shapeways's industrial-grade printers and can stay protected through the company's dedicated technical support.
Sculpteo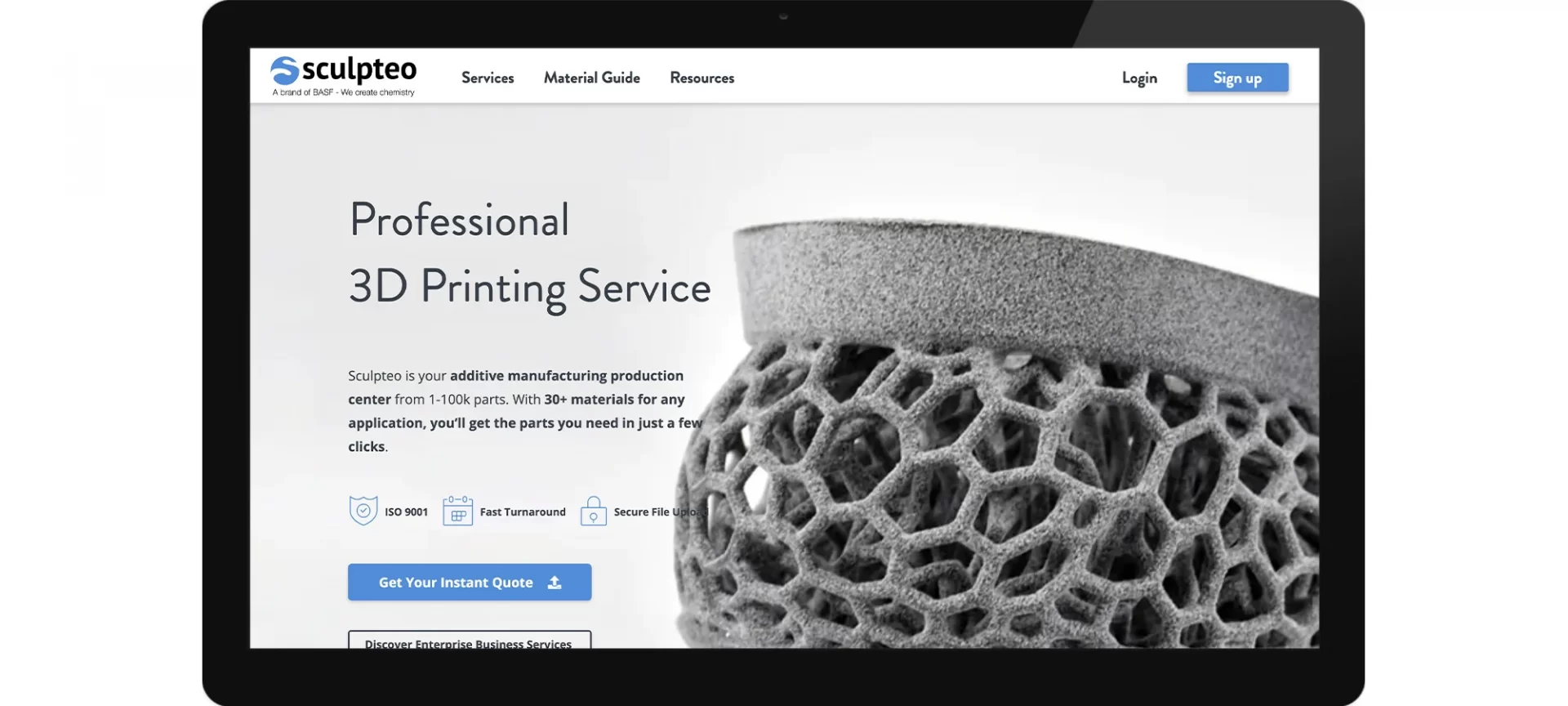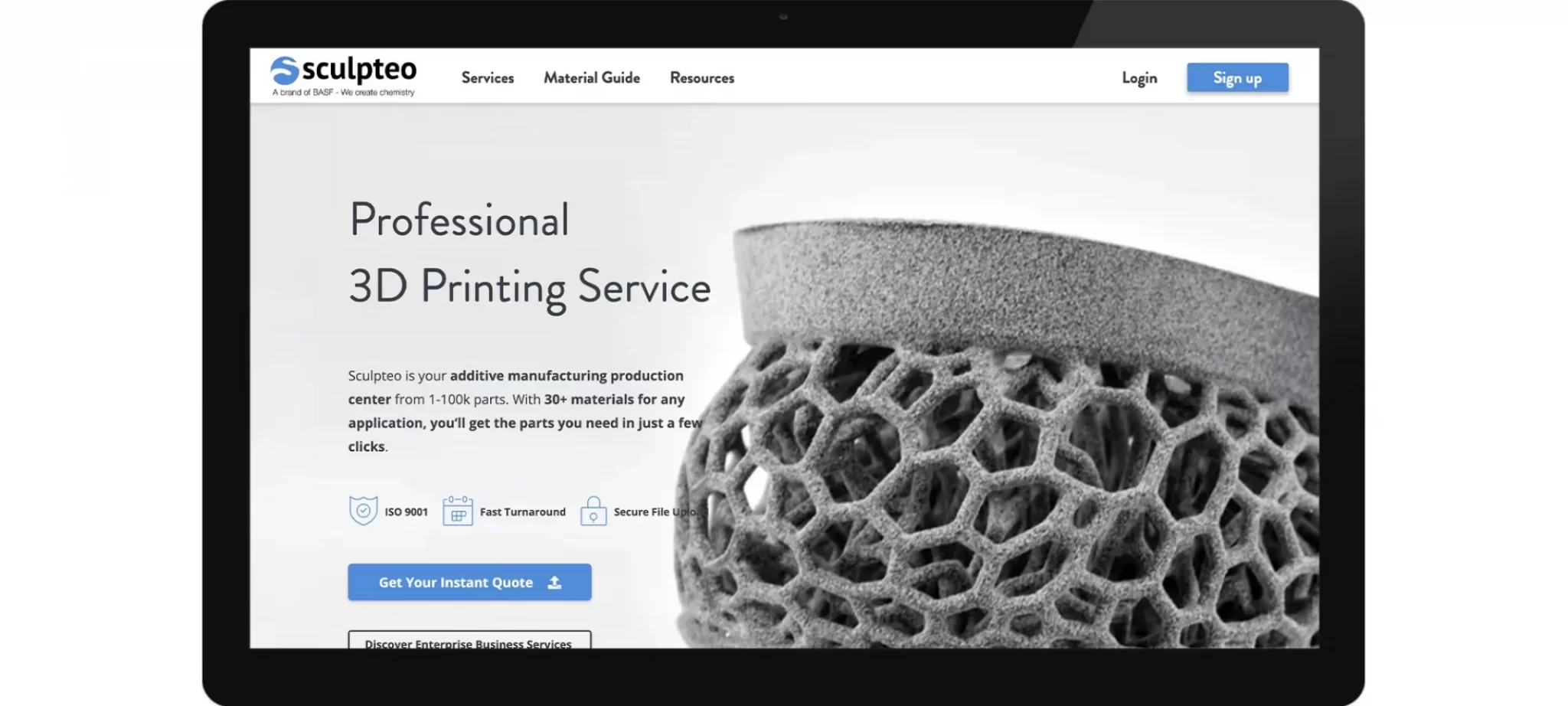 Few of the listed name does not need an introduction. And, Sculpteo is one of them for sure. With much to offer and being around for quite some time now, the company is getting popular with every passing minute.
The company follows similar practices when it comes to offering 3D printing services as that of Shapeways. Artists and designers can upload the 3D files through their storefront.
Apart from many great things, the company is involved in helping those wanting to connect with others for advertising their 3D designs. Isn't that the most fascinating part of the comprehensive offering from Sculpteo.
Users can order 3D printed parts from the company, either by choosing designs from the storefront on uploading their own. It offers a 3D print in a variety of materials.
Either it's the standard materials such as PLA or the complicated ones, for instance, titanium and many others. Also, it accepts a wide array of 3D design file formats.
Consumers can pay through credit cards, PayPal and various other payment options. It also has the option of Sculpteo credit for payments, available only for store holders.
3D Hubs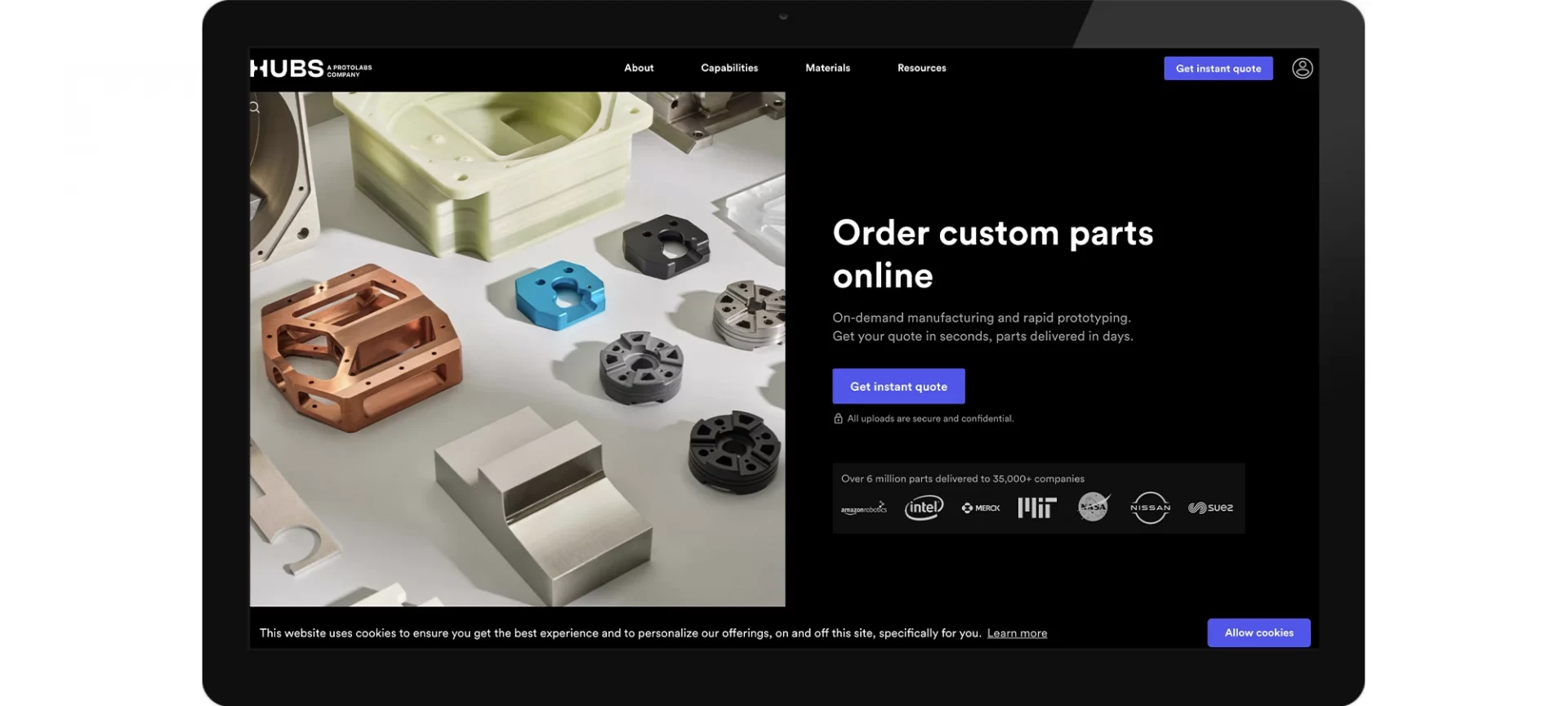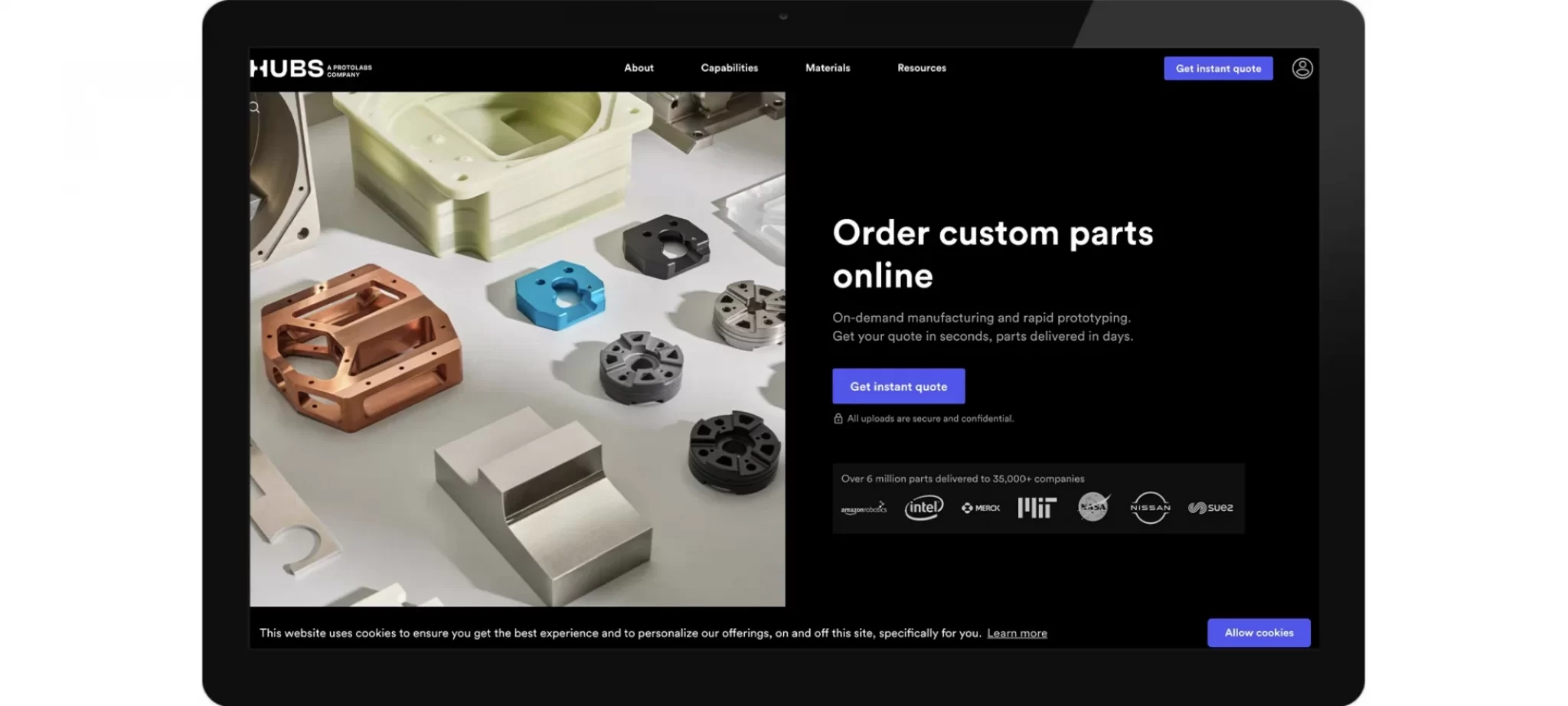 Now, those wanting to know the exact time their order will take to arrive can go with 3D Hubs. The website is user-friendly and introduces one to a plethora of choices.
It connects the consumers with their professional partners' closets to their region to make the entire process from order to delivery fast.
The website provides a lot of information on the products you want to 3D print. For example, the time it will take to ship and reach you, the different 3D printing processes and much more.
The prices are based on the location of the consumer and the material chosen for 3D printing. In other words, one can find out the probable spending made even before placing the order.
You can order 3D Printed parts by uploading the choice of a 3D file and providing specific details about the same. With so many options, you would surely find out what you want to 3D Print with.
Order 3D Printed Parts from Stratasys Direct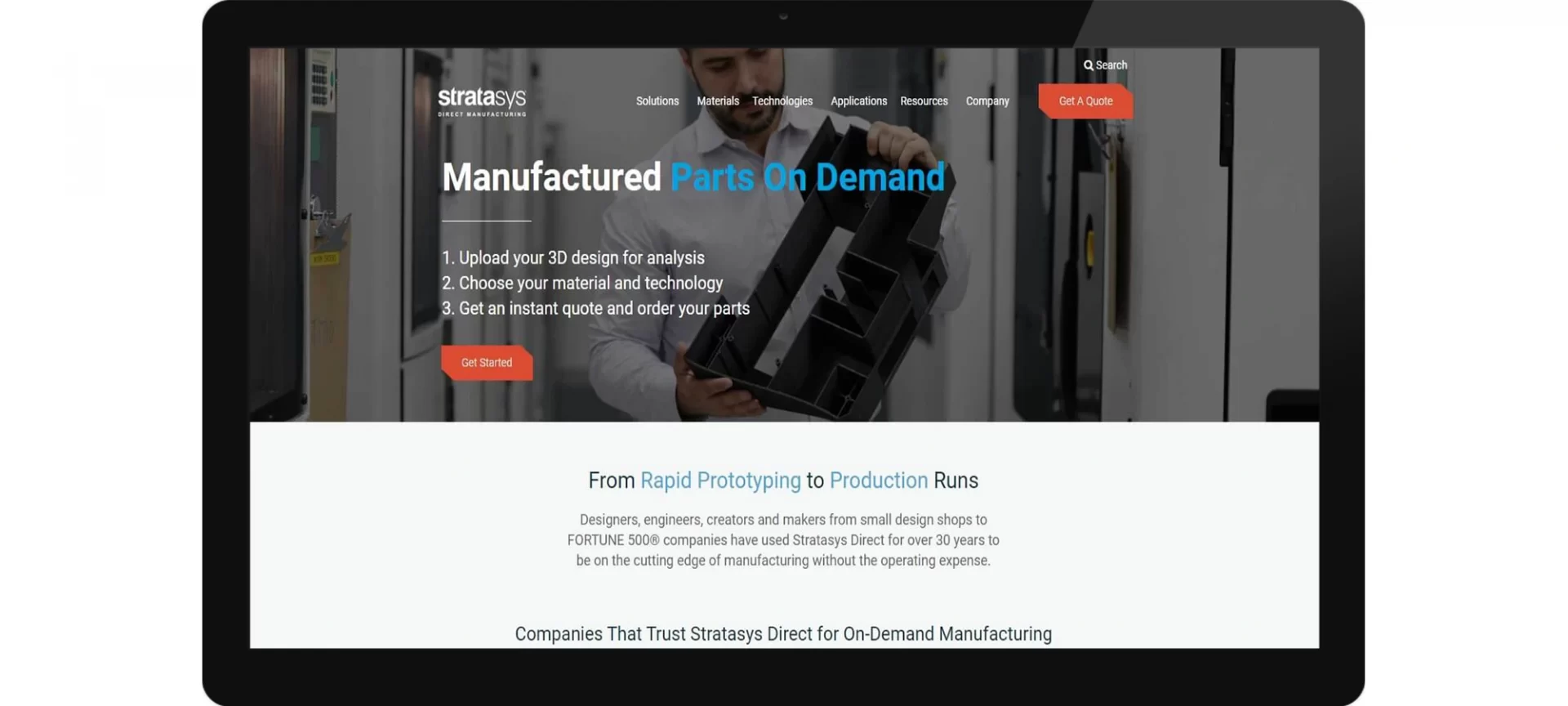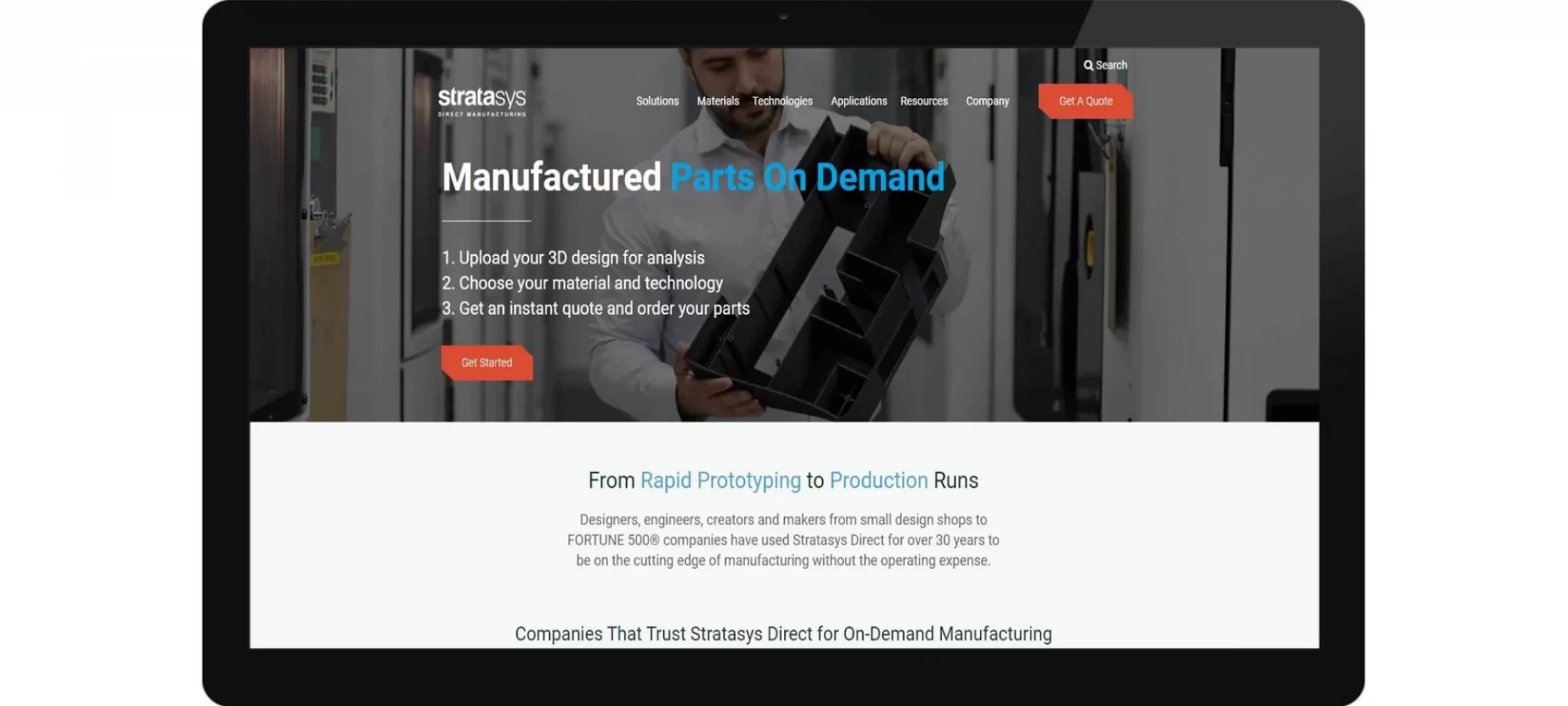 Who does not know about Stratasys? One of the most popular and leading manufacturers of 3D printers used in industries around the globe.
You can expect to achieve high-quality 3D printing results and finish of a professional touch when ordering from this company.
Engaged in research and development of amazing 3D printers, Stratasys knows how to offer the best services when it comes to delivering 3D printed parts.
Hence, you can rest assured when asking for help from Stratasys Direct. It usually is for those looking for professional services.
Such as, for those from engineering, automobile, medicine, and various specialized industries.
Not just that, using their website, you can also edit the printing methods, surface treatment, finishing and various other parameters on your 3D models. And, you can find out the budget for the same.
Isn't that a complete package? If yes, what are you waiting for? You can make a huge leap in your business by making Stratasys a choice to order 3D printed parts.
Protolabs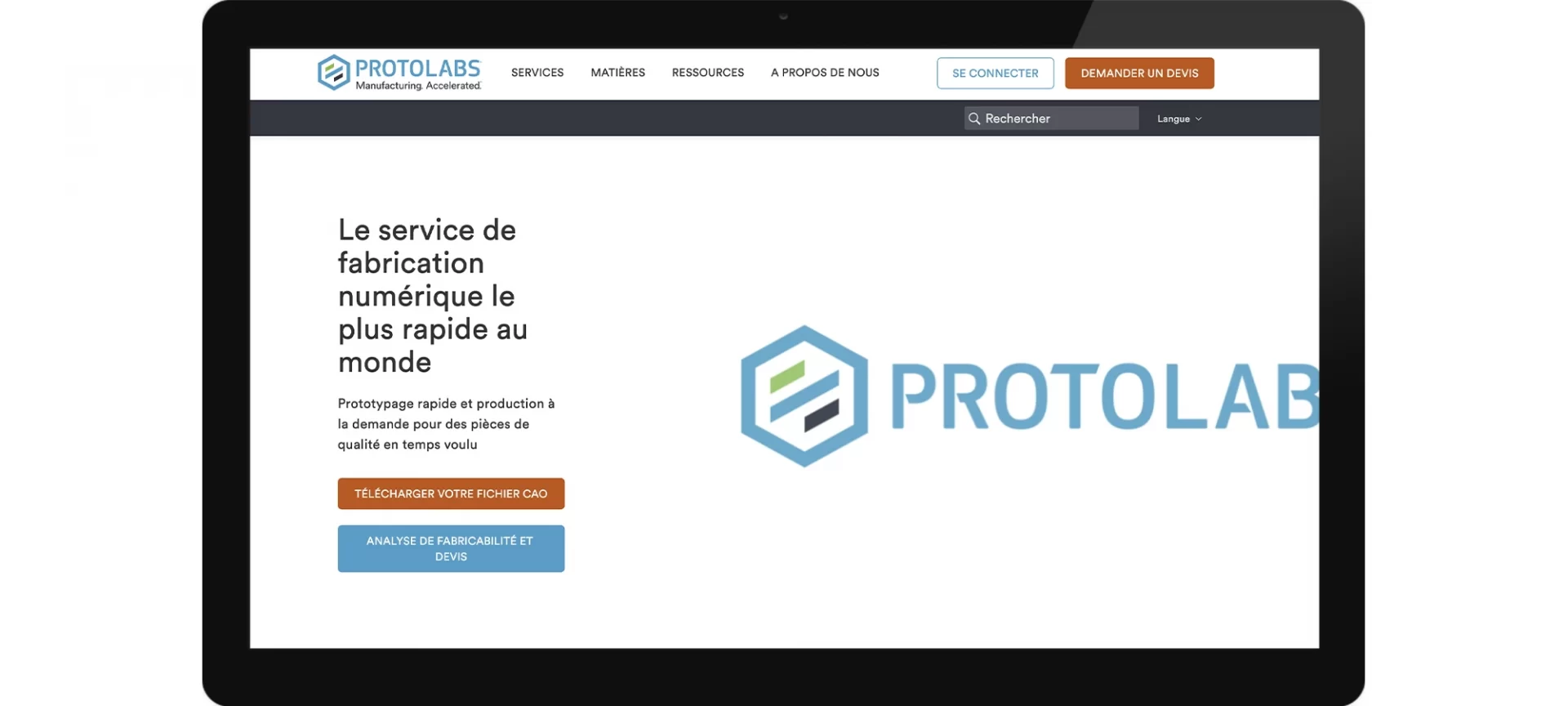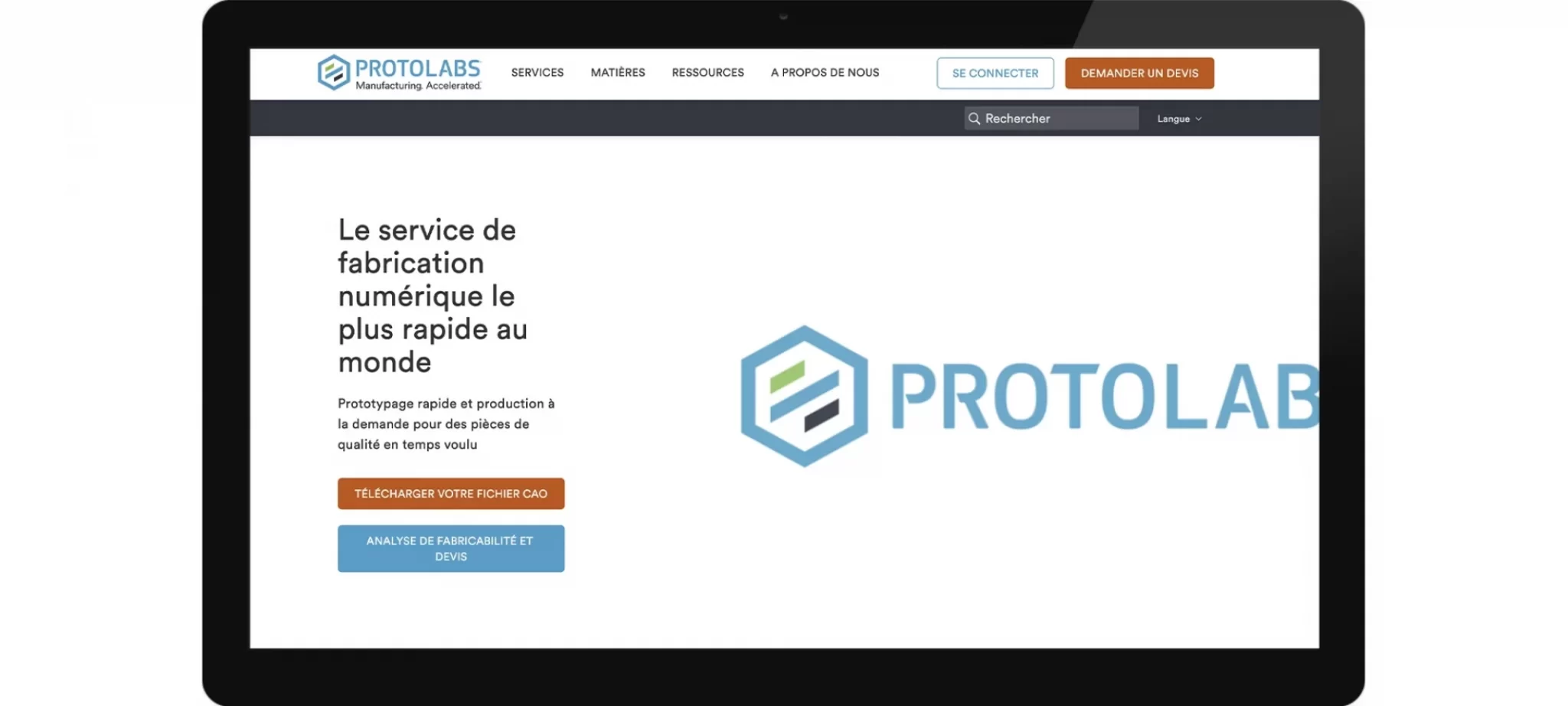 Protolabs is a UK based company. Started in 1999 as a software platform bringing mills and presses together for automation of injection molded parts, it has come a long way since then.
Today, it is a huge manufacturing firm offering a plethora of services, including 3D printing service as well. Apart from that, it is also engaged in CNC machining and injection molding.
When talking about 3D Printing services, the company offers two types of services. One is for those seeking solutions for rapid prototyping.
This is facilitated by design analysis tools offering very quick turnarounds. And, the other one is the on-demand 3D printing services.
Using this, consumers can order low-volume runs. Suitable for small scale industries. In short, the company is for professionals and those needing help in bringing 3D printing to their manufacturing process.
Star Rapid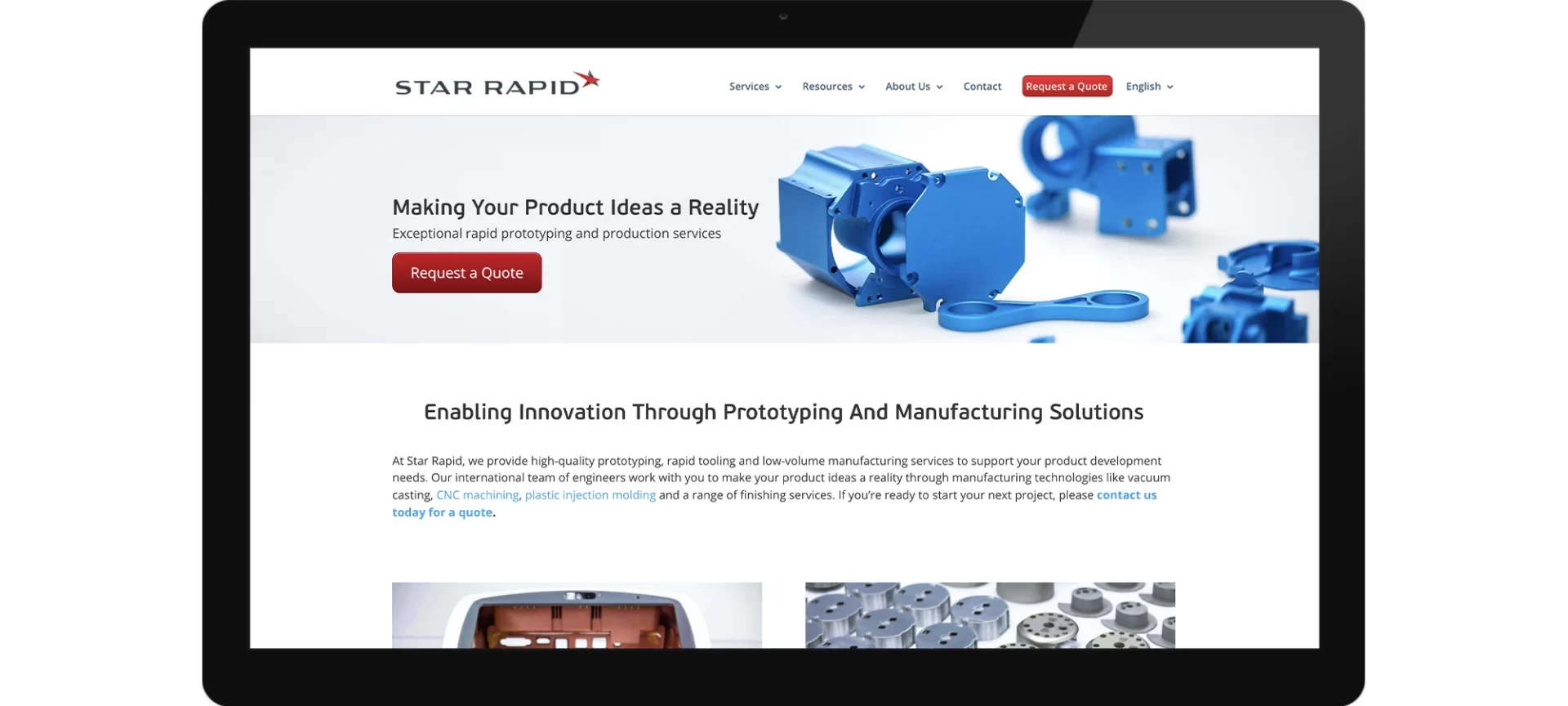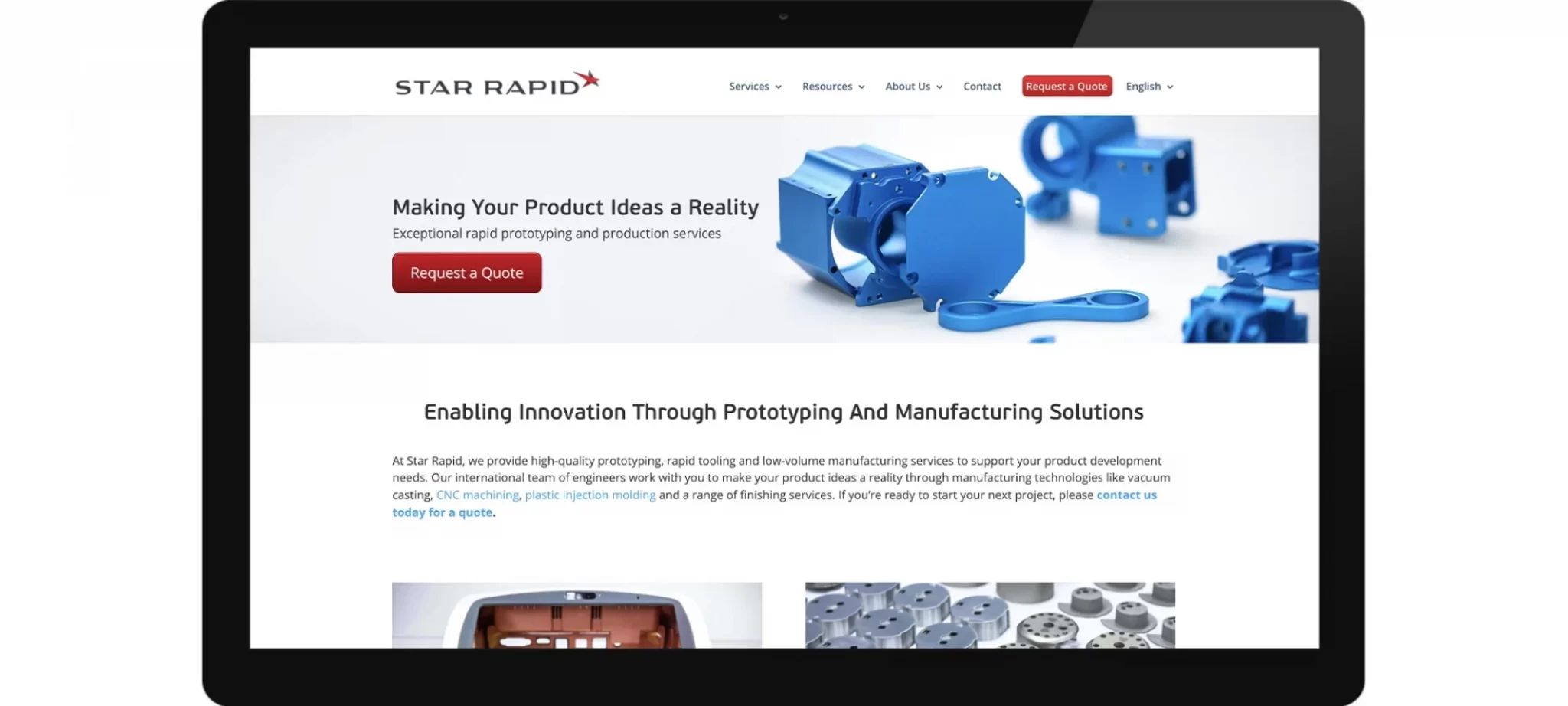 Few names aren't old as Protolabs, however, a lot popular because of their unmatched offerings. Star Rapid is one such company.
It started in 2005 which makes it pretty old though. It is engaged in accomplishing orders for prototyping services for professionals and consumers alike.
You can check the types of 3D printing technologies available with the company on their website and choose the one that suits your requirements.
The company is also having a huge list of assorted services for its consumers. You can involve with their CNC machining, plastic mold injection, pressure dies casting, and vacuum casting.
Hence, you can use the services for many use cases. Starting from rapid prototyping to low-volume manufacturing. They also feature case studies on their website.
If you have time, you can go through these studies. You can get to know the different projects the company has accomplished and assessed their capabilities too. A worthwhile read for those wanting to explore the company before using its services.
3Diligent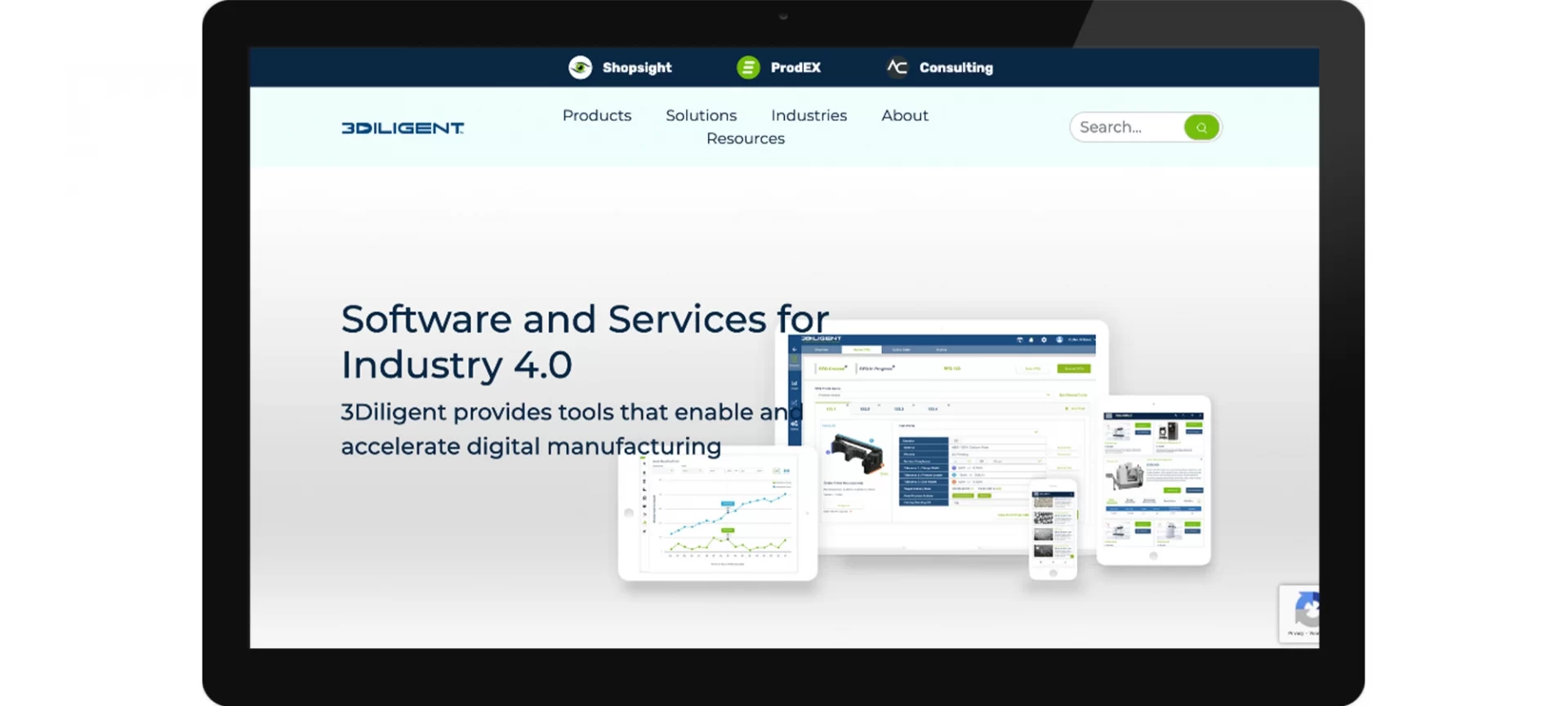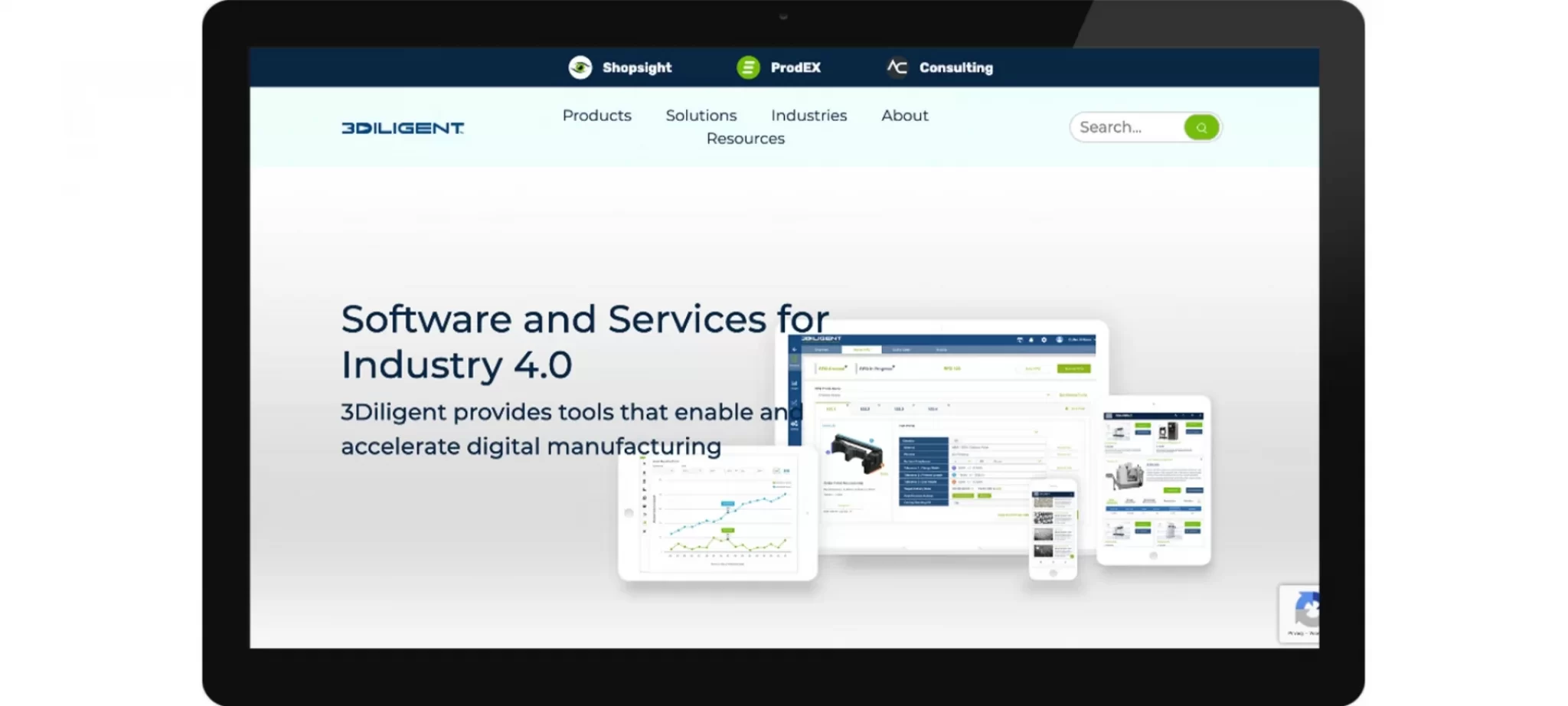 3Diligent isn't like any other options on the list. It has a very different task workflow. This is an online network of professionals that are available for your 3D printing needs. You must sign up for the website before being able to upload your requirement for 3D Printing.
After you do that, you can post your job or task related to 3D printing on their website. Later, the professionals will bid for your task. You can make a choice based on 3D printing techniques, quotes, materials, and other parameters.
You can also propose your budget as well as select the material. However, in case, you are not sure what material would suffice your 3D model, you can leave that for the professionals to advise you.
Fast Radius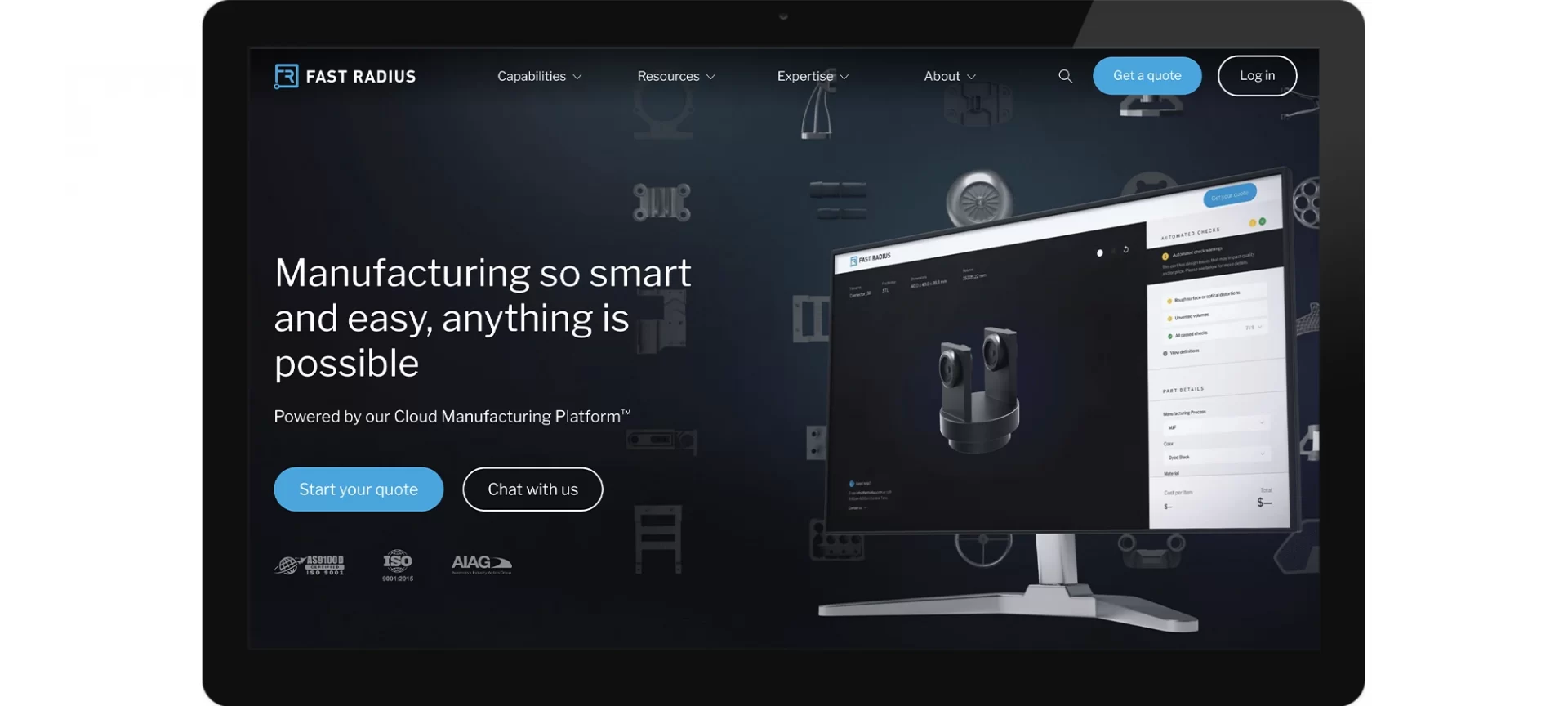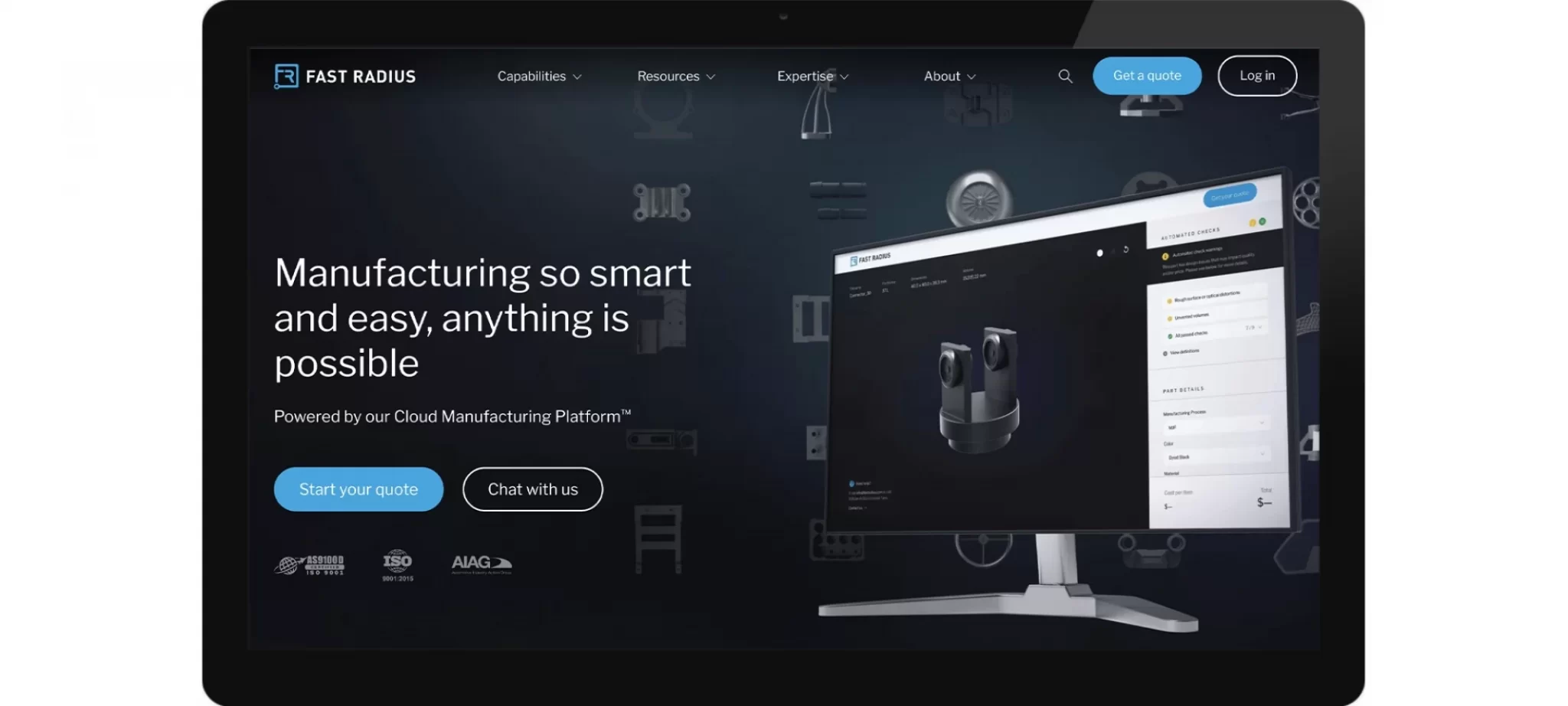 The company is not so old and started in 2015. Fast Radius is based out of Chicago. It offers consumers a variety of additive manufacturing solutions. Apart from that, it also caters to the needs of those looking for traditional methods for manufacturing.
You can seek solutions for methods such as CNC milling and injection molding. It provides a really quick turnaround time.
You can choose the material and technology you want to go with. And, the company would provide a quote based on your specific requirement.
The on-demand production is very precise and provides its users with a plethora of choices in terms of materials and technology.
The Conclusion
When trying to find out a 3D printing service center, you must ensure that you get the best results.
It is no problem to decide not to buy a 3D printer and order 3D printed parts from other companies, but make sure you get what you are looking for. Hence, the selection of such companies is very crucial. Choose which is best and let it take care of the rest.