It is not that easy to instill one's name within the fastest growing 3D printing ecosystem. However, Shapeways seems to have its signature carved all over.
Shapeways 3D printing services changed the way people looked at the 3D printing industry. This is because of the many perks that the company provides to its consumers.
From businesses to end-users to the makers, it offers something for everyone related to 3D printing.
A Dutch founded company, headquartered in New York has found its popularity without making much effort in advertising itself.
However, concentrating on important parameters such as quality products, easy workflow, best customer service, etc, it attracted attention right after its inception.
Shapeways began to provide its services in 2007. Since then, it has been aiming to make things simpler for its customers. The fact is, the company is not involved in manufacturing 3D printers.
But it is dedicatedly trying to offer the benefits of 3D printing technology to those who do not own a 3D printer. At the same time, it is focused on bringing the top makers together at one platform. Isn't that incredibly awesome?
However, this is not it. There are many things that make this company unique and different from other similar offerors. Here is the Shapeways 3D printing review, putting light on those not so usual factors.
Find out what brings Shapeways among the best choice of makers as well as consumers after reading this article.
Shapeways 3D Printing Introduction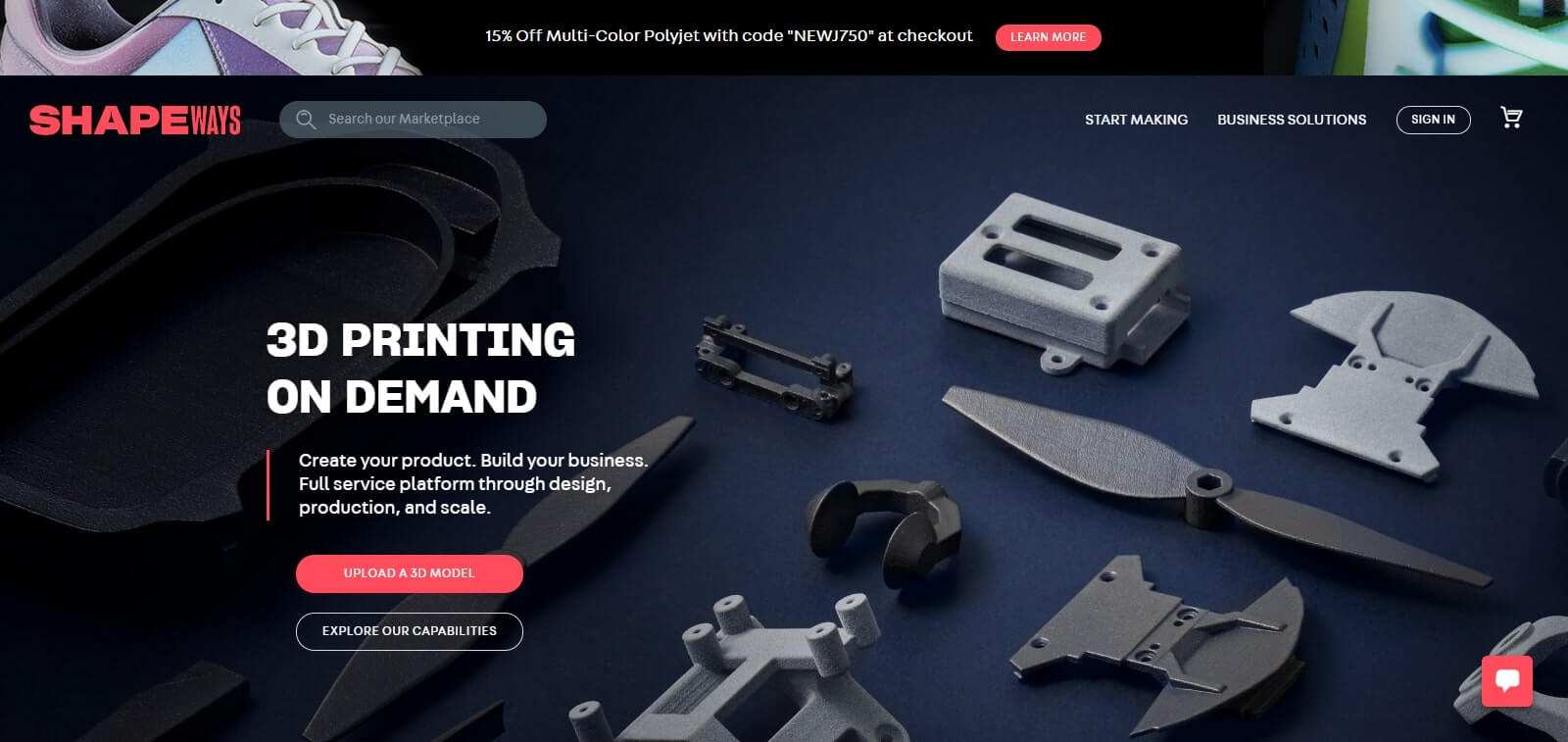 As mentioned before, the company's formation dates back to 2007. Shapeways came into existence to further the accessibility of 3D printing and its potential benefits using an online platform, open to all.
The company soon became the leading marketplace for those looking to build creative models using 3D printing.
The company with backing from a number of Netherland-based as well as international corporations, and investments from huge industries has been able to showcase its forward-thinking as well as the approach towards additive manufacturing.
Shapeways, though headquartered in New York, has its offices in Eindhoven and Seattle as well. Plus, with the support of its various registered makers, the company is able to accomplish 3D printed projects for clients from around the world.
You just have to submit a 3D design file or files, choosing the finish and material options from the company's website.
Because the workflow and idea have eliminated the issues of failed prints and unprofessional finishes, it has encouraged a lot of beginners and professionals to make the right use of 3D printing technology for establishing their business.
Hence, you can consider Shapeways responsible for the farther spread and proliferation of the technology within the users, consumers, and industries alike.
What Can you Do with Shapeways 3D Printing Platform?
You must have got an idea of what the company is all about. However, there are certain services that are not available with many similar online platforms. So, what it is?
Rather wondering about the products that the company offers as services, let's check it out yourself.
e-Commerce Platform:
Shapeways is a full-fledged e-commerce platform offering 3D printed objects. In short, you can find a wide range of items such as gift cards, lamps, and other products when browsing through the extensive gallery of Shapeways.
This clearly explains its popularity among consumers or the end-users. If you want to find something special to gift your loved ones, you can get it 3D printed from Shapeways.
The design choices may leave you overwhelmed in a good way. The website offers a friendly interface and search options for users.
Depending on your needs, you can find out the item you are looking for. Hence, enabling easy reach for consumers with the most profound technology of all times.
A Platform for Makers:
If you are someone with good hands at 3D designing, you can sign up for your storefront on Shapeways. Yes, it is possible completely.
With many other benefits, the website comes with this option as well. Actually, it aims at bringing the talented makers and hobbyists together at one platform. Ultimately, increasing its own credibility.
Makers can sign up for their storefronts and can start featuring their unique designs. You can even put prices for those 3D models and can sell them online to the consumers.
What's best is that the makers do not need to worry about payments and customer care as Shapeways handles all those things.
Hire an Expert:
If you need to create a prototype using additive manufacturing, you can also hire someone to come up with the 3D design for your task.
Professional designers can help formulate the design for you as per your preferences. You can also hire designers for creating 3D designs for a specific product and other items.
How to Order Using Shapeways 3D Printing Website?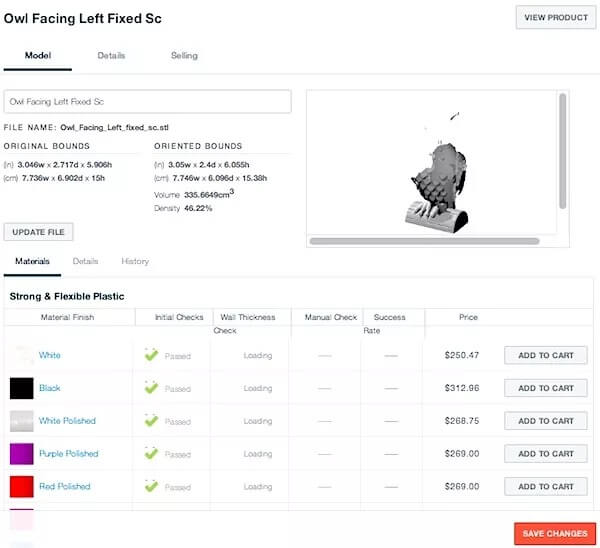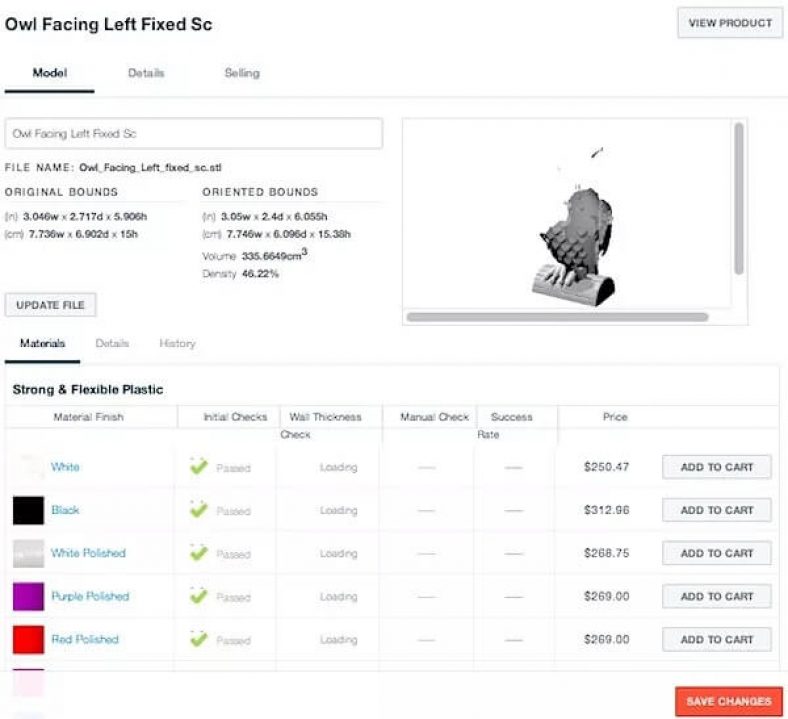 Credit: Tomsguide
There are two ways to do that. Shapeways is a huge database of already existing 3D files. So, either you can choose a design from their collections or you can also upload your STL file through their website.
In case, you are choosing a design from their website, you can do that in easy steps. They have the filtering criteria for the consumers.
For example, if you are looking for a mobile case, you can look within the accessories and mobile cases.
This makes it easy to get to the specific item you are searching for instead of jumping from here and there without reaching any conclusion.
You can also check the material and resolution and other details of the product before placing the order. Shapeways 3D printing makes it simpler for every novice to find the right product in no time.
Moving on, the other choice of order comes in when you want to print something that you have designed yourself.
Or, you may have the file from somewhere else and you want to create it through Shapeways. In such cases, you can just upload the 3D file on their website selecting the material and surface finish.
Later, enter the address and other specific details and the product will be shipped to your doorstep.
The best part is that you get to see a real-time grid comparing the prices for the same product available in different materials.
You can also switch between sizes to check the updated prices. Also, when you upload an image, you get the confirmation through an email.
In short, the complete ordering process is simple and easy to follow. You get the next steps to continue to. And, you can finish the steps to complete your order.
Material Choices and Resolution Options Available
Unlike companies that let you compromise with a few materials and restricted 3D printing technologies, Shapeways introduces you to a variety of choices.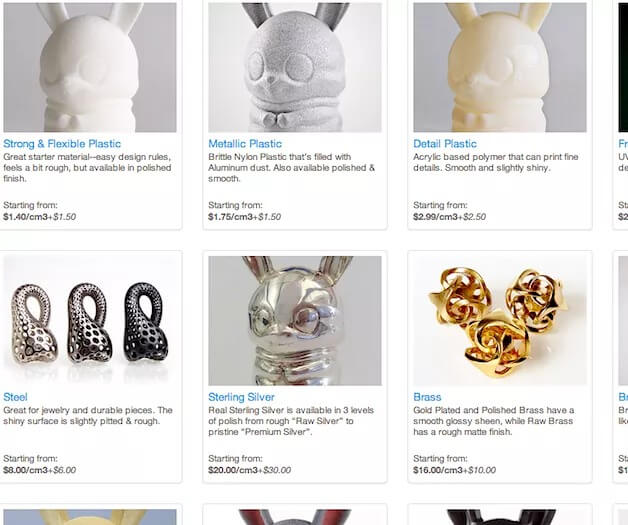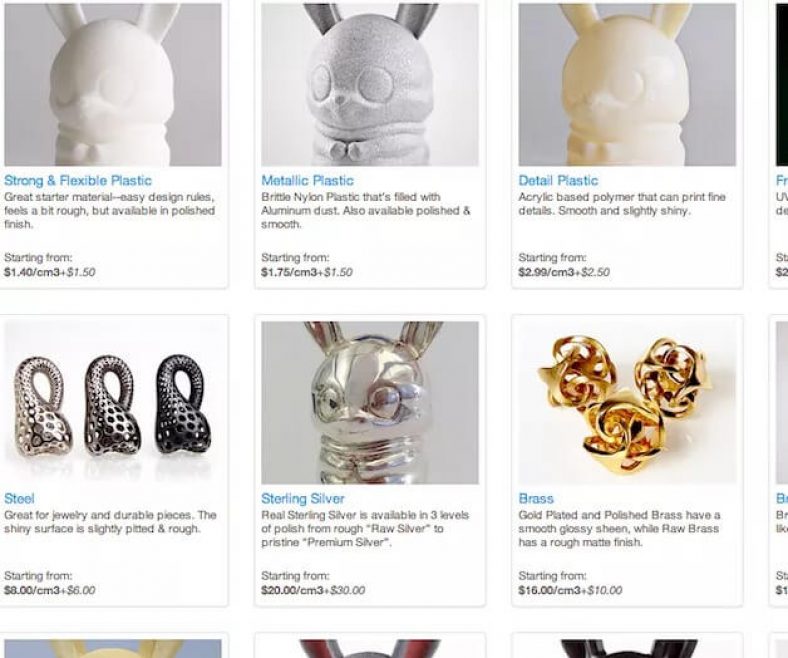 Credit: Tomsguide
Talking about materials, you can make use of plenty of options. From standard plastics to metals to industrial-grade materials and to what not. You have access to the moon. You just need to grab what you want.
Strength and Value:
These materials are available for real-world applications. Making it affordable for users, the section of materials comes through a variety of steel and plastic. You have got versatile plastic, steel, TPU, PA11, Accura 60, Accura Xtreme, Accura Xtreme 200.
Professional Metals:
Using a wide array of metals such as copper, silver, platinum, gold, bronze, and others, you can place an order for your 3D prints. These materials require little to no finishing.
Industrial Strength:
There is something for everyone. If you have the need for some industrial-grade products, you can choose these materials. They offer 3D prints in Aluminium, MJF Plastic PA12GB, and MJF Plastic PA12.
Scale Replica:
These are materials provided for scale models of architecture and various other items. You can choose between multicolor polyjet, sandstone, and fine detail plastic.
Premium Materials:
If almost everything is already on the list then why not the premium materials. The stainless steel and carbon options complete the list in the aptest way.
You also get to check the number of days it would take to complete the prints in each material and to finally ship it to you.
Delivery
One important factor to judge the company's capabilities is its delivery services. For those who have already been fooled by other companies who promised to ship your item sooner, you won't find that disappointment here.
Shapeways is the most competitive brand. The name says it all. When it comes to delivering the items on time, you can bet on its promptness. You can expect it to ship earlier instead of shipping later.
Shapeways has always tried to put their customer's needs first. You get all the details of the products ordered from the website including the estimated delivery time.
Depending on the choice of material and surface finish, you will be communicated with the estimated shipping time. And, based on your location, the time from shipping and delivery will be calculated.
Making it completely easy for you to stay ahead of all the information on your product delivery.
Product Print Quality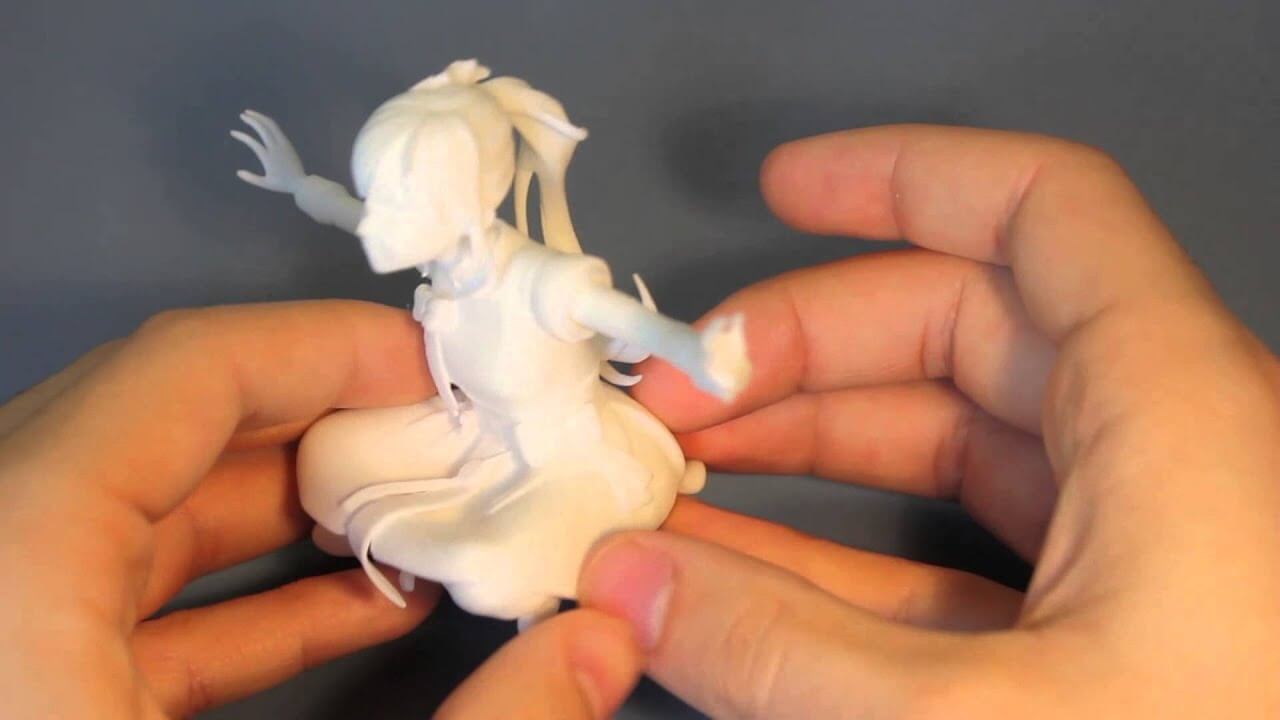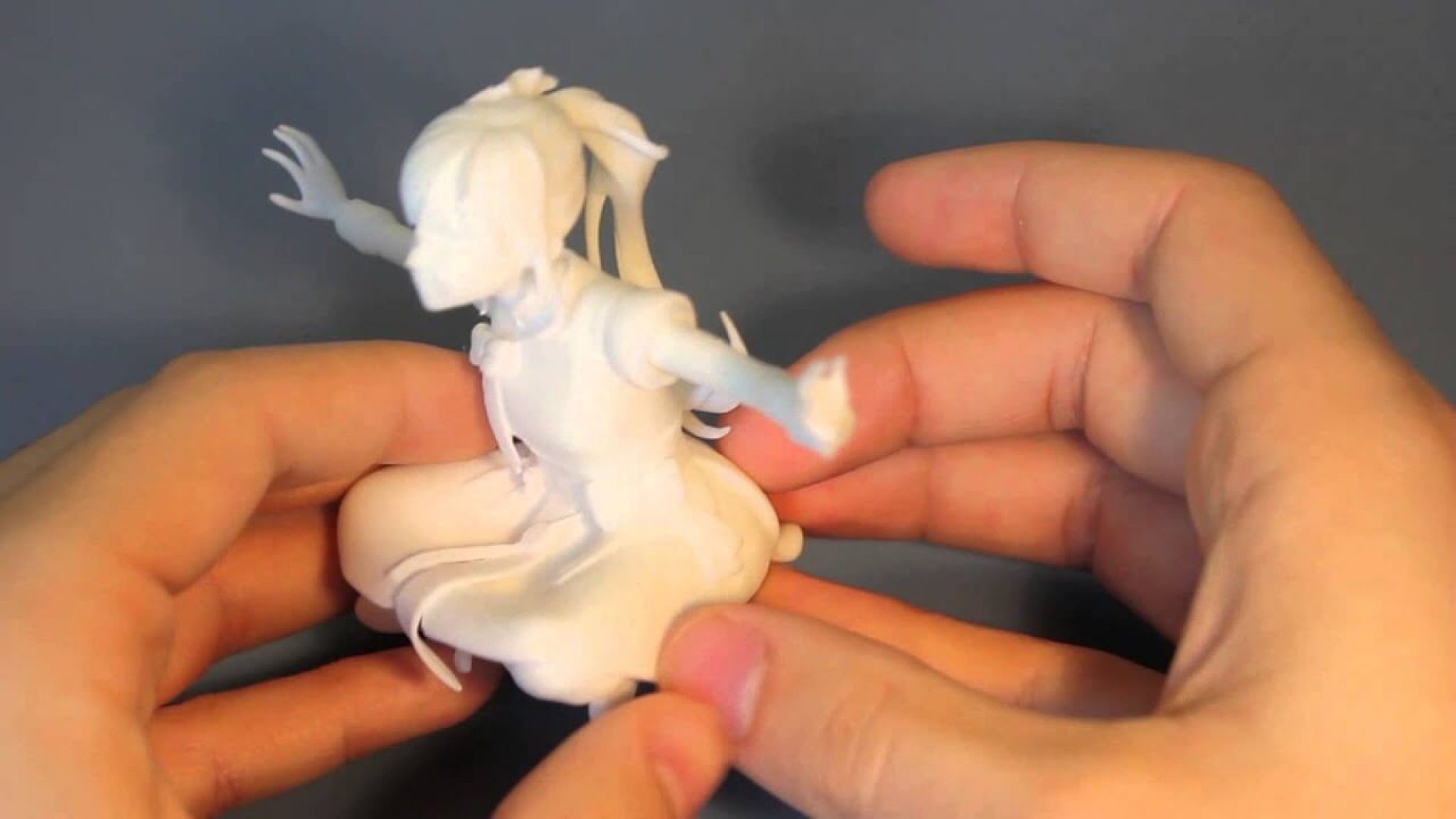 Credit: Daniel Kreuter
Shapeways' pricing and material chosen for Shapeways models are directly proportional to the print quality. The higher the resolution, the higher the pricing.
The better the material choice, the sharper are the details of the item. So, you can choose the resolution and the 3D Prints will arrive without any problem.
You can enjoy the best service and help find the right 3D printing service for yourself. The Shapeways 3D Printing service center excels at producing finer details and amazing surface finish.
You just have to pick what you like. And, the company would do the needful to make it look as simple as possible.
You select the print quality and Shapeways delivers it to you. Without a pinch of doubt, the company has the best professionals working for creating these fine pieces of art.
Without needing to get into the mess of failed prints and layer adhesion and plenty of other issues related to 3D printing, you get your items in the best shape possible every time.
Customer Support
Shapeways is one of those companies that aim at solving customers' problems with the first point of contact, that is the website itself.
The website features the well-organized and highly extensive guides and FAQs for creation of models as well as for 3D printing the existing models.
You get to read the tutorials alongside the detailed troubleshooting guide. They do organize weekly Hangouts. You can connect with an Engineer archive and sort your queries out.
If all these do not satisfy you, you always have the fans waiting to answer your questions on the online forums.
You will find a number of online forums and communities for Shapeways that are always eager to solve questions and queries of members. So, not to worry when it is about trusting Shapeways.
The Conclusion
Do you know that Shapeways is one of the most popular web platforms for connecting with the 3D artists and getting your models printed?
If not, you must be starting to search for such services. Not just that the popularity, but its indulgence in high-quality 3D printing makes it one of the most desirable choices.
You can expect to get what you ordered. It has nuances of choices in terms of materials, surface finish, product database and more. It is a complete solution for every 3D printing lover.
In addition, Shapeways 3D printing makes no excuse when getting your item delivered on time. You stay at any corner of the earth, if the company promises to get you the 3D item, you will receive it for sure.
Plus, you can also consult and hire a designer for coming up with a unique and specialized design. That further strengthens the services of the company.
And, brings it to the forefront of the other alternatives. In short, you are never going to crib about your decision of selecting Shapeways over any other choice. It is the best and hopefully will continue to grow with time.