Peopoly Moai – SLA 3D Printer
The SLA 3D printers are widely used because of their precise quality and ability to maintain the accuracy when printing complex designs. However, the price has always been an issue. The high price associated with the SLA 3D Printers make it difficult to consumers to get hold of one. However, with Peopoly Moai's SLA 3D printer, with only a fraction of cost greater than Nobel SLA Printer by XYZPrinting, however, with better quality, isn't a bad choice at all.
PROS
Amazing print quality
Comparatively low cost for an SLA 3D printer
Can work with almost any liquid resin
Provide more control over printer's settings
CONS
Not a click to operate system. Needs a lot of manual intervention
Print tray needs to be replaced after every 4 litre of resin usage
Table of Contents
Being first of its generation to use Stereolithography assembly printing, the low cost Peopoly Moai offers a great choice for 3D printing enthusiasts. Apart from amazing print quality, this 3D printer gets you the highest level of control. You can almost tweak any printing aspect to get the result as desired. It is very different from those expensive printers that work on click to print technologies. Those who are beginners may find it challenging to put things together and start operating the device for quality prints. But that does not make it any less than the other competitors in terms of accuracy it offers.
Moai SLA printer by Peopoly involves more thinking as compared to the other SLA printer than includes automated tasks. The 3D printer kit is available as do-it-yourself kit where you must assemble the parts together to start 3D printing. The company also offers a pre-assembled SLA 3D printer for some extra bucks.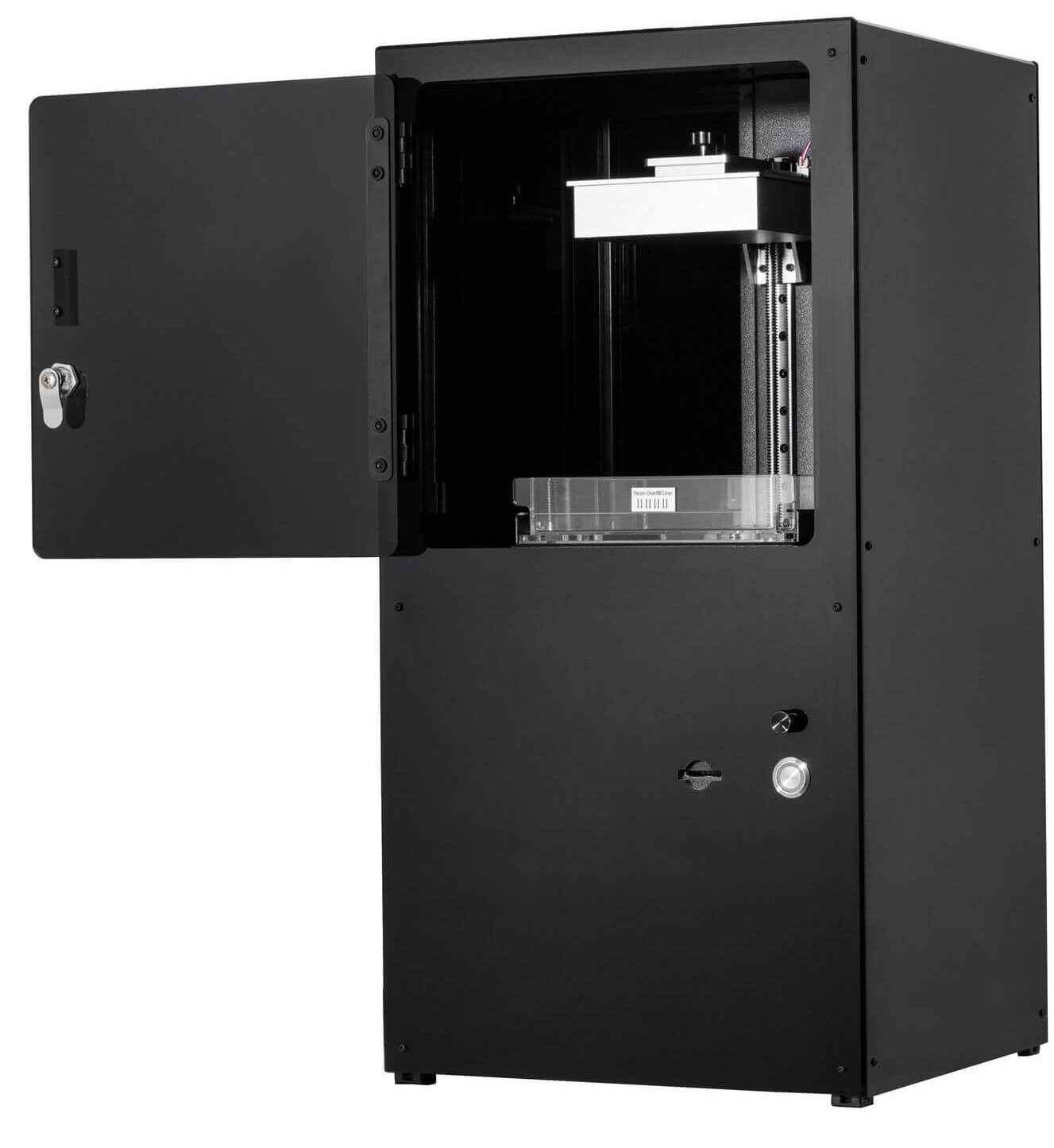 Apart from a lot of positive aspects, the SLA 3D printer does have a few caveats. So, let us check what all user can expect from this low-cost SLA 3D Printer.
Features
The SLA 3D printer by Peopoly Moai, a Hong Kong based manufacturer, offers few great features that make it desirable among professionals as well as enthusiasts.
High Precision Printing: The Peopoly Moai SLA 3D printer has a 70 microns laser beam installed in it. This means that the printer is capable of delivering high precision results when it comes to carving the complex details of the parts. You can turn your creativity into reality, no matter how complex is your imagination by using Peopoly Moai 3D printer.
Control Over Laser Settings: Although the ready to use 3D printers give you an advantage of hassle free printing, however, it takes away the freedom of manipulating the print quality by changing the settings from the core. However, this is not the case with SLA 3D printer offered by Peopoly Moai. It provides a full control over the settings of the laser beam. Users can easily change the settings and access the details of the print as per their expectations.
Material Friendly: It wouldn't be too much to call this SLA 3D printer, a material friendly printer. The company has made no obligation in the use of resins. One can use any type of liquid resins with this 3D printer. Even the ones that are low cost as well as the speciality resins.
back to menu ↑
Specifications
The Peopoly Moai SLA 3D printer is a 26 inches tall 3D printer with a total of 250 x 250 x 630mm space cover. The printer weighs 15 kgs. It provides a build area of 7 x 5.1 x 5.1 inches. This is a decent amount of space for a desktop 3D printer. You get a print space where you can create models with good height and slim body. In short, you get pretty much enough space from a desktop 3D printer here.
The printer's laser wavelength is 405nm with power of 150mW. With 70 micron of XY resolution and 15 micron of Z resolution, one can print high resolution parts with ease.
back to menu ↑
Price
There are two prices for the same machine. If you choose the do-it-yourself kit, the price would be $1295. However, in case, you do not want to get into the hectic task of installation and assembling parts together to start printing from the machine, you can choose to pay $1995.
The price isn't too high. To be honest, for an SLA 3D printer, paying that price is nothing more than buying peanuts. With time, better technology is available for the same price or even for lower price range. The same is true for 3D printers.
While there was a time when a basic SLA 3D printer would have costed tens of thousands of dollars, today, its available for $1295.
back to menu ↑
First Impressions
If you are up for ordering a DIY kit, you will be receiving a lot of small and big parts packaged together. After opening the package, there would be three layers of parts. You would find case panels, laser boxes, galvanometer and various other stuffs to help you assemble the kit. The parts are well labelled to avoid any confusion.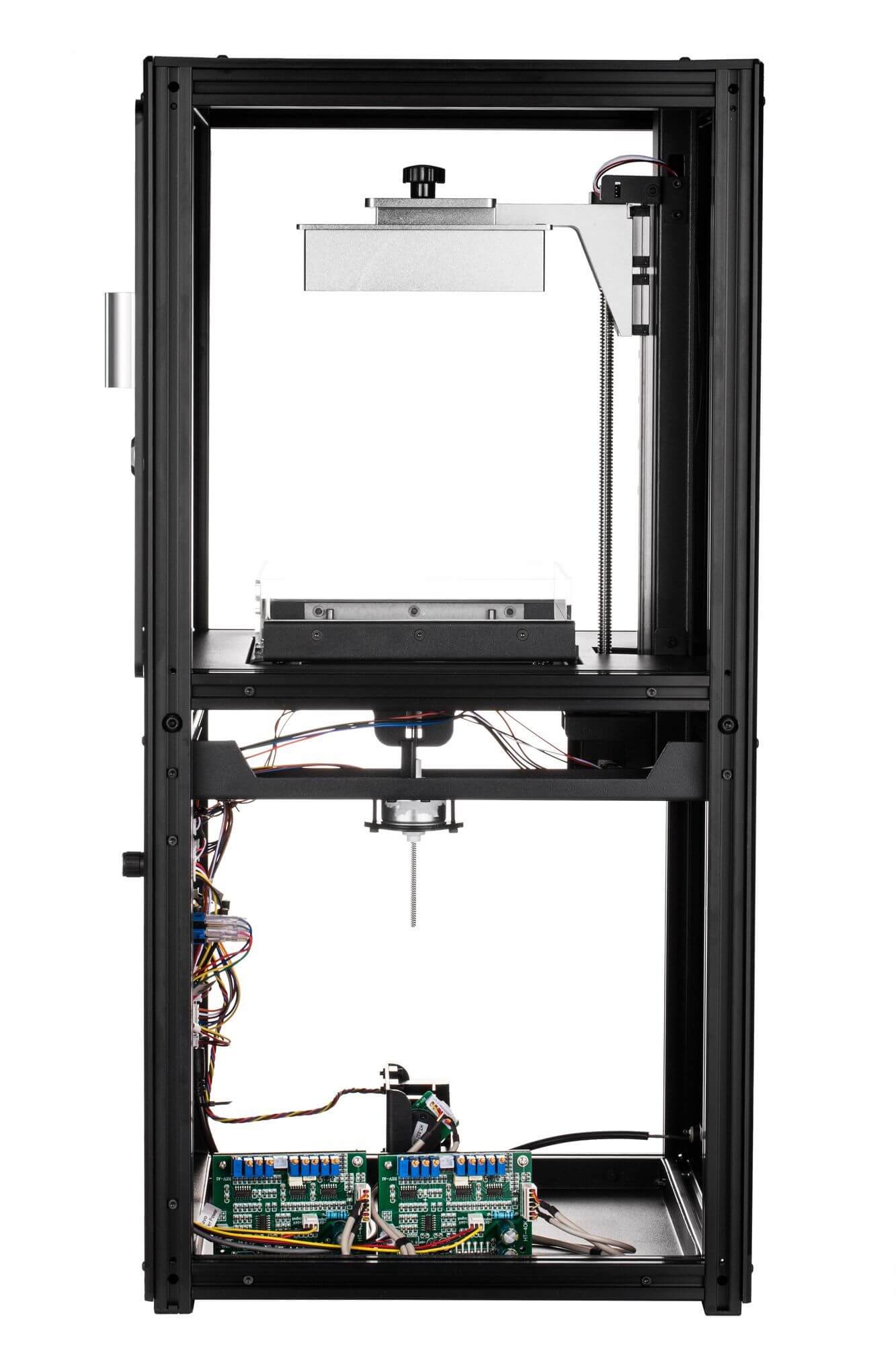 Company makes sure you get everything that you require for assembling the parts, even the safety glasses. There would be an SD card which has the build guide in PDF format.
back to menu ↑
Setup
The setup may seem like a daunting task at first, with all the parts scattered around. However, as you start following the clear instructions, everything will happen easily. The SD card with the PDF also has the detailed descriptions and using it to follow through would make the entire work simple.
Once all the parts come along, you would need to calibrate the 3D printer. For this, you first have to print the calibration sheet file using a 2D printer and align the tank edges with the printed lines of the calibration sheet.
Later, the instructions ask to run a calibration g-code file. This is also provided by Peopoly. Once you do that, the laser fires and traces the circular pattern on the paper.
This is where your setup completes and you can start using your SLA 3D printer for creating parts and models. It would take you around 4-5 hours to build the entire thing up. Isn't that effort worth to cut the cost from $1995 to $1295? It sure does.
back to menu ↑
Printing Type/Cost
As you may know, the cost of maintaining an SLA printer isn't easy. From the material used to the resin tray that needs changing periodically make the entire process expensive. However, Peopoly Moai has tried its best to ensure that there is as less of an investment in terms of consumables.
For this, the printer is made compatible to be used with any liquid resin. With that said, you can use the cheapest one from the market. If you like, you can even go for the specialty resins. So, the cost pretty much depends on your choice.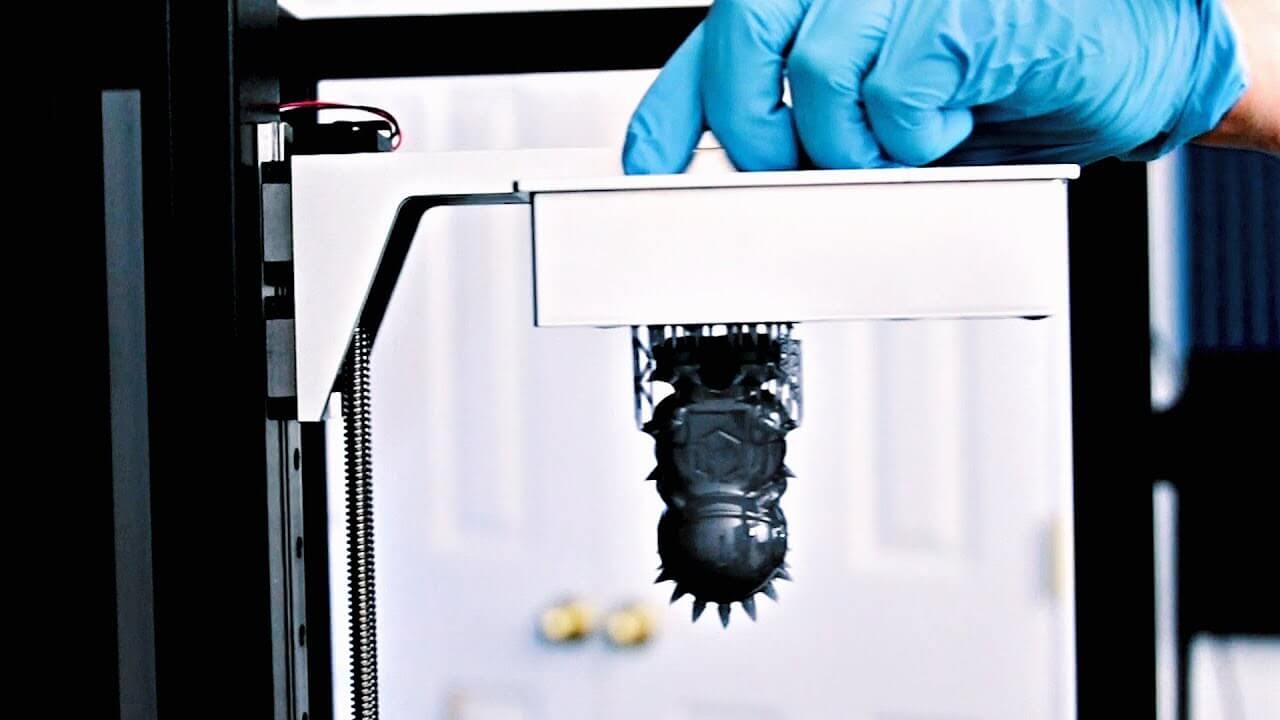 Moreover, the resin tray, that usually is recommended to be changed after the usage of 2 litres of resin, as with most of the other variants, Peopoly Moai requests to change the tray after you have worked with 4 litres of resin. So, you can actually double the life of the resin tray with SLA 3D printer by Peopoly Moai.
The resin tray costs $55. So, you can do the calculation. The SLA printer is cheap when compared to the printers of its family. However, the consumable cost is still going to stick together.
back to menu ↑
Print Quality
Talking about the print quality, SLA printers are known to build quality prints, capable of converting every fine detail into clear reality. Same goes with Peopoly Moai SLA 3D printer. Although the cost is low, the quality still stages perfectly.
The layers are unnoticeable even when printed on the draft mode. The curves and smoothness are like a part and parcel of SLA printing.
Credit: reddit.com
Depending on the choice of resin you use, the mechanical properties of your parts would differ widely. And, you must go through the post processing steps regardless of any material of design you choose to build.
The post processing steps are hectic for some. Once you get used to it, it would feel like a normal routine. If you are planning to build smaller parts, you may have to handle the post processing with even more care.
back to menu ↑
Software
The company offers Cura on their web pages. It is easy to work with Cura. The tool has print profiles which make it easy to change the layer heights by only changing the profiles. You can also visualize the print bed and find out the areas of the print bed susceptible to most of the peel forces.
The final step would be the generation of G-Code. Beforehand, generation of support is of optimum importance. For which, company recommends few tools that can automatically generate the supports. XYZPrinting's XYZWare is one such tool.
Later the slicing and generation of G-code must be completed to start printing the model.
The company's support page has everything you might need.
back to menu ↑
Customer Service
You will find a lot of user guides and manuals available on the website of the company. There isn't much support when compared to those operating outsides of open source community. However, with all the data available, you would be enough to get you started. You can use their email address for one to one communication. Moreover, the support is available through their social media accounts on Facebook and Twitter.
back to menu ↑
Factors Dominating the Buying Decision
To understand if the printer is the right choice for your 3D printing needs, it is crucial to check all the factors.
3D Printer cost: The SLA 3D printer is cheap. However, the price is still high when compared to the FDM printers. But cheapest when taking the SLA printers into consideration. If you need an SLA printer, and have some experience working with one, this would be great choice.
3D Print quality: Being an SLA printer, there is no doubt about the stunning quality one can expect from this printer. From complex geometrical designs to realizing the curves of a miniature, this SLA 3D printer is capable of delivering high quality prints in every term.
3D Print speed: This is on a slow side. You will have to wait longer to print parts than you would wait with FDM 3D printers. If quality matters to you more than speed, this is a good choice.
3D Printer capability: In terms of quality, the printer is awesome. However, considering the speed, you may find it little lethargic.
3D Printer Practicality: The 3D printer can be used for variety of purposes. You can create dentures, prototypes and lot more things using this 3D printers. Mostly designed for professionals and makers, the SLA 3D printer can be utilized for important tasks that requires precision.
3D Printer User expectations: Usually, users expect quality from SLA 3D printers which comes handy with this option. The price for a desktop 3D printer is also considerable. However, the cost of consumables can be resisting.
back to menu ↑
Verdict
The SLA 3D printers are widely used because of their precise quality and ability to maintain the accuracy when printing complex designs. However, the price has always been an issue. The high price associated with the SLA 3D Printers make it difficult to consumers to get hold of one. However, with Peopoly Moai's SLA 3D printer, with only a fraction of cost greater than Nobel SLA Printer by XYZPrinting, however, with better quality, isn't a bad choice at all.
Also, Peopoly does not offer self-build software for making the printing process easy, it does provide full control over the settings to produce fine designs. The open source community add to the advantage of the printer even further. Any addition to the technology can be introduced to it without a need to go for another 3D Printer.
The post processing may get you into hurdles, but that's the case with every SLA printer. Isn't it? Even if you buy the most expensive SLA 3D printer, you would have to go through every post processing step involved in Peopoly Moai SLA 3D printer.
In short, the challenges that SLA printers face is common across all price range option. Beyond that, Peopoly Moai's SLA 3D printer is a nice option for enthusiasts and professionals who like to do most of the job themselves, instead of depending on automated machines. In addition, one can learn a lot of things using this printer with a freedom to set things manually.