Qidi Tech X-Plus 3D Printer
Qidi Tech X-Plus gives users amazing functionalities along with affordable prices, the 3D printer strives to lead those wanting to give the technology a try.
PROS
The 3D printer can work with multiple filaments
The build volume is more than sufficient for most of the applications
It creates precise and accurate 3D models
Easy to setup and beginners friendly
CONS
Poorly Translated Documentation and Customer Service
The touch screen may also respond slowly in some cases
Product
Specification
Videos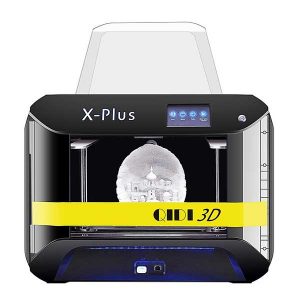 Targeted towards semi-professional users, Qidi Tech X Plus is shipped with two interchangeable extruder setups. The one that comes inbuilt with the ...
| | |
| --- | --- |
| Model | X-Plus |
| Manufacturer | Qidi Tech |
| Price Range | $ 899 |
| Release date | 2017 |
| Country | China |
| Availability | Available |
| Classification | DIY/Kit |
| Technology | Extrusion (FFF- FDM…) |
| Material | ABS, Other plastics, PLA |
| Filament diameter | 1.75 mm 0.07 in |
| OS compatibility | Linux, Mac OS, Microsoft Windows |
| Generic material | Yes |
| XY accuracy | 0.011 mm 0 in |
| Max. build size | 270 × 200 × 200 mm 10.63 × 7.87 × 7.87 in |
| Max. build volume | 10.80 L |
| Min. layer thickness | 0.01 mm 0 in |
| Weight | 23 kg 50.71 lb |
| Nozzle diameter(s) | 0.4 mm 0.02 in |
| Heated print bed | Yes |
| Heated build chamber | No |
| Automatic calibration | No |
| Closed frame | Yes |
| Dual extruder | No |
| Independent Dual Extruder | No |
| Full color | No |
| LCD screen | No |
| Touchscreen | Yes |
| On-board camera | No |
| Mobile app | No |
| 3D scanners | No |
| CNC mill | No |
| Electronics 3D printing | No |
| Laser engraving | No |
| Conveyor belt | No |
| Air filter | Yes |
| Pellet extruder | No |
| USB | Yes |
| Wifi | Yes |
| Bluetooth | No |
| SD card | No |
| Ethernet | No |

Table of Contents
Qidi Tech is a popular Chinese-based company that has created a lot of spur within the additive manufacturing niche through its innovative offerings.
Starting from 2012, since the company was founded, it is been engaged in helping hobbyists and enthusiasts to accomplish their goals through the company's FDM printers.
The Qidi Tech X-Plus review focuses on highlighting the similar aspects of the machine that makes it one more favorite addition for makers.
The company has been known for manufacturing desktop 3D printers that offer affordability along with quality and versatility.
The 3D printers usually focus on including the best features which are usually not available with machines at a similar price range.
And, Qidi Tech X-Plus isn't much different. It also features the best of both worlds. Giving users amazing functionalities along with affordable prices, the 3D printer strives to lead those wanting to give the technology a try.
With many astonishing perks, the desktop 3D printer makes it easier for newcomers to get acquainted with 3D printing.
At the same time, helping experts find a balance between different priorities. Read the complete Qidi Tech X-Plus review and find out how. Check the complete feature list and specs and decide for yourself.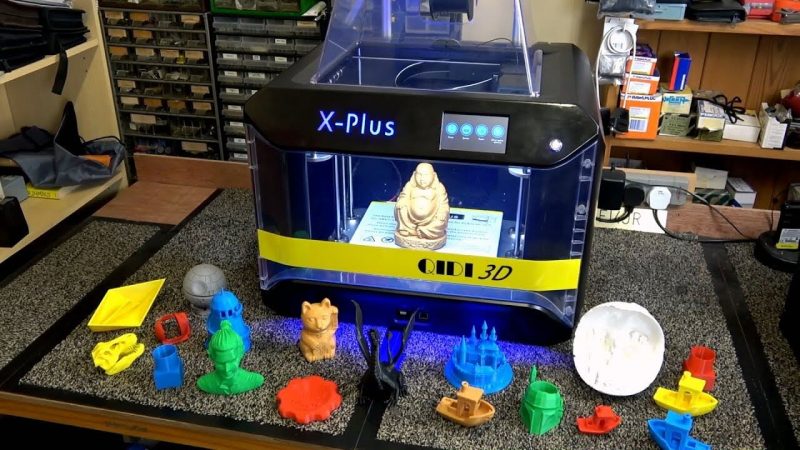 Credit: Youtube – Peter Homer
Features
There are not many 3D printers that cater to the need of users with such precision. Wanting to understand the different needs and being able to offer a united solution for most of them, Qidi Tech X-Plus gets the best selection of features under its hood.
The 3D printer wishes to solve the needs of semi-professional users. Hence, the features selection seems to be favoring the same goal.
Two Interchangeable Extruders: To suit the needs of semi-professional users, the 3D printer exhibits two different extruder selection. These are interchangeable with differing extruder setup. The first one has maximum temperature support until 260 °C. Hence, it is suitable for basic and standard materials such as PLA, ABS, TPU, and others. On the contrary, the other one can withstand the printing temperature up to 300 °C. this one is to handle more sophisticated filaments. You can work with Nylon, Carbon PC, and various other materials. This considerably helps in reducing the wear and tear of the single extruder as the load is distributed as per the need.
Two Build Plate: To not be confused with two build plates. The 3D Printer does not have two different build plates, but one plate that could be used on both sides. And, each side is designed for a different applications. Qidi Tech X-Plus flaunts a double-sided print bed. One side is for working with standard and filaments requiring temperature within the 260 degree Celsius bracket. While the other side is for high-temperature materials.
Two Separate Holders for Filaments: Yes, to capture the need for two different filament types, the 3D printer uses two separate filament holders. The Qidi Tech X-Plus with its two different spool holder takes user experience to the next level. Hence, making it easier to manage varying project need without a need for disturbing the spools already filled in. To print with the difficult materials such as Nylon, users can simply shift the holder to the inside of the printing chamber. Or else, one can use it on an external spool holder.
Third-Party Filament Support: With the increase in the 3D printer's quality, the limitations have also kicked in. These days, companies are focusing on stressing on the proprietary filament use. While this may have its own perks, it does bring a lot of restrictions for users. Counting that in, this 3D printer offers support for third party filaments.
Enclosed Print Chamber: We all know how crucial it is to have an enclosed chamber when printing with materials other than PLA. Sensing the need, Qidi Tech X-Plus has brought with itself a complete assembled and enclosed chamber for starters and experienced users. You can vouch for the amazing design that has made it easier for beginners to come out of their shell and try new designs. The enclosed chamber helps in maintaining a consistent temperature. Also, preserving the print quality of the 3D models.
Low Noise: If you are working in your home or own a small office where every sound seems like noise, this one would help keep it cozy and calm. The 3D Printer, with the enclosed chamber, is designed to produce very little noise. It is just 40 dB. So, you can work without any problem even when the 3D Printer is sitting next to you.
Enhanced Cooling: The 3D printer features an advanced cooling system that helps in bringing the best out of the 3D models.
Intuitive Touch Screen: You can fall in love with the intuitive touch screen that sets an example for many. The 5 inches color touchscreen is simple and easy to work with.
Fast Leveling: When learning about the 3D printer, you would be impressed to find out the one-button fast leveling option. Yes, the leveling is easy and takes out most of the load out of the equation for making it sit right for beginners as well as intermediate users.
Filament Sensor: Your 3D printer is smart enough to know that you are out of material. Hence, the process would pause until you refill the spool holder. This way, it helps in saving the 3D prints from falling apart in the middle of the printing process.
Print Recovery: Not every 3D printer offers this feature coupled with so many advanced features at this price range. But this one does. Using this feature, you can save your 3D models from failing because of a sudden power outage. The print will pause and save progress until the power comes back. The print will start where it stopped, keeping your models safe.
Specifications
Many users focus on the specifications to take the final decision. And, why not, after all, you must find out what you are getting in terms of technical specs with a 3D Printer that promises to do a lot of things.
To start with, the 3D printer is not very huge and occupies 710 x 540 x 520 mm of space weighing around 23 kgs.
Moving on, the Qidi Tech X-Plus 3D Printer has a build volume of 270 x 200 x 200 mm which isn't a lot but sufficient for most of the applications. It features a direct drive feeder system with its nozzle size of 0.4mm.
It is a single extruder machine that offers interchangeable print heads. Bed leveling is manual, however, assistive. So, you can perform the process in simple steps.
Price
The price of the 3D printer is $899. Hence, if you are looking for a great machine ranging below $1000, this one would be the best fit. With this 3D printer, you get to enjoy the perks of expensive machines. Hence, it is worth the value you pay to purchase Qidi Tech X-Plus.
First Impressions
You would not be surprised to see such sturdy packaging when noticing what stays inside. The Qidi Tech X-Plus is perfectly packed.
Moreover, the manufacturer ensures that you do not need to look anywhere when trying to assemble the machine together for the first print. For doing so, it has included the accessories for setting the printer.
You get the spare extruder, an acrylic cover, a tool bag with screws and other parts, and a power supply cable.
Along with all this, you also receive a 16 GB flash drive as well as a spool of filament. This is to let you start printing as soon as you get your fantastic machine at your footstep.
Setup
As mentioned before, there is not much you need to do to assemble the machine as it is already fully assembled. Hence, you do not need much time to start with your first print.
It significantly reduces the user's effort in setting up the machine before first use. Also, bed leveling isn't automatic but simple and straightforward. One button and you find your bed leveled.
If you listen to the reviews, the printer takes no more than an hour to completely set up the printer.
When working with Qidi Tech X-Plus, you get two different options for loading the filament. As mentioned above, one installation is on the outside of the machine and the other stays inside to deal with the high-temperature filaments.
So, as per your needs, you can use the settings to load the filament for 3D Printing.
For those, using a 3D Printer for the first time may find the instructions a bit lame. The guide isn't very detailed and you may find difficulty in following it through.
However, you can check the online guides and find a way out of it without any hassle. Thanks to the easy setup process.
Printing Type/Cost
The 3D printer is based on FDM technology. This means that the printer lays down each layer of molten polymer on the build surface one by one.
After a layer cools down and sets, another layer is topped over it. The process continues until the complete model is prepared.
The printing cost of this 3D Printer isn't too much. You can choose to print with PLA to keep the cost low. Also, the maintenance cost isn't too high.
This is because of the separate extruder specifically for handling difficult and high-temperature filaments. Ensuring reduced wear and tear of extruders.
Print Quality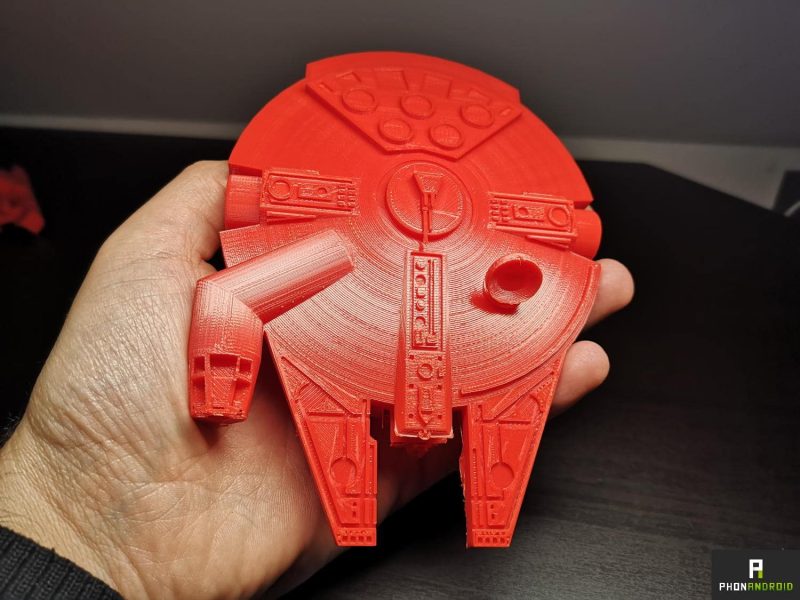 If you compare the print quality with FDM machines you would be impressed as it does get you some wonderful benefits. However, it isn't as smoother as SLA or other precise 3D printing technologies.
However, we do not expect anyway. We are looking for an FDM 3D Printer and wish to compare the results accordingly.
This machine provides nice precision and accuracy. Plus, you can easily create complex models using Qidi Tech X-Plus. So, a complete win-win deal.
Software
The Qidi Tech X-Plus has got its own proprietary Qidi Tech slicing software. But, if you feel the slicing software isn't as competitive as most of the popular ones present in the market, you can work with few others too.
Thankfully, the 3D printer is compatible with Simplify 3D and Cura. Talking about the OS, the printer works fine with Windows as well as MAC PCs.
Customer Service
The customer support is responsive and consists of a dedicated team that handles the queries of the users at the earliest. It takes around a maximum of 12 hours for the response to reach users.
Parameters Influencing the Buying Decision
As a customer, you must look through all the aspects and parameters of the machine before spending on it.
3D Printer cost: When assessing the printer's features, the cost seems too affordable. It features some of the most advanced settings that are not available at such a price range. Targeted for semi-professionals. Hence, may not seem too affordable for beginners though.
3D Print quality: The print quality is decent and accurate. You can use it for home use as well as for professional applications.
3D Print speed: The print speed would rather depend on the complexity of the 3D models along with various other factors. However, it does feature considerate print speed to woo most of the users.
3D Printer capability: A very capable 3D printer with easy settings and wonderful offerings for users.
3D Printer Practicality: It can be used by hobbyists and semi-professional users for serious printing tasks.
3D Printer User expectations: The 3D printer sets the right expectation for users. A dual extruder may have been a welcoming addition. Many 3D printers at this price range have it.
Verdict
Qidi Tech X-Plus review clarifies the various perks offered by this machine. And, keeps us seeking information. The 3D printer is great for serious users. And, pricey for those wanting to print for fun. All in all, a great offering for beginners as well as intermediate users.