RangeVision Pro
The scanner can process objects of vivid sizes by simply changing its field of view. This quality of Pro makes it suitable for a wide range of industries starting from engineering, jewelry, education, and a lot more.
PROS
Automatic visualization simplification.
Three alignment modes.
Easy to use software.
Used in various applications.
CONS
The cost of the printer is on the higher end of the bar.
Table of Contents
Pro is a professional 3D scanner manufactured by RangeVision – a company based in Russia. It uses blue structured light 3D scanning technology for processing objects of various geometries. The machine is available in two different versions:
The scanner with a 2-megapixel camera
The scanner with a 5-megapixel camera.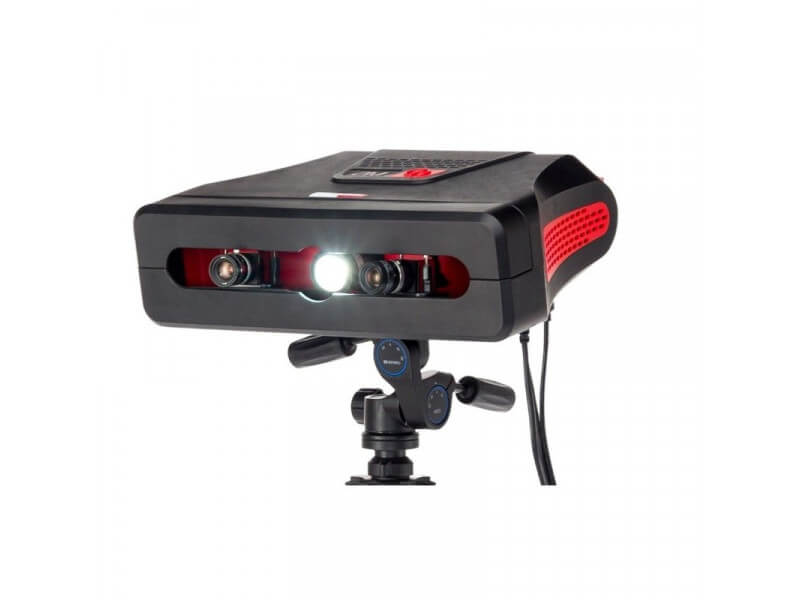 The scanner can process objects of vivid sizes by simply changing its field of view. This quality of Pro makes it suitable for a wide range of industries starting from production, quality control, reverse engineering, jewelry, education, and a lot more. It comes with proprietary software with many automated features that make working with it extremely feasible.
However, whether the scanner offers good value in return for the money it charges, we can only say after going through the scanner in-depth.
Features
RangeVision Pro allows users to achieve highly detailed scans. An LED projection module throws structured blue light over the object to generate a specific pattern from the reflected dots. Also, a unique algorithm makes it possible to process all the data and provide an accurate scan.
What separates the machine from other ones in the same price range is its ability to allow users to process images in three different FOVs.
Below mentioned and explained are more such exciting features of Pro.
Blue light technology
Pro's scanning is based on this process using which users can easily reduce the influence of external illumination while 3d scanning.
The most annoying thing while using a scanner is the reflection of other lights, especially while using one based on structured light technology. So, the manufacturers of this scanner have kept this thing in mind and ensured that users can achieve maximum accuracy by hindering other light coming from the environment.
Relatively faster processing software
The software that comes with the scanner helps users in optimizing the end 3D model. It comes with various automated tools like:
Stitching fragments.
Filling voids.
Aligning the 3D model.
Using all these tools in one click, users can not only decrease the overall scanning time but also get a high-quality precise 3D copy of the object they are willing to scan.
Three different FOVs
This is a special highlight of Pro. It allows you to classify your object as per its FOV i.e. small, medium or large. Once you do so, it has programmed the best parameters of the object.
So, say if your object classifies as a small-size object. Pro would allow you for a working distance of 0.35 meters, a FOV size of 140 mm * 90 mm * 80 mm, a 3D resolution of 0.04 mm, a scan accuracy of 0.018 mm, and the maximum permissible error of 40 microns.
The parameters would change if your object is large in size. By doing so, Pro serves users with an optimized result depending on the object's geometry. How cool is that!
Wide range of applications
Because of such flexibility offered by Pro, users can utilize it for scanning small as well as large objects with consistent results. You can use the scanner in production, quality control, reverse engineering, design and architecture, jewelry, as well as education.
Extremely useful add ons
The scanner manufacturer offers an automatic turntable and a protective case as optional add-ons. While the former is an indispensable tool for automatic 3D scanning, the latter ensures convenience with safety.
Depending on your use, you can choose the turntable model with a capacity of 20 kilograms or 60. Note that either of those has to be connected to the host PC via a USB port and the power source.
Specifications
Technology

Structure Light Technology

Price

10 000 $

Working Distance

0.9 mm
0.52 mm
0.35 mm

Scan Resolution

0.18 mm
0.1 mm
0.04 mm

FOV Size

550 mm * 340 mm * 360 mm
320 mm * 210 mm * 200 mm
140 mm * 90 mm * 80 mm

Scan Accuracy

0.06 mm
0.03 mm
0.018 mm

Dimensions

408 mm * 350 mm * 125 mm
Pro makes use of a full HD projector for scanning various parts and functional prototypes. It allows users to choose from the option of a 2- or 5-megapixel camera. The working distance while scanning a part with large, medium, or small geometry is either 0.9, 0.52, or 0.35 mm.
The FOV sizes for large-sized objects are 550 mm * 340 mm * 360 mm, for the medium-sized object is 320 mm * 210 mm * 200 mm and for small-sized objects, it is 140 mm * 90 mm * 80 mm.
The scanner is able to provide a 3D resolution of 0.18 mm while scanning large-sized objects, 0.1 mm while scanning medium-sized objects and 0.04 mm while scanning small-sized objects. Whereas, the accuracy varies from 0.06 mm, 0.03 mm, to 0.018 mm while moving from large, to medium, to small-sized objects.
The machine processes a scanned file in STL, OBJ, and PLY formats using structure light technology. It weighs 6.5 kilograms and has 408 mm * 350 mm * 125 mm dimensions.
Price
Pro is available for $10,000.
First Impression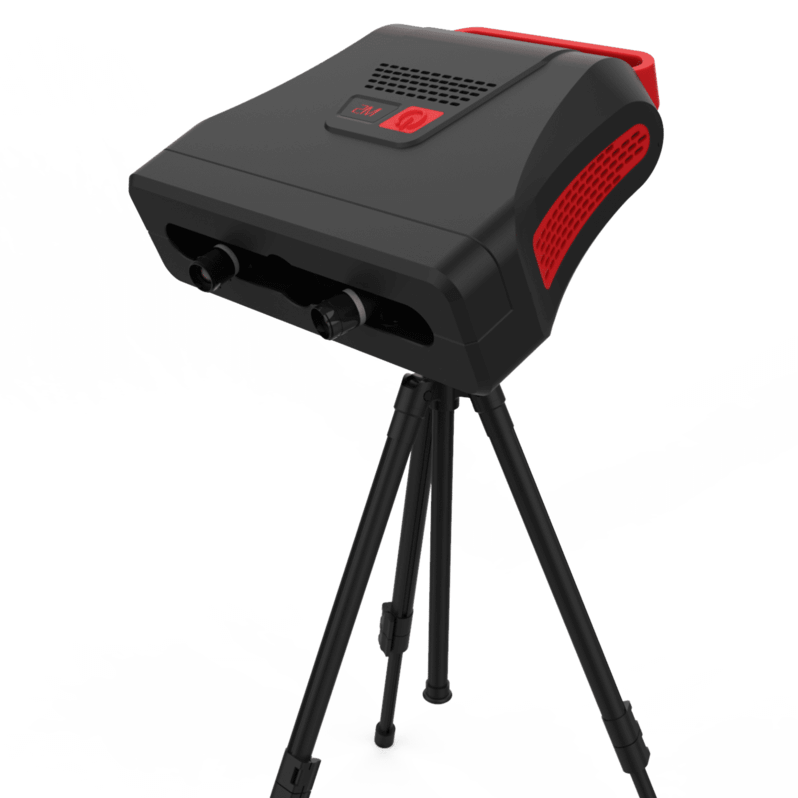 Pro is equipped with:
A scanning module with cameras and an LED projector.
Exchangeable optics for each FOV.
Plastic casing for its storage and transport.
A tripod.
A software solution and license key of the same.
Markers for noting various reference points.
A matte spray for scanning transparent, shiny as well as dark objects.
A host PC.
Set of power and connection cables.
Setup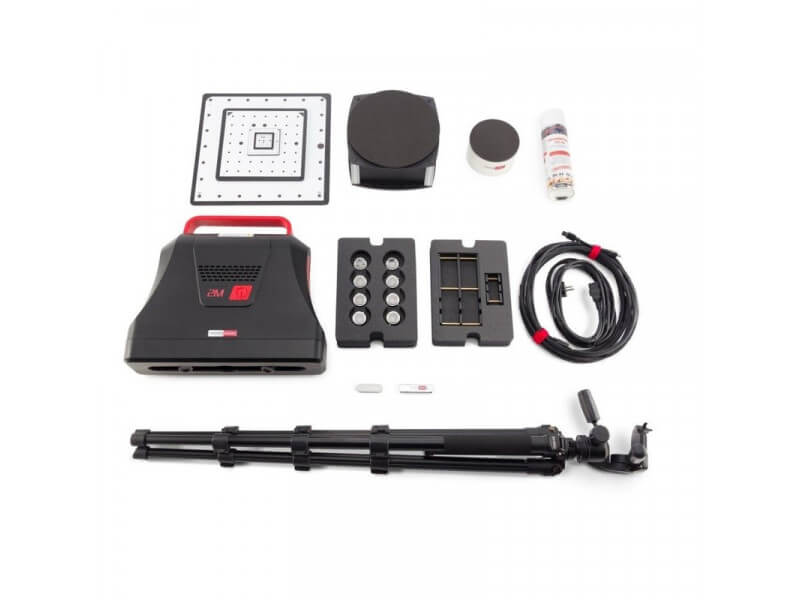 Credit: top3dshop
You will have to assemble the scanner when it comes to your place. However, it won't take much time as there are many parts that you need to join. After you are done with the assembling, install the software on your device and calibrate it. Once you are done with this, you are good to go.
Scan Type
Pro scans objects using Structured Light technology. It's the most common method used after Laser 3D scanning technology.
The mechanism starts with an LED light source projecting light rays over the object placed over the turntable or not. The reflected light dots are scanned by the infrared sensor to produce an image that is joined by the software thereby delivering a scan.
Scan Quality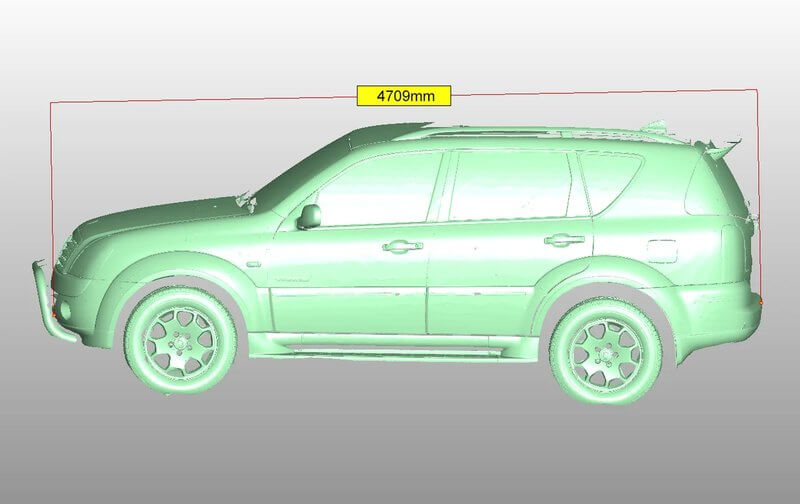 Credit: top3dshop
Pro is capable of delivering excellent scan results while scanning small objects such as Tabletop miniatures with lots of details. Also, mechanical gear is easily depicted in the most perfect manner using the scanner. A typical screw used for operating a complicated mechanism can also be scanned nicely using the machine.
Moreover, the used cases of an armchair leg, skull, bracket, Ssangyong Rexton, and a rim are available online all of which have dimensionally accurate scan quality.
Software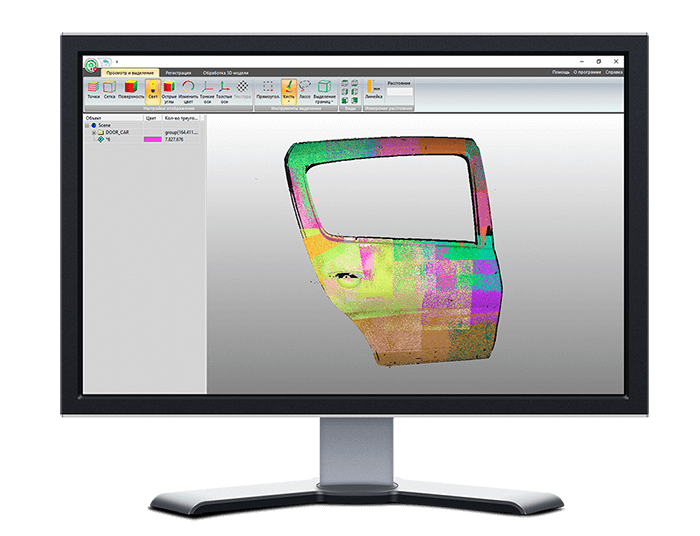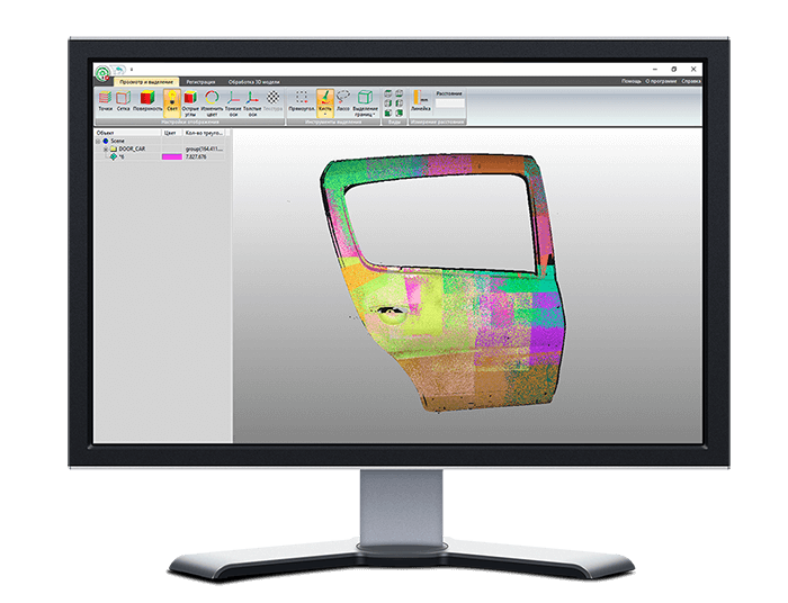 Credit: 3dneworld
ScanCenter is the name of the software that the scanner comes with. It is a professional application designed specifically for 3D scanning and its post-processing.
The program can be regularly updated because of which, users can stay up to the mark with technology. It's a unified software suite preserving all of its functionality, regardless of the device that you use for the scanner's operation.
It employs noteworthy scanning and post-processing algorithms ensuring high-quality rendering alongside fast operation. Moreover, the software lets you work with large data volumes. It is equipped with the facility of one-click scan and delivers in modern file extensions.
Customer Support
Users can have access to FAQs regarding the scanner, tips for scanning from RangeVision's website. The Customer Support Center contact number and skype id as well as the email id of the technical team are also available for users to interact.
Parameters Influencing Buying Decision
The most significant pointers about the scanner are mentioned below in brief.
3D Scanner Cost: Being a professional 3D scanner, Pro's cost is justified. But, it's out of the reach of typically termed affordable 3D scanners.
3D Scanner Speed: Extraordinary.
3D Scan Quality: The machine delivers three different quality types depending on the size of the object. If it's large, the accuracy provided by Pro is 0.06 mm, if it's medium it comes to 0.03 mm, and if it's small it stays around 0.018 mm. This means that every kind of object gets its own dimensionally accurate scans.
3D Scanner Capability: The full HD projector and an option to choose from two different high-resolution cameras make the scanner capable enough to deliver the quality that professional users demand.
3D Scanner Practicality: The scanner finds its use in various fields starting with the most basic reverse engineering, design, and architecture, expanding to education and production, also jewelry and quality control.
3D Scanner User Expectations: Pro stands upon expectations of professional users looking to experiment with their ideas and visualization by combining them with reality.
The Verdict
If there is one word in which one was, to sum up, the entire description of Pro it would be 'reliable.' Pro delivers multiple useful features that ease the work of the professional users and allows them to concentrate on the most important part i.e. visualizing and manipulating.
The machine makes classification of objects into small, medium, and large to ensure equal justice to each of those kinds of parts and functional prototypes. Above all, the proprietary software works as efficiently as possible.