Have you ever wondered that you can scan your whole room and create its digital file? Now you can do that with the help of 3D scanners.
Although 3D scanners are not more popular than 3D printers, they play an important part in the additive manufacturing ecosystem.
Many different types of scanners are available in the market from contact-based to photogrammetric to laser-based. In this article, we will focus on 3D laser scanners.
Since 1970, 3D laser scanners have been around, but only for industrial purposes. However, over time, this technology evolved. Companies came up with more reliable and low-cost 3D laser scanners to make them accessible by the majority.
Now, there are two types of 3D laser technologies: laser triangulation and structured light technology. In addition, two types of devices are available (handheld and desktop).
What Are 3D Laser Scanners?
A 3D laser scanner uses laser light to capture the exact size, shape, and color of a physical object to create its three-dimensional digital representation. Laser scanners are most commonly used for 3D scanning.
They are able to capture tiny details to create highly precise point clouds. They are best suited to scan complex geometrical and free form structures.
Benefits of 3D Laser Scanners
3D laser scanners offer multiple advantages. Above all, it is fast. It captures millions of data points within seconds. You can scan a large environment within a short span of time, making 3D models ideal to work with for projects that have a short deadline.
Moreover, it reduces the risk of HSE. 3D scanners allow you to capture dangerous, hazardous, and difficult-to-reach areas, such as construction sites and cliffs, without the need for a physical visit.
It also allows for contactless scanning of sensitive objects to minimize any damage or distribution caused to them by physical interaction. In addition, they capture minute details to minimize the risk of any errors.
Application of 3D Laser Scanners
3D Laser scanners are now being used in various industries. These include architectural, mining, dentistry, topography, construction, civil surveying, archeology, reverse engineering, and industrial. The petrochemical industry has been using it for years.
Now more industries are incorporating it after determining their usefulness of managing the industrial plants. It also helps in volume measurement accurately. It is safer and more reliable than traditional methods of measurement.
3D laser scanners are also used in civil engineering to measure complex structures, such as bridges, and tunnels. Architects use them to scan facades and the interiors of historical buildings to create floor and facade plans.
To preserve heritage, they help for geometric calculation of statues, monuments, and other archeological remains in detail.
Police also use them for accident investigation. It helps to digitally visualize crime and accident scenes and predict the actual scenario or explore 'what ifs' closely and quickly.
These scanners are also used for simulation purposes. It uses 3D points cloud to digitally visualize the environment for training purposes, especially for the army.
The energy sector uses it to scan the power structures of a few difficult or remote areas. Cables spread and insulator are clearly visible through scanning.
3D scanners, when combined with additive manufacturing technology, help for rapid prototyping and other forms of 3D printing.
Comparison Chart
| Name | Links | Nominations | Overall Ratings |
| --- | --- | --- | --- |
| XYZPrinting 3D Scanner 1.0 A | | Reliable | 8 |
| CowTech Ciclop | | Simple design | 7.5 |
| Structure Sensor Mark 2 | | Editors choice | 8.2 |
| Matter and Form V2 | | Faster | 8.2 |
| BQ Ciclop | | Open source | 7.2 |
| 3D Systems Sense 2 | | Real time data processing | 8.5 |
| RangeVision Pro | | Precise | 9 |
| Shining 3D Einscan SE | | Integrated Software | 9.5 |
| ScanTech iReal 2S | | Compact and lightweight | 8.7 |
| Open Technologies Scan in a Box-FX | | Industrial standard | 8.1 |
| Scan Dimension SOL | | Seamless | 8.2 |
| Thor3D Calibry | | Economical | 8.3 |
| Kiri Innovation Phiz | | Powerful AI | 8.9 |
| Peel 3D Peel 1 | | Start and stop system | 8.6 |
| Artec 3D Artec Leo | | Top Pick | 9 |
15 Best 3D Laser Scanners
There are numerous 3D Laser scanners available in the market. Not all of them are reliable and affordable. Thus, it is difficult to review all and find one that best meets your needs and falls under your budget. For your ease, we listed down the top 15 3D Laser Scanners in detail.
XYZPrinting 3D Scanner 1.0 A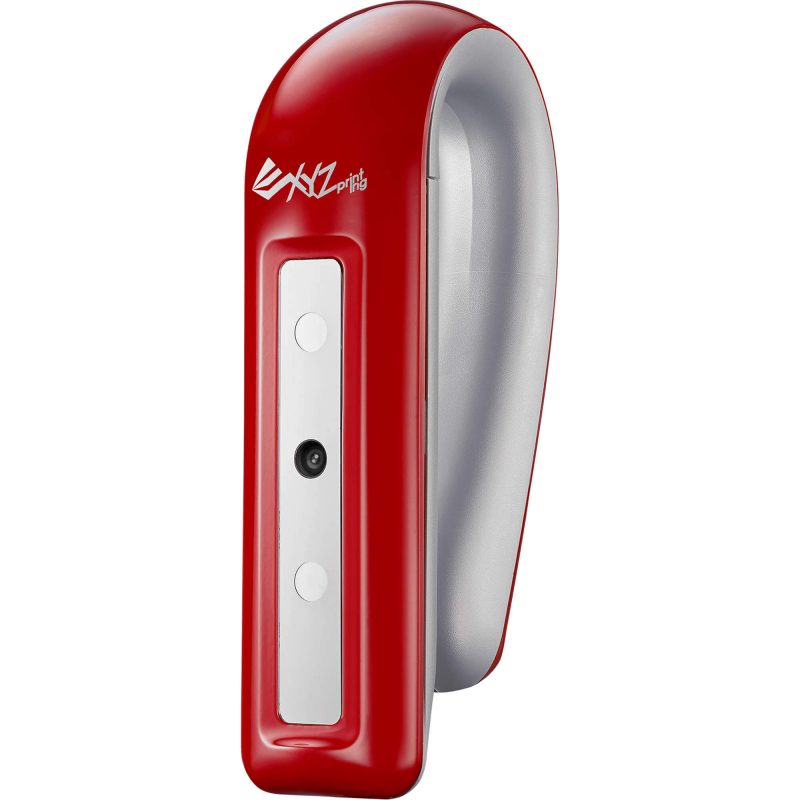 XYZPrinting is well known for its 3D printing and scanning technology. It has made a reputation for reliable and strong devices.
It came up with a 3D laser scanner that is compact and budget-friendly. It can be easily connected to your laptop through a USB port and used anywhere.
The scanner weighs 238 grams and is 15.7 cm tall. It comes with an Intel RealSense F200 camera with a 640 x 480-pixel resolution. It can scan within the range of 50 cm. It is compatible with Mac and Windows.
The device uses the proprietary software, XYZScan Handy, for scanning and post-editing. XYZPrinting costs around $229 and comes with a user manual, SD card with software installer, and tutorials.
Uses:
It is best suited to scan small objects, the human body, and the face.
It aims to color digitalizing physical objects. The color resolution is 1920 x 1080 pixels at 40 fps.
It is designed in a way that it can be easily hung on your laptop screen.
Since it is lightweight and fits the size of your pocket, it is portable and can be carried anywhere.
It is mostly used for home use, education, and entertainment purposes.
PROS:
Portable
User-friendly
Easy to use
4 scanning modes: object, face, human body, and mask
Good scan quality
CONS:
Wired connections
Issues with software compatibility
Cannot operate in a vertical position
Not suitable for scanning larger objects
CowTech Ciclop 3D Scanner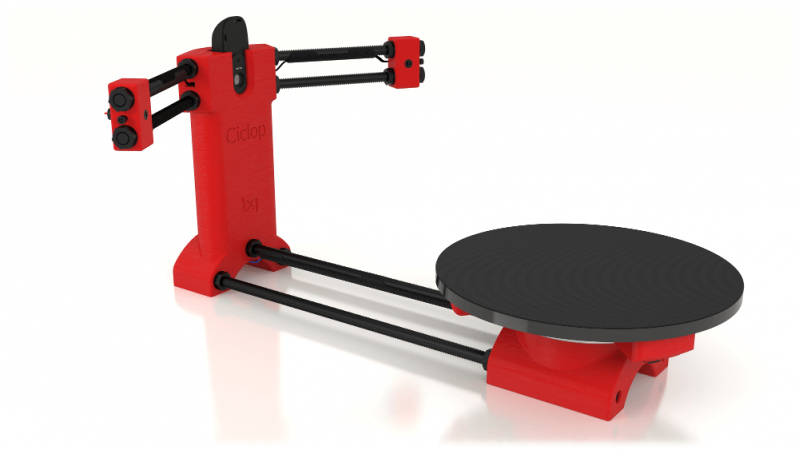 If you are looking for a desktop and open-source printer, the Ciclop is a great option to consider. It is manufactured by CowTech and is a DIY kit.
You have to assemble it before starting to scan any object that fits its rotating platform. It is simple to use and is made of 10 3D printed parts.
The scanner uses laser triangulation technology to scan and comes with a Logitech C270 HD camera that has a resolution of 100 to 500 microns. The camera can also capture videos with 1280 x 720 pixels.
It takes 2 to 8 minutes for scanning. The circular scan area is 9.8 x 8.0 inches and it can support up to 6.6 lb weight. The device uses Horus software for scanning and post-editing.
You can connect it through Bluetooth or USB. The CowTech Ciclop is priced at $200.
Uses:
It is great for learning purposes. There is a lot to learn while assembling and operating it.
Since the scanner is open source, you can upgrade its parts easily. In addition, all the files are available online. These include algorithms, mechanical design, mathematics, and experiments. Thus, you can create your own scanner.
It helps to precisely scan the objects due to the dual laser system with high resolution.
The Horus is a multi-platform software that not only controls the scanner but also manages the communication between it and the computer.
The scanner's camera also enables you to scan sharp and clean images even in dim lights.
PROS:
Open-source
Dual laser
Simple design
Precise scanning
Magnetic back cover
CONS:
Stationary
Cannot scan objects that weigh more than 6.6 lbs or are greater than 9.8 x 8 inches
Assembling required
Faulty parts
Lack of consistency
Structure Sensor Mark 2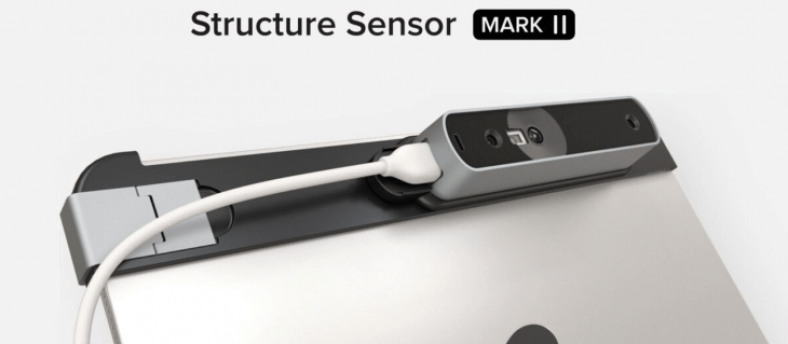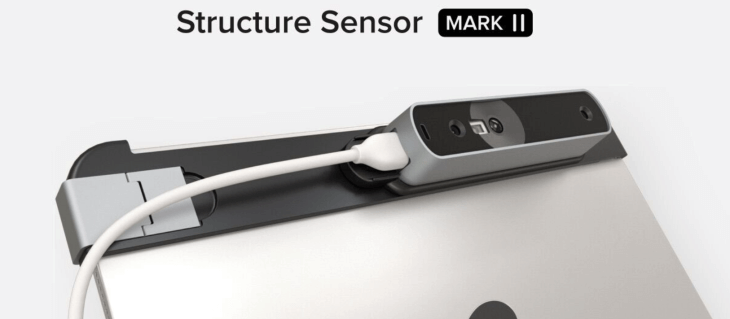 You can now turn your tablets and phones into a scanner through the Structure Sensor Mark II by Occipital. The first version was released by the company in 2013 for iPad. Mark II is the updated version with reduced size and increased capabilities.
The scanner weighs 65 grams and can scan a volume of 109 x 18 x 24 mm. You can scan an object that lies between 0.4 m to 10 m. The resolution is 1280 x 960. It uses the proprietary software, Structure SDK.
Initially, it was designed to be used on the iPhone and iPad but now you can use it with Windows or Linux through the 'hacking' guide provided by the company. You can connect it through a USB.
The device is priced at $525.
Uses:
It is suitable for indoor gaming, mixed reality development, virtual reality games, and outdoors scanning due to the inbuilt camera with 160 degrees ultra-wide-vision monochrome lens.
Built-in battery provides more power for scanning.
It can also be used to create high-quality 3D models for 3D printing.
PROS:
Affordable
No object size limit
Handheld
Free and easy to use software
Dedicated apps for medical and room 3Ds
Decent resolution with short distance
CONS:
Can't be used as a standalone device
Resolution deteriorates with increased distance
Simple software, not many options available
Matter and Form V2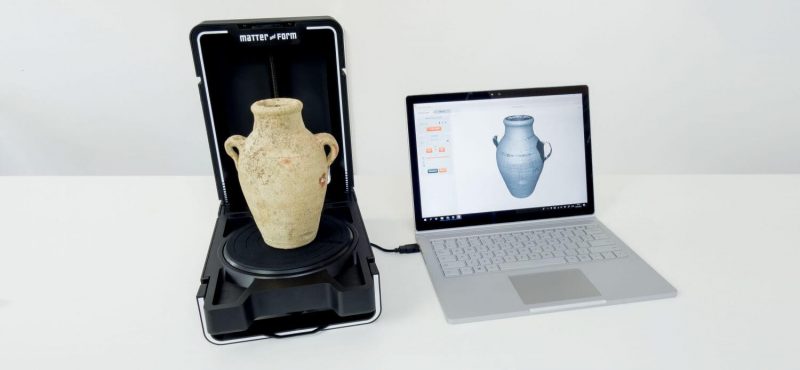 Since 2014, the company Matter and Form' produce affordable 3D scanners. The Matter and Form V2 3D scanner is the updated version of V1.
It is a desktop 3D scanner with two lasers and an HD- CMOS sensor. It produces high-quality and colored 3D scans at a high speed.
Like CowTech Ciclop, V2 is based on laser triangulation technology to scan with an accuracy of up to 0.1mm.
It can scan an object of maximum height of 25 cm and 18 cm diameter. You can connect it to your computer through a USB. It is simple to set up
The scanner costs $750.
Uses:
It is best suited for hobbyists, educators, artists, and enthusiasts as it offers high-resolution 3D scans at a high speed.
It is safe to be used at home and around children.
It enables you to get a full scan in just 65 seconds.
Since it is foldable, it is easy to store and carry around. You can take it anywhere you want.
For 3D printing, you can create watertight meshes with a V2 3D scanner.
PROS:
Faster 3D scanning due to Quickscan
Combines different scans to enhance quality
Saves scans in multiple formats
CONS:
Expensive
Variable 3D scan quality
Place it in a well-lit area for better performance
Not for professional use
BQ Ciclop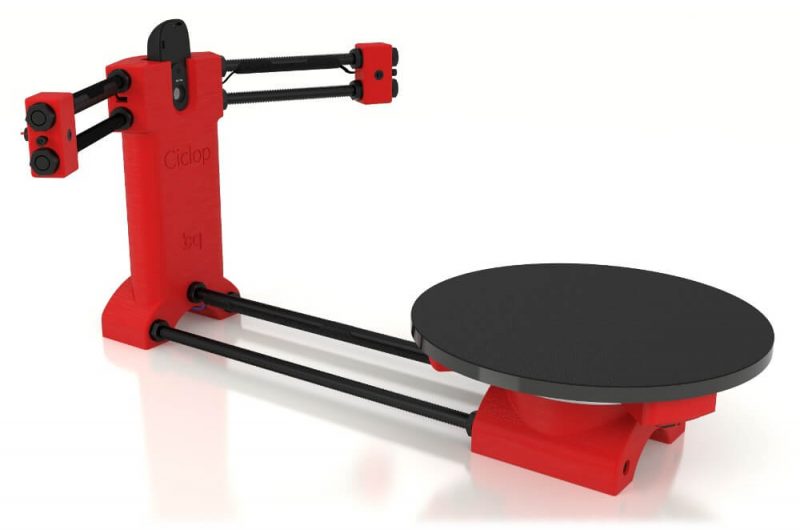 BQ is a Spain-based company and is well known for its electronic items such as smartphones, tablets, and scanners. It came with a DIY kit, Ciclop.
Like CowTech Ciclop, BQ Ciclop is also an open-source desktop 3D scanner and uses Horux software. It scans different objects that fit on its round turntable platform in one go.
The scanner can scan objects that have a maximum size of 250 x 205 mm with a resolution of 0.5 mm. The turntable supports a maximum weight of 3 kg.
It can scan in 2 to 8 minutes and is compatible with MAC, Windows, and Linux. You can connect it to the computer through a USB.
The device costs less than $200 and comes with a one-year warranty.
Uses:
It is made of 10 3D printed parts and is easy to set up by following the instructions. Even beginners can assemble it within an hour.
In addition, since it is open-source, you can upgrade and customize it according to your needs.
The scanner is made of high-quality plastic to provide a smooth experience to its users.
The turntable bed allows 360-degree coverage.
You need to do periodic calibration for accurate scanning.
BQ provides all the related information and software for the 3D scanner on its website.
PROS:
Easy to use
Fast scanning
Affordable
Open-source
CONS:
Cannot be used for scanning moving, transparent, reflective, and luminous objects
The object should not be less than 50 mm
Cannot scan heavy objects that weigh more than 3 kg
3D Systems Sense 2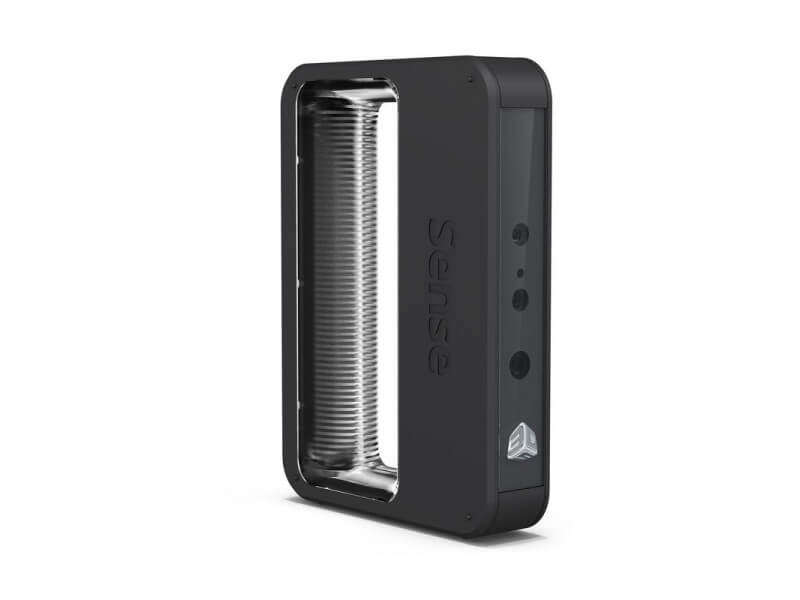 Sense 2 from 3D systems is a handheld device that uses best-in-class technology to scan full-color objects. It is the upgraded version of the Original Sense 3D scanner from Cubify.
Like its previous version, it uses Intel RealSense sensor and structured light technology. It is lightweight, easy, and fast to use.
The scanner has two HD color cameras and an automatic object identification feature. It can scan objects within 20 to 160 cm with a color resolution of 1920 x 1080.
It is compatible with Windows and can be connected through USB. The device weighs 0.5 kg only. It uses company-owned, Sense, 3D software.
Sense 2 is priced at $499.
Uses:
Sense 2 is widely used by students, enthusiasts, and small businesses. It is best for scanning faces.
It has also been used to scan numerous objects and people to produce customized products, video game characters, and miniatures.
The handle allows the scanner to easily move across the object.
Since it is lightweight and handy, it is portable and can be carried anywhere.
PROS:
Plug and play 3D scanner
Easy to carry and use
60% faster acquisition
Real-time data processing
Portable
Efficient
High-Resolution scanning
CONS:
Beginners might find it difficult to use
Expensive
RangeVision Pro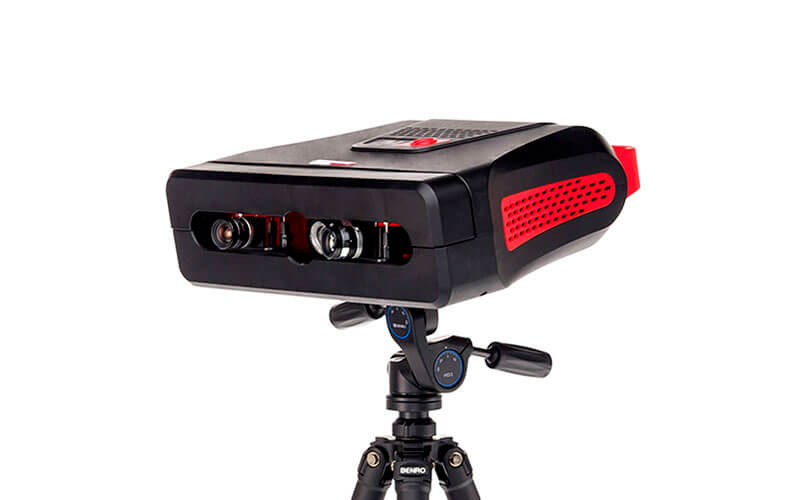 The manufacturer, RangeVision, has extensive experience in designing, decoration, tuning, art, jewelry, and manufacturing.
It has manufactured Smart 3D scanners to cater to the needs of various consumers and is available in three colors (red, grey, and yellow).
The scanner is smart, practical, and accurate. It captures details precisely and is based on structured light technology.
It has two cameras that scan at a speed of 4 to 12 seconds with an accuracy of 0.1 mm and resolution of 0.12. It can scan objects that lie between 4 cm to 1 meter.
It uses RangeVision 3D software that is user-friendly and simple to use.
The basic scanner costs $2529.
Uses:
Smart 3D scanner has numerous applications such as education, art and sculpture, 3D printing, reverse engineering, and other industrial uses.
It is also best suited to restore historical culture, decoration, preserve projects, and rapid prototyping.
The automatic turntable enables you to scan small objects, such as jewelry, easily.
There is a Blue Light add-on that allows you to scan in difficult light conditioning such as sunlight.
It has a protective case.
PROS:
Precise
Auto calibration
Blue light
Available in 3 colors
Portable
CONS:
Not for hobbyist and beginners
Expensive
Shining 3D Einscan SE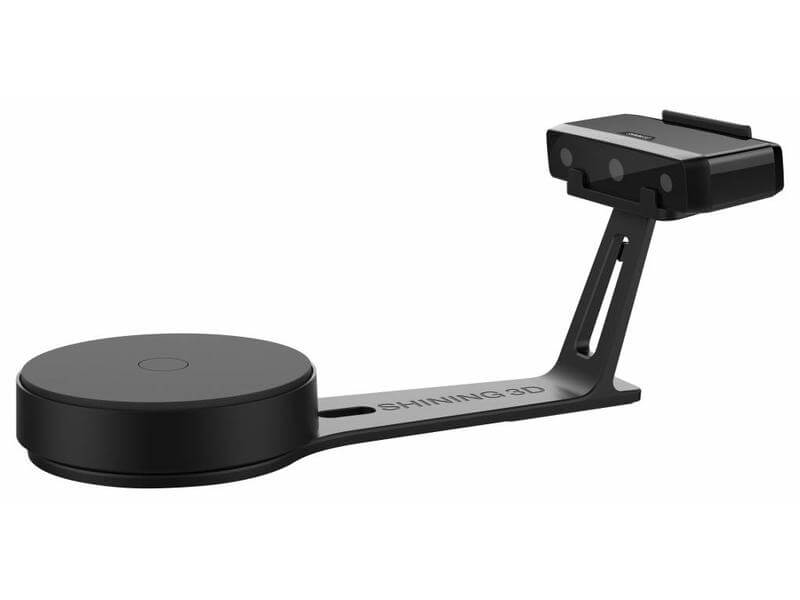 A Chinese manufacturer, Shining 3D, came up with a next-generation 3D scanner. It is affordable yet powerful. It is a complete package as it offers both good quality output and can a wide range of colors and textures. It can scan with and without a turntable.
The scanner can scan large objects of up to 700mm3 with an accuracy of 0.1 mm. If the object is larger than 700mm3, then you can scan it by setting a fixed scan feature.
It uses Einscan software for scanning. It has a scan speed of 8 seconds and for 360 degrees scanning, it can scan in 2 minutes. You can connect through USB.
The device costs $1399.
Uses:
It is safe and easy to use due to white light.
Due to its compact size, it is best suited for classrooms and hobbyists.
The scanner works perfectly for heritage, animation, and reverse designing.
PROS:
Multiple alignments possible
High accuracy
Plug and play
Integrated software
CONS:
Can't scan dark areas
Expensive
Non-handy
ScanTech iReal 2S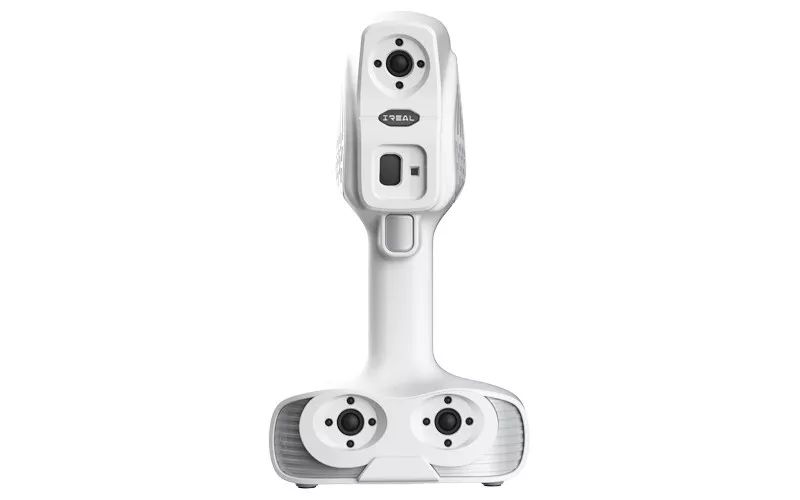 iReal 2S 3D scanner is manufactured by a well-known company for 3D visual inspection equipment, ScanTech. It is an advanced version of iReal 2E. The major difference is the inclusion of another light source that is blue light.
It offers greater accuracy and high scanning speed. The scanner weighs 910g with a scan area of 520 x 510 mm. It has an accuracy of 0.1mm. You can connect it to the computer through a USB. It is priced at $9980.
Uses:
It is used to scan objects and people to produce models to be used in industries such as the fashion industry, health care, video games, animations, and movies.
Infrared light is safe to use. It is also used to scan the human eye without causing any damage and discomfort.
Blue light ensures perfection and efficiency.
It captures high-quality texture by using super HD file format.
PROS:
High-quality scanning
Easily scan highly textured and difficult objects such as eyes and hair
Higher accuracy
Compact and lightweight
CONS:
Expensive
Not good for reverse engineering and metrology
Open Technologies Scan in Box-FX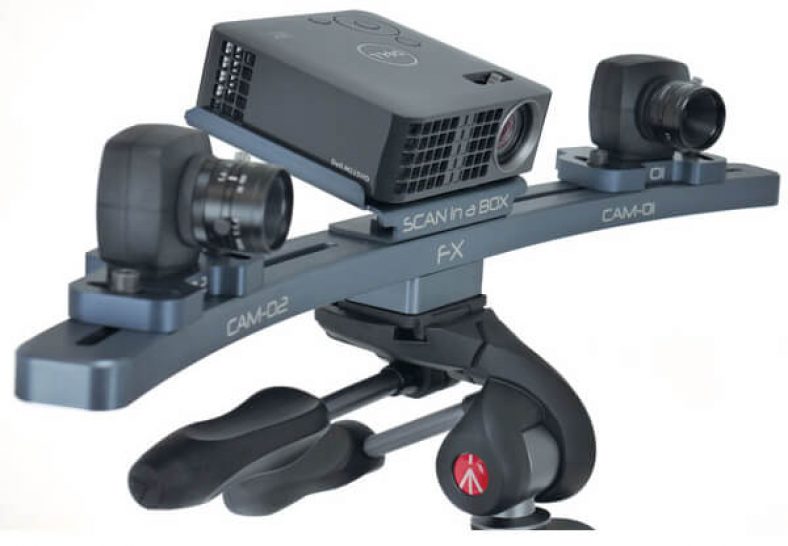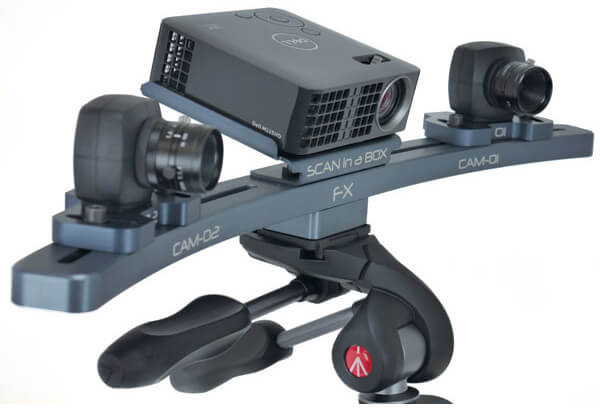 Scan in Box-FX is manufactured by an Italian company, Open Technologies. It is a very portable and professional 3D scanning. It offers a high price to performance ratio. It is fast, reliable, and precise.
The scanner is based on structured light 3D scanning technology. It is compatible with mobile phones and has an adjustable structure.
It has an accuracy of 0.04 mm with a scan volume of 600 x 480 mm. It is inbuilt with an improved curved camera and video projector to provide reliability.
The device is priced between $2000 and $2500.
Uses:
It is best suited for professional use. It is used to create models to be used for designing, reverse engineering, rapid prototyping, and historical cultural restoration, etc.
Due to its compact size and tripod support, it is transportable and portable. The tripod provides stability.
Its software also offers to mesh defeature, direct object alignment and resilient scan mode features to enhance the user's experience.
PROS:
High performance
Portable
Industrial standard 3D scanning
Chic design
Automatic turntable
CONS:
Low texture quality
Not for home use
Manual calibration
Scan Dimension SOL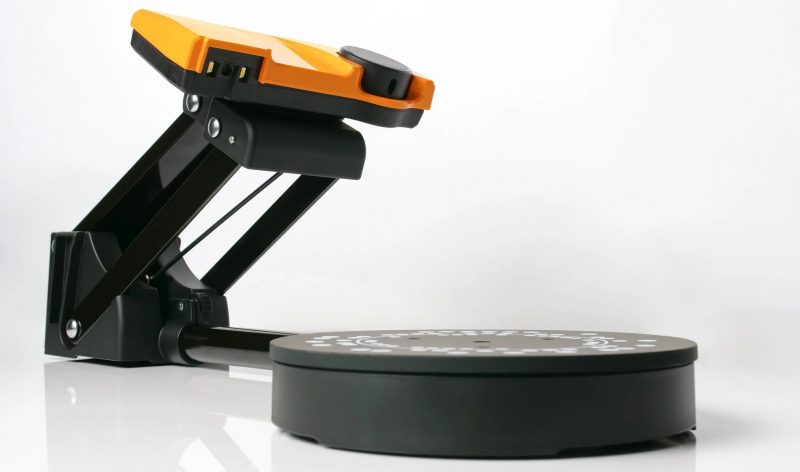 Scan Dimension only manufactures 3D scanners. They introduced the SOL 3D scanner while keeping customer convenience in mind.
It is a versatile and portable desktop laser 3D scanner to scan small and mid-size objects. It is fully automated with intuitive software. It has a number of applications.
The scanner weighs 7 pounds and is based on laser triangular technology. It scans with an accuracy and resolution of 0.1 mm. It requires 17 minutes to fully scan an object. The device is compatible with MAC and Windows.
SOL costs $599.
Uses:
Designers, craftsmen, and artists use SOL for its high accuracy and precise scanning.
Instructors and educators can turn STEM classrooms into 3D discovery labs. SOL offers them reliability and accuracy.
An entrepreneur can use to create 3D virtual  models of their products which they use for marketing and to attract more customers
It is also best suited for hobbyists since it is user-friendly and affordable.
The turntable can support objects up to 2 kg or 4.4lb.
PROS:
Intuitive software
User-friendly
Seamless
Innovative technology
CONS:
Uncertain in working capacity
Thor3D Calibry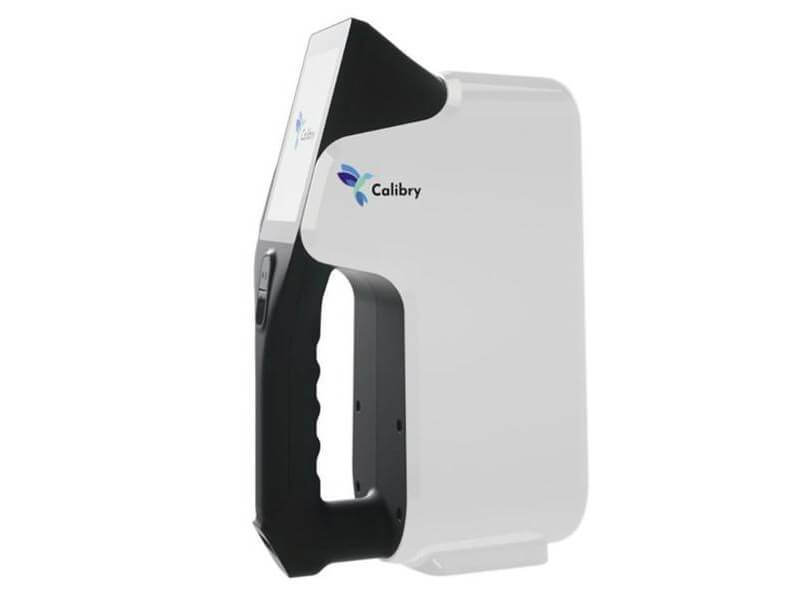 Manufactured by Thor3D, Calibry, is a handheld 3D scanner to produce professional-grade scans of medium to large objects (from 10 to 20 cm long) at an affordable price. Calibry sounds like Colibri (Hummingbird), which is small yet fast. It also rhymes as 'calibrated'.
The scanner weighs 900 grams with a built-in texture camera that can capture 3 million points per second. It scans at an accuracy of 0.1 mm with a resolution of 0.6 mm.
It is made of high-quality plastic and uses Calibry Nest software, which offers flexibility and is easy to use.
The device costs $5289 and comes with a two years warranty and unlimited technical support.
Uses:
It is commonly used to scan tricky objects such as human hair, glossy surfaces, and sharp edges.
The built-in touch screen allows us to view the scanned without the need for any computer or mobile.
Due to its lightweight, it is portable and can be carried around easily.
There are three tracking modes: texture, geometry, and makers.
You can use it either by calibrating it or not.
It allows you to scan unlimited sizes. For example, you can scan the car door as well as the whole car with the same device.
It is also able to scan a wide range of materials and surfaces. These include metal, clay, human, rock, plastic, painted Paris, etc.
PROS:
Handy and portable
Reliable and intuitive software
Versatile
Easy to use
Professional standard scans
CONS:
Cannot scan smaller objects
Hard to scan transparent materials
Expensive
Kiri Innovation Phiz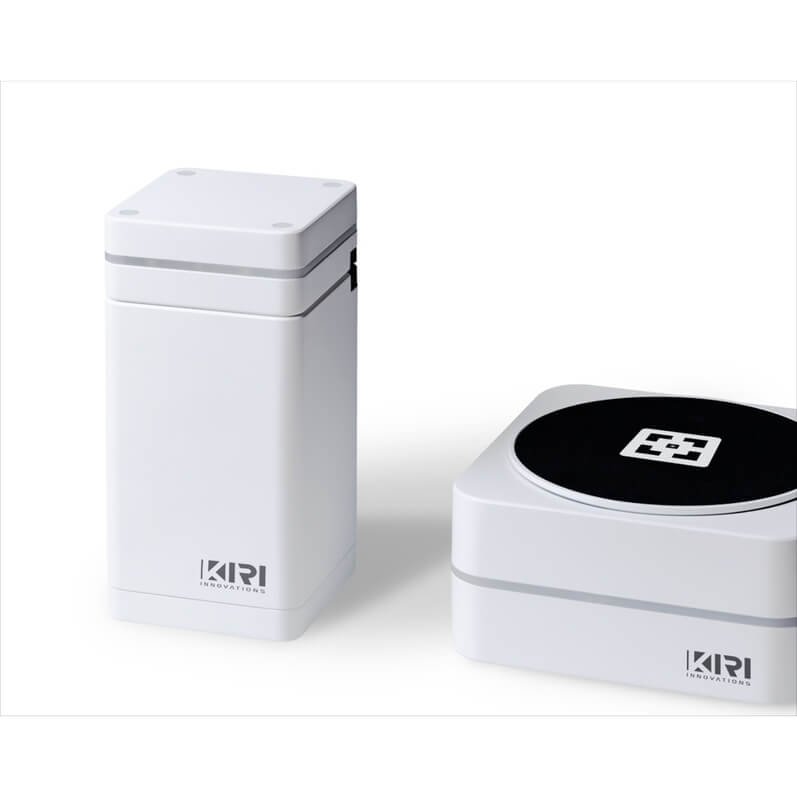 Unlike other scanners, Phiz is a tabletop 3D scanner that uses the camera and CPU of your mobile phone along with its turntable and light source to produce a good quality scan.
It consists of two main components: the 5mw green laser that adjusts lightning for scanning and the turntable that rotates the object wisely to create the 3D model.
The scanner is compatible with iPhone 6 and higher models along with many android phones that were launched after 2017. It can scan objects that are of sizes between 50 mm3 and 400 mm3 but weighs less than 2 kg.
The basic scan takes up to 4-10 minutes and high-quality scans take up to 16 and 30 minutes with an accuracy of 0.2 mm.
The device is priced at $379.
Uses:
It enables you to scan precisely while processing 1,700,000 3D points through powerful AI.
It can be easily adjusted according to object size due to wireless connectivity between the turntable and its beacon.
It helps to produce colored scans by scanning the actual colors of the object.
The green laser is safe for the eyes. Thus, it is safe to use with humans.
PROS:
High resolution
Fast
Can be fixed on the tabletop
Affordable
Powerful AI
CONS:
Users feedbacks not available
The webcam quality can affect scan quality.
Peel 3D Peel 1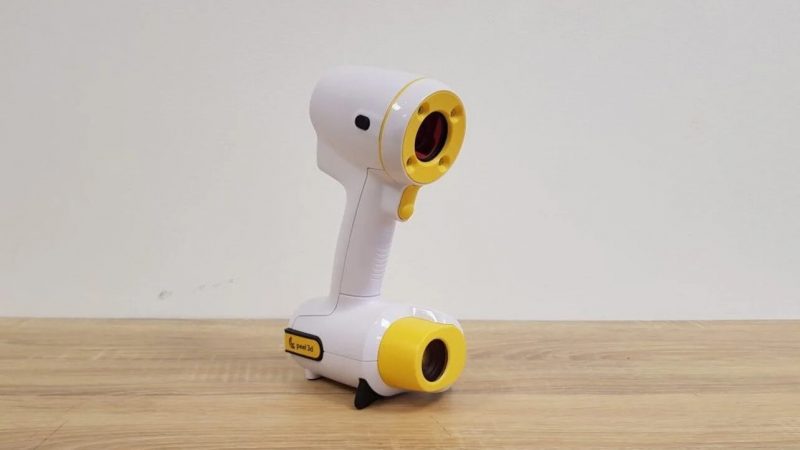 Credit: all3dp.com
The Canadian company, Peel 3D, manufactured an entry-level handheld 3D scanner called Peel One. It aims to target a wide range of users due to its convenience and professional standard scans. It uses white light to scan while using structured light technology.
The scanner weighs 850 grams with a sleek design that is easy to operate. It scans with an accuracy of 0.25 mm and a resolution of 0.5 mm. It can scan volumes up to 3m cube. You can connect it to the computer via USB.
The device costs $5900.
Uses:
Peel One has a wide range of applications. These include reverse engineering, science, education, art, body scanning, heritage preservation, etc.
Since it is handy and convenient to use, it is best suited for beginners.
You can pause the scanner while scanning to change the settings.
It also allows you to delete distorted and poor images.
For 3D printing, you can create watertight meshes by Peel One.
PROS:
Fast processing
Start and stop system
User-friendly
Handy
CONS:
Easy to lose track of the target
Too small cable for large object scanning
Artec 3D Artec Leo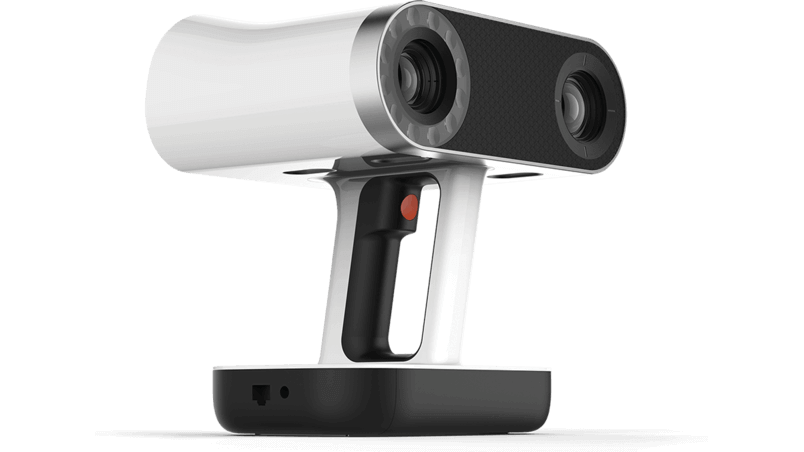 It is the king of the jungle. It has changed the market for 3D scanners. It is wireless and has onboard processing. With a touch screen and a six hours life battery, Leo is almost autonomous.  It does not require a smartphone, computer, or tablet to operate it.
The scanner weighs 2.6 kg with 5.5 inches HD touch screen. It is based on structured light technology. Its left lens has 12 LEDs and two cameras. On the right side, it has various sensors to correctly position itself.
You can connect through WIFI, Ethernet, and SD card. It can scan with an accuracy of 0.1 mm and resolution of 0.5 mm with standard mode and 0.2 mm with HD mode. It can process 3 million 3D points per second.
The scanner costs $29,800.
Uses:
It can be used to scan numerous objects from a distance of 35 m to 1.2 m such as shoes, the human body, etc.
It enables the scanning of small to large objects, (from small mechanical parts to cars and boats).
It is also used for industrial manufacturing, e-commerce, healthcare, VR, and forensics, etc.
It is appealing for non-engineers, especially healthcare workers. The doctor or nurse can scan human bodies and pass it over to a 3D technician, as it is fast and easy to use.
PROS:
Wireless
Powerful software
Wi-Fi connectivity
Touch screen
Standalone device
Buying Guide
There are a few factors you should look at when buying a 3D laser scanner:
Accuracy
To be precise and capture great details, focus on priority when buying laser 3D scanners. You can check the accuracy of the device by checking the specs. Get a professional standard 3D scanner for great accuracy. However, those will be slightly expensive.
Speed
The number of points captured per second can determine the scanner speed. The larger the number of points, the greater is its speed.
However, the speed varies with distance, size, and surface quality. If you have a tight deadline and large, huge budget projects, a speedy 3D scanner would be helpful.
Portability and Convenience 
Handheld 3D scanners are usually lightweight and more portable than desktop scanners. You can carry them around easily and store them conveniently.
The entry-level scanners are easy to use. Stationary desktop scanners can scan large objects quickly and easily. However, for tricky angles, handheld 3D scanners are best.
Resolution
Resolution is different from accuracy. Accuracy is the degree of correct measurements in terms of dimensions, shape, and sizes. Resolution is the distance between two points on a 3D model.
It is measured in millimeters or microns, which determines the scan quality. High-resolution scanners are used for various industrial purposes. These include animation, reverse engineering, prototyping, VR, and designing.
Software
The laser 3D scanners are based mainly on the software they use. When purchasing a scanner, it is necessary to check which software it uses. Through software updates, the manufacturer introduces new features to enhance users' experiences and remain up to date.
It is important to note if the company offers software updates or not, otherwise, your scanner will become outdated after a couple of years.
Frequently Asked Questions (FAQs)
Is the laser hazardous for human beings?
The laser could pose a potential risk to the human eye. However, companies offer scanners that use lasers that are safe to use, such as the ScanTech iReal 2S 3D Scanner.
Is it possible to scan an area in complete darkness? 
Yes, you can scan the whole object and area using a laser 3D scanner in dim lights. Thus, it is suitable for scanning tunnels, bridges, and construction areas at night.
How long does it take to scan from laser 3D scanners? 
It depends on different laser 3D scanner speeds. However, it would take approximately 3 to 5 minutes to produce each scan by most scanners.
What is a Point Cloud?
A point cloud is a series of points in space. It may represent a 3D model or shape.
Conclusion
3D laser scanning has come a long way since its invention. This technology evolved greatly over time. There are hundreds of great 3D laser scanners available in the market. Each has its strengths and weaknesses. It is tedious to scan all of them. This article will help you to select one that best suits your needs.