Roboze One Plus 400
Roboze One Plus 400 is one of the main machines that are used in the energy sector, automotive and Plastic industry.
PROS
Enclosed chamber
Larger build space
Beltless system
Heated print bed
Advanced air cooling system
Enhanced Z component
Faster Speed
Support for multiple filaments including industrial grade materials
CONS
It is very expensive
Not suitable for home use
Product
Specification
Videos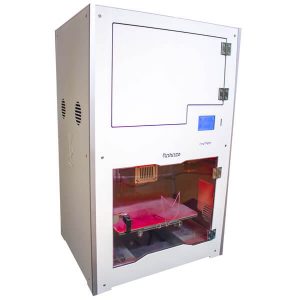 Compatible with a wide variety of technical materials such as PEEK and ULTEM, Roboze One Plus 400 is one of the main machines that are used in the ...
| | |
| --- | --- |
| Model | One +400 |
| Manufacturer | Roboze |
| Price Range | $ 10000 – $ 50000 |
| Release date | 2016 |
| Country | Italy |
| Availability | Available |
| Classification | Professional |
| Technology | Extrusion (FFF- FDM…) |
| Material | ABS, High performance (PEEK – ULTEM…), Other plastics, PLA |
| Filament diameter | 1.75 mm 0.07 in |
| OS compatibility | Mac OS, Microsoft Windows |
| Generic material | Yes |
| Max. build size | 200 × 200 × 200 mm 7.87 × 7.87 × 7.87 in |
| Max. build volume | 8.00 L |
| Min. layer thickness | 0.05 mm 0.002 in |
| Dimensions | 565 × 465 × 900 mm 22.24 × 18.31 × 35.43 in |
| Weight | 80 kg 176.37 lb |
| Nozzle diameter(s) | 0.4 mm 0.02 in |
| Power input | 350W @ 110-220 V 50-60 Hz AC |
| Heated print bed | Yes |
| Heated build chamber | No |
| Automatic calibration | No |
| Closed frame | Yes |
| Dual extruder | Yes |
| Independent Dual Extruder | No |
| Full color | No |
| LCD screen | No |
| Touchscreen | Yes |
| On-board camera | No |
| Mobile app | No |
| 3D scanners | No |
| CNC mill | No |
| Electronics 3D printing | No |
| Laser engraving | No |
| Conveyor belt | No |
| Air filter | No |
| Pellet extruder | No |
| USB | Yes |
| Wifi | No |
| Bluetooth | No |
| SD card | Yes |
| Ethernet | No |

Table of Contents
Among the manufacturers developing professional 3D printers, Roboze is a popular name. It's One Plus 400 launch established the company as one of the most capable manufacturers of 3D printers.
The machine is compatible with multiple industrial grade materials and offers great precision. Being an FDM machine does throw out the confusion of not being able of handling serious work out of the equation.
With amazing features, users can achieve great results. Geared for success, the 3D printer possesses some of the most unique functionalities that make it different from other offerings. Working with this 3D printer is again an experience in itself.
You can find out a lot of perks right after starting the first print. And, that is the beauty of this machine. Looking trivial with not so attractive outer design, it takes makers to another level of expertise.
Crafted to sort issues of traditional manufacturing, the machine can work rigorously for applications within various niche including automobile, aerospace, and others.
Isn't that something that motivates us to explore more about this 3D printer? It sure does. Hence, read the complete Roboze One Plus 400 review to find out more.
If you are a professional looking to make your products seem better and precise than before, you must peep into the article for know-how.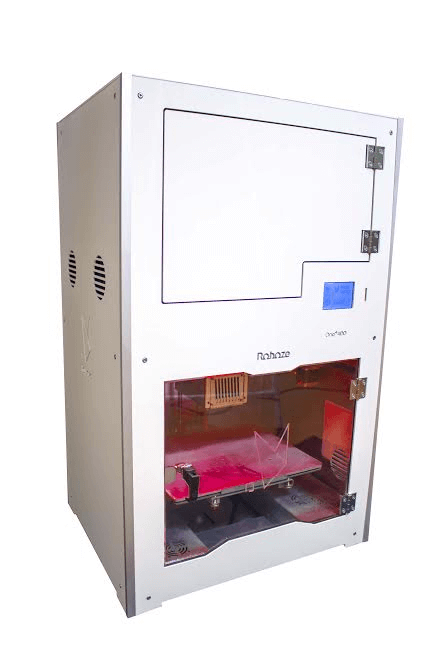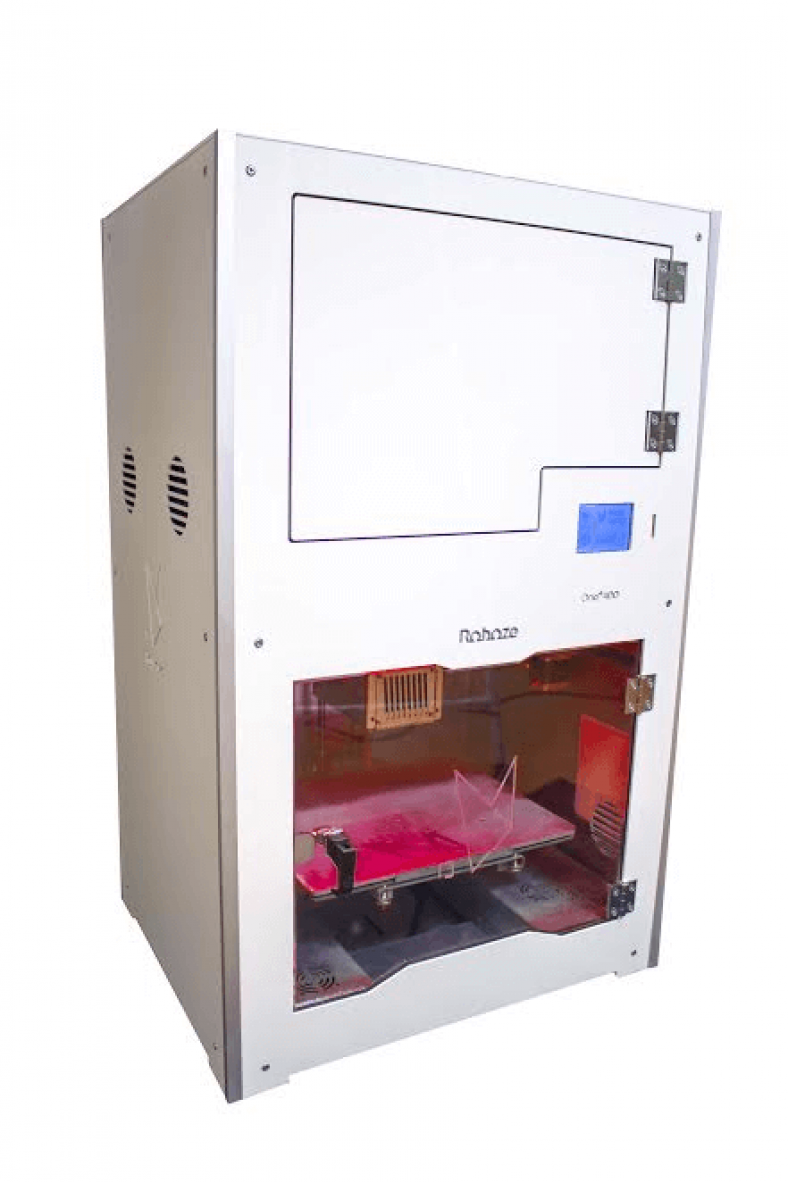 Features
3D printers are gaining huge popularity. The reason is clear and obvious. With so many perks and easy to design workflow, these machines are making through the tough course of selection.
Professionals and industrialists are trying to find out ways for making these fit their existing production design. And, with such a great offering that One Plus 400 provides, who would not like to browse their options.
High-Temperature Extruder: The 3D printer extruder can reach a temperature of up to 450 degrees Celsius. Hence, one can print with high resistance materials seamlessly. From PEEK to PEI and to many other industrial-grade materials are compatible with this machine. And, there is no way you can take the printer for granted looking at what all things are possible with One Plus 400.
Enclosed Chamber: A 3D printer capable of 3D printing with such a huge list of filaments must be able to provide a constant temperature for best results. Hence, One plus 400 comes with an enclosed chamber. It offers a fully closed working space. The see-through door makes it easy to look at the progress of printing at the same time though. Moreover, it is safe to work around this 3D printer as the heated electronic parts fall on the other side of the door.
Heated Bed: Once again a huge requirement when printing with flexible materials. The heated bed provides better adhesion and increases the precision ultimately. The bed can reach up to 150 degrees Celsius, staying compatible with almost all the materials you can think about. From Nylon to many other tricky filaments can print on the bed without hassle.
Multiple Material Support: The 3D printer can process 6 technical materials for applications within dedicated niches. You can 3D print with PEEK (NORSOK M710), composite materials (CARBON PA and ABS-ESD) as well as Techno-polymers (ULTRA-PLA, STRONG-ABS, FUNCTIONAL-NYLON). Hence, the 3D printer is highly functional and provides practical usage among different industries.
Large Print Volume: With a larger print volume, one can create objects without feeling short of space. Users can feel free to go around and play some more with their creativity without worrying about the limited space which is the case with most of the 3D printers.
5 Inches Touchscreen: The 3D printer has 5 inches colored touchscreen to let users make the necessary settings from the machine itself. The interface is very simple and user-friendly. Plus, it sits right in the side middle of the printer where it is easy to access it. This intuitive interface lets you choose the right settings for your printable models.
Vacuum Plate System: The 3D printer aims at providing higher bed adhesion, hence, ensuring the first layer sticks to the plate firmly. For doing so, the manufacturer has included a vacuum plate system. This works for making sure that the first layer is perfectly adhered to the print bed, irrespective of the size of the model. It offers high stability for 3D Printing.
Beltless System: This is something very unusual, the beltless system. The 3D printer processes the movement of X and Y-axes through the helical stainless steel racks along with pinions. This not only eases the movement but also provides the highest accuracy for the positioning of the axes.
C7 Ball Screw Component: So, what is it actually? A component of the Z-axis that aims at providing amazing accuracy for 3D models. Alongside this, it offers wear-resistance and durability to the Z-axis. One can also notice a fair amount of axial stiffness with the introduction of this component in the Z-axis.
Newly Designed Cooling System: The 3D printer extruder features a compressed air cooling system. This helps in improved heat exchange through the extruder ensuring enhanced thermal dissipation. It further improves the reliability of the prints offering better results.
Dual extruder: Using this 3D Printer, you can print in two different colors as well as two different materials at the same time. The dual extrusion makes a lot of tasks easier. And, one can even print end products with this machine with diverse physical appearance.
Specifications
This is a huge 3D printer. Made for professional use, you may not like it sitting at your home. This is not built for few tinkers here and there. However, it is manufactured for serious jobs. It isn't affordable as well for home use.
The 3D printer has a footprint of 565 × 465 × 900 mm. It offers a build volume of 300 x 200 x 200 mm. Hence, one can print functional parts along with metal replacements as well as finished objects. The machine fulfills almost every need for professional use.
It is a plug-and-play machine. This means that most of the settings come from the manufacturer itself. It is completely assembled.
Moreover, it can work with multiple filaments including PLA, ABS, and various other industrial-grade materials. The minimum resolution achievable is 50 microns. Hence, you can imagine the precision it can offer.
Price
The price of Roboze One Plus 400 is $50,000. It clearly focuses on the industrial sector and is built for the same reasons. Hence, the high price.
First Impressions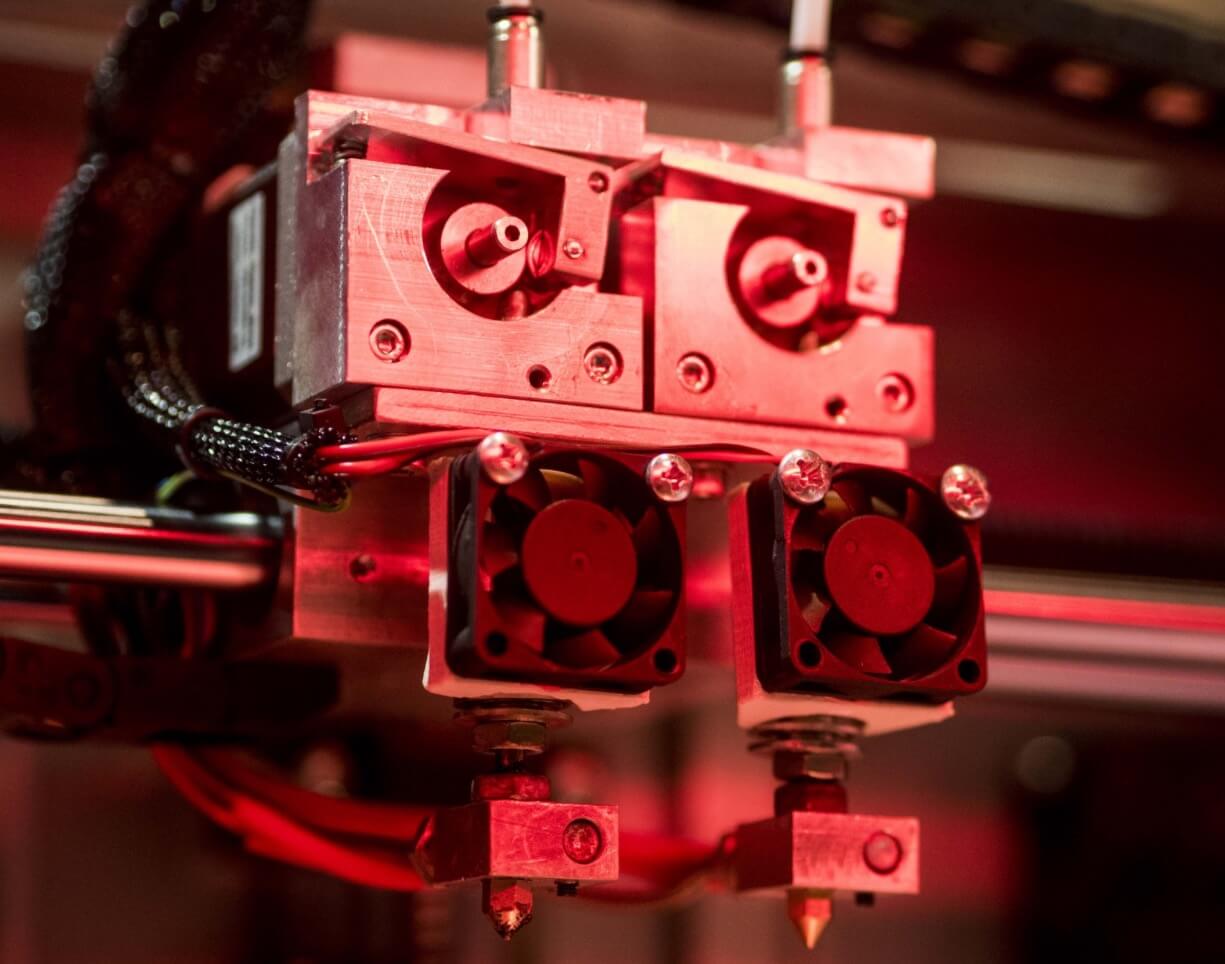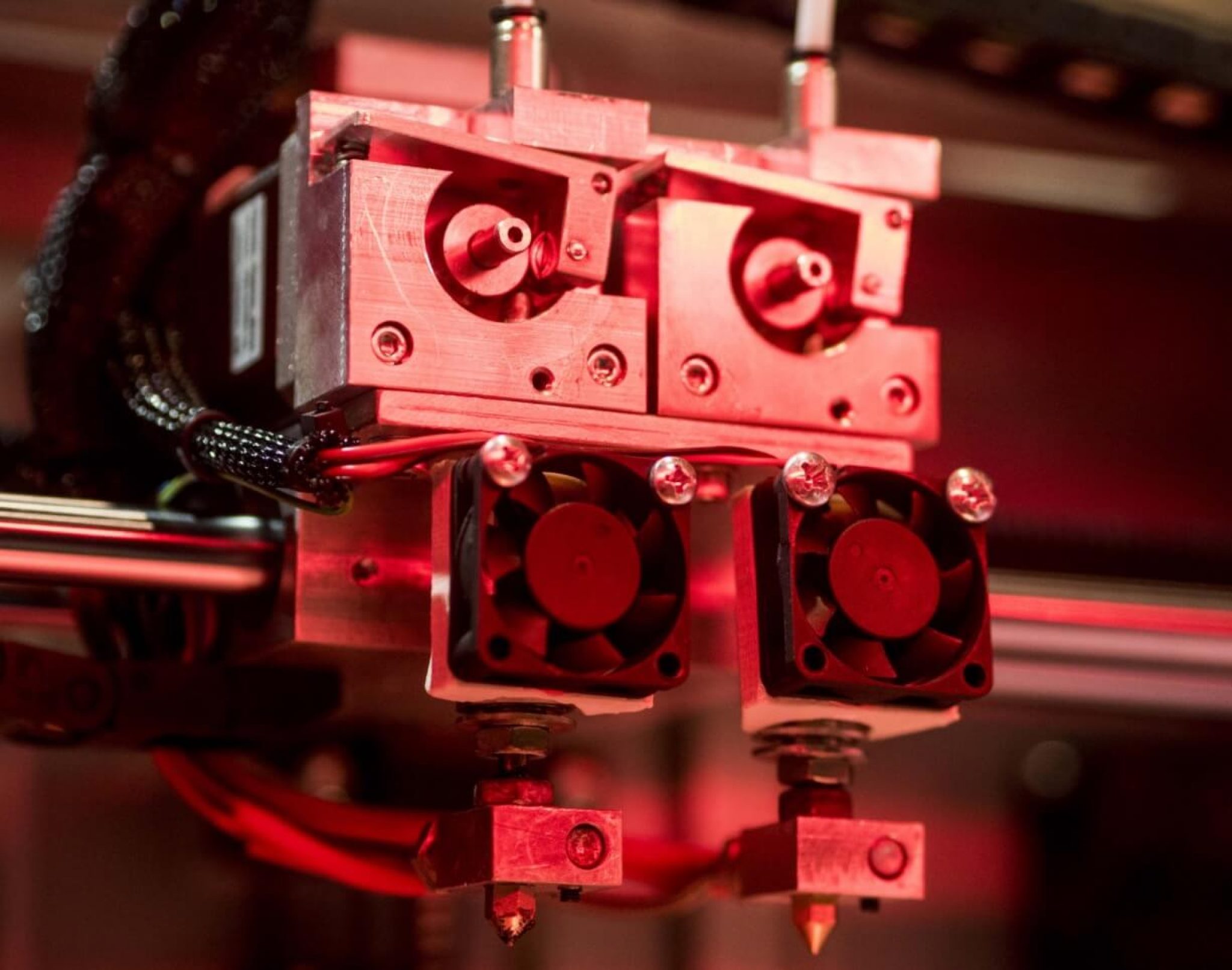 Roboze One Plus 400's Dual Extruder
As you can guess, with such a huge footprint, you cannot think of managing this product at home. This is for industrial use and comes fully assembled. It is more of a plug-and-play FDM machine.
Setup
As already mentioned, the setup isn't too difficult apart from handling the heavy body for once. You must make preparations for the arrival of this 3D printer.
Most of the things already completed from the manufacturer's end, you work for setup is limited to a few steps. Being a plug and play 3D printer, you can start printing your first model after a couple of minutes of unboxing the printer.
Printing Type/Cost
The 3D printer is an FDM machine. This means that the printer uses filament and extrude it at a high temperature to create different layers.
One layer is created at a time. Once it set using the cooling fan, another layer is applied over it. The process keeps continuing until the final object is completed.
Talking about the cost of printing with this machine, one should understand that the cost depends on a lot of things.
For example, the complexity of the model, amount of material extruder, selection of material (PLA being cheaper of all), electricity cost for running the machine, and lot other parameters.
However, it would still be economical when compared to other 3D printing technologies.
Print Quality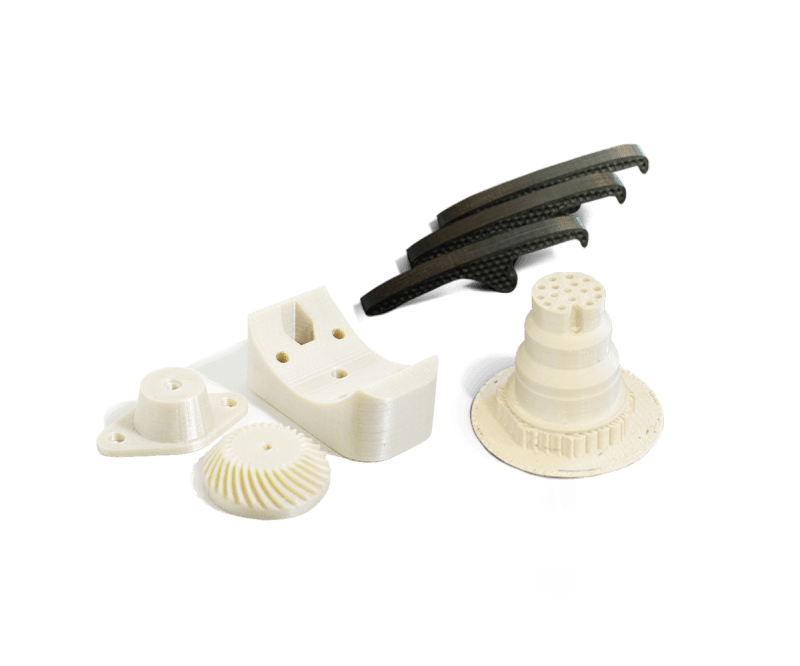 You would be happy to know that the 3D Printer produces high-quality prints. With 50 microns layer height, the 3D printer creates amazing finer details.
The complex designs can also be very well given justice using this amazing 3D printer. The machine is designed to offer great reliability to the users. With a stable and sturdier frame, the printer works with no vibration, offering accurate print results.
Also, the enclosed chamber offers consistent temperature maintenance. The extra adhesive bed adds to the quality of the first layer. Ultimately, resulting in the best print quality of the entire part.
Software
The machine comes along with its proprietary firmware. The software makes it easy to work with different models and adjust the settings as desired.
Customer Service
Customer support is also a plus from Roboze. Of all the great offerings, their technical support is the one steals the show. They ensure to offer the fastest assistance. This Italian company knows well how to persuade customers for a long term relationship.
They also have a lot of instructions available on their website. Plus, they send a comprehensive manual to set up and start the 3D Printer after unboxing.
In short, the company is very well prepared for answering all sorts of questions from the users. In addition, they also send technicians to your doorstep in case of any trouble. You just have to request the same.
Parameters Influencing Buying Decision of Users
Before buying a 3D printer of this much worth, you must look at the different aspects of the same. The expensive machine won't give you another chance to decide once you have bought it already.
So, take time and find out the reasons for preparing for this amazing machine. It may be offering great benefits, but at the same time, it must be worth for your specific needs. So, find out what is that makes the printer desirable for you.
3D Printer cost: The printer cost is $50,000. This means that the machine is highly expensive and designed for a specific use. It cannot be used at homes for fun or creativity. However, for industrial use, the price is still competitive for some applications.
3D Print quality: It is an FDM 3D Printer. The company has tried its best to minimize the limitations that often come along with FDM 3D printing technology and it has succeeded as well. We can find the same success peeping through the print quality. You can achieve precise parts and better print quality. Making this 3D Printer capable of a lot of things.
3D Print speed: The print speed is also decent. With enhanced components and better design, the company has focused on gaining high speed. And, it has succeeded in many ways too.
3D Printer capability: With support for industrial-grade materials, the printer proves to be highly worth it. You can design using different choices of materials and with varying print results. Best for a professional setup
3D Printer Practicality: The printer can create functional parts, finished objects as well as parts for metal replacements. It can work for specialized industries such as automobiles, aerospace, Oil and gas, and a lot of others.
3D Printer User expectations: It does fit on user's expectations offering great print results and compatibility with different materials. The price could be a bit of concern for some.
Verdict
Wanting to explore the best side of the FDM technology, use Roboze One Plus 400 and decide for yourself.
With such an advancement in additive manufacturing, mediocre won't be able to collect appreciation easily from the consumers. The demands have increased and companies must abide by the same.
If you are also looking for the same results, why not read the complete Roboze One Plus 400 review and know what unique it has to offer. A great option for industries looking to shift from traditional manufacturing to 3D Printing.