DXPRO SC-3 by Prusa I3
DXPRO SC-3 3D printer brings with itself a clean design, large build space, and a lot of other functionalities.
PROS
The printer is accurate
It provides amazing resolution
Sturdy frame
Power outage recovery
Heated build plate
Affordable
CONS
Manual calibration
Only supports PLA
Product
Specification
Videos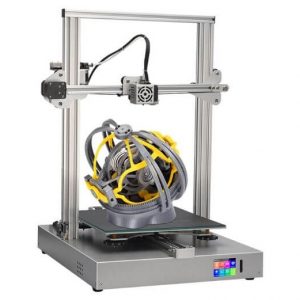 Clean design, large build space, and a lot of other functionalities, the
DXPro SC-3
is a very useful printer for different classes of users. The ...
| | |
| --- | --- |
| Model | DXPRO SC-3 |
| Manufacturer | Prusa I3 |
| Price Range | $99 |
| Availability | Available |
| Classification | Desktop |
| Technology | Extrusion (FFF- FDM…) |
| Material | ABS, Other plastics, PLA |
| Filament diameter | 1.75 mm 0.07 in |
| Generic material | Yes |
| Max. build size | 300 × 300 × 400 mm 11.8 × 11.8 × 0.16 in |
| Max. build volume | 36 L |
| Heated print bed | Yes |
| Heated build chamber | No |
| Automatic calibration | No |
| Closed frame | No |
| Dual extruder | No |
| Nozzle diameter(s) | 0.4 mm 0.02 in |
| Min. layer thickness | 0.05 mm 0.001 in |
| Max. print speed | 200 mm 7.87 in /s |
| Power input | 0-240V – 24V/5A |
| Independent Dual Extruder | No |
| Full color | No |
| LCD screen | Yes |
| Touchscreen | Yes |
| On-board camera | No |
| Mobile app | No |
| 3D scanners | No |
| CNC mill | No |
| Electronics 3D printing | No |
| Laser engraving | No |
| Conveyor belt | No |
| Air filter | No |
| Pellet extruder | No |
| OS compatibility | Linux, Mac OS, Microsoft Windows |
| USB | No |
| Wifi | No |
| Bluetooth | No |
| SD card | No |
| Ethernet | No |

Table of Contents
Prusa i3 is a well-known manufacturer of 3D printers and have been able to design popular machines for 3D printing lovers. The company is famous for its easy to assemble kits, the simplistic design, amazing print quality, and whatnot.
DXPRO SC-3 is yet another offering from the manufacturer. Hence, it must be exciting to unveil the perks that Prusa has succeeded to provide through this machine to the users.
The DXPRO SC-3 review aims at uncovering all the related facts and features of the 3D printer. And, find out how great the machine is.
Priced at mid-range and offering profound benefits to the users, Prusa has been able to bring one more badge to its name. The printer has been able to impress a lot of individuals.
However, there are few criticizers too. So, it would be best to find out the aspects and know-how balanced the design is.
With a brand name having such impressive backing from the 3D printing community, it won't be difficult to claim that the printer must be reliable. However, not every customer is the same.
And, the needs differ too. Assessing the features would help users find out how amazing the machine is when compared with their specific requirements.
The 3D printer brings with itself a clean design, large build space, and a lot of other functionalities. However, with manual bed leveling, and few similar limitations, it does make few individuals look for other options. So, let's find out what's in it for you.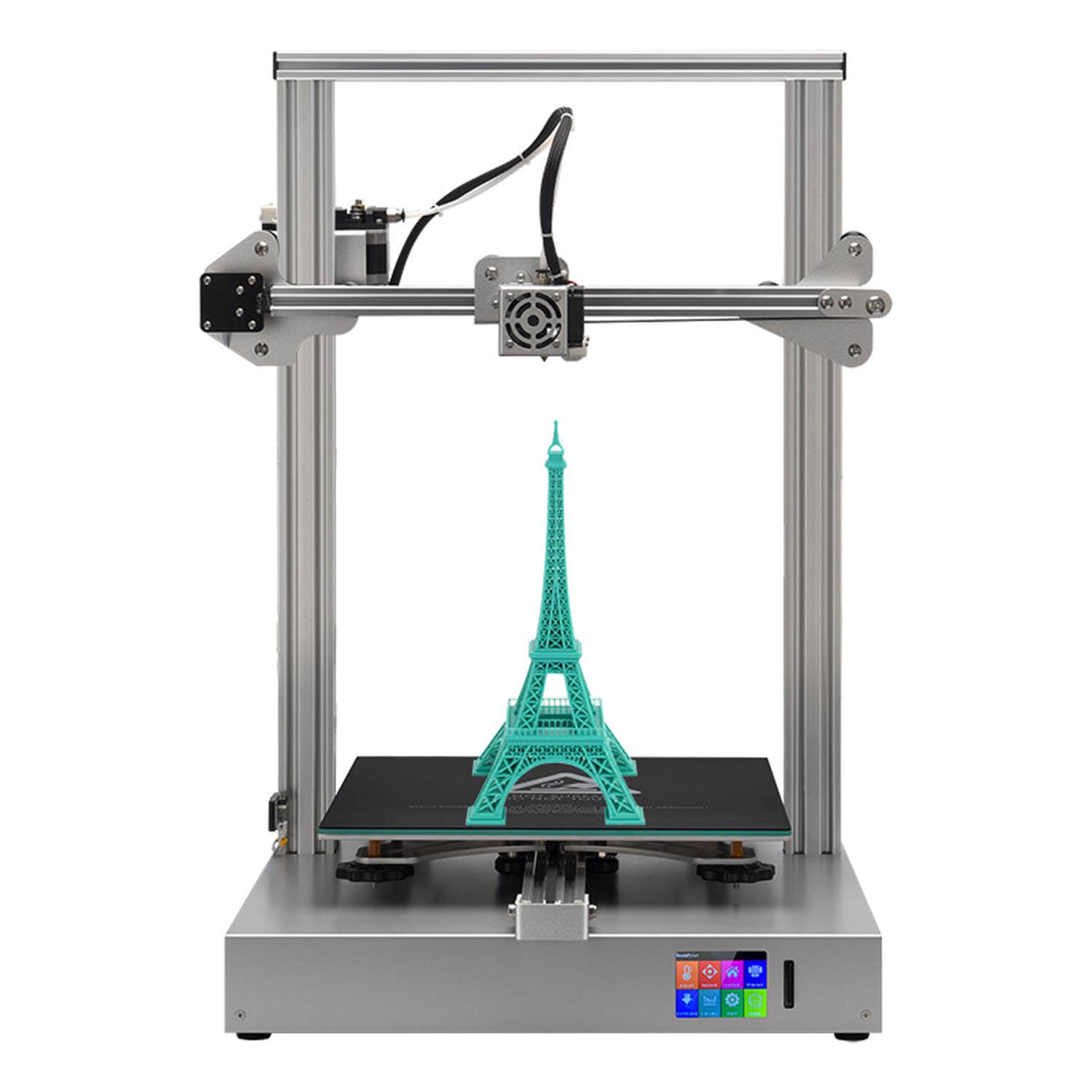 Features
3D printers have become accessible to consumers. Thanks to the declining prices and increasing features. Some machines are able to leave all the other ones behind in terms of value for money.
Rather than creating a complete package, manufacturers target the different user bases and combine the features together that suit the specific niche.
This way, the DXPRO SC-3 is built to help makers, hobbyists, small businesses as well as many newcomers to enjoy 3D printing.
This easy to assembled machine is highly efficient in creating unique models. As well as, it also offers amazing speed.
Look through the different features and find out what's inside for you and your specific needs.
Easy to Assemble: The 3D Printer does not come fully assembled. However, the three set parts are easy to connect within a matter of minutes. Not taking more than 5 minutes, individuals can assemble the machine and get to the setup right away. The easy to follow manual will help you get the parts together. You can even refer to online videos.
Compact Design: To make the machine suffice to the limited space of a home and small offices, the 3D Printer offers a compact design. Not requiring much space, one can place the printer on the study desk as well.
Open Frame: Yes, you do not get an enclosed frame with this printer. It is completely open from all sides. You just have the bases ready to keep the printer stay upright. Hence, you cannot print comfortably with filaments that require an enclosed design as a pre-requisite.
Large Build Space: When preparing the 3D printer, the manufacturer must have thought to provide small businesses a better reason for opting for this machine. Although the spacious build platform is great for makers and businesses alike, it does make way for specific applications including the creation of large 3D objects.
Long Printing Hours: Not every printer can work for hours without a break. However, this one breaks almost all records for the desktop 3D printers and is definitely a workhorse. You can print continuously for 200 hours without any pressure. With the inclusion of imported linear navigation, the 3D printer allows for low friction. Hence, lowering the print pressure to a considerate amount.
Heated Bed: The 3D printer has a heated bed. Hence, the first layer of adhesion is amazing. It minimizes the problem of warping which is very common among budget printers. However, you must take extra care not to touch the build plate with a bare hand right after completing the print job. Also, maintain a proper distance from the surface while the printer is working.
Already Connected Wires: With most of the work already completed from the manufacturer's end, you do not have to worry about connecting wires and controls. Hence, there are no chances for mistakes when assembling the components together.
Power Outage Recovery: This is a must feature for those working with long prints. You would not like a model to fail in between after 12 hours of successful printing. However, with a power outage, the concern becomes very critical. This is why DXPRO SC-3 flaunts the power outage recovery feature to ensure the safety of prints. The print progress will be paused during such a problem and the printing will resume after the power resumes. Enabling users to print seamlessly for long hours.
Sturdy Body: The metal frame provides high sturdiness to the entire design. It saves the prints from vibrations during extruder movement. Also, keep the models accurate and precise. The printer is very reliable and offers amazing results to the users.
Touchscreen: Users can depend on the touchscreen provided on the 3D printer's panel for messing with any setting they want to. Hence, one can control the complete setup without needing to connect with a laptop. Keeping the workspace tidier.
High-Speed Printing: This awesome 3D printer can print at a speed of 200mm/sec. However, you must understand that the trade-off will be the resolution of your model. So, decide considering all the requirements of your 3D design.
Interchangeable Nozzle: You can work with different nozzle sizes. Hence, impacting your print surface finish and resolution to a great extent for varying needs. By easily switching between 0.4mm, 0.3mm, and 0.2mm nozzle diameter, you can shape the parts as desired.
Specifications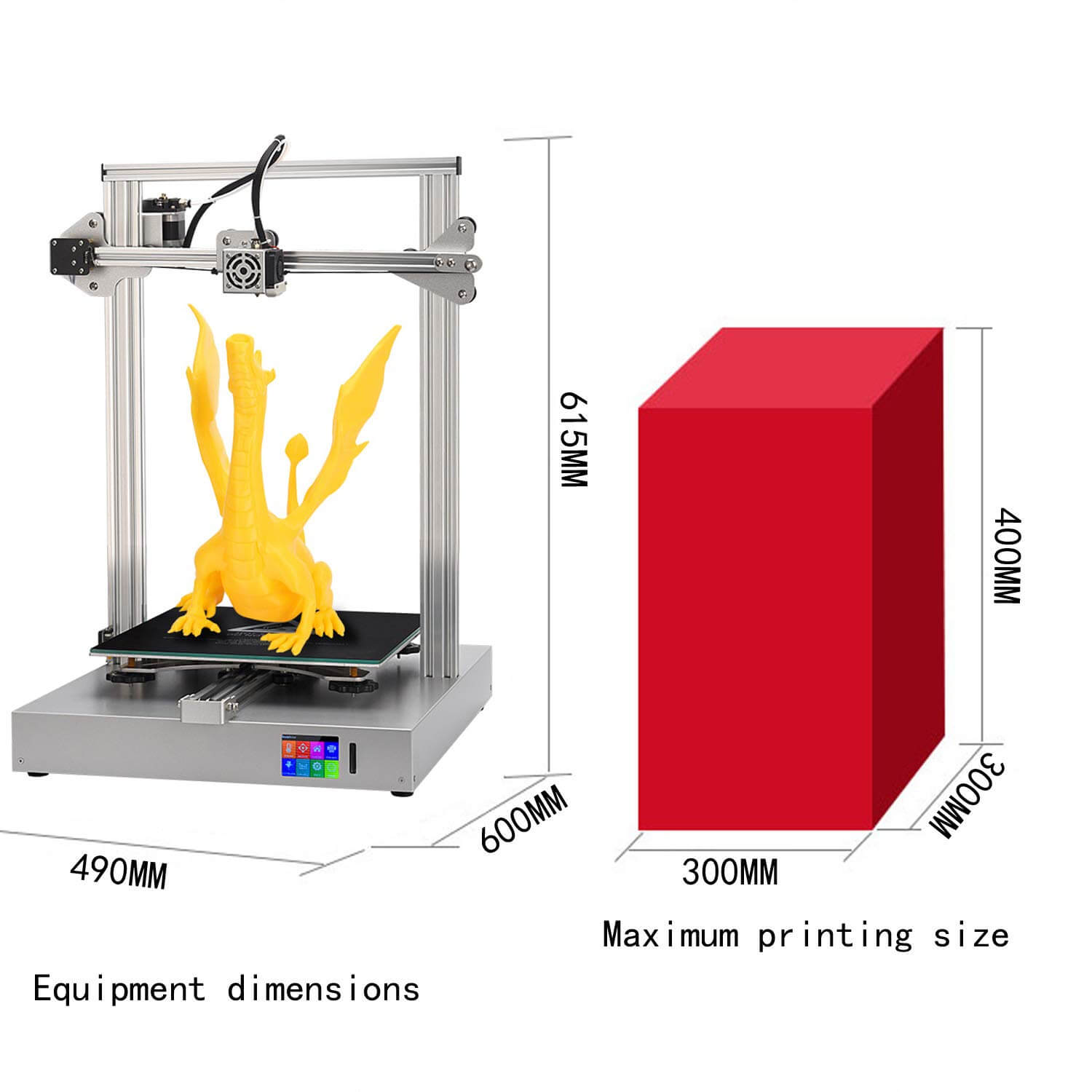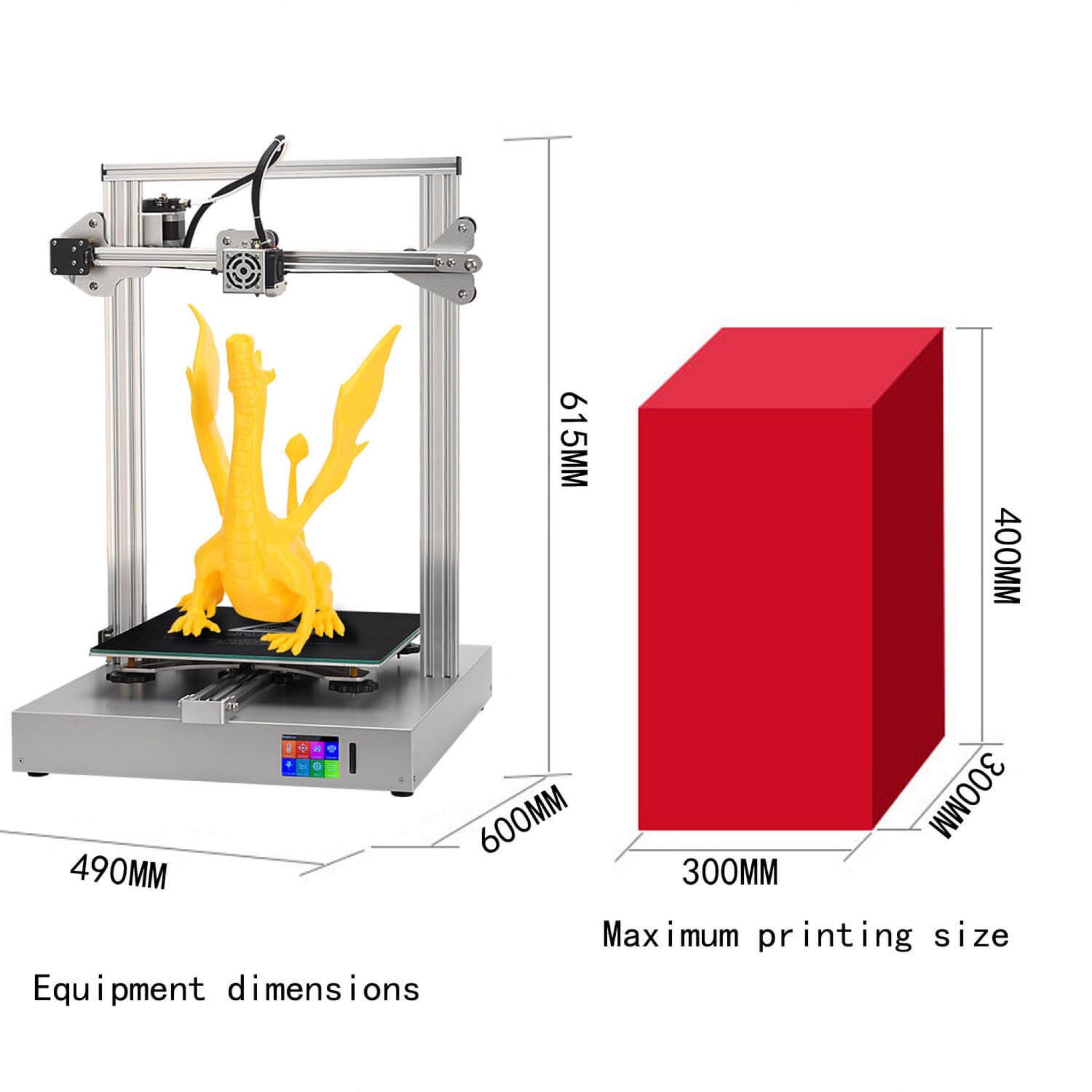 When buying a desktop 3D printer, the first thing that comes to mind is the size of the machine. And, how much print space it would provide. This is because most of the desktop printers usually have smaller footprints with limited workspace.
However, DXPRO SC-3 will amaze you. It does look compact, however, it provides a huge build volume. With 490*600*615mm of total dimension, the printer offers 300*300*400mm of build space.
The layer thickness is also exemplary. You can achieve a layer height ranging between 0.05-0.4mm. This is adjustable and you can set it as per your requirements.
The printing accuracy is 0.01mm. The maximum nozzle temperature is 240 degrees Celsius. And, the print speed is adjustable between 80 mm/sec to 200 mm/sec. You can easily navigate through the settings of the prints using the 2.4 inches touch screen.
The hotbed is also made of aluminum alloy platform with 3mm of special tempered glass lying above it.
Price
The cost of this 3D printer falls in mid-range. DXPRO SC-3 comes for $399.99. The printer isn't as cheap as a $99 machine. But does justify the difference by adding quality to the printed models. I
f you think you can compensate for the price difference by adding few more bucks, you must not shy away.
This 3D printer does deserve a try. And, using this machine, you can also bring a lot of creativity to life.
First Impressions
Prusa i3 is a very popular company. And, it keeps experimenting with nuances of different design and feature set to bring the most unique 3D printer for sale.
Moreover, it also focuses a lot on the packaging of the products. You would find the 3D printer components securely packed inside the box. The package size would be around 640*540*295 mm.
After you will unbox the machine, you would find each component and part safely snuggles inside to offer great stability of the parts. And, also to ensure no wear and tear during shipment.
Users will receive the three different parts of the 3D printer along with the manual and required tools and spare parts to assemble the components together.
Setup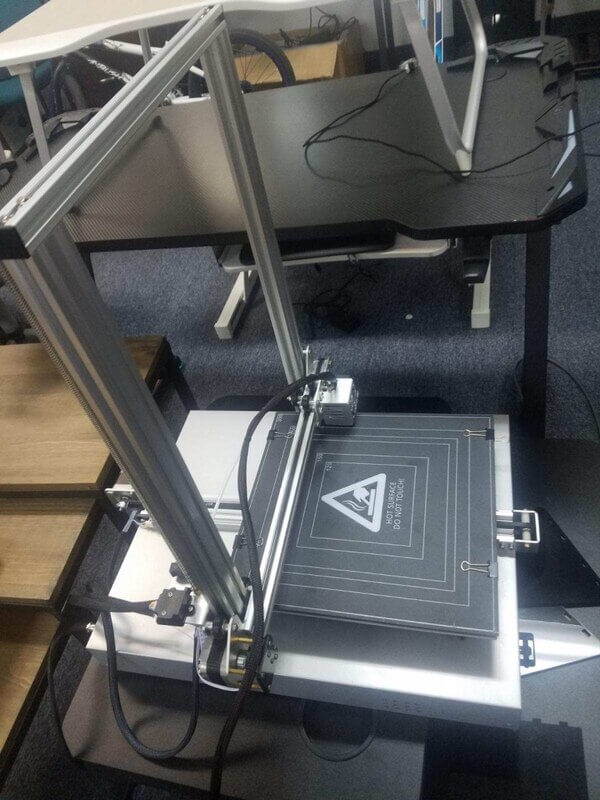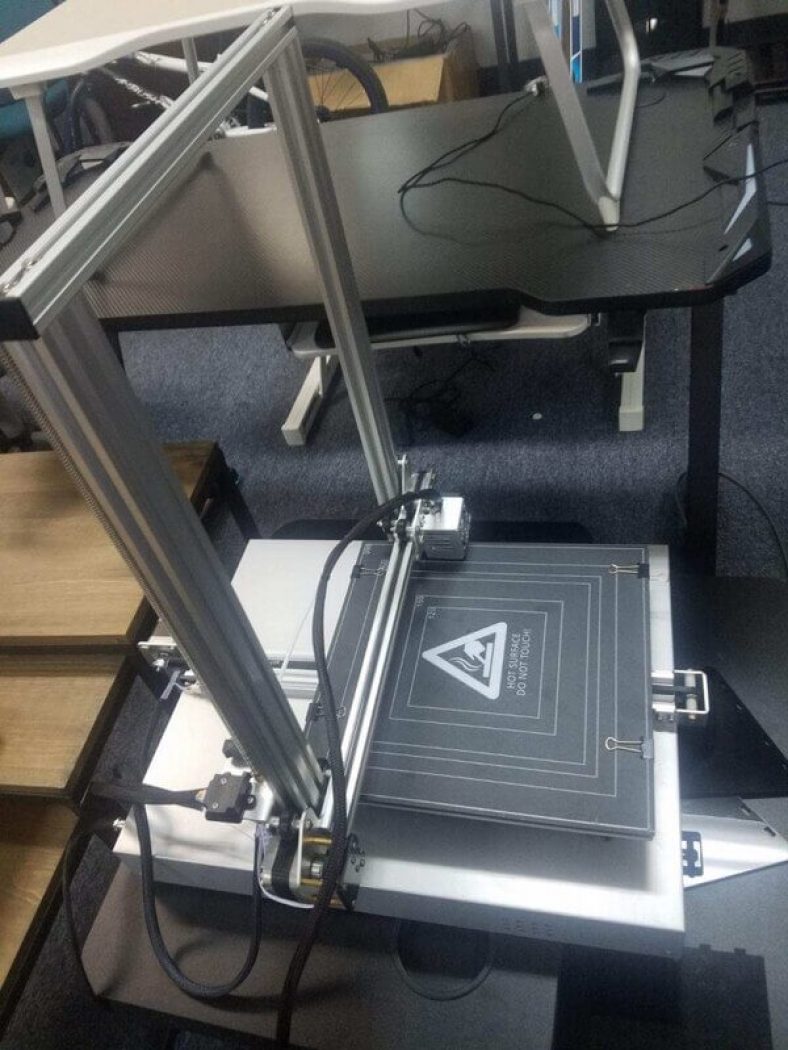 The manufacturer claims that the setup is very easy. Unlike most of the 3D Printer kit which takes hours of effort to put the components together, this one would take just 5 minutes.
This is because the printer is already assembled more than 90 percent. You need to fix three different divisions of the machine to make it stand in one piece.
This division is done to keep the shipping weight minimum as well as the shipping cost low. After you connect these parts and load the filament, you must go through the calibration process.
The manual calibration will take some time, depending on your expertise and experience. However, once done, you can start printing amazing designs without any hassle.
Printing Type/Cost
DXPRO SC-3 is based on the FDM 3D printing process. This one is the most common technology among consumers. And, it is easier to learn as well. In this process, the extruder deposits the filament after heating it above its melting point.
The deposition takes place one layer at a time. And, after depositing each layer, the printer cools down that specific layer to solidify the same. Only after this, the next layer is prepared. This is a continuous process and goes on until the complete model is built.
Deducing the cost of the printed parts will depend on a lot of factors. Everything involved in the printing will have the say. For instance, the filament cost, the complexity of the design, the electricity cost, the layer height, etc. Hence, the cost of models will vary widely.
The 3D Printer only supports PLA. This is the cheapest of all materials. Hence, you can print at a low cost at all times.
Print Quality
DXPRO SC-3 offers astonishing print quality. You can print with layer thickness ranging between 0.05mm to 0.4mm. Also, you can come up with the highest accuracy while focusing on normal print speed.
Although the choice of filament is limited to PLA, if your application does not require any other material, you are good to go with this choice.
Software
Prusa i3 has always ensured that the printers they offer must be compatible with various slicing software. This one follows the same equation. You can use almost any of the open-source slicing software. For instance, Cura, Simplyfy3D, and many others.
This gives users the opportunity to work with the app that suits their expertise level the most. And, makers can even continue with the slicing app that they have been working on all along.
Cura is the most popular app, is a favorite choice for most of the individuals. And, this one is supported by the printer.
The app is very intuitive and offers great controls and tools to optimize the parts for the best results.
Customer Service
Customer support is great. You can connect with the company and ask for resolutions. Users can also check the FAQs and various guides available on the website.
With a huge community of followers, you will also find a lot of online users helping beginners to learn about the Prusa's 3D printers.
Parameters Influencing Buying Decision
Let us go through a brief of the DXPRO SC-3 review to take the right decision related to the purchase of the 3D printer.
3D Printer cost: It is an affordable 3D printer for makers and hobbyists.
3D Print quality: The print quality is amazing. It provides great resolution and accuracy.
3D Print speed: Users can print with up to 200 mm/sec of speed. This is really fast.
3D Printer capability: the 3D printer is capable of producing precise parts as well as complex geometries.
3D Printer Practicality: A great choice for serious enthusiasts. Even small companies can use the machine for building prototypes as well as end products.
3D Printer User expectations: Support for multiple materials would have been an added perk at this price.
The Verdict
If you are interested in buying this printer, you must have found out what all the machine entails reading the DXPRO SC-3 review. And, if all seems great, you can give this buddy a try.