Shining 3D EinScan SP
Shining 3D EinScan SP delivers highly accurate certified scans through the unique accuracy calibration process. Not only that, but it does so with faster scanning speed than its competitors in the same price range.
PROS
Extremely user-friendly software
Compatible with multiple 3D printers
Highly accurate
Provides fast scanning speed
CONS
Dealing with different light conditions leads to more and more complexities and sometimes scan failures as well
Structures such as tubas, slinkies, live porcupines, Moroccan lanterns, and crazy straws are not scanned properly using SP
Table of Contents
SP uses a foundational scanning technology called structured-light for capturing the object. The scanner is equipped with a turntable that ensures the machine captures a complete view of the part. It also guarantees that no view of the object remains completely hidden due to any kind of blocked views.
The scanner delivers highly accurate certified scans through the unique accuracy calibration process. Not only that, but it does so with faster scanning speed than its competitors in the same price range. The machine is specifically designed to fulfill users' demands of reverse engineering 3D models as well as designs.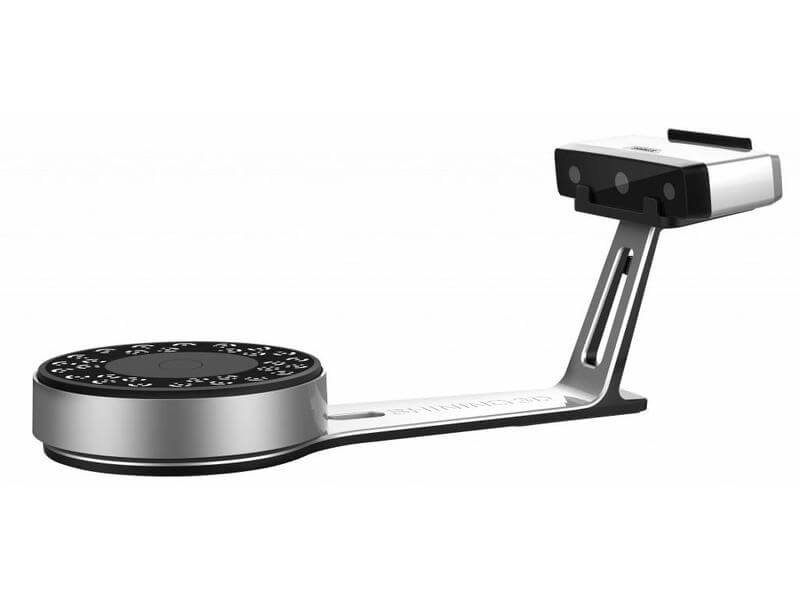 So, let's get to know more about such amazing features of the printer by going in-depth.
Features
SP hosts many upgraded functionalities and improved performances which makes it a scanner for professional applications.
These applications range from reverse engineering a product design, to preserving cultural heritage. The scanner does it all! It's a powerful desktop 3D scanner that captures the geometry of small to medium-sized objects in a minimal amount of time.
Below mentioned and explained are the most intriguing features of this scanner.
High-speed scanning
SP takes only four seconds to capture a single 3D scan. To achieve this, a complete 360 degrees scan takes no more than a minute, thanks to its turntable. This is way less than the time taken by other scanners in the same price range.
It helps users when they have more than one part or functional prototypes to scan continuously. The scanner manages to deliver a blisteringly fast scan speed consistently.
Top-notch scan quality
SP is known to capture details even in small or medium-sized objects. It can apprehend fine intricacies with a high resolution from a 0.17 mm distance, offering an accuracy of 0.05 mm. Meaning that the captured data would have the capacity to replicate parts and functional prototypes like no other.
Precise alignments
EINScan-SP provides several calibrations as well as alignment options for obtaining optimal quality scans. The scanner assists users by being at the correct position needed for scanning a particular object, according to its geometry.
The in-built programming of SP positions itself on the parts that are to be apprehended. Moreover, its turntable permits operators to have a higher precision while using Auto Scan mode.
Easy to assemble and use
EinScan-SP is built taking into consideration novices in the field of 3D scanning. The software that comes with the scanner has an auto-calibration feature which ensures users have a precise pre-scanning phase. Also, all that one needs to do for starting the scanning process is gently tapping on the scanning option. That's it!
Specifications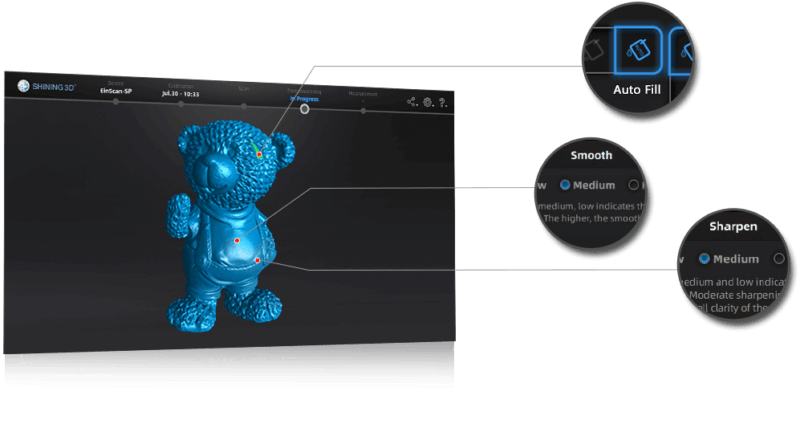 Credit: einscan
There are two modes in which EinScan-SP scans an object. They are:
Fixed scan mode: capable of scanning objects with build volume 1200 mm * 1200 mm * 1200 mm.
Auto-scan mode: capable of scanning parts and functional prototypes with build volume 200 mm * 200 mm * 200 mm.
In general, the scanner is capable of scanning a minimum build volume of 30 mm * 30 mm * 30 mm. Whereas, the range of single capture is an area of 200 mm * 150 mm within less than 4 seconds.
SP has a point distance ranging from 0.17 mm to 0.2 mm. A camera with 1.3 megapixels resolution captures the fine detailing present in an object and replicates it on your device's screen.
The machine can process varied file formats such as OBJ, STL, ASC, and PLY. The scanner utilizes a white light source capable of going through a standoff distance ranging anywhere from 290 mm to 480 mm.
Price
To know the exact price at which Scan-SP is available, you need to request a quote from the manufacturer.
First Impression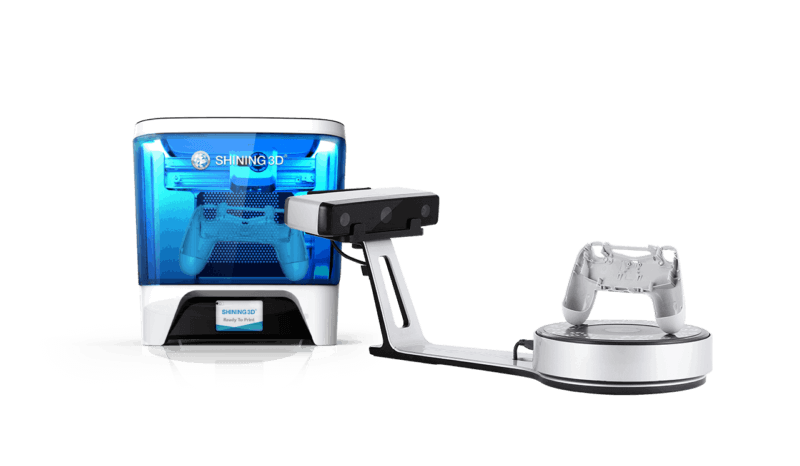 Credit: einscan
SP comes well-packed in a sharp-looking box with custom inserts. First glance at the packaging and design, and you get to know about the efforts that were put on to make sure it looks how it looks.
The scanner/ turntable setup is straightforward.
A power cable and USB cable connects the scanner to the computer, the scan heads to the turntable when in use, respectively.
Setup
You can get to scan the first object in two steps:
Installing the scanning softwareEinScan-SP software can be installed via the USB provided by the manufacturer or from the EinScan's webpage. A powerful computer system is needed to accomplish this task.
Calibrating the scanner
This procedure starts by setting the calibration board in the stand, on the turntable. After that, center it visually on the device's screen in a patterned or orientation indicated by the software.
You get to know when you are done with calibration after getting a notification from the application. In case you are not done, rotate the board counterclockwise 90 degrees and repeat the process.
After completing both these steps you can start with scanning. Doing so doesn't take more than a few minutes of your time.
Scan Type/Cost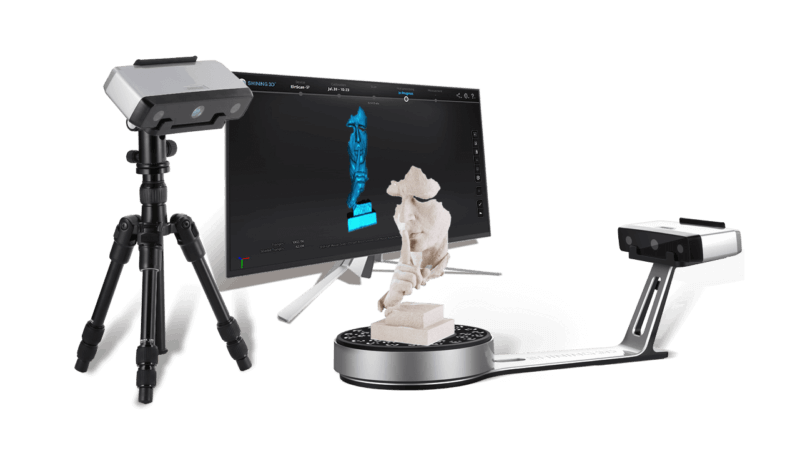 Credit: einscan
As FDM is to 3D printing, so is structured light to scanning. Herein, light beams are projected in fixed sequences. This reflects back to two fixed mathematically and algorithmically operated cameras. They are capable of interpreting the distances to points on the object.
The inherent scanning limitations such as scanning of shiny, transparent, or dark surfaces are taken care of by the turntable that rotates to capture a complete view of the object.
Generally, the cost of scanning via structured light technology is lower compared to other technologies. However, it depends on factors such as the geometry of the part that is kept to be scanned, the laser source employed for capturing points, etc.
Scan Quality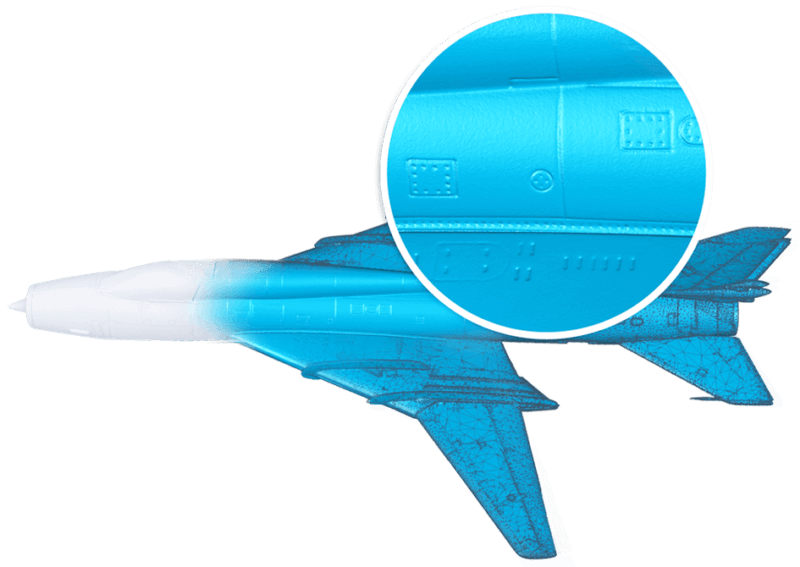 Credit: einscan
The typical scan results like scanning a Black Funko POP are very impressive. It takes not more than 5 to 10 minutes for getting the most accurate scan of the object. Also, scanning the PEZ Flamingo which is a lot more intricate object than the previous one is great.
Undercuts, surface textures, as well as some dark-colored portions are captured easily by the scanner. Another scan test of PVC pipe fitting with internal threads also leads to awesome results.
So, overall SP can scan and capture images of varied geometries with good quality. With highly functioning turntable and high-powered laser sources, users can easily apprehend even difficult surfaces.
Software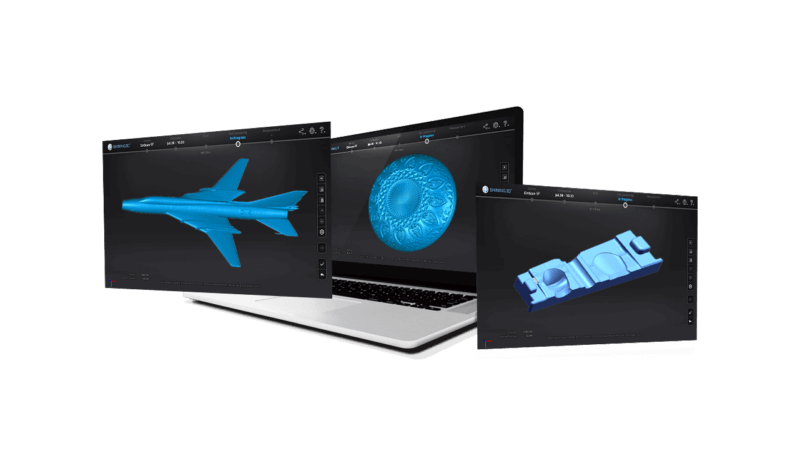 Credit: einscan
EinScan SP software is available for free with the scanner. It's an improved version of the original EinScan S application. This one's more functional and stable compared to others available in the market.
Its interface changes depending on the target audience, that's why it's intuitive. The application can provide users with the highest quality watertight meshes.
Also, the processing cycles of the software are fast. Be it scanning an object in a 360 degrees cycle using the Auto mode or a separate scan in Fixed mode, there are no problems at all with the registration, and is completed in seconds.
Customer Support
EinScan offers an online quick guide that users can refer to before installing and setting up the scanner. Added to it is the software download with free upgrades for all its users.
Lastly, the scanner manufacturer has also put into place the Contact Support button by accessing which operators can get satisfactory answers to their curious questions by the full-time support team.
Parameter Influencing Buying Decision
Below mentioned are some of the important parameters that are worth keeping in mind before making the buying decision.
3D Scanner Cost: Although a little bit on the higher end compared to other desktop 3D scanners, SP is still affordable considering its features.
3D Scanner Speed: Getting the first scan in less than 4 seconds is a very high scan speed when compared to other scanners in the same price range as SP falls into.
3D Scan Quality: SP delivers a can accuracy of 0.05 mm in all its scans which is pretty high.
3D Scan Capability: Small to medium-sized parts and functional prototypes of varying geometries can be easily scanned using SP.
3D Scan Practicality: The scanner is used in fields such as Education, Design and Art, Digital Industry, and Archiving as well as Sharing.
3D Scan User Expectations: The machine manages to stand upon the expectations of various professionals involved in engineering and designing.
The Verdict
Scan-SP manages to steal the show when compared to other scanners in the same price range with respect to speed and quality. Also, its ability to scan in two different modes and two different volumes makes the overall work pretty flexible for its users. Although a few flaws with the lighting, the machine manages to stand out with its extraordinary features.