What is 3D Scanning?
This non-contact, non-destructive technology uses a line of laser light to digitally capture the geometry of physical items. 3D scanners extract data from an object's surface in the form of "point clouds."
In other words, 3D scanning is a method of capturing a real object's exact size and shape into a digital 3-dimensional representation in the computer world.
To swiftly generate highly precise point clouds, 3D scanners analyze small details and record free-form objects.
3D scanning is perfect for measuring and inspecting curved surfaces and complex geometries that require large volumes of data for correct description and where using standard measurement methods like a touch probe would be problematic.
How Does It Work?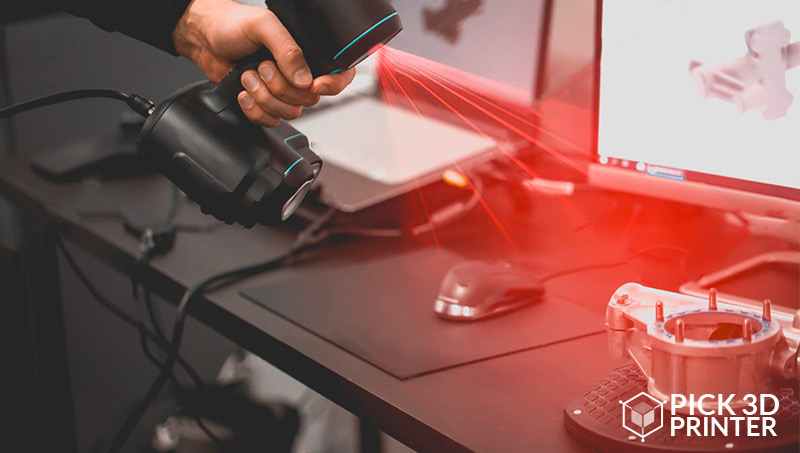 A 3D scanner collects data on the object being scanned as well as the environment (for example, the room) in which it is located. 3D scanners effectively turn a physical object into a digital replica.
This digital copy or 3D file can then be updated and 3D printed according to the needs of the user. A 3D file can also be used in further 3D modeling procedures.
In general, engineers in the twenty-first century use this technology for reverse engineering operations. CAD software and 3D printing slicer software are generally compatible with 3D scanner files.
Anything that exists in the actual world can be scanned in three dimensions. Although the technology has several restrictions, apart from the size of the object, practically every other element is insignificant. The majority of items can be 3D scanned.
Objects
A 3D scanner can scan anything from a glass to a lamp in 3D. All you have to do is hold the thing stable while scanning the measurements and curves with a 3D scanner to create the object's digital file.
Living Beings
3D scanners may also be used to scan humans and animals. This technology may be used to map the proportions of the body and can then be printed using a 3D printer.
Surroundings
As previously stated, the 3D scanner can scan practically anything. It is entirely true for the environment in which you reside. For instance, consider your living room or office. You can scan them and turn them into a digital file to print with a 3D printer.
There are a variety of 3D laser scanners on the market. Not all of them are reliable and cost-effective. As a result, it is difficult to sort through them all and choose one that best suits your requirements while remaining within your budget. We have compiled a comprehensive list of the best 10 3D Laser Scanners for your convenience.
Comparison Chart
| Name | Link | Nomination | Overall Rating |
| --- | --- | --- | --- |
| BQ Ciclop | | High Precision | 7.8 |
| Matter and Form | | Speed | 9.5 |
| Matter and Form V2 | | User Friendly | 9.8 |
| EinScan SE | | User Friendly | 9.7 |
| EinScan SP | | High Accuracy | 9.6 |
| Kiri Innovation Phiz | | Inexpensive | 9.8 |
| Polyga Compact S1 | | Speed and Accuracy | 8.8 |
| Scan Dimension SOL | | Affordability | 8 |
| MakerBot Digitizer | | Reliability | 7 |
| NextEngine ULTRA HD | | High Accuracy | 9.5 |
List of Best Desktop 3D Scanners
BQ Ciclop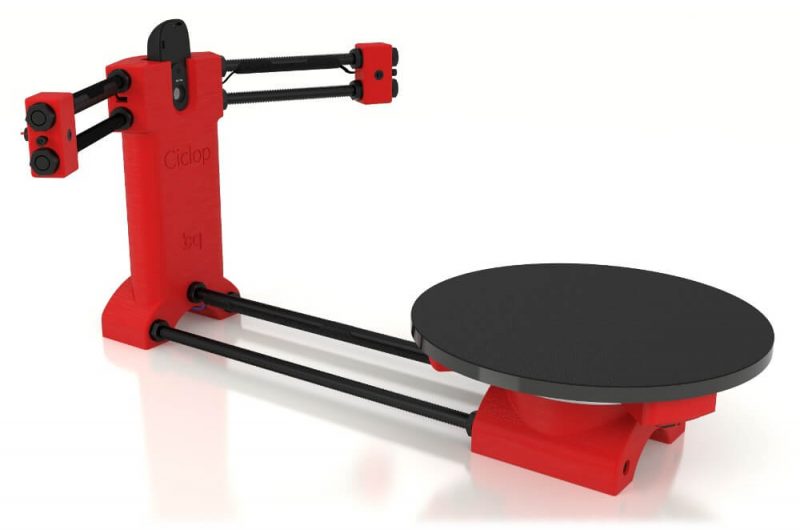 BQ, a Spanish business, created the Ciclop Electronic Kit, a desktop 3D scanner in the kit. BQ is known for its electronic devices, which include everything from smartphones and tablets to 3D printers and scanners. This is one of the most affordable options available on the internet.
In addition, the 3D scanner is the fastest among others in a similar price range. Scanning the objects takes anywhere from two to 8 minutes.
Its revolving platform allows users to scan any actual object that fits on it. You will be able to manipulate the completed scan's 3D model. You can then print out your new model and create a new item once you have finished editing it.
Uses:
BQ's Ciclop 3D scanner is a do-it-yourself (DIY) kit scanner.
Its revolving platform allows users to scan any actual object that fits on it.
The scanner is entirely free and open source.
Its supported Horus' hardware and running software are both licensed under the CC-BY-SA and GPL licenses.
This low-cost 3D scanner scans things on its automatic rotating table using laser triangulation technology.
Only the electronics of the BQ Ciclop are included in this low-cost variant.
PROS:
The Ciclop 3D scanner's rotational triangulation arrangement includes a Logitech camera in the middle and a laser on either side.
The Ciclop scanner is designed in such a way that it can be replicated by anyone.
CONS:
Not all of the parts in these low-cost, open-source knock-offs from China are of high quality.
Matter and Form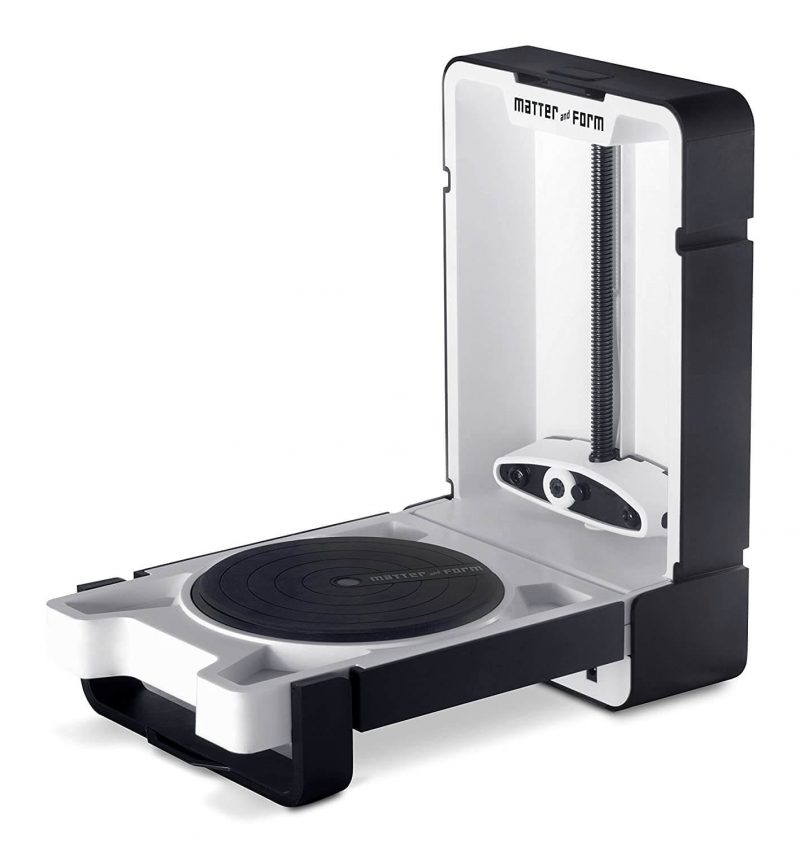 Matter and Form launched their first 3D scanner in 2014 with the goal of providing a low-cost alternative to a market inundated with expensive hardware. Thousands of Matter and Form 3D scanners have been sold globally since then.
The maker has concentrated on enhancing usability while maintaining a similar design to its predecessor. Most importantly, it includes +Quickscan, which elevates this scanner to new heights. You may buy it in MF Studio or it comes with the V2 if you have the V1.
Matter & Form is a good choice for artists, educators, and enthusiasts looking for a low-cost high-resolution 3D scanner.
Uses:
This low-cost 3D scanner produces high-resolution, full-color 3D scans using two lasers and an HD-CMOS sensor.
 The Matter and Form V2's design is totally foldable, making it compact and easy to store.
The scanner is accurate to within 0.1mm and can be readily connected to your computer via USB to transfer your scans.
To ensure that your scans look great, the Matter and Form scanner come with dedicated Mfstudio and Quickscan 3D software. The STL files can then be exported and printed with your 3D printer.
The 3D scanner can scan items up to 25 centimeters in height and 18 centimeters in diameter.
It works with every major operating system, so Mac users do not have to worry.
PROS:
Software is approachable and simple to use
Customer service is outstanding
Scans are acceptable
Scans the texture thoroughly
Affordable
Portable and compact
CONS:
The meshing algorithm has a hard time detecting empty space and converts it to blobs
Having difficulty picking up a very small detail
It is not easy to get the perfect lighting
Matter and Form V2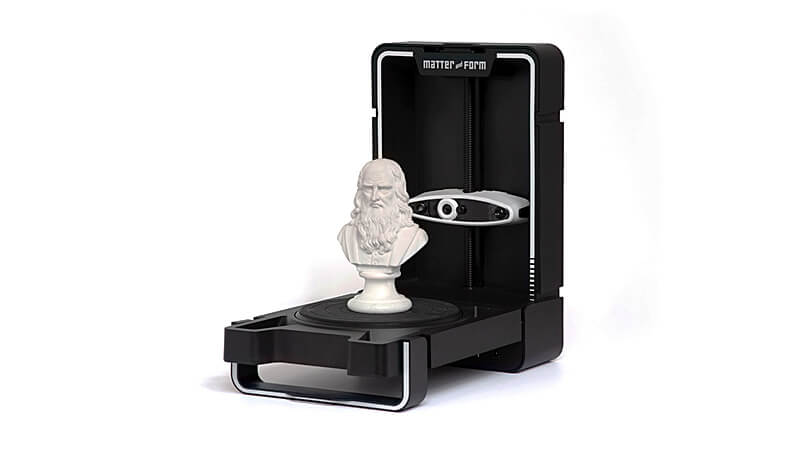 Since 2014, the company Matter and Form' produce affordable 3D scanners. The Matter and Form V2 3D scanner is the updated version of V1.
It is a desktop 3D scanner with two lasers and an HD- CMOS sensor. It produces high-quality and colored 3D scans at a high speed.
Like CowTech Ciclop, V2 is based on laser triangulation technology to scan with an accuracy of up to 0.1mm.
It can scan an object of maximum height of 25 cm and 18 cm diameter. You can connect it to your computer through a USB. It is simple to set up
The scanner costs $750.
Uses:
It is best suited for hobbyists, educators, artists, and enthusiasts as it offers high-resolution 3D scans at a high speed.
It is safe to be used at home and around children.
It enables you to get a full scan in just 65 seconds.
Since it is foldable, it is easy to store and carry around. You can take it anywhere you want.
For 3D printing, you can create watertight meshes with a V2 3D scanner.
PROS:
Faster 3D scanning due to Quickscan
Combines different scans to enhance quality
Saves scans in multiple formats
CONS:
Expensive
Variable 3D scan quality
Place it in a well-lit area for better performance
Not for professional use
EinScan SE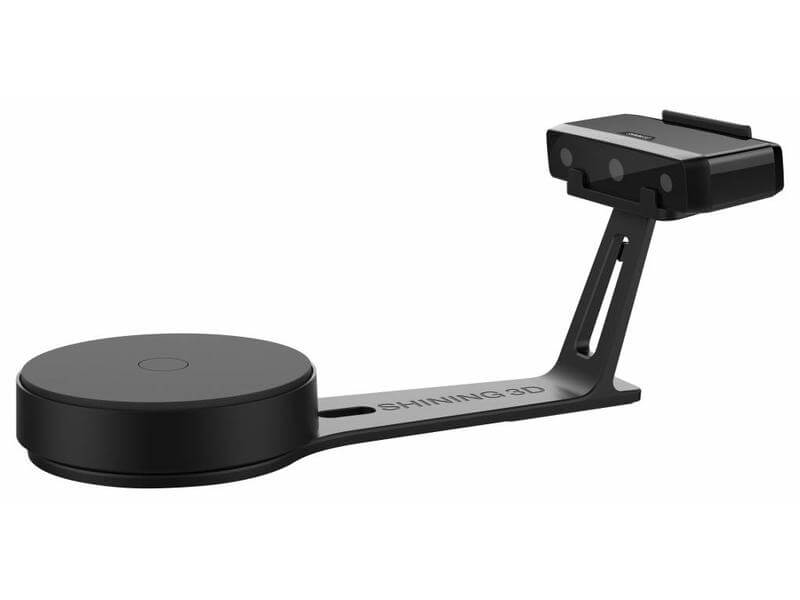 Shining 3D, a Chinese company, has developed a next-generation 3D scanner. It is both inexpensive and effective. It is a full bundle because it can produce high-quality output as well as a variety of colors and textures. It has the ability to scan both with and without a turntable. The device is priced at $1399.
Uses:
Because of the white light, it is both safe and simple to use.
It is best suited for classes and hobbyists due to its small size.
The scanner is ideal for heritage scanning, animation, and reverse design.
The scanner can scan items up to 700mm3 in size with a 0.1 mm precision. If the object is larger than 700mm3, you can use the fixed scan feature to scan it.
It scans with the Einscan software. It features an 8-second scan time and a 2-minute scan time for 360-degree scanning. You will be able to connect through USB.
PROS:
Multiple alignment options are available
High precision
Plug and play
Software is integrated
CONS:
Unable to scan dark spots
Expensive
Non-handy
EinScan SP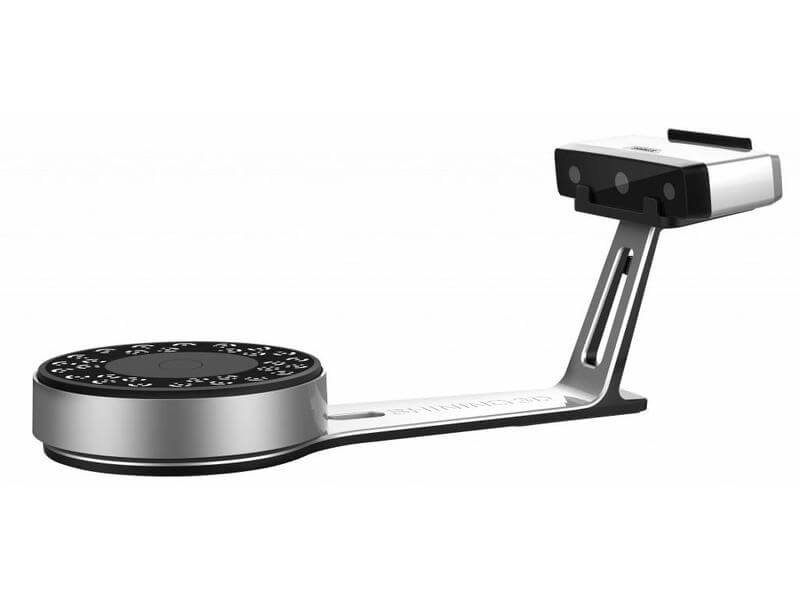 The Einscan SP 3D scanner is well-engineered and constructed for precision, featuring a fully automated turntable with self-calibration that captures 360-degree scans in roughly 60 seconds. You may photograph larger things in HD by mounting the EinScan SP on a tripod.
Turntable mode uses automatic rotating stitching to capture objects smaller than 200 x 200 x 200 mm. In free scan mode, you can put the camera on a tripod (not included) and 3D scan items up to 700 x 700 x 700 mm.
Uses:
The scanner, a turntable for 360° scans, a calibration board, and a stand to connect the scanner head and turntable are all included in the EinScan-SE kit.
The EinScan-SE can identify a wide range of colors and textures and has a scan accuracy of up to 0.1 mm.
The 360° automatic scan function's performance time is entirely dependent on the number of steps specified for a full revolution.
The Nvidia GTX 660 or above with at least 2GB is required for the SP.
Items as little as 7.9 x 7.9 x 7.9″ and as large as 47.2 x 47.2 x 47.2″ can be scanned
The automatic scan takes less than a minute and is simple to use.
PROS:
High precision
Plug and play
Kiri Innovation Phiz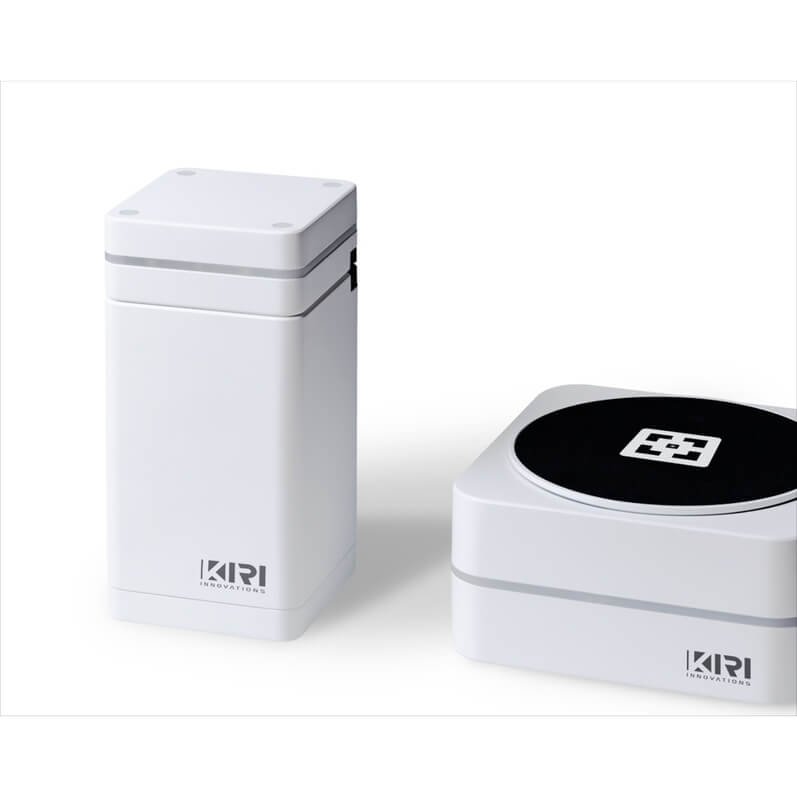 Kiri Innovations, a Chinese-Canadian start-up, has a novel laser scanner that leverages the sophisticated cameras and computer power found in today's smartphones.
Simply install the 3DScanLink app on your smartphone and connect it to the Phiz 3D scanner. Your scans are processed on your smartphone and maybe directly sent to your 3D printer as.STL and.OBJ format files.
Kiri claims that their patented technology eliminates the requirement for predetermined distances between the camera, laser, and turntable, making it compatible with almost any smartphone.
Because the turntable is separate from the camera and laser frame, Phiz offers a fully customizable scan range.
Uses:
The Phiz 3D Scanner saves a lot of money by using your smartphone's camera and CPU.
The Phiz 3D scanner's strong AI can process millions of data points. It also determines the precise location of the object, laser, and camera, resulting in excellent spatial accuracy.
The Phiz 3D Scanner is compatible with all the latest smartphones (starting with iOS 12 and Android 7.0). Older cellphones are not compatible with the program since their cameras and CPUs are not up to the task of 3D scanning.
After scanning the geometry of the object, the 3D scanner moves around the object a second time to identify the color. The end product is a colorful, scanned item.
You can alter the scanned object because the produced file may be utilized with a CAD application.
Details can be improved and artifacts can be removed.
PROS:
Scanning with great precision and speed at a low cost
Simple to use
Intelligent artificial intelligence
3D printers are compatible
CONS:
The quality of the scan is partly determined by the smartphone
Small items (less than 50 mm) with a lot of details are not acceptable
Polyga Compact S1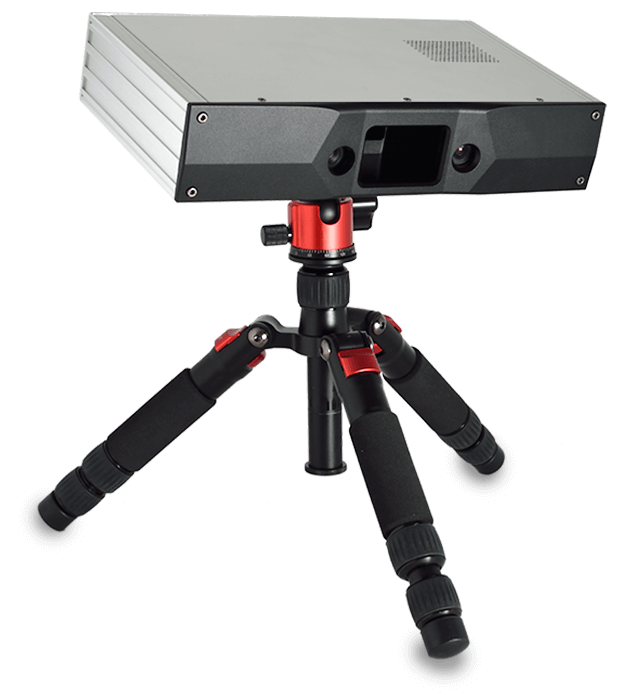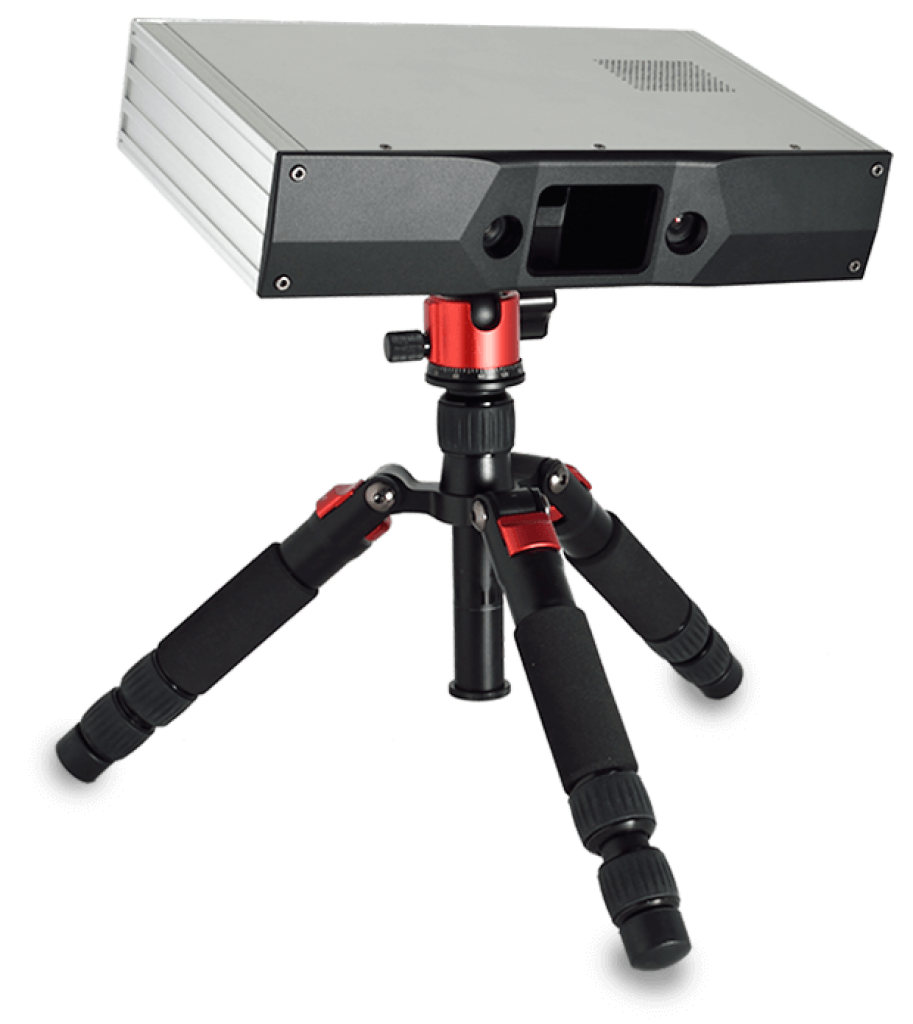 Working with this scanner demands a significant amount of effort and knowledge, thus it is only suggested for advanced users. However, it is entirely a matter of choice, and individuals who wish to study can take this route.
Polyga is another company with a wide range of scanners, with the new S1 serving as the company's "entry-level professional" model. The S1 has two 1.3-megapixel cameras that can scan parts up to 12 inches long in monochrome or color. Data from scans can be exported to a variety of file formats, including STL.
Uses:
Compact 3D scanners capture high-resolution 3D scans with millions of 3D measurement points in less than one second.
To get started, just connect the Polyga Compact 3D scanner to your computer and install the bundled FlexScan3D software.
The system does not require calibration or recalibration.
Polyga Compact 3D scanners, when used with a rotary table, produce superior digital 3D models faster than doing it manually (up to 3x faster).
You can quickly add 3D scanning capabilities to your operations with the Polyga Compact. Each system comes with a user-friendly software development kit (SDK) as well as connectivity possibilities.
PROS:
Affordable
Good quality of the scan
Ease of use and portability
CONS:
There is a size limit on the objects
Scan Dimension SOL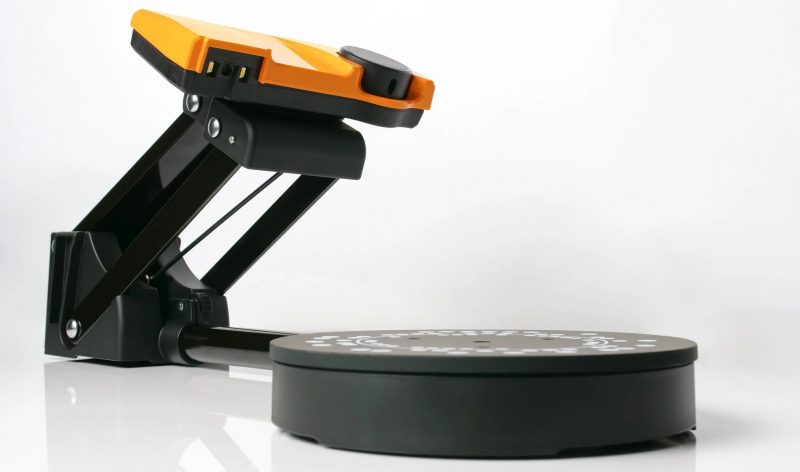 SOL is a desktop laser scanner with good accuracy for the price, suitable for scanning small yet detailed items. The scanner itself is less than 7 pounds and can scan things weighing up to 2 kilograms.
Because of its small weight, it is an ideal portable 3D scanner for use when on the go, such as while scanning things in multiple locations.
Uses:
Scan Dimension claims that its team set out to make the 3D scanning process as simple and straightforward as possible for both 3D scanning specialists and total beginners.
The turntable, which allows for complete 360° scans of an object, is another useful feature of the Scan Dimension Sol 3D scanner.
In addition, the Sol 3D scanner offers two scanning modes, both of which use structured light to capture texture and laser technology to capture geometry.
A time estimate is also provided by the Scan Dimension Sol 3D, which is a handy feature given that a complete scan can take up to 15 minutes.
PROS:
Ready out of the box
Easy to use
Accuracy up to 0.1mm
CONS:
Difficult to get the perfect lighting
MakerBot Digitizer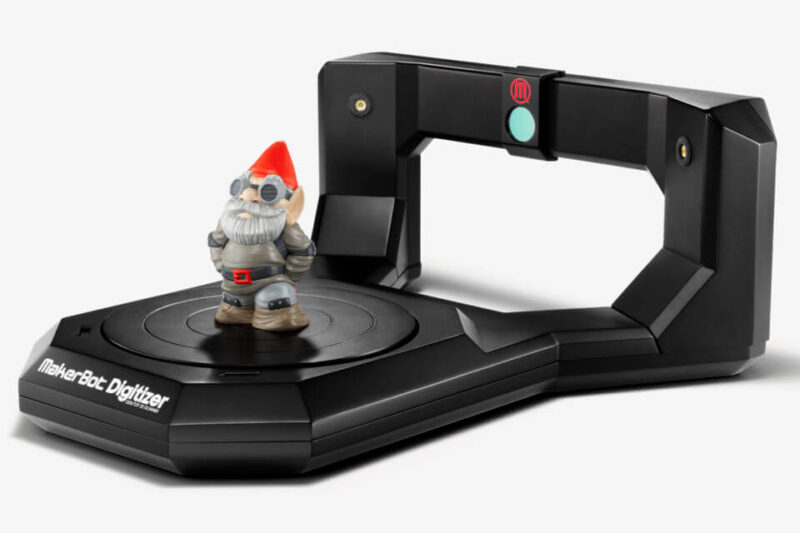 The MakerBot Digitizer Desktop 3D Scanner is one of the best in its class for around $1,000. It is a stationary scanner that can scan tiny things for modeling and 3D printing. It features a revolving plate and high-definition scanning in a portable and small form.
It is a wonderful scanner for a variety of modeling and printing scanning tasks for the price. It is perfect for collecting accurate and watertight 3D models because of the quality and software.
Uses:
With the MakerBot Replicator 3D printer, the scanner works perfectly.
The laser scanner captures all sides of your object using multi-scan technology and then blends them into a 3D representation.
The rotating plate can hold up to 6.6 pounds and supports an 8X8 inch scale.
Even on larger objects, scanning takes about 10 minutes or less, and the scanner's two Class 1 laser lines allow it to capture items with remarkable clarity and accuracy.
It lets you manipulate 3D models to improve, shape, twist, and animate pieces for unique effects, and it is simple to install and use.
Because of its existing line of printing equipment and its versatile and sophisticated 3D modeling software, it is an excellent choice for many scanners.
Its software enables you to fully capture and edit watertight models prior to printing or modeling.
PROS:
Extremely compact
Excellently designed
Is capable of creating some incredible scans
Renders in a lightning-fast manner
CONS:
The scans it generates are done on a turntable/stationery model
NextEngine Ultra HD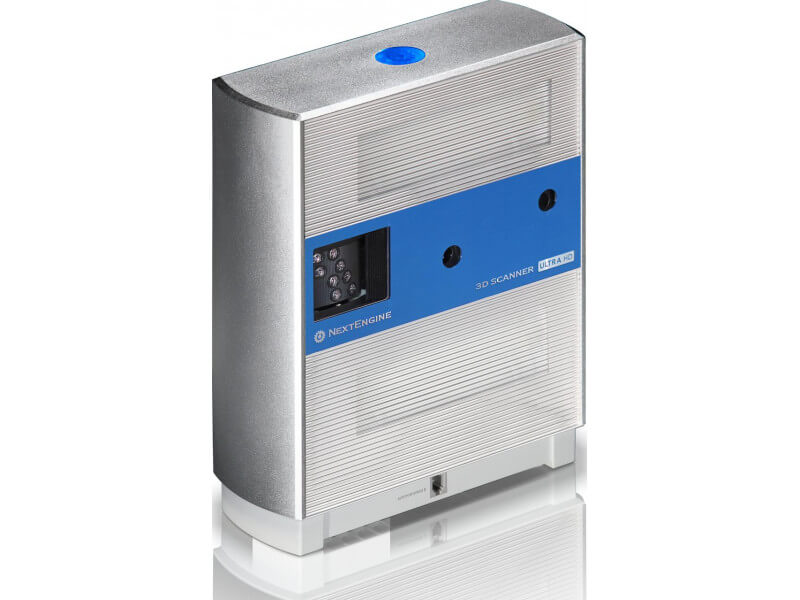 This is a fantastic 3D scanner from NextEngine. The device stands out from the rest on the list since it has an automated turntable. When scanning larger objects, you can complete the scan without using the turntable.
The scanner is also excellent at catching colors and textures, and it is quite inexpensive compared to other devices in the same category.
However, you may have to compromise on the scanner's speed. Scanning an object can take up to 10 minutes. Many people can live with that because the printer is inexpensive and comes with some of the best features not seen in printers in a comparable price range.
Uses:
The Ultra HD NextEngine 3D can achieve 0.1mm resolution. It also has built-in lighting, which makes it stand out.
Smaller objects are clamped in place beside a metal rod, while larger objects can be placed on a larger rotating platform, which serves as the scanner's distinct base part.
Scanning speed is determined by the object's complexity. Basic designs can be scanned in two minutes, while shapes that are more complex can take up to 30 minutes for a complete 360-degree scan.
Its ScanStudio software is excellent for novices, as it automates many tasks, including light corrections.
You may also save your work in a variety of formats, including U3D, OBJ, STL, and VRML.
PROS:
0.1mm spatial precision
A wide-angle lens is used.
CONS:
Without pretreatment, dark, translucent, or shiny surfaces and objects cannot be 3D scanned.
What Are You Hoping To Accomplish With The 3D Scanner?
Before you start scanning, think about where you want to use it. Would you like to use it inside or outside? You will need a hand-held scanner if you are scanning outside, for example.
Furthermore, no scanner that uses the fringe projection technique is suitable. This response to light sources from the outside, such as the sun. As a result, the scan results are skewed.
Budget
In the field of 3D scanning, there is a rule of thumb. It is said that the more expensive the 3D scanner is, the larger the object is and the further away it is from you.
3D scanners come in a variety of price ranges. A budget of $1,000 should be set aside for high-quality scans as a starting point.
Flexibility
Another thing to think about is where you will utilize the scanner. A stationary desktop scanner, for example, will suffice if you just intend to use it in your office. Stationary gadgets are typically less expensive.
However, if you wish to scan objects outside of your office, you will need a handheld 3D scanner. These scanners are lightweight and portable, allowing them to be moved anywhere. A few devices that are considered desktop devices yet are still portable are also available.
Accuracy
The more precise the outcome should be, the smaller the scanned object. When scanning buildings, for example, a coarse-resolution 3D scanner is frequently sufficient. However, for a toy producer, the tiniest details can make or break a product. Consider how precise the scan should be for you.
We recommend a 3D scanner with Structured-Light technology for extremely precise and comprehensive scans. If accuracy is important to you, pay close attention to the device's resolution.
Speed
The majority of 3D scanners are quick and dependable. You can obtain your first photographs in a matter of seconds. However, there are certain exceptions. If the speed of the scanner is crucial to you, you should consider this when purchasing. However, keep in mind that speed does not always imply precision.
Size of the Object
Because there are significant differences in what a 3D scanner can achieve, you should consider whether you want to scan tiny or large things ahead of time. By the way, 3D software may also be used to integrate many 3D scans into a single huge model.
Frequently Asked Questions (FAQs)
What Is 3D Scanning And How Does It Work?
3D laser scanning is using laser light to digitally capture and measure the intricacies of actual settings or things. A laser scanner fires high-speed light pulses at objects, which reflect and return to the scanner's sensor.
3D laser scanning equipment provides more precise representations of a particular location while also reducing the risk of human mistakes. The more scans you perform, the more accurate the results will be.
Who Can Take Advantage Of 3D Laser Scanning?
Architecture, engineering, construction, facility management, forensics, Petro-Chemical, and oil & gas are just a few of the industries that benefit from 3D laser scanning.
Will The Object Be Destroyed By 3D Laser Scanning? What Kinds Of Things Can Be Scanned?
3D laser scanners employ non-contact, non-destructive technology to scan objects without damaging them. A laser beam is emitted by the scanner, which reflects off things and returns to the scanner's sensor.
Scanning is possible for a wide range of things. Some objects may require additional scans to obtain sufficient information due to their unusual angles.
Even in the dark, 3D scanning is mostly employed for things with complicated shapes and curved surfaces. Traditional measurement methods such as gauges, calipers, and coordinate measuring machines are ineffective in these instances due to the large amount of data required.
What Exactly Are Point Clouds, And Why Do They Matter?
As a collection of coordinates, point clouds represent spatial data. They provide data sets for people to visualize and analyze 3D data. In other terms, point clouds are points in a 3D sequence that reflect an environment or item that has been digitally scanned for improved visualization and analysis.
Conclusion
3D scanners are being used in a variety of applications, and the possibilities are expanding all the time. With the use of 3D scanners, a lot of labor that used to take days may now be completed in a matter of minutes. This has made it possible to have a well-organized and straightforward process.
"What is 3D scanning" is a question that is being asked by an increasing number of people. It is because of its numerous advantages, which are not confined to only a few apps, but to a large number of users from various sectors. Many tasks may be accomplished with the help of 3D scanners.