What can you print with a 3D printer? This is one of the questions that often arises in the mind, isn't it? So, if you are wondering about this question and looking for cool 3D printing ideas that you haven't yet encountered.
You have come to the correct place. Below is the list of all such cool ideas which were ideas once but are currently things to make with a 3d printer. So, check it out.
25 Things to Make with a 3D Printer
Below is the list of things to make with a 3D printer that you'd wish to make back then if you had a 3D printer.
A Sliding Name Plate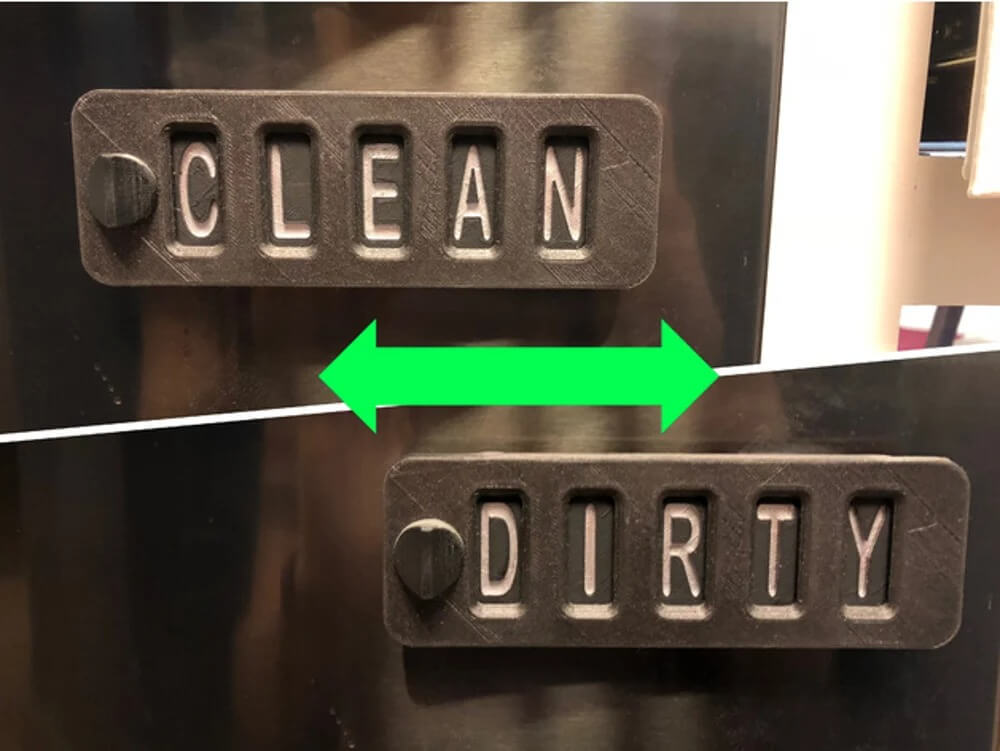 I really don't know about you, but we have never come across a nameplate that slides.
Due to the general use of nameplates i.e. on the door of someone's house, we have forgotten that a nameplate is also used as a sign for restaurants to indicate whether they are open or not.
They can also be used anywhere to indicate people about someone's presence or absence. A Sliding nameplate is one of the most stylish things to make with a 3D printer.
Thingiverse has the 3D file which can help you 3D print this and if you are looking for the complete part, you can get it on Middlefingerboss.
Measuring Cube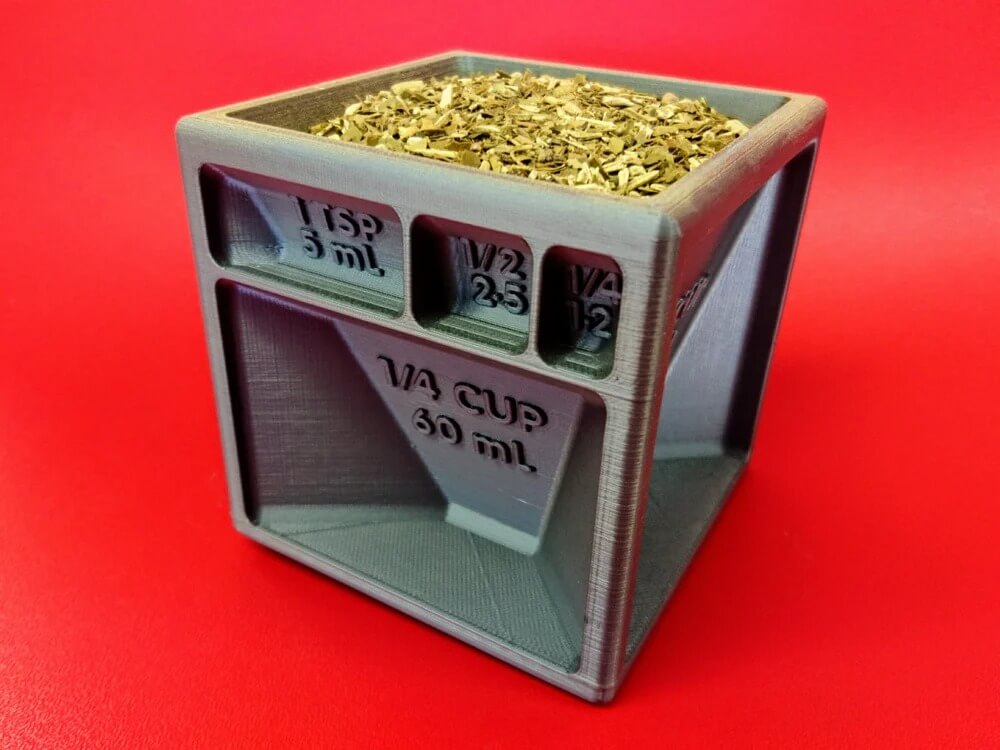 Often in cooking, there are different things that are used to make sure the measurement of the ingredients is correct.
Spoon or bowls are used since old age to measure, how about a cube made up of 3D printer that can do the same work, or even better?
Specially used for kitchen one can get the measurements imprinted on it (i.e. a quarter, or a half or a full). So, if you want to use this in your kitchen, go get it from Iomaa.
And for downloading a 3D print of the same, go to Thingiverse. Measuring Cube is one of the most essential things to make with a 3D printer.
Sound Amplifier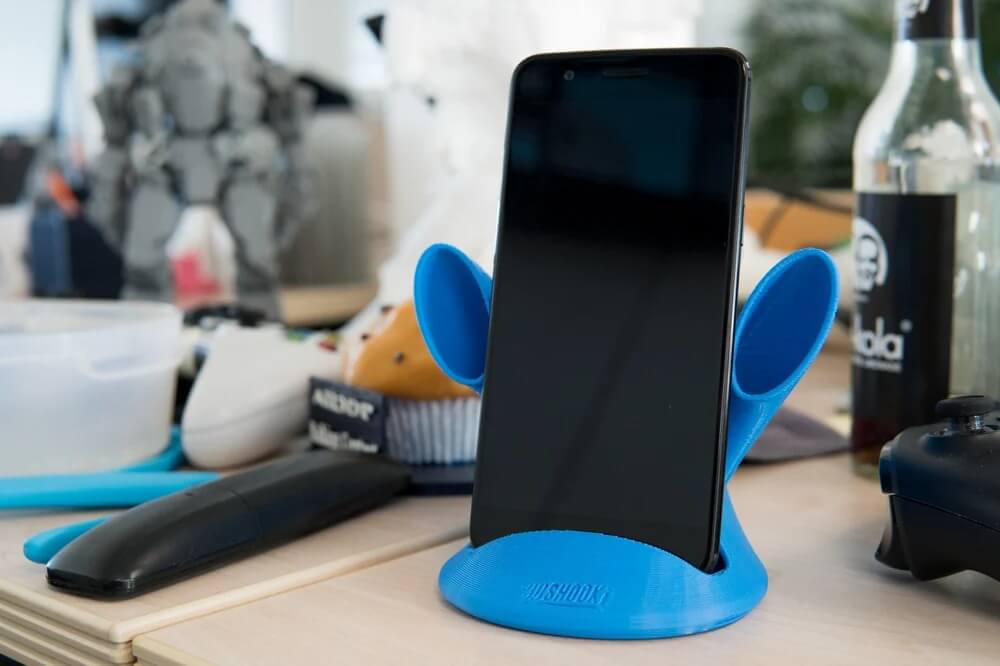 Who doesn't want to attach his/her phone to an amplifier for hearing music aloud? An amplifier can be used on multiple occasions. It could be a party, a get-together, for a special work out at home and whatnot.
These sound amplifiers enable are low cost than speakers and they can be 3D made. If you want to check out the different designs, you can go to 3D shook and also download a 3D file from Cults3D.
Pen-Pencil Holder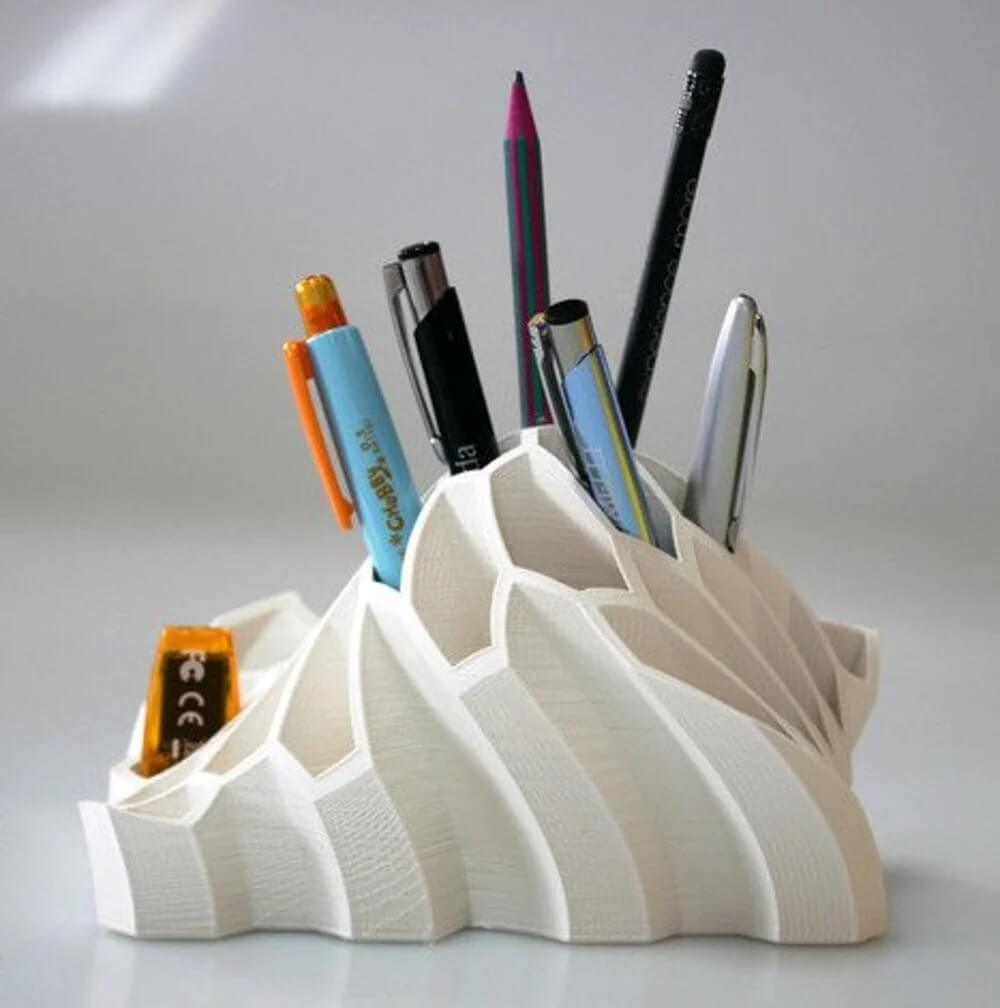 Remember those days when the pen-pencil holder was actually invented for the first time? Everyone wanted to make a customized pen-pencil holder.
But in those days it wasn't possible, and if it was possible, it wasn't practical. So here is a solution to revive your old days.
Check out the latest pen-pencil holder available at BeeVeryCreative and 3D print available at Cults.
Revive the thoughts that you couldn't fulfill and get a customized pen-pencil holder that has a structure of an iceberg.
USB Wire Organizer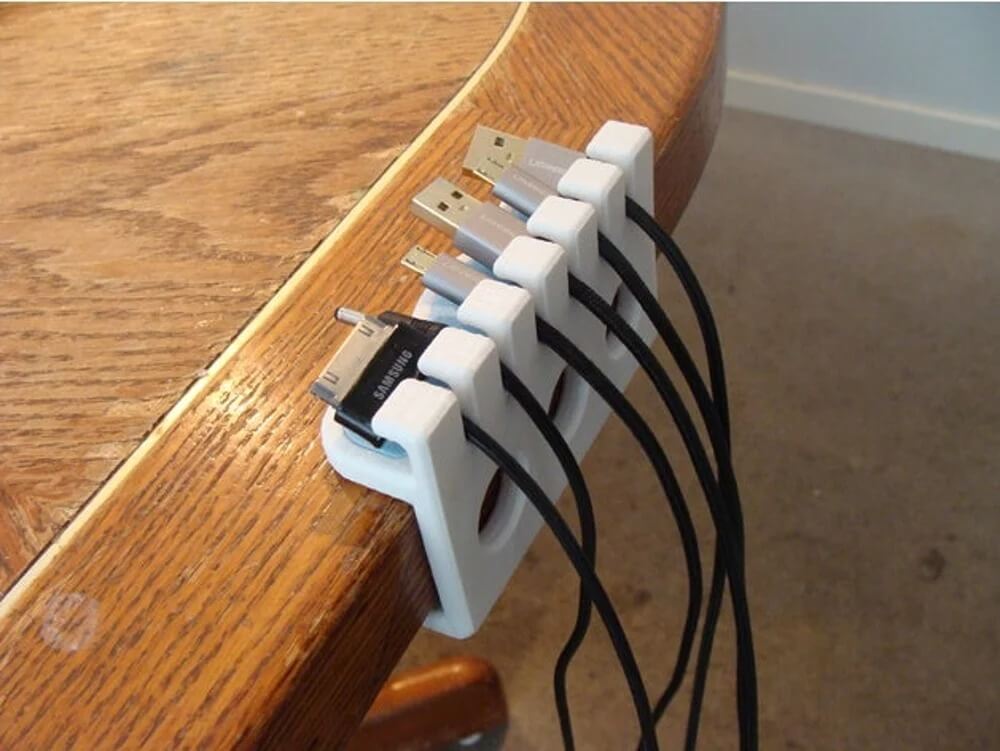 Working with USB wires is simply going to grow. Our phones, our hard-disks everything operates on USB. So if you are someone who is constantly working with his/her computer, you have got to check out this USB wire organizer.
The best thing about it is that it won't let you fed up when you take out or plug in your USB because it keeps every wire differently and has different slots for each.
You can also use this when your USB wires are not at work. In choosing one USB from the other, this is a time saver. You can get this at Kanata and download the 3D file from Thingiverse.
Refrigerator Storage Box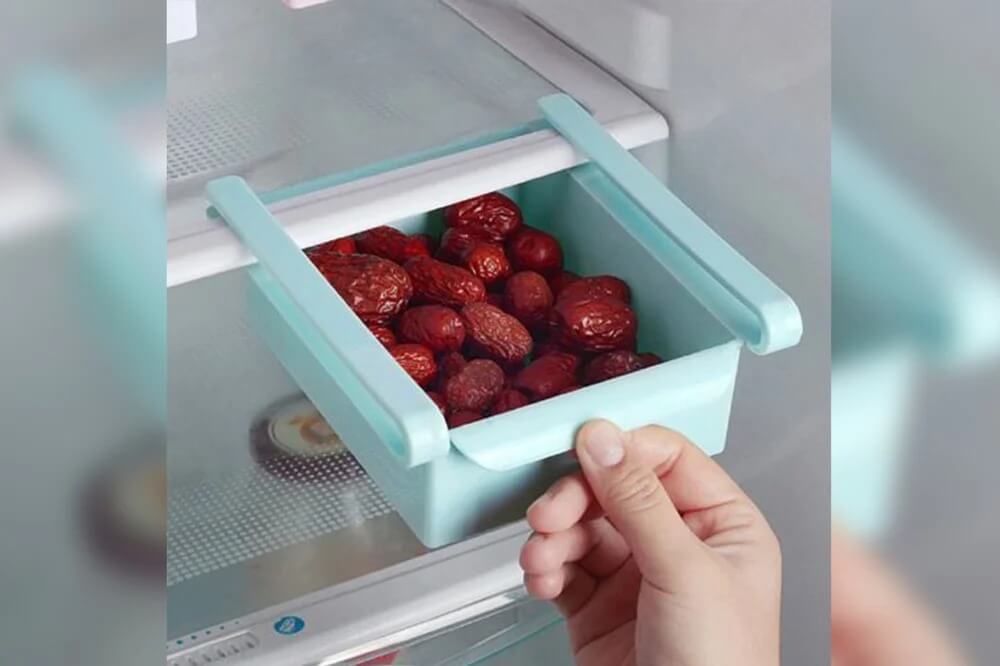 Although refrigerator makers are aware of how unorganized we are and they have tried to supply us with what they think are enough number of storage boxes, we always need more.
This refrigerator box made by Cerega can help you organize your refrigerator very easily. The need for one or two boxes in your current refrigerator can be brought into place by these boxes.
One can download the 3D print file from Cults. Refrigerator Box is one of the most fascinating things to make with a 3D printer.
Headset Holder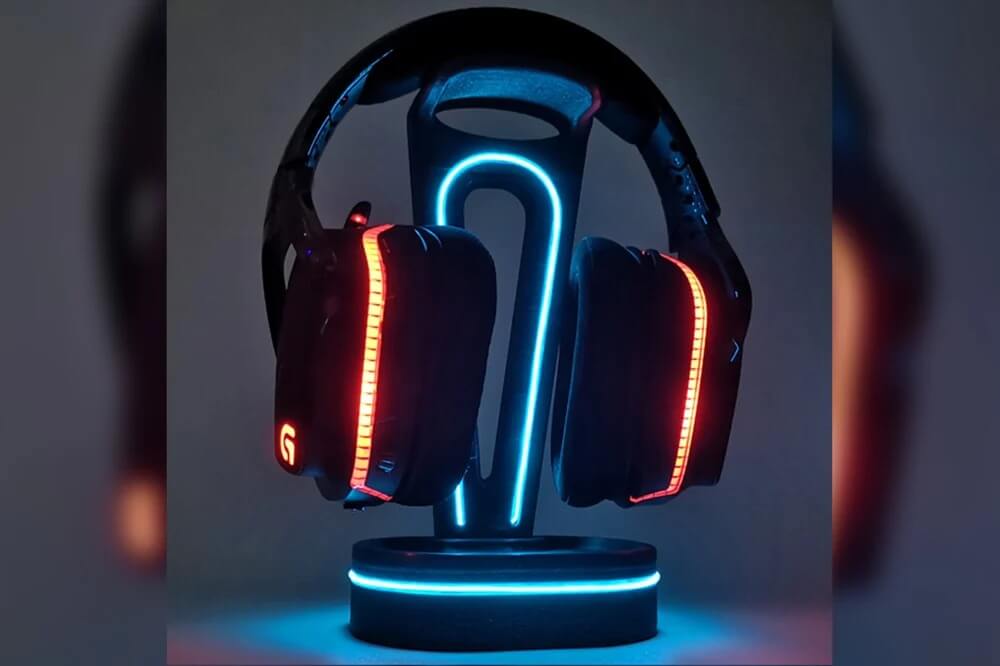 Made by Heliox, this is probably the coolest thing on the list. A headset holder is something that's not offered by every brand that offers a headset.
Mostly what we do is we wound the huge wire that we have with our headset, to the headset, and keep it somewhere safe.
But this cool headset holder would let you keep your left and a right apart from each other and the wire. One can download a 3D print file of the same from Cults.
Mechanical keyboard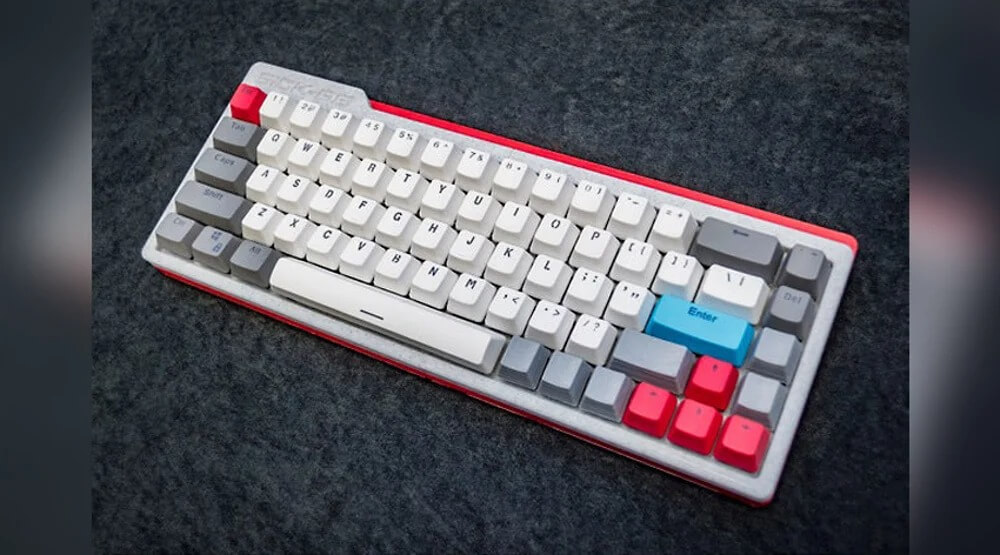 Notice one thing, all the keys on the keyboard are always of the same color. Can't they be different?
Following this idea, FedorSosnin has taken into consideration making the keyboard more attractive than what it currently is! You can also get the 3D file of this keyboard on Thingiverse.
Egg tray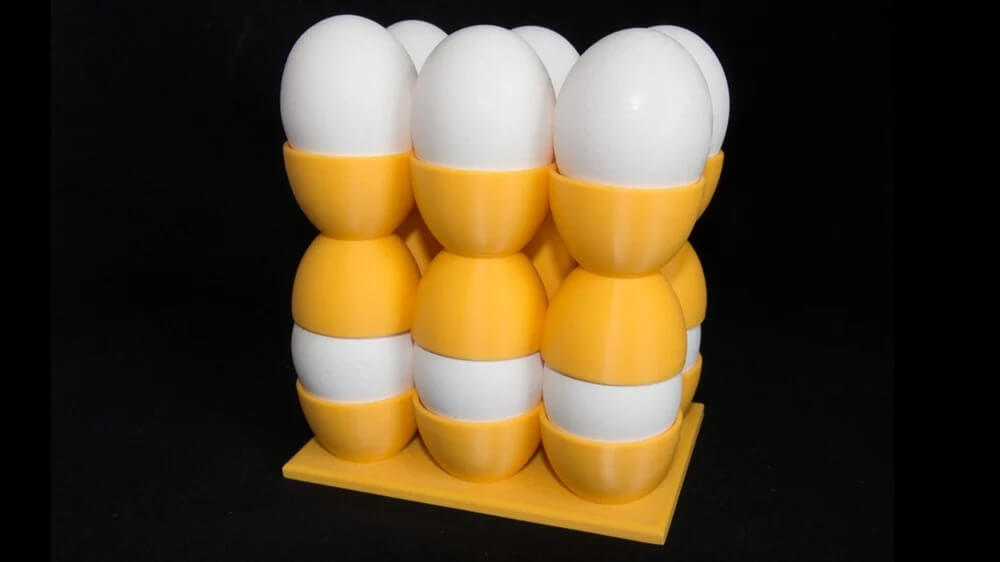 Foodies out there, give me a yes! This product will let you keep your eggs arranged. The egg tray is made up of Jakwit and the 3D print file of this product is available for download on Cults.
Pinhole Camera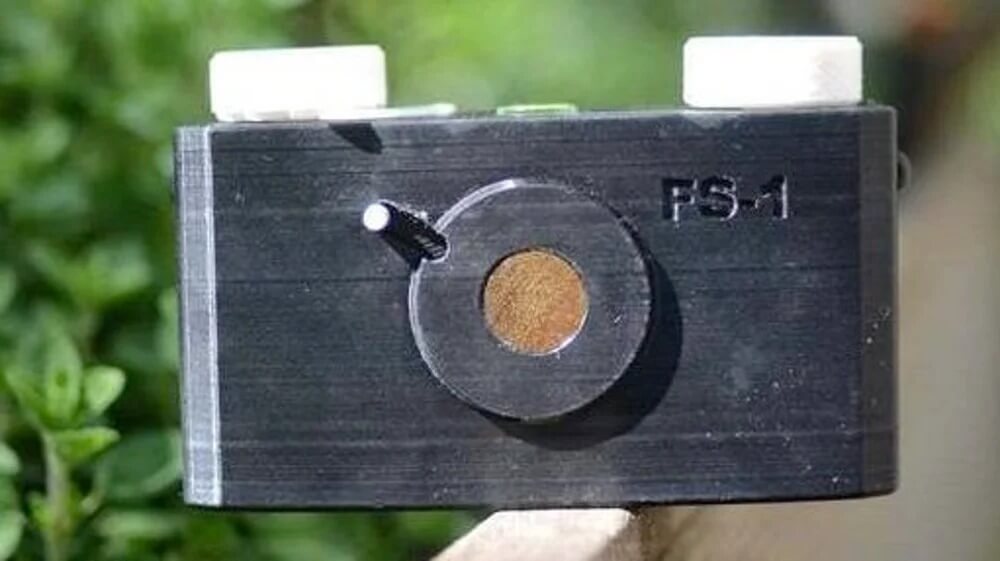 Nowadays an excellent camera is just available on one's smartphone but an unusual and more artistic approach can be taken for photography. Yes?
Have a look at the pinhole camera that is available on Simi-boy. The 3D print of this file is available on Cults. This proto-camera doesn't need a lens, but it lets the light through a tiny aperture enter in.
The so-called pinhole then exposes to an analog film. There are several 3D printable models to be found of these parts, but none is like the one that's available on Simi-boy.
Glass with a Straw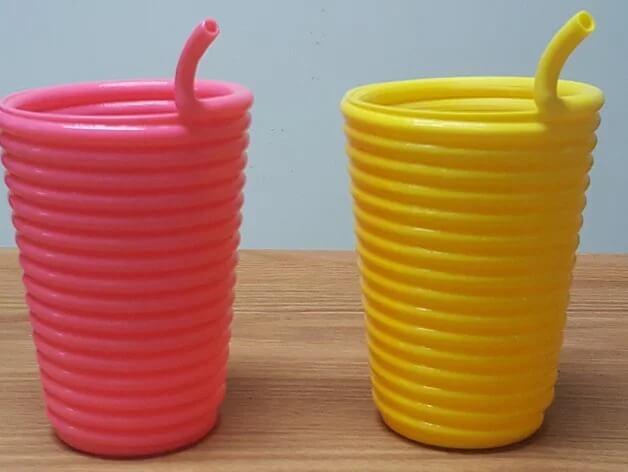 For all those who forget to get a straw whenever they get a glass, here is the solution. This unique 3D part has a straw attached to the glass. Available on SeeMeCNC, the file can be downloaded on Thingiverse.
Lantern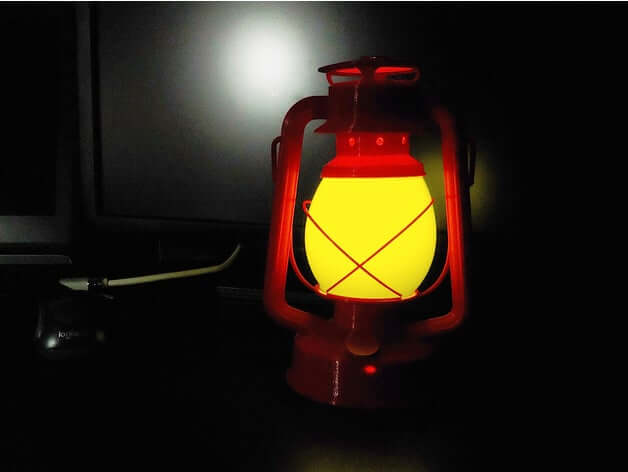 Haven't seen the light providing lanterns for long? Here is one to deceive you to the extent that you'd put kerosene in it.
But don't you dare because this one does not run on Kerosene and uses a LED. This 3D part is available on iSolid and can be downloaded from Thingiverse.
Toilet paper with a phone holder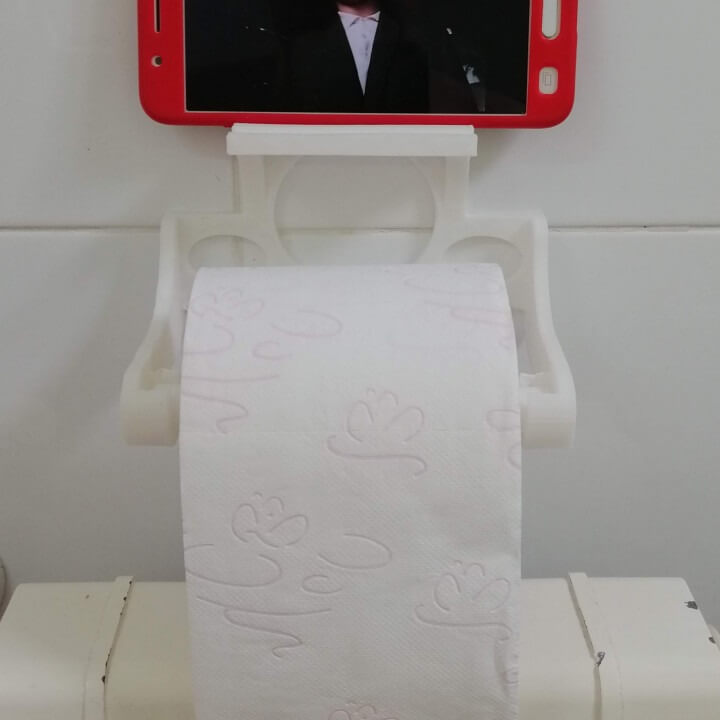 Nowadays almost everyone gets into a toilet with their phone in their hand. While in the toilet, often you search for the correct place to place your phone.
The maker of this part has very well realized this and therefore tried to come up with this solution.
This simple toilet paper integrated phone holder can solve your problem and enable you to handsfree yourself. This part is available on Myminifactory and the 3D print file can also be downloaded from the same website.
A planter that self-waters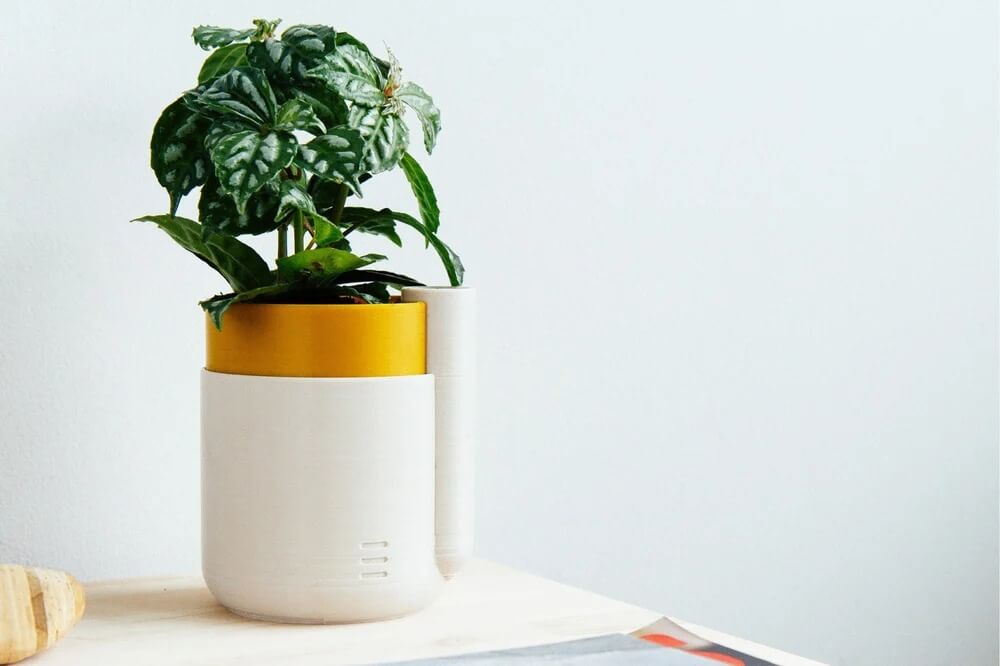 Having a plant at your home and forgetting to water it, is a common mistake. This self-watering plant is made up of two parts: 1) inner pot that takes care of holding the plant and 2) the outer part that has water in it.
The perforations permit for continuous water intake. It is to be noted that continuous flow is not in the amount that can be damaging to your plant.
The outer pot also has a spout that can be used to check if the reservoir needs any water intake for further flow. Isn't this one of the most amazing things to make with a 3D printer?
Cults3D has the 3D file by which you can print this part, whilst Yeggi has the part for sale.
Earbud Holder
Not just our headphones are badly placed, but our earbuds also. Sometimes they are in our bags, the other time in a drawer that you don't remember.
Why don't you get a permanent place from them? Like books are always on the bookshelf? There are plenty of options that are available when it comes to earbud holder that is 3D printed.
Find out the most effective model for yourself. The design of this part can be downloaded from many websites such as Makexyz, Thingiverse, and the part that can be bought from yeggi.com.
Soldering iron stand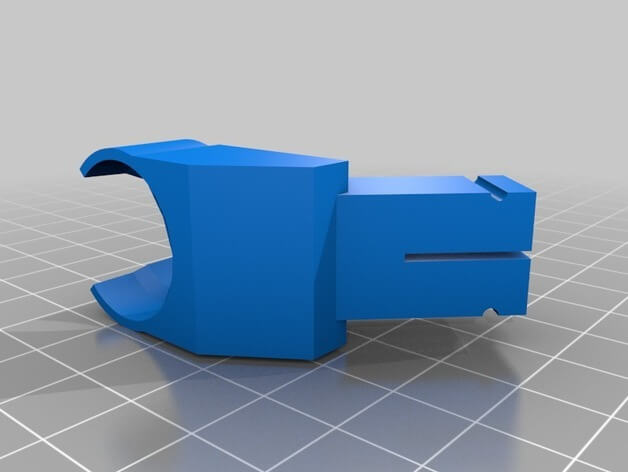 If you have ever played with electronics before, you are probably known with the problem of having nowhere to keep up your soldering iron.
This 3D printed soldering iron stand will let you place even hot soldering iron. This part is as simple as it looks, one needs to make sure that he/she rescales the model depending on the size of your own soldering iron.
The 3D file of this object is available at makexyz.com and the part is up for sale at Yeggi.
Meander Lamp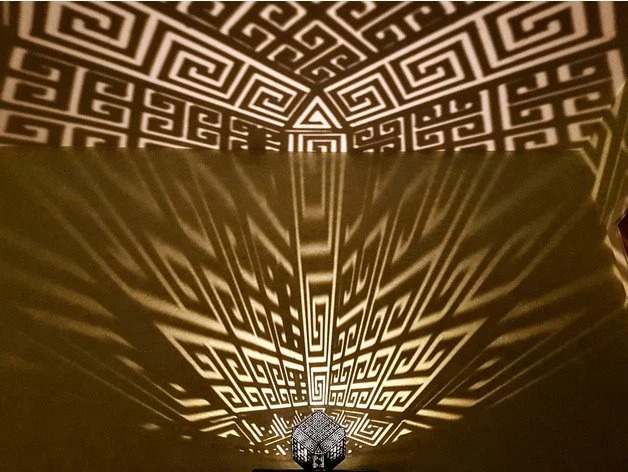 There are thousands of 3D printer lamp designs that are available online, having to look through every one of those is very tiring.
Though, when a design with such intricacy and precision comes around, it has to catch our eyes. A Greek meander lamp is a multi-piece design that has amazing Greek-inspired patterns.
Every face of this lamp is printed flat and you shouldn't run into any problems after getting it from yeggi.com and the 3D print file from Thingiverse.
Showerhead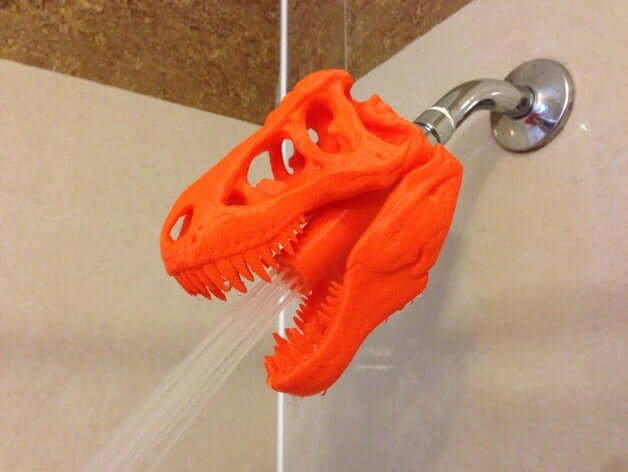 Bathing experience has always been so limited! You realize this when you come across some of the most amazing shower heads that are made by 3D printers.
If your kid shows too many tantrums for going to bath, this is an amazing way to get an attractive shower head for him.
So check out some attractive options that are available for showerheads and choose the best one for your home.
For getting a stylish showerhead goes to yeggi.com, whereas for downloading a 3D file of the same go to thingiverse.com.
Guitar wall mounts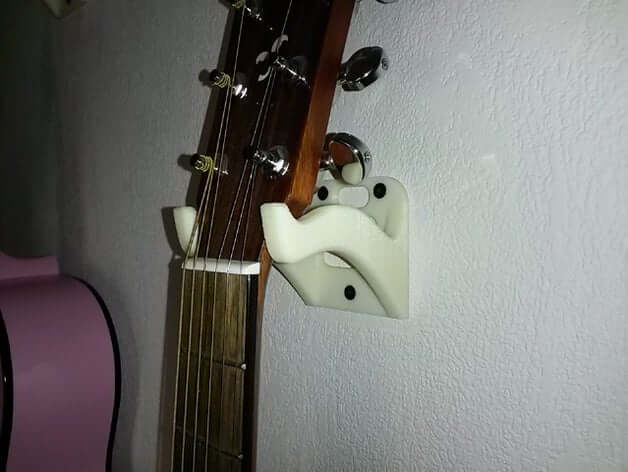 Your guitar wall mount can feature an amazing design that will let you stare at it from a distance.
Not only will it attract your eyes but also everyone and anyone who looks at it. Get stylish 3D printed wall mounts for your guitar from Thingiverse. And an STL file for download is available at STLbase.com
Dress
3D printing has found its application in the dressmaking, fashion clothing industry too. Several complicated designs that are not possible by handwork are made by 3D printing.
There's a 3D swimsuit that's available, which is 3D printed. There is a 3D printed helmet, almost any outfit can be made by a 3D printer.
These 3D printed costumes are quicker and cheaper in price than otherwise. i.materialise can help you get your first 3D dress, whereas if you only wish to download a 3D file of this, you can do that from sculpteo.com.
Toys
Make your child play with designs of choice that you wished to play with. Or to impress your kid, just ask a design that he wishes to play with, something that his/her friend does not have. And get it 3D printed for your child and win his/her heart.
There is an application called ThingMaker that allows you to do this. This device works in collaboration with a 3D printing app that is developed in connection with AutoDesk.
This comes with a variety of templates that has easy tutorials for even a layman to benefit from this application. Go check the toys out on pinshape.com and if you wish to download the 3D file, go to Thingiverse.
Bag clip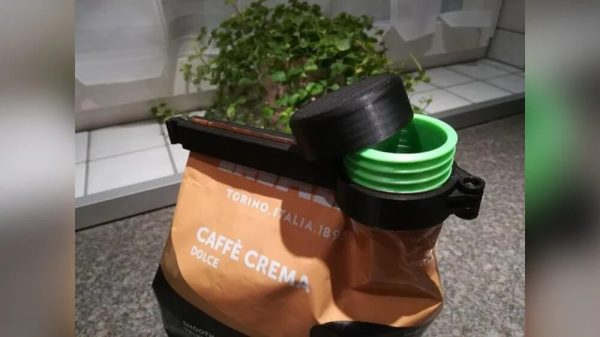 Let me guess… You eat chips and then you wish to keep it in the same bag that it came, but you cannot do so because you have opened it in such a way that you cannot use it.
Here is a bag clip that is a solution to your habits. It can help you seal what's non-sealable.
Surely this bag clip can also be used in other places at other applications in the kitchen, but for starters getting rid of your old clip can help. You can download the 3D file of it from Thingiverse and get the part in real from yeggi.com.
Food
If you are a foodie, you have to see this 3D printer which can create a pizza, ice cream, or candies. 3D printed food does not contribute to global warming and that's why it's more sustainable.
Designed by a Dutch student, this printer was developed as her project. If this comes out to be true, you'd be having food as one of the things to make with a 3D printer. Fingers-crossed.
Memory Card Case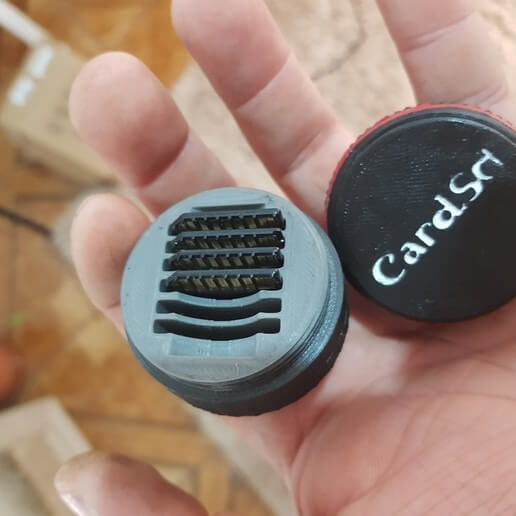 If you have lots of memory cards, you have to keep them collectively. A 3D printer enthusiast has come up with a card case that can let you keep all your memory cards in one. Get a stylish card case on yeggi.com and a 3D print file of the same on Cults.
Egg Separator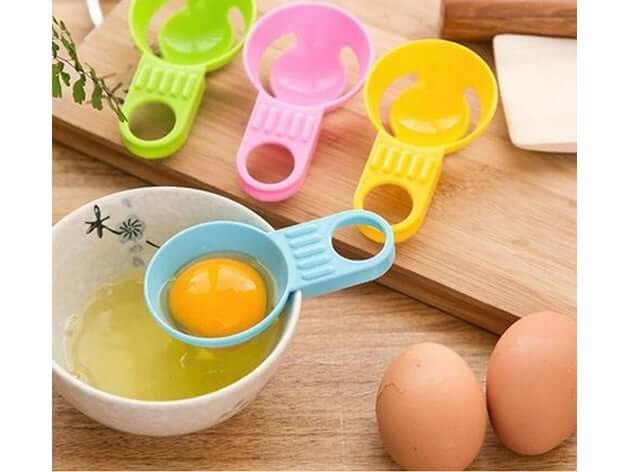 Very often separating the egg from the yolk is difficult. To ease your difficulty, this 3D printed part lets you separate the egg from its yolk. You can download the file of this part from the Thingiverse. And if you wish to get the part, it is available on Yeggi.
The Conclusion
There are innumerable things to make with a 3D printer. This technology of additive manufacturing is still growing and has huge probabilities.
So, experiment with new ideas, always look for something different and grow your knowledge by learning about what can you print with a 3D print.