3D printing is the process of the fusion of thin layers of material to create physical objects. Since this process requires the laying down of successive layers of materials until the object is created, it is also called additive manufacturing.
The devices used for 3D printing are called 3D printers. 3D printers are CAM (Computer-Aided Manufacturing) devices that create three-dimensional objects from a digital file.
Three simple steps are required to visualize your dreams using these printers, which are:
Import the 3D model into a 3D Slicer
Start printing with your printer
The best part about 3D printing is that it enables you to produce complex shapes using limited materials as compared to traditional manufacturing methods, thus, converting your amazing vision into wholesome realities.
3D Chocolate Printers
There is a saying that anything is good if it is made of chocolate, but the question is that can we really create anything with chocolate to make it yummier?
The answer to that is an absolute yes! Thanks to 3D Chocolate Printers, the production of high quality and complex chocolaty designs is not more than an order away.
3D Chocolate Printers may not be scalable or fast, but when it comes to detailed and low-volume production of chocolate, it does not only make it look more delicious and appetizing to eat but also more delightful and appealing to display.
The working of 3D Chocolate Printers is similar to that of FDM 3D printers, but the difference lies in the fact that these printers use plastic cartridges filled with chocolate that you deposit using syringes, unlike FDM 3D printers that use plastic filaments.
The chocolate in the syringe is kept heated so that the printer could do the extrusion easily. The chocolate is then deposited layer-by-layer to create a delicious and intricate chocolate piece. Prior to printing, the chocolate cartridges and syringes do not interact with the environment.
This ensures that the printers are hygienic, clean, and efficient. It's best to use models that aren't too big and don't have any overhangs that would need support on an FDM or resin 3D printer.
Reduce the speed of your chocolate 3D printer if you are printing a complicated, intricate chocolate model to give the chocolate more time to dry and harden until the next layer is deposited.
Now comes the part we have all been waiting for, Bon Appetit!
Comparison Chart
| Name | Link | Nomination | Rating |
| --- | --- | --- | --- |
| ZMorph VX | | reliable | 9 |
| byFlow Focus | | Chocolate printing beast | 8 |
| Procusini 5.0 | | durable | 9.2 |
| Mycusini | | User friendly | 8.6 |
| MMuse | | Premium choice | 9 |
| Createbot 3D Food | | Easy to use | 8 |
| Foodbot S2 | | authentic | 9 |
| WiiBoox Sweetin | | User's choice | 9.2 |
| Choc Edge Choc Creator V2.0 Plus | | affordable | 8 |
| Chocoformer | | Printing friend | 9 |
Recommendations for Chocolate 3D Printers
ZMorph VX
Product
Specification
Videos

The modular design of Z Morph VX's detachable heads makes it a versatile printer that can be used by professional designers, engineers, and ...
| | |
| --- | --- |
| Model | VX |
| Manufacturer | ZMorph |
| Price Range | $ 2799 |
| Release date | 2017 |
| Country | Poland |
| Availability | Available |
| Classification | Desktop |
| Technology | Extrusion (FFF- FDM…) |
| Material | ABS, Ceramic, Edible, Other plastics, PLA |
| OS compatibility | Microsoft Windows |
| Generic material | Yes |
| XY accuracy | 0.014 mm 0.001 in |
| Max. build size | 250 × 235 × 165 mm 9.84 × 9.25 × 6.5 in |
| Max. build volume | 9.69 L |
| Min. layer thickness | 0.05 mm 0.002 in |
| Dimensions | 530 × 555 × 480 mm 20.87 × 21.85 × 18.9 in |
| Weight | 20 kg 44.09 lb |
| Nozzle diameter(s) | 0.4 mm 0.02 in |
| Heated print bed | Yes |
| Heated build chamber | No |
| Automatic calibration | Yes |
| Closed frame | No |
| Dual extruder | Yes |
| Independent Dual Extruder | No |
| Full color | No |
| LCD screen | No |
| Touchscreen | Yes |
| On-board camera | No |
| Mobile app | No |
| 3D scanners | No |
| CNC mill | Yes |
| Electronics 3D printing | No |
| Laser engraving | Yes |
| Conveyor belt | No |
| Air filter | No |
| Pellet extruder | No |
| USB | Yes |
| Wifi | Yes |
| Bluetooth | No |
| SD card | Yes |
| Ethernet | No |

This chocolate 3D printer can produce items using CNC carving, 3D printing, and laser engraving. This printer is easy to set up and use than ever before.
Uses:
Users can perform more complex and flexible printing with the printer's various interchangeable tool heads, paste extruder, and dual extruder, which means that you can print not only chocolates, but also various pastes of similar consistency, for example, cookie dough, icing, and so on.
This printer has a build volume of 250 mm x 235 mm x 165 mm and a layer resolution of 25 to 400 microns.
The printer supports FDM/FFM, CNC Mill, Laser Engraving, and Thick Paste Syringe printing technologies.
The tool head's material diameter is 1.75 mm and 2.85 mm.
The nozzle diameter that can be used in this printer is between 0.2 and 0.4 millimeters.
This printer's platform leveling can be achieved automatically, and it can be controlled with single or dual extruders.
Both the USB cord and the SD card can be used to connect to this printer.
This is the printer for you if you enjoy a variety of production methods and have always wanted a printer that can do more than one.
PROS:
CNC carving, laser engraving, 3D printing, and paste extrusion are all reliable options.
A printer that is easy to use.
Effective build volume
CONS:
Can only print with a limited number of filaments
byFlow Focus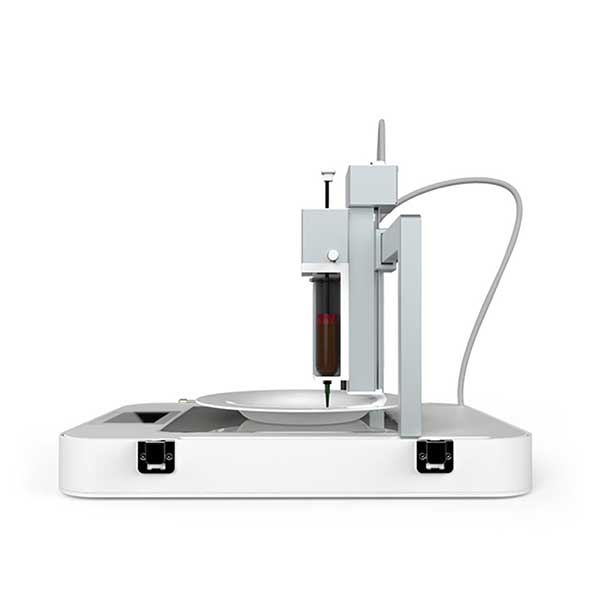 The byFlow Focus is a multi-material 3D printer manufactured by byFlow, a Dutch company. The Focus is capable of both edible and plastic 3D printing, with a variety of paste-type ingredients.
This is made possible by the 3D printer's interchangeable print heads. This food 3D printer, on the other hand, is primarily aimed at bakery professionals.
To make personalized meals, the Focus uses refillable cartridges containing any form of paste-type food. Users can also browse free recipes on the manufacturer's website, which they can display on the touchscreen of the 3D printer.
Uses:
The heated glass build plate on the Focus reaches 80°C.
On their website, byFlow offers a variety of recipes for the Focus. A recipe can be selected and sent directly to the 3D printer via Wi-Fi.
The Focus is foldable and, thus, is easy to transport.
This 3D printer has a straightforward and user-friendly guide.
There are nozzle sizes ranging from 0.3 mm to 1.60 mm open.
The 3D printer is housed in a lightweight and compact shell. You might be shocked to learn that the printer not only prints chocolates but also meat recipes.
The good news is that, as opposed to its competitors, the printer will print at a significantly faster rate.
The firm also makes available its pre-tested and pre-loaded 3D prototypes.
PROS:
Chocolate forms and patterns that are extremely precise and intricate
Excellent for corporate events and other business purposes
CONS:
Chocolates are slow to make, so they are only effective in small batches.
The temperature must be carefully regulated.
Procusini 5.0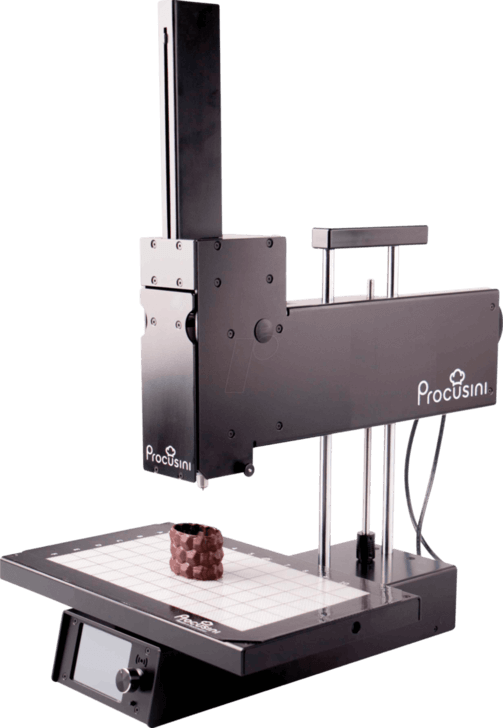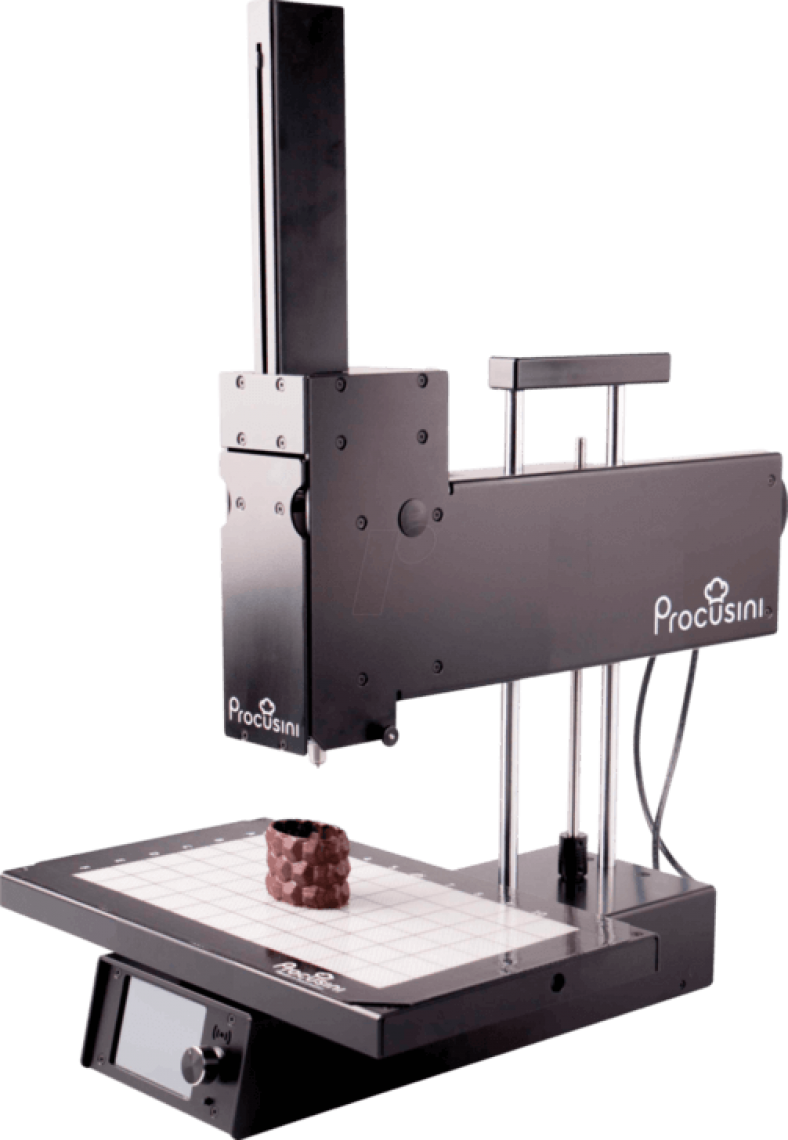 The company Procusini is based in Germany. It has also developed a multipurpose 3D printer that can print a range of foods.
The best thing is that the chocolate 3D printer is far less expensive than the alternatives. It just costs $2,250.
It advertises itself as a "universal plug-and-play printing solution." And there are valid explanations for this. You should experiment with recipes, such as spaghetti, fondant, and, of course, delectable chocolate.
Uses:
You can make your own paste. Just remember to keep the appropriate level of consistency. You can print anything possible with the 3D printer once you have the right mixture with the necessary consistency.
In addition, this unit comes with a dual extrusion system. This means that the printer can finish cooking more quickly. It can also print in two different color and mixture combinations.
In addition, the company has produced a number of videos and guides for those who are new to 3D printing but still want to make awesome dishes.
According to the specifications, the 3D food printing system's output area is 25 x 15 cm, which is twice as wide as the previous models. More than 80 filigree Choco-objects can be generated in series in only one working phase, according to the company.
The 3D printed models are shown in an impressive manner. The auto-update function and the operating concept have also been improved.
PROS:
Particularly precise and complicated chocolate shapes and patterns
For corporate activities and other business purposes, this is an excellent option.
CONS:
Chocolates take a long time to produce, so they are only useful in limited quantities.
The temperature must be kept under strict control.
Mycusini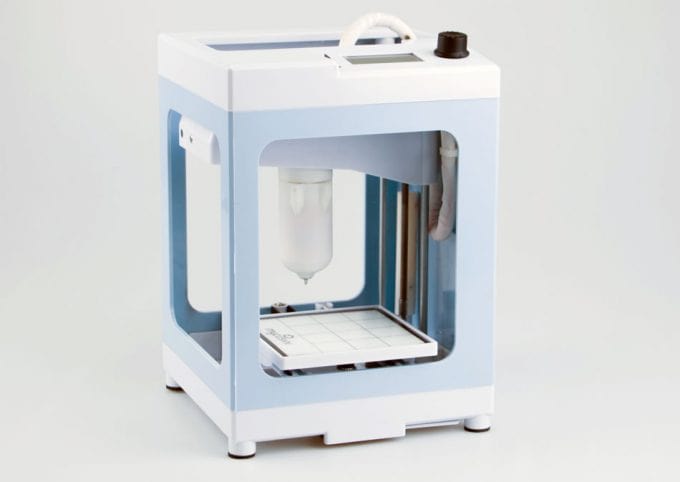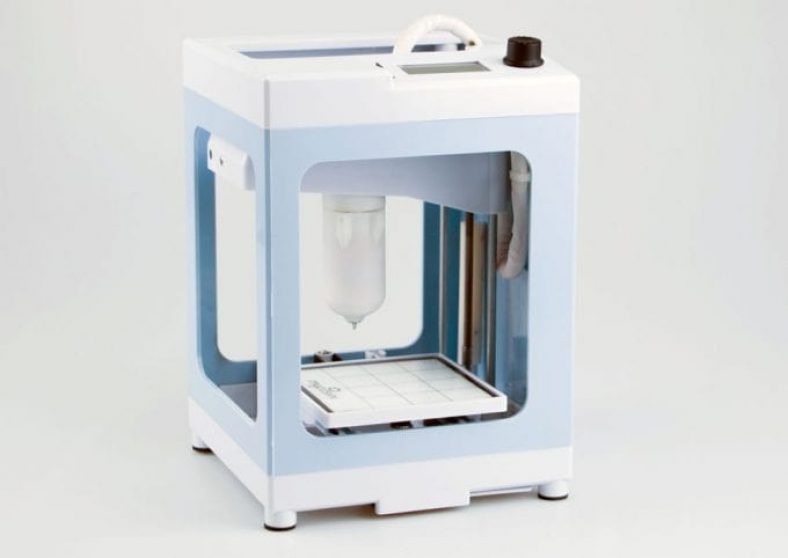 The 3D printer, released in 2019, has already set the bar high for several others to follow. The 3D Printer, a product of Print2Taste, a German start-up, comes with a slew of great features.
Uses:
The build volume of this desktop 3D printer is 105 x 105 x 70 mm.
Chocolate cartridges are used as the material for the Mycusini chocolate 3D printer.
The 3D printer is small enough to fit into a small kitchen room. When not in use, hold it on the counter or tuck it away in the cupboard.
The 3D printer received attention from the media due to its low price. It comes with a stainless-steel cartridge. It's possible to re-fill this with chocolate.
PROS:
It's easy to use and doesn't require you to have any prior knowledge of 3D printing.
Prints with precision
Prints from a large library
Mycusini Club allows you to print (almost) anything you want.
CONS:
Messy Refills are both costly and inefficient.
It is not possible to change refills in the middle of a print job.
MMuse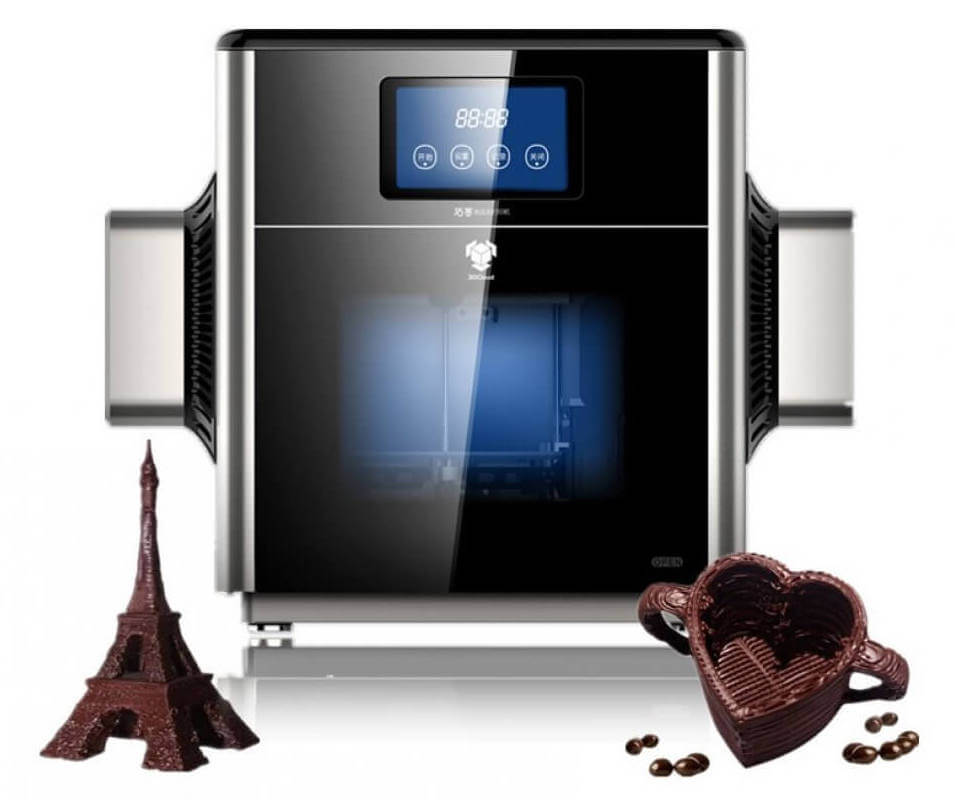 Mmuse's Chocolate 3D printer is a food 3D printer produced by Mmuse, a Chinese company. This 3D printer is one of the most durable on the list, thanks to its robust aluminum frame. The feedstock for the MMuse Touchscreen is stored in a hopper device.
Uses:
Strong chocolate beans are used as 3D printing material in this aluminum 3D printer. The diameter of these beans is about 2 to 4 mm. The chocolate beans must first be inserted into the food 3D printer. The 3D printer heats up, melting the chocolate, and prepares it for extrusion.
A touchscreen is included with the Chocolate 3D printer for a more intuitive user experience.
The nozzle on this 3D printer is also easily removable, which makes cleaning easier.
You get a variety of networking options, including Wi-Fi, SD cards, and USB.
The print volume of 160 x 120 x 150 mm and a print volume of 160 x 120 x 150 mm
Comes with a range of ready-to-print chocolate styles
PROS:
Particularly precise and complicated chocolate shapes and patterns
For corporate activities and other business purposes, this is an excellent option.
CONS:
Chocolates take a long time to produce, so they are only useful in limited quantities.
The temperature must be kept under strict control.
Createbot 3D Food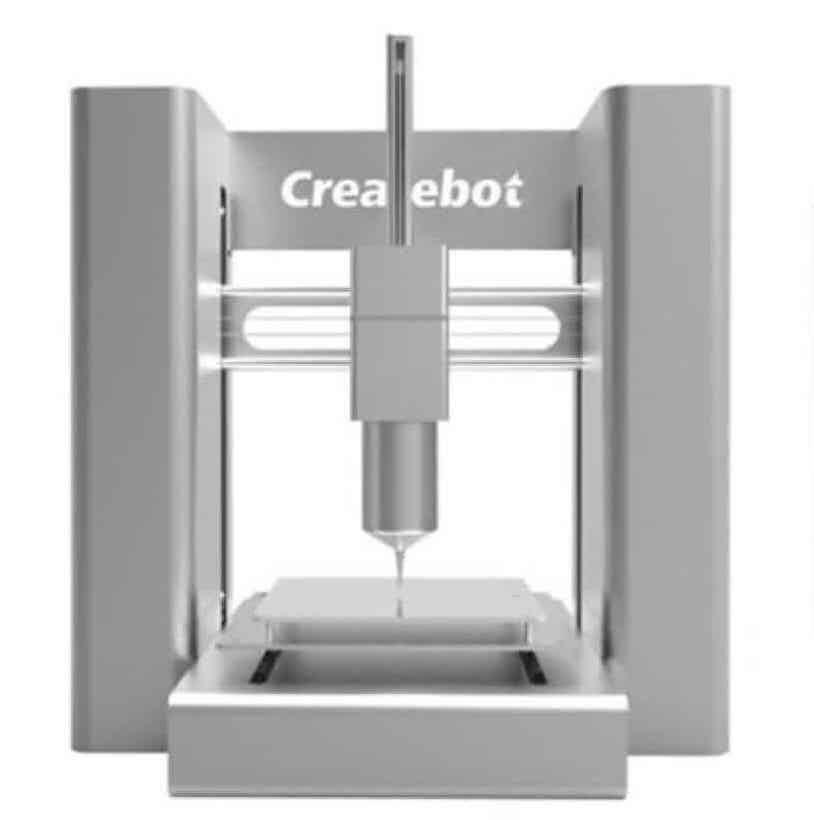 This model has a metal frame, making the whole concept even more refined and durable. It doesn't just print chocolates; it even prints with a variety of recipes and pastes.
Cookie batter, mashed potatoes, and, yes, chocolate can all be printed. It does a fantastic job of carrying other pastes.
Uses:
You can adjust the print head temperature depending on the paste used for printing.
With WI-FI networking, you can use this 3D printer with a variety of devices, such as laptops, computers, and even cell phones.
When you buy this 3D printer, you can choose from a variety of colors.
With a print volume of 150 x 150 x 100 mm, this printer can accommodate a large number of recipes.
There will still be more space for imagination as long as it can print with different materials, which makes it versatile
PROS:
Cooking with edible 3D printing takes less time than conventional cooking.
Users may customize their food using 3D printing for special occasions or simply to suit their mood.
CONS:
Food 3D printing, like any other form of 3D printing, has the potential to fail.
The 3D printing method does not cover every step of preparing a meal.
Foodbot S2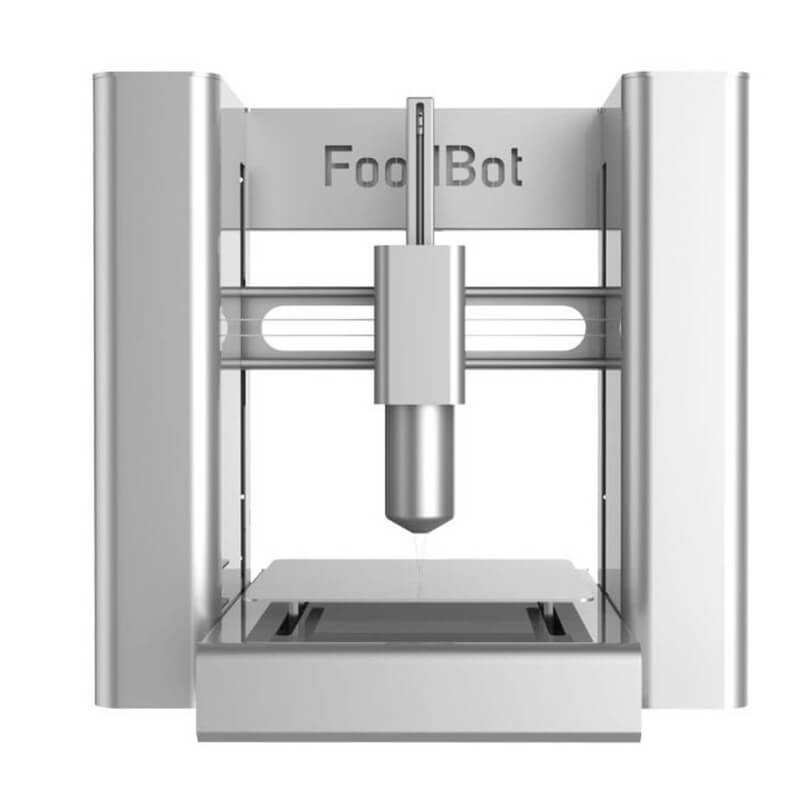 The Foodbot S2 review is becoming increasingly common, not only among professionals but also among individuals.
The Foodbot S2, much like standard desktop FFF (FDM) 3D printers, uses extrusion 3D printing. Food 3D printers, on the other hand, use food paste-type ingredients rather than plastic.
Chocolate, pancake batter, and cream are the most popular ingredients, but there are several other options (including pizza!). They are typically 3D printed layer-by-layer using a syringe-like extruder.
Uses:
The current speed of the Foodbot S2 Multi Ingredient Food 3D Printer specification may be adequate for home use, but it is insufficient for mass production.
Food color, taste, and texture are all important factors to consider when creating an edible product, so most food printers would help multi-material printing
Downloadable software that allows you to create any model you want.
Printing speed and temperature can also be adjusted.
Food does not come into direct contact with the system, ensuring food safety.
Comes with a U-disk used to export designs and print models
More than ten ingredients, such as biscuits, chocolate, cheese, and jam, can be printed.
PROS:
Saves time
Customized designs can be created
WiiBoox Sweetin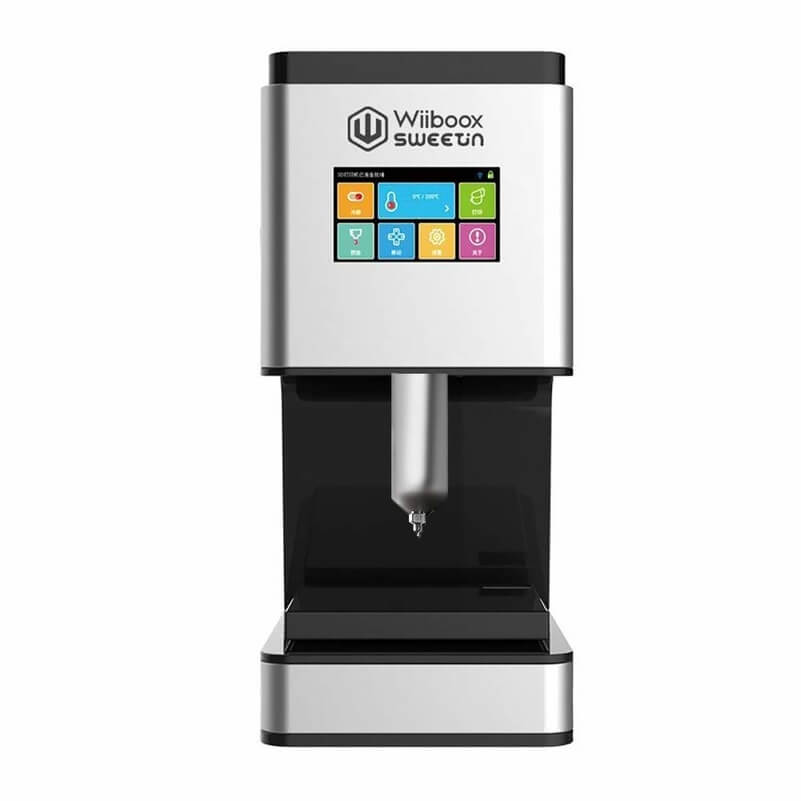 Definitely one of the most affordable chocolate 3D printers, both in terms of price and ease of use, not only can you download any STL files or design your own 3D CAD models, but the WiiBoox Sweetin also comes with a slew of its own models to print right away.
Uses:
As with the FoodBot S2, the accuracy of 100 microns is adequate for all but the minutest details.
A 0.6mm nozzle and comes with its own slicer, but you can use other slicers if you prefer
Some owners advise leaving the chocolate prints to stand for about 10 minutes after printing before attempting to remove them, allowing the chocolate to cool and solidify.
Overall, it is the most affordable chocolate 3D printer we recommend, with excellent accuracy and hygienic printing.
PROS:
Cooking with edible 3D printing is faster than traditional cooking.
Users can use 3D printing to customize their food for special occasions or simply to suit their mood.
CONS:
Food 3D printing, like any other 3D printing method, has the potential to fail.
The 3D printing method does not cover every step of meal preparation.
Choc Edge Choc Creator V2.0 Plus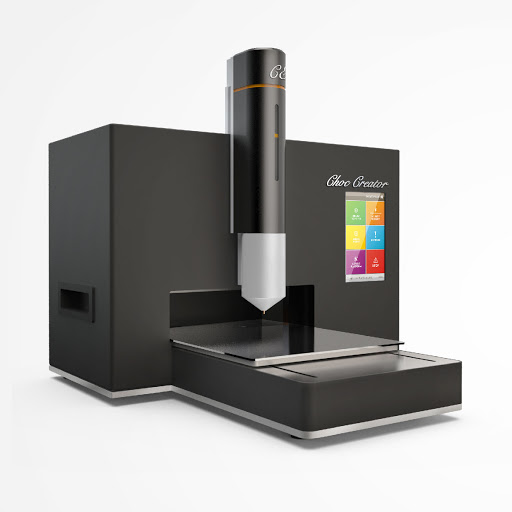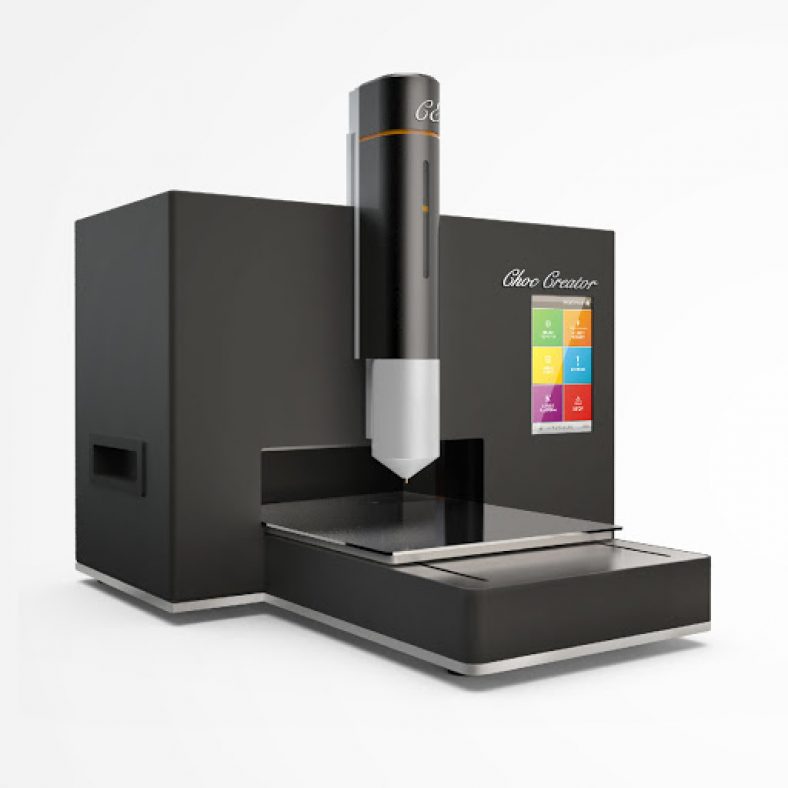 The Choc Edge Choc Creator V2.0 Plus is a chocolate-printing food 3D printer. Choc Edge, a UK-based manufacturer, creates the Choc Creator.
This food 3D printer is primarily aimed at professionals in the confectionery industry, but it is also suitable for all chocolate lovers.
It comes with stainless steel chocolate syringe with a capacity of 30 ml. Two nozzles with a diameter of 0.8 mm, each with its own cleaning needle and magnets that are used to hold the paper in place. The printing platform can be covered with plain baking paper.
Uses:
There are five loading heads.
This printer features a syringe loading system. You have to insert tempered and heated chocolate manually into the 30 ml syringe of the 3D printer. To keep the chocolate warm, the barrel containing the syringe can be heated.
Cleaning is required after printing food: users must remove the syringe, squeeze out the remaining chocolate, and clean the syringe and nozzle with soap and water.
The CHOC DRAW, MIX & MATCH, and CHOC TEXT mobile apps allow users to draw and write on their chocolate 3D prints.
ChocPrint, a proprietary slicing program, is also available.
A large touchscreen provides an easy-to-use user interface.
PROS:
Cooking with edible 3D printing is more efficient than traditional cooking methods.
Users can customize their food for special occasions or simply to suit their mood.
CONS:
The assembly of the extruder should be as rigid as possible.
Chocolate 3D printing necessitates the use of an efficient active cooling system.
Chocoformer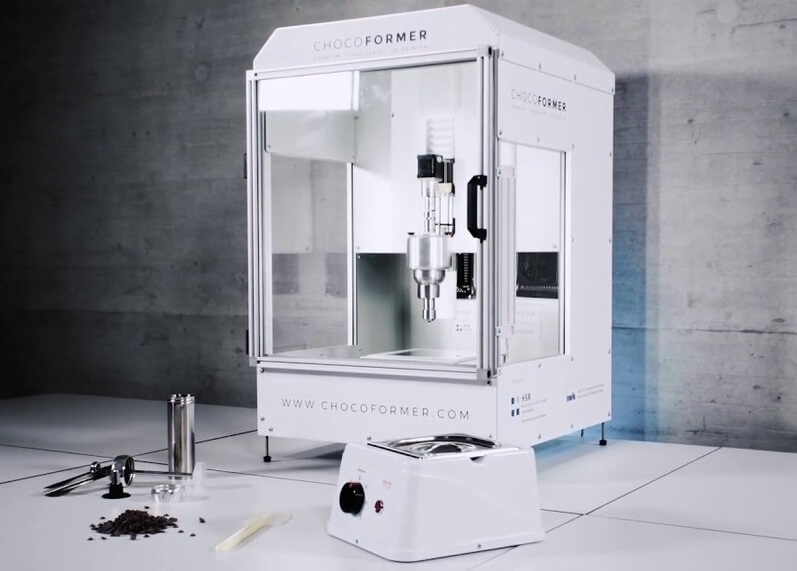 Students and engineers from OST University of Applied Sciences Rapperswil in Switzerland developed this printer in 2018. The machine is the first of its kind to show proof of concept.
Chocoformer is a high-end chocolate 3D printer that produces exquisite three-dimensional chocolate objects. It is designed for both professionals and amateur confectioners, and it works with a variety of fine chocolates.
Uses:
A dosing screw continuously extrudes the chocolate through a nozzle, layer by layer, to form the programmed part.
Each print unit has an active heating element and can hold up to 300g of melted chocolate. It can also be refilled without causing a print job to be interrupted.
A built-in steering unit keeps the chocolate in motion, ensuring consistent chocolate consistency.
The nozzle can be changed. There are various sizes of nozzles available.
To ensure high-quality prints, the build chamber stays at a constant temperature.
PROS:
Cooking with edible 3D printing is more efficient than traditional methods of cooking.
Users can personalize their food for special occasions or just to suit their mood.
CONS:
The extruder assembly should be as rigid as possible.
The use of an efficient active cooling system is required for chocolate 3D printing.
Frequently Asked Questions (FAQs)
What Kinds Of Chocolate Can Be Used For 3D Printing With Chocolate?
Using high-quality, machine-tempered, dark couverture chocolate because due to its high cocoa content is strongly recommended, it consistently produces better printing results than other types of chocolate.
However, printing with milk couverture chocolate and white couverture chocolate is possible.
Is It Necessary To Temper The Chocolate Before Printing?
It is critical that the chocolate be properly tempered for consistent results. The results may be unpredictable or unsatisfactory if the chocolate is not tempered.
How Do I Keep the Chocolate I've Printed in Good Shape?
Chocolate will keep for months if kept in a cool, dry place away from direct sunlight and at temperatures below 21°C. The humidity level in the storage space should be around 50%. Airtight packaging will aid in the preservation of the chocolate.
What Are The Drawbacks To 3D Printing Chocolate?
Chocolate 3D printers have only been around for a short time, so the chocolate industry has yet to expand and learn what else 3D printers can do.
Chocolate 3D printers are not suitable for mass production, but they are ideal if you want to experiment with them, customize chocolate, or simply design new shapes.
The temperature is the main issue with chocolate 3D printers. Because of temperature complications, the process can be time-consuming.
The chocolate must be heated sufficiently to melt while remaining cool and dry enough to retain its shape.
Why Is Printing More Difficult?
Printing plastic is less difficult than printing chocolate because chocolate has different melting and cooling properties to plastic, melted chocolate does not harden as quickly. As a result of the temperature and gravity, 3D-printed chocolate may lose its shape.
Buying Guide
Advantage Of Chocolate 3D Printing
A chocolate 3D printer is suitable if you want to customize, experiment, or just have fun with chocolates, but it is not well suited for mass production. Ordinary chocolate bars are manufactured by pouring melted chocolate into the mold and allowing it to set.
Since making a chocolate mold is a difficult process, this severely restricts the types of shapes you can create. Chocolate 3D printing has only been around for a short time and is a specific subset of the 3D printing world. That doesn't stop it from broadening the horizons of chocolatiers.
How Chocolate 3D Printing Works
In general, a chocolate 3D printer functions similarly to a traditional FDM printer. The molten chocolate is laid down in layers by an extruder head that travels around the bed, gradually cooling into the final solid product.
When translated to machine code, most chocolate 3D printers will work with the same types of CAD files as a regular 3D printer.
That means you could use a familiar program to build or download a model and print it in chocolate! Chocolate can also be used to print 3D scans of real-world objects.
Difference between Chocolate 3D Printing and Plastic 3D Printing
Chocolate is much more difficult to print than plastic due to fundamental differences. At room temperature, melted chocolate does not harden as quickly, making it more likely to lose its shape due to gravity or other factors.
In addition, chocolate is too soft to extrude with gear and motor and cannot be twisted into a stiff filament. Melted chocolate is now packed in a cartridge and extruded using a syringe. This necessitates the 3D printer continuing to heat the chocolate until it is easily extrudable.
Another factor to consider is the kind of chocolate to use for printing. The viscosities and properties of dark, white, and milk chocolate vary, affecting how it extrudes, holds together, and cools. It takes a lot of research and creativity to find the perfect chocolate blend for each printer.
Conclusion
If you are interested in testing food 3D printers, do not be afraid to try ones that can also handle chocolate. After all, the dessert may be the last item on the menu, but it is critical to the meal's success.
Working with chocolate 3D printing is also a lot of fun. The results provided by the above-mentioned chocolate 3D printers have proven popular. As a result, you can choose the option that best suits your budget.
Check out the chocolate 3D printer price and see what you might be able to get, not to mention the importance of balancing your needs with your budget.