3D printing is a one-of-a-kind technology that benefits almost every industry. And, because we live in a digital world, a technology like this can only help to change the dynamics of manufacturing with tool-making to benefit end-users. Additive manufacturing, rapid prototyping, and digital manufacturing are all terms used to describe this technology.
What Is 3D Printing?
3D printing is also known as Additive Manufacturing (AM). In 3D printing, a design of an object is created using software, and the object is created by the 3D printer by adding layer upon layer of material until the shape of the object is formed. You can create the object using a range of materials, including paper, plastics, and powders, as well as filaments.
Advantages of 3D Printing
Rapid prototyping is one of the most significant advantages of 3D printing technology.
3D printing is the most cost-effective manufacturing process for small production runs and applications. Traditional prototyping methods, such as CNC machining and injection molding, necessitate a large number of expensive machines, as well as significantly higher labor costs because they require experienced machine operators and technicians to operate them.
Another significant advantage of 3D printing is the ability of any given printer to create almost anything that fits within its build volume.
Product life cycles are shorter because of the speed and lower cost of 3D printing. Businesses can improve and enhance their products, allowing them to deliver better products in less time.
The nature of 3D printing allows for step-by-step assembly of the part or product, ensuring the improved design and higher quality parts/products.
Now that you've had a brief introduction to the world of 3D printing, you should be convinced enough to purchase one for yourself, but wait! Would you go for the most expensive one? Clearly not! This article will assist you in locating the best 3D printers for sale.
Makers and enthusiasts are always looking for the best 3D printer deals. It is not only the lower price that is important but also the quality. You can look up 3D printers for sale and decide which one is best for your needs. The article's uses and comparison table will help you make the best decision for yourself.
Comparison Chart
| Name | Link | Nomination | Rating |
| --- | --- | --- | --- |
| Creality Ender 3 | | Safest Option | 9.6 |
| XYZprinting Da Vinci 1.0 Pro | | Beginner-Friendly | 9.4 |
| AnyCubic Mega Zero | | Easy-To-Use | 8.3 |
| Elegoo Mars 2 Mono | | Easy To Set Up | 9.4 |
| LulzBot Mini | | Nimble & Sturdy | 9.8 |
| Anet A8 | | Most Advance | 8.5 |
| QIDI Tech 1 | | Versatile | 9.2 |
| Ultimaker 3 Extended | | Reliable | 8.8 |
| 101Hero | | Most Affordable | 9.5 |
| Geeetech Delta Rostock Mini G2s | | Stable | 8.7 |
3D Printers for Sale
Creality Ender 3
Creality Ender 3 is a low-cost 3D printer with all of the features that make it a popular choice. As one of the most anticipated releases of 2018, it has undoubtedly rung bells among those looking for a low-cost 3D printer for sale.
Some of the qualities of the 3D printer is not found in even the most expensive printers. Creality Ender 3 by Comgrow is a true gem as a result of this.
Uses:
In the case of the Creality Ender 3, the company has taken special care to ensure that the print beds heat up quickly. There is no denying that heated beds are essential when printing with ABS or PLA.
With its power outage recovery feature, Creality Ender 3 ensures that you do not lose your prints due to the uncertainty of a power outage.
Ender 3 is now completely open-source, thanks to the company's efforts. As you are aware, there are numerous advantages to using an open-source platform.
XYZprinting Da Vinci 1.0 Pro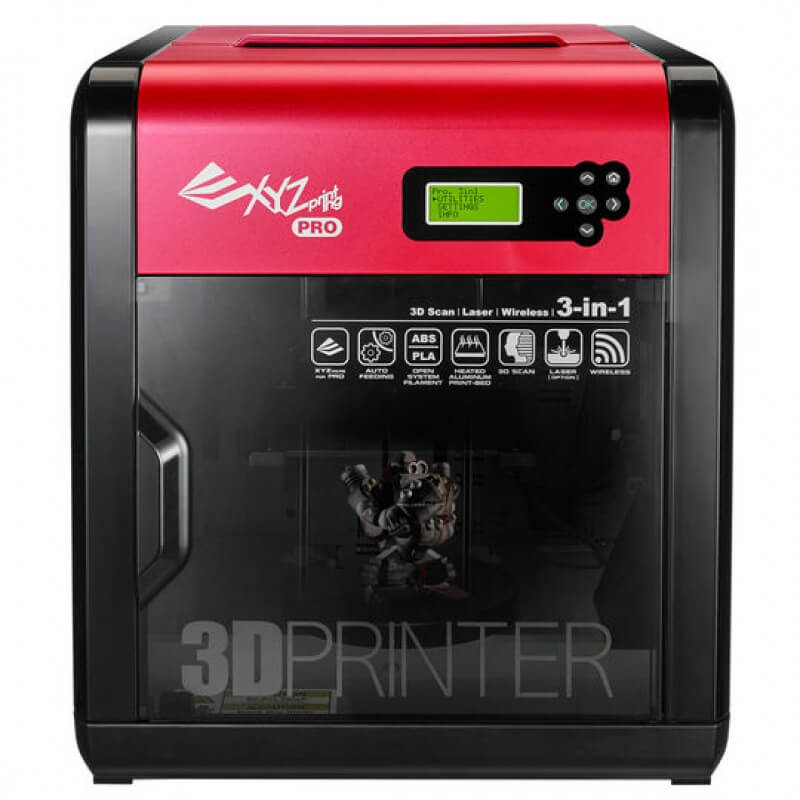 Da Vinci Jr. 1.0 Pro features a trendy design with enough functionality to turn anyone into a maker. You only need to take one step, and the printer for sale will effortlessly lead you deep into the niche.
XYZprinting is well-known for its large selection of 3D printers for various niches and user levels. This time, it has introduced an entry-level machine that is both affordable and provides good print quality.
A simple design and plug-and-play feature, combined with a low price, make this printer a very appealing option. Those who want to try something new can do so without worrying about the cost.
Uses:
The 3D printer is completely plug-and-play. It comes fully assembled, with no need to tighten screws or connect various components.
With an enclosed frame, you can touch the machine whenever you want. Furthermore, it is suitable for children and young children. Working with an enclosed model also facilitates maintaining the model's print quality.
For those who do not want to go through all of the difficult calibration steps, things will continue to be interesting. This is due to the 3D Printer's auto-calibration feature. All you have to do is let the machine do its thing.
You will be able to release the extruder with a single touch. You can remove the extruder and clean it for stuck filament by pressing a button. The procedure is very simple and simple enough for any beginner to learn.
The 3D printer does not have a touchscreen, but it does have controls for adjusting the print settings. You can use the scroll buttons to navigate through the settings and select the appropriate ones.
Anycubic Mega Zero
Anycubic has released its newest model, the Mega Zero. The company has already produced well-known 3D printers such as the i3 Mega and the most recent Mega X follow-up.
The Anycubic Mega Zero, as expected, has a similar design to the Ender 3 and other printers. When it comes to the base, Anycubic has taken a slightly different approach.
They have a closed-looped design on the bottom of the frame, which results in greater rigidity. It is one of the best printers with the best deals
Uses:
The machine's aluminum frame and closed-loop design ensure a stable structure and high rigidity. The print platform should move smoothly during operation with a dual Y-axis installation.
The Anycubic Mega Zero is equipped with a double gear extrusion mechanism that is powered by a Bowden drive system. This, according to the manufacturer, allows for greater torque.
The Mega Zero lacks a heated print bed in favor of a metal build plate. There is, however, a plethora of different filaments that can be printed without the use of a heated bed.
The Mega Zero, on the other hand, facilitates the user in leveling by locating the print bed's corners. The printer is quick and simple to level thanks to its large twisting knobs.
One key to resume printing if there is an unexpected power outage halfway through, saving your time and filaments.
The AC adapter consumes little power and saves energy. The AC adapter is more secure than a traditional switching power supply, and there is no risk of electric shock from AC power. Because the AC adapter is more stable, it is more durable.
Elegoo Mars 2 Mono
Since 2014, ELEGOO has been manufacturing 3D printer components and parts and has years of experience in 3D printing which makes ELEGOO Mars suitable for anyone to use, even if you have never used a 3D printer before, thanks to its great industrial design and user-friendly system.
When you receive the semi-assembled printer, you will save time setting it up, and you will be able to start printing your first model within 5 minutes.
Uses:
ELEGOO Mars includes the most recent version of ChiTu Box Slicing Software, which provides an exceptional user experience. ChiTu Box slices 30Mb.STL model files in 1 minute, whereas open-source slicing software takes up to 10 minutes.
ChiTu Box allows you to hollow out your model before slicing, which can save you a lot of resin during the photocuring process. You can get a better printing result if you use 40W UV lights and ELEGOO resin.
Off-line printing is made simple by the 3.5″ color touch screen and the latest ELEGOO ChiTu 5.0 system. The build platform, which contains a steel ball balancing structure, allows you to begin printing in 5 minutes.
LulzBot Mini
LulzBot Mini was created to help users advance to the next level of 3D printing. The open-source hardware is jam-packed with useful features that make it easier for users to print with the least amount of effort.
The open-source hardware is jam-packed with useful features that make it easier for users to print with the least amount of effort.
This FDM 3D printer offers the best deals, despite its low price, outperforms the majority of printers on the market today.
Uses:
provides automatic bed leveling, making the calibration process simple and painless.
Not only does the printer have to level the bed, but it also has to keep the nozzle clean. Cleaning the nozzles before each print is an essential part of the printing process.
While most 3D printers struggle to provide consistent bed adhesion, the LulzBot Mini excels at this task. The machine can print with both standard and specialized filaments.
The printer must always be tethered to a PC. This is due to the lack of any control on the 3D Printer.
Third-party filaments can also be used with the 3D printer.
The printer is built with an open frame design.
LulzBot Mini is a small 3D printer with a print area of 152 x 152 x 158 mm. When the 0.18 mm layer height is selected, the printer can reach a maximum speed of 275mm/s.
Anet A8
The machine is delivered as a kit, which means it is completely disassembled. This allows the user to build their own printer and create something unique.
It is based on the Prusa i3 Mk2, one of the best 3D printers available for sale. In any case, a user does not have to anticipate excessive costs when purchasing it.
In a literal sense, the Anet A8 is a DIY 3D printer unit. The 3D printer is the best deal printer as it includes a large variety of different screws and nuts, each type gathered and labeled as needed.
Uses:
PLA/ABS/PP/Nylon PVA are examples of supportive filaments.
When a user gets the hang of it, Anet a8 is not difficult to use.
The Anet A8 comes with a detailed manual guideline.
220*220*240mm is the print area that lets you create your desired object
The temperature of the nozzles is -0.4.
Anet a8 has a weight of 8.5kg.
It has a hand-made industrial feel thanks to the acrylic frame
The Anet A8 is compatible with six different types of filaments, which are listed in the key specs below.
QIDI Tech 1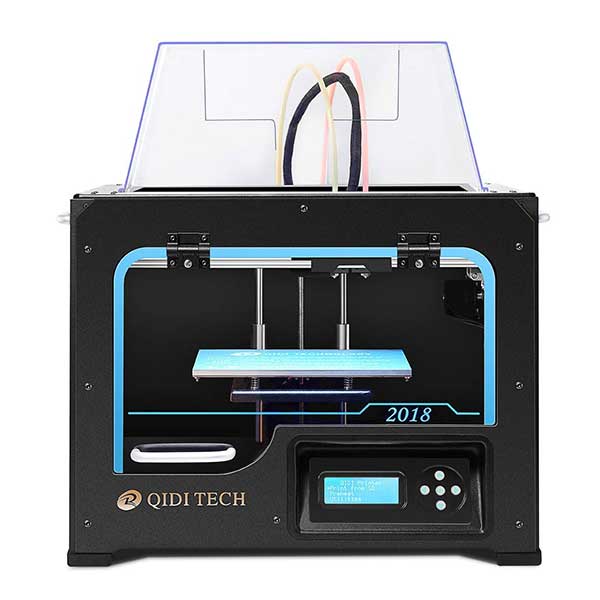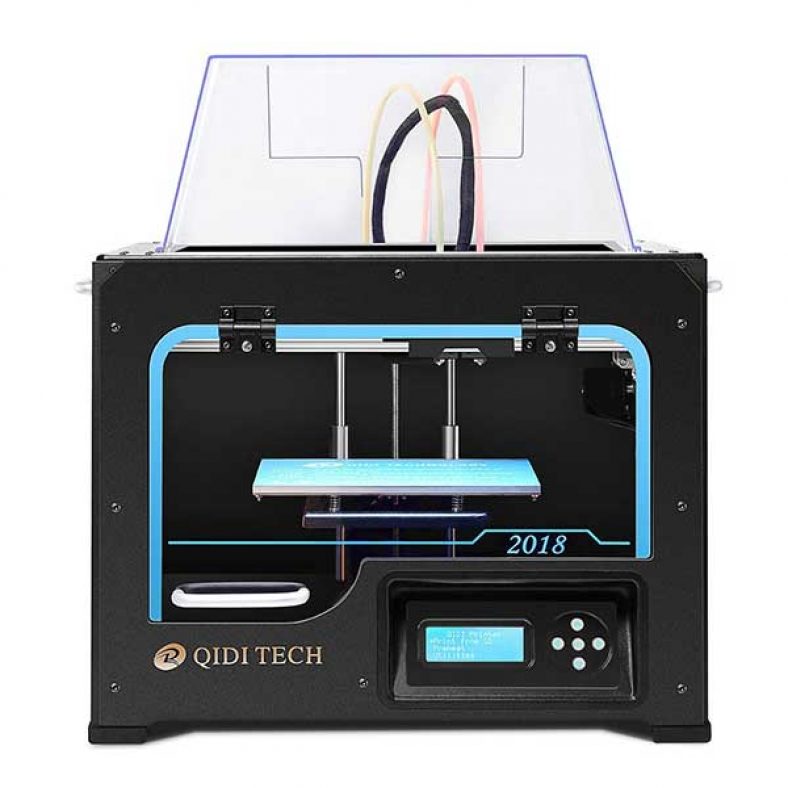 Qidi Tech is a well-known manufacturer based in China. Since its inception, the company has been producing 3D printers that are both affordable and useful in a variety of ways.
Qidi Tech never fails to astound us with the unexpected elements wrapped along with its 3D printers in order to better define the possibilities through its budget machines.
However, you must understand that the printer is a low-cost 3D printer for sale designed to assist beginners and educators with the best deals in making the best of the unknown.
Uses:
The QIDI Tech 1 is a dual extruder 3D printer encased in a strong metal frame.
This small machine measures 465 x 320 x 375 millimeters and will easily fit on your desktop. It has handles on both sides so you can move it around comfortably.
The angle of the LCD interface makes it easier to navigate, but the SD Card slot remains unchanged.
The Tech 1 also has an aluminum heated print bed as well as an LED lighting system.
The printer has a top-hinged door, a top cover, and two transparent side panels made of acrylic.
The spool holders are located at the printer's back, which adds to the printer's unique design.
Ultimaker 3 Extended
The print quality of the Ultimaker 3 Extended is incredible. With this printer, one can achieve high resolution. This can be used for specialized tasks like printing dentures and other similar tasks.
While not every 3D printer can live up to the hype, only a few can. Ultimaker 3 Extended is one such 3D printer for sale.
Uses:
This printer can also print two different materials and colors at the same time. It is also PVA compatible.
This machine, designed as an industrial-grade 3D printer, can work continuously for hours without needing to take breaks.
If you use Ultimaker-supplied materials, the printer will recognize them automatically. This is accomplished with the aid of Cura profiles, and the 3D printer easily optimizes the settings for each material.
The printer has auto-calibration, which assists in a more accurate printing setup.
The camera installed inside the printer allows you to monitor the printing progress even when you are not close to the device.
If you are just getting started with 3D printing, you will be amazed at how simple it is to set up this printer for the first time.
As with Ultimaker 3, the setup is simple. All you have to do is take the printer out of the box and you are ready to go in a few steps.
101Hero
101Hero's appealing price tag piques everyone's interest. Whether you are curious or not, this printer for sale may entice you to learn more about the machine.
It has a few features that may be useful for those who want to delve into the complexities of additive technology.
The niche is vast, and while this small printer may not be powerful enough to give you a true taste of its potential, it will get you started.
Uses:
According to the manufacturer, the 3D printer has been thoughtfully designed to provide users with safety. It is suitable for both children and adults.
101Hero is not equipped with a heated bed. As a result, it is safe to touch.
The 3D printer comes fully assembled, with the exception of a few screws that must be tightened. In addition, you will be ready to go. You can attach the components with screws and begin printing in less than 5 minutes.
The 3D printer comes fully assembled, with the exception of a few screws that must be tightened. And you'll be ready to go. You can attach the components with screws and begin printing in less than 5 minutes.
PLA, ABS, HIPS, and a variety of other materials can be used to print. PLA, on the other hand, is recommended by the company.
Geeetech Delta Rostock Mini G2s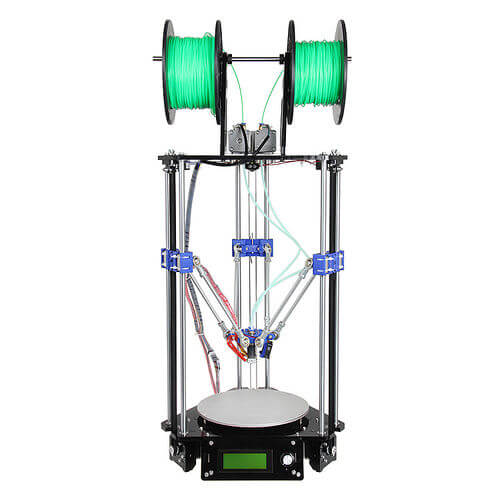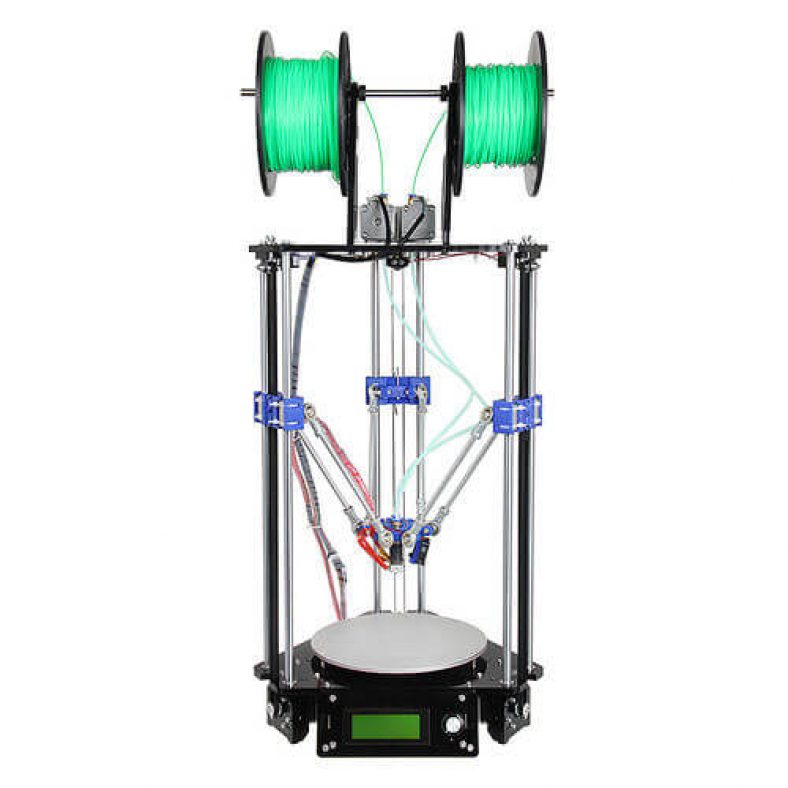 This printer is available as a kit that you will have to assemble. This model is available for a price lower than other printers from the company.
Uses:
The Delta Rostock Mini G2s Pro includes a heated print bed that, due to its high temperature (110°C), can print with different filaments.
This printer has automatic calibration, which means the user does not have to adjust their printer every time they begin 3D printing.
Furthermore, calibration is more accurate than in previous Geeetech models thanks to new metal components.
Can print using two materials simultaneously with different colors.
Has a heated print bed that is made of laser-cut aluminum and acrylic has a smooth surface, which improves accuracy and 3D printing speed.
The Delta Rostock Mini G2s, with an extruder temperature of 240°C, can easily handle Nylon and Wood filaments.
Buyer's Guide
The popularity of 3D printers, as well as their use, is growing by the day. When making technological purchases, it is critical to look for certified features. The following guide will provide you with enough information to choose the best 3D printer for your needs!
To make the best decision, carefully consider the following features:
LCD Screen: It will display notifications, information about your printer, and diagnostics on how to repair it.
Heated Bed: It aids in the printing of exotic materials such as ABS.
Large Build Platform: The amount of physical space you have to work with is extremely important! Choose a print area that is as large as possible. As a result, you can print large objects without being limited to small sizes.
Easily Accessible Parts: Parts should be easy to find and repair. Parts frequently break or require upgrading for improved performance.
SD Card and USB Input: It will allow you to print from your computer or from an SD card.
Printing Speed and Resolution: For smaller print jobs, speed isn't as important as it is when printing on a larger scale. The smaller the print resolution, the better.
Auto-Leveling Bed: Although some users prefer manual bed leveling, this feature makes your life easier! All you have to do is plug in your machine and start printing, skipping all the tedious and time-consuming manual bed leveling processes.
Accuracy, Print Quality, and Precision: These three factors vary greatly between printers. Make certain that you do not compromise on them.
Closed-Frame: Closed-frame 3D printers are quieter, safer, and can maintain temperatures. When using an open-frame 3D printer, the situation is reversed.
Frequently Asked Questions (FAQs)
Are3D Printed Goods Better Than Traditional Manufactured Goods?
3D printing goes beyond what traditional manufacturing can do. Overall, things are getting better. 3D printing is undeniably becoming more efficient, creative, and cost-effective. In almost every way, it outperforms traditional manufacturing.
What Types Of 3D Printing Filaments Are Available?
There are numerous 3D filaments available, all of which have diameters of 1.75mm or 2.85mm. PLA and ABS are the most popular filaments in terms of ease of use and affordability.
PETG, PVA carbon fiber, nylon, flex, and a variety of other materials are also available. It is possible to print with pure metal, as well as food, but these materials are not available in filament form for obvious reasons.
How Will You Know Which Filaments Are Supported By Your Printer?
The simplest way to find out what filaments are supported is to go to the manufacturer's website or read your printer's manual. Or simply ask Google—it has a treasure trove of answers to every question!
Will Using Unsupported Filaments Cause Your Printer To Fail? 
Following the manufacturer's instructions religiously will help to extend the life of the printer. Using unsupported filament can cause hot-end damage to your printer. Take care not to overheat the nozzles beyond the temperature range specified.
What Software Is Needed For 3D Printing?
A 3D slicer is required to print a 3D model. Slicing software is included with the majority of 3D printers. Simplify3D is the most adaptable open-source 3D slicer, while Cura is the most popular.
Conclusion
If you are looking for amazing 3D printers for sale, this list is not to be missed. It can assist you in determining which 3D printer is best for your specific needs. You can visit the website of the printer manufacturers to learn more about the features and pricing of each of these printers.
Happy printing!