PROS
It provides dual extruder for multiple color printing
It exhibits hot-swappable print cores
Reels equipped with NFC for ease of printing
WIFI, Ethernet and SD card connectivity
Remote Access and Monitoring
CONS
Open design, hence, unsafe around children
Expensive
Product
Specification
Videos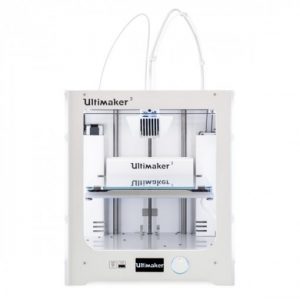 Being a new generation machine, Ultimaker 3 boasts of having dual extruders and a lot of other supporting features to help its user scale their ...
| | |
| --- | --- |
| Model | Ultimaker 3 |
| Manufacturer | Ultimaker |
| Price Range | $ 3295 |
| Release date | 2017 |
| Country | Netherlands |
| Availability | Available |
| Classification | Desktop |
| Technology | Extrusion (FFF- FDM…) |
| Material | ABS, Other plastics, PLA |
| Filament diameter | 2.85 mm 0.11 in |
| OS compatibility | Linux, Mac OS, Microsoft Windows |
| Generic material | Yes |
| XY accuracy | 0.0125 mm 0 in |
| Max. build size | 215 × 215 × 200 mm 8.46 × 8.46 × 7.87 in |
| Max. build volume | 9.25 L |
| Min. layer thickness | 0.02 mm 0.001 in |
| Dimensions | 342 × 505 × 588 mm 13.46 × 19.88 × 23.15 in |
| Weight | 10.6 kg 23.37 lb |
| Nozzle diameter(s) | 0.4 mm 0.02 in |
| Power input | 221W @ 110-220 V 50-60 Hz AC |
| Heated print bed | Yes |
| Heated build chamber | No |
| Automatic calibration | Yes |
| Closed frame | No |
| Dual extruder | Yes |
| Independent Dual Extruder | No |
| Full color | No |
| LCD screen | Yes |
| Touchscreen | No |
| On-board camera | Yes |
| Mobile app | No |
| 3D scanners | No |
| CNC mill | No |
| Electronics 3D printing | No |
| Laser engraving | No |
| Conveyor belt | No |
| Air filter | No |
| Pellet extruder | No |
| USB | Yes |
| Wifi | Yes |
| Bluetooth | No |
| SD card | No |
| Ethernet | Yes |

Table of Contents
Unlike its predecessor, this machine has tried to surpass all the expectations of its users. After giving successful machines to 3D printing communities, Ultimaker has come up with Ultimaker 3.
This certainly is a new generation machine, boasting a dual extruder and a lot of other supporting features to help its user scale their creativity even further. The machine is very effective in solving different problems and is capable of accomplishing difficult designs with ease.
At this price range, Ultimaker 3 can be considered the best 3D printer providing multiple color options for printing.
Following its trademark of producing wonderful machines, Ultimaker 3 is not just a minor upgrade of the prior 3D printer in the series, however, exhibits high differentiating changes.
The high-quality prints achievable by this printer is worth noting. With many desirable inclusions, the machine fits for professional and high-end applications. Being beginner-friendly, this 3D printer was featured in our Top 10 Best 3D Printers for Beginners, From Cheapest to Most Expensive.
However, the build volume is less as compared to Ultimaker 2 Plus. This may not bother many users as the connecting parts are easily designed with machines offered by this company.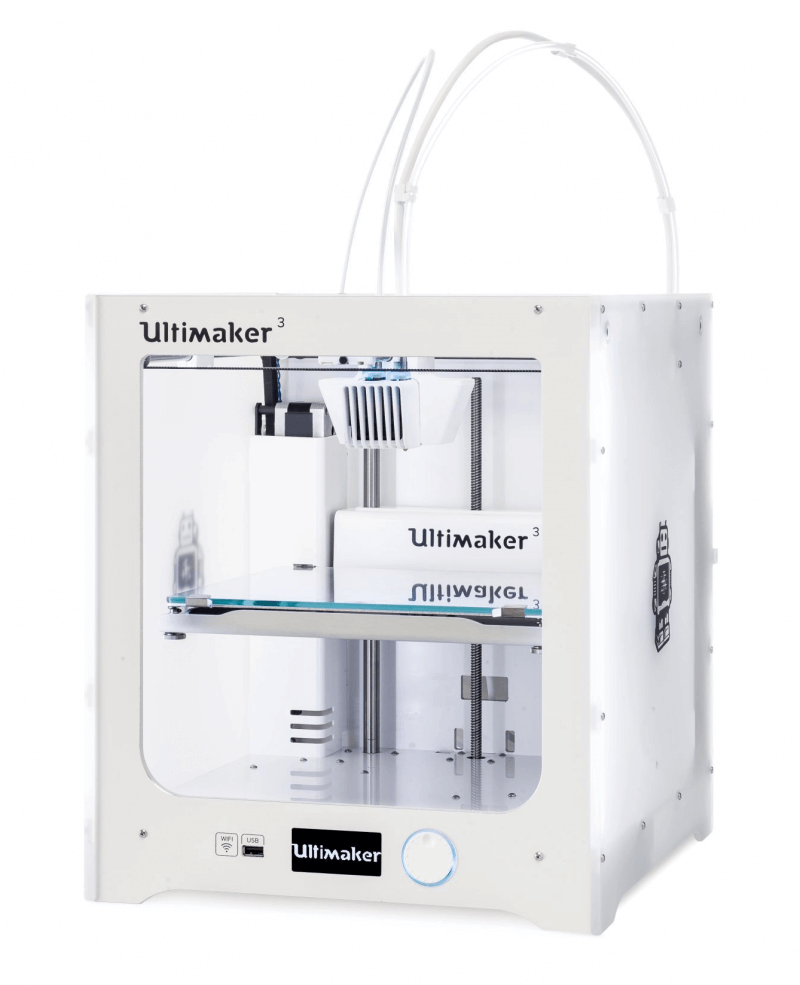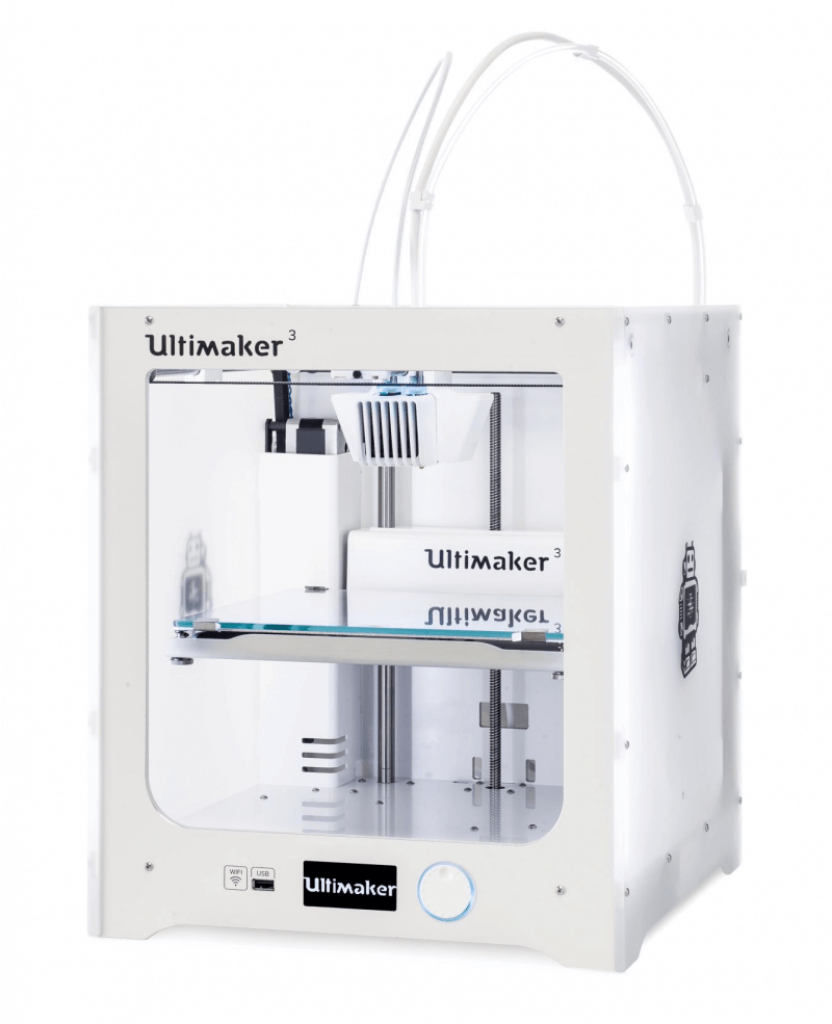 Features
Ultimaker has made huge changes to the existing 3D printers. Although a lot of things would seem similar, you would find it leaving all of its predecessor behind when it comes to performance. The highly reliable machine is sturdy and offers intuitive operation.
Dual Extrusion: This 3D printer is equipped with dual extrusion. This means that one can print using two colors simultaneously. Hence, realizing multicolor models is easy and simple with this 3D printer.
Moreover, creating supports is easy with this machine because of the introduction of an extra extruder. Also, it is noteworthy to mention that the nozzle not in use, retract partially itself into the print core. This helps avoid any contamination between different materials.
PVA Compatible: The machine is compatible with PVA material. This means that one can print the support structure using water-soluble material, PVA. Hence, removing support is easy as a breeze when working with this amazing 3D printer.
Removable Print Core: The 3D printer flaunts a removable print core. This ease the job of material swapping and is convenient for users when trying to change the material in between print jobs.
Automatic Bed Leveling: We already pointed out the problem with the missing auto bed leveling feature in Ultimaker 2 Plus. However, the company has included it in this series. This clearly shows that the company listens to its users.
WIFI Connectivity: This feature again is a new addition. Ultimaker 2 Plus does not offer WIFI connectivity. However, this one does and makes it easy for users to connect their desktop or smartphones to the 3D printer.
Remote Access: With cloud access, the 3D printer also allows remote monitoring by including a camera inside the printer. One can easily download the monitoring software provided by the company and keep track of the print progress even when not close to the machine.
These features add to the awesomeness of this amazing 3D printer. You can create highly accurate models and can even manage the designs online and share it with your printer for remote access to the printing process. This printer that was released in 2017, still holds a great customer base in 2019.
Specifications
Coming down to the Ultimaker 3 specs, there is a lot of things that one would notice. Some great and some may be disappointing for a few. However, in short, the printer adds value to the 3D printing goals by providing high-end technology wrapped inside a compact body.
Let us start with the news that may be painful for a few users. The fact that the company has decided to go for a smaller build volume than the previous release has made many users sad. However, this small difference won't be too difficult to handle. It is because the 3D printer can be used for printing parts that can be combined together without any flaw.
The printer has a build volume of 215 x 215 x 200 mm. Similar to Ultimaker 2 Plus, this release by the company also exhibits resolution up to 20 microns. It runs at a maximum speed of 300 mm per second which isn't achievable through most of the cheap printers and even some of the expensive printer.
However, you cannot expect this to run with a different diameter of the nozzle as it is possible with UT2+. It provides a nozzle diameter of only 0.4mm. The operating temperature is between 15 to 30 degrees Celsius.
Price
The price of Ultimaker 3, as most of us, can guess by looking at its feature, is more than its predecessor. It costs $3500, 1000 dollars more than Ultimaker 2 Plus.
This is because of the many advanced features added to enhance the performance of the device and at the same time to provide the ultimate experience to its users. Being an FDM machine, the range may seem on a higher side, however, it does everything to deserve that price.
First Impressions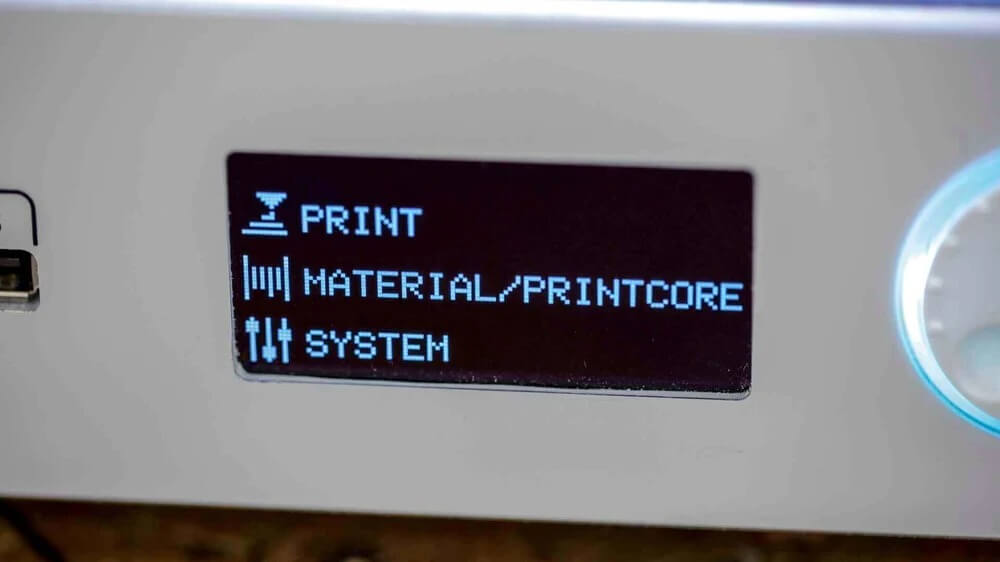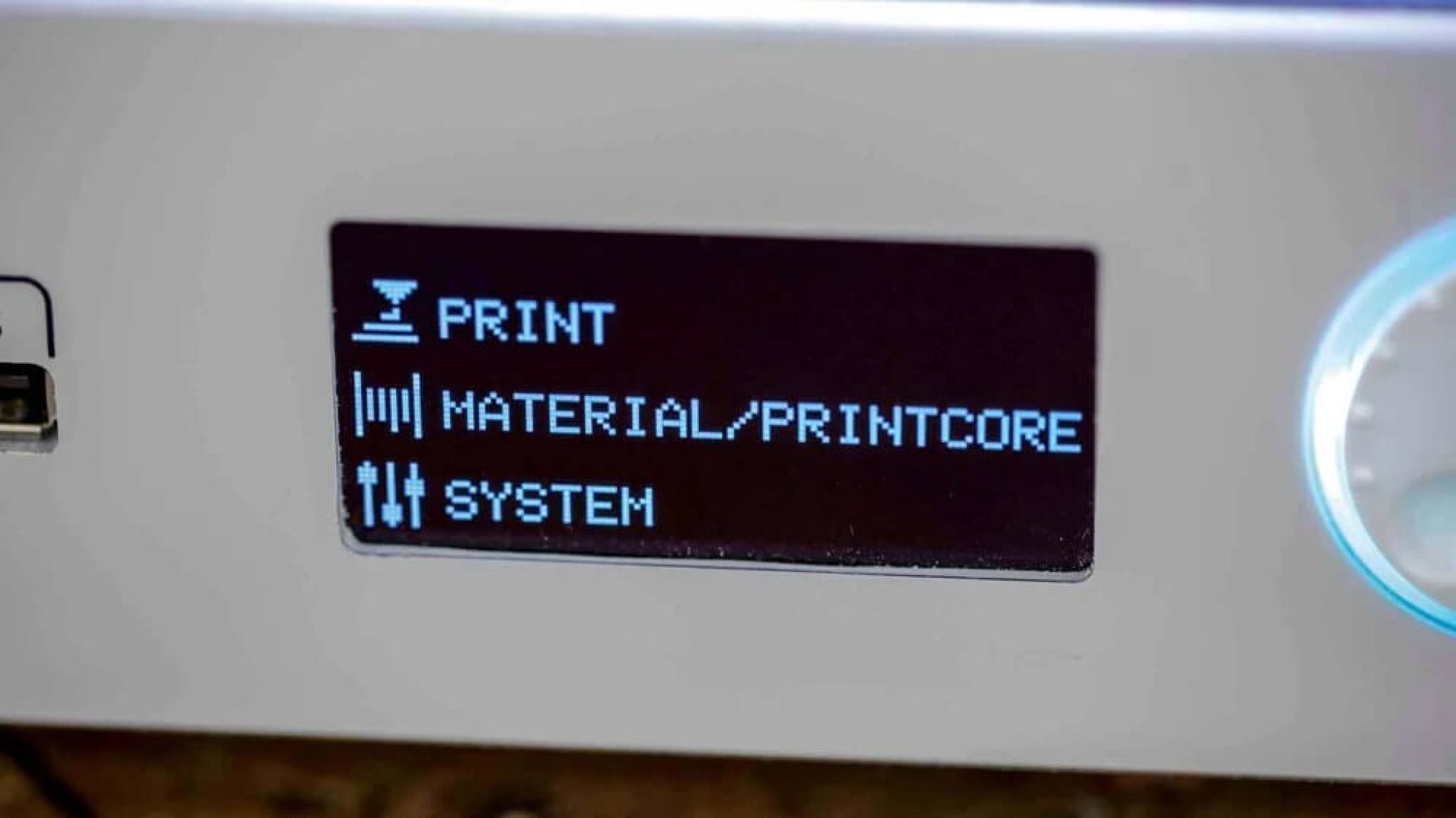 Credit: all3dp.com
The printer seems to be decent in terms of its appearance and reliability. The silver finish as it is with every model of Ultimaker, it seems similar to its older releases. The sturdy body weighs it more than the average printers available in the market in terms of performance.
Once again, the company has provided a partially enclosed frame with no frames on either side and the top is open as well.
Setup
It would bring joy to listen that the Ultimaker 3 goes one step beyond in making the printer a complete plug and play device. If you have worked with UM2+, you would remember that the calibration process was a bit tricky as it used to be manually handled. This is not the case with UM3.
You will be amazed to see that the printer runs right after coming out of the box. This is the machine for beginners and for those not equipped much with the setup of 3D printers. Once the printer is unboxed, all you need to do is insert the glass build plate and plug the device in. Later, just turn on the power switch. Your printer would be leveled and calibrated, all thanks to the auto-leveling feature induced by the company.
Filament feeding is a bit tricky, however, not that difficult. The onboard setup wizard on the Ultimaker's front screen would guide you through the entire process. The small steps in between such as heating of nozzle etc are taken care of all by itself.
All in all, Ultimaker's new printer definitely offers one of the most painless and approachable setup processes we've experienced. All users, regardless of their familiarity with 3D printing, should have no trouble getting this machine up and running.
If you are using the Ultimaker's filament spool, the machine will detect the type of filament itself and operate the setting accordingly from temperature to reaching the extruder.
With such a simple setup, what else would you expect? Most of the tasks have been automated providing a simpler and hassle-free experience to the users.
Printing Type/Cost
Ultimaker 3 is an FDM machine. Hence, one may expect it to be a little cheap, but to burst the bubbles, it is not.
This is so because the machine isn't only for fun purpose, however, is designed to solve real-world applications. One can use the machine for commercial use as well as for manufacturing products with high precision. It can also help in prototyping.
The printer is from an open-source community, hence, can be tailored as and when needed. The updates are available for every user without any extra cost. Moreover, it is compatible with various open-source hardware and software, making it accessible even more.
The compatibility with third-party filament helps further reduce the cost of operation when printing with this device. The initial cost may be a lot, but maintenance and operation cost is very affordable and cheaper than most of the low priced 3D printers as well.
Print Quality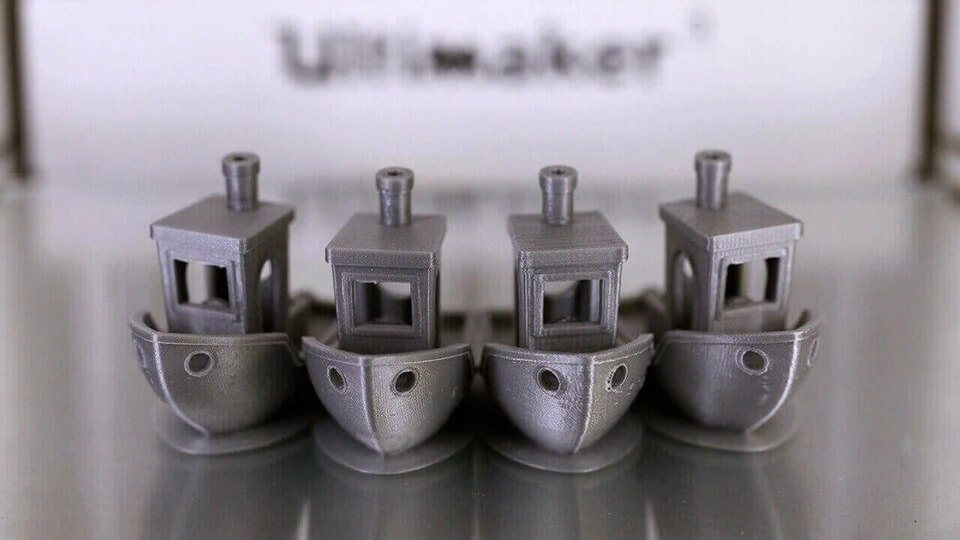 Credit: all3dp.com
Ultimaker is known for manufacturing high-end devices that produce highly accurate parts. The same goes for this device as well. With up to 20 microns resolution, one can print highly precise parts.
If you are looking to print complex geometries, this machine would take care of that job perfectly. The surface finish is also nice. In short, you can print finer details with ease.
Software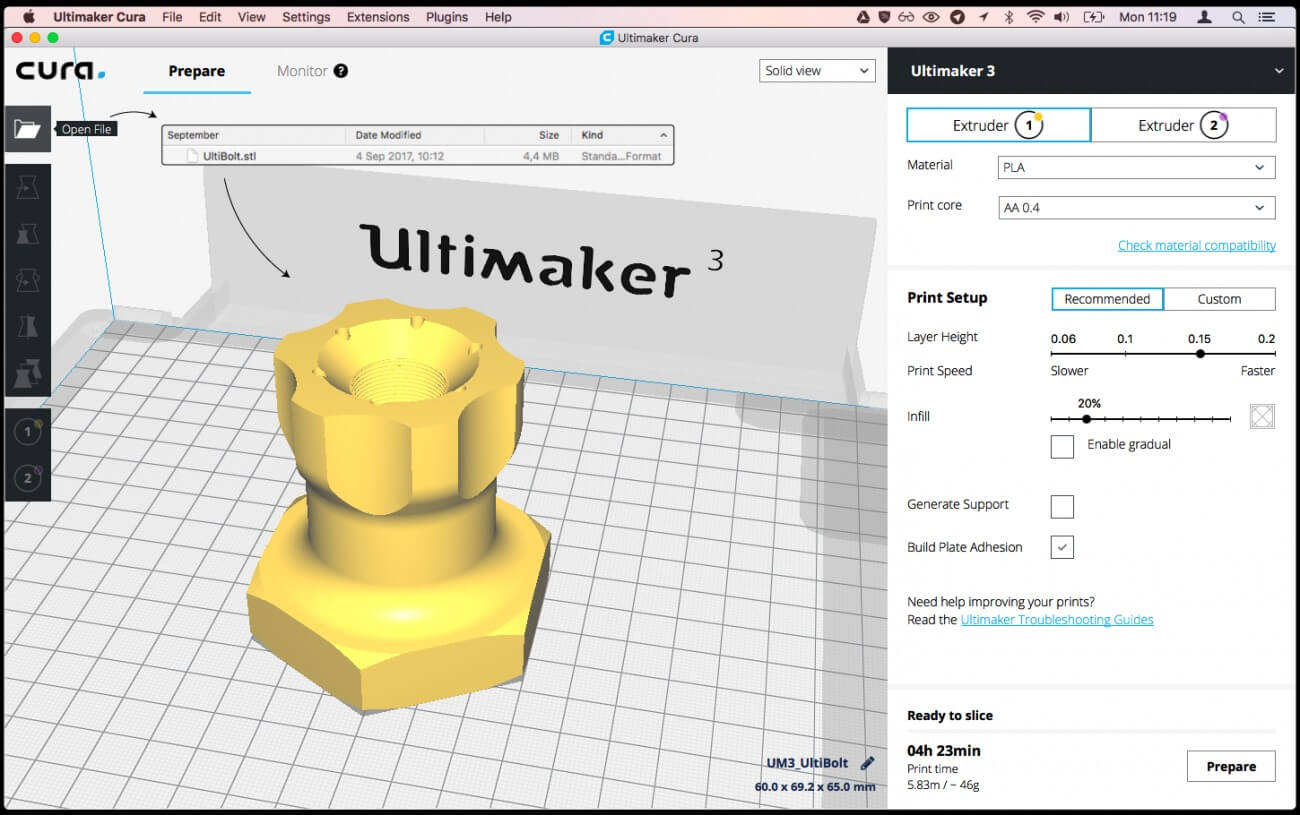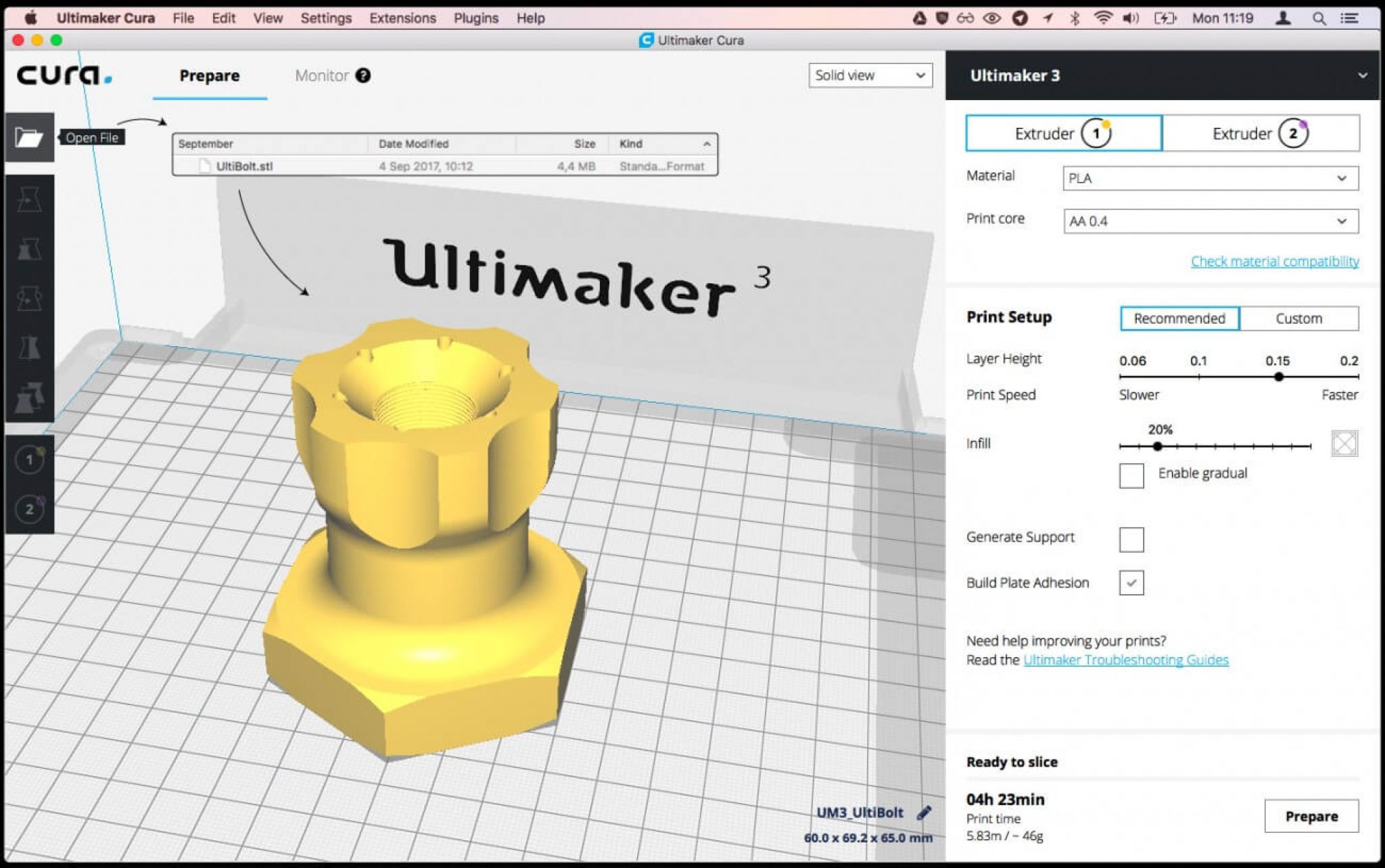 This is no surprise. Ultimaker's Cura software is one of the best when it comes to 3D printing slicing job. Built on open-source, the application is free to use.
The application is well known among the 3D printing community and can provide marvelous results. Known for designing games, this software offers robust features and settings to ensure great freedom to its users.
One can use the same software for slicing needs. It is very well-tuned with the Ultimaker 3 and can be utilized for best prints. The printer is also compatible with various other open-source software choices as well. If you like to work with some other one, you can try that too.
Customer Service
The top-notch customer service is a great addition to those working with this device. With so many guides and instructions available online, there may never be a need for further assistance from the company. However, even if so, onsite help is available too.
Parameters Influencing the Buying Decision for Ultimaker 3
Before one decided to purchase a 3D printer, it is important to go through each detail precisely. Hence, making an informed decision becomes easy and beneficial in a long run.
3D Printer cost: This 3D printer isn't cheap to own. It costs $3500. However, the maintenance and operation costs are cheaper. Being an open-source design, it also adds many other benefits to the kitty in terms of expense.
3D Print quality: The print quality is above par. Although FDM printers struggle with surface finish and support design, this printer very well tackles those challenges. This provides very accurate parts and can convert any complex design into reality through its advanced mechanism working to make the printer best among its competition.
3D Print speed: The speed is also great. Instead of waiting for days, one can produce parts in a matter of hours. Easy to operate and highly desirable among users from many domains.
3D Printer capability: It would not be incorrect to consider this device one of the best among the similar companions. It is capable of creating models efficiently adding high accuracy to the designs.
3D Printer Practicality: The 3D printer can be used for a variety of applications within different domains. From prototyping to creating products can be done with ease by using this device. This is also a great option for those seeking training in additive manufacturing technology. It can be a great choice for those looking for hands-on experience. Designed to help beginners as well as professionals.
3D Printer User expectations: Users can expect this 3D printer to stand precisely as per their desire. However, the higher cost may be disheartening. Many similar features are available for less cost. Though the print quality is something that compensates for cost, the price may still seem high to many users.
Verdict
Ultimaker has tried to bring the simplest device for users and benefit beginners who are looking for high-end prints with fewer setting changes.
This little device with so many advanced features has been able to win many hearts. Ultimaker 3 review reveals that the device is definitely a huge hit among the 3D printing community.
Ultimaker 3 is something that professionals would love to purchase. One can utilize it for serious jobs apart from including it to their learning goals. A perfect device, despite the price part, it does have a lot to offer to its users.