CNC Piranha XL
CNC Piranha XL is originally created for aiding multiple tasks and serving as assistance for your commercial as well as domestic applications.
PROS
Aesthetically beautiful
Durable frame that can survive all kinds of working conditions and offer you an extended period of service
Is extremely easy to use, so you do not need to seek the help of experts to operate the machine. If you follow the instructions carefully, it gets you reliable results.
CONS
The machine is not highly reliable for heavy-duty jobs.
Does not cut rock materials as easily as it does other materials.
Table of Contents
XL takes the Piranha series one step closer to a complete-size CNC machine with a little increase in the price. The machine features a larger table having an area of 12 inches * 24 inches which makes it ideal for carvings, plaques, ornamental boxes, and other projects made from wood, soft metals, or plastics.
Apart from letting you carve all of that, the machine also lets you process expensive corbels as well as cut intricate inlays and engravings.
Despite offering you so many benefits, the machine doesn't occupy a huge space at your place. It can be accommodated at one end of your bench. Moreover, it supports three different usable modules thereby giving enough options to the users.
So, let's dive in-depth to know the CNC Piranha XL a lot more than it's visible by looking at the features in brief.
Features
Piranha XL comes with a VCarve Desktop Design software that can be operated via a computer with a USB 2.0 port. Users can easily design their work on this program without any hassle. It's user-friendly software with a highly interactive interface.
Apart from the software, the machine is also equipped with components such as Touch Probe for recreating, restoring, or copying the patterns from the reference workpiece.
There are many other features of this machine that helps you streamline your workflow. They are mentioned as well as explained below.
Touch screen color graphic pendant-controlled software package
This is a major plus in the machine. It has a colored graphics feature that allows users to design an image in different colors. What this does is, allow you to get a better image of the part that you are creating and how it would actually look like in real life.
Although appearing like a minor anomaly, this feature works magically for all the beginners in the field. It lets new users visualize and benefit from it to create more accurate parts and functional prototypes.
Also, it has a USB 2.0 port that helps you upload your design to the Piranha. After it is copied over, you can simply use the screen to run the job and it will activate the router to get started with the work.
Incorporated with Virtual Zero software
Apart from the VCarve program, the machine is also installed with Virtual Zero software that provides a map-like interface serving as the reference point of your project. This is extremely useful for reducing the effects that are brought by deformed pieces.
Extra-large work table
XL features an extra-large work table that makes it ideal for doing projects such as carvings, plaques, ornamental boxes, and precision parts manufactured from wood, soft metals, or simply plastics.
Easy to operate
It doesn't matter if you are doing CNC machining work for the first time! Piranha XL makes working a lot easier for you. It is designed keeping in mind first-time users.
The machine lets you quickly load an image as well as engrave it into several surfaces without much of a hassle. Also, it gives users the freedom to create their own style or upload the current form into the supported software of the system.
The best part about this is the software which is effortless to learn as well as operate. Even if you wouldn't have used any machine before, several tutorials will help you determine what to do when.
Aluminum interlocking slotted table track
This feature is extremely useful while dealing with materials that need extra support for holding up. With the reliable Aluminum interlocking, it's possible to clamp different materials. This lets you think about various options that you can process on the machine without the worry about how to hold them up!
Ships fully assembled
Unlike other CNC machines, XL does not take much time while undergoing the pre-CNC machining phase. As it ships in a fully assembled condition, mostly what the users need to do is plug the device and grasp the functioning of all its components, that's it. After having done so, they can easily start processing various materials on it.
Specifications
Price

2499.99 $

Table Dimension

12 in x 30 in

XYZ Travel Area

12 in long, 24 in wide, and 4 in high

Build Envelope

4" x 3" x 4" (100 x 75 x 100 mm)

Overall Dimension

19.5 in x 30.5 in x 24 in

Connectivity

USB 2.0 port

Items Needed

Bosch PR20
Dewalt 611
Porter Cable 450
Piranha XL's table has a dimension of 12 inches * 30 inches. Its XYZ travel area is 12 inches long, 24 inches wide, and 4 inches high. The overall dimension of this machine is 19.5 inches * 30.5 inches * 24 inches.
XL features an Aluminum interlocking slotted table track for highly customizable clamping which makes it easier for the user to cut parts in a stable manner.
The color Touch screen pendant controller system eases the way in which users can interact with the machine. It requires a PC computer with a USB 2.0 port to smooth the transfer of design files.
Apart from that the machine also needs a Bosch PR20, Dewalt 611, Porter Cable 450, or a similar style palm router for easy operation.
Price
CNC Piranha XL is available for $2499.99.
First Impression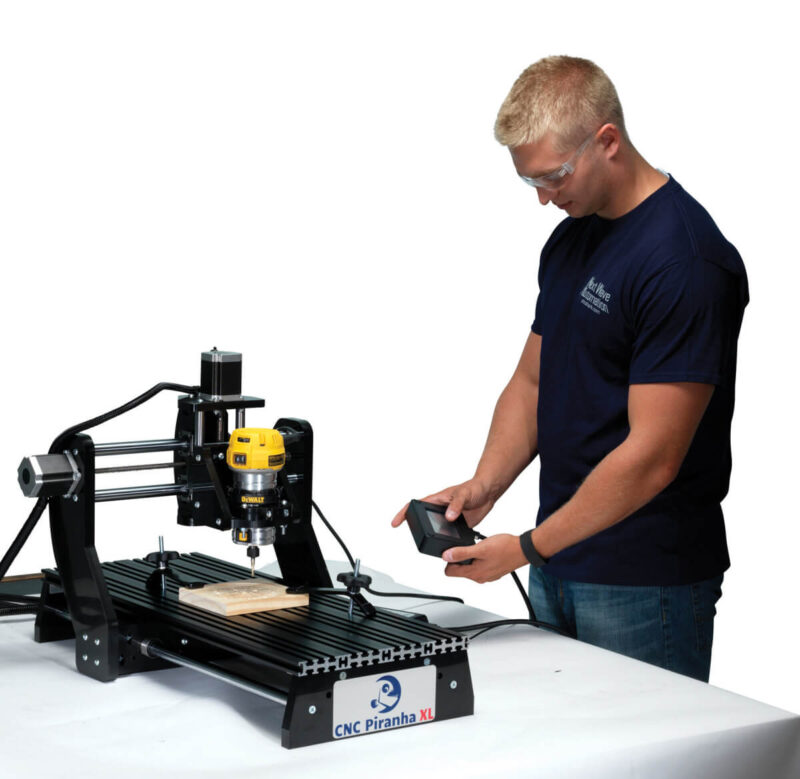 Credit: woodshopnews
Piranha XL CNC is accompanied with:
The latest version of VCarve Desktop Design software
Vector Art 3D Sampler Pack
Color Touch screen pendant controller system
V-router bit
Instruction manual
Two hold-down clamps
Setup
The kit does not include a router, so you'll need to install one yourself. Having stated so, it's noteworthy that the machine works with palm routers from DEWALT, Bosch, and Porter-Cable.
The manufacturer ships XL in a fully assembled condition with a mounting bracket. Moreover, XL is also compatible with accessories such as:
A laser module
A 3D printer
The Digital Duplicator is a touch probe, or 3D scanner and image duplicator. Specifically useful when you need to restore a broken piece of an object or in imitating patterns and textures in a new project
A safety enclosure
CNC Machine Quality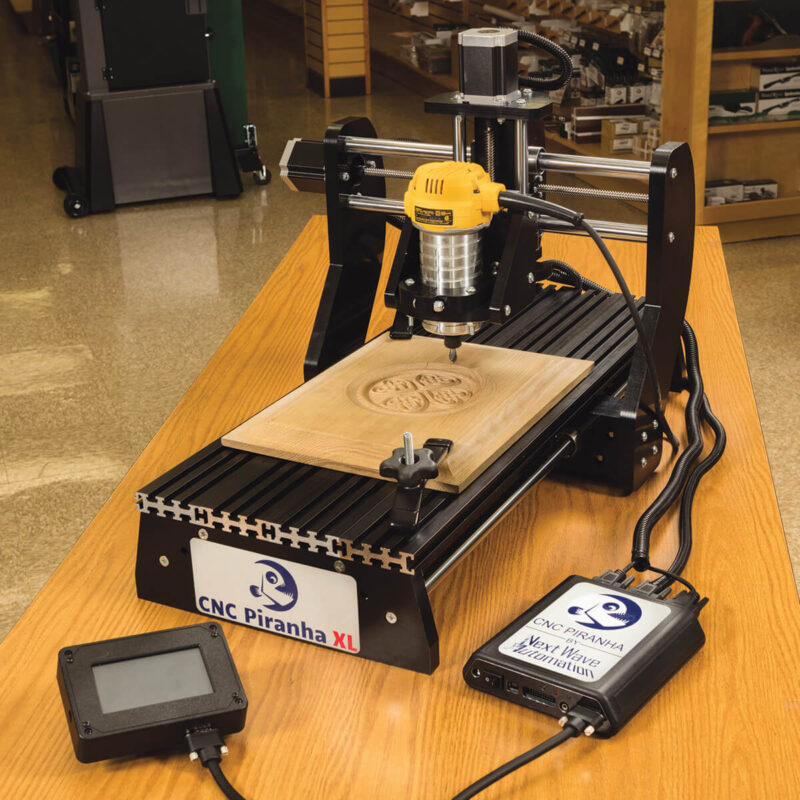 Credit: woodcraft
The machine is capable of accurate cutting, especially with a 3D carving module. It uses the NWA 3D digital touch probe that is a 3D duplicator that you can use for scanning or tracing a 3D image. Note that XL is capable of duplicating an object down to around 0.001-inch detail.
Software
A VCare V8 desktop design software lets you create your own designs by providing you with a lot of tools and functions that permit you to come up with simple as well as complex designs. By using them, you can directly save the file to a USB drive for milling or engraving. It's one of those rare applications that suit not only beginners as well as advanced users.
Customer Support
The company offers excellent customer service that can be reached out via email or their website in case of any issues.
Parameters Influencing Buying Decision
Below mentioned are a few main factors that are good to consider while making your buying decision.
CNC machine cost: Priced just under $2500, XL might seem a little bit on the higher end to beginners, but it manages to compensate by providing extraordinary features.
CNC machine quality: Be it machining of some complex geometries or simple ones, XL delivers dimensionally accurate parts and functional prototypes.
CNC machine capability: The machine is capable of delivering quality in a minimum amount of time. It has an impactful performance which sets it apart from others in the same price range.
CNC machine practicality: This is where XL excels. It delivers great results while carving inlays and corbels from plastics, wood, or soft metals. Also, it's extremely handy while restoring furniture or copying broken parts for a fix. Moreover, XL is highly recommended for creating plaques and precision parts.
CNC machine user expectations: Professional users will have fun playing with the machine. XL will allow them to create complex geometries easily. Especially manufacturers in the field who are looking for a reasonable CNC machine would love working with XL. Apart from that, beginners who are willing to make a future in the field will also find it extremely suitable.
The Verdict
In a nutshell, XL was originally created for aiding multiple tasks and serving as assistance for your commercial as well as domestic applications. For doing the same, the machine does require you to have a PC and a transfer cable, but with that in place, you can enjoy the functionality of the entire system.
The key highlight of this system is its software that aids you in all your operations without any problem. Moreover, the aluminum table does the work of providing an added layer of advantage with versatile clamping. So, all you gotta do is follow the instructions to maximize your output.