Table of Contents
3D printing has made it possible to craft numerous impossible designs efficiently. And, if you wish to the 3D print unicorn, you can do that too.
Unicorns aren't real, however, a creature of myth. But children love to play with their figurines. You can also use the printed unicorn to decorate your shelves. So, what does the creature looks like?
Unicorns are similar to horses, however, with few differences. These have a horn on their forehead pointing upwards as well as wings to fly.
Pretty fascinating, isn't it? What makes the deal even more interesting is that these aren't very simple to print. And, you may require some time to process the 3D printed parts which resemble exactly like a Unicorn.
For instance, there are certain designs on the internet that does not include the tail and wings of the Unicorn. So, after printing the 3D file, you may have to work for those parts on your own. And, it's pretty much fun. We will be elaborating on that later in the article.
To start, how about pinning down all the essential stuff you would require to create a Unicorn using a 3D printer? That sounds perfect, isn't it? You must collect all the items to ensure you do not fall short of any component while you plan to a 3D print unicorn.
Things Needed to 3D Print Unicorn
As discussed, let us start with the essential parts and components you would need along with your 3D printer to create a perfect Unicorn.
Acrylic Color
Paint Brush
Thread roll
Sanding Paper
A small and thin iron wire
A shuttlecock (with feathers)
Scissor
After you have accumulated all the necessary stuff, you can start right away. Below, you can find the steps to properly 3D print unicorn along with various alternate design recommendations.
How to 3D Print Unicorn?
3D printing is fun when you know the tricks to make the job perfect. And, in this case, you can take inspiration from various other artists by choosing their 3D models. Later, you can carry on post-processing depending on the required needs. But where to start?
Choose a 3D Design for Unicorn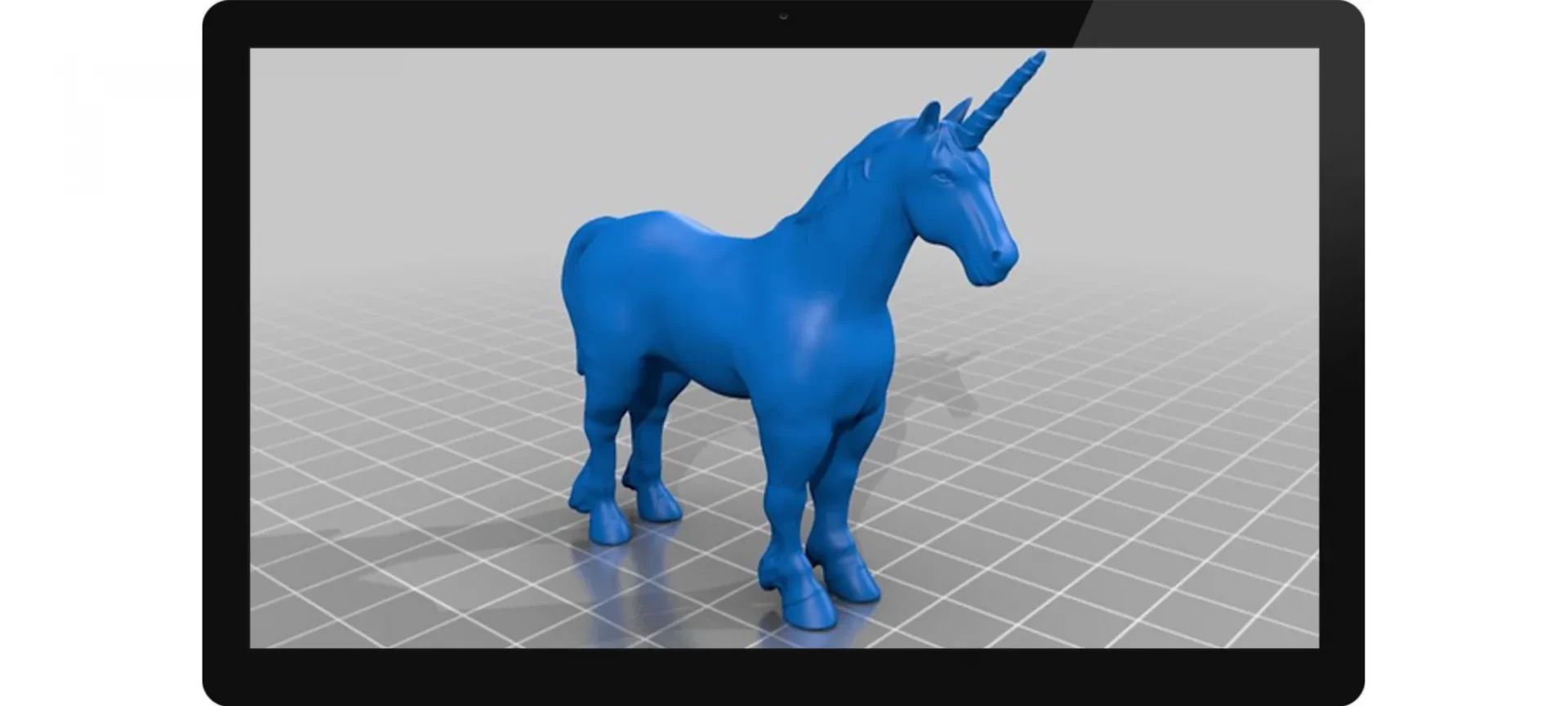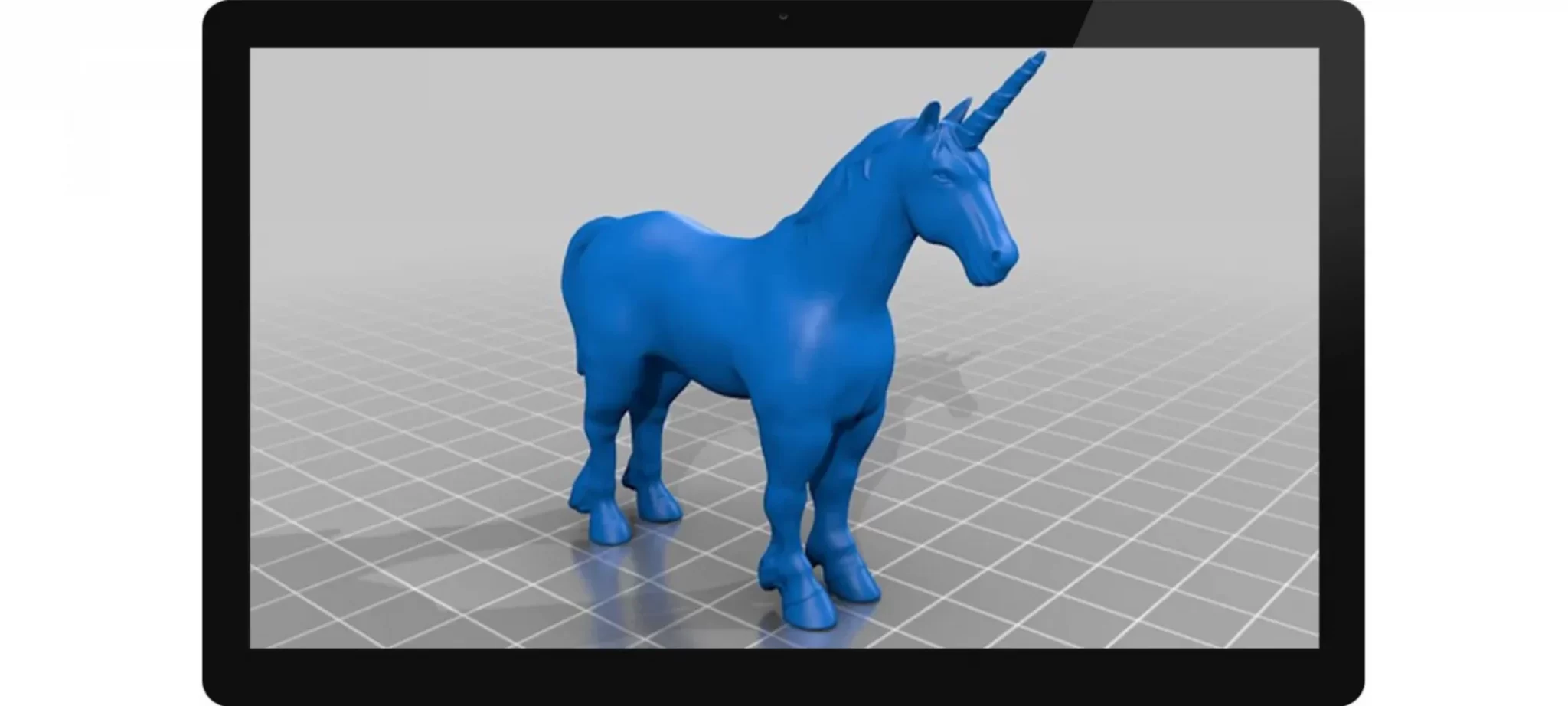 It all starts with the digital file, isn't it? If you do not want to 3D print at home, you can even choose to outsource the work to the online 3D printing companies. However, what's the fun in that. If you do think that way, here are few recommendations of 3D designs to choose from.
Unicorn sculpture 3D print model: This model is from CGTrader. The unicorn design is more like a sculpture and would better suit when used as a decorative item. It is a paid design and costs $31.
You can check the model's picture before choosing the file. You can even make edits to the design if needed. However, it does look great and unique.
Unicorn Key Chain: How about a unicorn key chain? If you like creating funky functional parts, this could add more color to your collectibles. You can find this design on Cultse3D.
Unicorn 3D Model: Costing $10, the design is impressive. You can download this model from Free3D. The file contains the details of the design. You can check the settings and print with care to produce a perfect unicorn. This design isn't just for the show, but your children could also play with it.
Toy Horse Unicorn: One more design from Free3D which costs around $9 is fun to print. A simple looking model is yet tricky to print. But when created with perfection would be one among the favorite toys of your kid. You can go to this design too.
My Unicorn: This design from TinkerCAD is easy and simple. However, you may have to work a little for the tail and the wings as it does not have those. But that won't be as difficult as printing these parts separately and gluing it together on your printer Unicorn. So, why not take that chance and start with this model?
These are just a few examples. You can definitely search and other designs on various other online repositories including Thingiverse and Myminifactory. However, ensure you do not select a complex file, that may lead you to dead ends.
Choose the Material to Print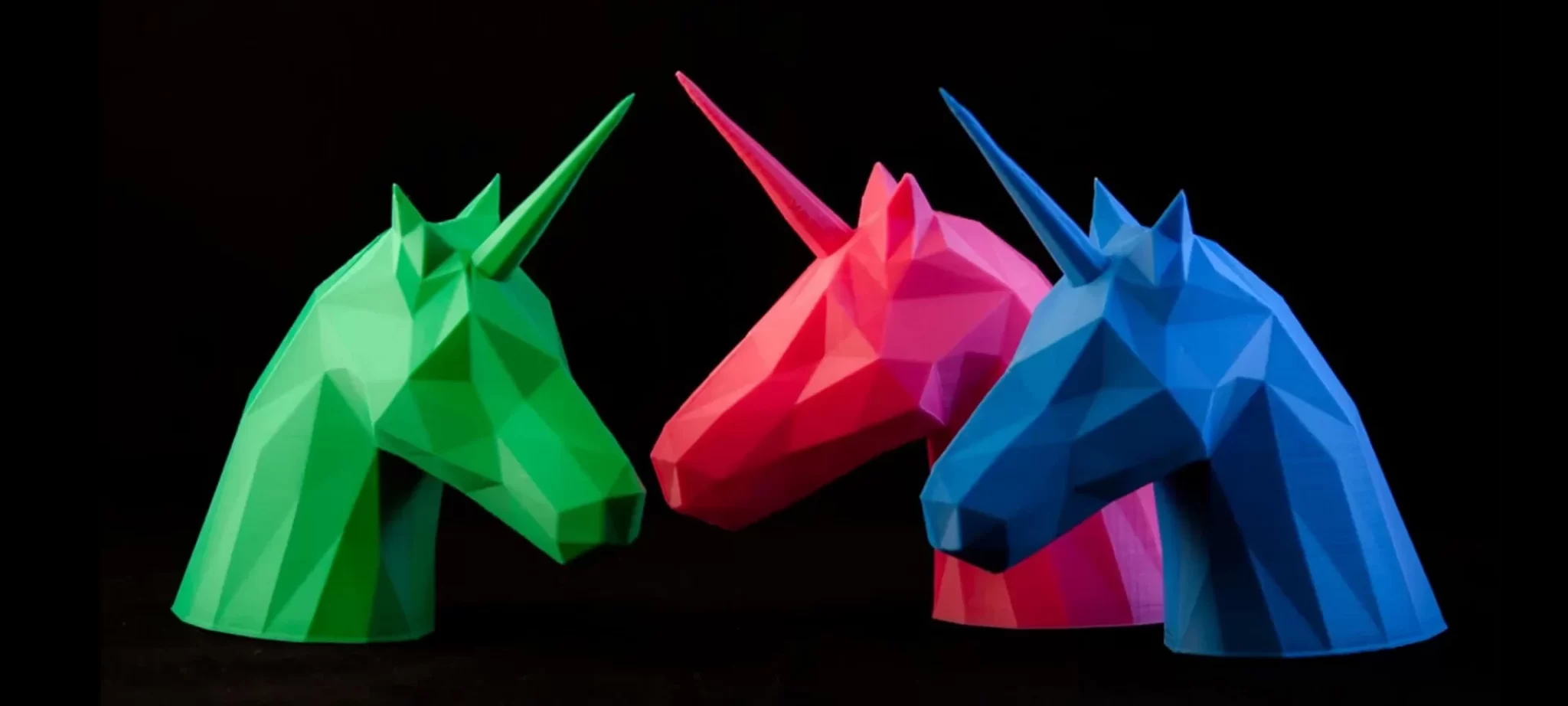 Now that you have decided to print a Unicorn, you may like to figure out the best material to 3D print Unicorn. You do have various options. Depending on the need, and the support of your 3D printer, you can choose between different options.
If you wish to go with PLA for making the 3D printing process easier, you can do that. However, ABS would provide better results. And, it would be strong and not too vulnerable to breaking.
PLA may get you the polished finish. However, it won't be as strong as ABS. So, depending on your priorities, you can decide the same.
Set 3D Printer Settings and 3D Print Unicorn
Calibration and bed leveling matter the most. Even when you have a fair design to 3D print, the wrong setting could lead you to a different path altogether. And, you won't like that too much. So, it is better to find out the settings that could get you the finest result.
You must calibrate the 3D printer depending on the shrinking properties of the chosen material and other variables. Once that is done, you can test a small cube and ensure that everything is alright.
If you can keep the layer height to its minimum range. This would get you the fine details processed effortlessly. And, the layer difference won't be visible.
Moreover, if you have a single extruder 3D printer, and you can print only in one color, the design from TinkerCAD would suit you best.
Selecting the white ABS, you can complete the 3D printing as suggested by the original maker of the design. The STL file is available for the same. Hence, it won't be any problem to start 3D printing.
To further enhance the looks and add colors, tail, and wings, you must carry the post-processing to complete the work.
How to Post Process the 3D Unicorn?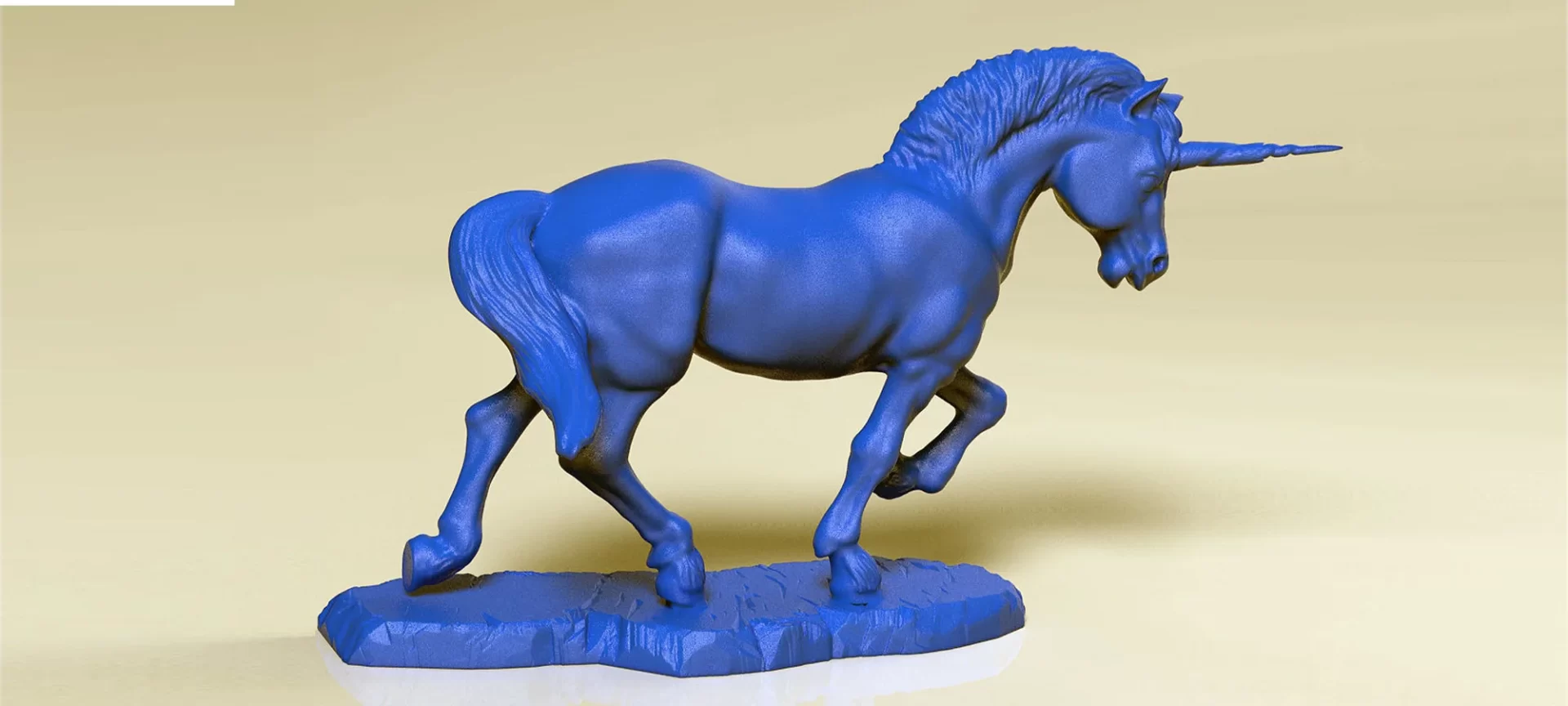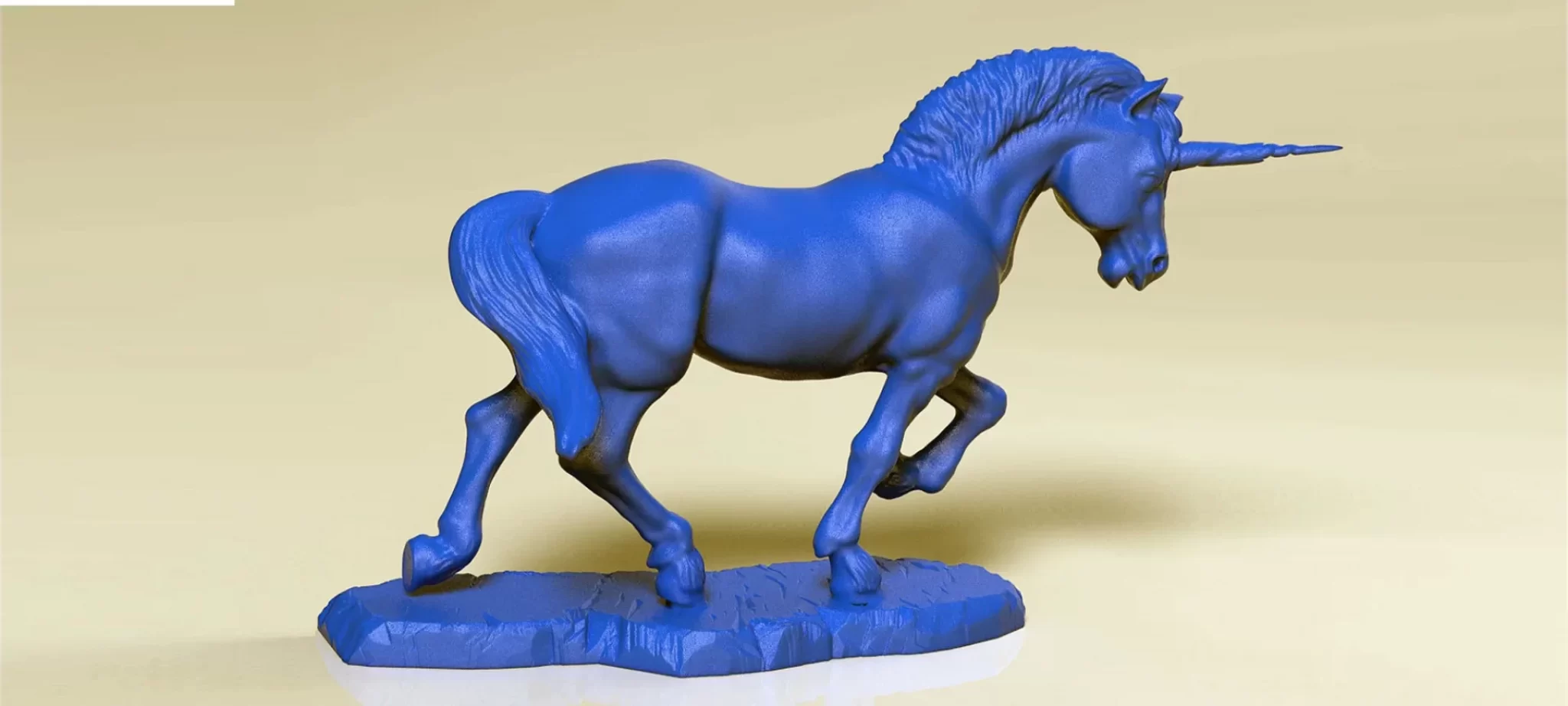 There would be a few steps needed to complete the look of the Unicorn. Here are the steps for the same:
Sanding
Because you would be painting your model, you must sand the unicorn to smoothen the surface. Otherwise, it would feel rough and unattractive. You can use the sanding paper to smoothen the surface of your unicorn. It is easy and if you have done it before, you won't face any trouble.
Use Acrylic Paint to Provide the Finishing Touch
Are unicorns all white? No, right! What about eyes, tail, and other features? Hence, you would be needing colors to fill those spaces to provide a real look to your model.
Use the black color to paint the eyes. Horn would look great when painted yellow. Choose a dark shade of yellow to give the horn a golden touch. Later, use the pink color for feet and mouth.
If you do not have a lighter pink shade, mix red and white. And, you would be able to get the exact shade you have been looking for. If it's darker, use extra white. And, if lighter, mix extra red until you achieve the desired pink shade.
Create the Tail
Do your kids love crafts? If yes, why not involve them in this interesting routine? You already have the body of the Unicorn.
All you need now is the tail and the feather. So, let your little minds find a solution for the same. If stuck, you can always guide them through. For preparing the design of the tail, you would need a small iron wire. Keep it aside for some time until you prepare the tail hair.
Use thread and roll it around the visiting card until you achieve the thickness of the tail needed. Cut the thread at one end and fasten it. Wrap the iron wire with more thread to make it thicker.
Add the loose thread tail you just created at the end of the wire. Keep the wire bent to make it look like a tail. Use the super glue to fix the tail of the Unicorn model.
You can also paint the tail pink to offer a more vibrant appearance to the entire model.
Craft the Wings of the Unicorn
Take off the feathers of the shuttlecock. Combine three feathers together to complete a wing. Make two such sets. Paint those into pink as well. Then use the same super glue to paste those wings on both sides of the unicorn.
This way, you can create the entire unicorn with complete features. If you wish, you can go for other 3D files that do not need such post-processing needs. However, your 3D printing efforts would widely vary, depending on the model you choose to print.
Why to 3D Print Unicorn at Home?
Surely, you must be wondering why 3D print at home? You definitely can choose to buy a unicorn from the market. However, there are perks of printing the design at home that may feel worthy than getting it from a shop.
Here are reasons that may inspire you to print a 3D Unicorn all by yourself.
The flexibility of Choosing the Design
3D printing has made things simpler and accessible. If you aren't able to find a missing part, you can print it with your 3D printer. And, the best part is that you can create unique designs.
Using the designing tools, you can even create your model as you want to print it. If you aren't very comfortable working with these 3D applications, you can make edits to the downloaded designs.
Hence, you have more choice to create the Unicorn model as you like it.
Fun for Kids
Although 3D printing is fun, using it for printing items that your kid's love would make it even more exciting. Unicorns are everyone's favorite, especially children.
There are stories about this mythical animal. And, children do aspire to see how Unicorns look in real. Though you cannot get them to a real one, the closest match would be a 3D model.
Instead of getting it from a shop, prepare one that your kid wishes to play with. And, it would really be exciting for your child to see the model being prepared inside the 3D printer.
Think about it. Isn't a smile on your kid's face worth more than anything else? That is why you should plan to print unicorn or such toys at home.
Learning Experience
If you want to expertise 3D printing, you must choose to create challenging models. And, the unicorn could be that choice for you. With curves and different components, the design seeks your presence of mind and skill to get perfect results.
Hence, this design would help you mind out hidden tricks of 3D printing. And, you sure want to learn those.
Moreover, it would be fun for you too. You can try the same and find out yourself.
The Conclusion
Are you an enthusiast who seeks challenges more than often? If yes, how can you not realize the immense learning that a model like that of a unicorn can provide you? If not until yesterday, you can start it today. The project has huge potential to help understand the nuances of 3D printing.
You can also add more styles to the downloaded designs and create some upgraded versions. From figurines to functional Unicorn themed items, you can choose a lot of designs to print. The best part is that the online repositories have thousands of options for you to select from.
And, in case, you wish to create your own model, do not hesitate. If you fail, try editing your design until you are able to 3D print unicorn without any problem.
It won't be just satisfying but great progress towards more complex 3D printing projects. So, what are you waiting for? Go ahead and let your creativity lead your way.