Uniz Slash Plus 3D
This is the first 3D printer is that uses UDP, and its print results are self-explanatory when it comes to the popularity of this 3D printer.
PROS
The machine has high Print speed.
Uniz Slash Plus can be very easy at the removal of media
The printer uses Non-proprietary resin.
CONS
The printer has no control screen as a user interface.
Documentation is something that the printer can improve upon.
The printer's accessories are restricted.
Product
Specification
Videos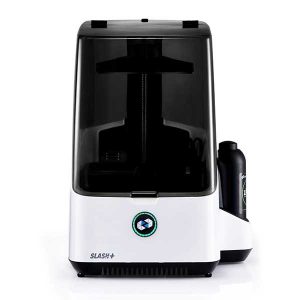 A desktop SLA 3D printer based on the LCD stereolithography, Uniz Slash Plus is a very progressive and amazing machine. With 192 × 120 × 200mm of ...
| | |
| --- | --- |
| Model | SLASH PLUS |
| Manufacturer | UNIZ |
| Price Range | $ 2849 |
| Release date | 2018 |
| Country | United States |
| Availability | Available |
| Classification | Desktop |
| Technology | Resin (SLA- DLP…) |
| Material | Liquid resin |
| OS compatibility | Mac OS, Microsoft Windows |
| XY accuracy | 0.03 mm 0.001 in |
| Max. build size | 192 × 120 × 200 mm 7.56 × 4.72 × 7.87 in |
| Max. build volume | 4.61 L |
| Min. layer thickness | 0.01 mm 0 in |
| Dimensions | 350 × 400 × 530 mm 13.78 × 15.75 × 20.87 in |
| Weight | 12 kg 26.46 lb |
| Power input | 100-240 V 50-60 Hz AC |
| Heated print bed | No |
| Heated build chamber | No |
| Automatic calibration | Yes |
| Closed frame | Yes |
| Dual extruder | No |
| Independent Dual Extruder | No |
| Full color | No |
| LCD screen | No |
| Touchscreen | No |
| On-board camera | No |
| Mobile app | No |
| 3D scanners | No |
| CNC mill | No |
| Electronics 3D printing | No |
| Laser engraving | No |
| Conveyor belt | No |
| Air filter | No |
| Pellet extruder | No |
| USB | Yes |
| Wifi | Yes |
| Bluetooth | No |
| SD card | No |
| Ethernet | Yes |

Table of Contents
For their high-speed resin 3D printer, Uniz Slash made itself half a million dollars on Kickstarter in the year 2016. Never for there had been a 3D printer in existence that used LCD instead of laser with an optimized cooling system for a selling price lesser than $6269.
In 2018, Uniz 3D launched an upgrade to their Slash naming it Slash Plus. The primary advertising point of this printer is its amazing print speed i.e. 200 mm per hour. Arguably, Slash Plus is the fastest 3D desktop resin printer in the market.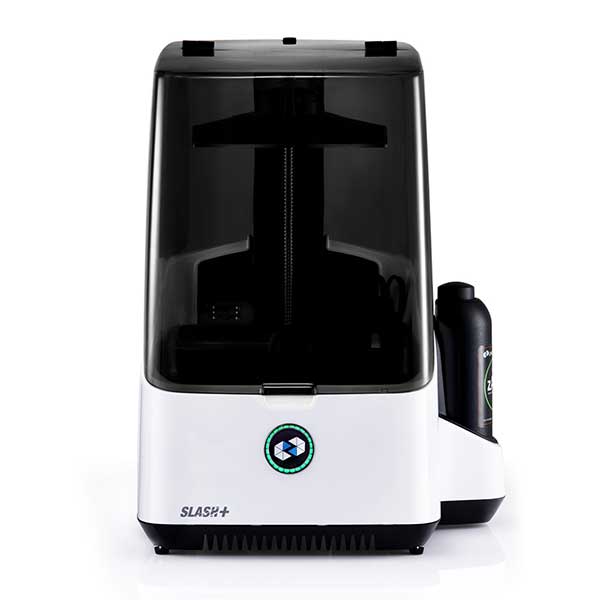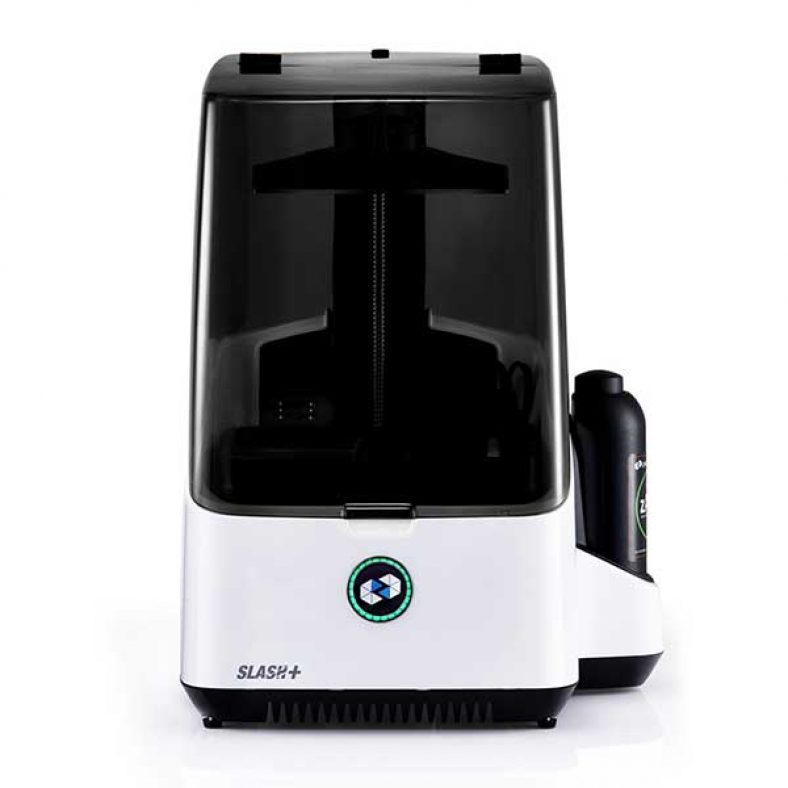 Speaking about the quality, this printer has a resolution of 75 microns and offers a minimum layer thickness of 10 microns.
Features
There are many amazing features that this printer offers like all other SLA printers, but below mentioned are those two which are unmatched i.e. they cannot be found in any other SLA printers.
Unidirectional Peel Technology
This is the first 3D printer is that uses UDP, and its print results are self-explanatory when it comes to the popularity of this 3D printer. The 3D printer is known to create layer-less and very high-resolution parts, alongside an amazing surface finish in every part and functional prototype that it creates.
This project on Kickstart rose the bars for other manufacturers and was successful in drawing more than $200,000 in terms of funding.
This 3D printer has been designed in a way to suit the needs of designers and professionals who are always looking for an edge for outlining their creativity in the best way possible.
High-Resolution Speedy Printing And Simplistic Design
When it comes to speed, you can enjoy the 3D printing done by Slash Plus at a rate of 1,000 cm3 per hour. Calling it the fastest SLA 3D printer won't be an exaggerated statement at all. With speed, a thing that comes handy is the high-resolution that is offered by this printer.
You can print a model with the minimum resolution of 10 microns layer thickness and a build volume of 192 × 122 × 200 mm. In short, one can create many models and parts without feeling being limited in terms of space.
Another feature that adds to its awesomeness is the simplicity of its design. Users can clean the printer with ease because of this well-designed printer.
Moreover, the Slash Plus comes with a vat floor composed of a specific designed long-lasting polymer film. This film can stay unharmed for up to 1,000 3D printing hours, isn't that amazing?
Specifications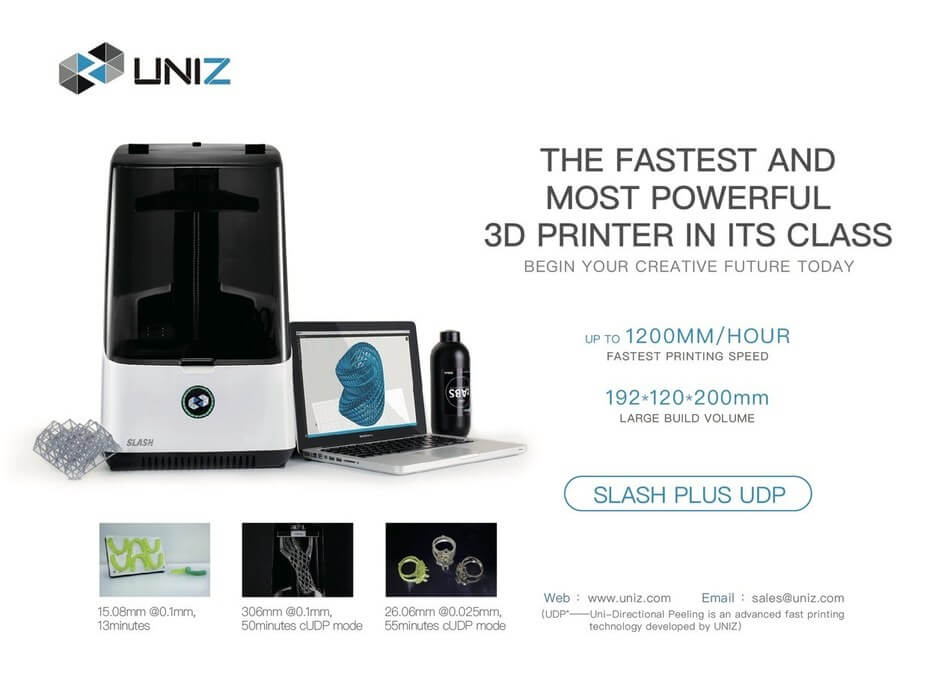 Credit: prnewswire.com
The Printing Technology used by this printer is LCD Stereolithography. The build volume of the printer is 192 mm × 120 mm × 200 mm.
The printer's XY Resolution is 75µm and the Highest Accuracy offered by this printer is ±20µm. Layer Thickness range along the Z-axis resolution is 10, 25, 50, 100, 150, 200, 300µm. Uniz smart support technology allows the printer to have a printing speed of 200 mm/hr.
The operating Temperature of the printer as suggested by the manufacturer is 18-28°C. The power required for this printer is 100-240VAC, 3A 50/60Hz, 240W.
Price
The market price of this printer is $2489.
First Impressions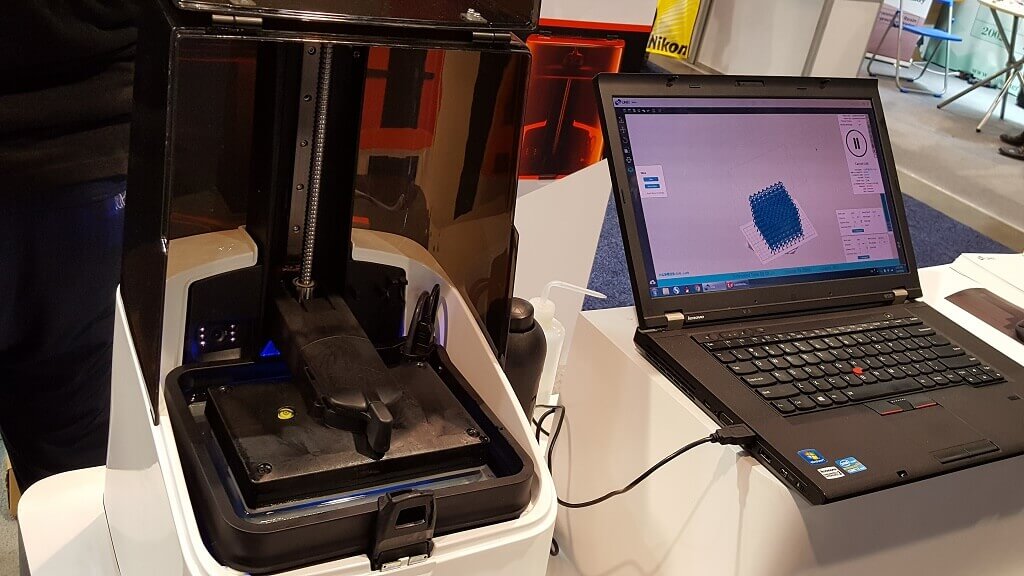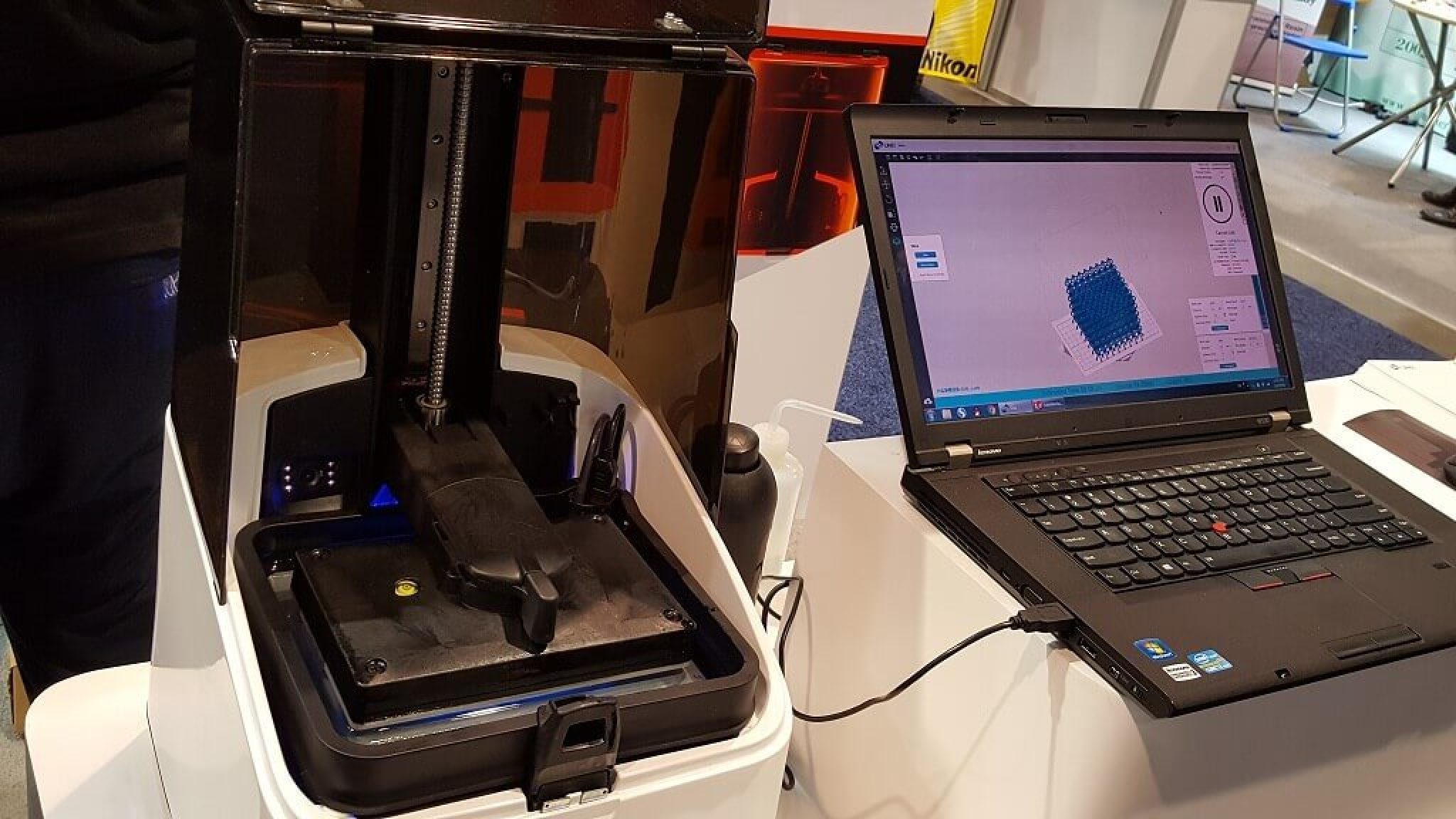 Credit: 3dprint.com
The Slash+ 3D printer is delivered in a package that's well thought out. But because of the printer's size, you'd need one more hand to get it out from the packaging. When measured, it displays the following dimensions: 350 x 400 x 530 mm similar to Form 2 Formlabs (350 x 330 x 520 mm).
At first glance, the white color of the printer's frame strikes out to you and makes you know about the carbon fiber and reinforced steel that it is made of, in case you don't know.
After getting to know that this is a very solid machine, the other part that steals your eyes is the control screen. After searching for it from top to the bottom, you would, if you don't already know, know that the printer doesn't have one.
Then there is this question, how would then the printer run on? It runs completely through the software that you use on your computer. The list of accessories that come with the machine includes the printing plate, resin tank, power cables, and a quick start guide.
There is also a green zABS resin cartridge and an empty cartridge for cleaning accompanied with the accessories. Along with resin, there are also various tools such as an Allen key, two sizes of a spatula, a needle that will help you to open the resin cartridges, and finally sandpaper for finishing.
As part of this test, if bought from the distributor Atome 3D, users are also provided with a resin cartridge of 1L White Snow White from Funtodo, the market price of which is $63. There is also an isopropyl alcohol spray, essential to clean your parts at the output of the printer.
Setup
For starting the machine, you'd have to follow the guide provided that is provided by the manufacturer. There are a few steps that you'd need to go through, they are mentioned below.
But before that, something that you'd have to do which is not mentioned in the book is something that's mentioned on the UNIZ 3D YouTube channel videos. You'd have to remove the protective film located between the LCD screen and the resin tank and install the resin level sensor.
After this, you will be able to install the resin supplied with the Slash+ 3D printer. This would be done simply by inserting the cartridge into the appropriate space.
Stepwise Installation
Connect the power supply and then connect your machine to your WiFi network for activating the product.
Then drill it with the needle that's present in the accessories, and finally refit the cap on the other end of the bottle. For the resin to empty itself automatically into the tray, you will have to wait to install the printer software.
Although getting started is rather easy, the documentation provided is relatively simple than the practically difficult setup.
Basic and not necessarily obvious information concerning neophytes is missing. Resin replacement, machine maintenance, or print media management is something you'd have to look up to yourself.
Various unofficial guides, written by a growing community, are something you'd have to manage from on the web. You can also take the help of the many videos put up by Uniz on their YouTube channel.
Regarding materials, although the brand offers its range, UNIZ 3D has not restricted its printer to only that. The brand is kept open its 3D printer up, allowing it to use competitor's resins to be used with their printer.
Tests reports on websites show how they can test the White Snow White resin from Fun To Do. To use such resins, you will have to manually pour it into the printer's tank.
Also if you are doing that, you will have to choose the correct curing parameters in the software, such as the power of the LED or the light exposure time of each layer.
A last comment regarding the setup is rather a complaint i.e. the lack of a processing station. Uniz's closest competitor Form 2 from Formlabs has this accessory that can easily be replaced by purchasing two hermetic boxes at a very affordable price.
Printing Type/Cost
SLA printer, unlike FDM printing, takes resin bottles for printing 3D parts or prototypes instead of filaments. The overall printing cost of this printer is higher than other SLA printers because of the use of uni-directional printing in it.
Print Quality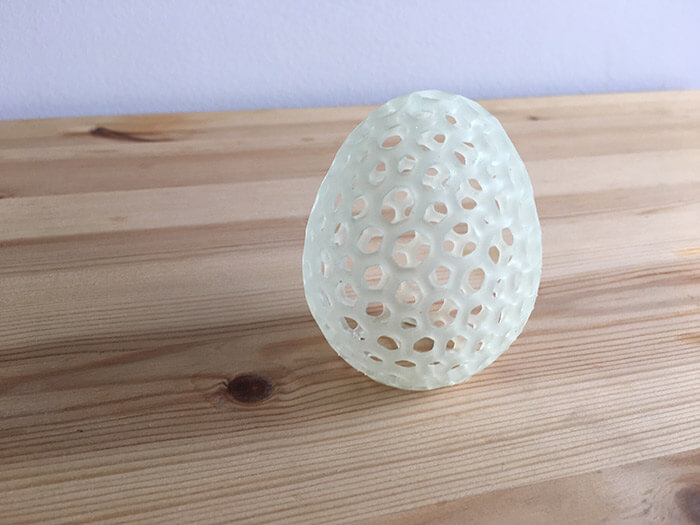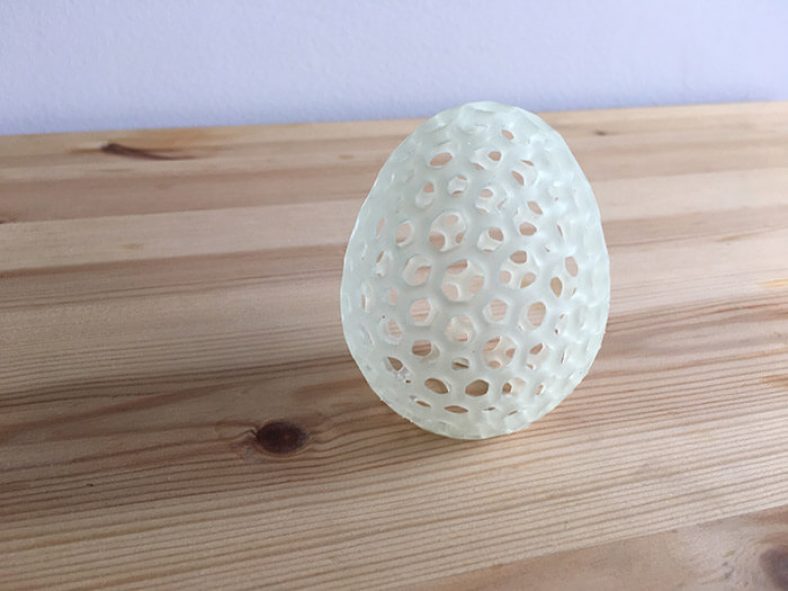 Credit: 3dnatives.com
The appearance of the prints that are freshly printed using this printer remains very clean and globally similar to other resin machines on the market.
Also, there isn't any post-processing that is required as per the reports on websites that publish this information allege. They are simply cleaned with isopropyl alcohol. The other possibility is to pass them in a UV oven to further solidify them or sand them lightly to improve the surface condition.
Software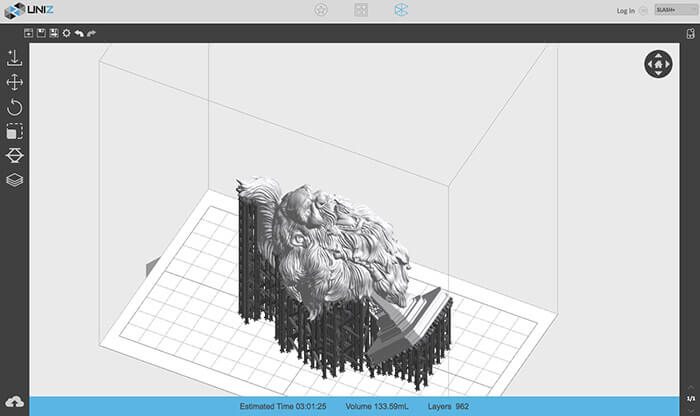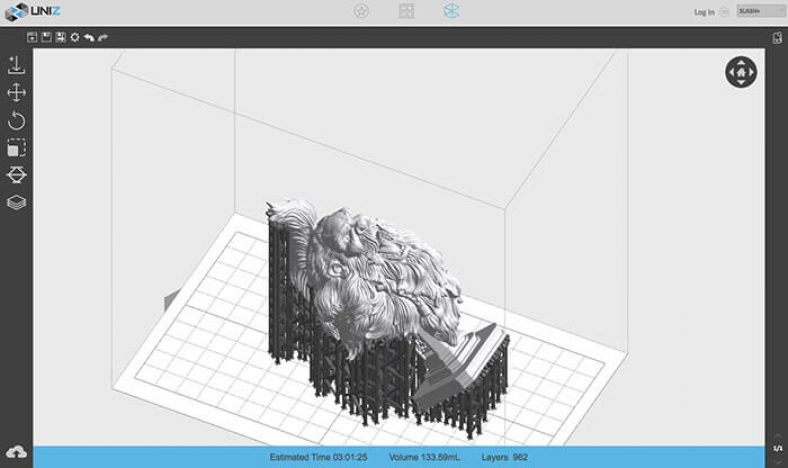 Credit: 3dnatives.com
The software named Uniz is supposed to be used with this printer. It is compatible with Windows 7 SP1+ and Mac OS X 10.8+. Reports about this software claim to be only available in English and Chinese.
In this application you will be able to make all basic changes to 3D files like move, rotate, zoom, and generate print media also with the ability to add or delete specific media in advanced mode, and of course slice the model.
The software also offers a printer control panel by which you can control it. Remember there is no interface LCD touch screen present in the printer.
Different controls will be available from the control panel, like for example, the option to fill/empty the resin tank, the possibility of cleaning the bottom of the tank can be done by printing a thin film of resin, and/or the calibration of the Z-axis.
Various information is provided in this software such as the estimated printing time, the volume of resin used, the number of layers, etc. Overall the software is easy to use.
Customer Service
Although the service is not something that leaves you amazed, it is just average that's needed. The printer comes with an installation guide and you can even contact them using various sources.
Parameters Influencing Buying Decision
The parameters that are needed for a mind to decide can be summed up into six that are mentioned below.
3D Printer cost: Seeing the quality of prints and the speed the printer claims to offer, people who are looking to buy a printer in the range of $1000 to $2000 should instead of buying one from that range, buy this printer.
3D Print quality: Because of the uni-directional peel technology the print quality of this printer is above average.
3D Print speed: Unmatched in the industry. Take any desktop SLA printer and put it in competition with Uniz Slash Plus, the latter is bound to win. And this is something to do with the technology and the change in the mechanism that Uniz has brought with this printer that enables its user to print those parts in hours, which would otherwise take hours.
3D Printer capability: You can print with other resins as well. Uniz has not kept the printer restricted to the resins that are manufactured only by them.
3D Printer Practicality: High-quality prints in less time can be printed using this printer.
3D Printer User expectations: All the small businesses that are looking to make a shift from FDM to SLA should look up to this printer.
The Verdict
Yes, the 3D Slash + printer by the manufacturer UNIZ is very fast! And the printing tests done by websites does not contradict this fact. Although to say that it is the fastest in the market, is hard.
But what is certain is that the speed that the printer has, has not been favored at the expense of quality. With a relatively equivalent price, the Slash + is said to be a serious competitor of the Form 2 Formlabs.
Although the number of resin machines that are affordable and easy to handle is rare, it is difficult to compare the two models. Another noteworthy argument about Slash + is the ability to use competing resins.
Doing this offers its users a very wide choice of compatible colors and types of materials.
There are also some points at which this printer lacks and one amongst them is despite all the lack of a facade control screen, documentation a little too succinct and the printer has relatively limited accessories.