Massivit 1800 3D Printer
This machine is a very large format 3D printer and offers a very unique extrusion technology, similar to FFF, but not exactly the same.
PROS
Users can print two different objects parallelly
The print speed is fast
Massivit is accurate and can create complex designs without the hassle
One can print support free models, even for non-vertical walls and ceilings
CONS
It is very expensive
Prints in only its proprietary material
Very huge in size
Product
Specification
Videos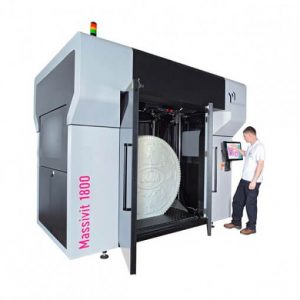 Do you believe that 'bigger is better'? If yes, do check the Massivit 1800 3D printer designed to offer enhanced performance to industries looking ...
| | |
| --- | --- |
| Model | Massivit 1800 |
| Manufacturer | MASSIVit 3D |
| Price Range | > $ 250000 |
| Release date | 2018 |
| Country | Israel |
| Availability | Available |
| Classification | Industrial |
| Technology | Material Jetting |
| OS compatibility | Microsoft Windows |
| Max. build size | 1200 × 1500 × 1800 mm 47.24 × 59.06 × 70.87 in |
| Max. build volume | 3240.00 L |
| Max. print speed | 1000 mm 39.37 in /s |
| Heated print bed | No |
| Heated build chamber | No |
| Automatic calibration | No |
| Closed frame | Yes |
| Dual extruder | No |
| Independent Dual Extruder | No |
| Full color | No |
| LCD screen | No |
| Touchscreen | No |
| On-board camera | No |
| Mobile app | No |
| 3D scanners | No |
| CNC mill | No |
| Electronics 3D printing | No |
| Laser engraving | No |
| Conveyor belt | No |
| Air filter | No |
| Pellet extruder | No |
| USB | No |
| Wifi | No |
| Bluetooth | No |
| SD card | No |
| Ethernet | No |

Table of Contents
Industrial 3D printers are becoming more and more popular. There was a time the technology was limited to a few hands. However, fast forward today, it isn't very uncommon to own an industrial-grade 3D printer for big businesses.
There still are concerns with price and affordability, however, the machine does promises to repay the invested amount sooner than ever. With so many applications and innovative technologies, 3D printers are becoming capable and enhanced.
One such example is Massivit 1800 3D printer. This machine is a very large format 3D printer and offers a very unique extrusion technology, similar to FFF, but not exactly the same.
What makes Massivit a lot different from other large-format 3D printers is its speed. The manufacturer claims this machine to be the fastest one. There is one more difference between other industrial grand printers and this one.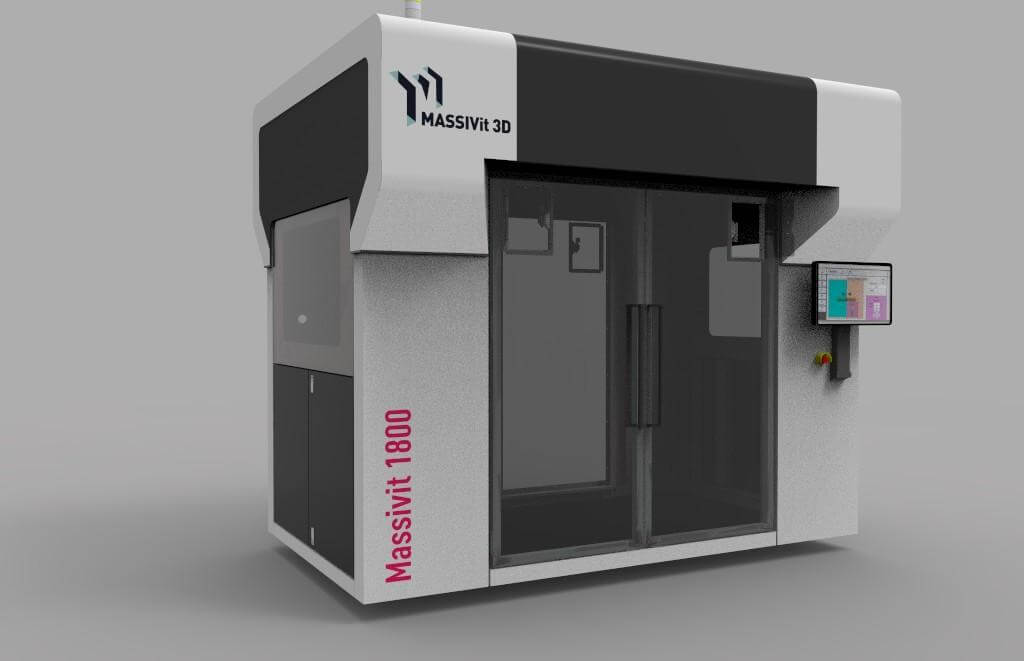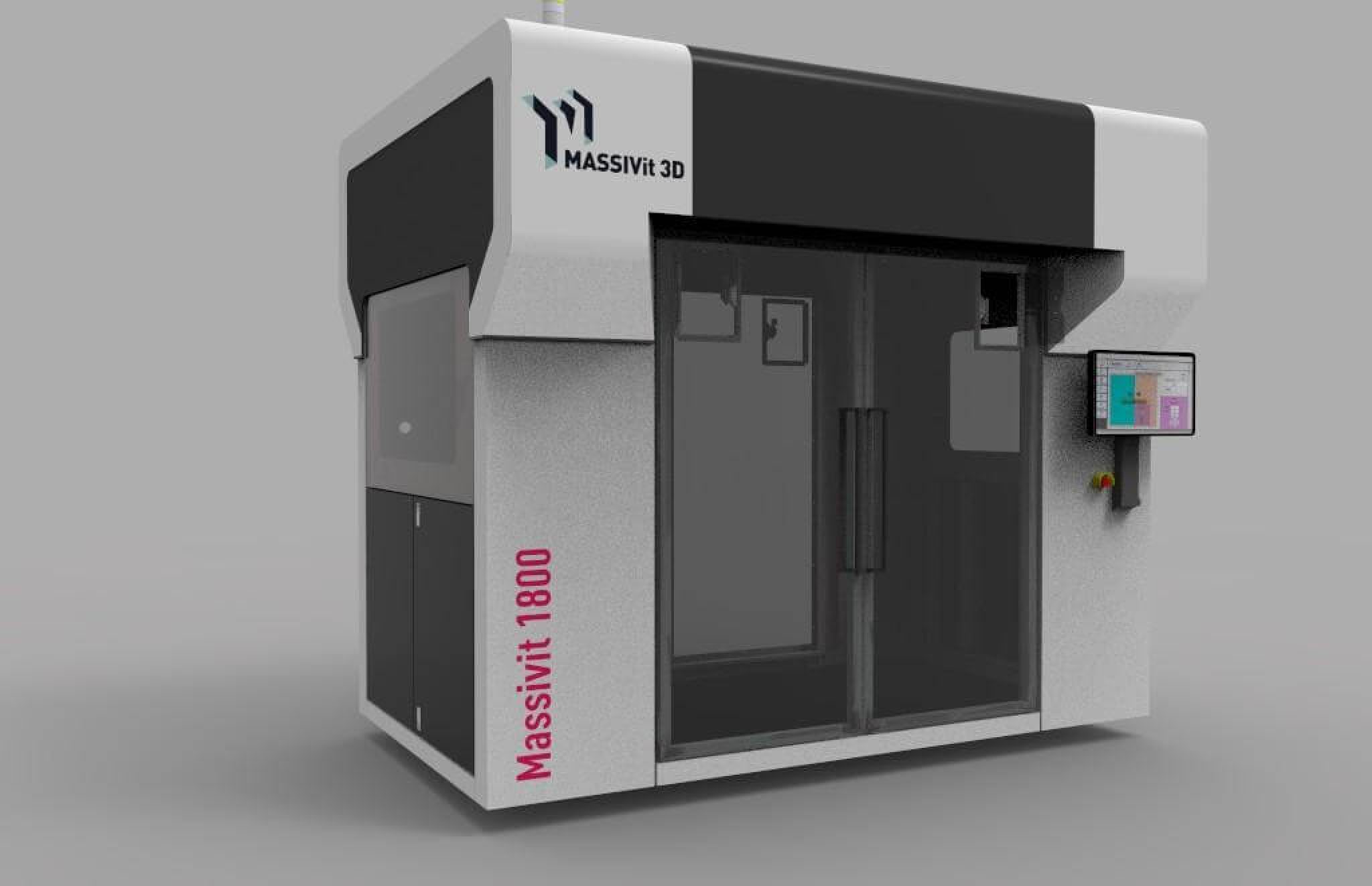 Credit: 3dprint.com
Most of the 3D printers manufactured for businesses are driven towards engineering uses. However, this one is, by far the only 3D printer primarily designed for display type applications.
You can imagine large-sized sculptures getting ready in a matter of hours using this amazing 3D printer. It is well equipped with all the necessary features to create life-sized plastic figures.
How about the massive chess pieces? In short, you can expect to 3D print 1.8m high models when printing with this 3D printer. One can also attach different 3D printed pieces to create even bigger size figurines, larger than the print volume of Massivit 1800.
So, why not go through various benefits and limitations of this 3D printer and find out what all features it entails for its users. Read the complete Massivit 1800 review to know what the machine is capable of. Plus, it would help you make an informed decision.
Features
The design of the 3D printer is focused on attracting the display market. Massivit 1800 was put to test in 2015 at a customer site. Later, in 2016, the machine display was arranged after which its features and specifications gathered huge acclaim from the users around the world.
According to the statements made by the manufacturer, Massivit is not very different from the wide-format graphics, printers. However, it is much more enhanced and has the ability to mesmerizing and attractive 3D printed sign as well as display projects.
The results from the 3D Printer, if properly utilized could go way beyond the output achieved from any 2D large format printing solutions. Hence, the 3D printer has features that could help users create engaging and eye-catching signs than ever.
Here are a few of the features of the machine that you must know:
Large Format Design
The 3D printer is massive, one of the largest 3D printers for application within the display niche. It can produce life-size models. You can create signs, boards, sculptures, figurines, and many attractive designs. To further scale the size of the models, you can even connect the various printed parts together to produce massive 3D models.
Closed Frame
Massivit has a closed frame. This helps in maintaining the consistent temperature inside the print area. Hence, increasing the precision and accuracy of the models. That is why printing such huge models isn't a problem.
Sturdy Body
The metal frame provides the 3D printer a very sturdy look and feel. And, the best part is that the 3D printing can go at a smooth pace without any vibrations even at a higher print rate. This again is a very important feature making the printer capable of printing precisely along with high accuracy.
Dual Process
This is something that is a very unique and beneficial feature. Massivit could help users print two different objects parallelly at the same time. This means that the printer can produce more models in half of the time.
Isn't that really captivating for users who are always in a hurry to get their work done in the least possible time?
Low Material Consumption
Once again, the manufacturer has thought about a lot of aspects when creating this amazing industrial-grade 3D printer, helping users keep the cost of material as low as possible. And, this is done using a design that enables support of less 3D printing.
That also makes the printing task easier and hassle-free. Plus, one does not need to get rid of support after the printing completes. A huge plus for the users, isn't it?
Unique Material
The team has come up with a unique material to make 3D printing, a breeze for its users. To do so, it has designed this unique material that is sensitive to a particular UV wave.
Hence, it solidifies fast and hence, adds on to the fast speed of the 3D printer. Thus, making the 3D printer an apt solution for fast manufacturing.
Dual Print Head
There could be one or two print head and it could further be scaled as well, as needed. Hence, providing users with more options and better capabilities.
Touchscreen Print Control
A huge touchscreen print control reciprocating the size of the machine is installed on the side of the machine. It helps manage the settings of the prints right from the printer itself.
Hence, there is no need to look for a connection to the computer or laptop when starting or changing the settings of the print.
Vacuum Print Table
Once again a unique feature that allows this 3D printer to offer unmatched printing results. Vacuum print table with linear printing adds more advantages for the users.
There are various other features that make this 3D printer the best choice for those working for display models. One can even create non-vertical ceilings as well as walls without support material.
This is because of the gel-based material that isn't too running and sets easily. Overall, Massivit has many features that can help industries create unimaginable designs, not possible through any traditional method, especially at this speed.
Specifications
As you would expect from an industrial-grade 3D printer, Massivit has a huge footprint. It is 1200 × 1500 × 1800 mm in size and offers 145cm x 111cm x 180cm of maximum print volume. Massivit weighs 2500 kgs. And, that is massive as the name suggests.
The 3D printer can have one, two, or even more print heads as per the requirement. An ability to scale provides users with options to go for better print output, depending on their specific needs.
Talking about the speed, the 3D Printer is very fast. You can run the machine at a maximum linear speed of 300mm/sec. The Z-axis per hour is also very impressive and counts for 35cm/hour.
There are two settings for print quality. One can choose between normal and high-quality 3D printing. It has a vacuum print table with linear printing abilities. Moreover, touch control access helps in preparing this 3D printer as a standalone working companion for businesses.
Not to forget, it also allows for remote control using a tablet. That creates more room for the flexible handling of the 3D printer. Massivit does add a lot of unique and astonishing features for its customers.
Price
The cost of the twin-engine version of Massivit is £300,000. The single-engine version costs a few bucks less. However, it still is expensive. But what could you expect from an industrial-grade printer that could allow you to print models of your size?
Although it may feel like a huge price to pay, for the right application, it is worth every penny.
First Impressions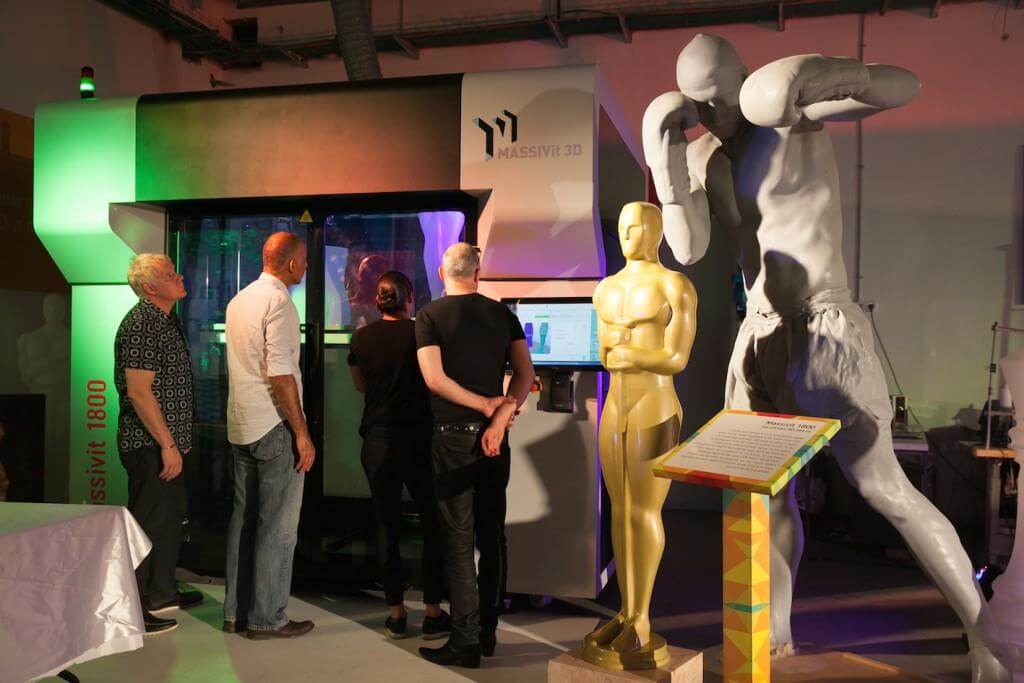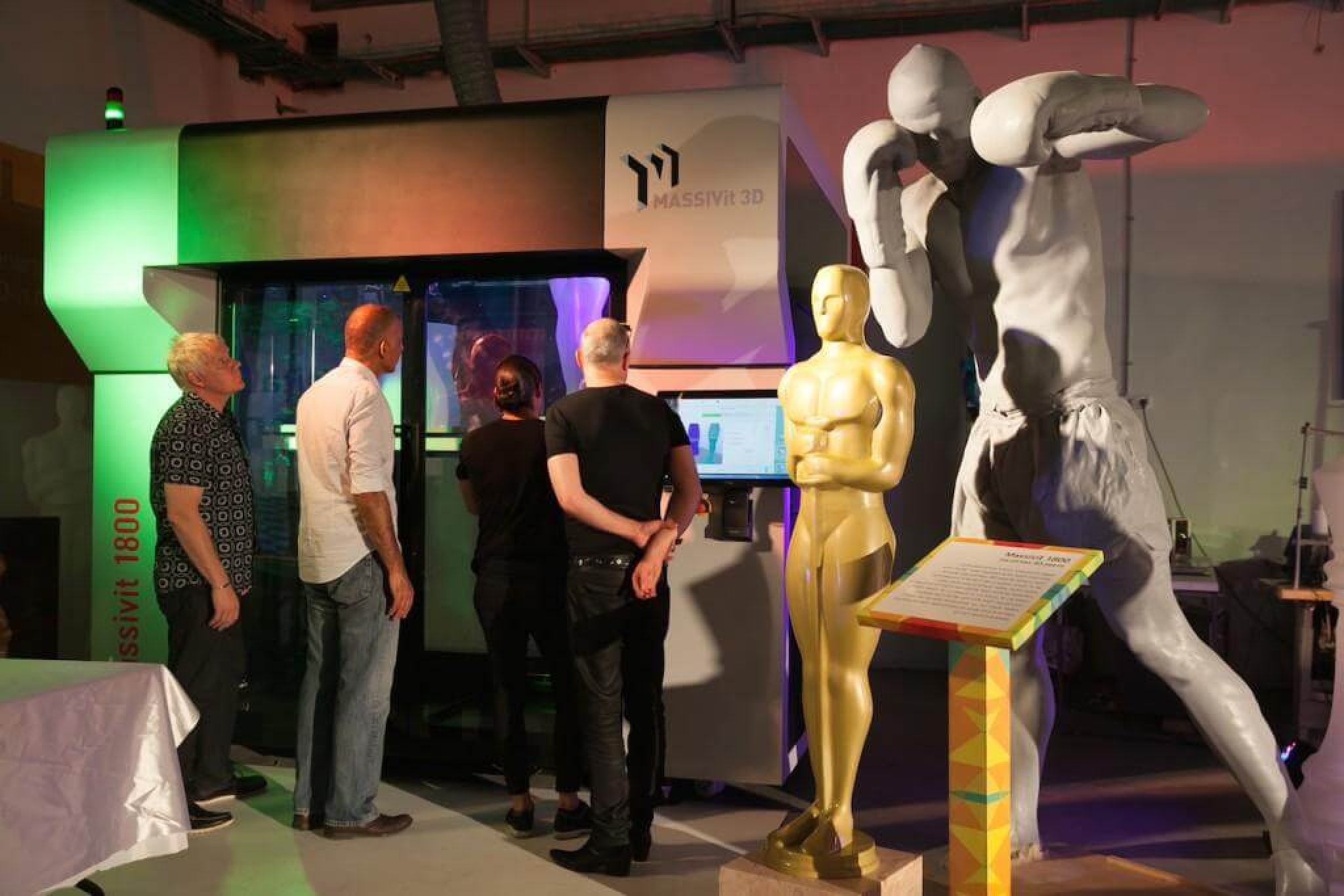 Credit: 3dprint.com
Introducing yourself to such a huge 3D printer than handles life-size models would certainly be a different experience. And, the manufacturer ensures that users feel comfortable when handling this massive machine.
It is a completely assembled machine. Hence, you must prepare a space for the same when ordering the 3D printer. You may want to fix it right away to the designated place. As moving it more often won't be feasible at all.
Setup
Like most of the industrial-grade 3D printer, this one also cannot be installed all by yourself. Hence, the manufacturer provides installing and onsite training to every customer.
Sometimes, it does it directly and other times, it manages to help customers through its distributors. Mostly depending on the location of the customer.
However, with touchscreen control along with the vacuum print plate, the training does not take much time. It is easy to handle and provides users with a hassle-free workflow.
Printing Type/Cost
The 3D printer isn't a usual FFF machine. However, manages to apply a completely different technique that does take its motivation from the FFF 3D printing process. Massivit is based on GDP, also known as Gel Dispensing Printing, a proprietary technology of the manufacturer. Like FDM printers, this machine also has a support plate. And, it moves down in a similar fashion too after each layer is extruded.
However, the layers aren't set by cooling those down. However, the material is in gel form and it needs particular UV waves for setting it down. This special material, called Dimengel photopolymer white plastic, is photosensitive and requires the UV waves for hardening.
The price of printing would depend upon a lot of factors including the material cost, design complexity, and various other parameters. However, the good news is that the gel material isn't very runny and sets faster. Hence, one does not require support material even when printing angles. This certainly reduces the printing cost by eliminating the expense invested in the support material.
Print Quality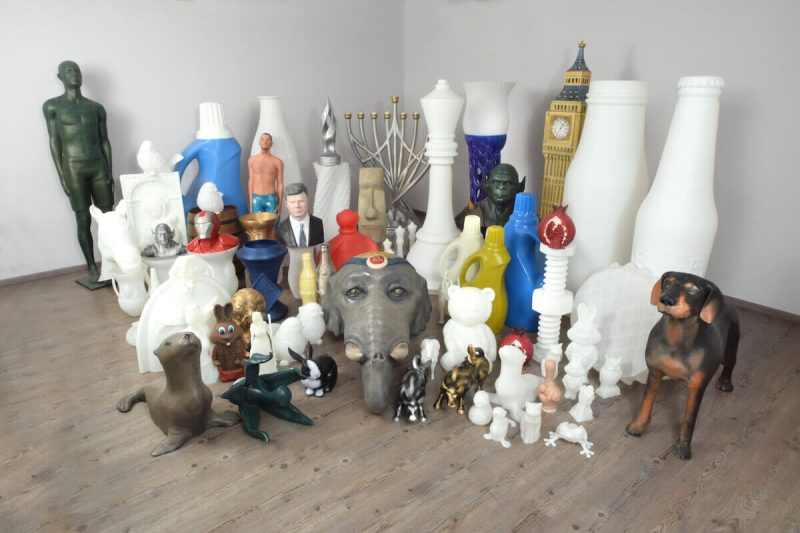 Credit: stackpathcdn.com
You can expect the print quality to be exemplary. Without a pinch of doubt, you can create amazing finishes and complex designs without needing support.
Software
Massive Smart Pro is the proprietary software that comes integrated with this 3D printer. It is compatible with windows and is very intuitive. It allows for great detailing of the input file for letting users print huge models.
Customer Service
The manufacturer is very precise about its customer experience and offers huge support to the users. It even manages the initial training and installation, either directly or through its distributors.
Alongside this, it is very easy to reach the technical team in need of issues related to the 3D printer. The manufacturer also takes care of the maintenance. Hence, allowing users to sit back and relax while enjoying every perk of 3D printing.
Parameters Influencing the Buying Decision
Before you decide to buy this 3D printer, you must look for the right reasons. Verifying various factors, you can take an informed decision. So, here is what you must expect from Massivit 1800 3D printer.
3D Printer Cost: It is a very expensive industrial-grade 3D printer. Hence, not suitable for commercial use.
3D Print quality: You can expect this 3D Printer to offer high-quality prints. It comes in two print modes, one is normal, while another is high print quality. In both these modes, you can achieve great details, with fewer differences.
3D Print speed: As claimed by the manufacturer, it is one of the fastest printing large format printers. Because the gel-based material sets faster, the printer is capable of completing the job in comparatively less time.
3D Printer capability: Massivit 1800 can print non-vertical walls without support. And, there are many fantastic things one can achieve with this 3D printer. It provides accurate and precise printing. Plus, one can even sand the models after printing to further smoothen the surface.
3D Printer Practicality: Focused on helping the display industry, the printer allows for printing unimaginable designs. One can print signboards, figurines, sculptures, non-vertical walls, and ceiling for decoration.
3D Printer User expectations:  It does serve user expectations well.
The Verdict
Overall, Massivit 1800 is a very accurate machine with competitive fast speed providing great results to the user. Plus, the support free printing of life-size models makes this 3D printer one of the most efficient options out there.