Once upon a time, Alter asked to control," What are you shifting from here to there for?" Shift mentioned Alter about the new inhibitors of that space i.e. 3D printed keycaps Function, delete, and the three control keys (Num, Scroll, and Capslock.) Alter asked control," Why is it that home, end, page up, page down, fine with this shift?" Control mentioned the politics played by Esc and Tab.
They had, by a little left, right, up and down made sure that home, end, page up, and page down were fine with this shift.
Control told Alter," My friend, you do not need to shift anywhere. If they have played politics, so will we. I will tell my friends Backspace, windows, and symbols to play opposite politics and ensure your space safe."
And then there was a war. A, B, C, D, E, F, G, H, I, J, K, L, M, N, O, P… L, M, N, O, P, Q, R, S, T… U, V, W, X, Y Z, 1, 2, 3, 4, 5, 6, 7, 8, 9, 0 died.
The older keycaps on the keyboard were not able to hold on to the keyboard anymore. And the user replaced the 3D print of keycaps with plastic covered keycaps.
If you do not want such a war to happen with your keycaps. Why not start seeing options of 3D printed keycaps?
In this article, we bring you ten amazing options of keycaps that you can 3D print.
These 3D printed keycaps are an outcome of the latest technology and can be very useful to gamers while typing in other languages and replacing the older version with a little more creative version of the keyboard.
List Often amazing models of 3D printed keycaps
The best thing about 3D printing keycaps is: you can customize them. As in if you wish to write something else instead of "Enter," you can do that.
The same goes for any and every other key on the keyboard.
Below mentioned are some of the most interesting designs that you can find on the keyboard.
Two Versions of PUBG Cherry MX Keycaps by iTzOminousTic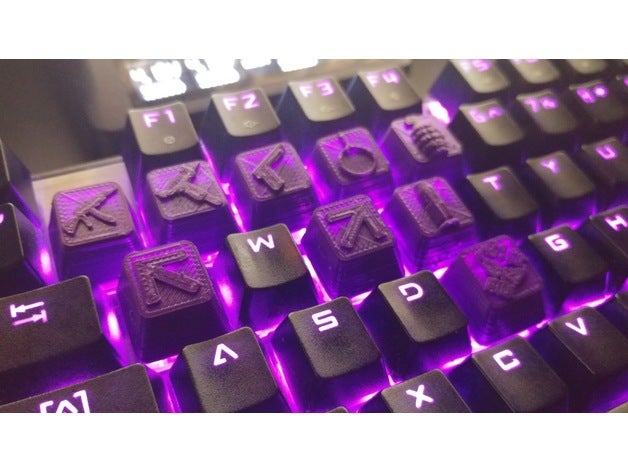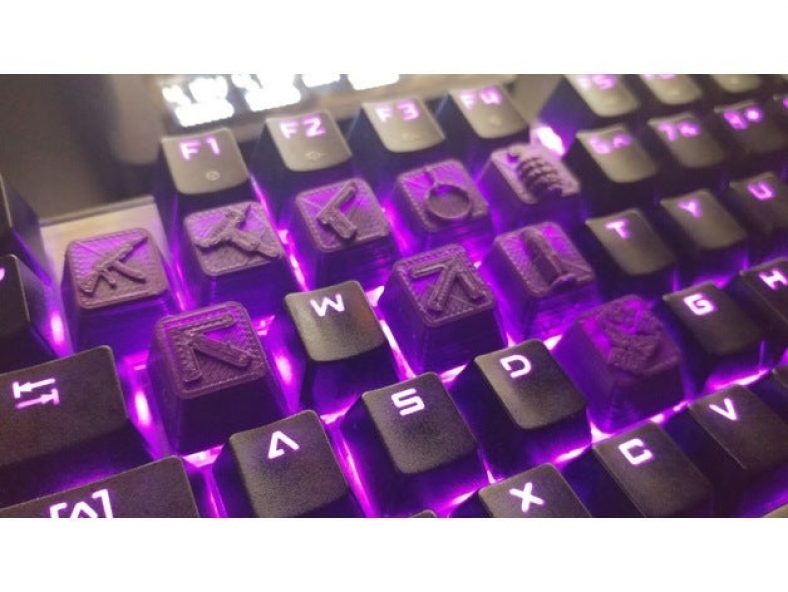 These 3D printed keycaps are customized for the popular game Player Unknown's Battlegrounds.
They are made by replacing letters with symbols for in-game items and actions.
There are two versions of these 3D printed keycaps. The second version features better, cleaner-looking keycaps and also has few more keys in the collection.
iTzOminousTic has three designs, two of which are these two versions of keycaps designed for PUBBG players and one is the revolver fidget spinner.
The designer operates from the Thingiverse website and has ten followers to himself.
Apart from him, timmyn915, xenomorphdelombre, and 3 others have printed these keycaps.
Portal Keys by TheFlyingRaccoon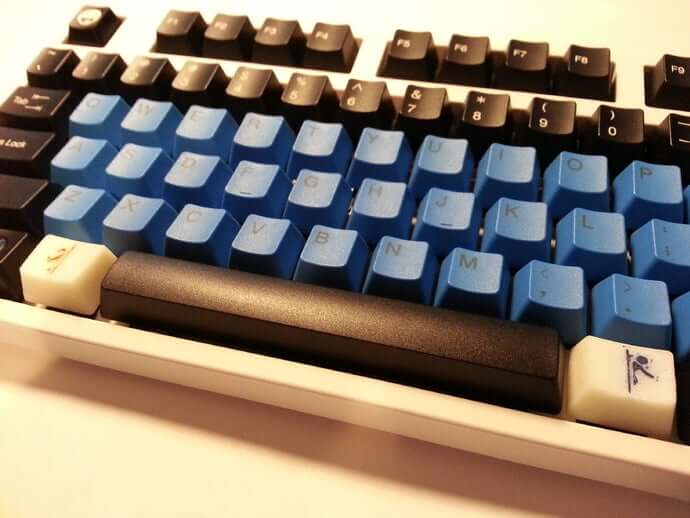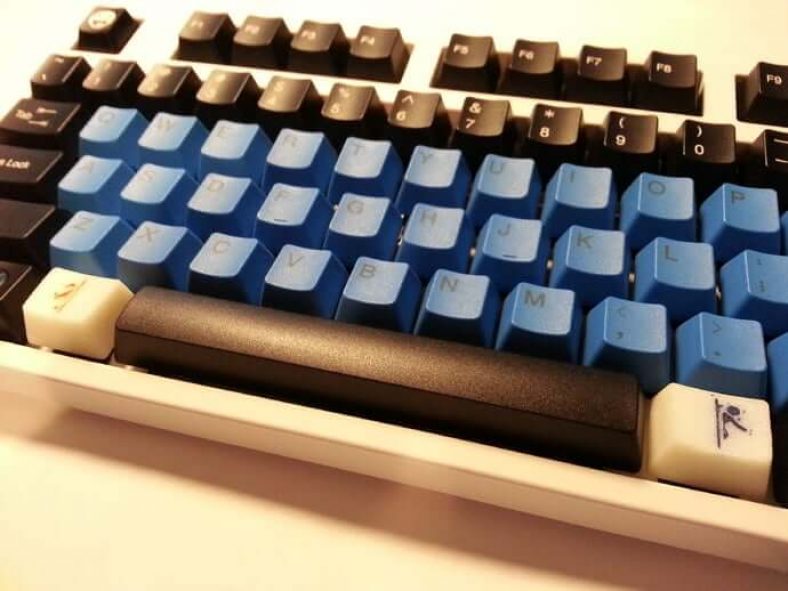 Designed as a replacement for the Alt keys, these 3D printed keycaps are painted during post-processing to highlight the symbols over it.
They claim to turn your Cherry MX keyboard into a portal machine.
Apart from TheFlyingRaccoon, dniermans and Zen1 have printed this design.
So, if you are tired of seeing the ALT written on your keyboard, you can replace it with the symbol that comes with these portal keys.
Doing this makes your keyboard look different and stand out when kept with ten other printers.
Although we are not sure about it, you can also use these keys with some other keycap which is almost the same in dimension as the Alt key.
Cherry MX lambda/Cthulhu keycaps by armyofevilrobots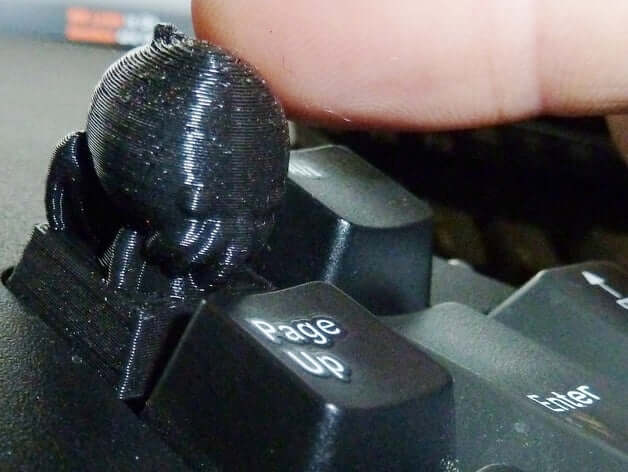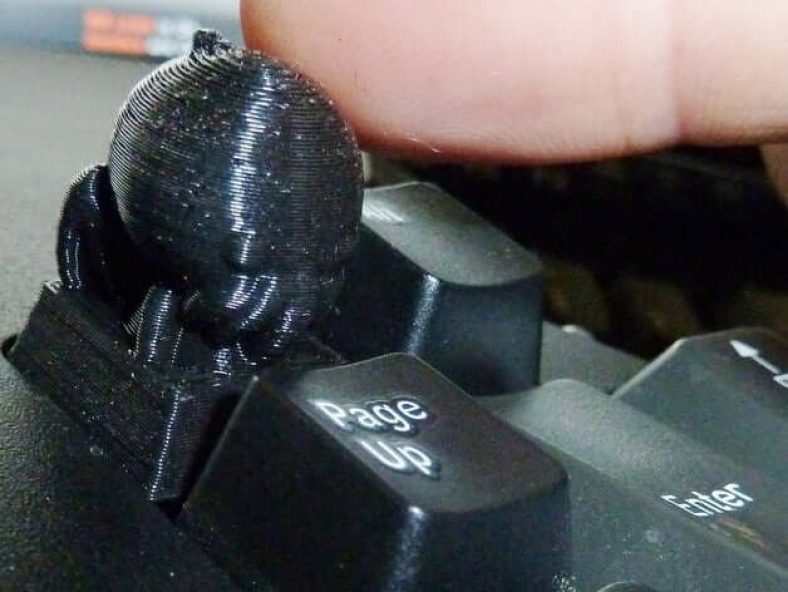 This is a keycap with the lambda symbol and Cthulhu head that is derived from the mini Cthulhu by Cymon for cherry MX keys.
These 3D printed keycaps are good for Cherry keyboards, or Kinesis, Filco, etc. Technically these are "E" row keys that are good for a variety of uses.
Before printing these keycaps you need to take into account that they should be printed with 0.1mm layers or thinner.
The other point is, you should not print this at high speeds (recommended speed = 20mm/s or slower). This is to ensure the good quality of prints.
After following these steps you can paint the inside of the lambda symbol.
The keycap made by this designer was made with Solidworks and is fully parametric and he promises to post a full set of keys eventually.
The rendering of test keycaps takes some time. The designer claims this being a standard row "E" key, and to add the other rows as well.
It is fun how any Unicode character can be encoded on the face of the key. Check out armyofevils space on Thingiverse as he is going to do the "poo" symbol next.
Adafruit's 3D printed Custom Cherry MX Keycaps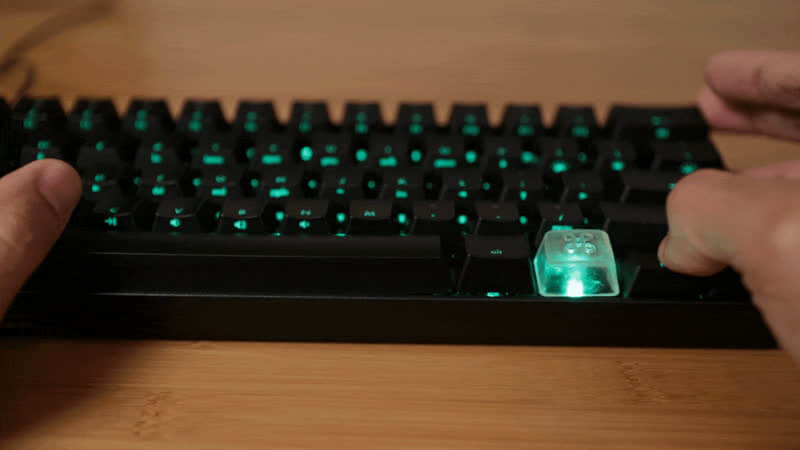 These are a set of customizable Cherry MX keycaps, that has a skull design and the Adafruit Flower design, created on it. This enables every user to mod their keyboards!
The base files of these designs are available so that you can edit away, by adding your own, truly personal flair to your keyboard.
Meaning, if you do not wish to have the same design of skull and adafruit, you can have anything else on the same 3D printed keycap.
The designer has 376 designs to its name on the Thingiverse website and has many kinds of designs.
While scrolling down on his page at Thingiverse you'll find a talking D20, 10in Raspberry Pi2, DJI Phantom 4 Motor Cover, Star Trek Communicator, and a lot more.
Apart from adafruit, KyleMohr, and mmontee too has this design.
Customizable Cherry MX Keycaps by onebeartoe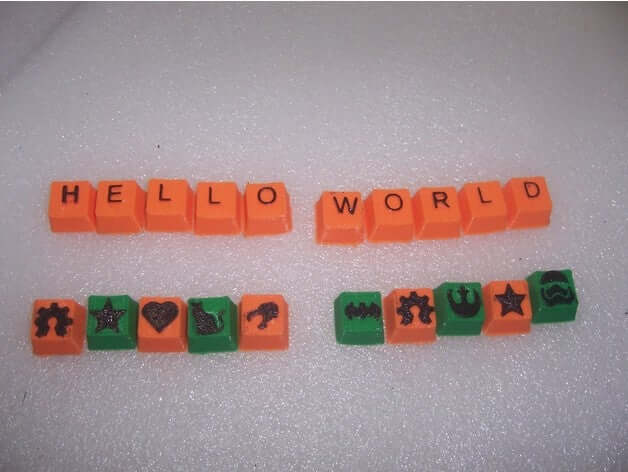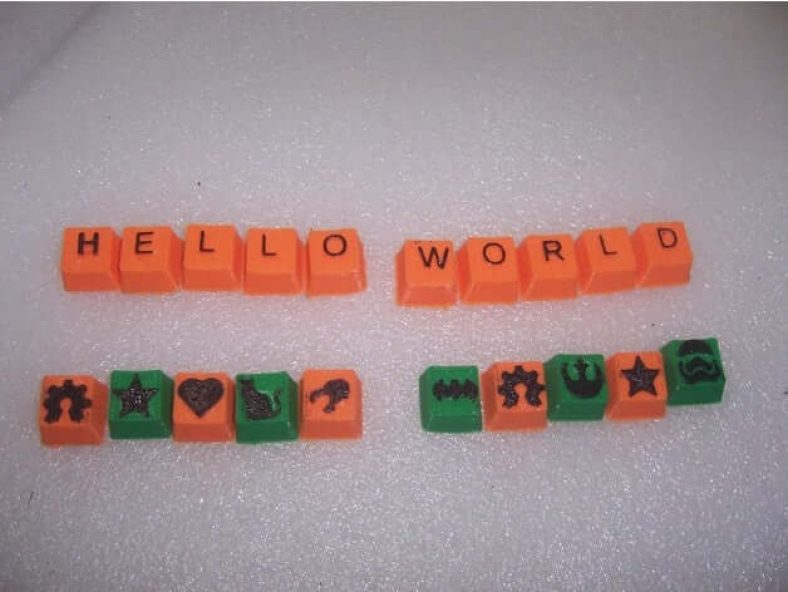 These keycaps were put on Thingiverse by onebeartoe on 10th December 2016.
You can see the video that has to make of these keycaps and you can also see the video offline on OpenSCAD Customizer.
The designer claims design to be a submission to the 2016 Remix it Challenge. These keys remix Adafruit's Cherry MX Keycap for including alphanumeric legends on the keycaps.
The designer has given you the capability to change its fonts. There have been several icon keycaps that have been added to this collection as well.
Currently, the designer of these keycaps is in search of a "standard" keycap model. The source code is available on Github.
As mentioned above, these keycaps are remixed from the Adafruit keycaps. These keycaps also include a set of icons as well as all the letters in "Hello World."
With all of these, you also have a blank in this customizable version so you can remix and make one for your own.
Cherry MX Keycaps by evamvid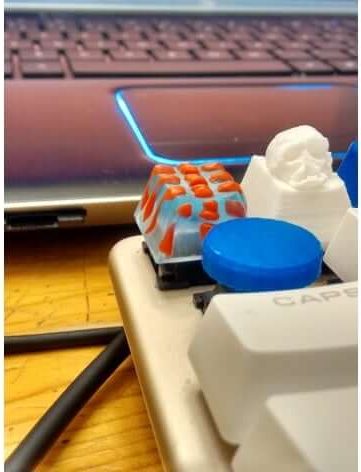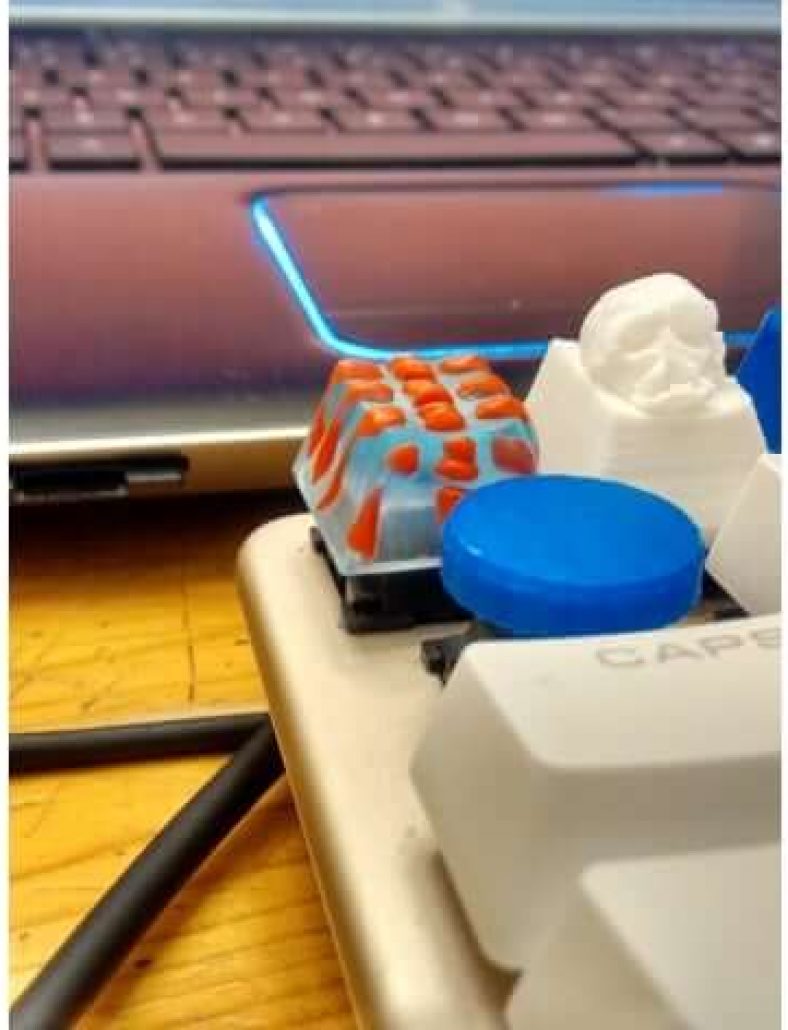 Evamid Sharma is a tip designer on Thingiverse who has twelve designs by this name.
The list of designs includes keyboard case, penguin scan, cherry MX caps, j-head fan mount, i3 build plates, yoda head cufflink, rubik's ball, rubik's yoda, etc.
These Cherry MX caps were design uploaded on 1st February 2017. They look great with translucent filament and even better if your keyboard has backlighting.
The printer settings in Monoprice Maker Select printer are that it needs support, low resolution, and infill of 10-15 percent.
These 3D printed keycaps are a set of unique, intricate custom keycaps for any MX keyboard. They usually come in two forms, a rose and Darth Vader's melted helmet.
Although it looks like an odd combination, the detail on these is incredible. Especially if they are being printed on a desktop 3D printer.
Video Game keycaps by warmarine 759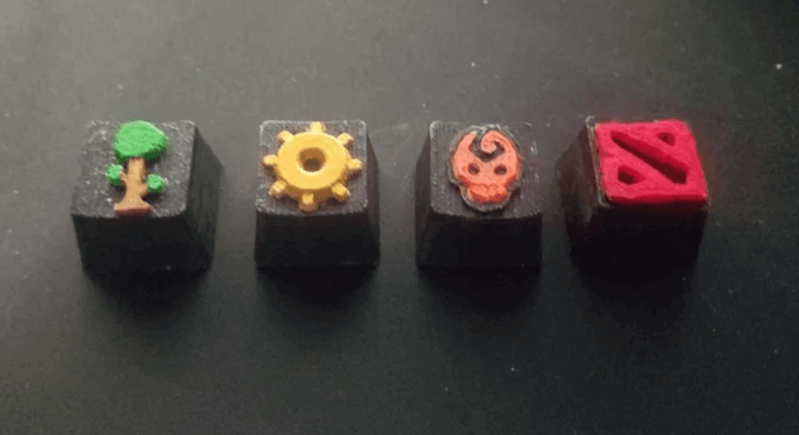 The keycaps designed by this designer take the form of icons that represents 11 popular games.
If you haven't already, please do set up a hotkey with one of these keycaps to get your game on at the press of a button.
Apart from this design, the designer has 110 other designs to the name on Thingiverse.
These designs include knockers, interlocking segments, keychains, etc.
Cherry MX keycaps by Mordin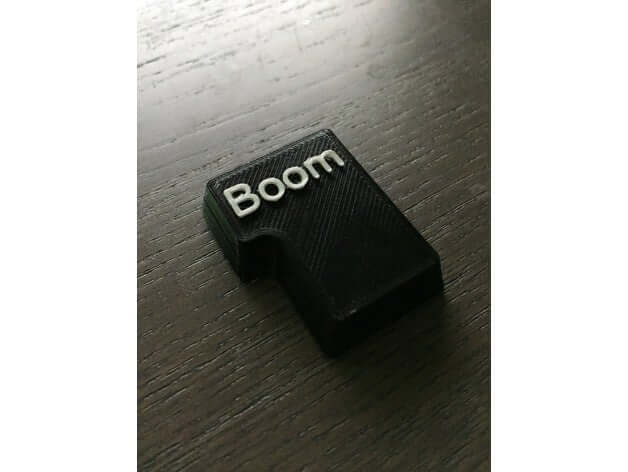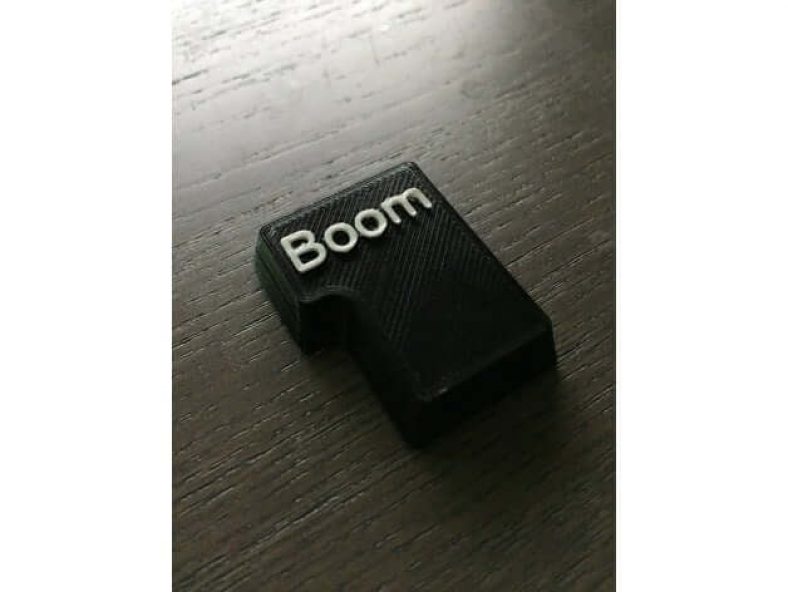 This is for all those, who are tired of pressing Enter and seeing it on the keyboard's keycap.
The keycap, in particular, is a comical addition to any keyboard. This custom Cherry MX "Enter/Boom" key will make you smile every time you slam it down.
Enter is more of a representation of Boom whenever you press it. Keeping this logic in mind, the designer has instead reframed the text of this keycap.
This design also comes in a customizable blank variation for all of those who like to go a little further with your customization.
So you can change it from Boom to something else that Enter represents to you.
This is printed by Prusa Mk2 printer; it does not have any rafts and supports 0.2 resolution with infill 20-25 percent. It is advised to users to use brim so that it sticks easily.
Romer-G Keycaps by Tolu2002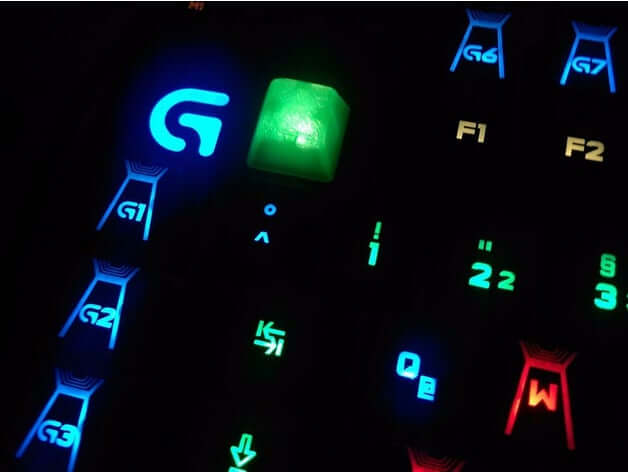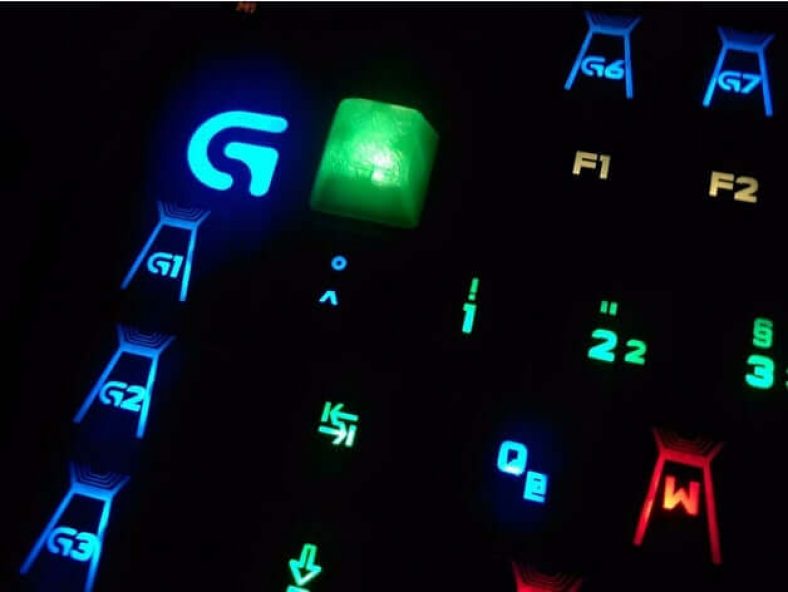 This one is for all of you who own Romer-G keyboards. You can join the trend using this amazing range of customizable keycaps!
This keycap has been tested and confirmed to fit on Romer-G keyswitches.
The best part about it is, you can modify the base files on which the design of this keycap is based on making it the perfect replacement for any key on your keyboard.
This has been printed by Flashforge Creator Pro, rafts don't matter for this design.
The infill is not required for this. Other printer settings include .1mm Layer height, 0.25mm first layer height, and Very Slow Print Speed is recommended by the designer.
Apart from this design, the designer has 6 other designs to his name on Thingiverse. The designs include a cube torture test, mini-room cooler, extrusion rate test, etc.
The 3D Printed Keycaps by Tasker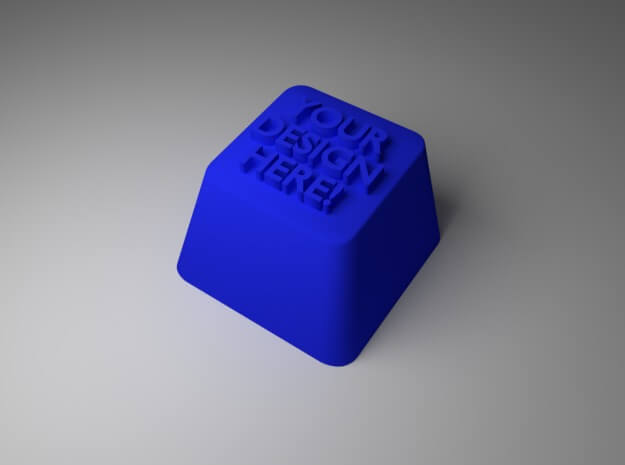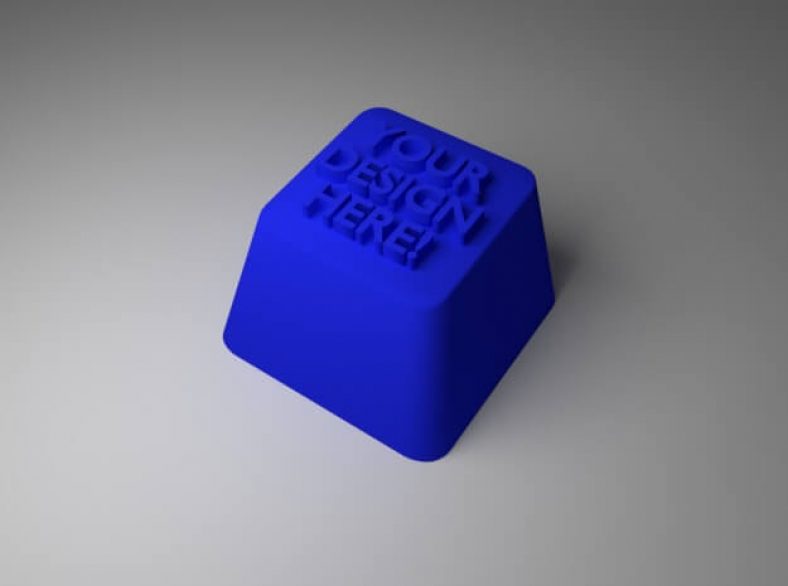 This one is the only list that is inspired by Shapeways. Other all, as you must have observed are on the website Thingiverse.
An impressive collection of 3D printed keycaps are available for sale on Shapeways.
They are all very high detail and are relatively cheap than the ones mentioned above.
Shapeways is a leading professional 3D printing service offering when it comes to speaking about quality and detailed 3D printing.
Many of these keycaps are designed to take advantage of backlighting, which adds a whole new level of awesome to your keyboard. This one is priced at $13.14 on Shapeways.
The Conclusion
Let us ask you one important question which would demand you look at your keyboard!
What is it that makes a keyboard interesting? They are the keys of the keyboard, aren't they? And what part of a key is the one that we interact with daily?
That part is the keycap. Those squarish, blocky buttons with letters, numbers, and symbols printed on them, yeah! They are known as keycaps.
Not only are keycaps easily removed and replaced from most keyboards mechanical ones, but as mentioned above, they can be customized.
And the fact that they can be customized, you can bring in your creativity by 3D printing them.
To 3D print, a keycap is because you don't want your keyboard to look ordinary like every Qwerty keypad is! And to differentiate it can be only done using 3D printing.
Keycaps can be optimized for gamers and typists and are always in demand. Whether you're looking for a new feel or just want all of your favorite shortcuts to be labeled in front of you, you can customize keycaps.
That's why in this article we had compiled the list of the best curated, 3D printable keycaps that you can get or print today.
With that, we have also mentioned the designer you can get it from and the website. All of them have been proven to be working 3D printable models.
Apart from some of the trial-and-error hassle from your search, so, whether you want just one new keycap or a whole set optimized for your game of choice, having a look at some of these great options may inspire you to print it!
What are you waiting for? If you found a design that interested you, start printing.